10 amazing things to do in Kagawa, Japan!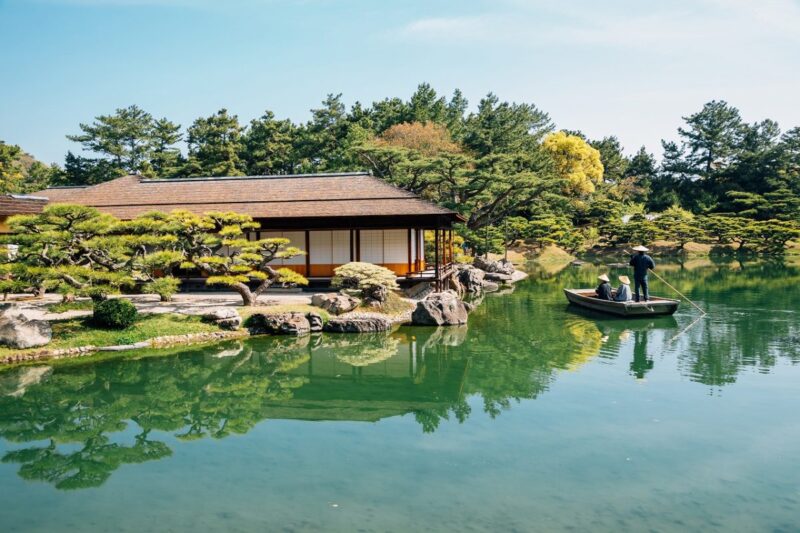 Kagawa Prefecture is located on the beautiful island of Shikoku in South Japan. This prefecture is the homeland of sanuki udon, the most famous udon brand in Japan, and this is the reason why Kagawa is also called as 'Udon Prefecture'.
Kagawa is the smallest of Shikoku's four prefectures, but it is actually packed with numerous sightseeing spots, including Zentsuji Temple, the largest temple in Kagawa, and artistic islands such as Naoshima, Teshima, Inujima, or Shodoshima, an olive making paradise.
Often overlooked for its more famous neighbors, Kagawa is home to Takamatsu, the biggest city in Kagawa, and in all of Shikoku. Takamatsu is a scenic port city with tons of interesting spots, including parks, shrines, and museums.
Brimming with culture and history, how about visiting Kagawa to have both extraordinary experience and relaxing adventure?
Index
How to get there
 Kagawa is accessible by both rails and air. The prefecture is connected to Tokyo, Osaka, Kyoto, and Hiroshima through the JR lines and airplanes.
Getting to Kagawa from Osaka and Kyoto is easy; hop onto one of the Hakata bound Shinkansen from JR Shin-Osaka or JR Kyoto Station, and transfer to the JR Kaisoku Marine Liner bound for Takamatsu at Okayama Station. It takes 1 hour and 45 minutes from Osaka to Kagawa, and 2 hours from Kyoto to Kagawa by train. If you're visiting from Tokyo, we suggest taking the airplane to save both your time and money; a one way trip takes around 1 hour and 30 minutes and costs around 15,000 yen to 20,000 yen.
Recommended sightseeing spots in Kagawa
Kagawa is a spot to visit if you're looking for something off the beaten path. The prefecture is packed with many beautiful historical spots and also dozens of artistic spots like Naoshima Island.
Blessed with beautiful nature, Kagawa is a perfect destination for an escape, as you can find many rare natural spots that are difficult to find in Tokyo and other big cities. The prefecture is also famous for its mouthwatering local treats such as sanuki udon and honetsuki dori.
Here are our picks for the best things to do in Kagawa, Japan!
1. Visit the beautiful Takamatsu Castle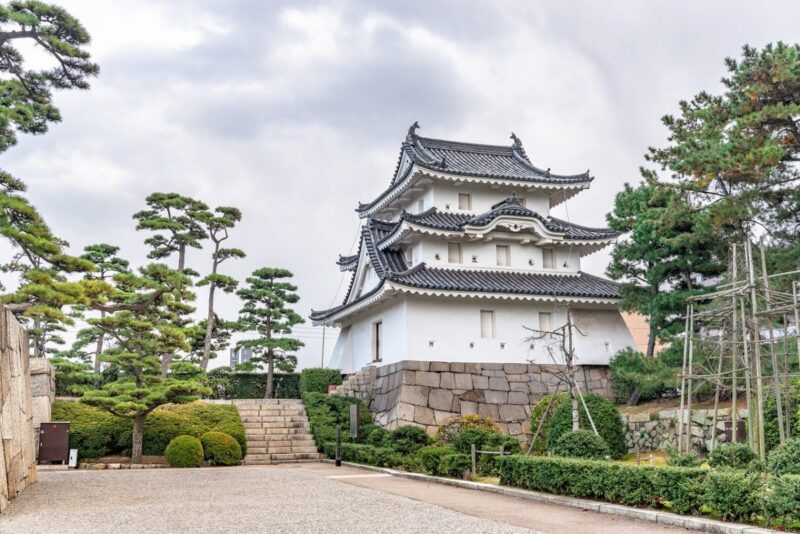 Takamatsu Castle is one of the three castles in Japan that is surrounded by water, and it is located inside the Tamamo Park area. The moats of Takamatsu Castle are filled with Seto Inland Sea's saltwater, and the castle is located nearby the Takamatsu Port and Harbor. The main tower of this castle no longer exists, but the two yagura (watch towers) and the main gate still exist and are still visible and intact.
Takamatsu Castle
2. Have a morning walk around Tamamo Park
How about having a morning walk around Tamamo Park?
Tamamo Park is more than Takamatsu Castle, the park accommodates an enormous and elegant Japanese garden called Hiunkaku.
Hiunkaku was originally built as a second house for the 12th feudal lord of Takamatsu. The building, which has a number of rooms with various natural themes, can be found in the middle of this gorgeous garden.
These days, people use the house for tea ceremonies and other events. 
Tamamo Park
3. Outstanding Japanese style garden: Ritsurin Garden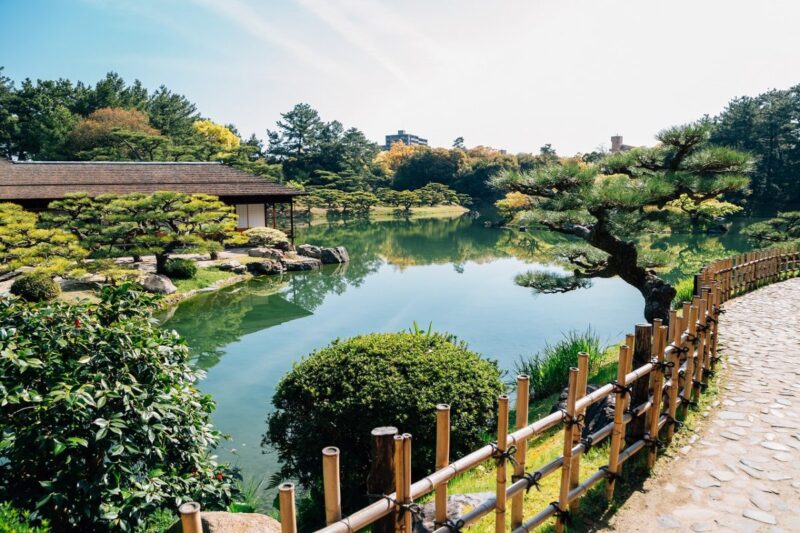 Ritsurin Garden is a landscape garden in Takamatsu built at the beginning of the Edo Period. The garden is marvelous and it features many ponds, hills, historic trees, and beautiful pavilions.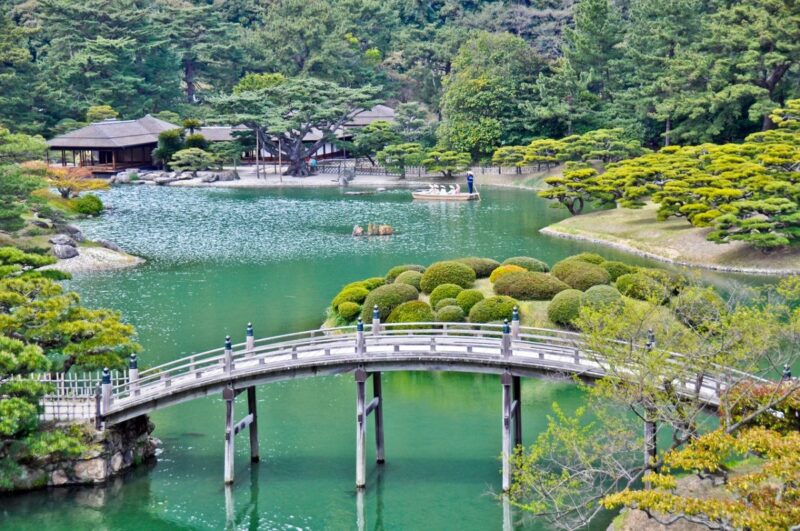 There is a big arched bridge in the middle of the pond, and the best way to explore this park is by cruising around it with a boat. The garden also has the wooded Mt. Shiun as a backdrop, creating a wonderful natural landscape.
Ritsurin Garden
4. Stop by the legendary multiple-arch dam: Honen'ike Dam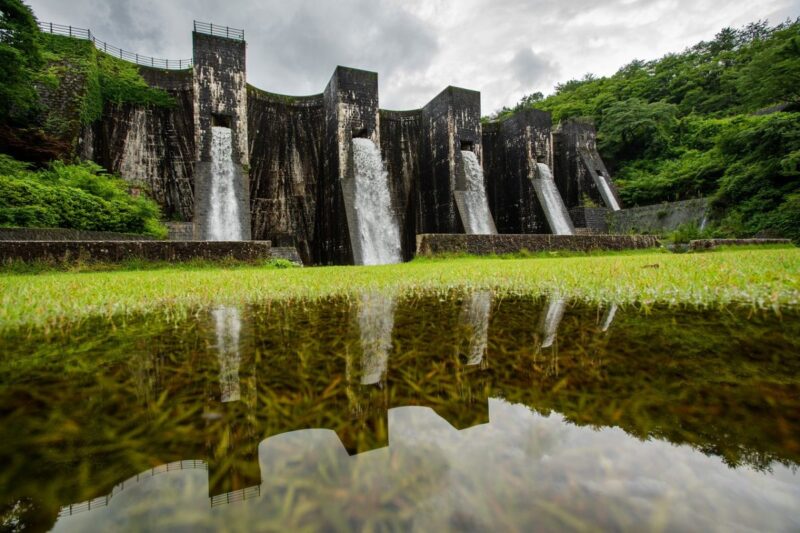 Hounenike Dam is a legendary multiple-arch dam located in the Sanuki Mountain range in Kanonji City. The construction of the dam started in 1926 and completed 4 years later in 1930, and it is designated as an Important Cultural Property of Japan, since multiple-arch dams are considered as a rare structure in Japan. Hounenike Dam is one of the only two multiple-arch dams in Japan along with the Okura Dam in Miyagi Prefecture.
Honen'ike Dam
5. One of Japan's most sacred temples: Zentsuji Temple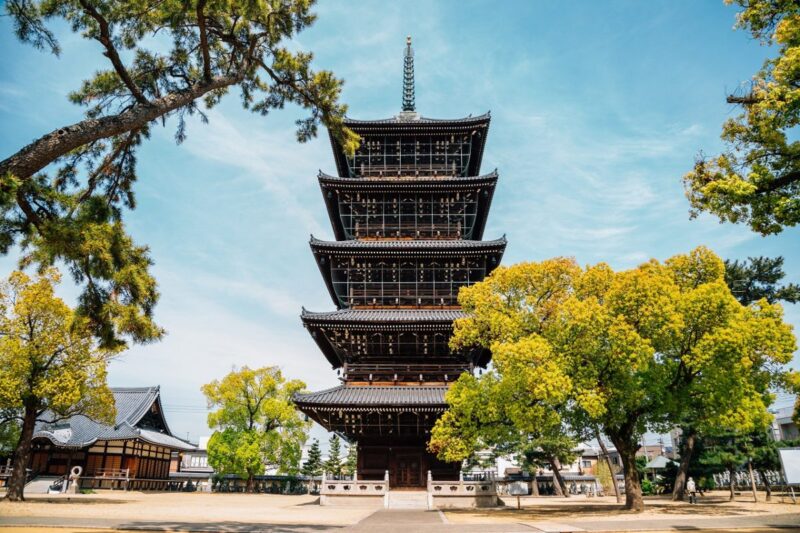 Zentsuji Temple is believed to be one of Japan's most sacred places, and it is one of the top three pilgrimage destinations in Japan. The temple is the birthplace and spiritual home of Kobo Daishi (774-835 AD) – the founder of the Shingon sect of Buddhism, and because of this, the temple is considered to be the most important temple of the famous Shikoku's 88 Pilgrimage.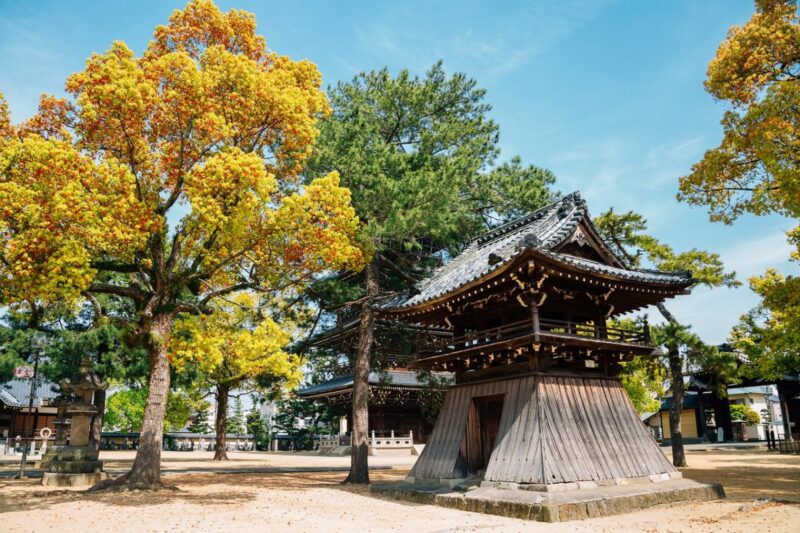 The temple was built sometime between 807 and 813 AD by Kobo Daishi himself, and it is best known for its extensive area, which is around 45,000 sqm, and its skyscraping five-story wooden pagoda.
Zentsuji Temple
6. Visit Kotohira Shrine, the head shrine of Kompira shrines in Japan
Also known as Kompirasan, Kotohira Shrine is the head shrine of Kompira shrines in Japan, and it attracts over 3 million visitors each year. Kompira shrines are dedicated to sailors and seafaring, and they have been worshiped since ancient times as the God of the Sea.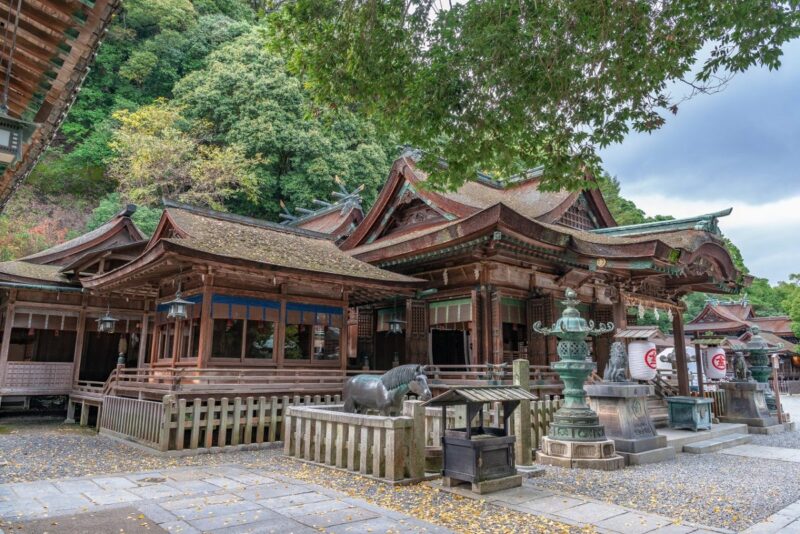 The shrine is located on Mt. Kotohira, and visitors must climb 785 steps of stone stairways to reach the main shrine, and then another 583 steps to reach the inner sanctuary. Next to the shrine, there is an observatory where you can enjoy the breathtaking view of Kagawa City and the sea beyond.
Kotohira Shrine
7. Visit Kankakei, one of the most beautiful gorges in Japan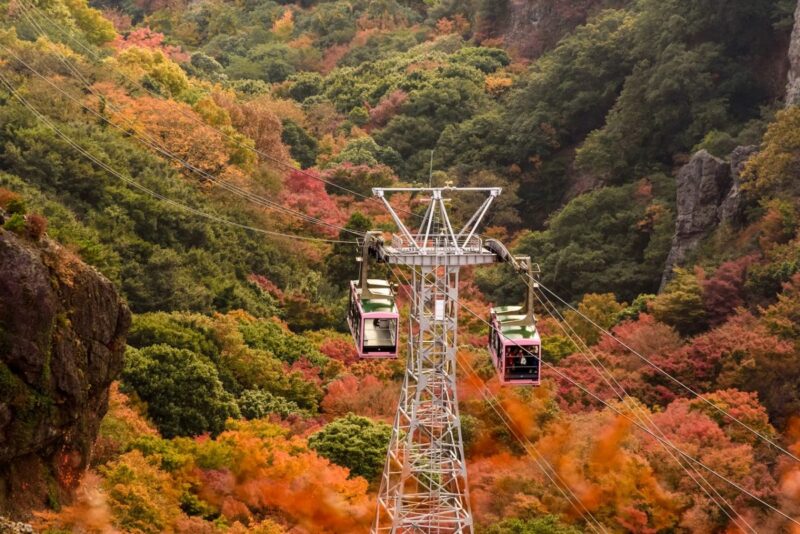 Have a stop at Shodoshima to visit Kankakei, one of Japan's most beautiful gorges. Take the ropeway to enjoy the whole view of the gorge from above. In fall, this gorge turns to a fantastic fall foliage spot; the gorge will show its autumn colors. There are two hiking trails between the ropeway stations. Near the ropeway stations there are plenty of restaurants and souvenir shops.
Kankakei
8. Visit the island of art: Naoshima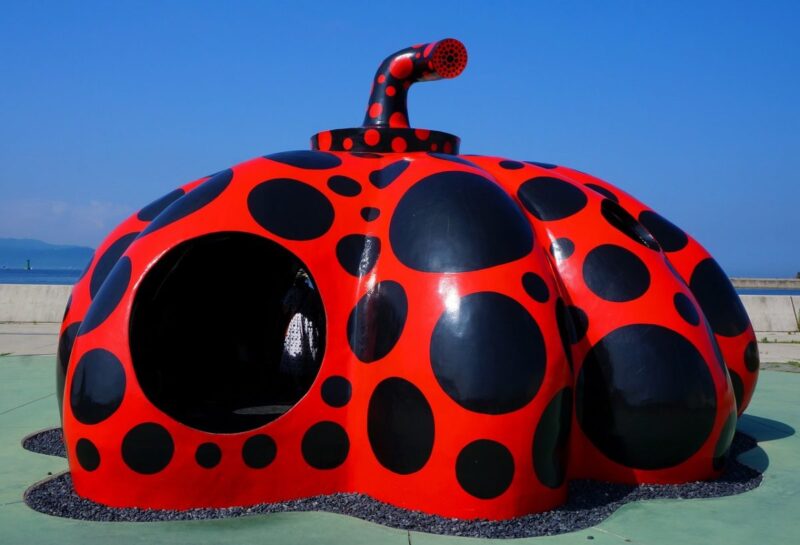 Best known as the island of art, Naoshima is located in the Seto Inland Sea, and is just an hour ferry ride from Takamatsu Port. The island is famous for its Yayoi Kusama's Red Pumpkin, one of the several outdoor artworks on the island, which is also known as the symbol of Naoshima.
Another popular artwork by Yayoi Kusama is the Yellow Pumpkin, which is located nearby the Tsusujiso Bus Stop. In addition to Yayoi Kusama's artwork, Naoshima is home to The Benesse House, Chichu Art Museum, and Lee Ufan Museum, which all were designed by Tadao Ando, a world-renowned architect.
Naoshima
9. Cross the Angel Road in Shodoshima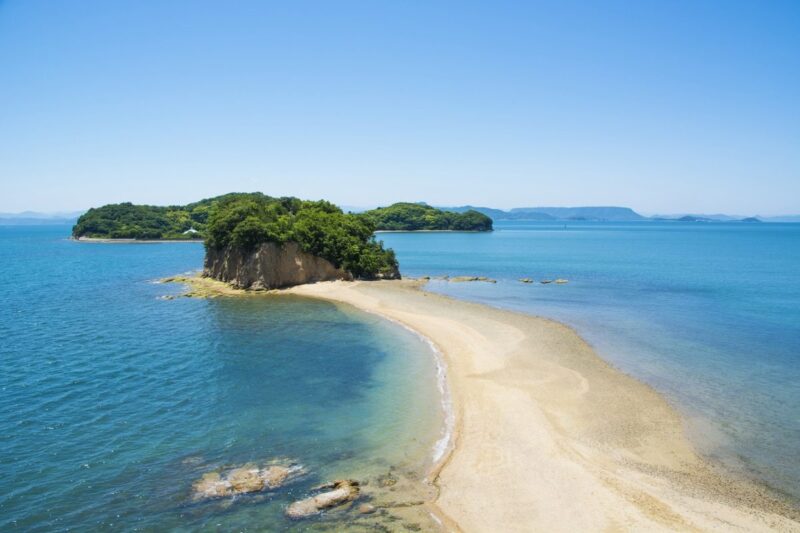 Angel Road is a 500-meter sandbar that connects Shodoshima with small islands, and this sandbar only appears twice a day during the low tide. The sandbar has a story – it is said that if you cross the sandbar with your lover and make a wish, your wish will come true.
The sandbar appears only for 3 hours in the morning and afternoons.
How about having a walk on Angel Road with your significant other?
Angel Road
10. Enjoy the sunset at Chichibugahama Beach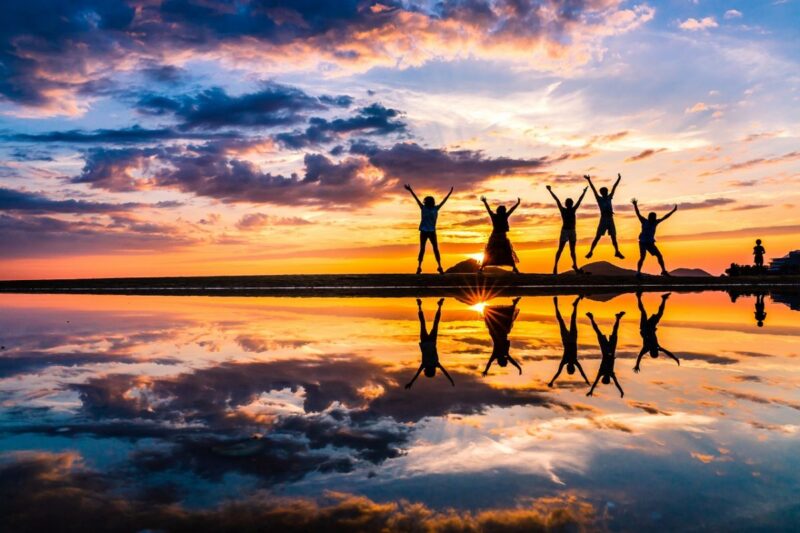 Chichibugahama Beach is located in Mitoyo City in western Kagawa, and it is known for its gorgeous sunset. The evening sky at this beach was ranked as number one 'Best Sunset Spots to Visit' in 2018 by a leading Japanese travel magazine for its breathtaking scenery.
The tide pools created during the low tide reflect the sky like mirrors, creating a mystical appearance. Make sure to capture some Insta-worthy pictures here!
Chichibugahama Beach
Kagawa's best local treats
Despite being the smallest of Shikoku's four prefectures, Kagawa is packed with many interesting sightseeing spots and local foods. Sanuki udon is Kagawa's most famous local produce, but Kagawa is more than just udon. Kagawa is famous for its high-quality seafood products taken directly from the Seto Inland Sea, and its unique local street foods. From honetsuki dori to sanukihime strawberry, wherever you go, scrumptious local treats await in Kagawa. Here are our picks for the best foods to try when visiting Kagawa!
1. Sanuki udon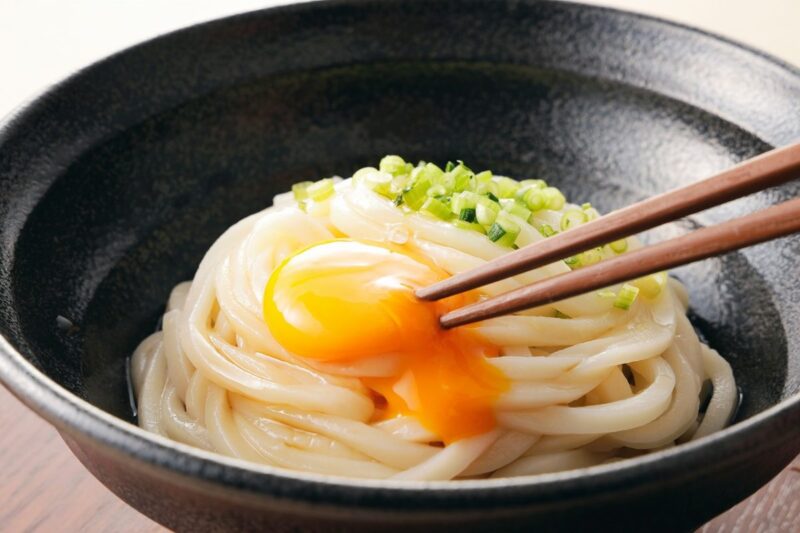 Kagawa is home to Sanuki udon, the most popular udon brand in Japan, and people call Kagawa as the 'Udon Prefecture' because of this. Sanuki udon is pretty simple, it's usually served as Kake-udon (udon in warm dashi soup) or Zaru-udon (cold udon served with dipping sauce). Another popular form of Sanuki udon is the Kamatama-udon (freshly boiled udon topped with raw egg).
2. Honetsuki dori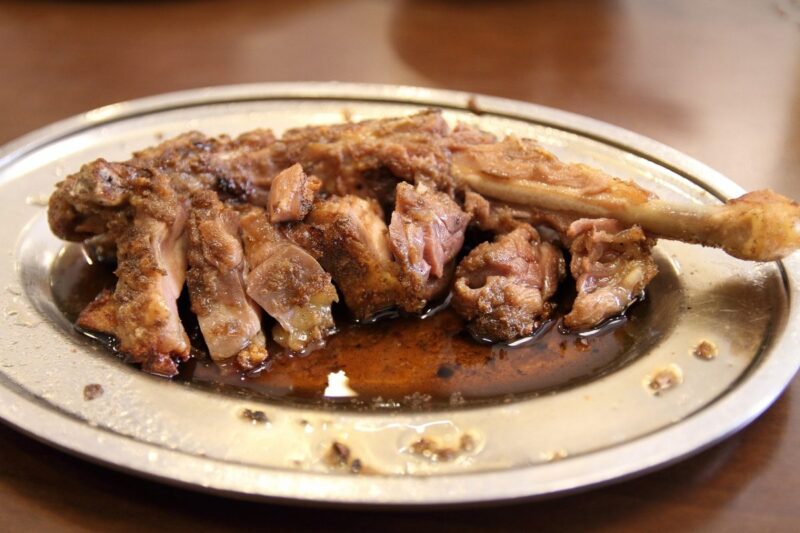 Honetsuki dori, or grilled chicken on the bone, is another popular local food of Kagawa. Originated in Marugame City, the whole thigh of the chicken is grilled in the oven and seasoned with special sauce. When ordering, you can choose between Oyadori (old chicken) or Wakadori (young chicken). Oyadori has a chewy and meaty texture with bold flavor, and Wakadori is tender and easy to chew.
3. Olive products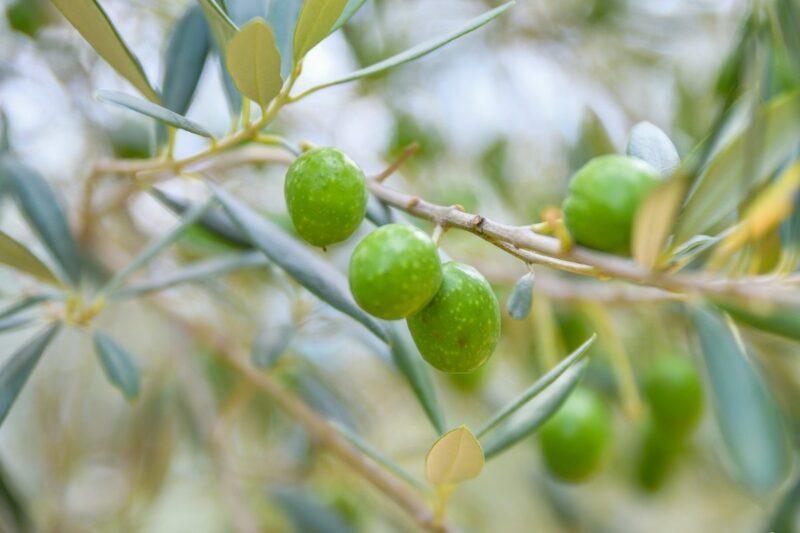 Kagawa is known for its large olive industry, and it is the first place in Japan that succeeded in cultivating olives. Kagawa's olive products can be found at most souvenir shops, including olive oil, olive noodles, and olive paste. The prefecture is also known for its 'Olive beef' and 'Olive yume buta pork', which are both grown with plant feed containing olive lees and have a tender texture and sweet flavors.
4. Black sea bream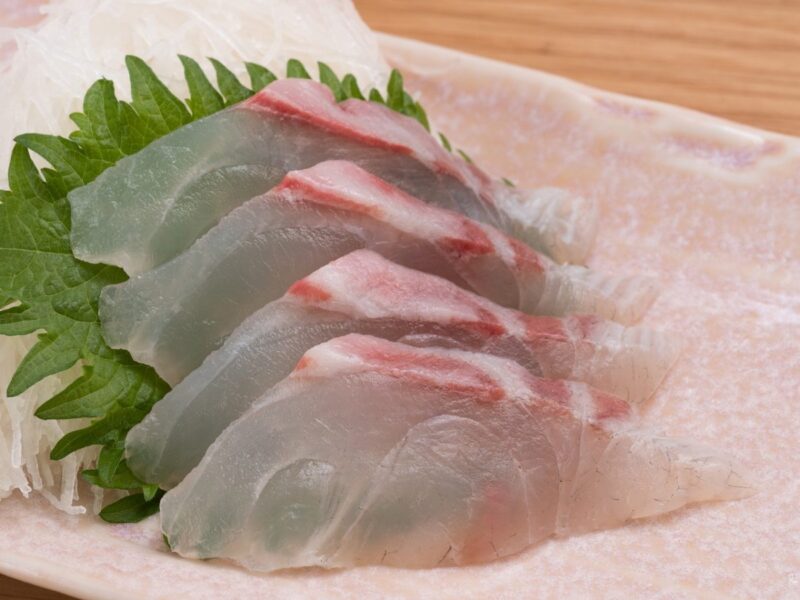 Surrounded by the Seto Inland Sea, Kagawa is blessed with abundant seafood throughout the year, switching types of fish in accordance with the sea temperature. The white-fleshed fish caught in the Seto Inland Sea are the specialties of this prefecture, and black sea bream, or kurodai, is perhaps the most popular white-fleshed fish in Kagawa. Black sea bream is usually served as sashimi, and the best timing to eat it is during fall and winter, when they put on fat.
5. Sanukihime strawberry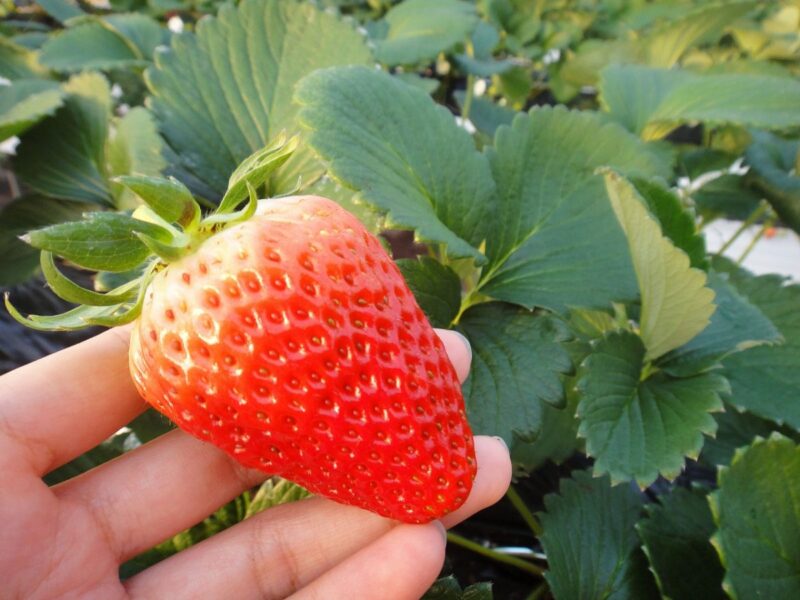 Japan is famous for its juicy and sweet strawberries, and Kagawa prefecture is best known for its unique strawberry variety Sanukihime. Sanukihime is known for its excellent flavor and large size; the strawberries have soft skin and are extremely sweet. Rarely found in other prefectures, make sure you try Sanukihime if they're in season!
Now that you have an idea of how many fabulous spots are in Kagawa, all you have to do is plan your itinerary to enjoy unforgettable experiences in Kagawa!