Aoniyoshi : a new luxury sightseeing train that runs between Osaka, Nara, and Kyoto
Aoniyoshi : a new luxury sightseeing train that runs between Osaka, Nara, and Kyoto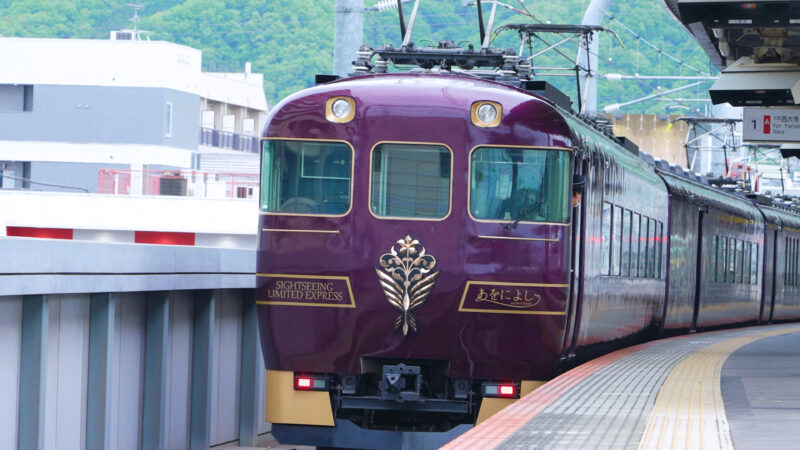 After closing its border for more than two years, Japan welcomed back international travelers on June 10, but only foreign tourists traveling via packaged tours can enter Japan.
Because of that, many tour agencies outside Japan offer semi-customized package tours, and one of the newest innovations to look forward to when planning your tour in Japan is the Kintetsu Aoniyoshi express train. The train started running from April 29, 2022, and it connects Osaka, Nara, and Kyoto, which are all known for their rich history, culture, and cuisine.
The train's name derived from an expression in classical poetry, which is closely associated with the ancient city of Nara, and the train is decorated with colors and designs that celebrate Nara's past. It features amazing amenities, starting from its comfy lounge sofas to its trendy restaurant and bar.
Through this feature, let's find out why this limited express train is worth trying for!
Index
1. A refurbished Kintetsu 12200 series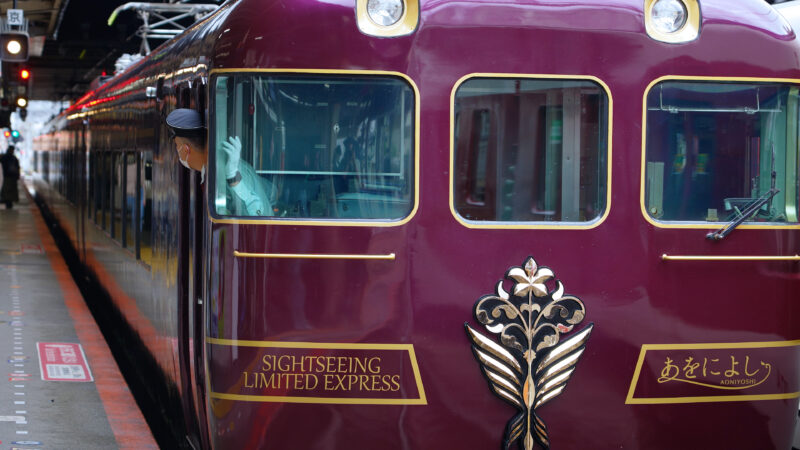 The Aoniyoshi is a refurbished Kintetsu 12200 series that were originally designed in the 1960s and 1970s. The train has four cars, and they have been renovated with purple exterior, with window-facing lounge seats, allowing you to enjoy the beautiful natural views of Japan.
The walls and the carpet are also decorated with mandala-like patterns of birds and flowers called "Tenpyo", which are also associated with Nara's past as a capital city of Japan.
In addition to its authentic design, the train is also equipped with free Wi-Fi connection, allowing you to stay mobile during the journey.
2. Luxurious and comfortable interiors
The interior of this train is brand-new, with a spacious seating plan consisting of 84 seats in total. The twin seats shown in the picture above are arranged in single rows facing the train windows. You can find these seats in car no. 1, 3, and 4.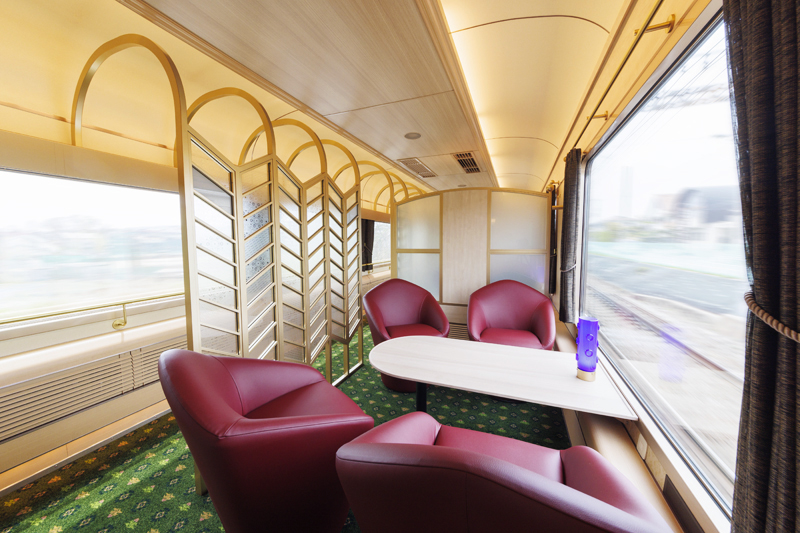 In addition to the twin seats, there are also salon seats that are designed for three to four passengers, which are all installed in car no. 2. Each seating booth is separated from the aisle by partitions, creating a semi-private space.
3. Salers Counter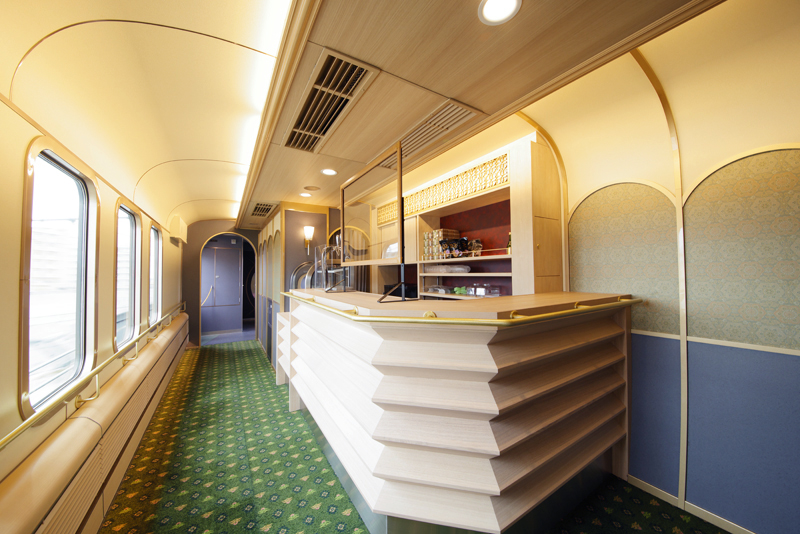 There is a salers counter in car no. 2, where you can order light snacks and drinks. Passengers sitting in the salon seats area can bond over good food while enjoying the outside view.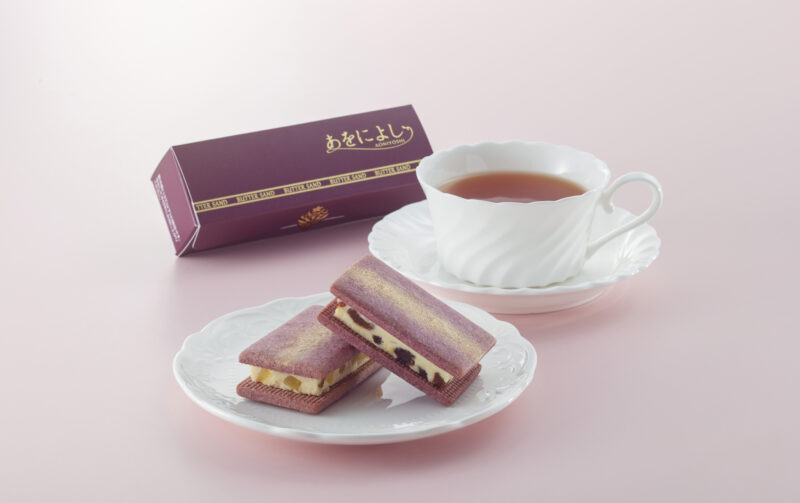 The salers counter sells limited items like Sheraton Miyako Hotel Osaka's raisin and chestnut butter sandwiches, which are sold for 1,000 yen per set. The sandwiches come with a cup of black tea or coffee.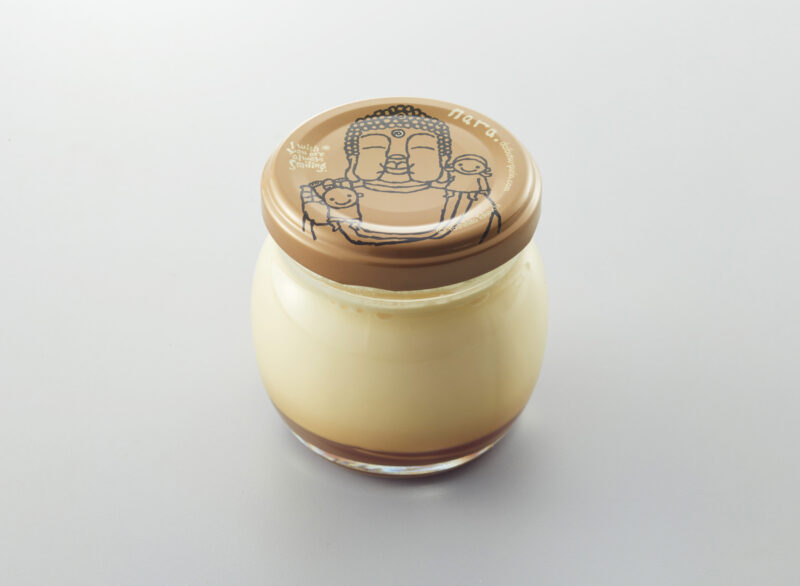 In addition to butter sandwiches, a custard pudding featuring Nara's Great Buddha is also sold there.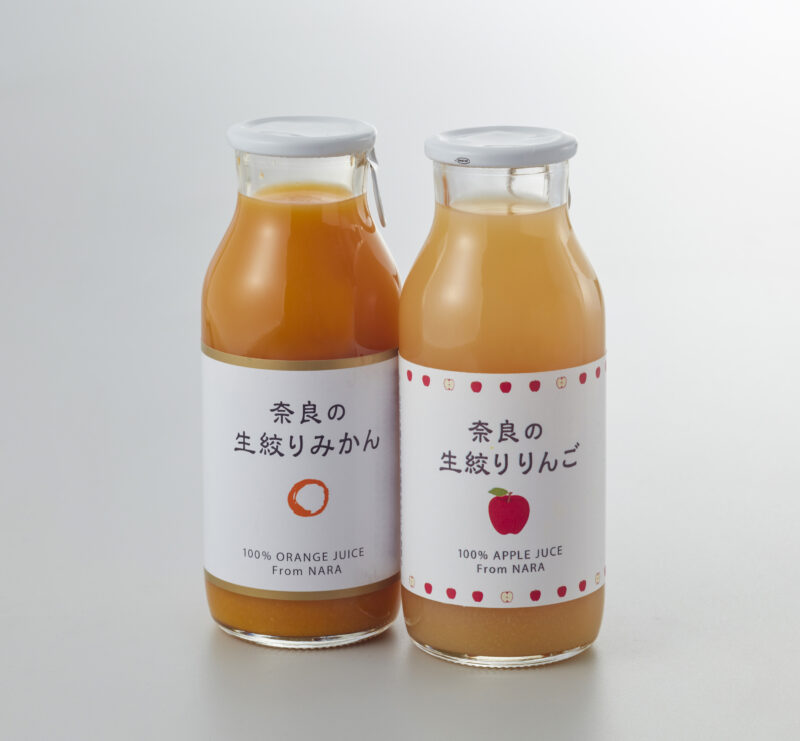 There are also bottled apple juice and orange juice, which are made from locally produced fruits. Each bottle is priced at 300 yen.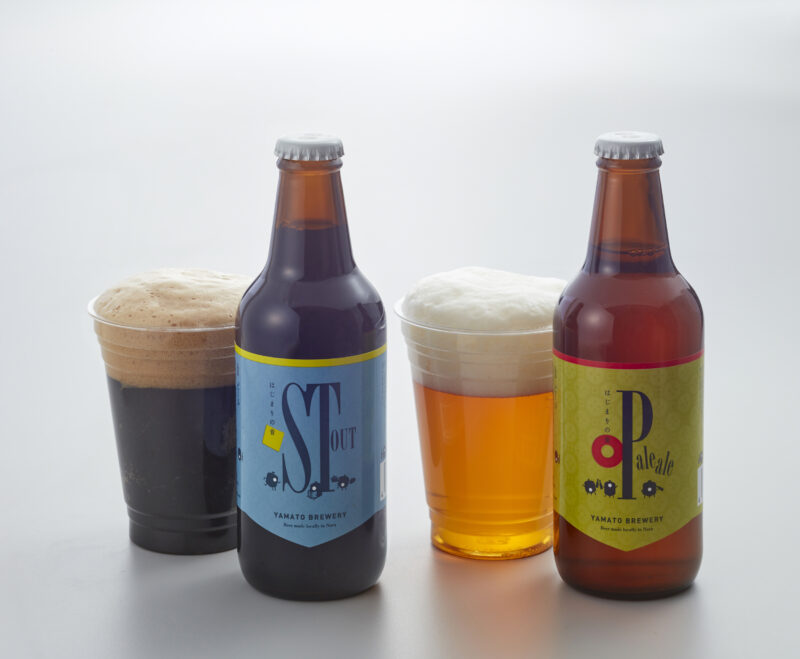 Beer lovers can also enjoy Nara's craft beer as well, from the tap, for 600 yen only. If you love the beer taste, you can also purchase bottled beer as well, which is priced 650 yen each.
4. Library space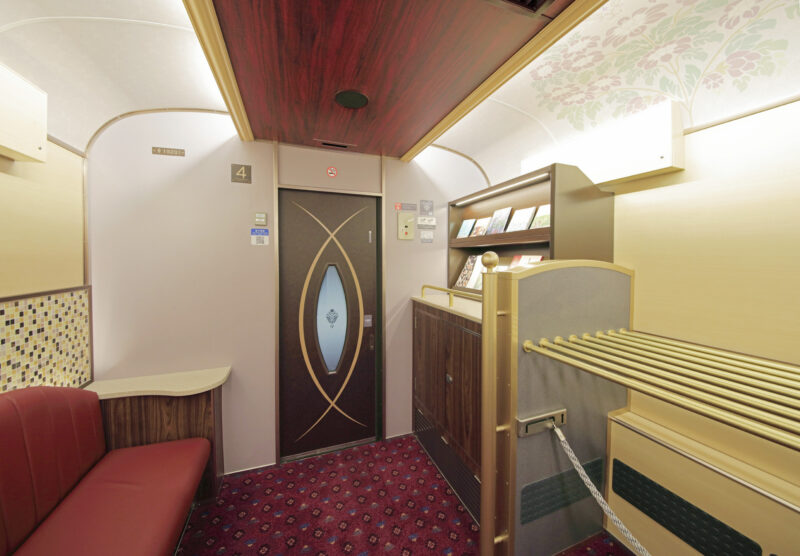 Book lovers can enjoy reading books for free at the library space in car no. 4. There is also space where you can seat until you finish reading your favorite books or magazines during the journey.
5. Accessible bathroom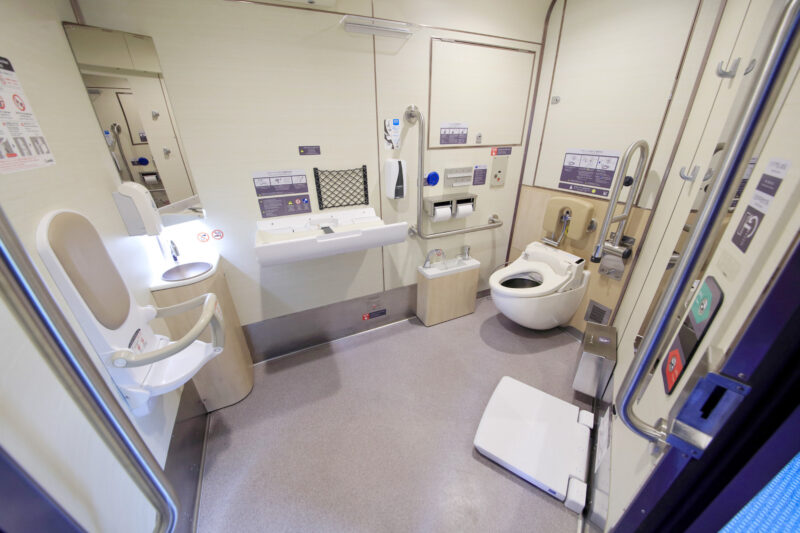 Unlike other limited express trains, Kintetsu Aoniyoshi also has a wheelchair-accessible bathroom, which is equipped with a changing board for changing clothes, a diaper changing bed, a baby chair, and an automatic door.
6. Spacious luggage space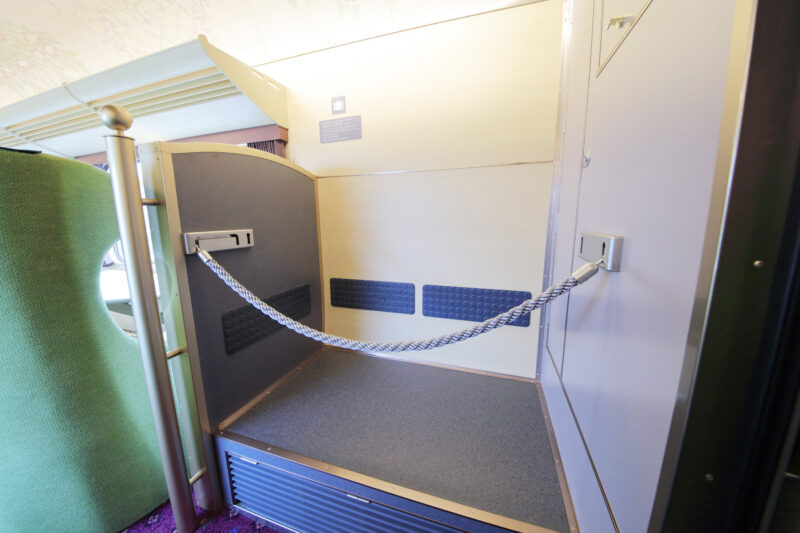 The train also has a spacious luggage space, where you can store large luggage like suitcases or travel bags safely. The luggage space is equipped with a knot partition that prevents luggage to fall off.
7. Affordable fare
 The fare of Aoniyoshi train is affordable compared to other limited express trains. The full fare from major stations is as follows:
When 2 people use Twin seats or When 3 or 4 people use Salon seats 
| | | |
| --- | --- | --- |
| Routes | Adult (12 years old & above) | Child (6-11 years old) |
| Osaka-Namba to Kyoto | 1,960 yen | 990 yen |
| Osaka-Namba to Kintetsu Nara | 1,300 yen | 660 yen |
| Kintetsu Nara to Kyoto | 1,370 yen | 690 yen |
When 1 person uses Twin seats
| | | |
| --- | --- | --- |
| Routes | Adult (12 years old & above) | Child (6-11 years old) |
| Osaka-Namba to Kyoto | 2,470 yen | 1,500 yen |
| Osaka-Namba to Kintetsu Nara | 1,670 yen | 1,030 yen |
| Kintetsu Nara to Kyoto | 1,740 yen | 1,060 yen |
8. Easy reservation
 The limited express tickets for Aoniyoshi can be reserved and purchased online or at a Kintetsu station ticket counter.
To check the train schedule and reserve your ticket online, please refer to this page.
If you want to purchase your ticket offline, visit a Limited Express ticket counter marked with a Limited Express ticket sign above.
9. Must-visit nearby sightseeing spots
 There are some great sightseeing spots between Osaka-Namba Station, Kyoto Station, and Kintetsu Nara Station, and to give you more insights, we introduce some spots that are worth to visit when you're in the area.
Dotonbori is in the south of Osaka, and it is less than 2 kilometers away from Osaka-Uehommachi Station, which is just a station away from Osaka-Namba Station. The area is one of Japan's biggest commercial districts, and you can enjoy the real atmosphere of Osaka here through its local establishments. Dotonbori is packed with food and entertainment, such as the renowned Kani Doraku crab restaurant and the gigantic Glico billboard.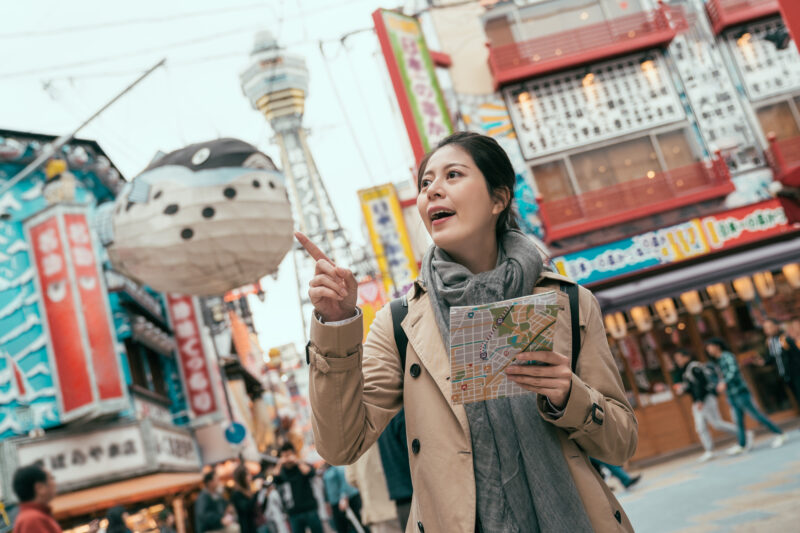 Shinsekai is one of the most crowded shopping districts in Osaka, and it is best known as an old downtown area of Osaka, with strong nostalgic, post-war atmosphere. Packed with colorful and retro establishments, this area has become one of the most popular photo spots in Osaka.
In Summer, you will be able to find stalls offering Osaka's festival foods and festival games, like "shatekiya", a shooting game with interesting prizes.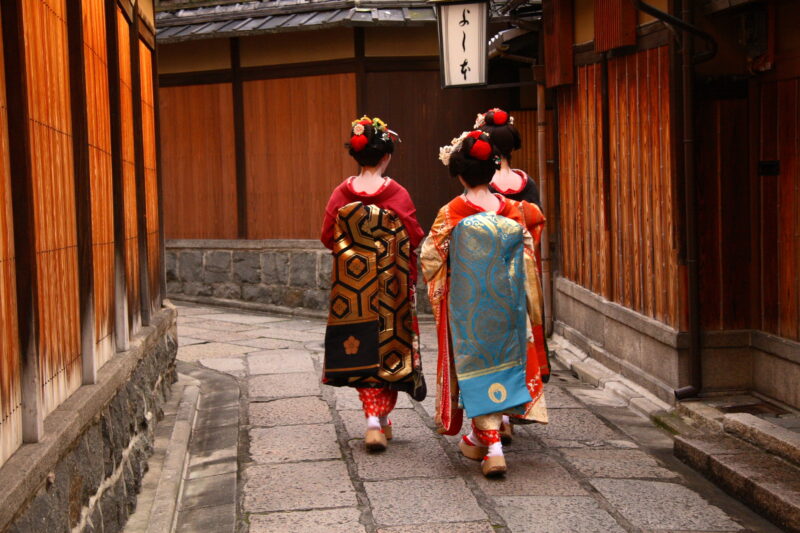 Gion is one of the oldest entertainment districts in Japan, that is home to many geishas, and the area is known as one of the most exclusive geisha districts in Japan. Declared as a national historical preservation district, Gion has been attracting numerous tourists for these past few decades, particularly those who are looking for cities with retro ambiences.
Lined with traditional wooden houses, there are a lot of vintage buildings running as shops, restaurant, and ochaya (teahouses), where geisha and maiko (geisha apprentices) perform show to entertain guests during dinner time.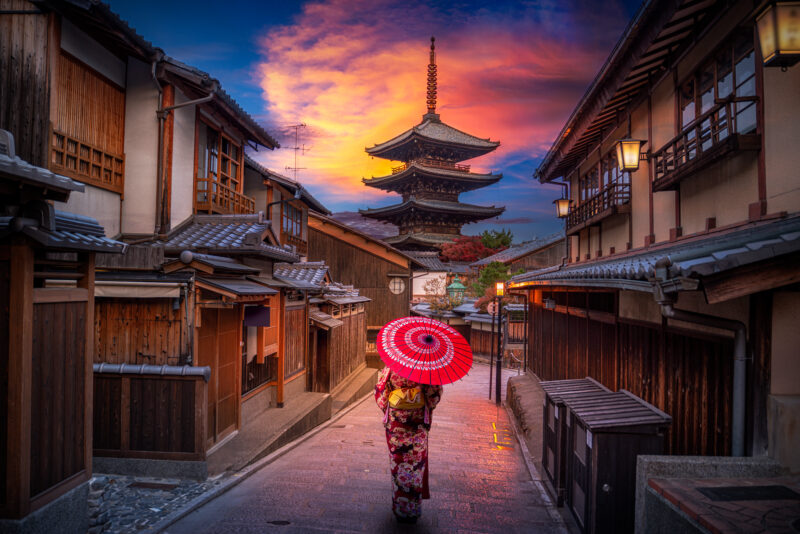 Yasaka Pagoda is in Higashiyama District, and it is known as one of the most iconic sightseeing spots in Kyoto. The pagoda is in the precinct of Hokanji Temple in eastern Kyoto,  and it is considered as one of the most photogenic landmarks in Kyoto.
Many people visit this spot to capture the view of the pagoda and its well-preserved, charming street scenery. The best time to visit the area is in the evening right before the sunset, so you can enjoy the beautiful view of the pagoda and the sky altogether.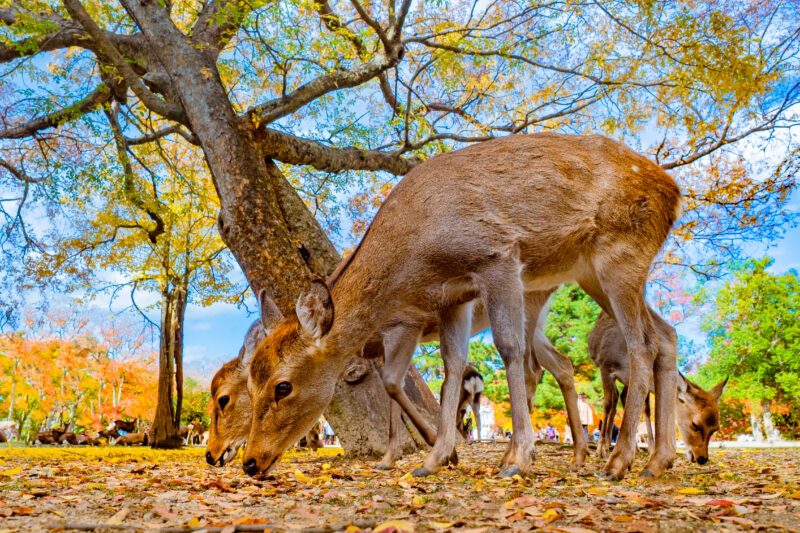 Nara Park is a public park opened in 1880 in central Nara, and it sits at the foot of Mt. Wakakusa. Nara Park is known as one of the oldest parks in Japan, and the park is mainly known for its adorable wild shika deer (鹿, shika). There are over 1,200 deer living freely around the park, and due to its popularity, the deer have become a symbol of Nara.
The park is also home to Nara's main attractions, including Todaiji Temple, Kasuga Taisha Shrine, Kohfukuji Temple, the Nara National Museum, and Shinyakushiji Temple.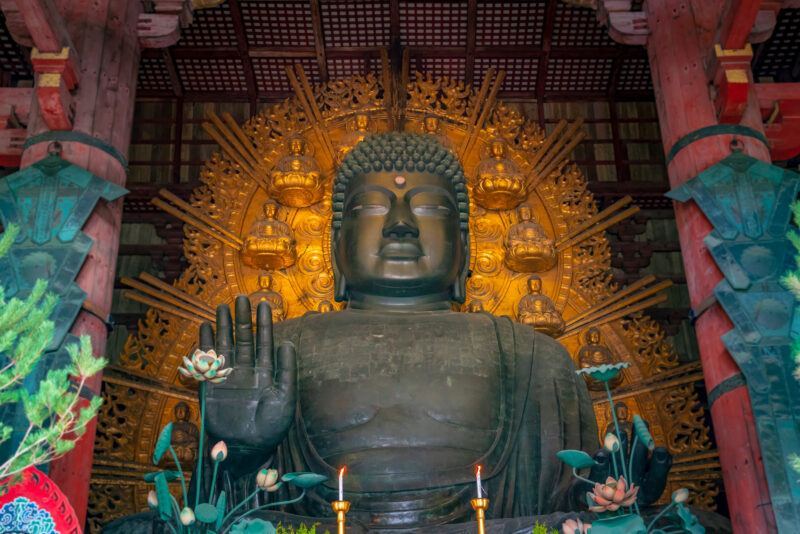 When we think of Nara's most famous sightseeing spot, the Great Buddha Hall at Todaiji Temple pops out in our mind, right?
Known for accommodating the world's largest bronze Buddha statue, Todaiji Temple is home to the gigantic statue, which weighs around 300 tons. The Great Buddha Hall itself is said to be the largest wooden structure in the world, and it has been destroyed twice by fire, and rebuilt to the current structure in the Edo period. Todaiji Temple is the headquarters of the Kegon school of Buddhism, and it is also designated as a World Heritage Site by the UNESCO.
*.。.*゚*.。.*゚*.。.*゚*.。.*
Now that you know how great Aoniyoshi is, how about booking a ticket for your next trip to the Kansai region?
Read other article from Kintetsu Railway