Visit Yoshino with Blue Symphony, a vintage touristic train by Kintetsu Railway
Visit Yoshino with Blue Symphony, a vintage touristic train by Kintetsu Railway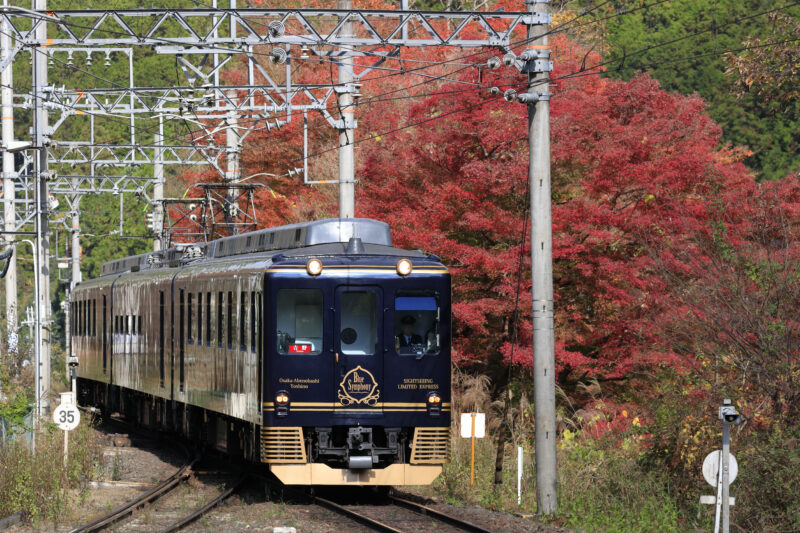 Blue Symphony is a vintage limited express sightseeing train operated by Kintetsu Railway, and it runs between Osaka Abenobashi Station in central Osaka and Yoshino Station in Nara Prefecture.
The train is decorated with elegant and vintage interiors, with deluxe seating, and special on-board facilities such as lounge and bar counter, allowing you to experience a wonderful, yet unforgettable trip from the big city of Osaka to several beautiful places in rural Nara.
Known for its excellent service, let's visit Yoshino with the Blue Symphony and find out why this limited express train is worth trying.
Index : Visit Yoshino with Blue Symphony, a vintage touristic train by Kintetsu Railway
1. "Blue Symphony", A limited express train built in Kintetsu 6200 series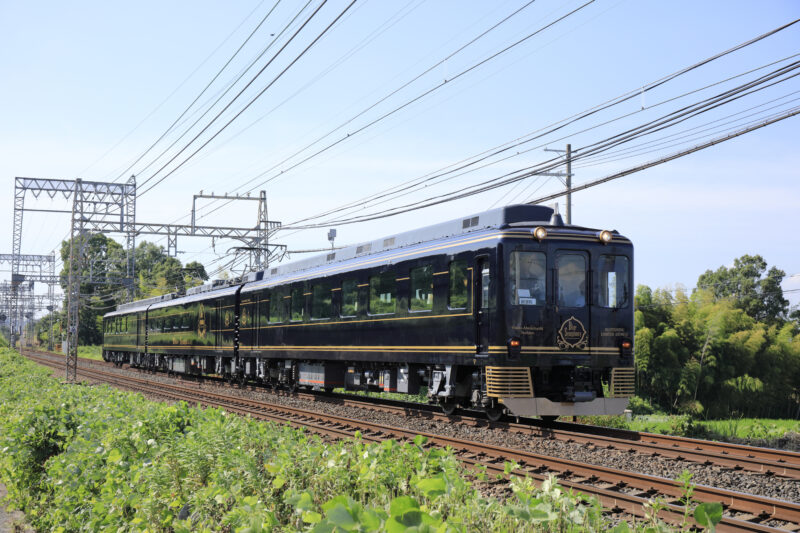 Blue Symphony is a luxurious three-carriages train which is a refurbished 6200 series electric commuter train. This train started running from autumn 2016, and its grand deep blue exterior is complemented by a next level of interior comfort with spacious seating and retro furnishings.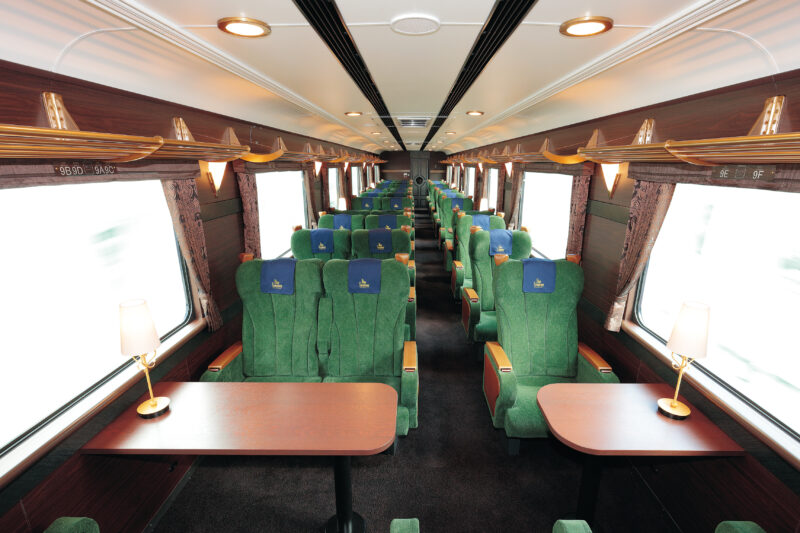 The train has three carriages, and in the first and third carriages, the seating is divided into rows of single and paired seats.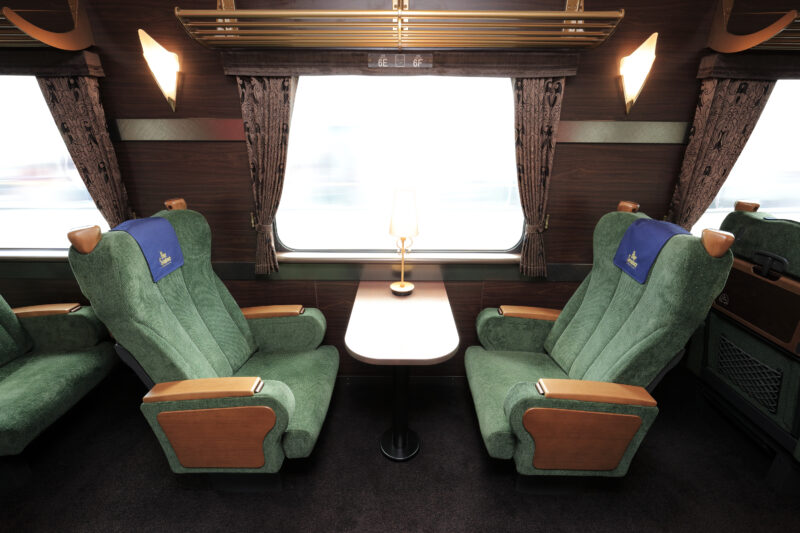 Several seats are also arranged facing each other in an arrangement of four seats (salon seats) or two seats (twin seats).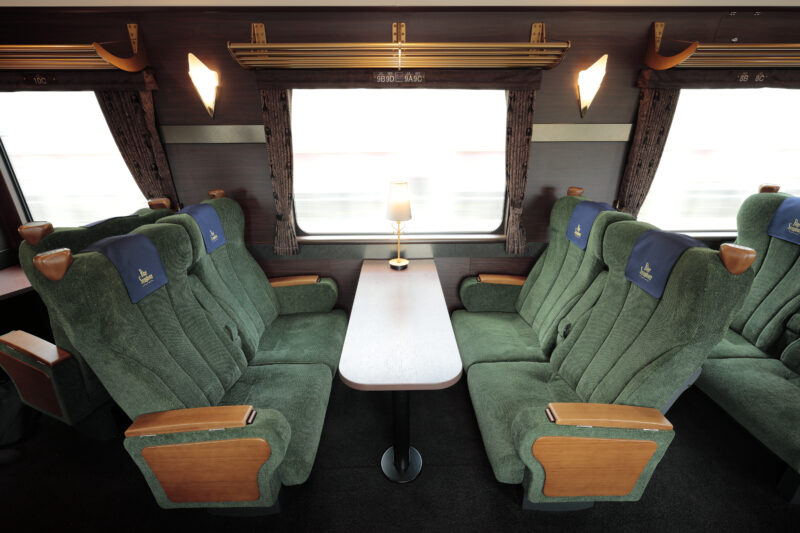 Both salon and twin seats come with tables, making it perfect for group travelers.
The second carriage has a lounge area that can accommodate up to twenty passengers.
2. Lounge seating and bar counter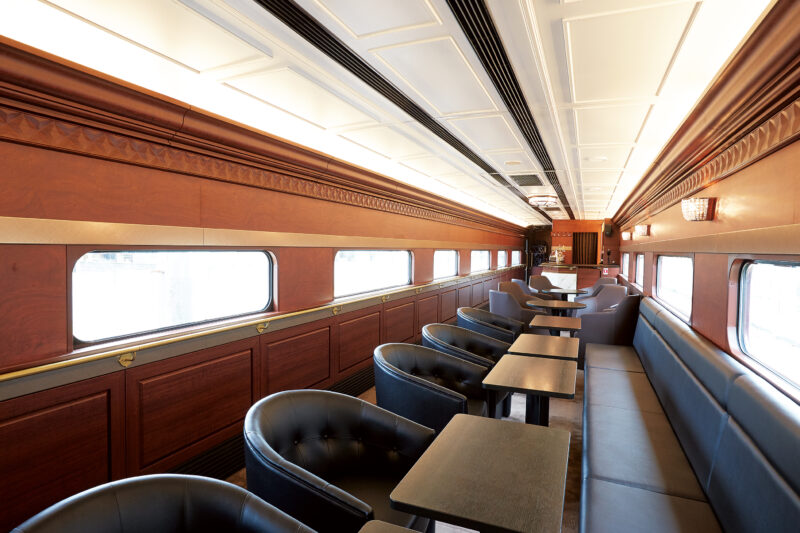 The second carriage has a lounge space with seating for up to twenty passengers, and a bar counter that serves light meals, sweets, and drinks.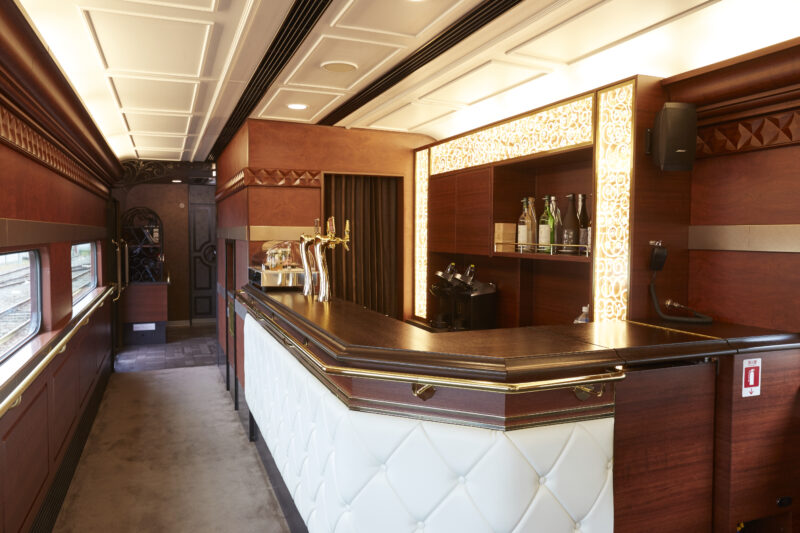 You can enjoy regional specialty dishes such as "chicken curry rice" which is made from Nara Yamato Chicken, or "Kaki-no-ha-sushi", a sushi wrapped in persimmon leaves which is a local dish of Yoshino Town. Besides, you can also order a sandwich set with coffee or tea.
For the beverage, you can try the local wineries of Nara, such as a wine made from Kawachi grapes.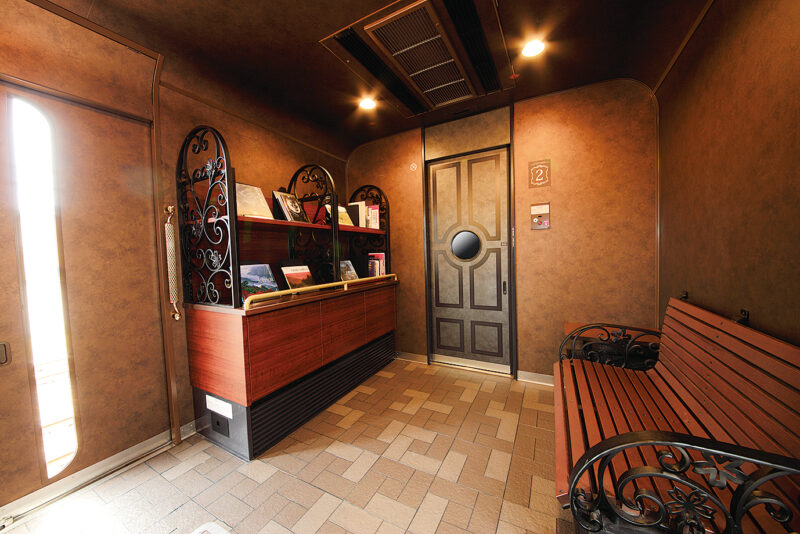 In addition to the bar counter, there is also a library space with a selection of photo books and guides to Nara Prefecture. You can sit and chill there while reading your favorite books as well.
3. Route map and train schedule
Blue Symphony makes a stop at the following train stations :
Osaka-Abenobashi Station

Shakudo Station

Takadashi Station

Kashihara Jingu-mae Station

Asuka Station

Tsubosakayama Station

Yoshinoguchi Station

Fukugami Station

Shimoichiguchi Station

Muda Station

Yamato-Kamiichi Station

Yoshino Jingu Station

Yoshino Station
The train runs between Osaka Abenobashi Station and Yoshino Station twice a day with the following schedule:
The train schedule on weekends and national holidays is slightly different, so make sure to double check the time before you book your tickets.
4. Affordable fare
The fare of Blue Symphony trains is more affordable compared to bullet trains.
The fare from major stations is as follows:
Age
Fare (From Osaka-Abenobashi Station to Yoshino Station)
Adults

1,720 yen


(Regular fare : 990 yen / Limited Express fare : 520 yen/ Special care fare : 210 yen)

Child

870 yen

(Regular fare : 500 yen / Limited Express fare : 260 yen/ Special care fare : 110 yen)
 In addition to the above fare, a regular ticket is required additionally to board on the Blue Symphony train.
5. Easy reservation
The limited express tickets for Blue Symphony can be reserved and purchased online or at a Kintetsu station ticket counter. To reserve your ticket online, please refer to this page.

If you want to purchase your ticket offline, visit a Limited Express ticket counter marked with a Limited Express ticket sign above.
6. Must-visit nearby sightseeing spots
There are some great sightseeing spots to visit between Osaka and Yoshino, and to give you more insights into it, we introduce some spots worth visiting when you're in the area.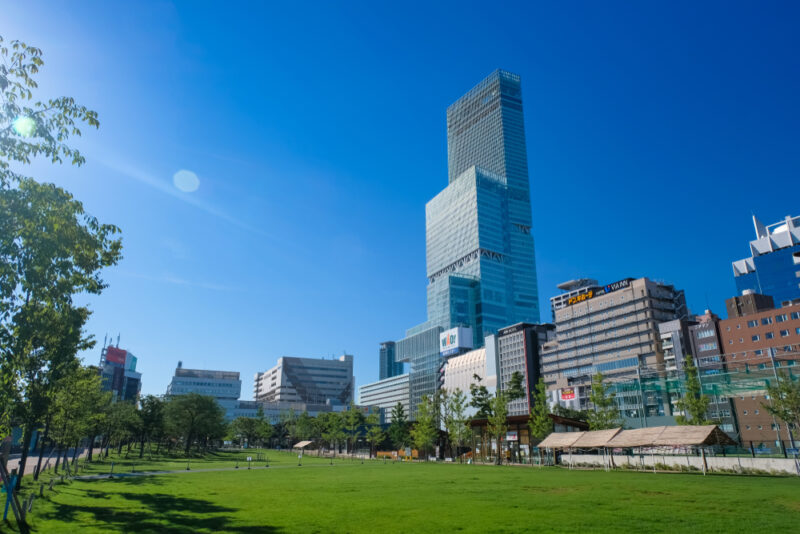 Opened in 2014, Abeno Harukas is a multi-functional commercial building in Osaka that accommodates shops, restaurants, a museum, offices, and a hotel.
The building serves as one of the most popular landmarks of Osaka, and it is known as the tallest building in the city.
It also has an observatory called "Harukas 300", which is located on the 58th – 60th floors, and from this observatory, you can see the whole view of Osaka City from its gigantic windows.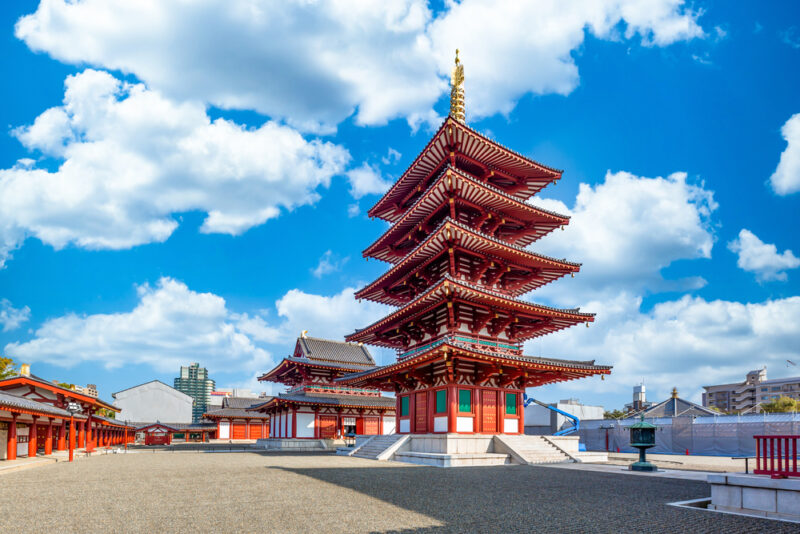 Known as one of the oldest temples in Japan, Shitennoji Temple was founded by Prince Shotoku in 593, and it was said to be the first Buddhist temple in Japan.
The temple was destroyed in World War II, and it was rebuilt to the current structures later.
On the temple grounds, there is a vibrant five-story pagoda, and also a beautiful Japanese garden called "Gokuraku-jodo Garden", which is always packed with tourists coming from all over the world.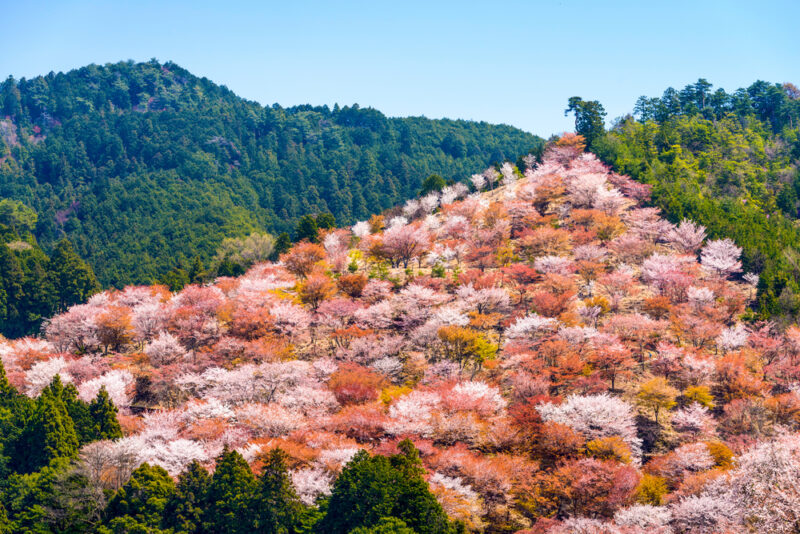 Mt. Yoshino, or Yoshinoyama, is a mountain in Nara Prefecture that is also known as one of the most famous cherry blossom viewing spots in Japan.
The mountain is covered with more than 30,000 cherry trees of many different varieties, and it is said that the first trees were planted along the mountain's slopes more than 1300 years ago.
The mountain is divided into four areas: the Shimo Senbon (lower 1000 trees), Naka Senbon (middle 1000 trees), Kami Senbon (upper 1000 trees), and Oku Senbon (inner 1000 trees) at the top of the mountain.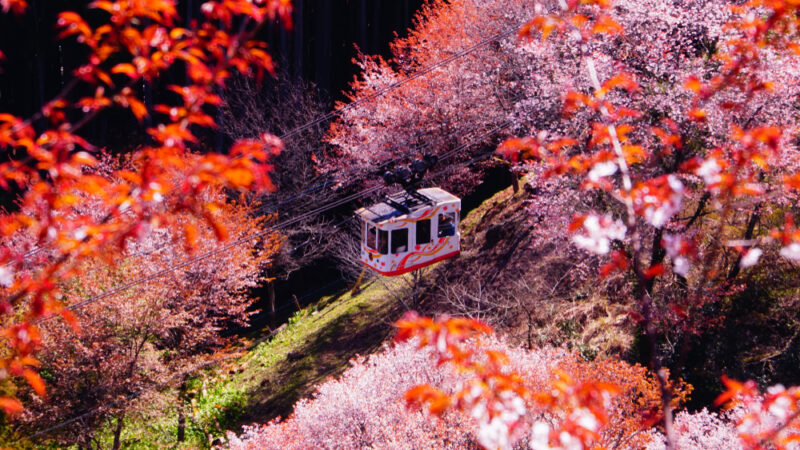 Yoshino Ropeway is said to be the oldest surviving ropeway in Japan, and it is perhaps the easiest way to reach the top of Mt. Yoshino from Kintetsu Yoshino Station. A one-way trip takes just a few minutes, but on windy days it may take longer and a little bit shaky.
The ropeway runs every 20 minutes, and each car can take up to eight passengers on one trip. There are long lines in peak seasons, and in winter, the off season, the ropeway only operates on weekends with shorter operating hours.
You can purchase the ropeway tickets from the machines at both the top and bottom of the line.
*.。.*゚*.。.*゚*.。.*゚*
Now that you know how great Blue Symphony Limited Express is, how about booking a ticket for your next trip to Yoshino, Nara?
Read other article from Kintetsu Railway