A luxurious travel experience with Kintetsu's "Hinotori" train service!
A luxurious travel experience with Kintetsu's "Hinotori" train service!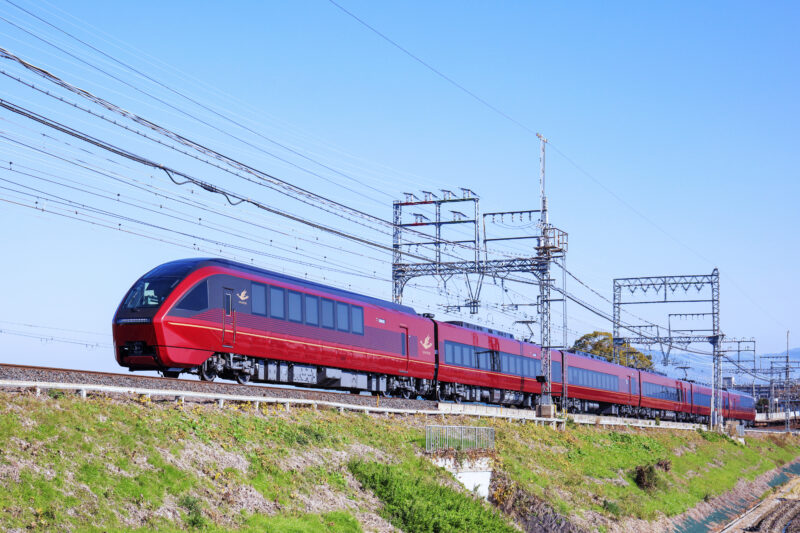 One of the most popular ways to travel within Japan is by taking the shinkansen bullet train, and in this feature, we would like to introduce the travel experience with Kintetsu's "Hinotori" train
Hinotori means "phoenix" in Japanese, and the train was named after this name for its speed and elegant design. This train has been operating since March 14, 2020, replacing the former Limited Express Urban Liner. This train connects Osaka and Nagoya through Osaka-Namba Station and Kintetsu-Nagoya Station, and it takes around two hours for a one-way trip.
Built with comfort and privacy in mind, Kintetsu Hinotori is known to be the first train in Japan with a fixed back shell installed in all seats. The train also offers luxurious interiors and top-notch facilities, and through this feature, let's find out what makes this limited express train worth trying for!
Index
1. Aircraft-like interiors
One of the best features of this train is its aircraft-like interiors and seating. Unlike other trains, all seats on this train, whether they are in the premium or the standard cars, are equipped with fixed back shells and are generously spaced, allowing you to recline your seat without affecting the person sitting behind you.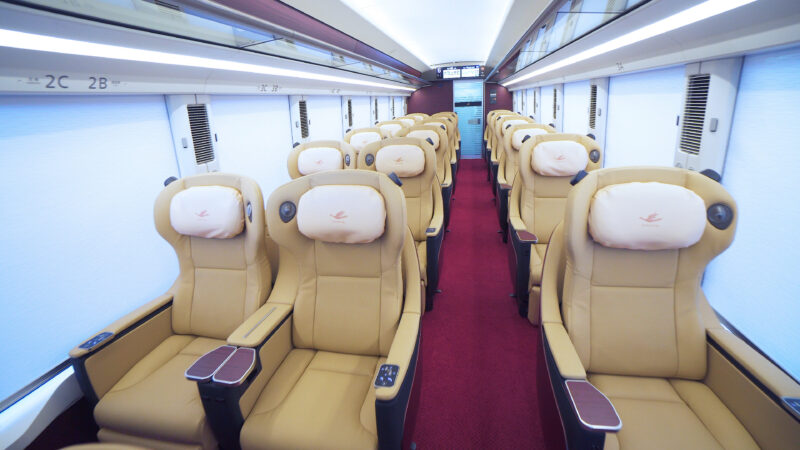 Premium cars have three seats per row with a 130 cm reclining pitch, which are all covered in genuine leathers. The overhead compartments are made of glass, and you can keep your luggage inside safely.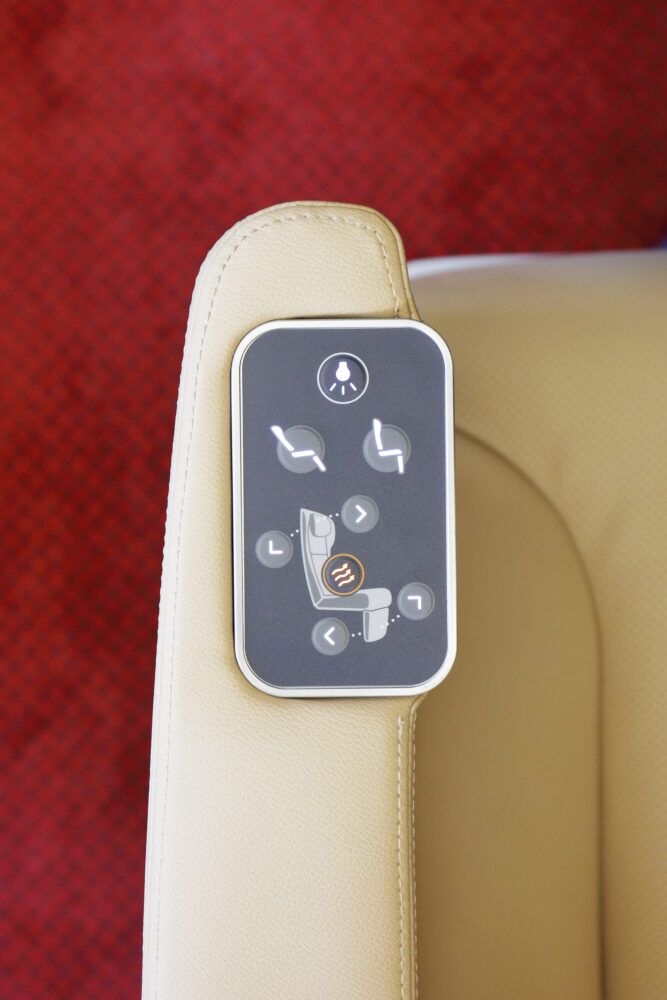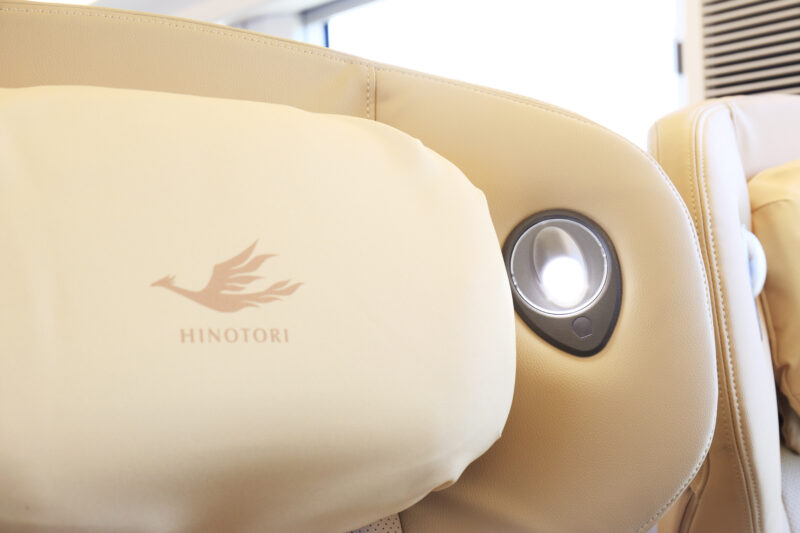 Each seat features electric reclining, a stretchable leg rest, and an adjustable headrest for an enhanced relaxation. All seats are also equipped with a reading light that you can turn on at night.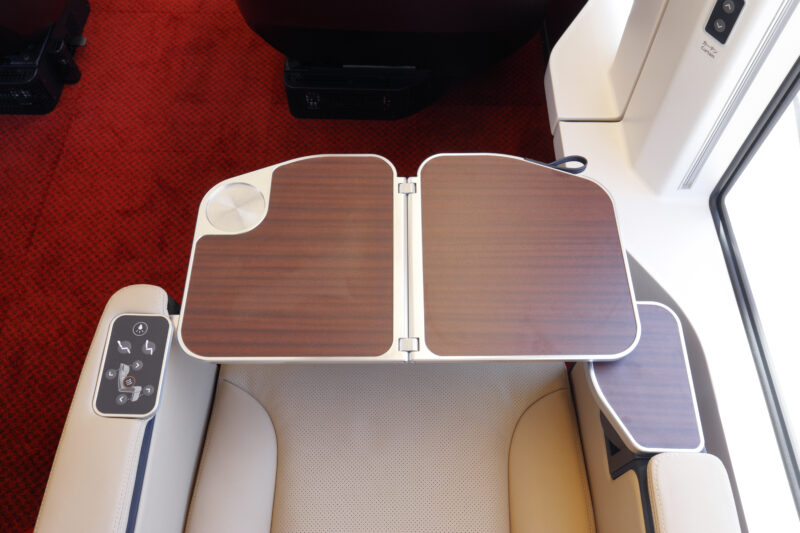 The seats in premium cars are also equipped with a seat table, which you can use to place your food and drinks, mobile tablet, or laptop.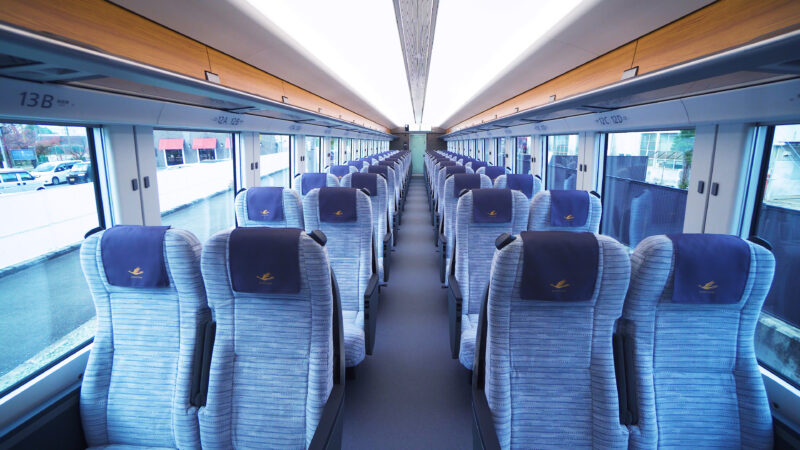 Standard cars have four seats per row with a 116 cm reclining pitch, and each features an adjustable footrest for extra comfort. The overhead compartments are made of glass with wooden lids.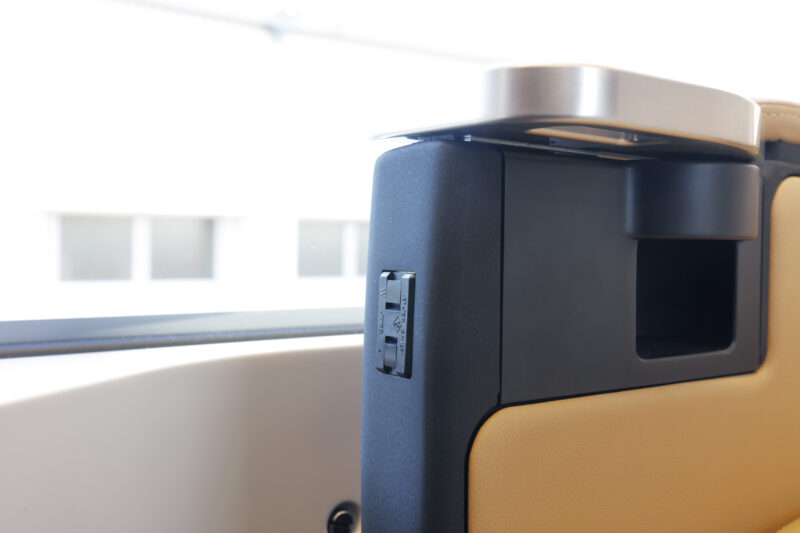 All seats have large glass windows fitted with ultraviolet-blocking glass and electric outlets installed.
2. Good accessibility
The trip between Osaka-Namba Station and Kintetsu-Nagoya Station takes around two hours with this train, which stops at eight train stations (maximum) on the journey: Osaka-Namba, Osaka-Uehommachi, Tsuruhashi, Yamato-Yagi, Tsu, Shiroko*, Kintetsu-Yokkaichi*, Kuwana*, and Kintetsu-Nagoya.
If you want to get off the train midway, stop by Tsuruhashi Station, or Yamato-Yagi Station as they connect you to Yamato-Saidaiji Station, a different train station on the Kintetsu Line that takes you to both Kyoto Station and Kintetsu-Nara Station.
In addition to Kyoto and Nara, you can also visit Kobe by transferring to the Hanshin Line at Osaka-Namba Station, and if you want to go to Kansai International Airport, you need to transfer to the Nankai Line.
You can also travel to the Chubu Centrair International Airport from Kintetsu-Nagoya Station by transferring to the Meitetsu Line.
*Only some trains stop at these stations
3. Affordable fare
The full fare from Osaka-Namba Station to Kintetsu-Nagoya Station is as follows :
| | | |
| --- | --- | --- |
| Seats | Adult (12 years old & above) | Child (6-11 years old) |
| Premium | 5,240 yen | 2,620 yen |
| Standard | 4,540 yen | 2,270 yen |
All fares include a 2,410 yen basic fare and limited express charge for Kintetsu Hinotori.
Compared to the JR trains, which are just 30 minutes faster than this train, the full fare is cheaper for about 2,000 yen in total.
4. Top-notch facilities
Kintetsu Hinotori is built luxuriously, and the train is best known for its top-notch facilities. Free Wi-Fi connection is available throughout the train, and each seat features an LCD screen providing information on upcoming destinations in several languages.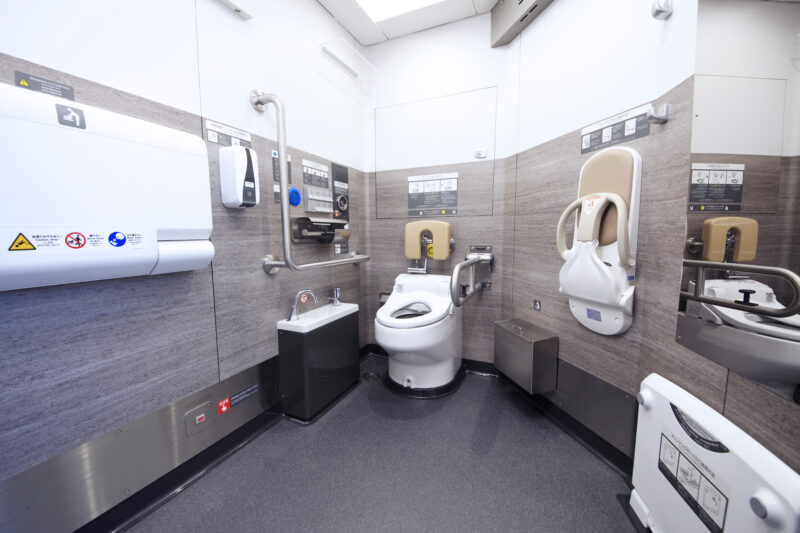 The train also has a wheelchair friendly multipurpose bathroom, which is equipped with a changing board for changing clothes, a diaper changing bed, and a baby chair.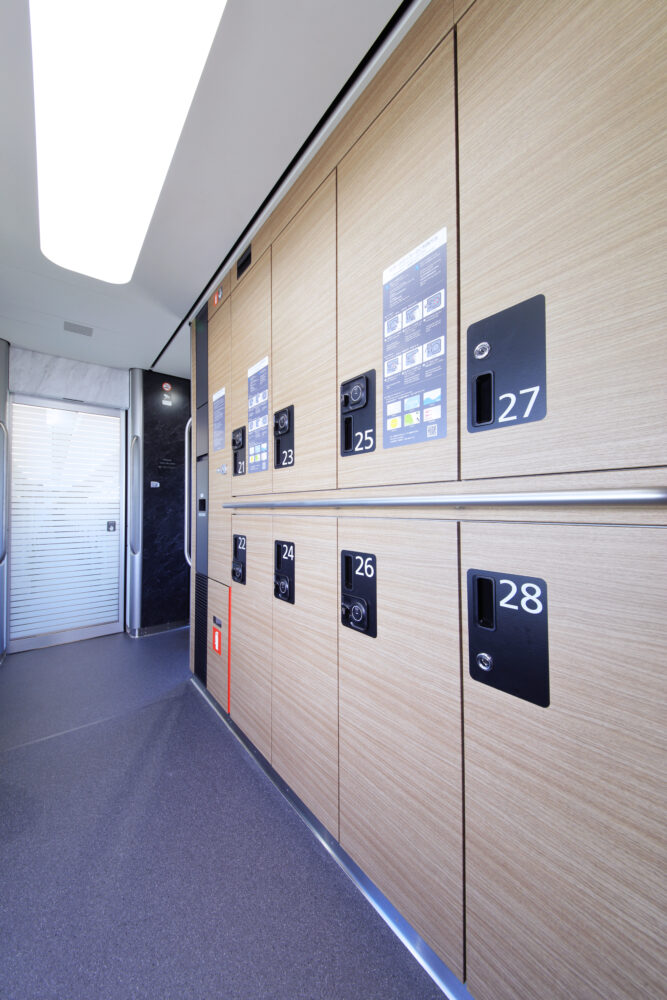 The train also has individual lockers where you can store large luggage like suitcases for free of charge.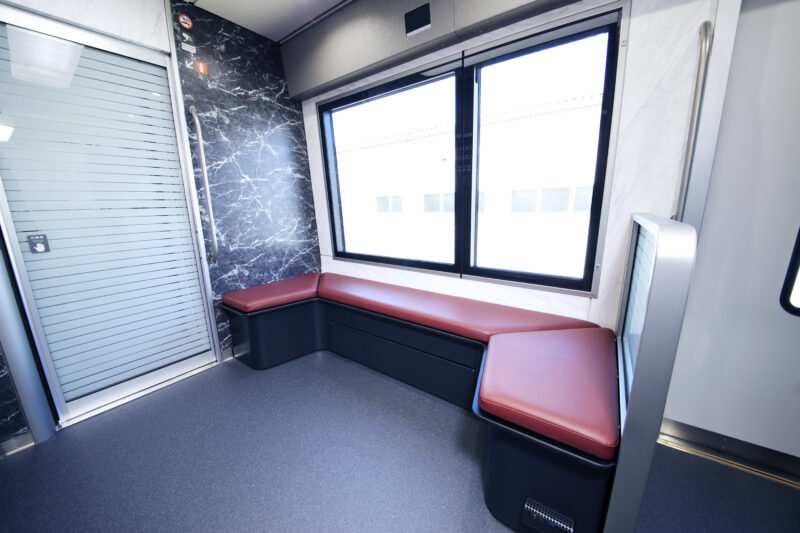 The train has two observation decks, located in front and last cars, offering a spacious bench seating and breathtaking scenery from its large windows.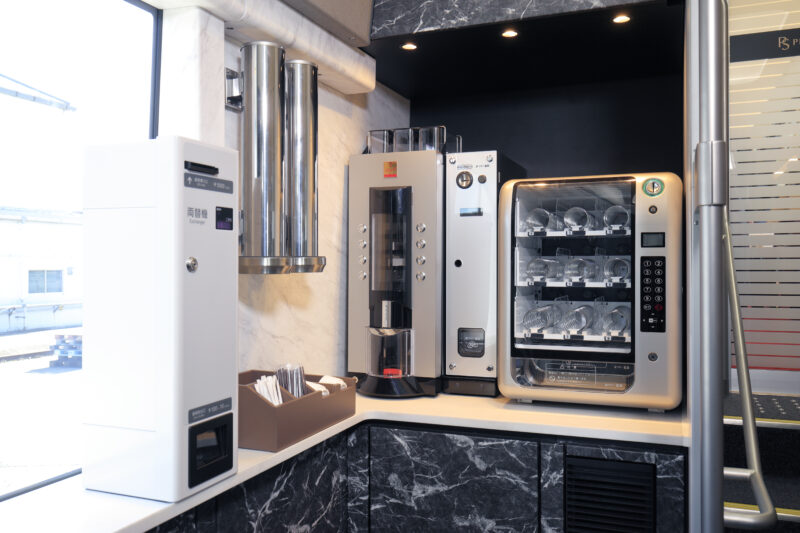 There are also café spots on both observation decks, which are all equipped with vending machines selling freshly brewed coffee and other hot and cold drinks, as well as sweets and other snacks.
5. Easy reservations
The limited express tickets for Kintetsu Hinotori can be reserved and purchased online or at a Kintetsu station ticket counter.
To check the train schedule and reserve your ticket online, please refer to this page.
If you want to purchase your ticket offline, visit a Limited Express ticket counter marked with a Limited Express ticket sign at these major stations: Osaka-Namba, Osaka-Uehommachi, Yamato-Yagi, Tsu, Kintetsu-Nagoya, etc.
6. Hygiene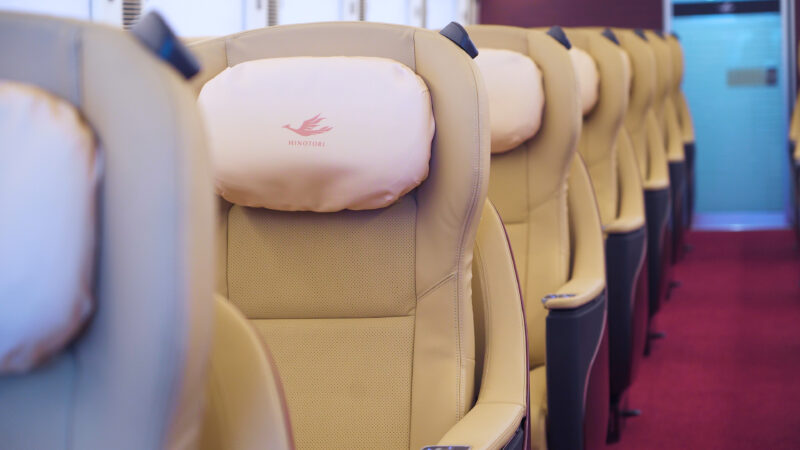 Hygiene is an important matter when traveling during the COVID-19 pandemic, and rigorous antiviral and antibacterial processes are implemented throughout all Kintetsu trains, with seats, straps, handrails, grip bars, and bathrooms cleaned and disinfected regularly. The air ventilation systems also clean the air in the carriages constantly.
7. Must-visit nearby sightseeing spots
 There are some great sightseeing spots between Osaka-Namba Station and Kintetsu Nagoya Station, and this feature introduces some spots nearby Osaka-Uehommachi, Tsuruhashi, and Tsu Stations that are worth visiting when you're in the area.
The first spot to introduce near the Osaka-Uehommachi Station is the Osaka Shinkabukiza Theater, a new kabukiza theater opened on the 6th floor of Uehommachi YUFURA. The theater is widely known for hosting authentic kabuki performances, but it is now a popular venue for historical dramas, classic pop shows, enka performances, and more. There are also restaurants, bento shops, coffee shops, and souvenir shops where you can purchase some local treats.
Dotonbori is located in the south area of Osaka, which is less than 2 km away from Osaka-Uehommachi Station. The area is known as one of Japan's biggest commercial districts, and it is a spot where you can enjoy the real atmosphere of Osaka. Dotonbori is packed with food and entertainment, including the infamous Kani Doraku crab restaurant and the gigantic Glico signs. The area was once known as a theater town in the Edo Period (1603-1868), and it is still home to the Shochikuza Theater, hosting numerous Kabuki performances and seasonal events.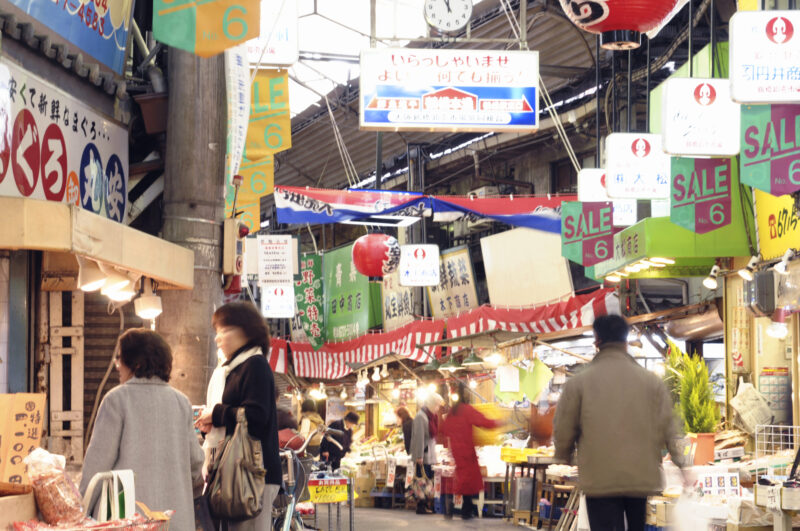 One of the best spots to visit nearby Tsuruhashi Station is the Tsuruhashi Hondori Shotengai, a shopping arcade in Southern Osaka. Although Tsuruhashi is known as the biggest town for Korean food and groceries in Japan, Tsuruhashi Hondori Shotengai is perhaps the most authentic Japanese market in the area.
There are around 800 shops in the arcade, offering fresh seafoods and fishes, vegetables, fruits, kelp, and more.
Another spot to visit when you're in Tsuruhashi is the Ikuno Korea Town, the largest Korean town in Japan. The neighborhood is home to numerous Korean food eateries and stores, and some establishments have been operating since the end of World War II.
The establishments are run by  the Korean descents, which were brought to Japan from Korea in the early 20th century, particularly during Japanese occupation of Korea. These people are known as Zainichi Kankokujin, and they have transformed the neighborhood into a miniature version of South Korea, where you can find authentic Korean local treats like Kimchi and Korean spicy cold noodles.
The next spot to introduce is Yuki Shrine, a Shinto shrine in Tsu City that is known for its incredible weeping plum blossoms. The shrine's garden features 300 plum trees that bloom in spring, offering a splendid view of pink and white blossoms of various shades. The best time to visit the shrine for its plum blossoms is either in the first or second week of March, when the plum blossoms are at their peak.
The shrine can be accessed by taking the bus bound for Yonezu from the east side of Tsu Station, and it takes around 15 minutes until you reach the Yuki Jinja Mae bus stop.
Another spot to visit when you're in Tsu City is the Mie Prefectural Museum, or MieMu. The museum is best known for its modern and beautiful structure, and it is the place where you can learn about the history, characteristics, culture, traditions, and other interesting information about Mie Prefecture.
MieMu was opened in Tsu City in April 2014, replacing the old Mie Prefectural Museum, which was located in Kairaku Park near Tsu Station. The building is part of a new cultural center, along with the Mie Center for Arts and the Mie Prefectural Library. Inside the museum, there are mesmerizing interactive video displays, stuffed animals, and fish.
*.。.*゚*.。.*゚*.。.*゚*.。.*゚*.。.*゚*.。.*゚
Now that you know how great Kintetsu Hinotori is, how about booking a ticket for your next trip to Osaka or Nagoya, and then, enjoy the new travel experience with Kintetsu's "Hinotori" train ?
Read other article from Kintetsu Railway