Ten amazing things to do at Nara Park and its surroundings!
Ten amazing things to do at Nara Park and its surroundings!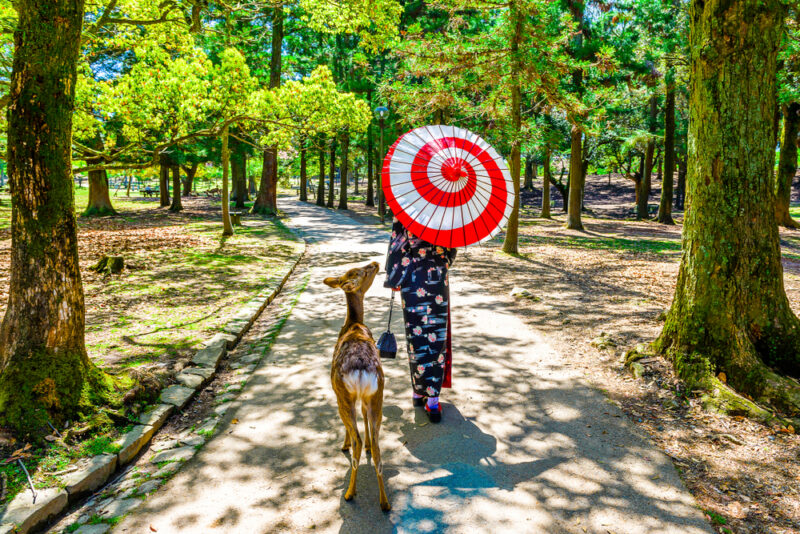 Nara Park (奈良公園, Nara Kōen) is a large public park opened in 1880, located in central Nara, Japan. Sits at the foot of Mount Wakakusa, Nara Park is one of the oldest parks in Japan, and it is mainly known for its adorable wild shika deer (鹿, shika). There are over 1,200 deer roaming around in the park, and since they are considered as the messengers of the gods, the deer have become a symbol of the city.
In addition to its charming deer, the park is the location of many of Nara's main attractions, including Todaiji Temple, Kasuga Taisha Shrine, Kohfukuji Temple, the Nara National Museum, and Shinyakushiji Temple.
This feature will introduce 10 amazing things to do at Nara Park and its surroundings, which you can use to plan your next itinerary when visiting Nara.
Index
1. Meet and feed the deer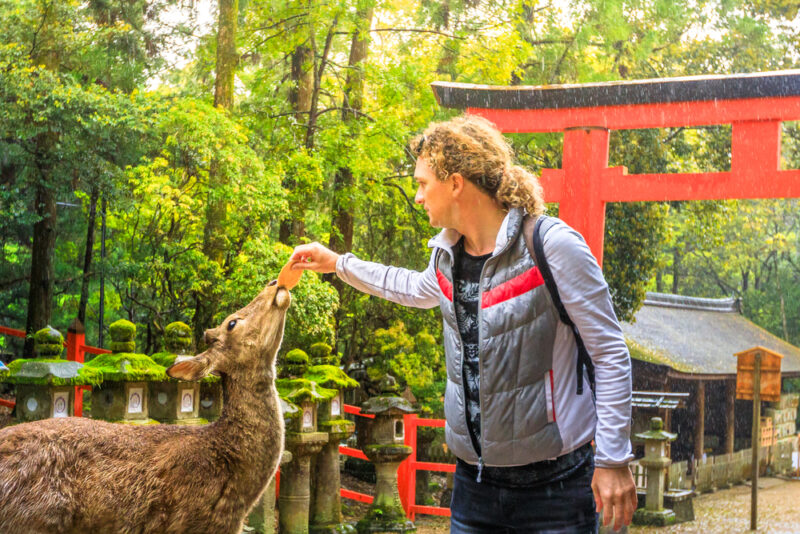 As we mentioned before, there are over 1,200 deer in Nara Park, but where can you find them? You can literally find them everywhere; there are so many deer so you don't need to get far from the train station before you're surrounded by them.
The deer in Nara Park are so used to the presence of humans, and they've come to see tourists as a source of food. You can feed them with the deer crackers that are sold for 200 yen for 10 crackers. These crackers are specifically nutritionally balanced for the deer, and once you start feeding them, they will quickly start following you around. Don't run or panic when you see them following you, just calmly feed them until the crackers are gone, or you would find yourself being chased by them.
Information about Nara Park
Business hours
Admissions
Official website (Japanese)
Google MAP
2. Let the deer bow to you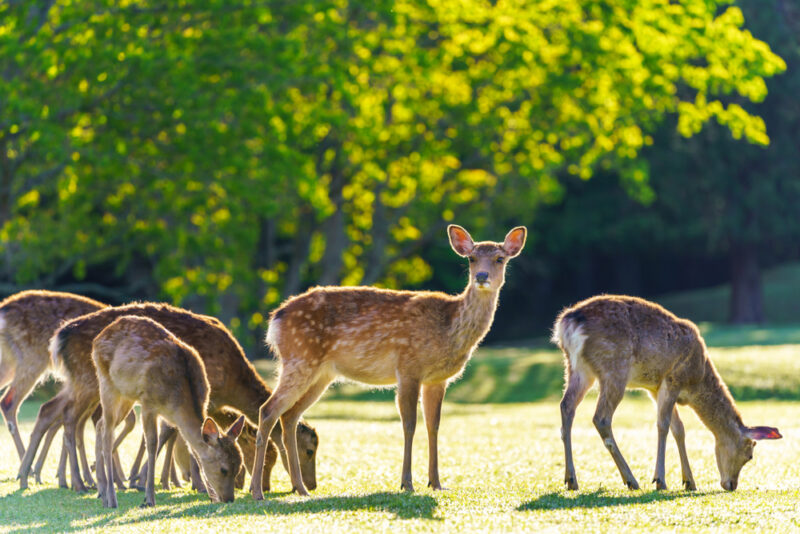 A fun fact about the deer in Nara Park; they are known for their unique quirk of bowing to visitors! If you bow your head to them first, they will bow their head back to you. This adorable move is apparently a learned behavior, and they know that they are more likely to get food if they do so.
However, don't ever think that these deer are always polite, because there are signs warning tourists that they can also bite, kick, and headbutt people too. Do not make any moves that will provoke them; as long as you keep your food stashed away and you treat them nicely, they are as close to tame as wild animals get.
3. Meet the world's largest bronze Buddha statue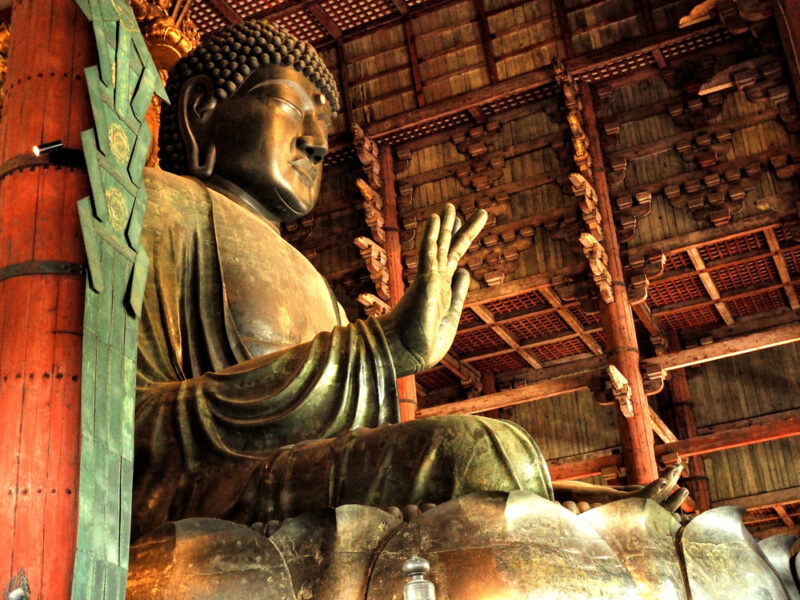 Nara Park is also known for its incredible cultural heritage, and the most famous attraction most visitors go to is the Great Buddha Hall at Todaiji Temple.
Todaiji Temple is known for having the world's largest bronze Buddha statue, which weighs around 300 tons.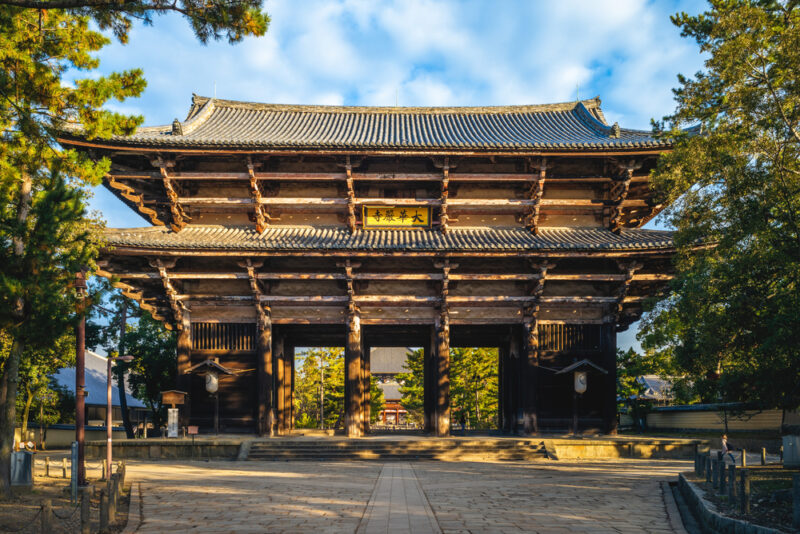 Another must-see thing at Todaiji Temple is its Nandaimon (Great Southern Gate), which functions as the main entrance to Todaiji Temple. Built in the 13th century, this wooden gate features two muscular, fierce looking Nio Guardian statues, which both were crafted in 1203 and are 8.5 meters tall.
Information about Todaiji Temple
Business hours
April to October : 7:30 – 17:30

November to March : 8:00 – 17:00
Admissions
age 13 & above : 600 yen

elementary school students : 300 yen
Official website
Google MAP
4. See the mesmerizing view of Japan's second tallest pagoda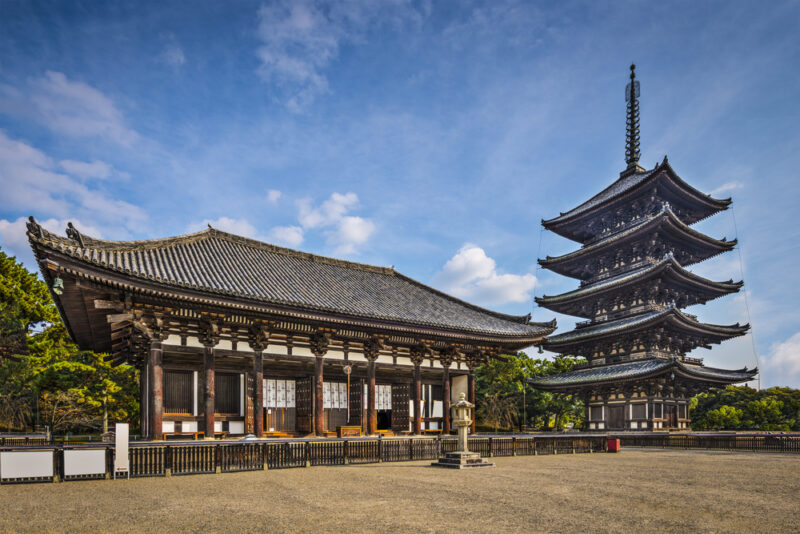 The other thing to see when visiting Nara Park is the impressive 50-meter tall pagoda at the neighboring Kohfukuji Temple. The pagoda was completed in 1436, and the current construction was built later on after the original structure burned down. This pagoda is known as the second tallest five-story pagoda in Japan.
In addition to the five-story pagoda, the octagonal halls, Hokuendo and Nanendo, are also famous among tourists. Mound-like stupa typically have a smooth, round shape, and these halls are famous for having unusual shapes.
The East Golden Hall, Tokondo, is the only original golden hall that remains until today.
Information about Kohfukuji Temple
Business hours
9:00 – 17:00

Open throughout the year
Admissions
adult & college students : 700 yen

junior high & high school students : 600 yen

elementary school students : 300 yen
Official website
Google MAP
5. Stop by Kasuga Taisha Shrine, the biggest Shinto shrine in Nara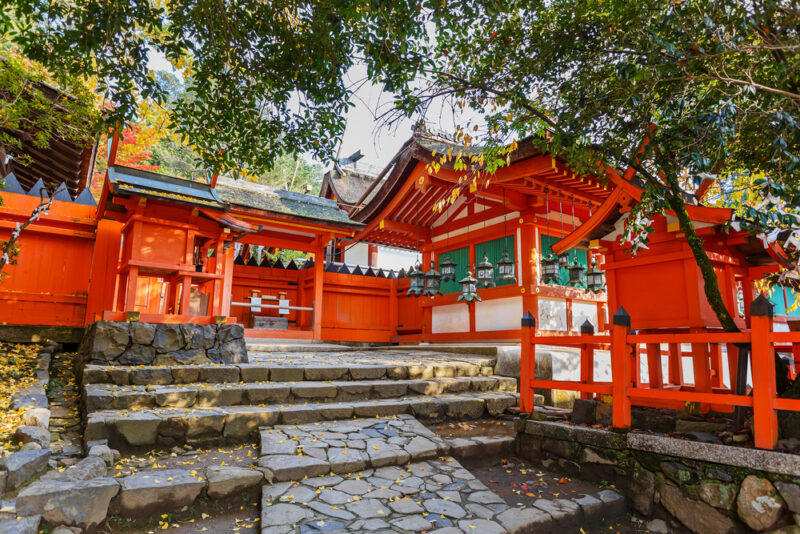 Kasuga Taisha Shrine is known as one of the most sacred sites in Japan, and it is famous as home to numerous gods. The shrine attracts both Shinto's believers and tourists seeking for an iconic Shinto experience.
The shrine was built in 768 by a lord of the powerful Fujiwara clan, and unlike other Japanese shrines, which only honor one or two gods, Kasuga Taisha Shrine was built to host four gods.
The shrine is known for its colorful and Instagrammable setting; the contrast between its bright vermilion paint, the white walls, and the cypress wood roofs has inspired tourists and photographers for years. To maintain its construction quality, the shrine was rebuilt every two decades, but the tradition stopped when the Edo period ended.
Information about Kasuga Taisha Shrine
Business hours
April to September : 6:00 – 18:00

October to March : 6:30 – 17:00
Admissions
Official website
Google MAP
6. Learn about the history of Buddhism in Japan at Nara National Museum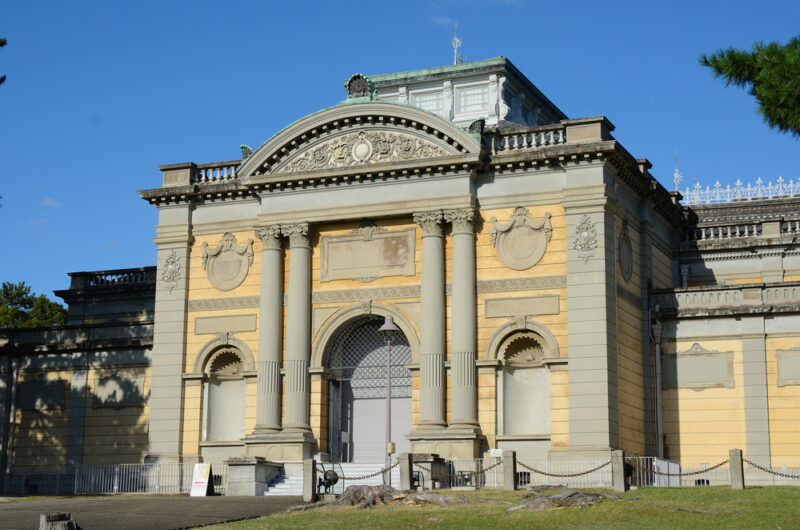 Unlike other Japanese museums, Nara National Museum is focused on preserving the religious heritage and artifacts of Japanese Buddhism. The museum exhibits documents and artifacts explaining how Buddhism was established in Nara, so it's a perfect place to visit if you're interested in learning the history of Japanese Buddhism in depth.
This museum was designed by Tokuma Takayama, a famous architect who introduced French and Western artistic influences into Japanese architecture. Also registered as an Important Cultural Property of Japan, the museum accommodates ancient art and historical artifacts displaying the development and practice of Buddhism in Japan.
The new wings of the museum and the passageway that links them display artifacts, and you can visit the passageway if you want to find out more about the construction of Buddhist art pieces through detailed descriptions.
If you are interested in learning more about Buddhist art, you must visit the Buddhist Art Library section of the museum, as it is home to numerou books, replicas, rubbings, and photographs documenting the history of the religion in Japan.
Information about Nara National Museum
Business hours
9:30 – 17:00

Closed on Mondays and from December 28th to January 1st
Admissions
adults : 700 yen

college students : 350 yen

age 17 and below : free
Official website
Google MAP
7. Pray for a good health and Shinyakushiji Temple
Shinyakushiji Temple is a temple for healing located just south of Nara Park. The temple was built upon Empress Komyo request, particularly after an eye ailment plagued Emperor Shomu, her husband. deitie
The temple is known for its main statue, Yakushi Nyorai, which is known as the Medicine Buddha, which is carved from a single piece of wood and is believed to have healing powers.
Around the Buddha statue, there are twelve Shinsho Ritsuzo statues, which are also known as the Twelve Heavenly Generals, which date back to the 8th century and are believed to be the oldest Shinsho Ritsuzo statues in Japan.
The temple is also famous for a huge bell that was once attacked by an oni, a type of ogre, and the large scratch marks on the bell are said to be the ogre's claw marks.
Information about Shinyakushiji Temple
Business hours
Admission
college students & adults : 600 yen

junior high & high school students : 350 yen

elementary school students) : 150 yen
Official website (Japanese)
Google MAP
8. Enjoy Japan's four seasons at Nara Park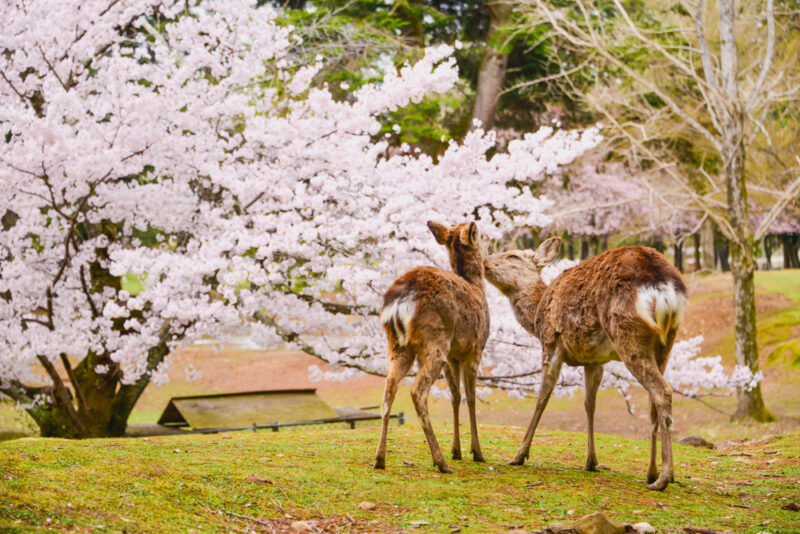 Japan is famous for its four seasons, and Nara Park is a popular spot for enjoying the change of season in Japan, especially since you can enjoy both the natural scenery and the adorable wild shika deer at the same time. In spring, there are over 1,700 cherry trees grown in Nara Park, making it selected as one of Japan's '100 Best Cherry Blossom Spots'.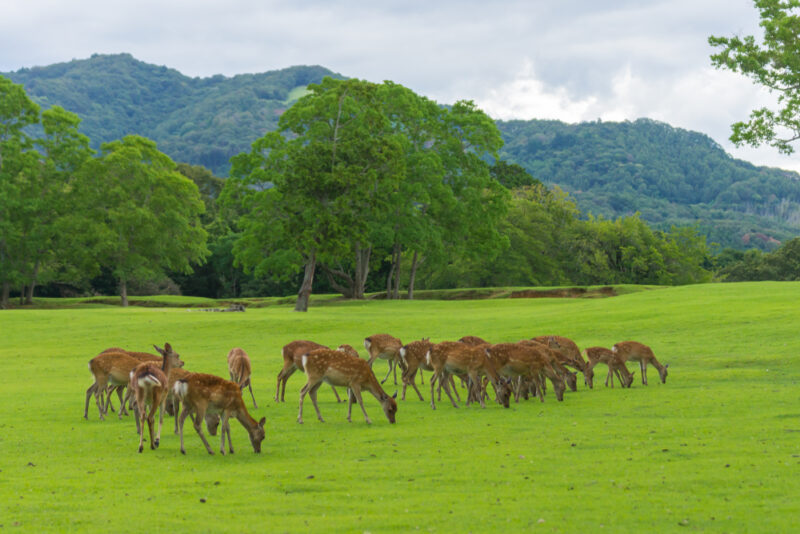 In summer, the park is famous for its vast lavish green scenery, with wild shika deer freely roaming around the park, bowing to the ground looking for food.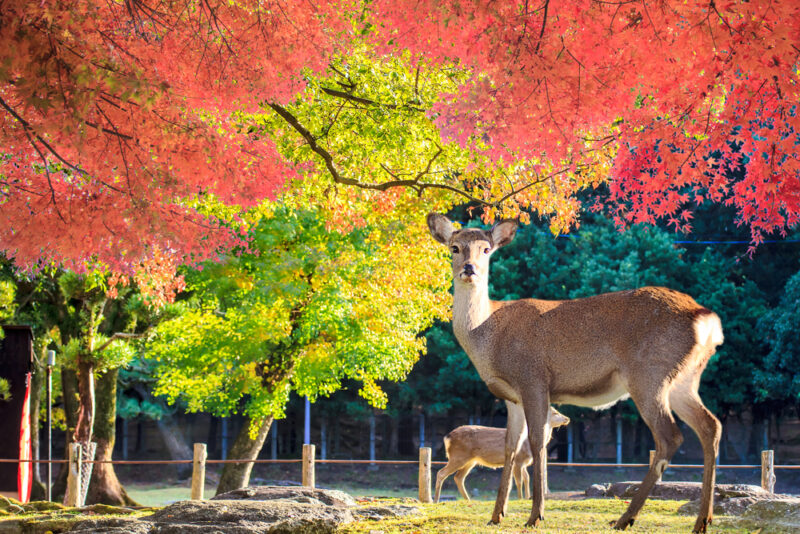 In addition, many tourists visit Nara Park in fall to enjoy its beautiful fall foliage. The contrast between red and yellow leaves and wild shika deer has made this park become one of the perfect spots for fall foliage in the Kansai region.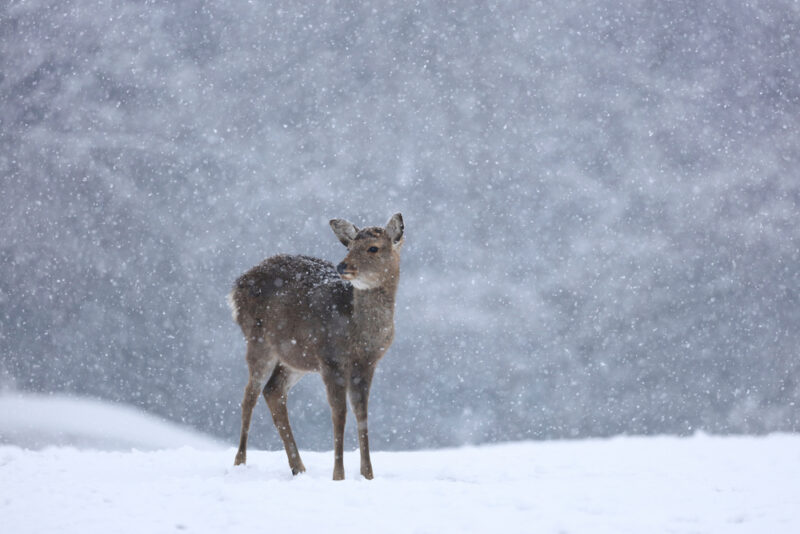 Although it may be cold, one of the best seasons to visit Nara Park is during winter, particularly from late December to January, when the weather is cold enough to snow. Seeing the wild shika deer roaming around the park while it's snowing is mesmerizing, giving you a different sensation that you can't enjoy in other seasons.
9. Stop by the food stalls for its unique street foods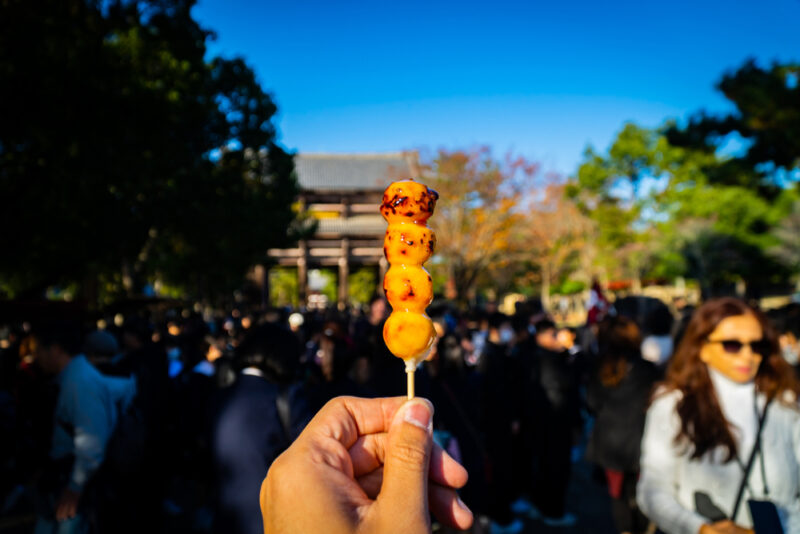 Traveling never feels complete if you don't try the food, so make sure to stop by the food stalls in Nara Park to try the street foods. One of the best foods to try at the park is the 'Mitarashi Dango (みたらし団子), a traditional Japanese rice dumplings skewered on a bamboo stick and smothered in an sweet soy sauce glaze, which costs less than 500 yen per stick.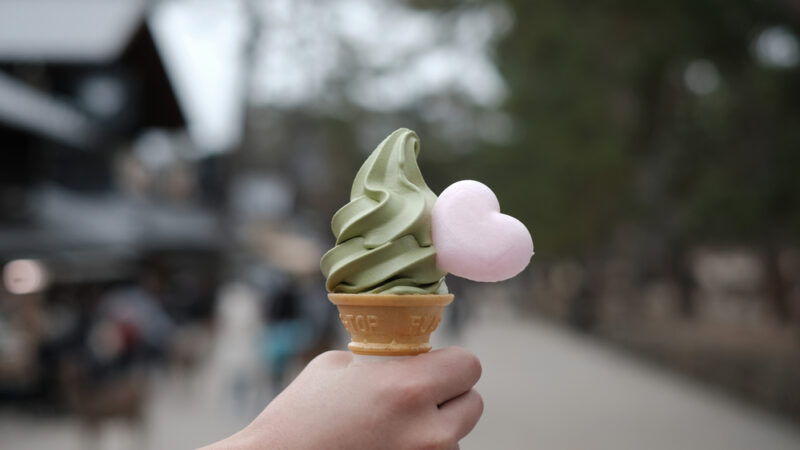 Japan is known for its amazing soft-serve ice cream, and there are many soft-serve ice cream shops along the road to Todaiji Temple. One of the most famous soft-serve is the matcha soft-serve ice cream, which is topped with a heart-shaped mochi wafer.
10. Shop for some deer-themed souvenirs!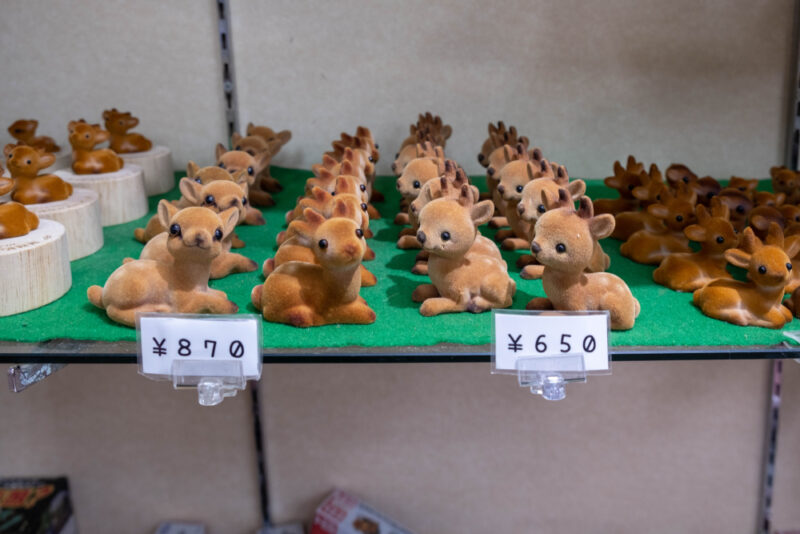 Deer have become a symbol of Nara, and there are many shops selling deer-themed souvenirs to take home. Some of the most famous souvenirs to purchase are the deer figures, accessories, and plushies, but if you're looking for something different, you can purchase deer-inspired snacks like chocolate, cookies, or cakes.
*.。.*゚*.。.*゚*.。.*゚*.。.*゚*.。.*゚*.。.*゚
Now that you have an idea of how many fabulous things to do at Nara Park and its surroundings, all you must do is plan your itinerary to enjoy unforgettable experiences in this lovely destination!
How to go to Nara Park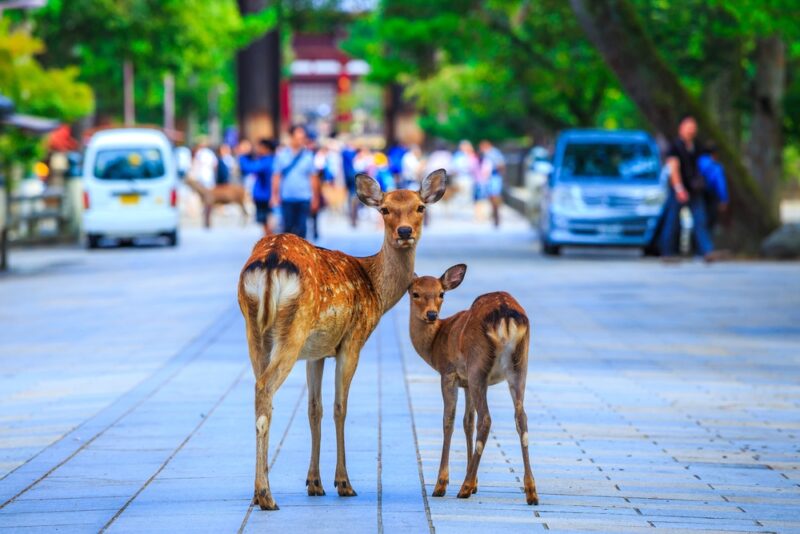 Nara is a popular stop on Japan's 'Golden Route', and the city is not so far from Osaka and Kyoto, two popular cities to visit in the Kansai region.
The fastest way to get to Nara is by taking the 35-minute rapid express from Osaka-Namba Station to Kintetsu Nara Station, which cost 570 yen. Kintetsu Nara Station can be reached from Kyoto Station in just over 40 minutes as well.
The closest station to Nara Park is the Kintetsu Nara Station, which is just a 5-minute walk from the park. The park is also accessible from JR Nara Station with a 20-minute walk.