Visit Ise-Shima with Shimakaze, the premium sightseeing limited express by Kintetsu Railway
Visit Ise-Shima with Shimakaze, the premium sightseeing limited express by Kintetsu Railway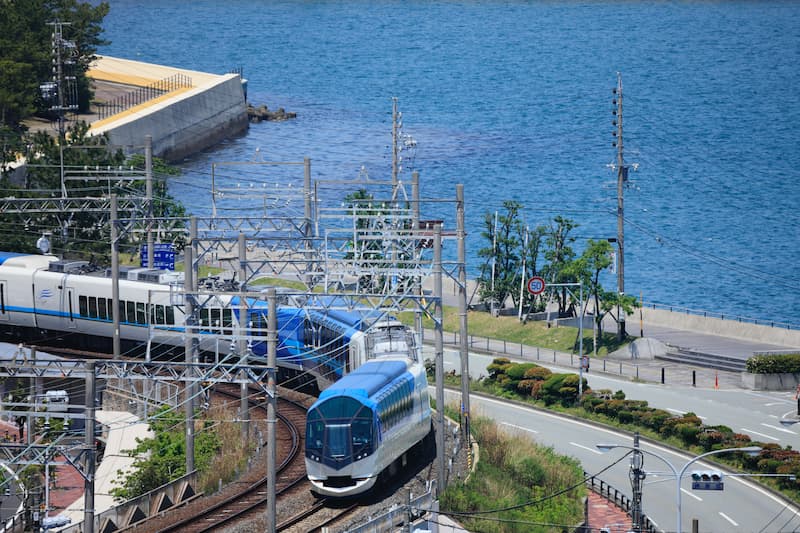 Shimakaze is the premium sightseeing limited express train operated by Kintetsu Railway, and it runs in between Ise and Kashikojima, connecting the Ise-Shima Peninsula to major cities like Kyoto, Osaka, and Nagoya.
Unlike other limited express trains, Shimakaze offers an upscale comfort with its luxurious design and interior. The train is also equipped with cutting-edge technology, making it one of Japan's most beautiful trains.
Known for its excellent service, let's find out why this limited express train is worth trying for!
Index
1. Visit Ise-Shima with Shimakaze, A luxurious train built in Kintetsu 50000 series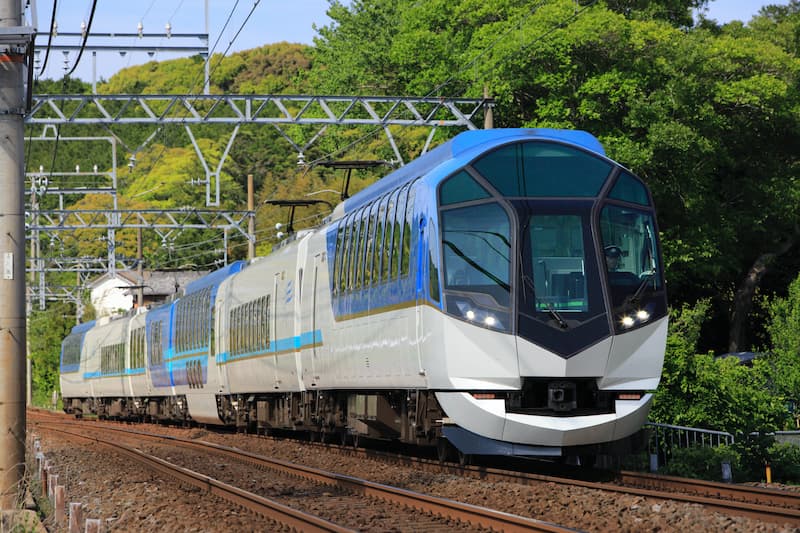 Shimakaze is built in 50000 series trains, which were constructed between 2012 and 2014. This train offers travelers such a quality voyage with its luxurious interior, with 1-2 seating configurations and private compartments.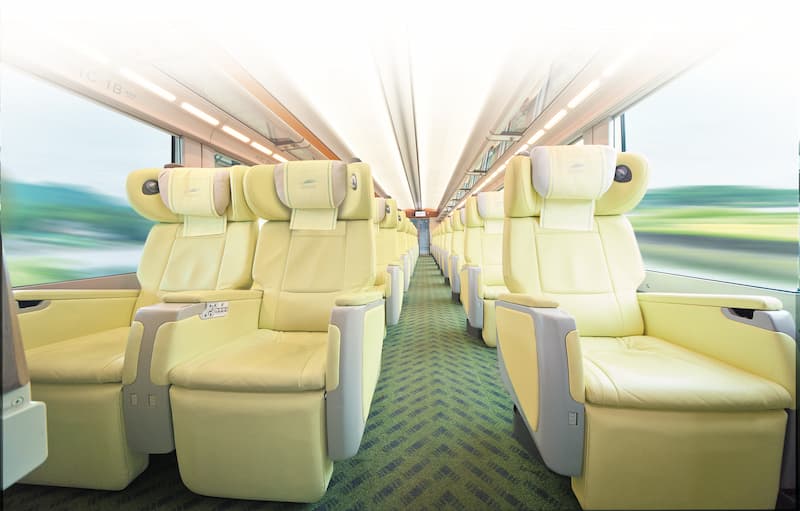 All seats have a pitch of 125 cm, which are more comfortable than those used on Japan's Shinkansen bullet trains. Covered with soft and genuine leather, the seats are equipped with headrests, air cushions, leg rests, and reclining functions. Moreover, the passenger can change the angle of the top of the seat in order to rest and relax conveniently.
2. Private rooms for family or group use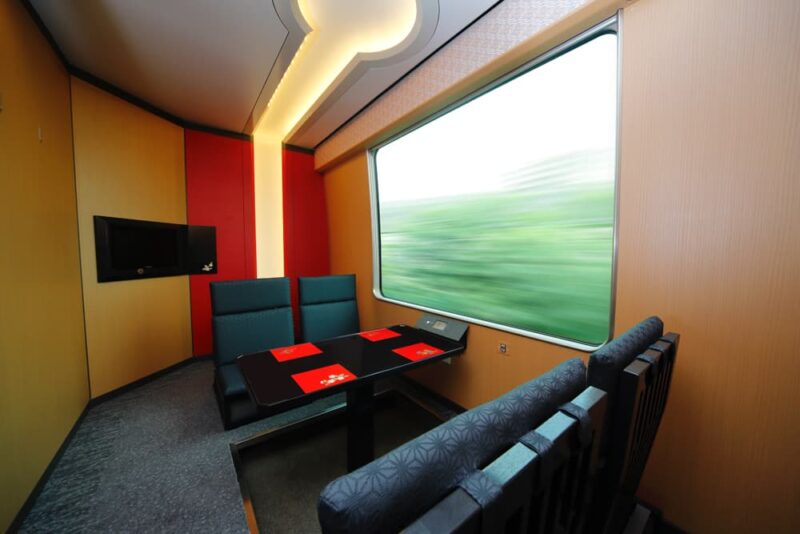 In addition to its reserved seats, Shimakaze offers private rooms to its passengers, where they can relax and chat. There are two types of private rooms: a Japanese-style room and a Western-style room.
The Japanese-style room is decorated with a table that looks like a horigotatsu, a Japanese traditional low table that has a hole in the floor, and legless chairs.
The room also has a large window, where you can enjoy the surrounding scenery while traveling, and soft lighting that creates a heart-warming atmosphere.
An extra fee of 1,050 yen per room is separately required to use this room.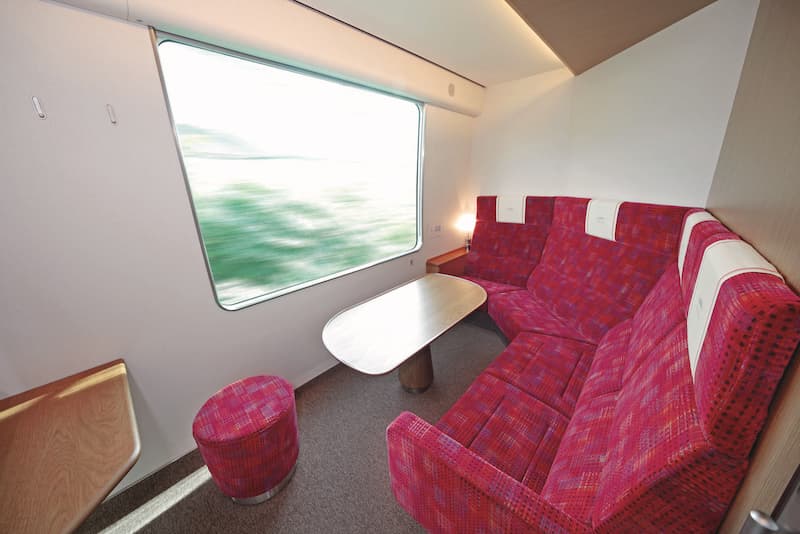 In addition to the Japanese-style room, there is also a Western-style room in this train. Just like a living room, this private room has an L-shaped sofa and table installed where travelers can spread out and relax as if they were in a living room.
To use this room, you need to pay an extra fee of 1050 yen as well.
3. Large salon seats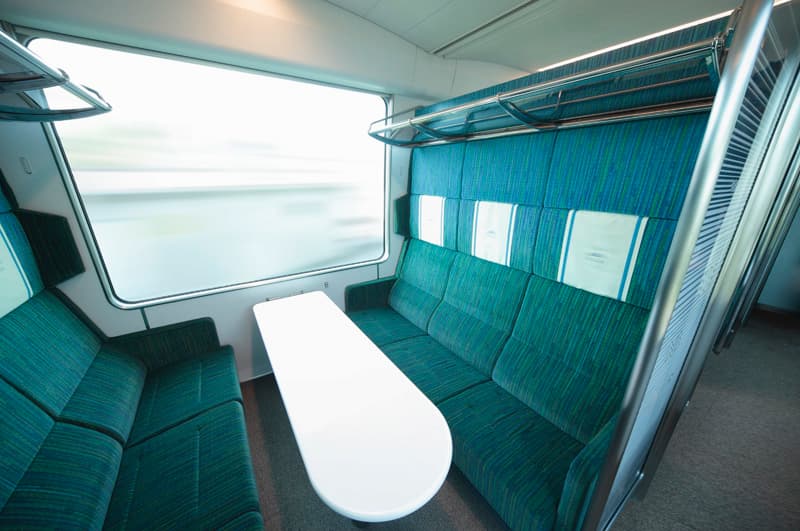 Shimakaze train also has three salon seating areas on each Group Seating Car, and unlike other seats, these seats have large tables, which are perfect for passengers who travel as a group.
The salon seats have a maximum capacity of six, and passengers can use these seats for free, without paying any additional fee.
4. Built-in cafe and restaurant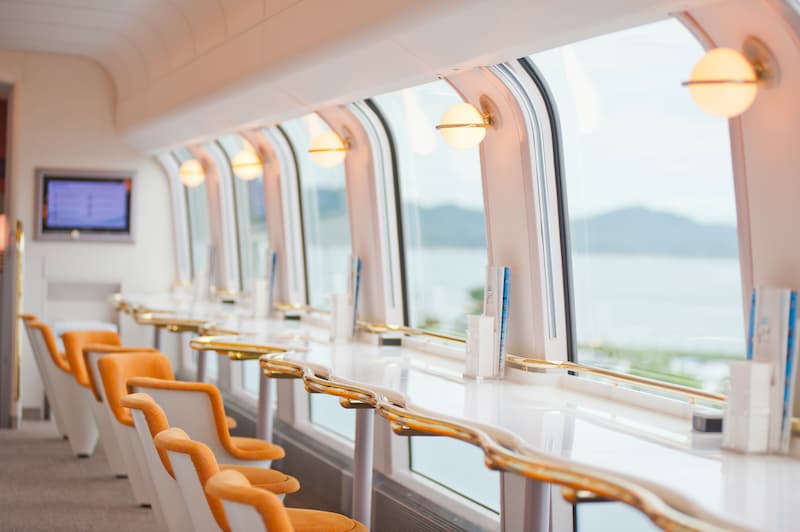 In addition to the private rooms and the salon seating area, Shimakaze also has a built-in cafe and restaurant facility in its train.
The built-in restaurant and cafe are in a two-story car, and passengers can try dishes and drinks made from ingredients sourced from places along the train line, allowing them to try the local specialties even before they reach their destination.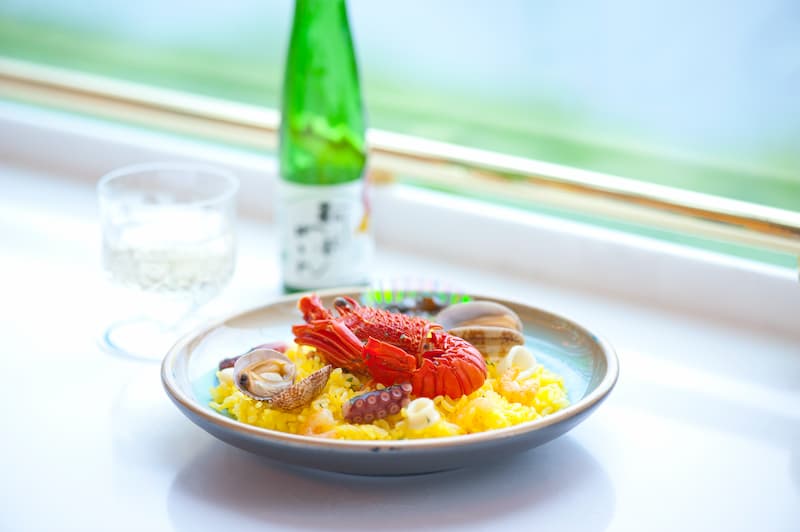 All dishes offered there are freshly cooked, and some of their best-selling items are as follows :
Cooked oyster seasoned with shoyu

Ise lobster miso soup

Seafood pilaf

Japanese curry

Matsusaka beef bento
Most of those items are priced around 1500 yen, and although they are slightly more expensive than an ekiben sold at the station, they are still in the affordable range and definitely not overpriced.
5. Train schedule
The schedule for the limited express Shimakaze is as follows :
6. Affordable fare
The fare of Shimakaze trains is more affordable compared to bullet trains. The full fare from major stations is as follows :
| | | |
| --- | --- | --- |
| Routes | Adult (12 years old & above) | Child (6-11 years old) |
| Osaka-Namba to Kashikojima | 5,040 yen | 2,530 yen |
| Kyoto to Kashikojima | 5,680 yen | 2,840 yen |
| Kintetsu Nagoya to Kashikojima | 4,700 yen | 2,360 yen |
Visit this page if you want to know the full fare for other sections.
7. Easy reservation
The limited express tickets for Shimakaze can be reserved and purchased online or at a Kintetsu station ticket counter.
To reserve your ticket online, please refer to this page.

If you want to purchase your ticket offline, visit a Limited Express ticket counter marked with a Limited Express ticket sign above.
8. Must-visit nearby sightseeing spots
There are some great sightseeing spots to visit in the Ise-Shima region, and to give you more insights into it, we introduce some spots worth visiting when you're in the area.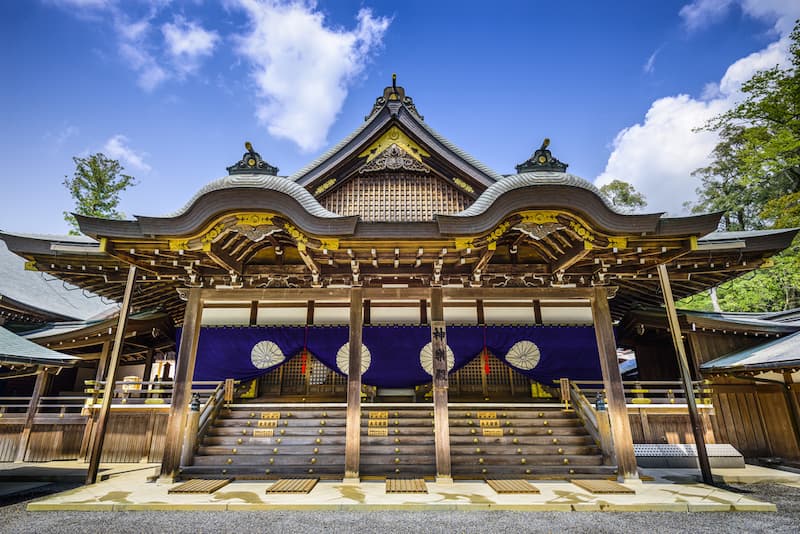 Ise Grand Shrine is best known as one of the most important shrines in Japan, and it accommodates 125 shrines in its ground, including the main inner shrine (Naiku), and the outer shrine (Geku).
The inner shrine of Ise Grand Shrine was built and dedicated to Amaterasu Omikami, a female goddess worshiped as the ancestor of the Japanese Imperial Family. The outer shrine was built and dedicated to Toyouke Omikami, the goddess of food and harvest.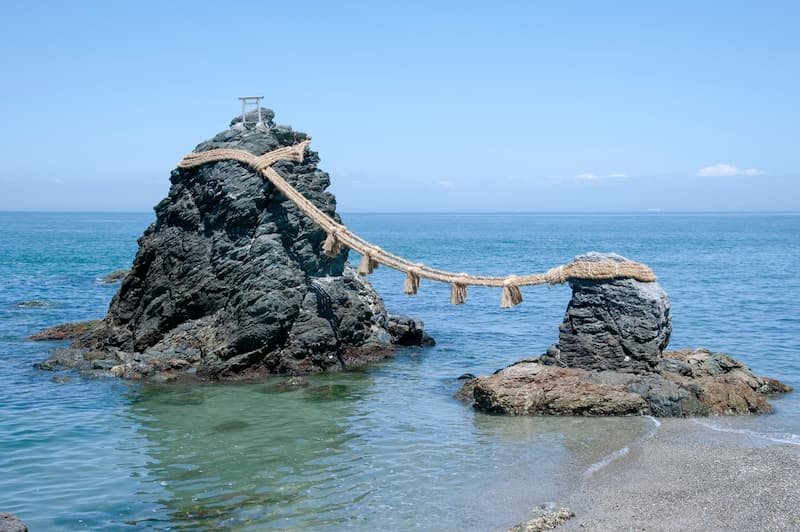 Futami Okitama Shrine is in Futami, a small town in Ise City, Mie. The shrine is famous for bringing good fortune in marriage, and a lot of Japanese women visit the shrine to pray for happiness in their marriage.
Near the shrine, there is a pair of sacred rocks called Meoto Iwa, which stand 700 meters away from the shoreline. The first rock is called 'Oiwa', which is 9 meters tall and represents males. The second rock is called 'Meiwa', which is 4 meters tall and represents females.
Both rocks are tied together with shimenawa, a sacred straw rope, and there is a torii (shrine gate) on top of Oiwa.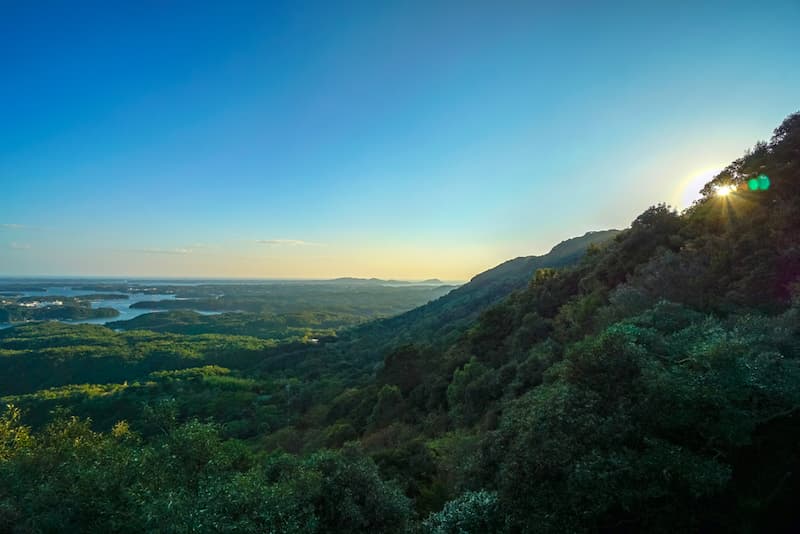 Ise-Shima National Park is the largest national park in the Ise-Shima region, and the park functions like a living museum. The park is in the Mie Prefecture, and it is mainly known for its exceptional nature, with lavish greenery and crystal blue ocean on three sides.
The park has small islands offering local delicacies like abalone and spiny Ise lobsters, which are collected by fisherwomen known as ama to this day, using traditional methods of freediving.
In addition to its scenic beauty, the national park serves as the backdrop to some of Japan's foundational legends. The park is also home to one of the most important shrines in Japan, the Ise Grand Shrine.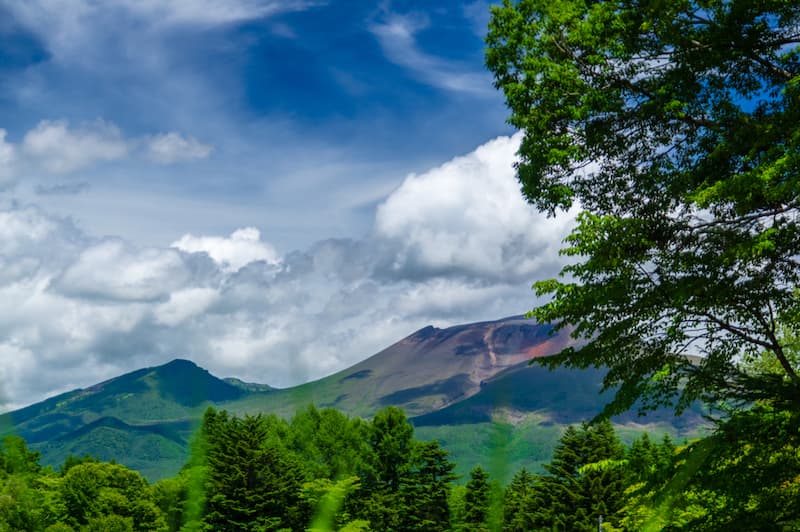 Mt. Asama is located at the junction of two volcanoes in Japan, and the mountain stands 2568 meters high. The mountain is one of the few active volcanoes in Japan, and it last erupted in 2019.
Located in between Nagano Prefecture and Gunma Prefecture, the lava flows from Mt. Asama's massive 1783 eruption created Onioshidashi Park, a large crater park in Gunma Prefecture.
The mountain offers a breathtaking view of volcanoes, greenery, and beautiful walking trails.
---
And this is how we visit Ise-Shima with Shimakaze, the premium sightseeing limited express by Kintetsu Railway.
Now that you know how great Shimakaze Limited Express is, how about booking a ticket for your next trip to the Ise-Shima region?
Read other article from Kintetsu Railway