Twelve best things to do in Kansai Region
Twelve best things to do in Kansai Region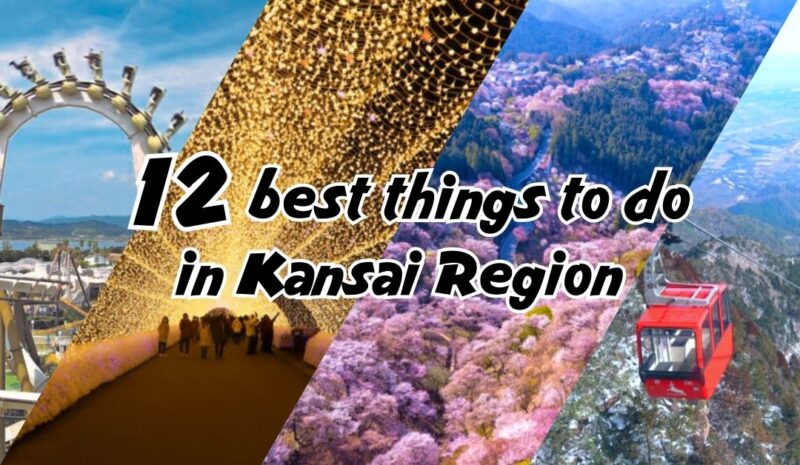 It is no exaggeration to say that Tokyo is perhaps in everyone's bucket list when it comes to visiting Japan, but Japan is not only about Tokyo. There are some cities in the Kansai Region that are worth visiting; Osaka, Kyoto, Nara, and Mie, particularly for their beautiful nature, rich history, culture, and mouthwatering local cuisines. To help you plan your itinerary, we have come up with "Twelve best things to do in Kansai Region", which all can be accessed easily with Kintetsu Railway trains.
Index : Twelve best things to do in Kansai Region
1. Doing fun activities at Nara Park and its surroundings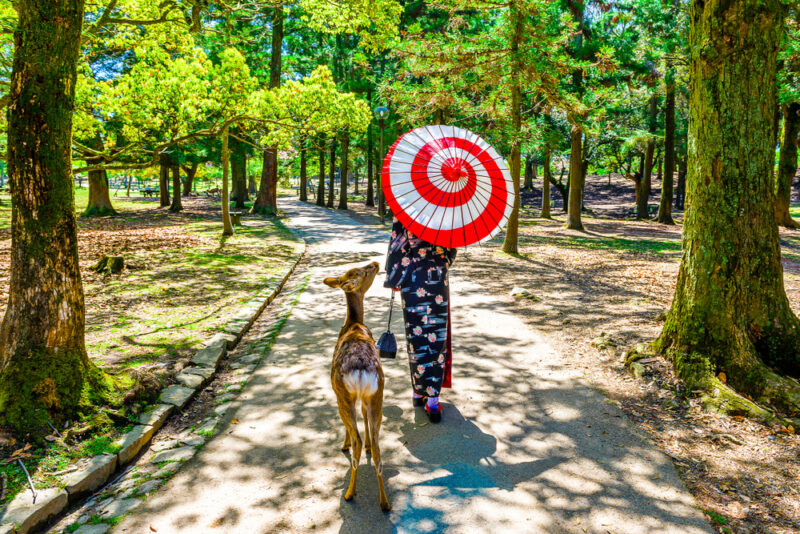 Nara Park (奈良公園, Nara Kōen), opened in 1880, is a large public park in central Nara, Japan. Known as one of the oldest parks in Japan, the park sits at the foot of Mount Wakakusa, one of the most iconic mountains of Nara.
The park is mainly known for its adorable wild shika deer (鹿, shika). There are over 1,200 deer roaming around the park, and since they are considered as the messengers of the gods, the deer have become a symbol of the city.
The park is also home to many of Nara's main attractions like Todaiji Temple, Kasuga Taisha Shrine, Kohfukuji Temple, the Nara National Museum, and Shinyakushiji Temple.
With all the interesting things around Nara Park, you can plan a one-day trip to visit adorable shika deers and admire beautiful temples.
To help you plan your next itinerary when visiting Nara, we have come up with ten amazing things to do at Nara Park and its surroundings, which you can find here.
2. Enjoy a luxurious travel experience with Kintetsu's HINOTORI train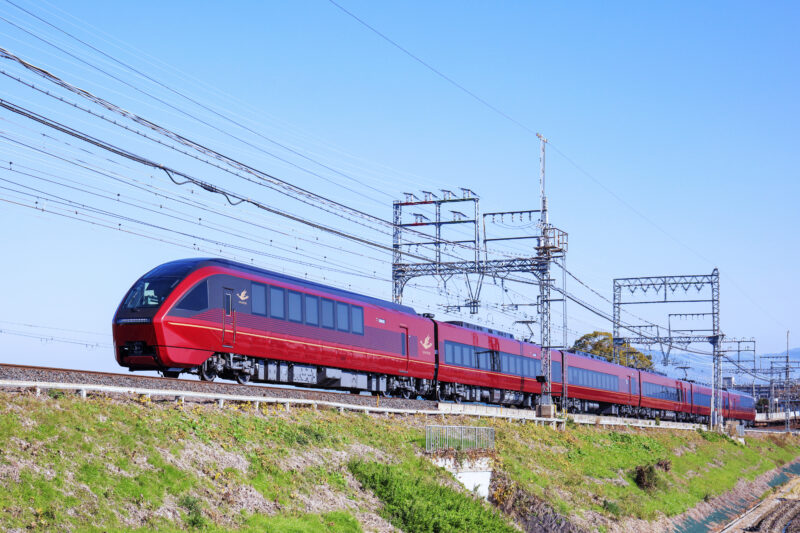 Taking the train is one of the most popular ways to travel within Japan. There are a lot of types of trains in Japan, and one of the most popular trains for tourists is "limited express", the train that offers unique and luxurious travel experiences.
One of the most famous luxurious limited express trains is the Kintetsu's HINOTORI train. HINOTORI means "phoenix" in Japanese, and the train was named after this bird for its speed and elegant design. Been operating since March 14, 2020, this train replaced the former Limited Express Urban Liner, which connects Osaka and Nagoya through Osaka-Namba Station and Kintetsu-Nagoya Station.
Offering luxurious interiors and top-notch facilities, HINOTORI is known to be the first train in Japan with a fixed back shell installed in all seats. Read this article to find more information about this limited express train.
3. Visit Mie's most gorgeous hidden spot, "VISON"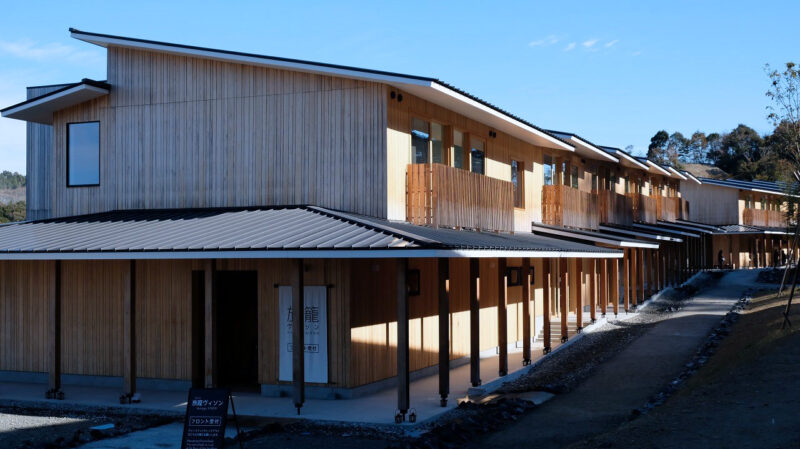 VISON opened in Taki-cho, Mie, in July 2021 as a brand-new resort facility. Written as "美村 (Bison)" in the Japanese kanji, VISON means "beautiful village", and this commercial facility spreads out on a vast side in the midst of nature, combining luxurious villas with open-air baths, a farm-to-table market, a therapeutic spa facility, numerous highly curated dining spots, and museums, bringing Mie's finest together all in one place.
Known as the first certified private facility to be directly connected to a toll road, VISON covers 114 hectares, which is equal to 24 Tokyo Dome. The area is blessed with a rich natural environment, and the buildings in the area are made using locally produced timber, which are directly sourced from the nearby mountains and forests.
Due to its beautiful natural surroundings and luxurious amenities, this resort is the perfect destination for those seeking a relaxing holiday.
Check this article to find out more information about this amazing facility.
4. Try this new luxury sightseeing train that runs between Osaka, Nara, and Kyoto!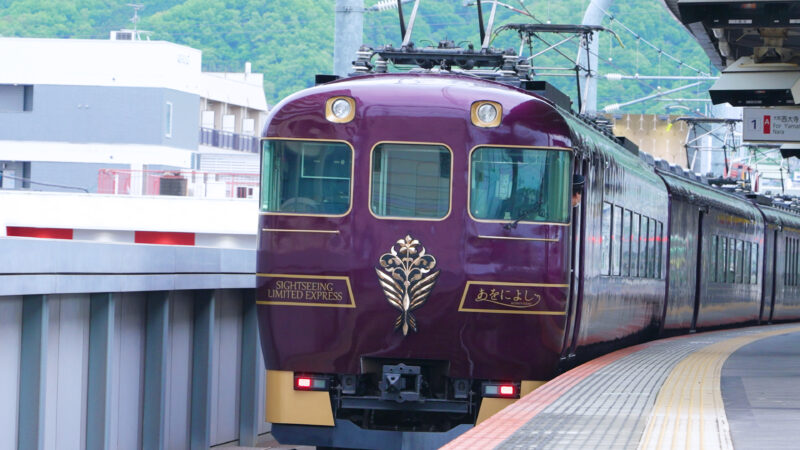 If you dream of exploring the beautiful landscapes of Japan by train, AONIYOSHI may be the perfect choice for you! AONIYOSHI is an express train that started operating from April 29, 2022. The train is a luxurious sightseeing train that connects Osaka, Nara, and Kyoto, which all are known for their rich history, culture, and cuisine.
The train is named after an expression in classical poetry, which is closely associated with the ancient city of Nara. It is also decorated with colors and designs that celebrate Nara's past. It features amazing amenities and facilities such as comfortable lounge sofas and a trendy restaurant and bar.
For an opportunity to immerse yourself in the ambiance of ancient cities and admire the stunning scenery of Osaka, Nara, and Kyoto, let's try taking the Limited Express AONIYOSHI.
To find out more about the train, visit this page.
5. Visit AQUAIGNIS to enjoy a fine dining experience and refreshing hot springs in Mie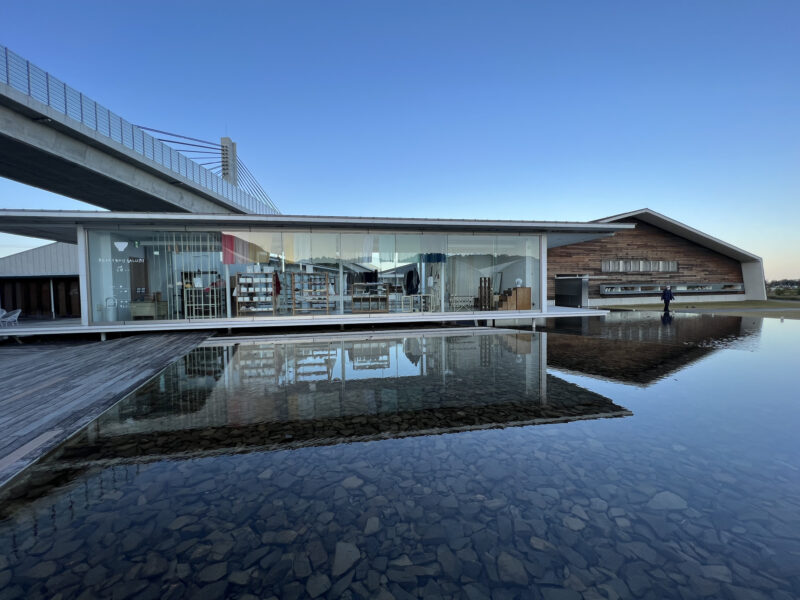 AQUAIGNIS is a commercial facility in Komono-cho, Mie, which is particularly known for its amazing hot springs and vast options for fine dining experiences. It is the only place in the city where you can indulge and spoil yourself with "food" and "healing".
Situated at the foot of Mt. Gozaisho in Yunoyama, you can find a lot of incredible local cuisines, including the mouth-watering desserts made by the celebrity chef Hironobu Tsujiguchi, and also a self-rejuvenating hot spring baths that are sourced from the Kataoka hot spring, one of the most popular natural hot springs in the area.
6. Taking a premium limited express "Shimakaze"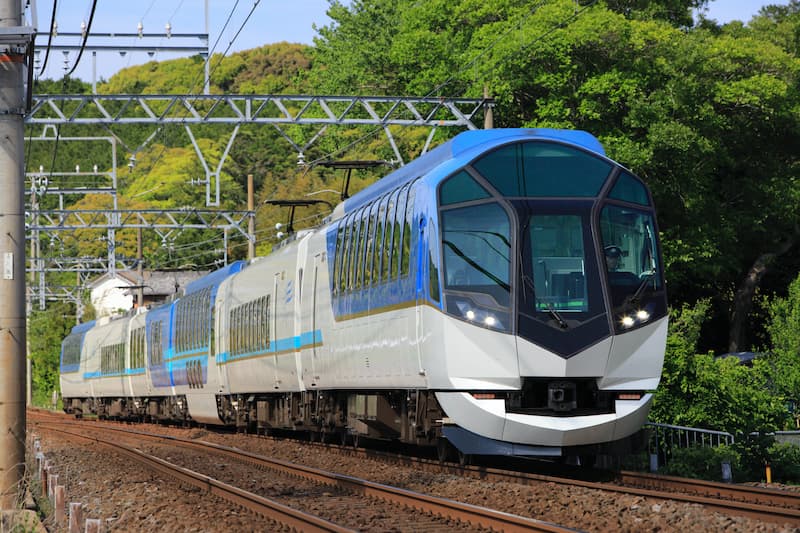 Shimakaze, is a premium sightseeing limited express train that runs in between Ise and Kashikojima, connecting the Ise-Shima Peninsula to major cities like Kyoto, Osaka, and Nagoya.
The train is operated by Kintetsu Railway, and it offers an upscale comfort with its luxurious design and interior. It is also equipped with cutting-edge technology and furnished with beautifully designed furniture, making it one of Japan's most beautiful trains.
If you are planning a trip to the Ise-Shima area, be sure not to miss out on the chance to take the Shimakaze limited express and enjoy admiring the stunning scenery!
7. Visit Yoshino with "Blue Symphony", a vintage sightseeing train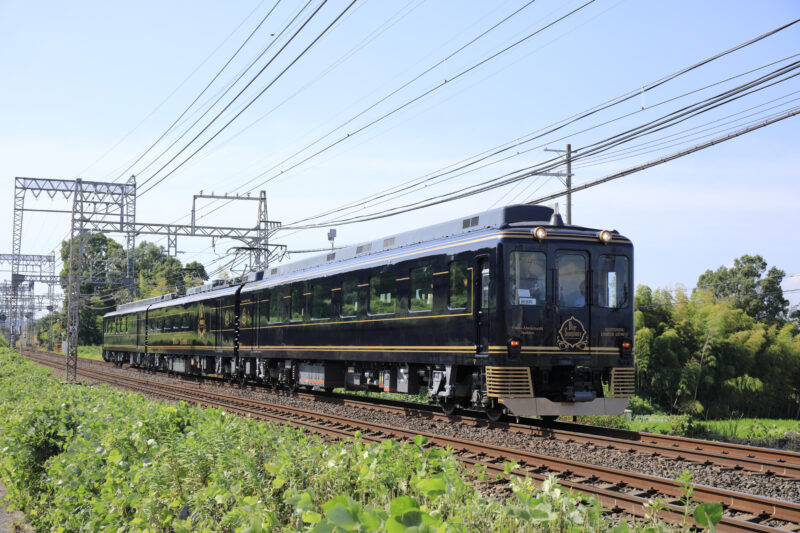 Blue Symphony is a vintage limited express sightseeing train that runs between Osaka Abenobashi Station in central Osaka and Yoshino Station in Nara Prefecture. The train is operated by Kintetsu Railway, and it is decorated with elegant and retro interiors.
Some of its best features involve deluxe seating and special on-board facilities such as lounge and bar counter, where you can experience a wonderful, yet unforgettable trip from a busy city like Osaka to several beautiful places in rural Nara.
Let's find out why this limited express train is worth trying here.
8. Immerse yourself in "Nabana no Sato", the most beautiful large-scale garden in Mie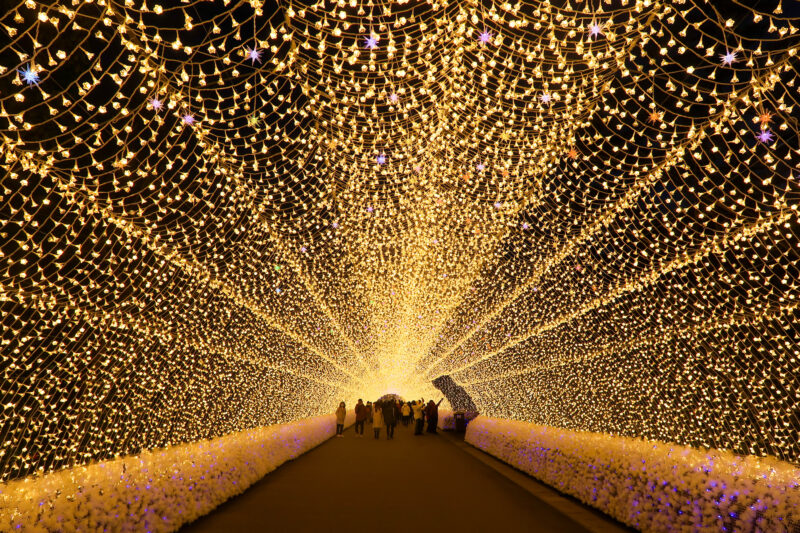 Opened in 1998 in Kuwana, Mie, Nabana no Sato is a large-scale garden that is known as one of Mie's popular tourist attractions, with tons of visitors flocking into it all year round.
The garden is a part of the Nagashima Resort, a commercial facility with relaxing hot springs, an amusement park with fantastic rides, a water park, multiple restaurants, a mall, and a garden.
Nabana no Sato is best known for its huge variety of flowers and vegetation, which look incredibly breathtaking in spring and summer, featuring colorful carpets of tulips, cosmos, daisies, and begonias.
In winter, the garden turns to a winter wonderland as over eight million LED flowers and trees illuminate this 210,000 square meters garden.
Don't miss Nabana no Sato when visiting Mie if you are looking for a place with incredible natures and mesmerizing winter illumination!
9. Visit Mie's only ski resort with Gozaisho Ropeway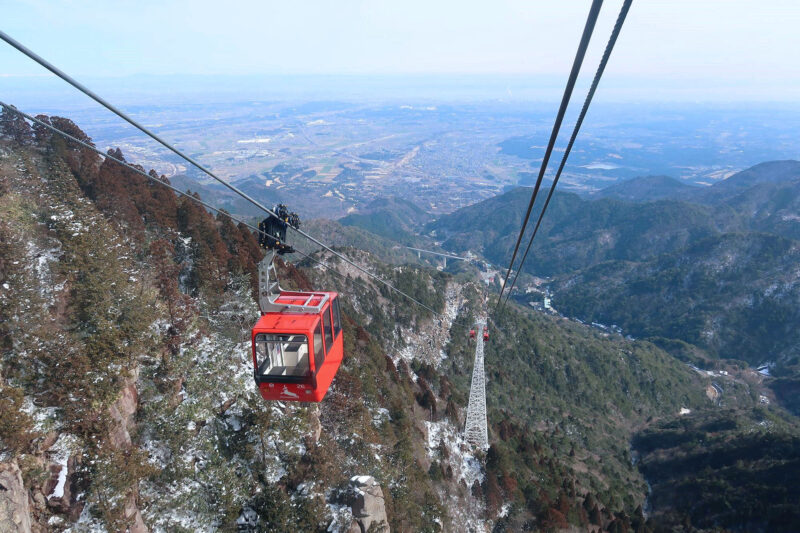 Situated on the border of Mie and Shiga Prefectures, Mount Gozaisho is a 1,212 meters tall mountain that experiences the heaviest snowfall in Mie. While being a spot from where Mt. Fuji and Lake Biwa can be seen, the mountain also has an atmospheric onsen town of 'Yunoyama Onsen' at its foot.
On the summit of Mt. Gozaisho, there is Mie's only one ski resort, which has become a popular spot for tourists to enjoy various winter sports like skiing, sledding, and snowshoeing. The ski resort can be reached using the Gozaisho Ropeway, which takes about twelve minutes for a one-way ride.
Let's admire the beautiful scenery of the snowy mountains from the Gozaisho Ropeway here.
10. Finding the hidden gems in the Kansai Region by using the Kintetsu Rail Pass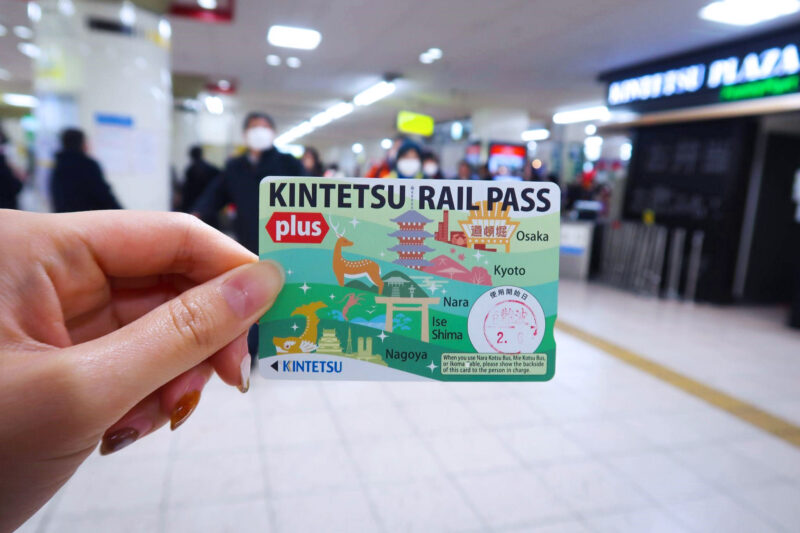 There are a lot of popular travel destinations to visit in Japan, including Kyoto, Osaka, and Nara. Accessing these spots is very convenient as the area is served by various railway companies, but sometimes it can be expensive if you travel around the area with limited express trains or shinkansen bullet trains all the time.
Kintetsu Rail Pass is a railway pass exclusively released for foreign tourists and for Japanese residing permanently overseas by the Kintetsu Railway. The pass allows you to use the Kintetsu Railway trains (except the limited express trains) unlimitedly, providing you a more affordable way to travel around the regions.
If you are looking for the way to reduce the travel cost for Kansai trip, please consider purchasing a Kintetsu Rail Pass as an essential activity.
Find more insights into it by reading this article.
11. Traveling to Shima Spain Village, a popular destination for fun-seeking adults and children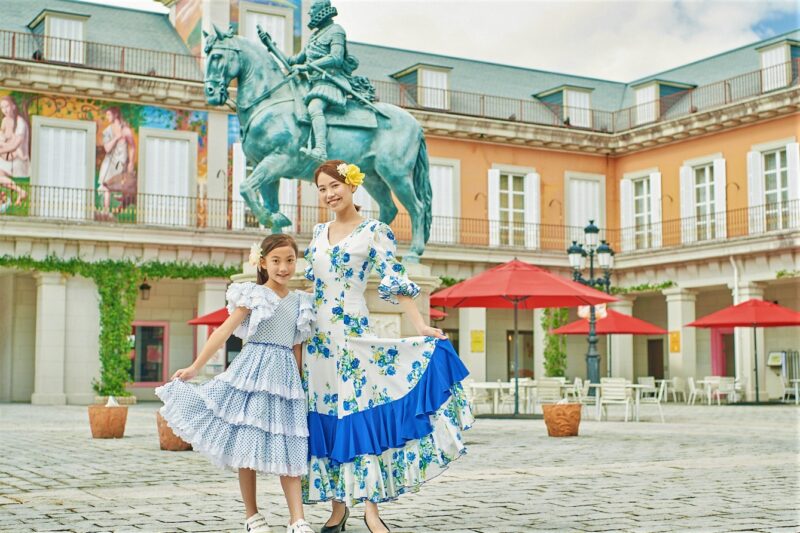 Shima Spain Village (志摩スペイン村) is a large-scale resort complex opened in 1994 combining an amusement park, a spa, and a hotel with a Spanish theme. Its amusement park "Parque de España" is packed with entertainment, from thrilling rides to original shows, making it a perfect destination for fun-seeking adults and children.
Despites being the only theme park in the Shima region, Shima Spain Village remained a hidden gem until "Suo Sango", a Japanese Vtuber of Nijisanji, showed her love for the theme park by introducing the amusement park in a lovely video in May 2022. Ever since then, Shima Spain Village has been trending on twitter, and her video has reached more than 500,000 views within 24 hours. Therefore, ticket purchasing has become more difficult than it was before, and the reservations for the official hotel have increased rapidly.
With the variety of activities you can do in this place, you can be sure that Shima Spain Village will not make all entertainment seekers bored!
Check this page to find out more information about this amazing Spanish theme park!
12. Admiring the breathtaking scenery at seven cherry blossom viewing spots in Nara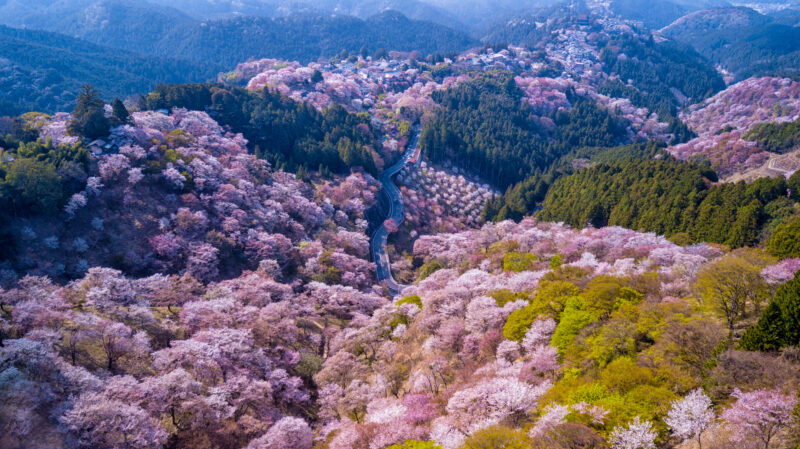 It is no exaggeration to say that spring is the most wonderful time of the year in Japan, and many tourists from across the world flock to the country to enjoy its beautiful view of the dainty pink cherry blossom petals every year.
Nara Prefecture is renowned for its cherry blossom viewing, with many popular spots to enjoy the blooming cherry blossoms, including Mount Yoshino, Nara Park, and the Saho River.
To assist you in planning your cherry blossom viewing trip to the Kansai Region, we have come up with a list of the best cherry blossom viewing spots in Nara, which all can be accessed easily with Kintetsu Railways trains.
Find more information about it here.
.
So, here are our recommendations for Twelve best things to do in the Kansai Region. We hope these suggestions will be helpful in planning your trip to this area.
Now that you know how amazing the Kansai Region is, how about visiting the area when you're in Japan next time?
Read other article from Kintetsu Railway