Visit Shima Spain Village, a popular destination for fun-seeking adults and children!
Visit Shima Spain Village, a popular destination for fun-seeking adults and children!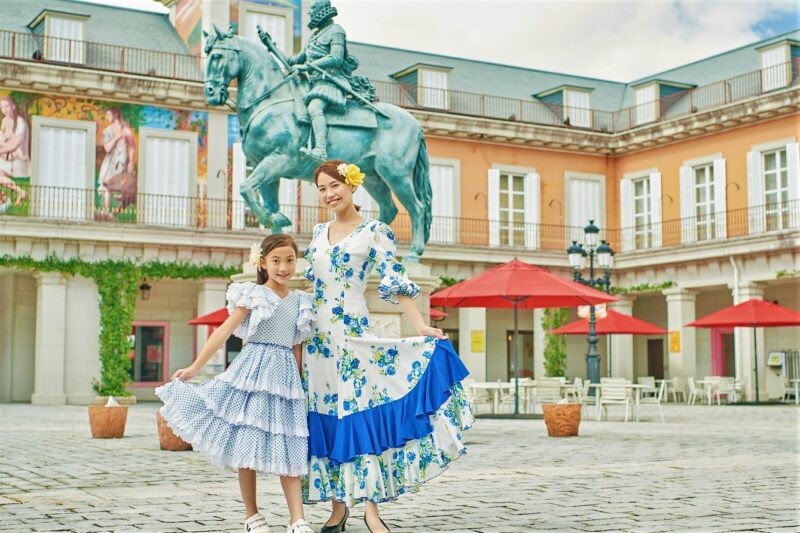 Shima Spain Village (志摩スペイン村) is a large-scale resort complex opened in 1994 combining an amusement park, a spa, and an accommodation facility with a Spanish theme. Its amusement park "Parque de España" is packed with entertainment, from thrilling rides to original shows, making it a perfect destination for fun-seeking adults and children.
Despites being the only theme park in the Shima region, Shima Spain Village remained a hidden gem until "Suo Sango", a Japanese Vtuber of Nijisanji, showed her love for the theme park by introducing the amusement park in a lovely video in May 2022. Ever since then, Shima Spain Village has been trending on twitter, and her video has reached more than 500,000 views within 24 hours. So, ticket purchasing has become more difficult than it was before, and the reservations for the official hotel have increased rapidly.
The park features charming and photogenic Spanish-inspired streetscapes and vistas, mesmerizing shows featuring flamenco dances, parades, and fireworks. In addition to that, there is also a restaurant in the theme park where you can enjoy delicious Spanish cuisines with no hassles.
With all combinations of this theme park, we are certain that "Shima Spain Village" will definitely impress everyone who visits here.
Index
1. How to access Shima Spain Village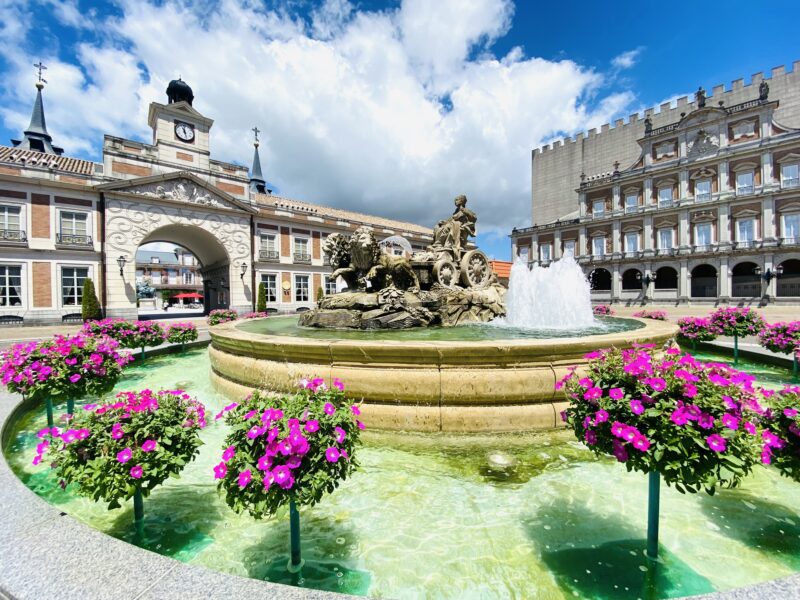 Shima Spain Village is easily accessible from Ugata Station on the Kintetsu Line, and from the station, you can take a shuttle bus to the theme park, which takes about 13 minutes and costs 390 yen one way.
The easiest way to reach Ugata Station is to take the limited express train from Kintetsu Nagoya Station, which takes about two hours.
2. Admissions to the Shima Spain Village and park's business hours
There are two types of tickets available at the park :
1-day Pass
| | |
| --- | --- |
| Age | Price |
| 3-11 years old | 3,600 yen |
| 12 – 17 years old | 4,400 yen |
| Adults (18-64 years old) | 5,400 yen |
| Senior (65 or older) | 3,600 yen |
2-day Pass
| | |
| --- | --- |
| Age | Price |
| 3-11 years old | 4,600 yen |
| 12 – 17 years old | 5,400 yen |
| Adults (18-64 years old) | 6,800 yen |
| Senior (65 or older) | 4,600 yen |
Please refer to the park calendar to check the park's business hours.
3. Attractions to try at Shima Spain Village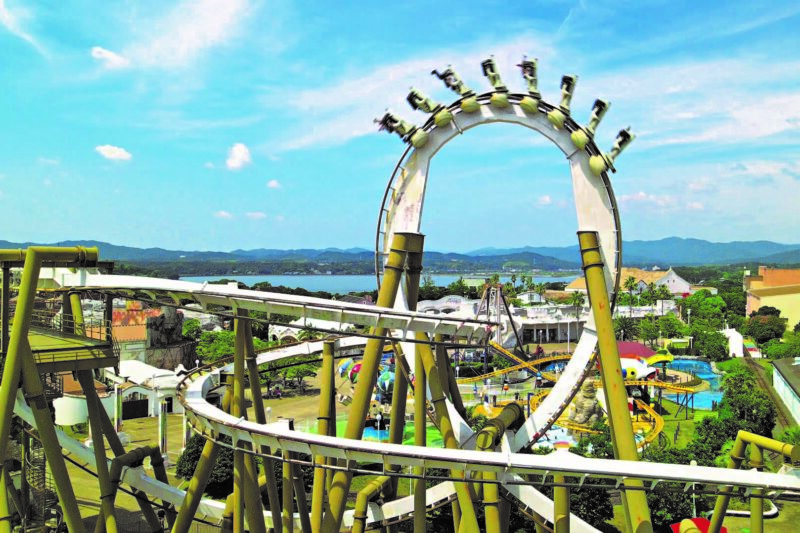 From fountain cruising to an inverted roller coaster, the park features various attractions for both thrill-seekers and toddlers. We've come up with a list of attractions for you to try when visiting this place.
3.1 Pyrenees
Pyrenees is a roller coaster inspired by a famous mountain range in Spain, and it has swinging seats hanging from a rail that flip over in the air. The roller coaster is a must-try ride for thrill-seekers, as this ride bolts through a 1,234-meter course with a maximum height of 45 meters at the speed of 100 km/hour.
3.2 Xavier Castle Museum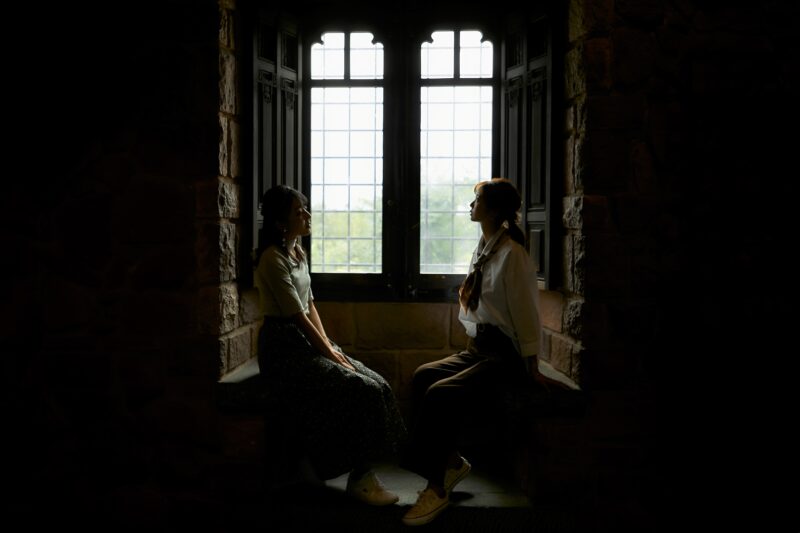 Xavier Castle Museum is an actual reproduction of the birthplace of Francis Xavier, the first Christian missionary to visit Japan, and it features heavy stones all stacked together. Inside the museum, you can find resources and videos offering explanations of 12,000 years of Spanish history and culture.
3.3 Steampunk Coaster Iron Bull
Iron Bull is an indoor steampunk roller coaster with retro-futuristic design. Run at high speed just like a bull, only the bravest can handle this extremely heart-pounding experience.
3.4 Feliz Cruise
Feliz Cruise is an attraction for those who are not thrill-seekers, as it allows visitors to relax while cruising around more than thirty water fountains. In addition to the beautiful fountains, many seasonal flowers are planted along the banks, creating a very romantic atmosphere for couples to enjoy.
4. Shows and parades to watch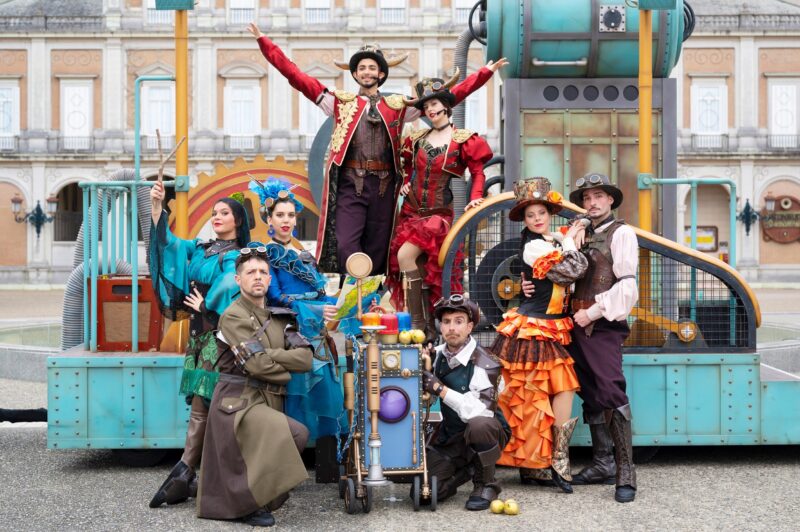 Another thing to enjoy at the park is the shows and parades that feature talented marches doing street performances and dancing. To give you more insights into it, we've come up with a list of shows and parades for you to watch there.
4.1 España Carnival
Simulating famous festivals in Spain with Spain-inspired characters running, this parade is not only cheerful and entertaining, but it also helps heighten the park's Spanish atmosphere.
4.2 Flamenco Show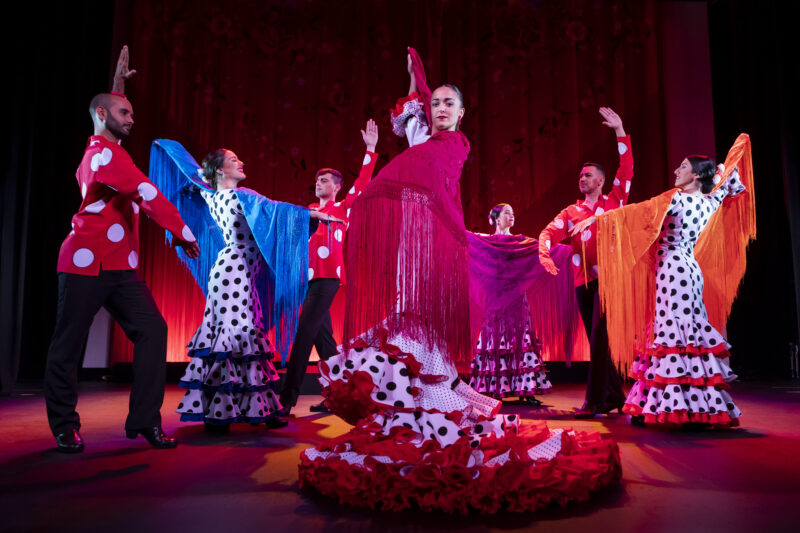 Known as a highly representative of Spain, the Flamenco Show at this park features impressive music sets and the Spanish presenting flamenco, fascinating guests with their mesmerizing moves.
4.3 Baile del Capitán
Another must-watch parade is the Baile del Capitán, which is held at a Spanish Plaza involving a display of a Spanish boat and a toe-tapping musical performed by the Spanish on the street.
4.4 Pierrot The Circus
Entertain yourself by watching street performers juggling on the center stage of the Pierrot The Circus.
4.5 Estival Festival
The park is open at night during Golden Week and summer holidays, and during this period, you can enjoy a special night event involving parades, projection mapping, music performance, and of course, fireworks.
5. Try the legendary "Churros"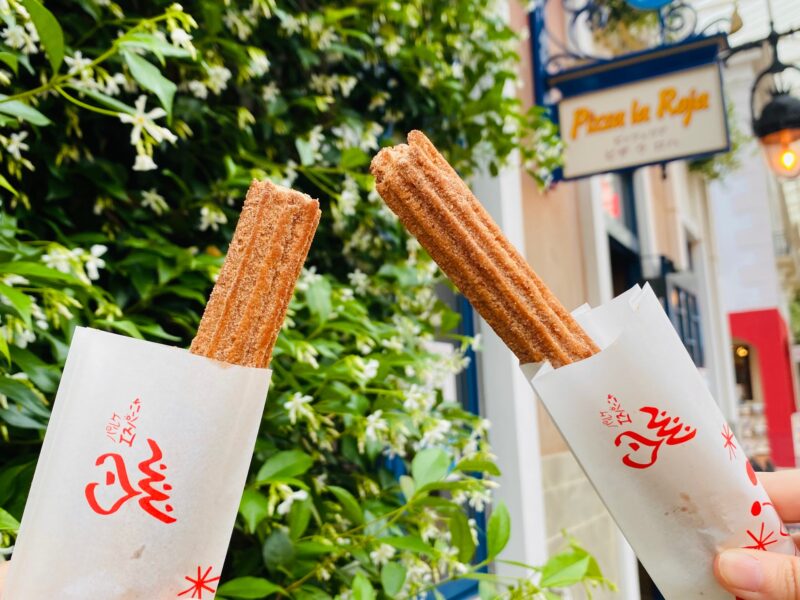 Just like the amusement park, the churros sold at the stores in the park remained hidden gems until it was introduced by Suo Sango as 'the most delicious churros in the world' in her video, and ever since then, the sales of churros in this park doubled as well.
The churros are sold at the small bars in the park, which all come in different flavors that you can compare.
Visit one of the following bars to purchase the churros: Azul, Viento, Molino, Perriot, and Desayuno.
6. Stop by one of the shops for souvenirs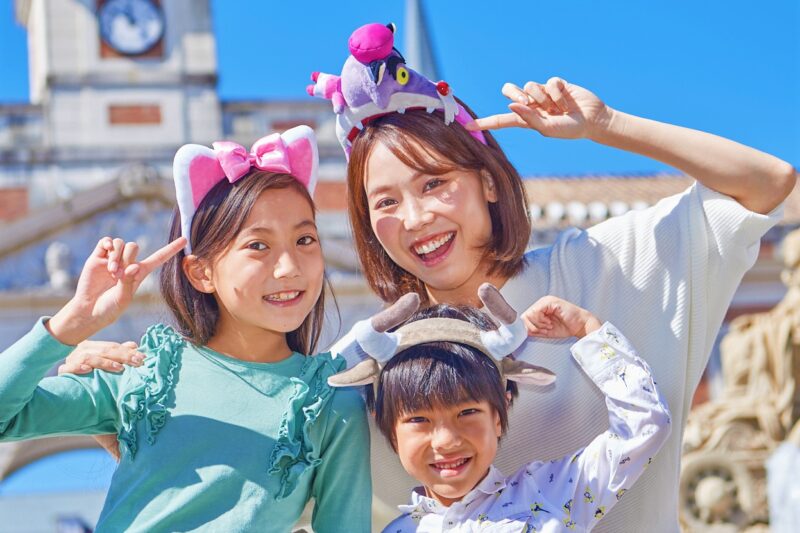 Visiting an amusement park won't be complete if you don't visit their shops to buy some souvenirs, like the park's original character-themed headbands.
Shima Spain Village is dotted with a lot of shops, but our recommendations are as follows :
6.1 La Familia
La Familia is a store featuring traditional crafts and accessories sourced from all around the world, including Spain, Central America, South America, and Asia. You can purchase some of their souvenirs for your family, or to decorate your house interior.
6.2 Maestro
Maestro is a fashion store offering a wide range of products made with fabric imported from Les Toiles Du Soleil, a top-notch fabric manufacturer in France.
6.3 Cántaro
Cántaro offers colorful tableware series that will remind you of Spain. How about purchasing some of them to make your tabletop more colorful?
6.4 Lladró
Lladró is a shop offering porcelains from Valencia, featuring pastel colored lovely human figurines, which will make any interior space look more refined.
6.5 ¡Hasta La Vista!
¡Hasta La Vista! is a large-scale store featuring alcoholic drinks like Spanish wines and beers, and also confectioneries with unique packaging jointly designed by Shima Spain Village and Glico.
In addition, you can also purchase Ise-Shima products such as spiny lobster miso soup, Ise udon, and Akafuku mochi.
6.6 Polvorón
Polvorón is a shop specializing in polvorón, a Spanish sweet, soft, and crumbly shortbread. Make sure to say 'Polvorón' three times before eating it, as the Spanish tradition believes that you will be blessed with happiness if you do so.
6.7 Favorito
Favorito is a store offering imported food from Spain, and here you can find sweets, snacks, seasonings, and other food items that are difficult to find elsewhere in Japan.
7. Enjoy authentic Spanish Food at Alhambra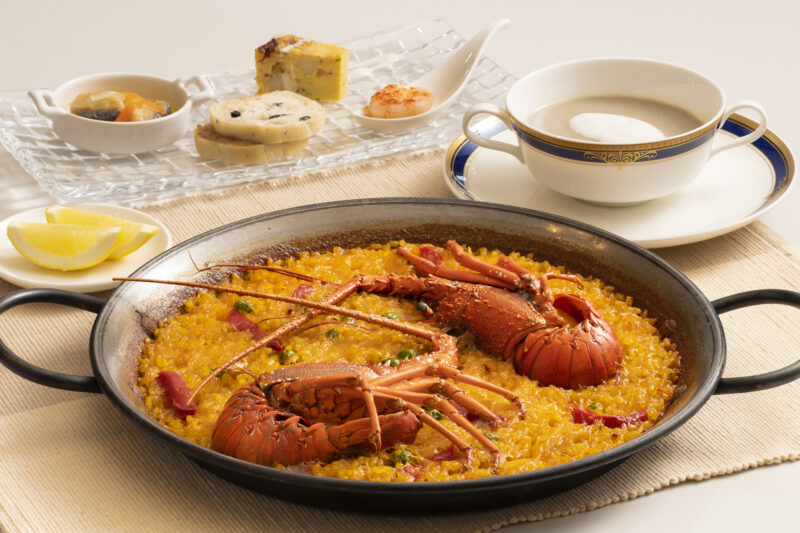 Another thing you need to do when visiting Shima Spain Village is to stop by Alhambra for its authentic Spanish food.
The restaurant serves seafood paella made with Ise Shima's local shellfish, and the sangria is also made with locally harvested fruits, providing you a gorgeous dinner that heightens your Spain fever even more.
8. Finish your day by relaxing yourself in the Himawari-no-Yu onsen!
Once you're done strolling around the park, stop by the Himawari-no-Yu onsen for some TLCs!
Known for its high-quality hot spring water that smooths and moistens your skin. Please enjoy the bath while watching the view of the sea.
9. Spend the night at Hotel Shima Spain Mura!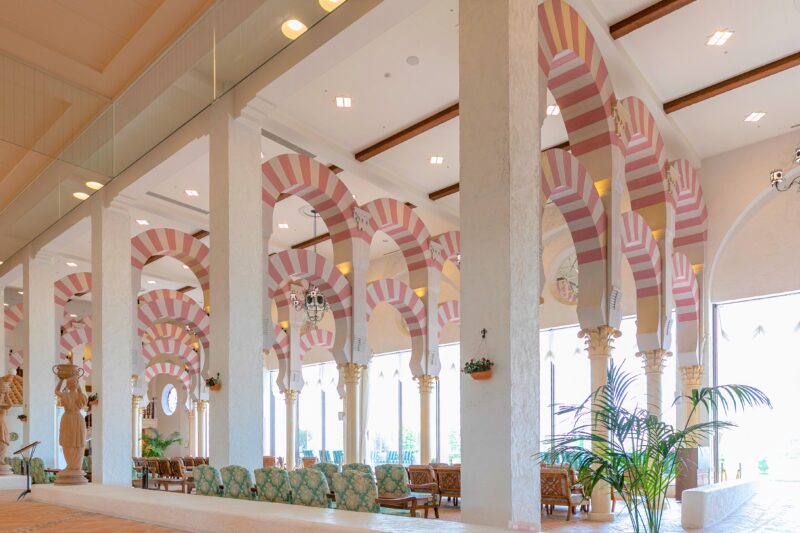 Hotel Shima Spain Mura is a resort hotel built in Southern Spanish style located next to the park.
With direct access to the park, staying at the hotel is very convenient as you don't have to take a train or walk a lot to reach the hotel after spending a long day there.
The rooms are spacious and furnished with Spanish furniture, and there are also family rooms that can accommodate up to six people.
*.。.*゚*.。.*゚*
Now that you know how amazing Shima Spain Village is, how about visiting it when you travel to Japan next time?
Read other article from Kintetsu Railway