Kintetsu Railway Monthly News in April 2023
Kintetsu Railway Monthly News in April 2023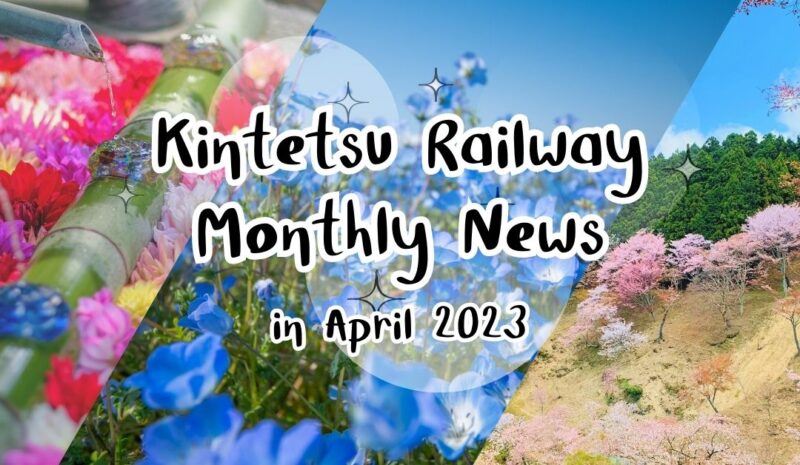 One of the most popular times for traveling in Japan is "April" because we can enjoy admiring the stunning scenery of full-bloom Cherry Blossoms and other kinds of flowers, such as nemophila and Shakunage, during this season. And another thing that comes along with Spring vibes is an interesting event.
Today, we will bring you back to April to enjoy the gorgeous scenery and fun Spring events in "Kintetsu Railway Monthly News in April 2023". We bet these features will make you eagerly anticipate the return of Springtime once again.
So please grab your camera and travel with us!
Index : Kintetsu Railway Monthly News in April 2023
1. Traveling back to the ancient era of Japan through the Limited Express "AONIYOSHI" [7 April 2023]
The Sightseeing Limited Express "AONIYOSHI" has been providing a unique opportunity to appreciate the beauty of Nara, Osaka, and Kyoto since its launch last year. Even in the previous April, AONIYOSHI continued to impress everyone with its classical design and the beautiful scenery outside the window.
The Limited Express "AONIYOSHI" started operating last year, this train will provide a unique opportunity to appreciate the beauty of Nara, Osaka, and Kyoto.
The train's name "AONIYOSHI" is associated with an ancient city of Nara, it comes from a Japanese poetry composing method called "Makuna Kotoba", which involves creating poetic phrases from five words or phrases. AONIYOSHI represents the beauty of Nara.
The train's purple color symbolizes the preciousness of Japanese ancient culture and enhances the value of Nara's traditional Japanese vibes.
The interior decoration takes inspiration from Shosoin Temple's precious treasures, such as the Tenpyo Monyo pattern (天平文様), providing a deeper insight into Japan's ancient history and culture.
After admiring the gracefulness of the train, why don't you try taking the Sightseeing Limited Express "AONIYOSHI" to immerse yourself even more profoundly into the traditional Japanese history, culture, and local foods of Nara, Osaka, and Kyoto? 😊
AONIYOSHI Official Website (English)
2. Worshiping the deity and admiring the cherry blossoms at Mount Shigi [11 April 2023]
Mount Shigi, located in Nara Prefecture, is considered a sacred place where "Bishamonten", one of the seven gods of fortune, is enshrined. According to Japanese belief, Bishamonten once appeared in Japan, and Mount Shigi is central to all myths and beliefs associated with this deity.
Mount Shigi is a popular destination in Japan for praying for family, career, prosperity, and fulfilling wishes, making it a religious site that attracts pilgrims from all around the world.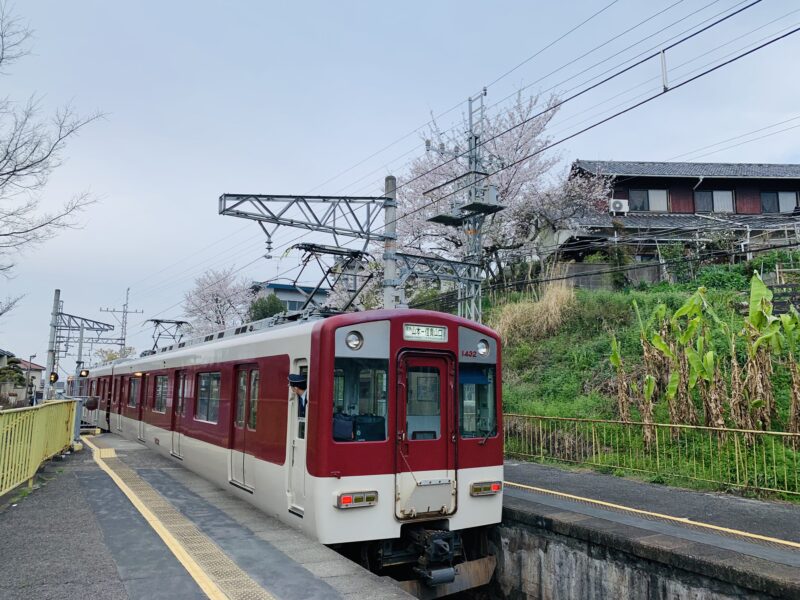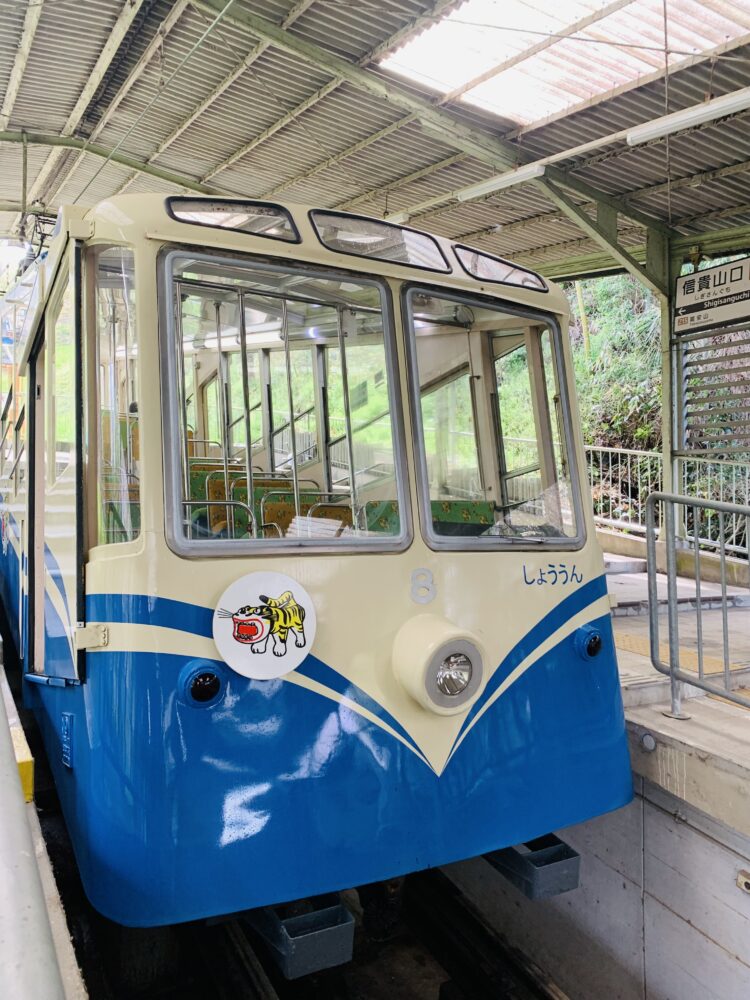 The Chogosonshiji Temple, also known as Shigisan Temple, is located on Mount Shigi. This place is well-known for the tiger of fortune statue, Fukutora (福寅), which is an inspiration for creating a remarkable statue in front of the temple that becomes a popular landmark for tourists.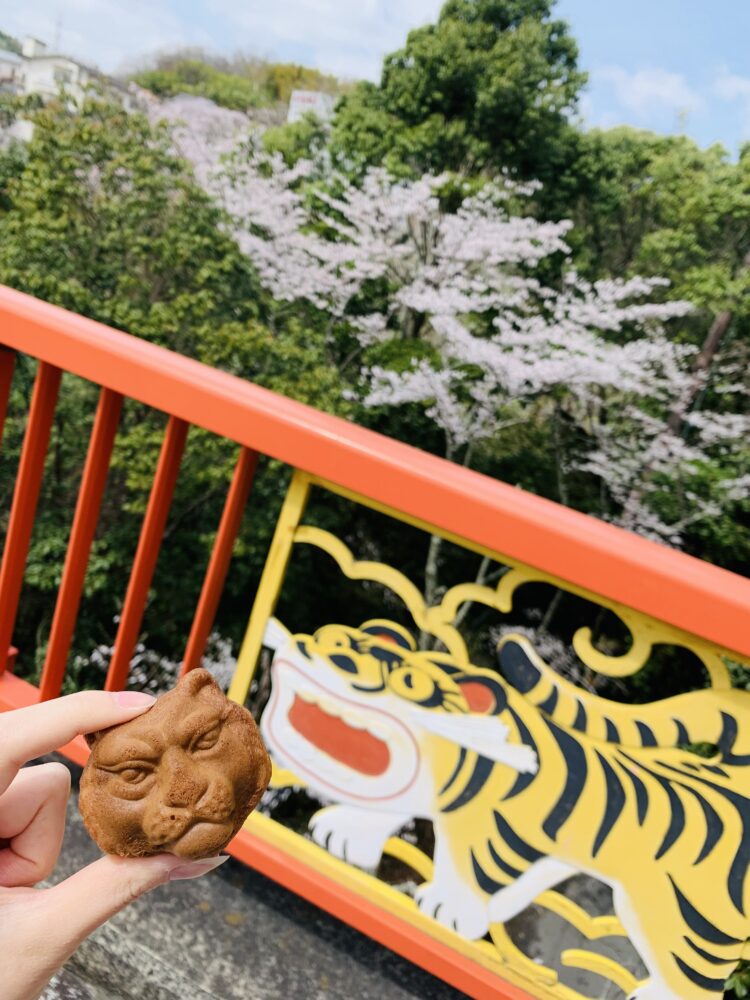 Visitors can also try delicious desserts at the Good Fortune Bridge, "Kaiunbashi", such as Tiger Manju, a manju shaped like a tiger's face, and Yaki Yomogi Dango.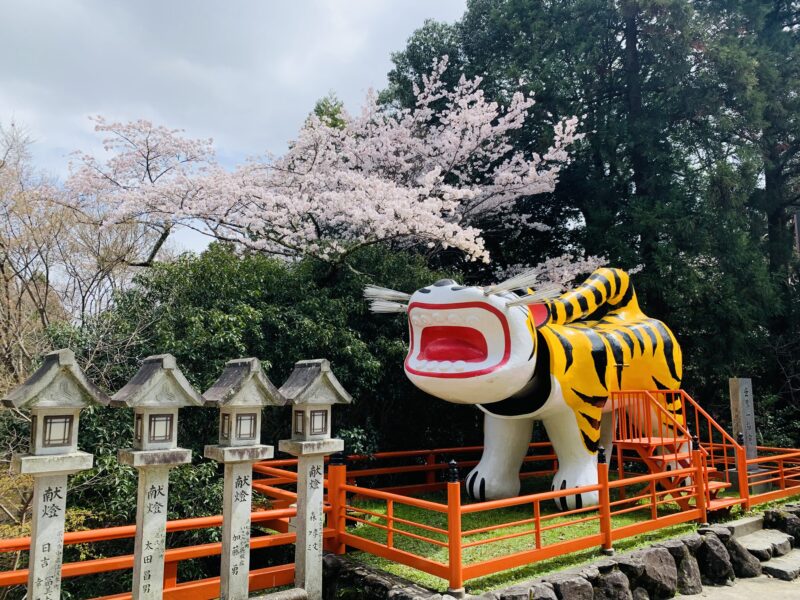 Moreover, Mount Shigi is a popular tourist attraction in the Spring season when the cherry blossoms are at their peak. The full-bloom cherry blossoms are incredibly beautiful, making Mount Shigi a must-visit destination during this season.
Mount Shigi's Map
3. Experience the living of Japanese monks at Gyokuzoin Temple [13 April 2023]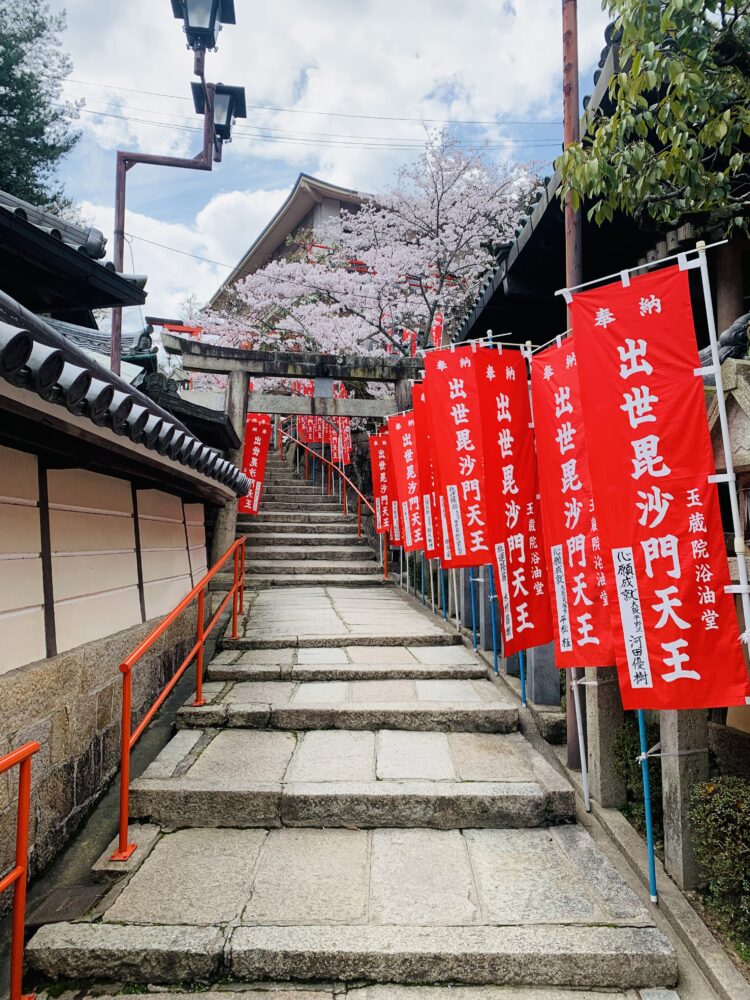 Gyokuzoin Temple is a sacred place located on Mount Shigi, Nara Prefecture. According to Japanese belief, the temple was constructed in the late Heian period, and since then, it has been visited by numerous pilgrims seeking to earn merit. To accommodate visitors and monks, the lodging called "Shukubo" was built in this temple area.
Nowadays, Shukubo becomes an accommodation for tourists who want to experience staying in a traditional Japanese temple and trying "Shojin Ryori", the vegetarian cuisine of Japanese monks.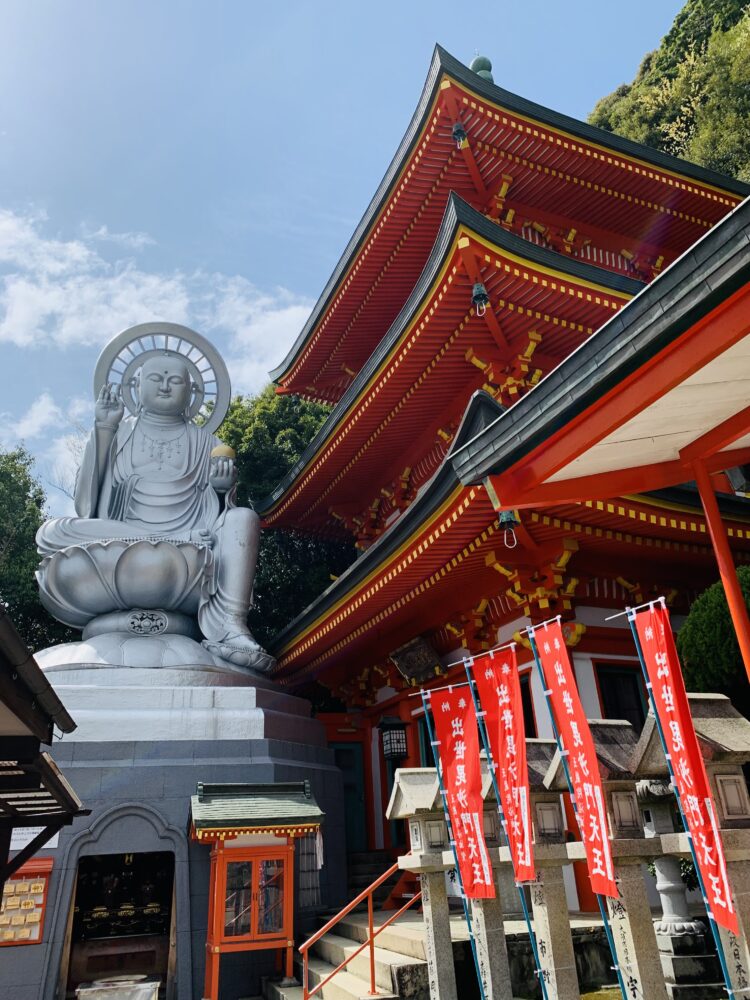 The months of March and April are the golden time for cherry blossom viewing, so guests can utterly admire the full-bloom cherry blossoms directly from the hallway inside Shukubo.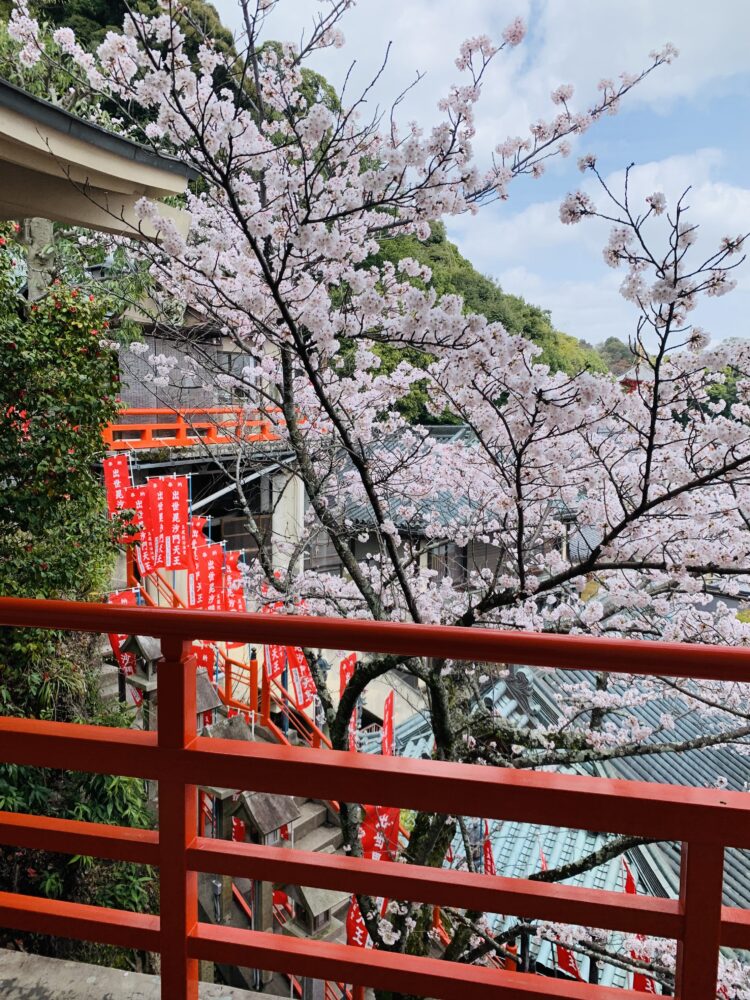 Moreover, you can also participate in the cultural activities that have been passed down from generation to generation, such as Sutra copying (写経体験) or praying (ご祈祷). These activities are exclusive events that you can only participate in at Gyokuzoin Temple.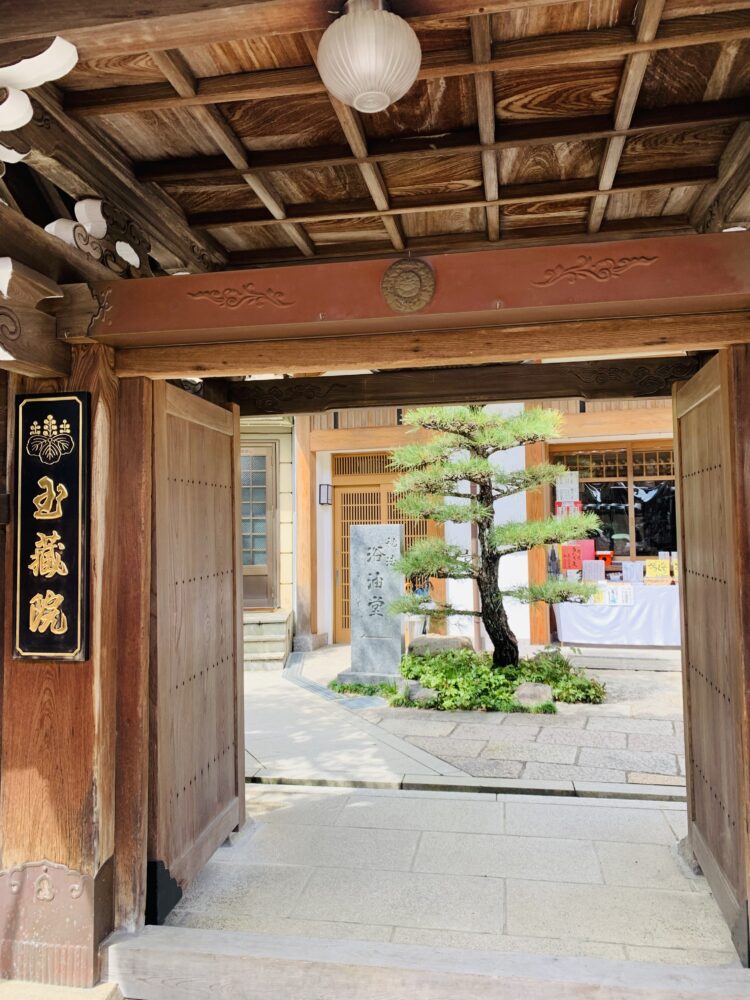 If you have an opportunity to visit Mount Shigi, please be sure to add "Gyokuzoin Temple" to your must-visit list.
Gyokuzoin's Website
Gyokuzoin Temple's Map
4. Stunned by the beauty of the cherry blossom mountain at Mount Yoshino [17 April 2023]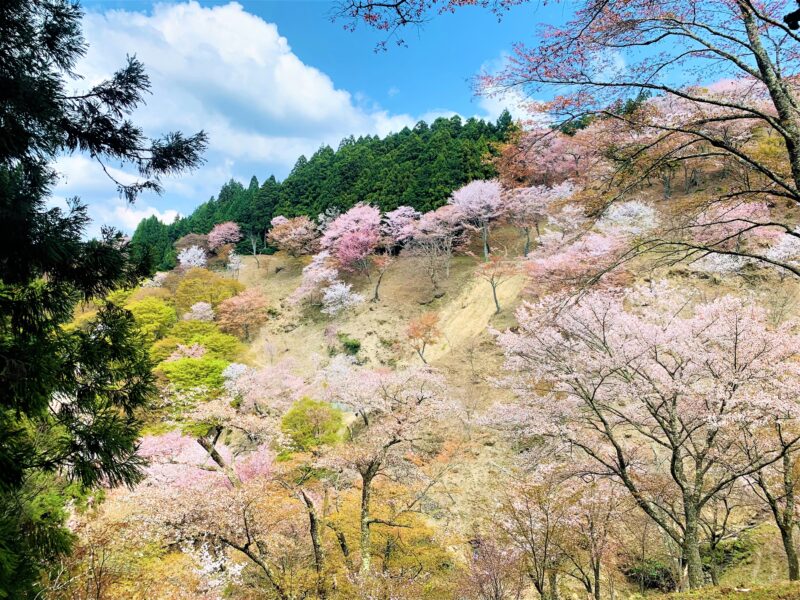 During the Spring Season, cherry blossoms are blooming all over Mount Yoshino, Nara Prefecture, creating a stunning landscape for hikers and nature enthusiasts along the way.
As you hike up the mountain, you will witness the beauty of the cherry blossoms blooming in a chronological order. The blossoms start from the Shimo Senbon area (the bottom hill) and progress to Naka Senbon (the middle area), Kami Senbon (the upper area), and finally to Oku Senbon (the inner area of the peak). This way, visitors can fully appreciate the stunning cherry blossoms all the way up.
*FYI, these photos were taken in early April.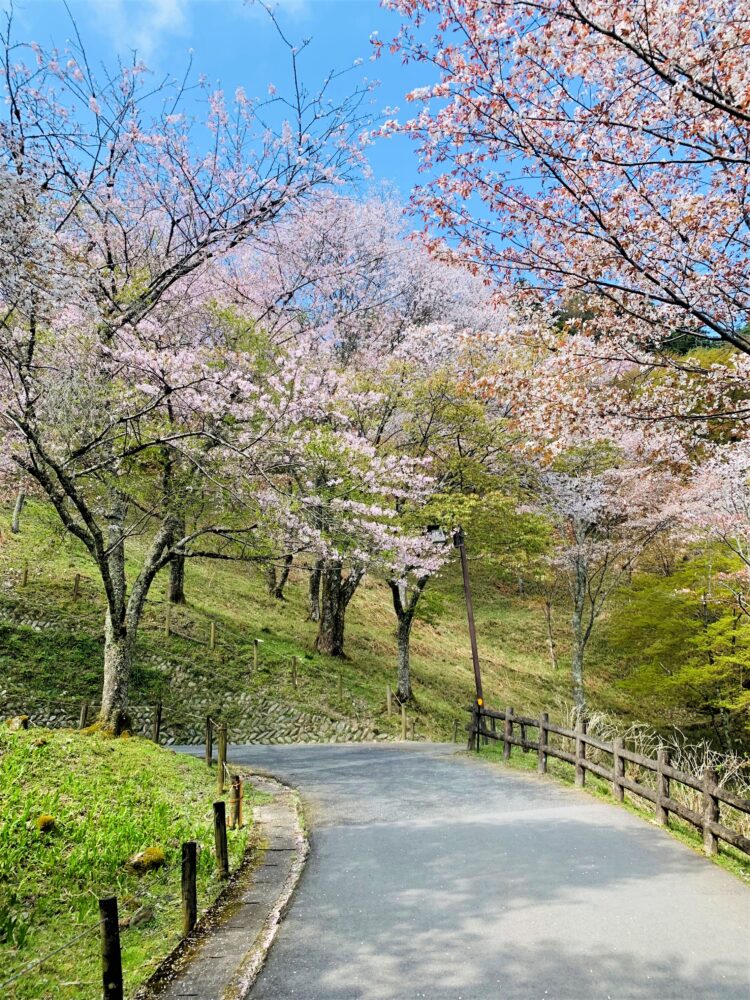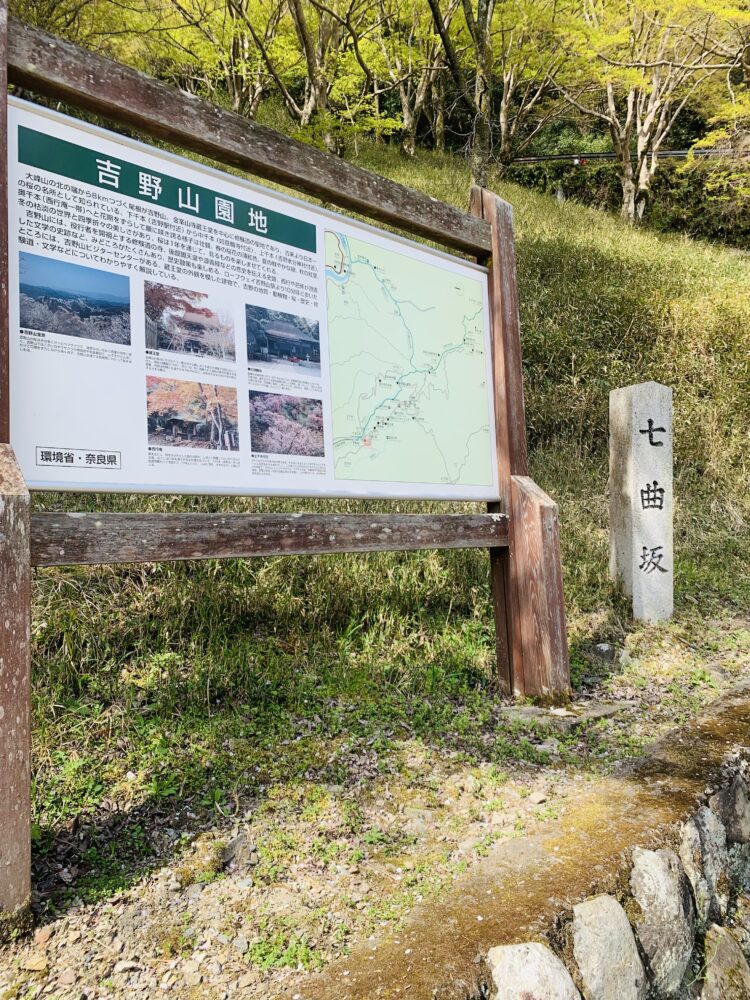 A particularly breathtaking sight can be found at the Nanamagarisaka Hill (七曲坂), where a tunnel of cherry blossoms can be seen. Alternatively, taking the Yoshino Ropeway will provide a panoramic view of the pink mountain covered by cherry blossoms.
No matter how you choose to reach the top of Mount Yoshino, you will fully experience the beauty of cherry blossoms. This is one of the main attractions of a Yoshino Trip.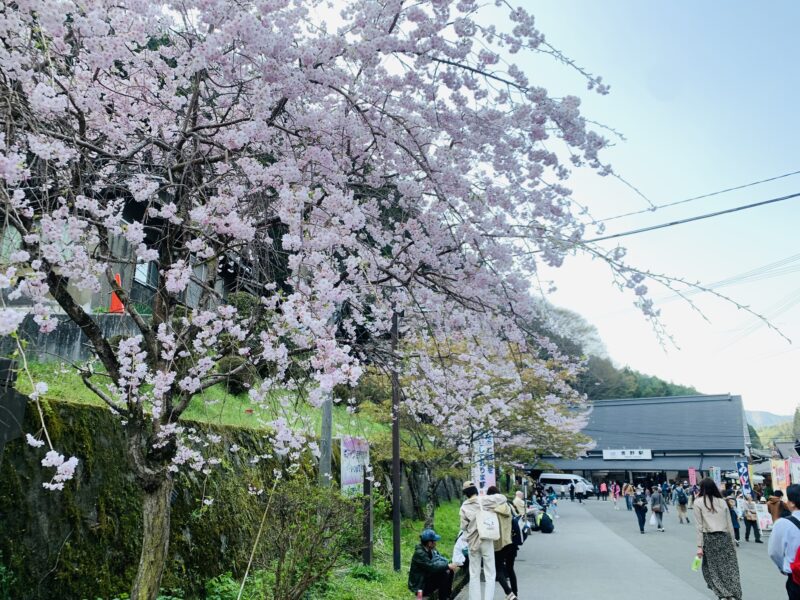 By the way, don't forget to indulge in some famous Yoshino products, such as Kakinoha-zushi and Kuzu Udon. You can find these tasty treats at roadside shops on top of Mount Yoshino.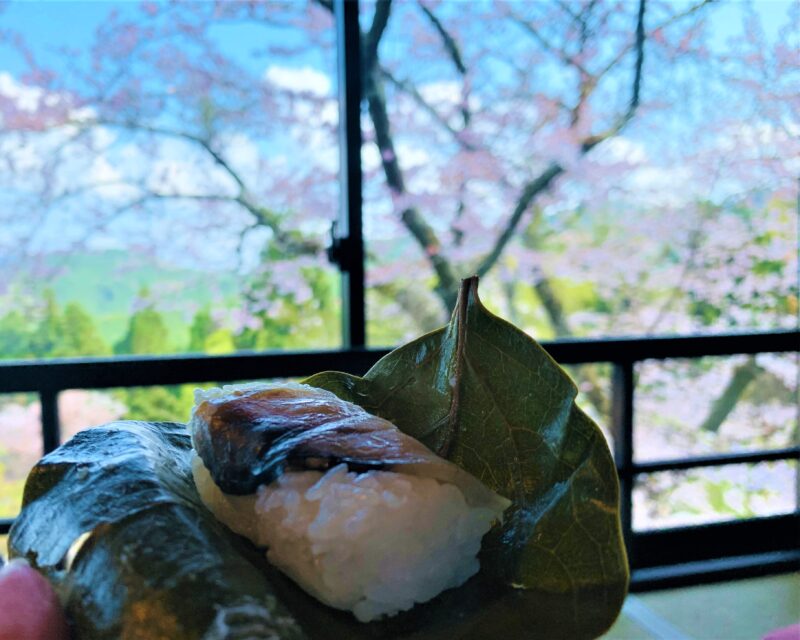 Eating these delicious foods while admiring the cherry blossoms will give a truly unforgettable experience.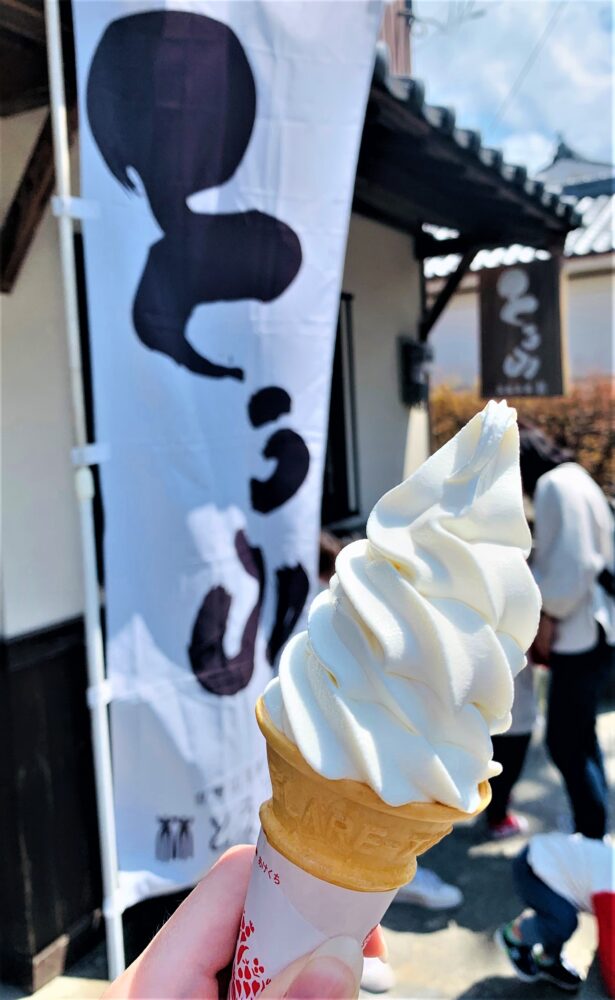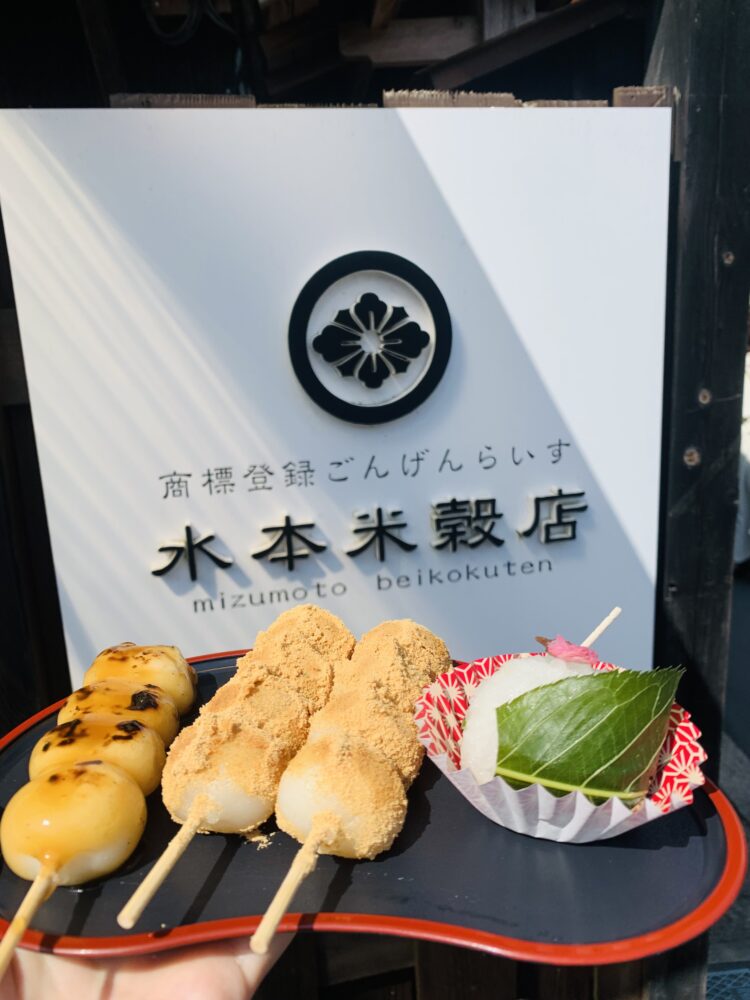 Mount Yoshino's Map
5. Immerse in the vivid blue world at Hana Hiroba Park [19 April 2023]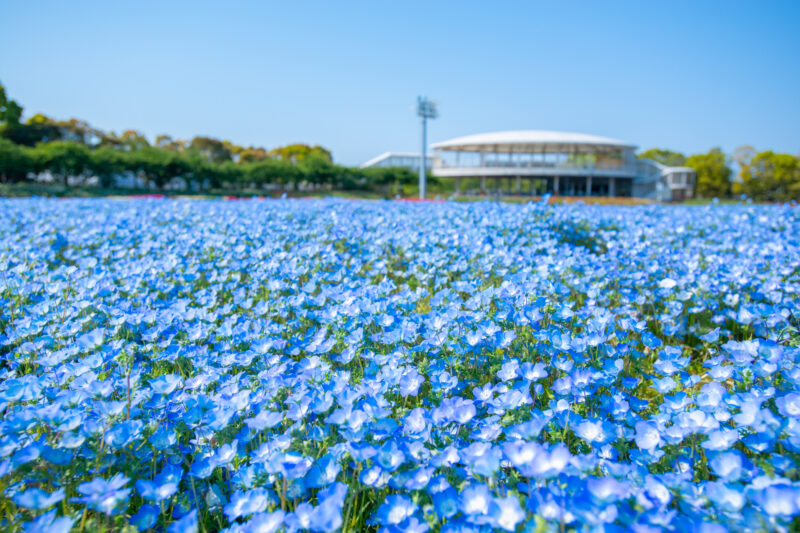 Hana Hiroba Park is a 43,000 m² flower garden located in Nabana no Sato Park, Mie Prefecture. From mid-April to mid-May, millions of nemophila flowers will be blooming all over the garden.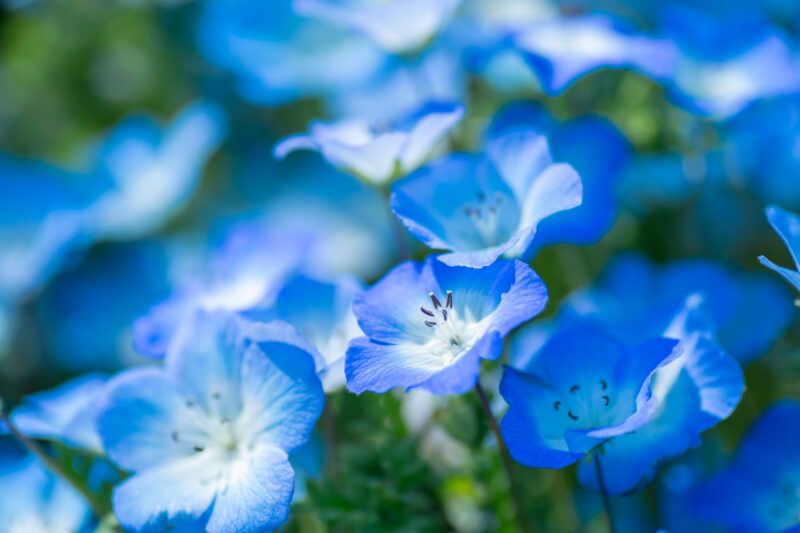 Nemophila is a small flower with a diameter of only about 3 centimeters. When nemophilas bloom spread over the entire garden, the visitors will be amazed by the breathtaking scenery of "the vivid blue carpet". Moreover, nemophila is gaining immense popularity.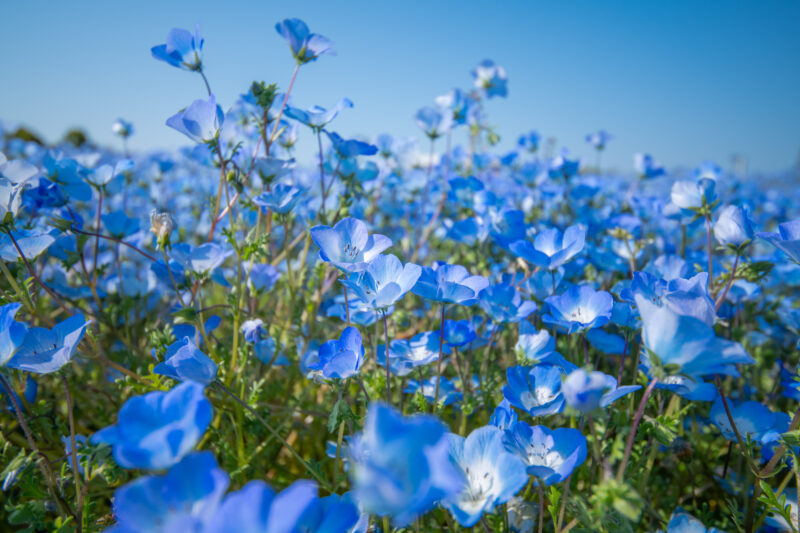 Good News for illumination lovers!
From April until May 31, Hiroba Park is hosting the largest illumination in Japan, providing a mesmerizing experience for visitors. You can still witness the magnificent flower blooming and night light up event at "Hana Hiroba Park" until the end of this month.
Whether you visit during the day or the night, Hana Hiroba Park will certainly impress you with its stunning beauty.
Nabana no Sato Park's Website
Nabana no Sato Park's Map
6. Appreciating the beautiful floating Dahlias at Okadera Temple [25 April 2023]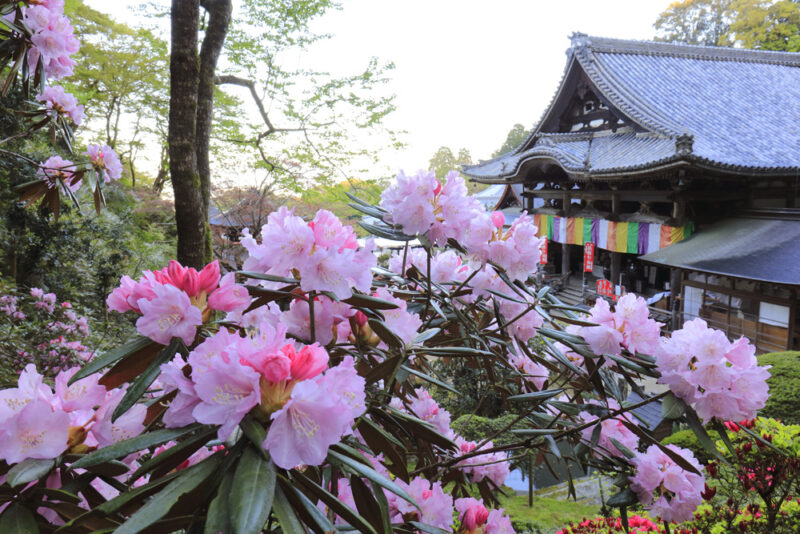 Okadera Temple is located in Asuka Village, Nara Prefecture. According to Japanese belief, this temple is a sacred place known as the first location for dispeling evilness in Japan. In addition, this temple is also be "Saigoku Sanjusansho" or the seventh sacred place of Kannon, the goddess of mercy.
In each season, the flowers in Okadera Temple bloom in their own distinct charm. During Springtime, the flowers that are in full-bloom period are Shakunage flowers.
There are approximately 3,000 Shakunage trees in Okadera Temple. And this year, the blossoming of these trees occurred earlier than usual!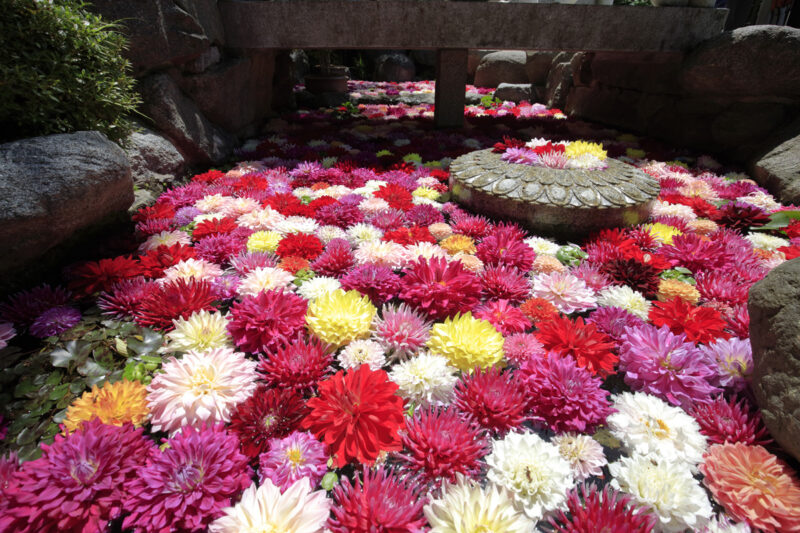 During the past April 29th to May 7th, Okadera Temple organized a special zone called "Hana no Ike" (the Flower Pond). This area featured the beautiful floating Dahlias along with adorned pots and Chozuya, the water basins for purifying body and mind before entering the temple.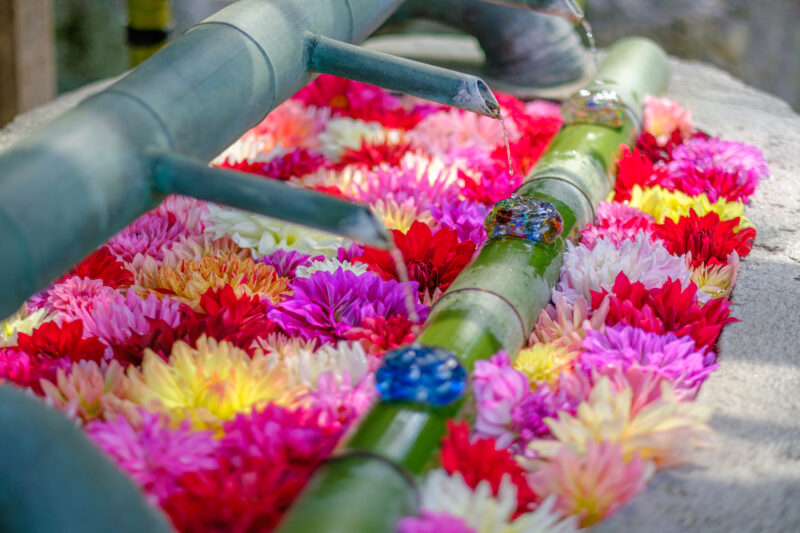 The Hana no Ike Zone at Okadera Temple is a truly breathtaking sight that has attracted a significant increase in visitors. It has left a lasting impression on all who had a chance to experience its beauty.
Okadera Temple's Website
Okadera Temple's Map
Reference : Kintetsu Railway English
Read more article from Kintetsu Railway