10 amazing things to do in Okinawa, Japan!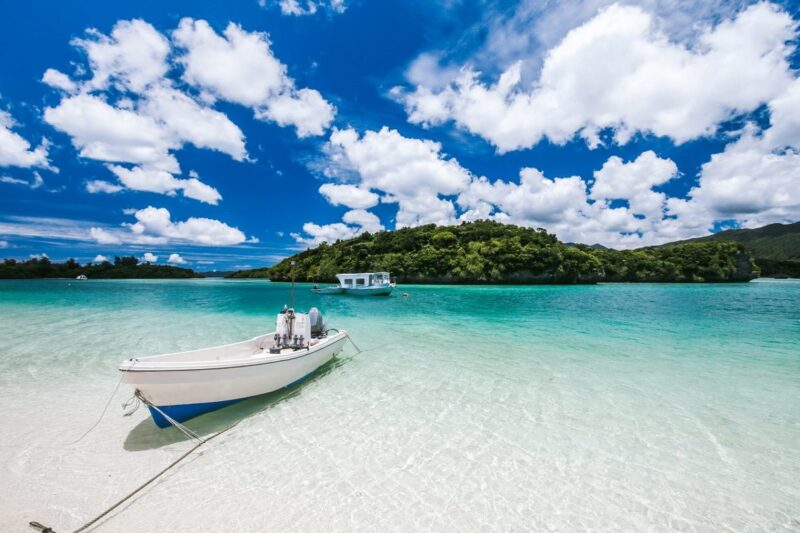 Okinawa Prefecture is located in south Japan, and it stretches between the Kyushu region of Japan and Taiwan. The prefecture is subtropical islands that are divided into three major island groups: the Okinawa Islands, the Miyako Islands, and the Yaeyama Islands.
Known as the most popular summer destination in Japan, Okinawa draws millions of visitors through the year, and the top attraction in the prefecture features stunning white sand beaches, crystal clear ocean water, and its world-class resorts.
Brimming with beautiful nature and historical spots, how about visiting Okinawa to have both, an extraordinary, yet a relaxing adventure?
Index
How to get there
Okinawa is only accessible by airplanes and ferries, and the airports and ferry terminals are all in the capital city of Naha, which is located on the southwest of the island. Naha Airport, sometimes called Okinawa Airport, is the main airport of the prefecture and it is the 5th largest airport in Japan and has direct flights from more than 20 cities across Japan.
Major airports with flights to Okinawa include Haneda Airport (Tokyo), Narita Airport (Chiba), Kansai Airport (Osaka), Itami Airport (Osaka), Chubu Airport (Nagoya), Kobe Airport (Hyogo), Fukuoka Airport, New Chitose Airport (Hokkaido), and Sendai Airport (Miyagi)
Okinawa is also accessible with direct flights from Taiwan (China Airlines), Seoul (Asiana Airlines), Shanghai (China Eastern Airlines), and Hong Kong (between June and September only).
Recommended sightseeing spots in Okinawa
Okinawa is a spot to visit if you want to escape from the hustle and bustle of big cities like Tokyo – the prefecture is known for its laid back atmosphere and slow life culture. The prefecture features numerous beautiful beaches, turquoise blue water, world-class resort hotels, and a tremendous amount of historical spots like Shikinaien and Nakagusuku Castle.
Blessed with beautiful nature and tropical climate, you can find many rare natural spots and delicious local treats that are difficult to find in Tokyo and other big cities, such as stalagmite caves and tropical fruits.
Here are our picks for the best things to do in Okinawa, Japan!
1. Visit the gorgeous Shikinaen Royal Garden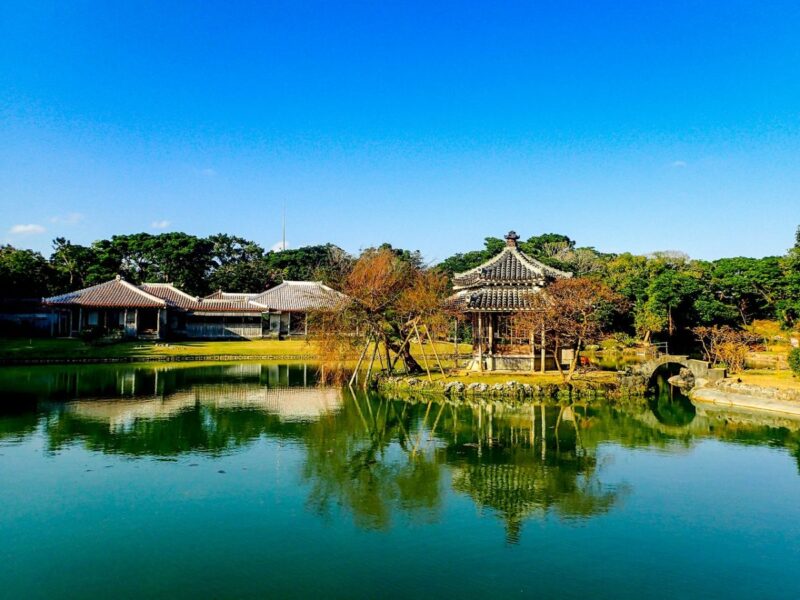 One of the most beautiful spots to visit in Okinawa is perhaps the Shikinaen Royal Garden, which was built in 1799 by the Ryukyu Kingdom to welcome the delegates of the Chinese Emperor.
Shikinaen is a second residence for the royal families; it's a circuit-style garden featuring a Chinese-style arch bridge and a large pond. In the middle of the pond, there is a small island with a Chinese-style hexagonal building called Rokkakudo on it.
Shikinaen
2. Okinawa's most beautiful castle: Shuri Castle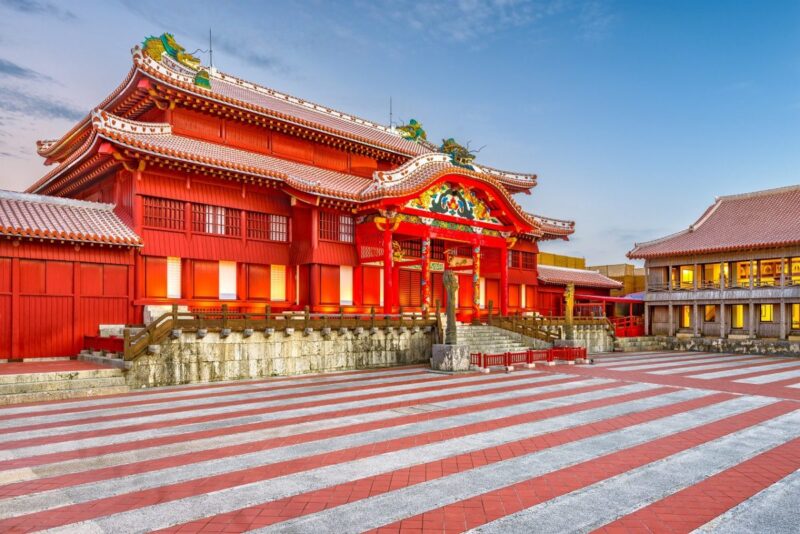 Temporarily closed due to the fire since November 1, 2019, Shuri Castle is the most significant monument that represents Ryukyu Kingdom nowadays, and it was used to serve as a royal palace in the past.
The castle was once destroyed during the World War II Battle of Okinawa in 1945, but it was reconstructed in the early 1990s and has been designated as the Castles of the Ryukyu Kingdom sites on the UNESCO World Heritage Site.
Shuri Castle is temporarily closed since November 1, 2019, and planned to be rebuilt by May 2022.
Shuri Castle
3. Visit the Nakagusuku Castle ruins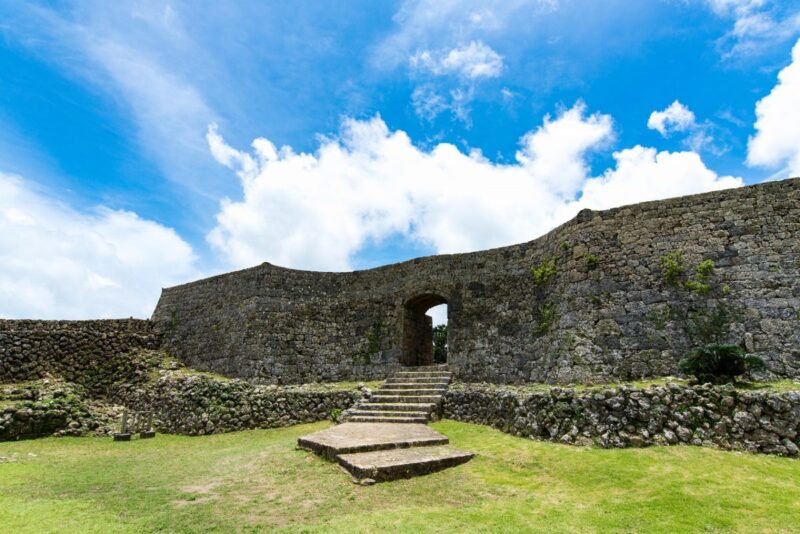 Nakagusuku Castle ruins is Okinawa's most famous UNESCO World Heritage Site, and it sits on a plush hill formed of Ryukyu limestone. The west side of the castle has the views of Ginowan city and the East China Sea, and the north side of the castle has the views of Katsuren Peninsula and Yomitan.
You'll come across many artifacts when exploring the castle ruins, and you must be careful when walking around the area to avoid slipping and falling. We recommend wearing proper shoes with anti-slippery features for safety matters.
Ritsurin Garden
4. Enjoy the dramatic view from Cape Manzamo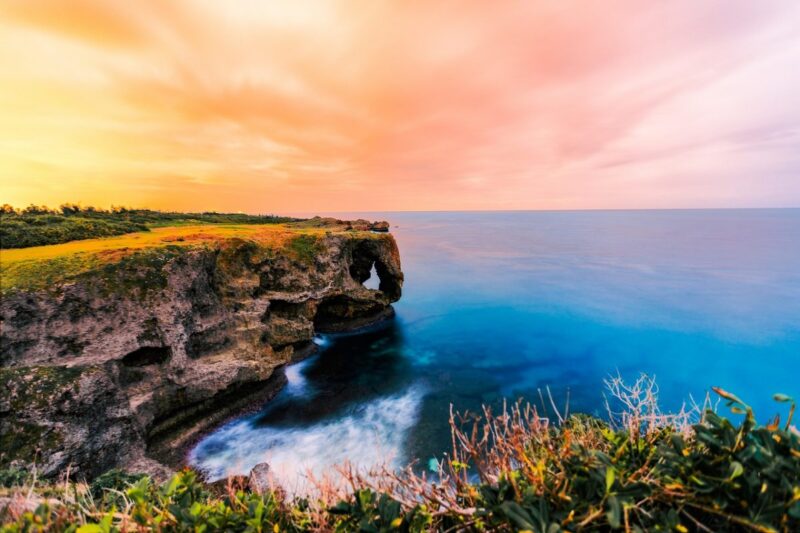 Cape Manzamo, or called as Manzamo, is located around Onna Village in northern Okinawa main island. The 20-meter tall cliff is facing the East China Sea, and it is one of the most popular scenic spots of Okinawa.  The cliff is formed by rock formation and offers a dramatic ocean view and beautiful sunset scenes.
Cape Manzamo
5. Stop by Okinawa Prefectural Peace Memorial Museum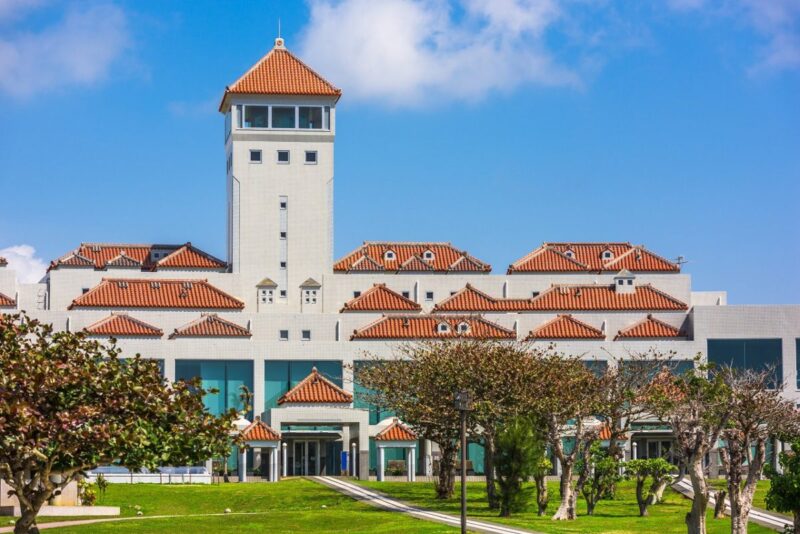 How about stopping by the Okinawa Prefectural Peace Memorial Museum?
The Okinawa Prefectural Peace Memorial Museum is located inside the Peace Memorial Park area, and it commemorates the lives lost during the Battle of World War II in Okinawa.
The museum exhibits wartime photographs and objects in memory of those who died during the Battle of Okinawa.
Okinawa Prefectural Peace Memorial Museum
6. Stare at the beauty of Kouri Island & Kouri Bridge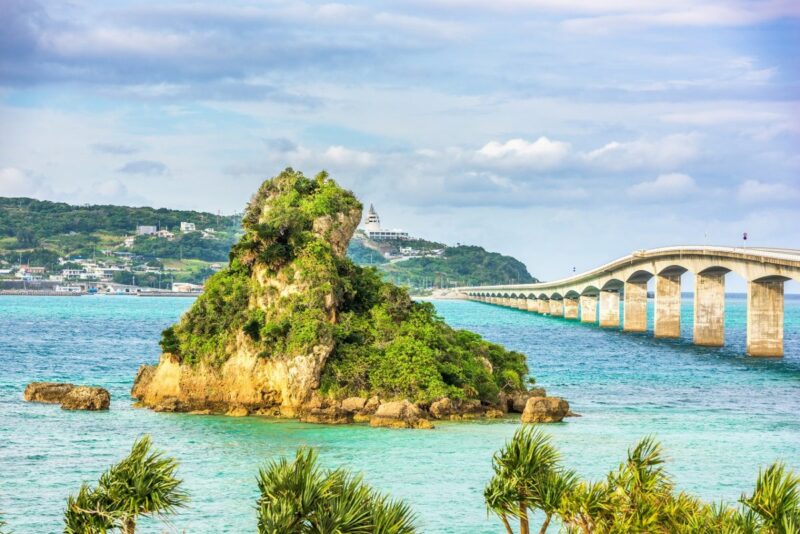 Kouri Island is an island located on the north of Yagaji Island, and it's a part of Okinawa's Nakijin Island and is only 5 miles away from the entrance of the Kouri Bridge.
Best known for its shallow seawater, Kouri Island is an ideal spot for swimming and stargazing at night. On a sunny day, you can go to Kouri Bridge to capture Kouri Island from various angles, but don't forget to wear a light jacket as the wind can be cold.
Kouri Island & Kouri Bridge
7. Enjoy the mystical atmosphere of Gyokusendo Cave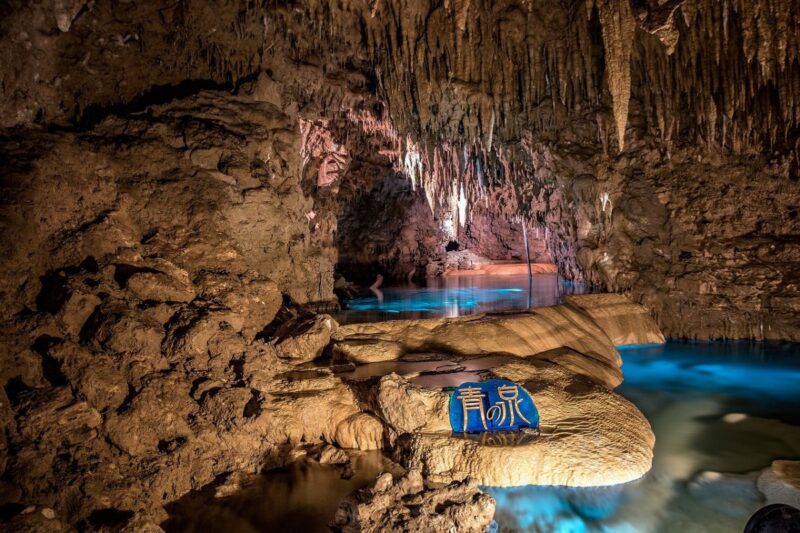 Gyokusendo Cave is a 300,000 years old limestone cave, which stretches for about 5 kilometers. The mysterious cave is located inside the Okinawa World, a theme park dedicated to Okinawa culture that is located in the south of the main island. You can explore this mystical ave by following the 890 meters walkway path.
Gyokusendo Cave
8. Participate in a glass workshop at Ryukyu Glass Village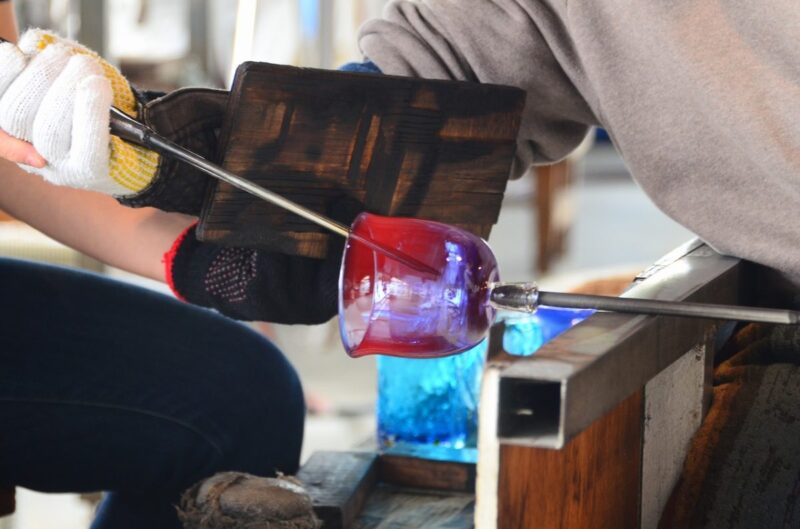 Ryukyu Glass Village is the largest glass factory in Okinawa, and there are workshops where you can learn how blowned and cased-glass is made.
Even if you don't want to participate in the workshops, you can still observe how Ryukyu artisans make their masterpieces, and you can buy some of these glasses as souvenirs for your family back home.
Ryukyu Glass Village
9. Visit the traditional village at Taketomi Island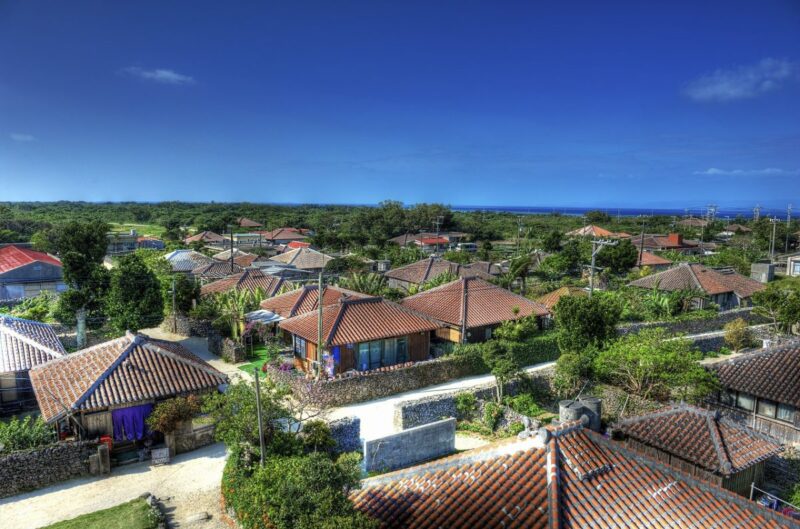 Taketomi Island is one of the smallest islands in Okinawa, and it is best known for its beautiful traditional villages, which give you a direct explanation and description of how people have lived and worked in this area for centuries. The traditional villages are explorable by walking.
Traditional Village at Taketomi Island
10. Shop and eat at Kokusai Street
Before you leave Okinawa, make sure to stop by Kokusai Street to eat and shop around!
Located in Naha City, this shopping district offers traditional Okinawan cuisines and liquors to the tourists, and you can find many awamori specialty stores along this street.
Also, sometimes Okinawan traditional dances and songs are performed on this street too, so why don't you grab a coffee and watch those performances while you're in Okinawa?
Kokusai Street
Okinawa's best local treats
Located in tropical islands in South Japan making Okinawan cuisine differs significantly from Japanese cuisine. The food culture in Okinawa was influenced by China, South East Asian countries, Japan, and the United States, and you can find many quirky delicacies on the island.
From umi budou to bukubuku-cha, wherever you go, scrumptious local treats await in Okinawa. Here are our picks for the best foods to try when visiting Okinawa!
1. Umi budou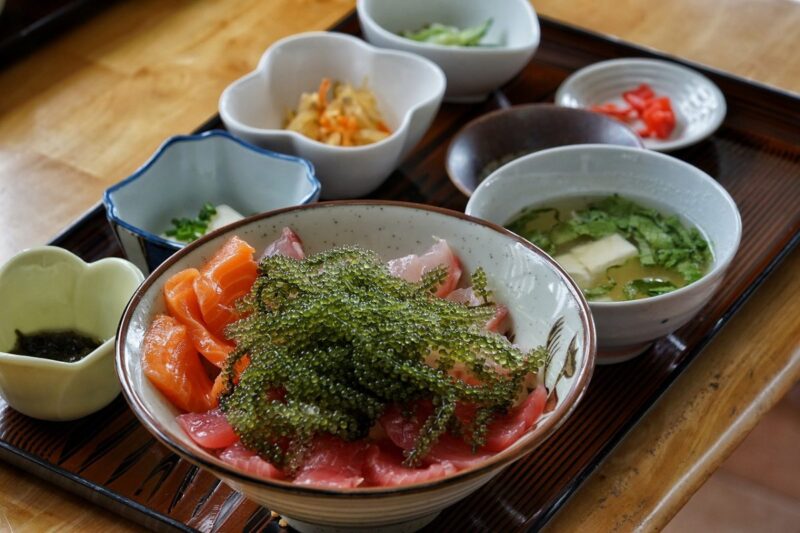 Umi budou (sea grapes) are a kind of seaweed with little bubbles at the end of the stems. You'll find them used as toppings for seafood rice bowls, or seafood salad, but actually umi budou is best eaten chilled and dipped in soy sauce and vinegar. Umi budou taste slightly salty, and it is known for its rich mineral contents.
2. Okinawa soba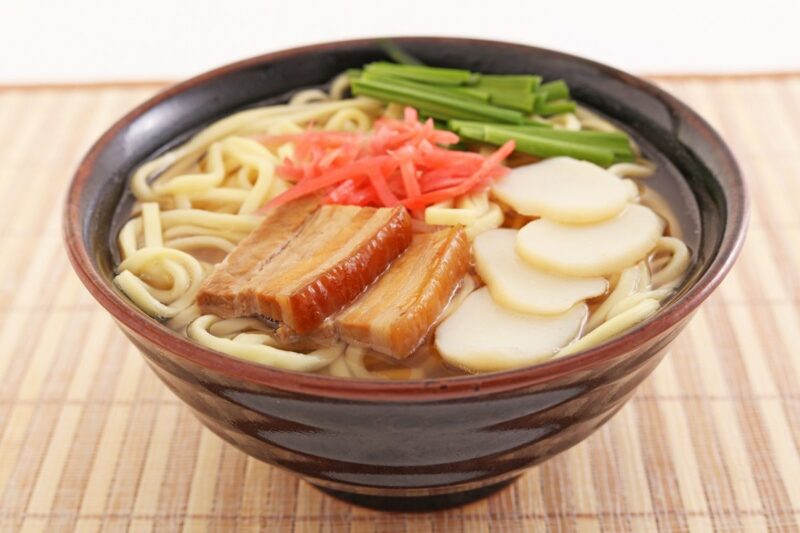 Even though this dish is named Okinawa soba, the noodles used in this dish are more akin to that of what we call udon, and the soup used as the base of this dish is quite similar to ramen soup. Okinawa soba uses tofu, vegetables, and braised pork ribs as toppings.
3. Agu pork shabu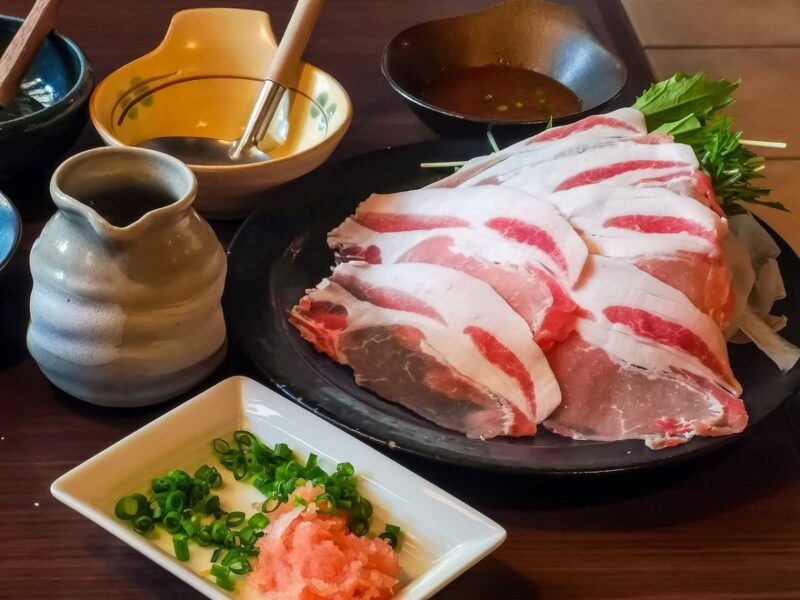 Okinawa is best known for its delicious Agu pork, and one of the best ways to enjoy Agu pork is to eat it as pork shabu, as you can enjoy the taste of the pork itself. You can eat Agu pork shabu with ponzu sauce (citrus soy sauce), sesame sauce, or soymilk sauce.
4. Goya chanpuru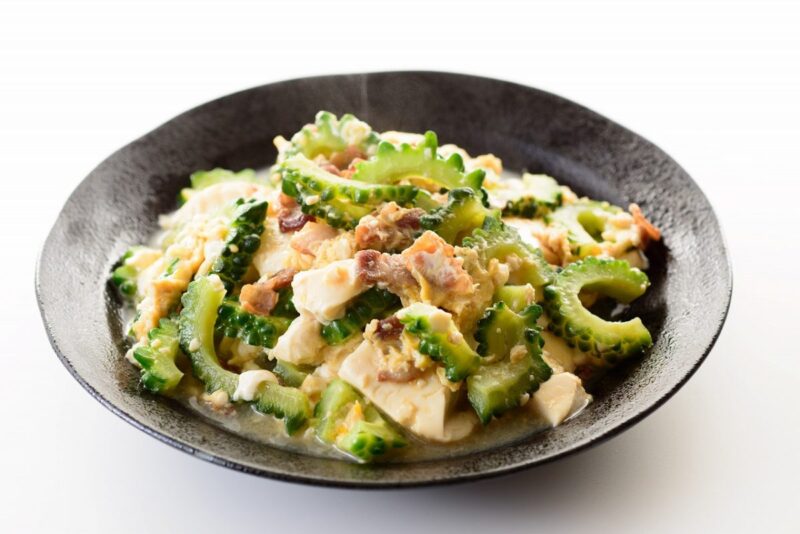 Goya chanpuru is an Okinawan dish that is made of bitter melon (goya), pork, tofu, and egg. Sometimes vegetables like carrot, green beans, and bean sprouts are added to goya chanpuru. Although bitter melon can taste bitter, goya chanpuru tastes like heaven in your mouth.
5. Bukubuku-cha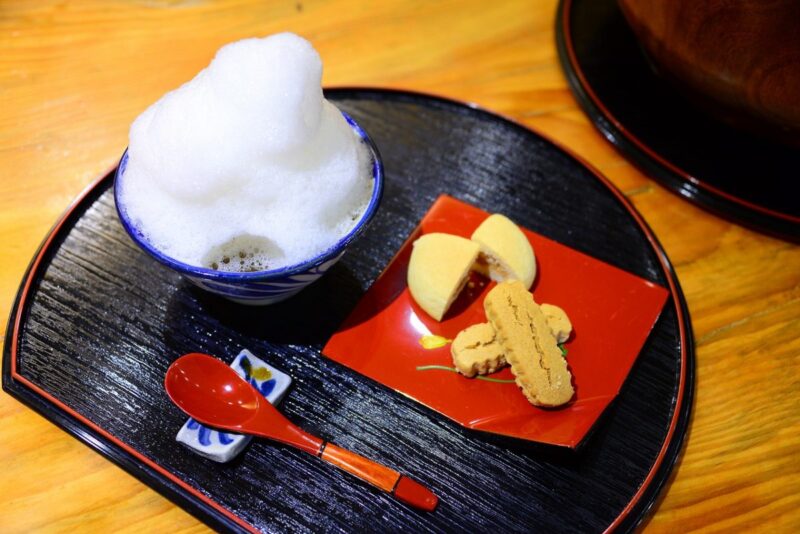 Bukubuku-cha is a type of tea from Okinawa that is frothed, and it is usually served together with chinsuko and kunpen, which both are Okinawan traditional sweets. Unlike other teas, Bukubuku-cha has foamy bubbles on top of it, which are created by whisking the tea with bamboo whisks. Jasmine tea or Genmai-cha are usually used as the base of Bukubuku-cha.
Now that you have an idea of how many fabulous spots are in Okinawa, all you have to do is plan your itinerary to enjoy unforgettable experiences in Okinawa!