10 amazing things to do in Ishikawa, Japan!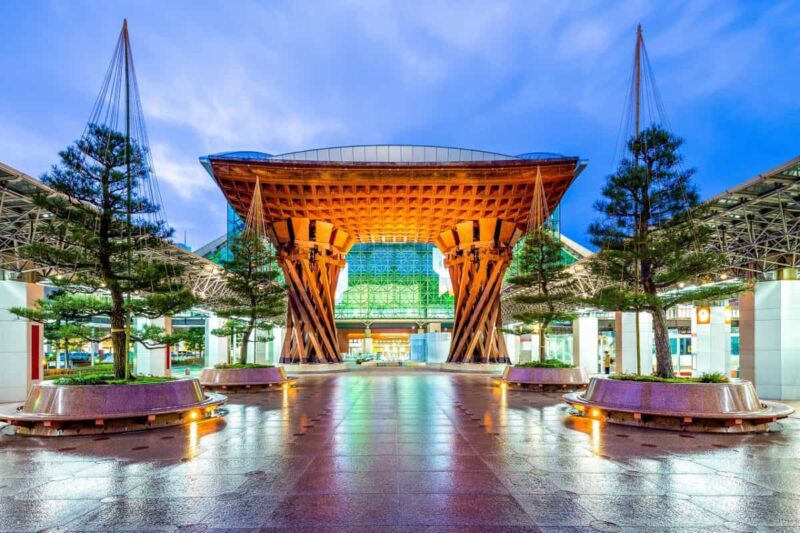 Ishikawa Prefecture sits on the west of Honshu, precisely in the eastern of Chubu region, and it is best known for the breathtaking coastal scenery of the Noto Peninsula. The prefecture became one of the hottest tourist destinations in Japan after the Hokuriku Shinkansen Line, which connects the prefecture with Tokyo, opened a few years back. Now, it only takes about 2.5 hours to get to the prefecture from Tokyo.
The capital of Ishikawa Prefecture, Kanazawa City, is known for its beautiful historical and cultural spots like the gorgeous Kenrokuen Garden, and the retro Higashi Chaya District. The city is also known for its amazing fish market, Omicho Market, where you can find many fresh marine products like snow crabs and hair crab.
Brimming with beautiful nature and interesting tourist destinations, how about visiting Ishikawa to have both, an extraordinary, yet a novel adventure?
Index
How to get there
Ishikawa is a part of Honshu, the main island of Japan, and is bordered by the Sea of Japan, Toyama, Gifu, and Fukui. The prefecture is a part of Hokuriku region, and it is accessible by train, plane, bus, and cruise.
The main transportation hubs in Ishikawa are Kanazawa Station, Kaga Station, and Komatsu Airport, and the fastest way to reach Ishikawa from Tokyo is by taking the JR Hokuriku Shinkansen, which only takes around 2.5 hours. If you're coming from Osaka or Kyoto, you can take the Thunderbird limited express train, which only takes around 2.5 to 3 hours.
If you want to take an airplane instead, you can fly from Narita or Haneda Airport to Komatsu Airport, a mid-sized international airport in Komatsu City, which is about a 40-minute bus ride from Kanazawa.
A lot of domestic and international cruises stop at Kanazawa, and the port is only a 20-minute bus ride to Kanazawa Station.
Recommended sightseeing spots in Ishikawa
Most Ishikawa's sightseeing spots are concentrated in Kanazawa, the capital city of the prefecture, and some of the most popular sightseeing spots in Ishikawa are the Kenrokuen Garden, the Higashi Chaya District, and the Kanazawa Castle.
If you go to different cities, you will find Shiroyone Senmaida, a rice terrace that is famous for its beautiful light up, and Kaga Onsen, a hot spring town that is famous for its traditional bathhouses.
Here are our picks for the best things to do in Ishikawa, Japan!
1. Stop by Kenrokuen Garden, one of the three great gardens of Japan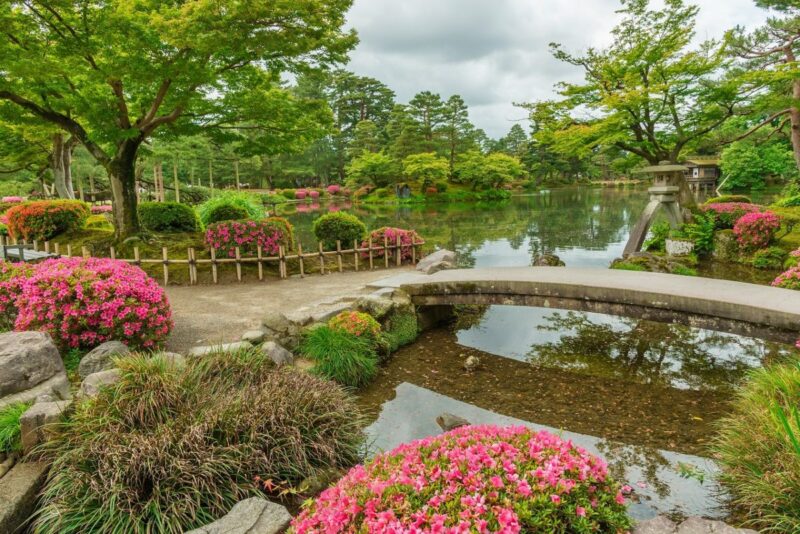 Kenrokuen Garden is located in the heart of Kanazawa City, and it is known as one of the three best gardens in Japan, and every year, tourists from all over the world flock to this Japanese-style garden to enjoy its beautiful scenery and seasonal views.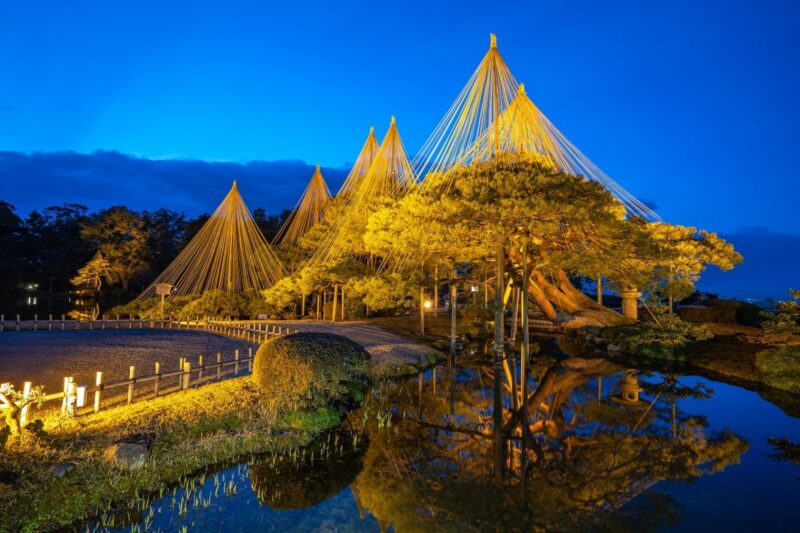 The garden was built over generations during Edo period (1603 – 1868) by the feudal lord of Kaga, which is now the southern part of Ishikawa. Kenrokuen Garden is known as one of the most popular places for fall foliage in Japan, and also for its beautiful night illumination.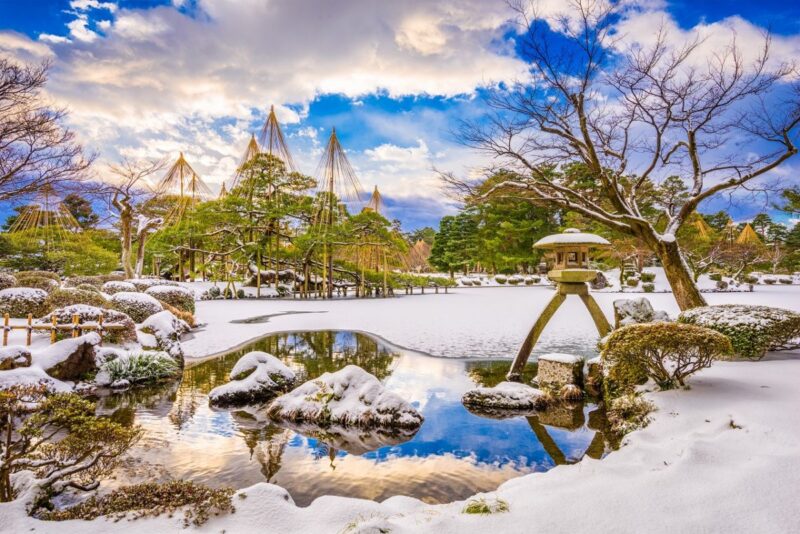 The garden also looks beautiful in the winter, especially when its surroundings are covered by white snow.
Kenrokuen Garden
2. Stroll around the legendary Higashi Chaya District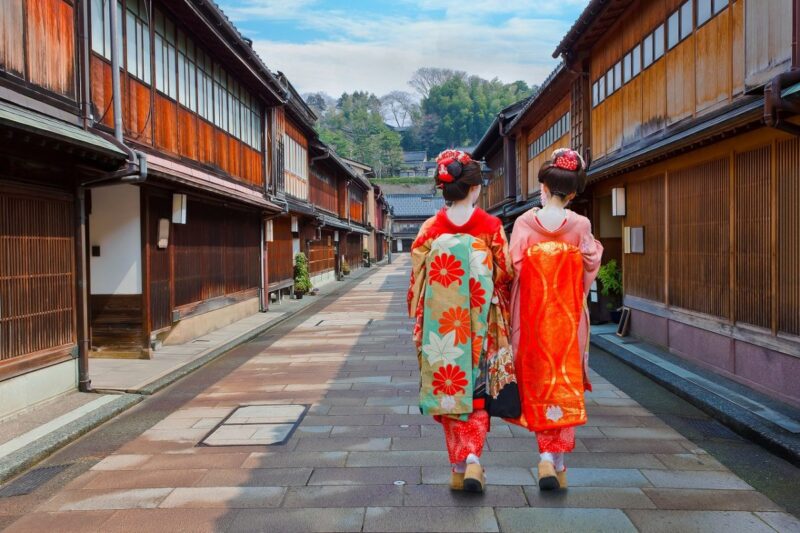 Higashi Chaya District is a part of the old castle towns of Kanazawa, and it is best known for its stone-paved streets and old buildings from the Edo period. Chaya means a teahouse, and Higashi Chaya District is lined up with teahouses where Geishas entertain guests with classic Japanese dance performances and songs.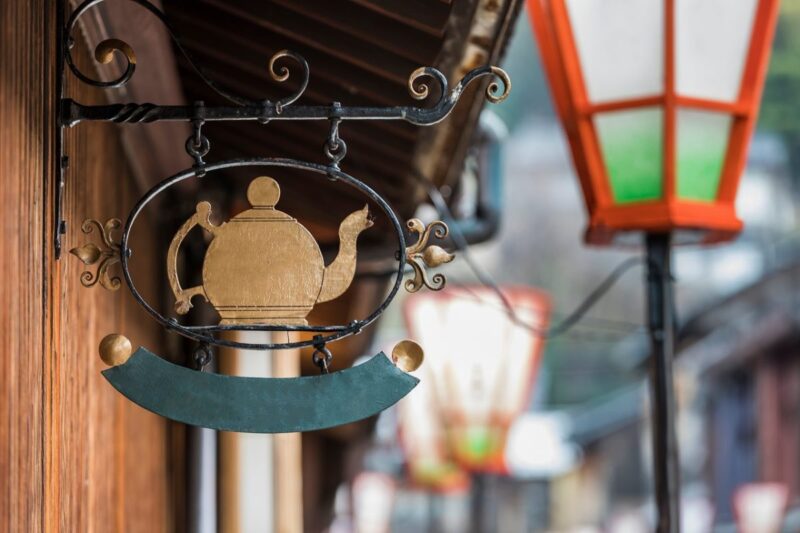 Higashi Chaya District was nominated as an important district of historical buildings by the Agency of Cultural Affairs of Japan in 2001, and some tea houses are still operating until today.
Make sure to stroll around the district when you visit the prefecture, and if you're lucky, you might be able to meet the geisha there!
Higashi Chaya District
3. Stop by the great Kanazawa Castle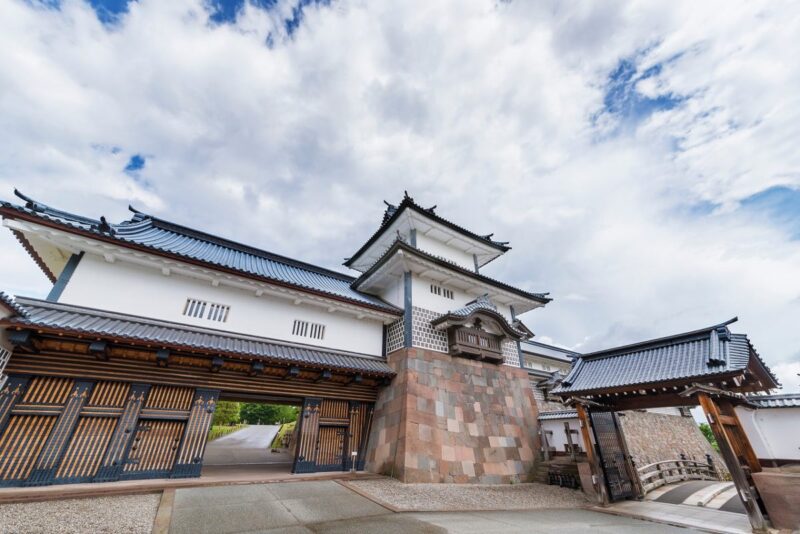 Kanazawa Castle was built in 1583 by Takayama Ukon, a renowned Christian Daimyo, and the castle served as the headquarters of Kaga Domain, which ruled by the Maeda Clan for nearly 300 years until the beginning of the Meiji Period.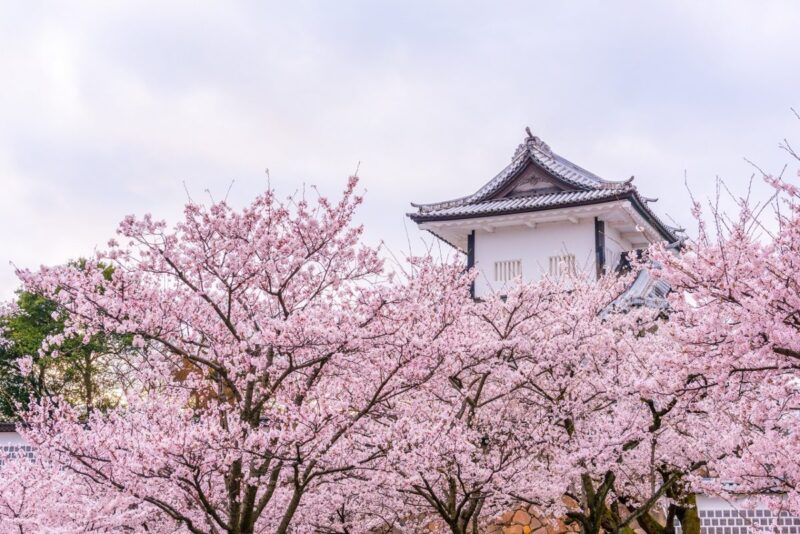 Kanazawa Castle is next to the Kenrokuen Garden, and it is known for its beautiful cherry blossoms in spring. In addition to its gorgeous cherry blossoms, Kanazawa Castle is also known for its wooden historical artifacts like "Gojukken Nagaya", "Hishi-Yagura", and "Hashizume-mon", which all require admission fees.
Kanazawa Castle
4. Enjoy fresh seafood at Omicho Market!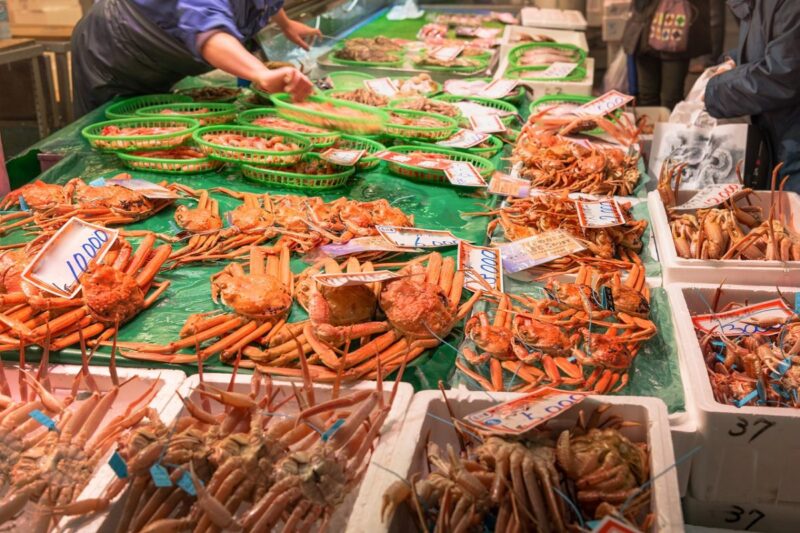 Omicho Market has been serving the area since the Edo period, and it has around 200 stores and stalls selling fresh marine products. It is known as the largest fresh food market in Ishikawa, and many tourists visit this market to see freshly caught seafood and to try the fresh seafood rice bowls at lunchtime.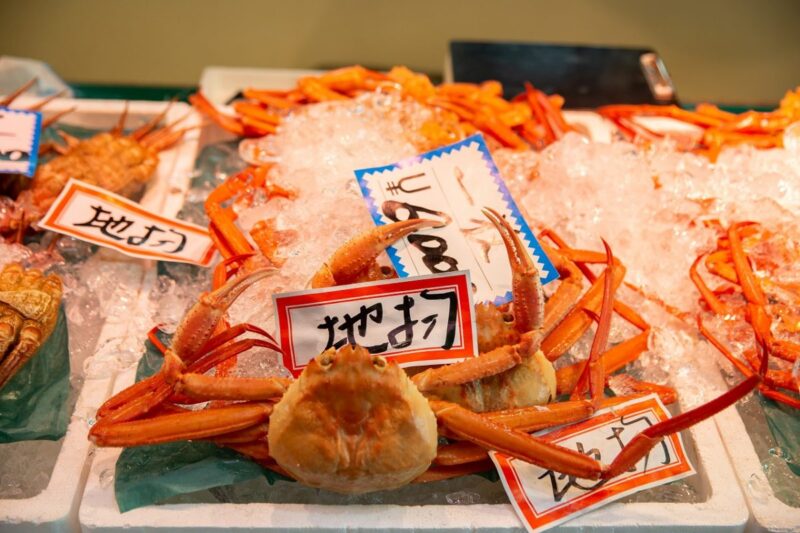 At Omicho Market, you can purchase Ishikawa's fresh crabs like the king crab, snow crab, or hairy crab, and eat them there, or take it home with you as a souvenir.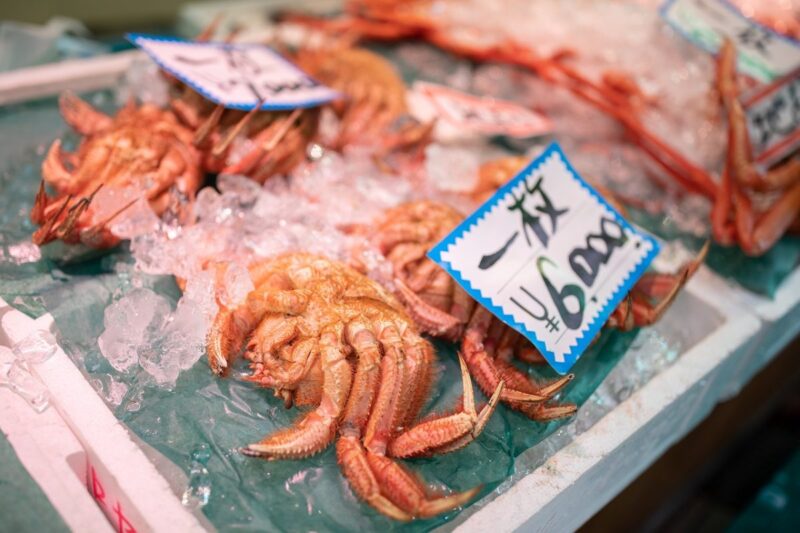 The price of a whole crab is usually pricey, usually, it's around 6,000 yen per crab, and if you don't have that much budget for food, you can always try the seafood skewers (baby scallops or unagi) that are sold for a few hundred yen only.
Omicho Market
5. Admire the wonderful architecture of Kanazawa Station!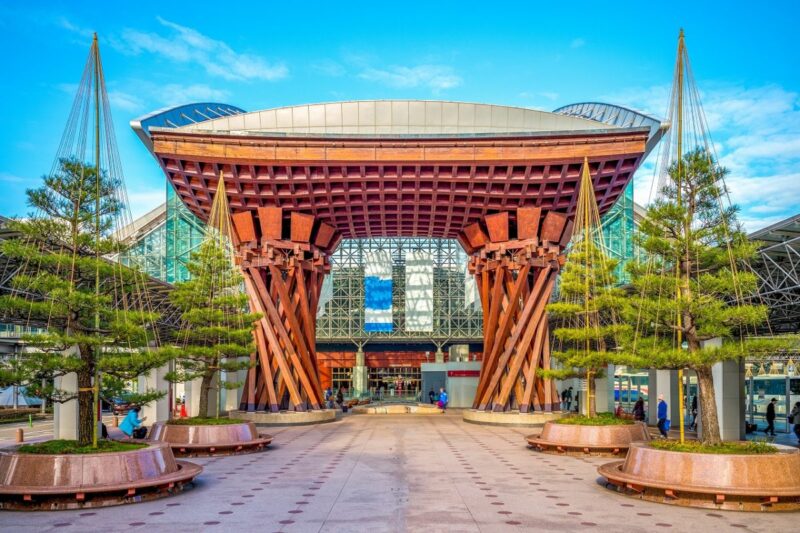 Kanazawa Station is the main transportation hub of Ishikawa Prefecture, and it is known as one of the 14 most beautiful stations in the world by an American travel magazine, Travel + Leisure in 2011. One of the most interesting features of Kanazawa Station is its huge gate, named "Tsuzumi-Mon", which resembles a tsuzumi, or a hand drum used in traditional Japanese music.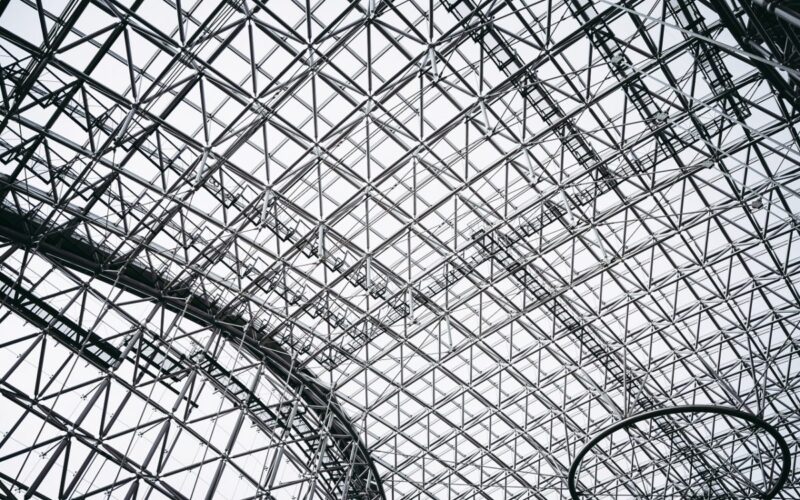 Another feature you might want to check is the station's metal patterned roof, which looks futuristic. The station also has a plaza in it that sells a lot of different stuff and holds various kinds of events monthly, so why don't you spend some of your time to explore this amazing train station?
Kanazawa Station
6. Visit Shiroyone Senmaida for its beautiful scenery and amazing night illumination!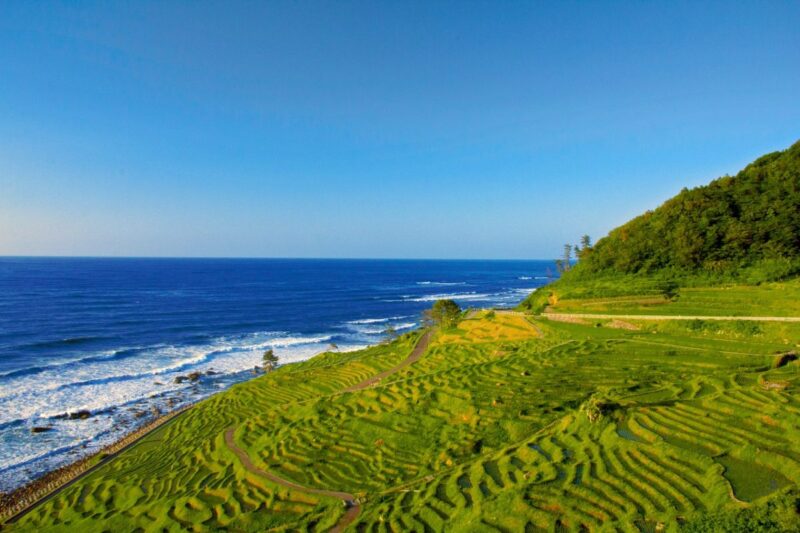 Shiroyone Senmaida, which means "a thousand of rice paddies", is in Wajima City, the northern part of Ishikawa Prefecture. The rice terrace is best known for its amazing seasonal views, particularly in the summer, when its 1,004 cascading green rice paddies are pooled with muddy water as the rice pushes toward harvest.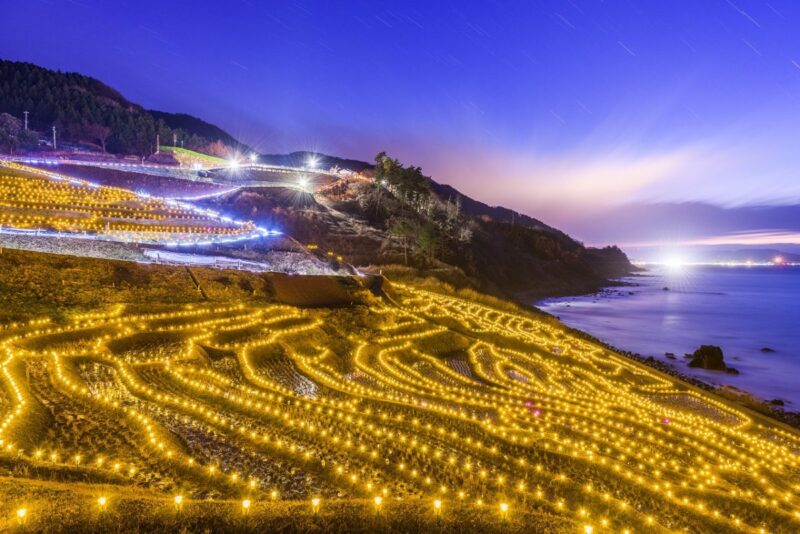 Shiroyone Senmaida is also known for its excellent winter scenery when the curves of the rice paddies are lit up with glowing LED lights. Known for its amazing view, this rice terrace is also registered to Globally Important Agricultural Heritage Systems in 2011.
Shiroyone Senmaida
7. Visit Kaga Onsen to try its traditional bathhouses!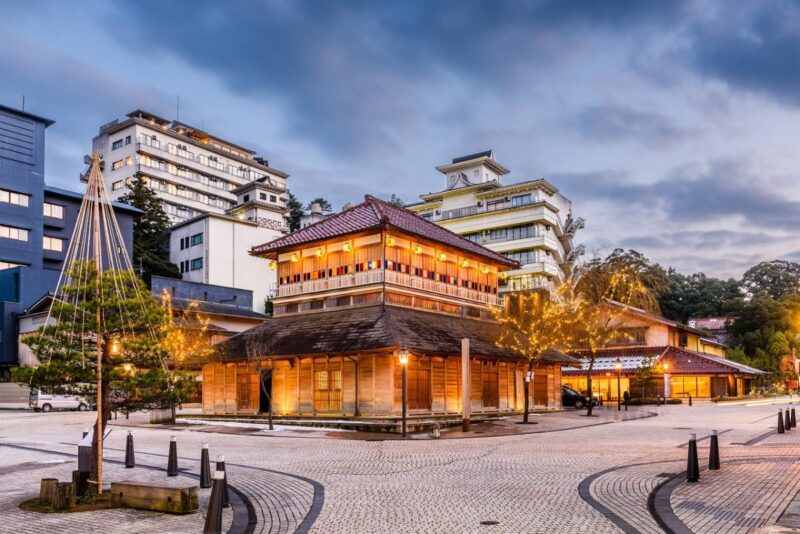 Kaga Onsen is a popular hot spring destination of Ishikawa Prefecture located at the foot of Mt. Hakusan, and it consists of four separate hot spring towns next to each other, which are Yamashiro, Awazu, Yamanaka, and Katayamazu. The above picture is a traditional bathhouse in Yamashiro town, and the below picture is a traditional bathhouse in Yamanaka town.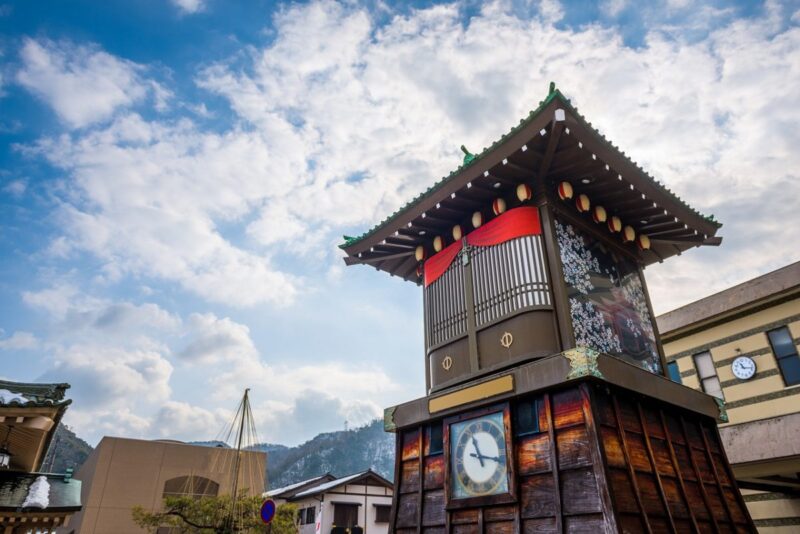 Most bathhouses in Kaga Onsen are known for their retro structure, and there are many ryokans (traditional inns), where you can spend the nights and enjoy a priceless time with their private hot springs.
Kaga Onsen
8. Find your peace at Natadera Temple!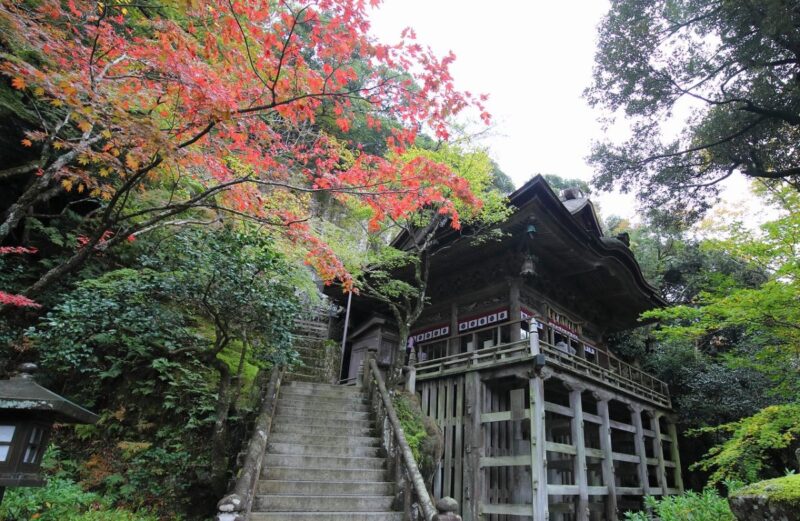 How about visiting Natadera Temple to peace your mind for a little bit?
Natadera Temple is located near Awazu Onsen, and it is a temple of the Shingon sect of Japanese Buddhism. The temple was founded in 717 by a Buddhist monk who visited Mt. Hakusan to search for a goddess who believed to reside there. Later on, the monk carved a wooden image of Kannon, the Buddhist goddess of mercy and compassion, which became the temple's main object of worship today together with Mt. Hakusan.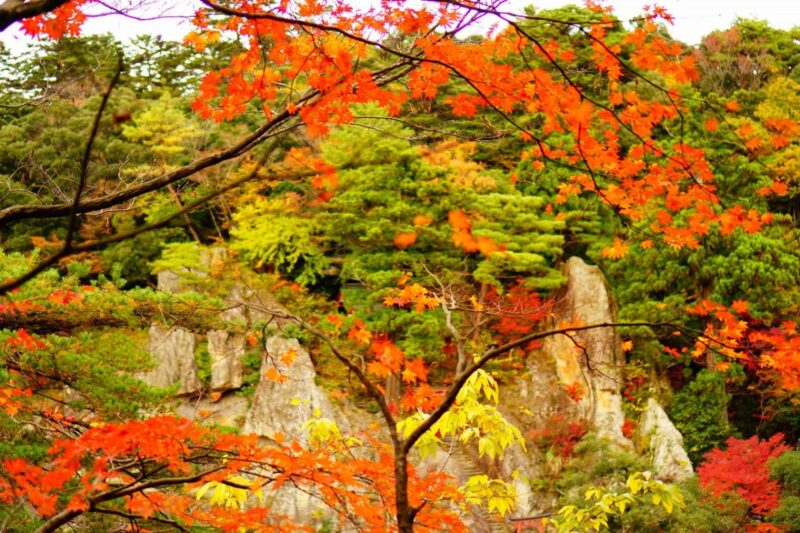 The shrine is known for its rocky cliffside and amazing autumn leaves, making it one of the best fall foliage spots in the prefecture. The main building of the temple is in the very back of the temple grounds, and it stores the temple's main object of worship, the wooden statue of Kannon.
Natadera Temple
9. Enjoy the unique exhibition at 21st Century Museum of Contemporary Art!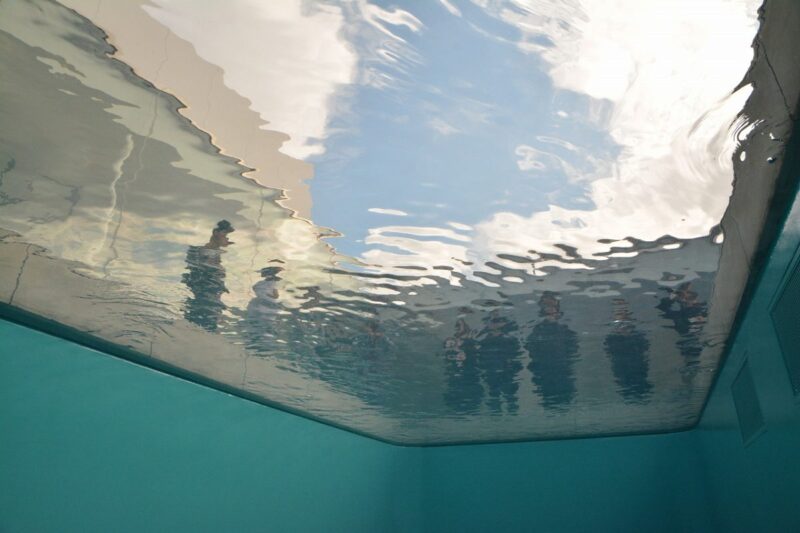 Opened in 2004, the 21st Century Museum of Contemporary Art is a contemporary art museum that is only a 10-minute bus ride from Kanazawa Station. The museum is best known for exhibiting Leandro Erlich's "The Swimming Pool", which appears to be filled with deep, shimmering water when viewed from the deck, but actually, there is an empty space with aquamarine walls that viewers can enter under the pool.
21st Century Museum of Contemporary Art
10. Stop by the legendary Nomurake!
When you're in Kaga, don't forget to stop by the Bukeyashiki-no-ato Nomura-ke, to enjoy its beautiful scenery of Japanese garden and traditional mansion!
Nomura-ke is previously owned by Nomura Denbei Nobusada, a magistrate of the Kaga region, and now the house is open to the public.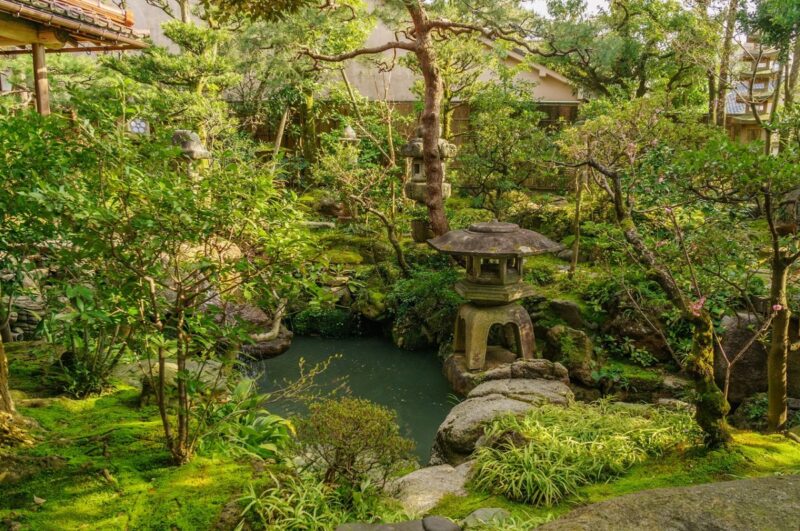 Best known for its lavished Japanese garden, you can understand the formal tradition of a Japanese family through the exhibition, and also watch the unique aspects of a traditional Japanese mansion here!
Bukenoyashiki-no-ato Nomura-ke
Ishikawa's best local treats
Ishikawa is bordered by the Sea of Japan and it is famous for its fresh and quality marine products, and it is also home to a variety of local foods, like curry rice, duck hotpot, and savory udon noodles. Here are our picks for the best foods to try when visiting Ishikawa!
1. Kanazawa Curry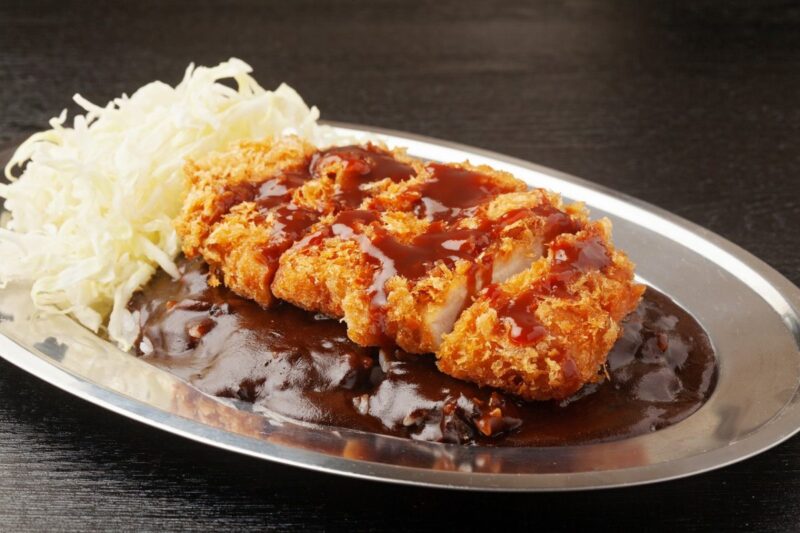 If you love Japanese curry rice, you should never miss Ishikawa's, Kanazawa Curry!
Kanazawa Curry is a local specialty of Kanazawa City, the main capital of Ishikawa Prefecture, and it is known for its thick and rich brown curry sauce, with a touch of sweet caramel flavor to it. The curry is served together with a slice of tonkatsu; a deep-fried pork cutlet, and shredded cabbage.
2. Crabs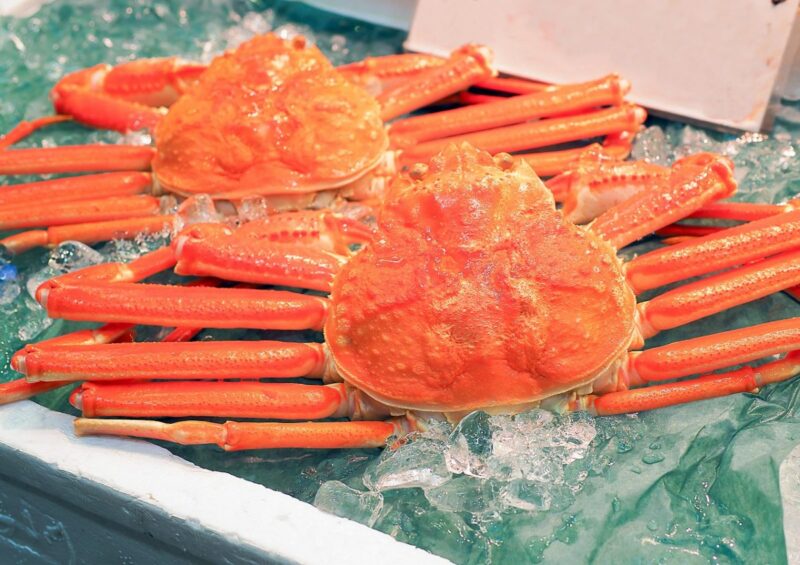 Visiting Ishikawa won't be complete if you haven't tried its delicious crabs!
Ishikawa's Kanazawa Port and Hashidate Port are known as the leading landing sites for crabs, and the prefecture is famous for its snow crabs varieties like the Kano Crab and the Kobako Crab. The crabs are usually boiled or grilled, and sometimes they are served as sushi or sashimi.
3. Jibuni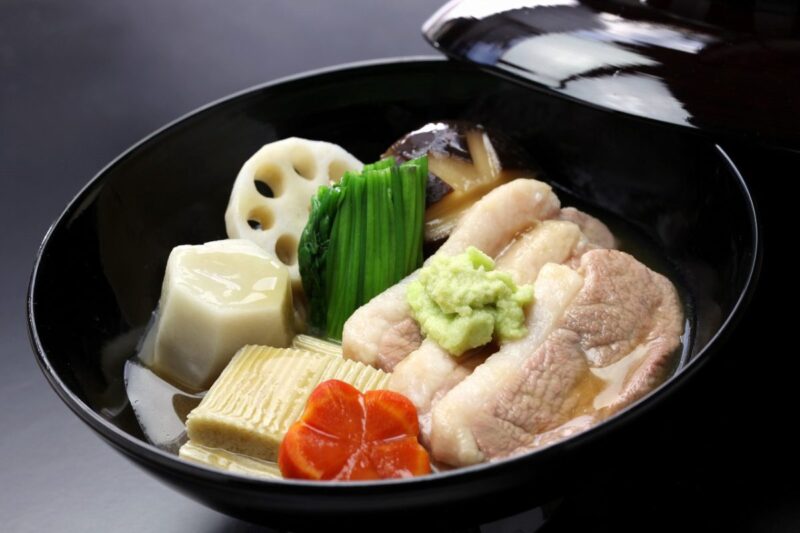 Jibuni is a traditional local dish of Ishikawa, which consists of stewed vegetables and thinly sliced duck meat. The ingredients are usually simmered in a bonito or soy broth, and the duck meat is usually fatty. Jibuni is a staple of Ishikawa, especially during the winter when the weather gets cold.
4. Komatsu udon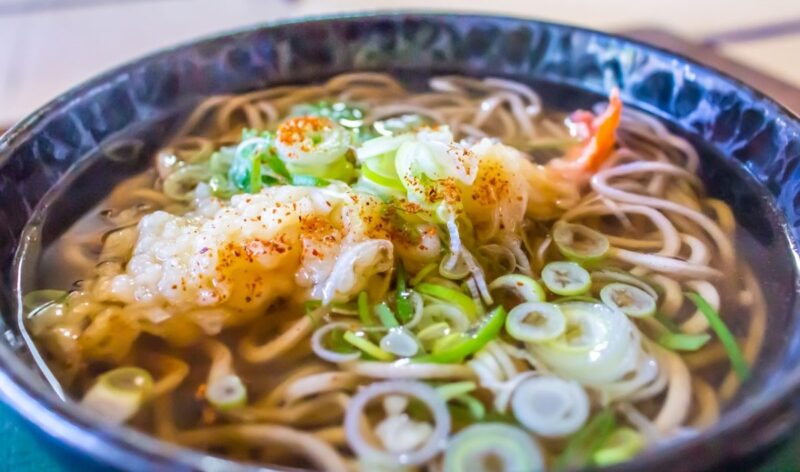 Komatsu udon is a local dish of Komatsu, a city in Ishikawa, and it was founded by an udon shop near Komatsu Station back in 1897. Unlike other udon noodles, Komatsu udon is known for being thin and chewy, and the soup, which is made with fish or seaweed, is known for its simple and light flavor.
5. Kaisendon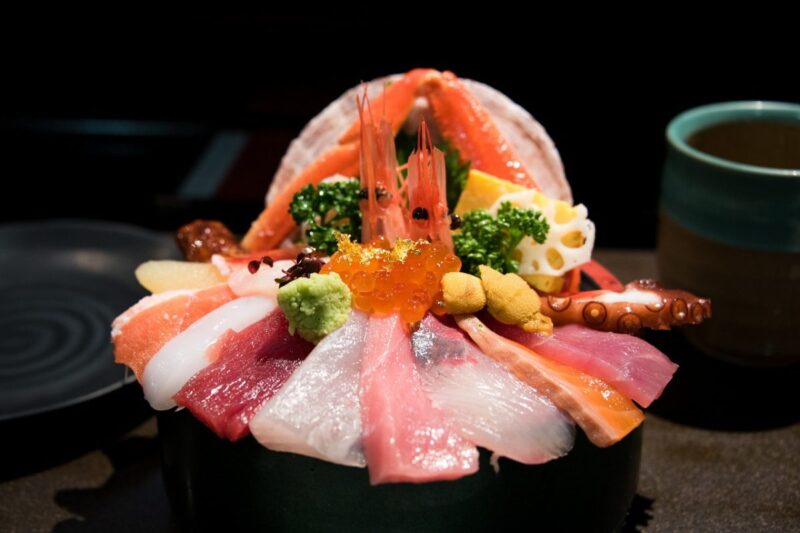 If you're a seafood lover, you should try Ishikawa's Kaisendon!
Kaisendon is a rice bowl topped with fresh sashimi, and Ishikawa's Kaisendon is piled high with local rice, fresh fish, octopus, shrimps, shellfishes like scallops, and of course, crab legs! One of the best areas to try the Kaisendon is in the northern part of the Noto Peninsula, particularly in Wajima City or Noto-machi, where you can try Noto Kaisendon, a seafood rice bowl exclusive to the Noto area only!
.
Now that you have an idea of how many fabulous spots are in Ishikawa, all you must do is plan your itinerary to enjoy unforgettable experiences in Ishikawa!