10 amazing things to do in Fukushima, Japan!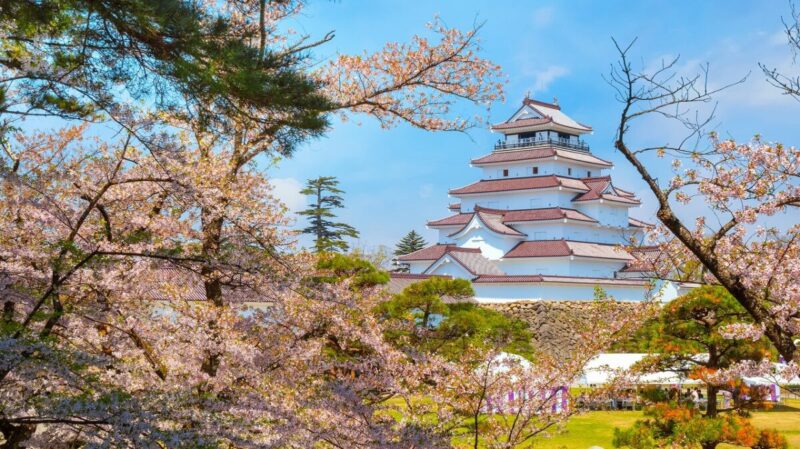 Fukushima is located at the bottom of Tohoku Region, the northern part of Japan's main island. This prefecture is known as the third largest prefecture in Japan, and it is best known for its historical town and city like Ouchi-juku and Aizuwakamatsu, and its amazing hot spring towns like Higashiyama Onsen.
Fukushima was once heavily damaged by the Great East Japan Earthquake that happened on March 11, 2011, but the prefecture has recovered completely from the disaster, thanks to the efforts made by both the locals and the foreigners. This prefecture has become one of the most favorite destinations to visit in Japan, especially for those who love Japanese culture and history.
Brimming with beautiful nature and interesting tourist destinations, how about visiting Fukushima to have both, an extraordinary, yet a novel adventure?
Index
How to get there
Fukushima Prefecture is accessible by several different transportation methods, including trains, highway buses, and airplanes. The main transportation hubs in Fukushima are Koriyama Station, Fukushima Station, and Fukushima Airport.
The most convenient way to get to Fukushima from Tokyo is by taking the JR Tohoku Shinkansen, which connects both areas directly. The one-way trip takes about 90 minutes, and costs around 9,000 yen, and it is fully covered by the JR Pass, JR East Tohoku Area Pass, and JR East South Hokkaido Pass. The train stations to get off is either Koriyama Station or Fukushima Station.
The closest airport to Fukushima is the Fukushima Airport, which is only about a 40-minute bus ride from Koriyama Station. Domestic flights from Osaka (Itami Airport) and Sapporo (New Chitose Airport) are available on daily basis.
Recommended sightseeing spots in Fukushima
Fukushima is a perfect destination for a weekend getaway from Tokyo, and it is worth to visit if you're looking for something off the beaten path. The prefecture is known for its historic townscapes, a castle looking over the town, and beautiful natural landscapes.
In addition to its great sceneries and sightseeing spots, Fukushima is also known for having amazing hot spring towns with a rich history and fine local cuisine.
Ready to take yourself to Fukushima? Here are our picks for the best things to do in Fukushima, Japan!
1. Witness the beauty of Goshikinuma, the 5 colors pond!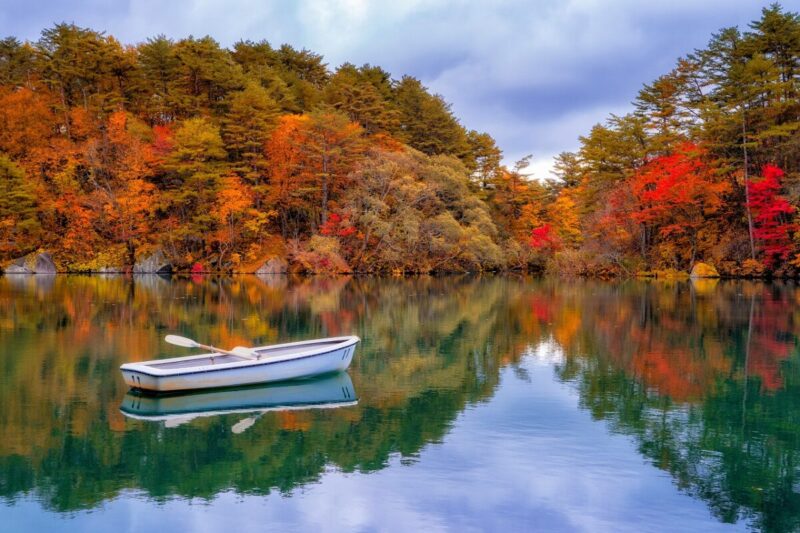 Goshikinuma is a natural wonder located in the Bandai-Asahi National Park, and it has received a 1-Star rating in the Michelin Green Guide of 2016. Goshikinuma literally means "Five Colored Ponds" in English, and it is best known for offering views of rusty red, bright green, and turquoise ponds and lakes to its visitors.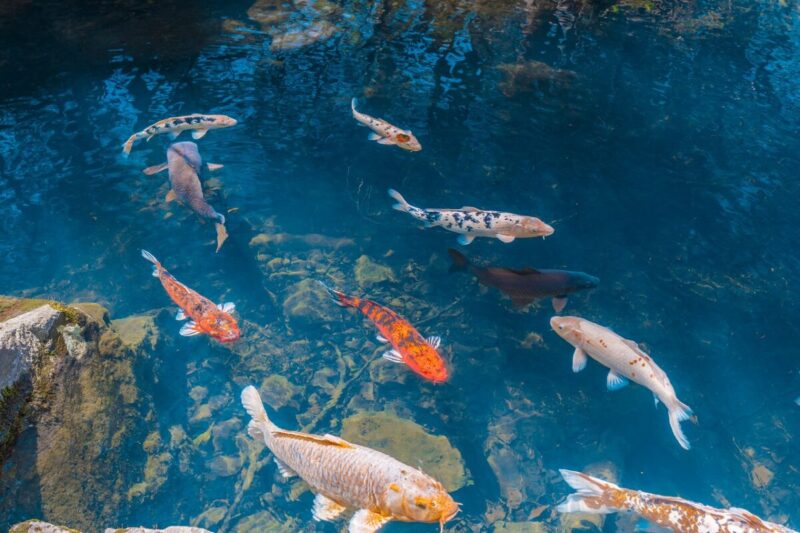 The main pond of Goshikunuma is Bishamon-numa, a large colorful lake with multi-colored koi fish swimming in it. You can rent a rowboat to explore Bishamon-numa, and if you want to explore the other ponds, you must climb a hiking path to reach them. The other ponds are Aka-numa, which is famous for its vibrant red, iron-rich plants, Midoro-numa, the multi-colored pond, Tatsu-numa, which changes its color from deep greens in the winter to vibrant blues in spring, and Benten-numa, the turquoise pond.
Goshikinuma
2. Travel back in time at Ouchi-juku, the old post town of Fukushima!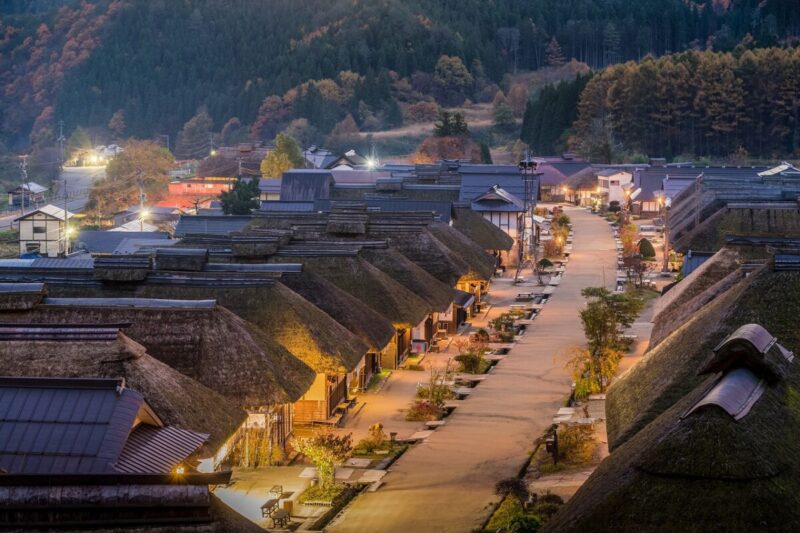 Ouchi-juku is an old post town located in between Aizu and Nikko, and it functioned as a shukuba-machi, serving as a rest stop for travelers. The town is a place where you can experience the atmosphere of the Edo Period, including the thatched roof houses, which can only be seen in certain areas like the Shirakawa-go Village or the Gokayama Village.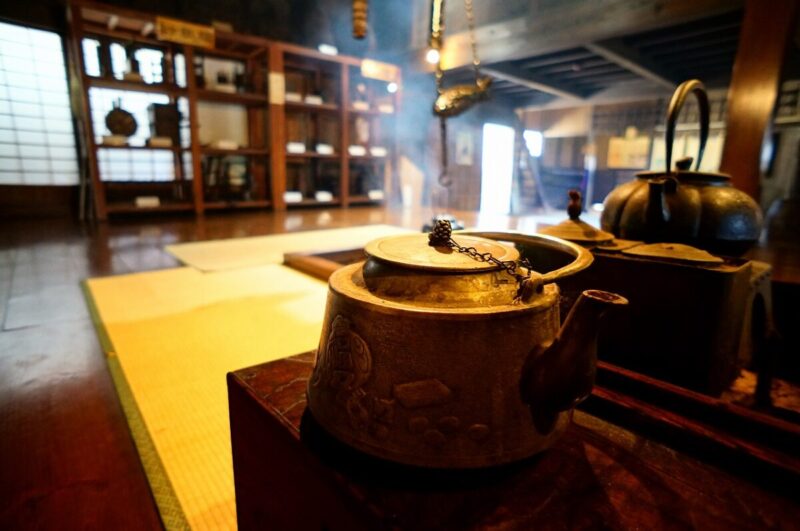 The thatched roof houses in Ouchi-juku have been preserved well, and those houses now function as souvenir shops, soba restaurants, cafes, and private residences, as well. We recommend visiting the thatched roof houses for a teatime, or to try Aizuwakamatsu's local specialty, negi soba, at the soba restaurants.
Ouchi-juku
3. Explore the mysterious Abukuma Cave!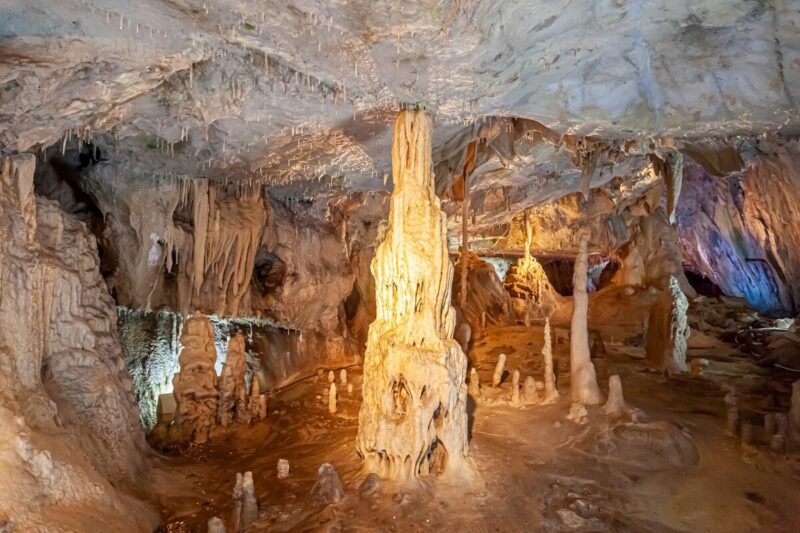 Abukuma Cave is a limestone cave in Tamura City, and the cave was discovered in 1969 at a former limestone quarry. The largest hall in the cave has stalactites hanging from the height of 29 meters. The stalactites are created over an immense period, and it takes about a hundred years for a stalactite to grow 1 centimeter, so the estimate for the completion of the Abukuma Cave is about 80 million years.
There are several courses you can take to explore this cave, and we recommend taking the discovery course, which allows you to visit adventurous spots, giving you opportunities to experience the wonder of nature!
Abukuma Cave
4. Stop by the legendary hot spring town, Higashiyama Onsen!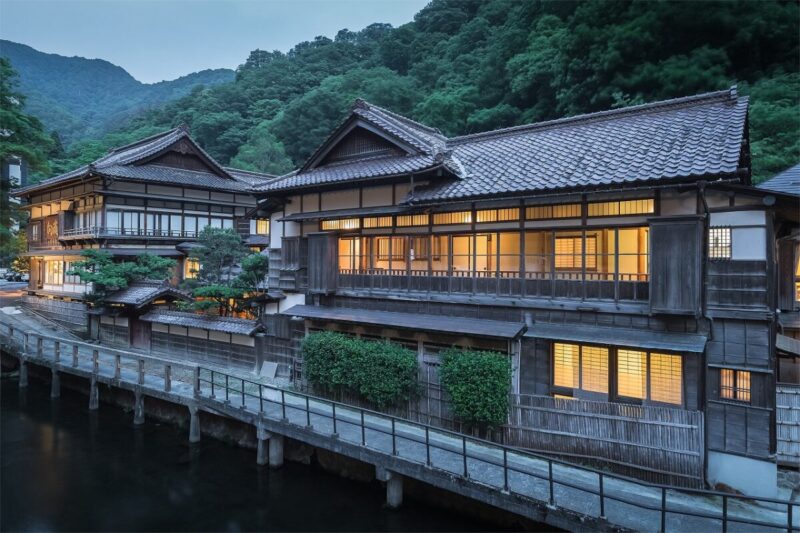 Fukushima is known for its amazing onsen (hot spring) towns; it is ranked fifth in Japan, and there are more than 130 hot springs in the prefecture. Higashiyama Onsen is an onsen town that is only a 15-minute bus ride from Aizuwakamatsu Station.
The town is also best known for its view of the bridge across the river that is lined with numerous ryokans (Japanese-style inns).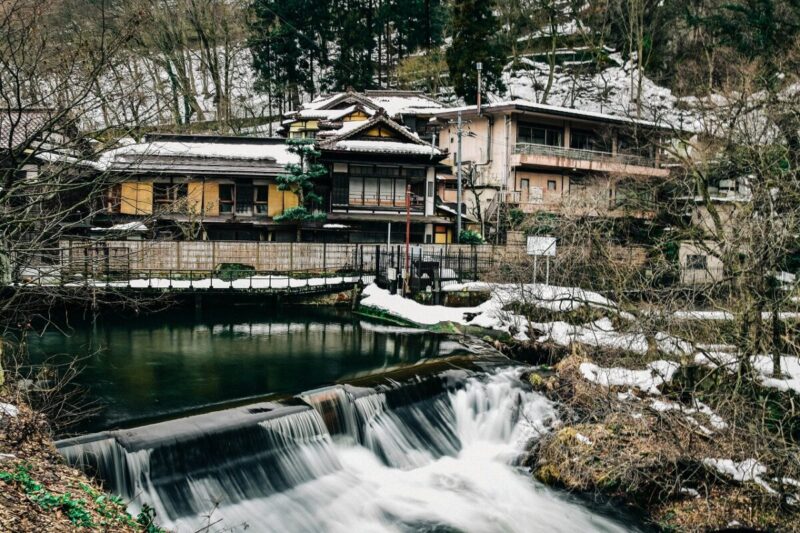 Higashiyama Onsen is known for its sulfate spring water, which can smoothen and soften your skin.
The hot spring water will also warm your body from the core. And helping you improve the blood circulation and strengthen the blood vessels.
Higashiyama Onsen
5. Travel around Fukushima with the JR Tadami Line!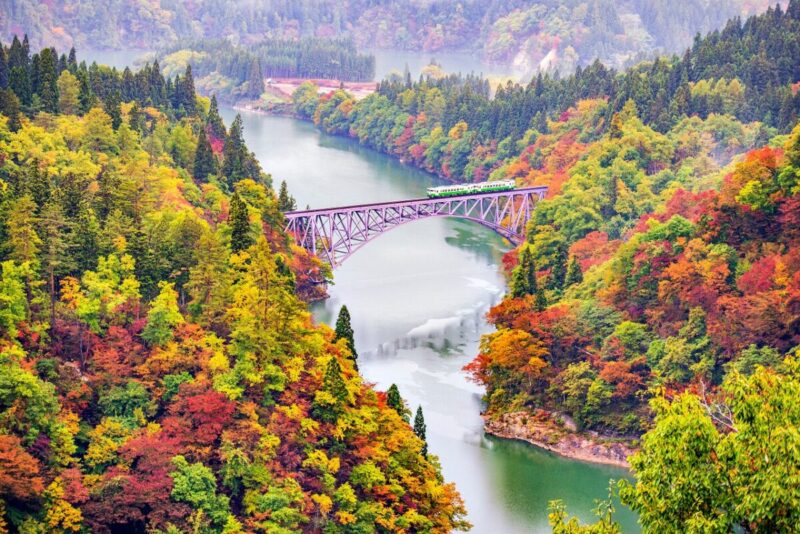 How about traveling around Fukushima with JR Tadami Line?
JR Tadami Line connects Aizuwakamatsu City with Niigata Prefecture, and the train line is known as the most romantic railroad in the world. The railroad of JR Tadami Line is best known for its seasonal views, including the lush greeneries in summer, amazing autumn leaves in fall, and beautiful snowscapes in winter.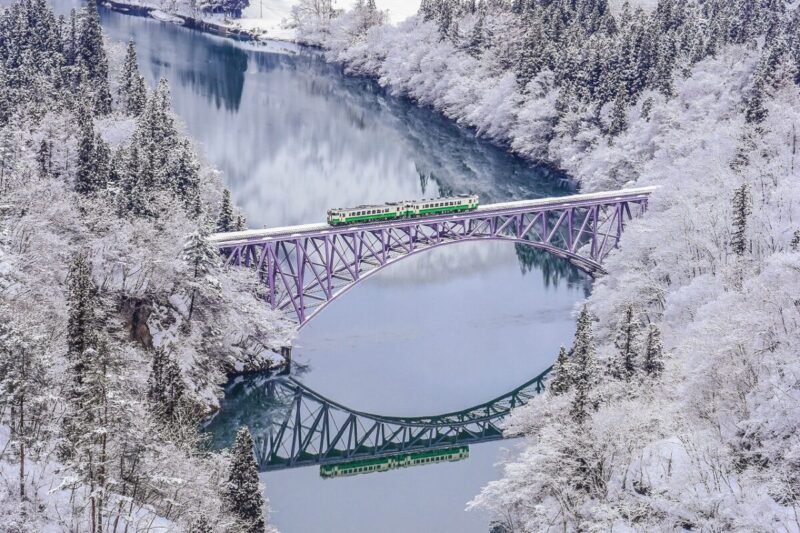 Taking the JR Tadami Line allows you to enjoy the great sights of Fukushima's natural environment, including its vast rice paddy fields, gorgeous valleys, and rivers reflecting the forest and its surroundings. The number of trains running in a day is limited, so make sure to check the timetable and fare beforehand.
JR Tadami Line
6. Visit Tadami River for its breathtaking natural landscape!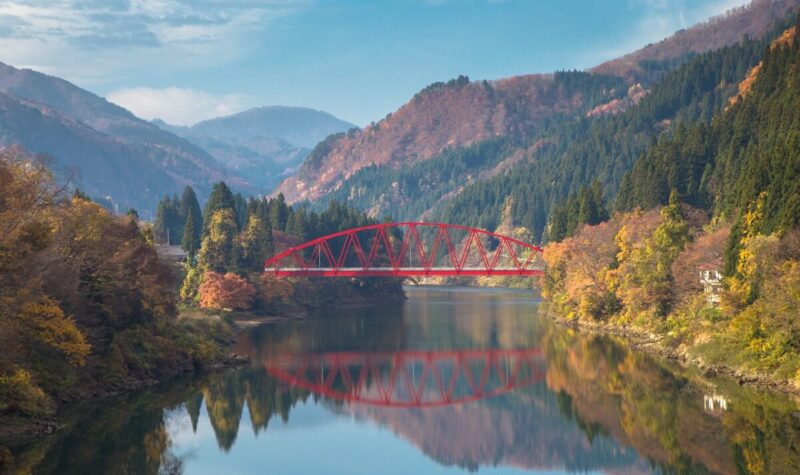 Visiting Tadami River is a must if you're taking the JR Tadami Line, and the best viewpoint to enjoy the scenery is the No.1 Tadami River Bridge Viewpoint (also known as Daiichi Tadami River Bridge Viewpoint). The Tadami River Bridge Viewpoint is only a few minutes' walk from Ozekaido Mishima-juku, a roadside station that sells souvenirs, snacks, and light meals. You can visit Mishimajuku by taking a bus from Aizu-Miyashita Station on the JR Tadami Line.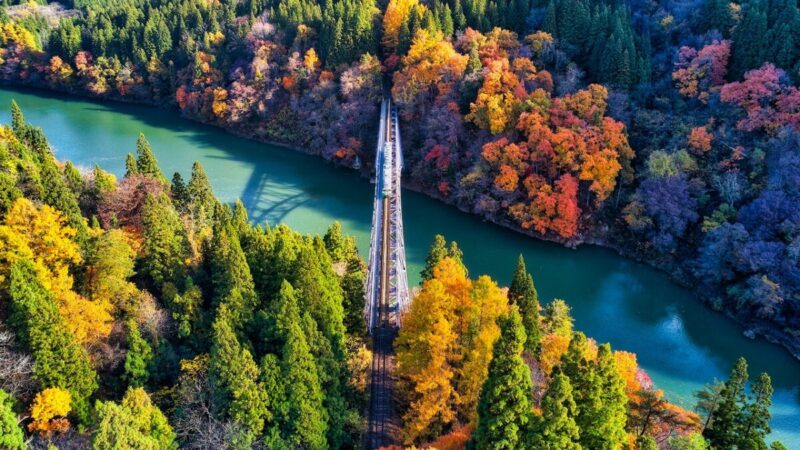 There are various viewpoints near Mishima-juku, but the No.1 viewpoint is the best viewpoint to enjoy the scenery of the river. The best time to visit the river is in fall, when its surroundings are covered with red and gold leaves, or in the winter, when its surroundings are covered with white snow.
The most popular pictures taken at the Tadami River are those taken when the train carriage passes over the bridge, so why don't you snap a similar picture before you leave Fukushima?
Tadami River
7. Feed the swan at Lake Inawashiro!
Lake Inawashiro is a part of Bandai Asahi National Park in the center of Fukushima, and it is known as the fourth largest freshwater lake in Japan. The lake is also known as the "Heavenly Mirror Lake", and it has a surface area of 104km2.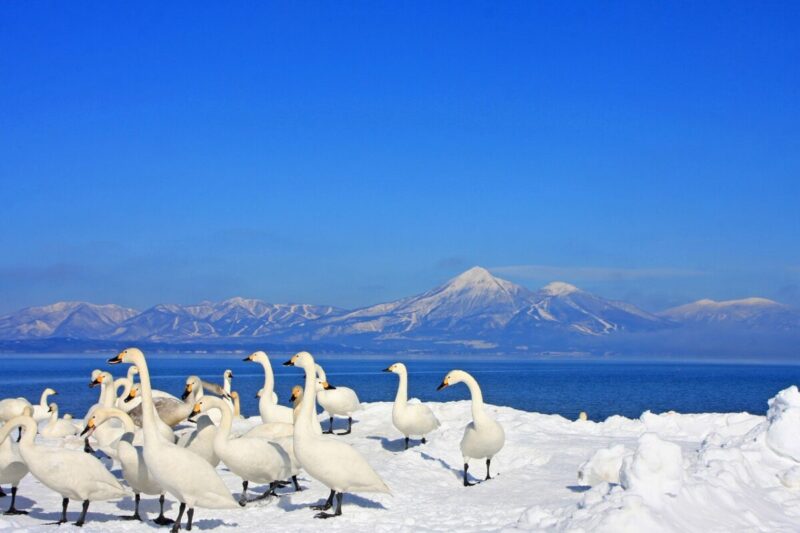 You can enjoy the impressive scenery of Mt. Bandai when visiting the lake, and you can enjoy a year-round fun at the lake, including the cherry blossoms in spring, water sports in summer, red and golden leaves in fall, and fresh powder snow in winter. The lake also has groups of swans that you can feed and interact with.
How about spending half of your day at Lake Inawashiro?
Lake Inawashiro
8. See Japanese samurai at Soma Nomaoi Festival!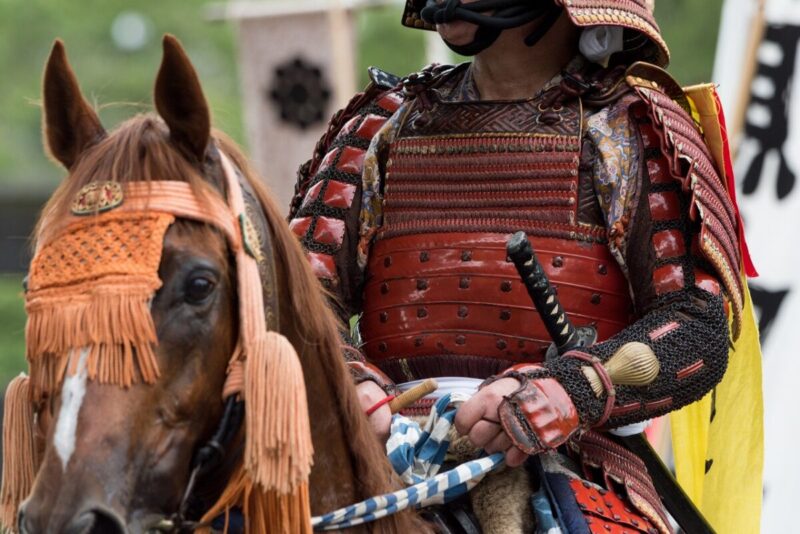 You should never miss Soma Nomaoi Festival if you love samurai, as it's the only festival where you can see kacchu-clad (samurai armor) warriors on horseback welcoming you to the venue.
Soma Nomaoi Festival is believed to be more than 1,000 years old, and it is held for three days annually, in late July. A ceremony to celebrate the beginning of a battle is held at shrines in both Soma City and Minami Soma City on the first day of the festival, and after the ceremony, the general calls out to the troops and blows the conch shell as the warriors begin their march. On the second day of the festival, the warriors march through the town fully equipped with kacchu-clad and swords. On the last day, the festival ends with Nomagake, where participants capture a horse with their bare hands.
Soma Nomaoi is the only festival in Japan that introduces the samurai spirit to the modern world, so you should never miss this if you're visiting Fukushima in late July.
Soma Nomaoi Festival
9. Stop by Tsuruga Castle, the most important castle in Fukushima!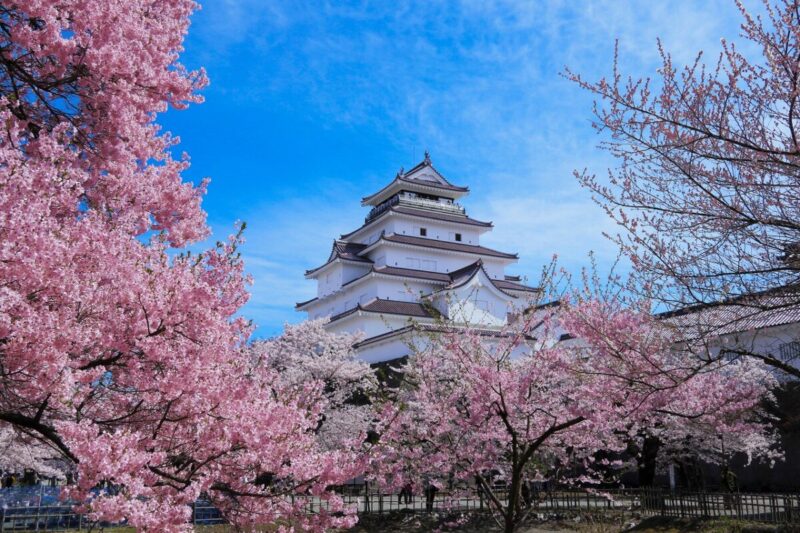 Tsuruga Castle is the most important castle in Fukushima, which was built in 1384 and ruled by different rulers from time to time. This castle was once destroyed during the Boshin War of 1868, and it became one of the last strongholds of samurai loyal to the shogunate.
Tsuruga Castle was rebuilt with concrete in the 1960s, and the roof tiles was reverted from grey to the original red, making it the only castle in Japan with such roof tiles. You can climb to the top floor of the castle keep to look out onto the surrounding city, and you can see many interesting displays about the history of the castle and the samurai lifestyle inside the building.
The best time to visit the castle is in spring, when its surrounding is covered with cherry blossoms, or in the winter, when the whole castle is covered with white snow.
Tsuruga Castle
10. Witness the greatness of Miharu Takizakura!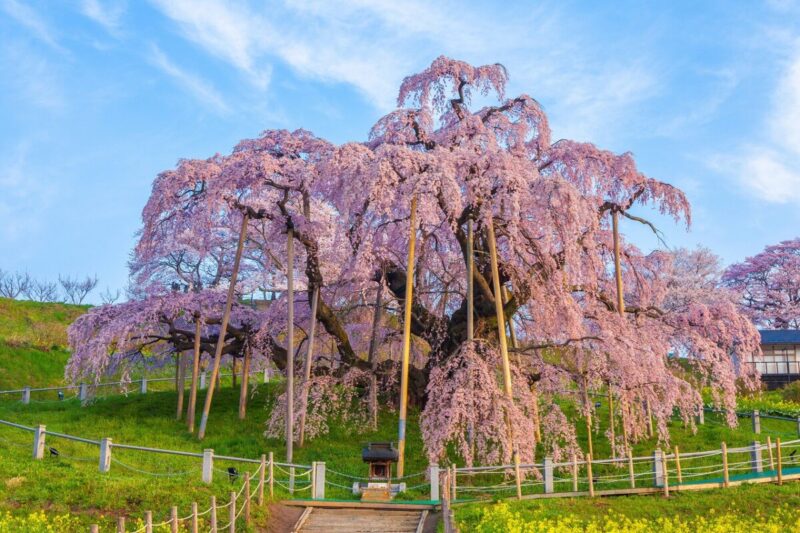 Fukushima is home to many great cherry blossoms viewing spots, and Miharu Takizakura is the best spot you should never miss. Considered by many as the single most beautiful cherry tree in Japan, Miharu Takizakura is situated in Miharu, a town in central Fukushima.
Takizakura literally means "waterfall cherry tree", and just like its name, the cherry tree is 12 meter in height and has wide drooping branches spread out over 20 meters east-west and 18 meters north-south, creating a cascading waterfall.
The best time to visit Miharu Takizakura is from mid to late April every year, when the tree reaches the peak of its flowering season.
Miharu Takizakura
Fukushima's best local treats
 Fukushima is in Japan's northern Tohoku region, and the prefecture is known for its beautiful natural landscapes, beautiful lake, and feudal history. The prefecture is also home to Ouchi-juku, one of the best-preserved historical villages in Japan. Fukushima is also home to unique variety of local foods like negi soba, Kitakata ramen, and Kozuyu. Ready to fill your empty belly with Fukushima's local treats? Here are our picks for the best foods to try when visiting Fukushima!
1. Negi Soba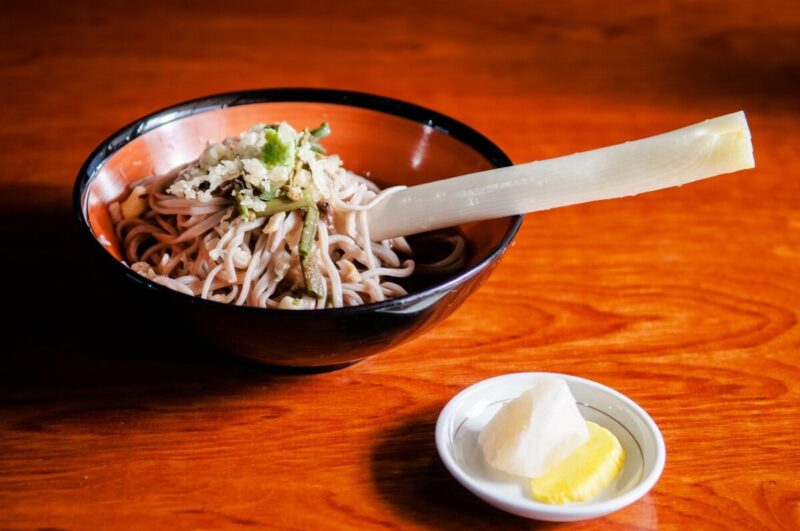 Negi Soba is a local specialty of Aizu, and what makes this soba interesting is the way we eat it. We usually eat soba with chopsticks, or sometimes with fork and spoon, but Negi Soba in Aizu is eaten with a leek (Negi). Leek was used in Negi Soba to replace the chopsticks, as well as to season the soba. Negi Soba is a very popular comfort food in Fukushima, and the best time to eat it is in fall, right after the new buckwheat is harvested.
2. Kitakata Ramen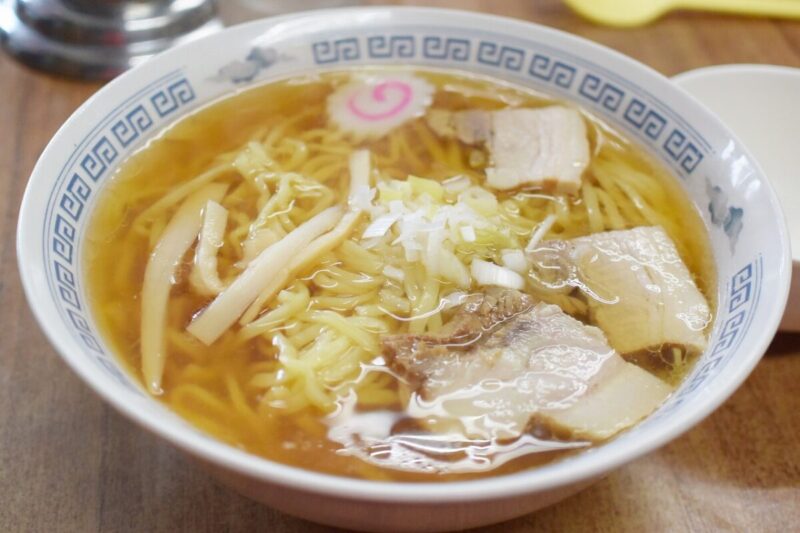 Kitakata Ramen is a local specialty of Kitakata City, and it is very popular among ramen enthusiasts in Japan. Kitakata Ramen is quite simple compared to other ramen noodles; it is served in a clear and refreshing soy sauce broth, with a slice of grilled pork, simmered bamboo shoots, and green onions.
3. Sauce Katsudon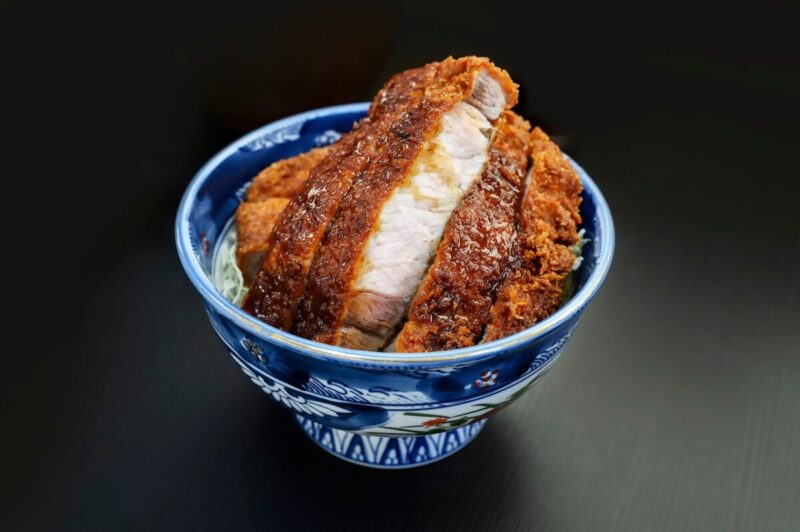 Just like other prefectures, Fukushima also has its own variation of sauce Katsudon. Sauce Katsudon is the local dish of Aizuwakamatsu City, and it is served by putting thinly-sliced cabbage on a bed of rice, and topping it with thickly-chopped Tonkatsu covered in rich Worcestershire Sauce.
4. Kozuyu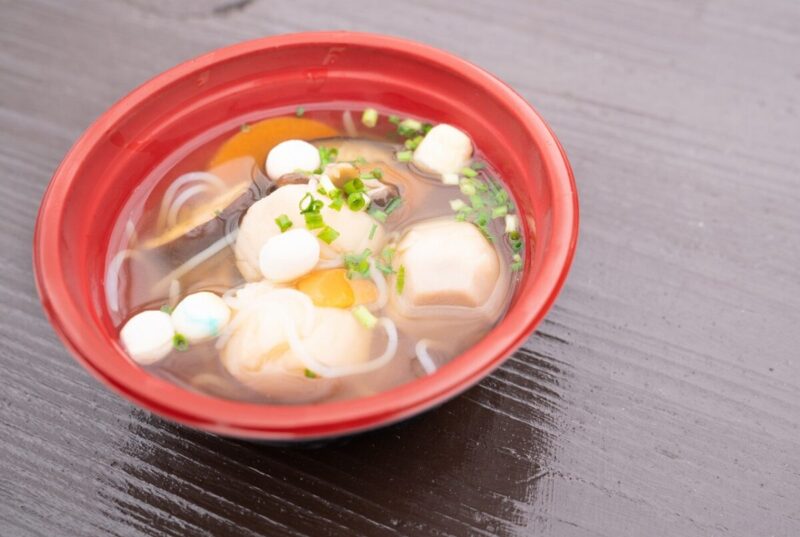 Kozuyu is a traditional soup of Fukushima, and it is usually served on special occasions such as New Year and ceremonial gatherings. Kozuyu is usually made using the recipes that have been handed down for generations, and usually the soup is made with dried scallop, carrots, mushrooms, Shirataki Noodles, mame-fu (wheat gluten croutons), and seasoned with soy sauce and salt.
5. Peach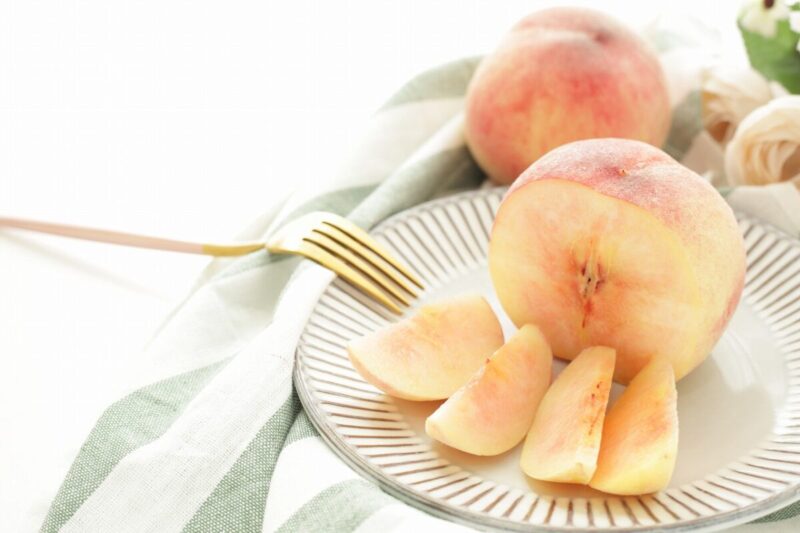 Fukushima is known as one of the fruit paradises of Japan, and more than 20% of Japan's peaches are produced in Fukushima. Compared to other prefectures, the growing season of peach in Fukushima is longer, so you can enjoy peaches for a longer period, particularly from late June to mid-September.
There are several types of peaches grown in Fukushima, and the three most popular are Akatsuki peaches, Hatsuhime peaches, and Yuzora peaches. The peaches grown and sold in Fukushima are plump, round, and pink all over, and the more aromatic they are, the better they'll taste.
.
Now that you have an idea of how many fabulous spots are in Fukushima, all you must do is plan your itinerary to enjoy unforgettable experiences in Fukushima!