10 amazing things to do in Miyagi, Japan!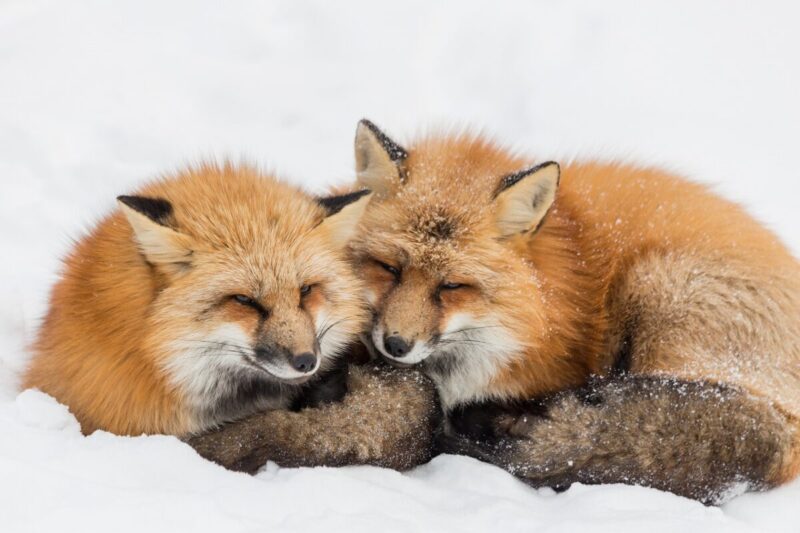 Miyagi Prefecture lies on the northeastern part, and on the Pacific side of the Tohoku region in north Japan. The prefecture is known for its beautiful coastline and lush greens, and it offers many opportunities to explore the beauty of nature and to experience the greatness of Japanese culture.
The prefecture is the home to Matsushima, one of the most popular scenic treasures of Japan. Miyagi is also known for its Zao Fox Village, where you can meet the adorable foxes in the winter. Also known for its amazing local treats, Miyagi is famous for both its seafood and agricultural products, including Sasa Kamaboko and Edamame.
Brimming with beautiful nature and interesting tourist destinations, how about visiting Miyagi to have both, an extraordinary, yet a novel adventure?
Index
How to get there
Miyagi Prefecture is about 300 km northeast of Tokyo, and it is accessible by several different transportation methods, including trains, highway buses, and airplanes. The main transportation hubs in Miyagi are Sendai Station and Sendai Airport.
The most convenient way to get to Miyagi from Tokyo is by taking the JR Tohoku Shinkansen, which takes about 1.5 hours, and costs around 11,000 yen, and it is fully covered by the JR Pass, JR East Tohoku Area Pass, and JR East South Hokkaido Pass.
The biggest airport in Miyagi is the Sendai Airport, which is directly connected to the downtown area by the Sendai Airport Access Line train. The airport has international flights connecting Sendai with Seoul, Shanghai, and Taipei. The domestic flights connect Sendai with major cities of Japan.
Recommended sightseeing spots in Miyagi
Miyagi Prefecture is the most populous prefecture in Tohoku, and it is also home to Sendai, the largest city in the region. The prefecture is best known for its amazing natural sceneries like Matsushima, Akiu Waterfalls, and Zao Fox Village.
The prefecture was once severely damaged by the 2011 Tohoku Earthquake, but the prefecture has made a tremendous recovery, and it has become one of the top travel destinations in Japan, attracting visitors from both overseas and within Japan.
Here are our picks for the best things to do in Miyagi, Japan!
1. Visit the great Shiroishi Castle!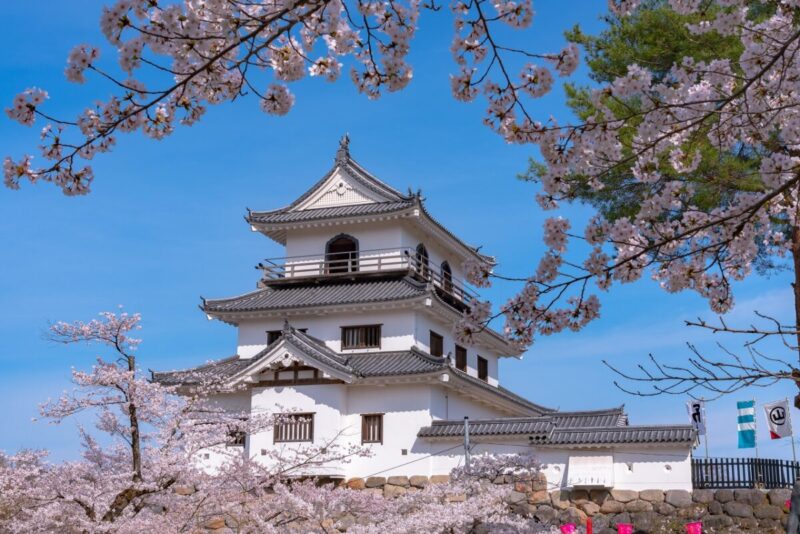 Shiroishi Castle, which literally means "white stone castle", is an ancient castle built in the 16th century by the Katakura clan, a family of retainers of the Date Clan. The castle was once destroyed during the Meiji Restoration in the 19th century. A part of the castle tower was rebuilt in 1995 using good-quality Japanese wood, like Aomori white cedar, and you can capture the entire view of Shiroishi City from there.
The castle is best known for hosting samurai festival held annually on the first Saturday of October, which hosts re-enactment of samurai warfare and acrobatic ninja performances.
Shiroishi Castle
2. Admire the statue of the legendary samurai, Date Masamune!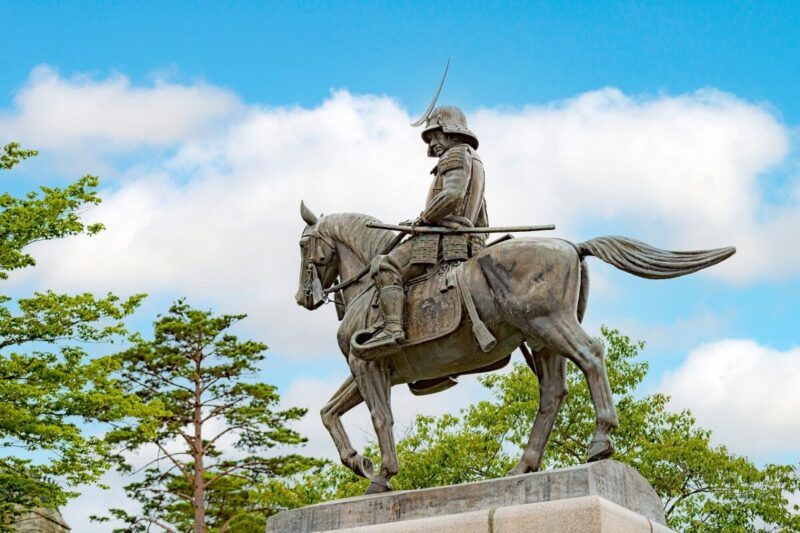 Date Masamune is the warlord of Sendai, and there are many historic remains related to the Date clan in Miyagi Prefecture. One of the most famous remains is the Sendai Castle ruins on Mt. Aoba, which was built by Date in 1601.
The remaining castle ruins is open to public and can be reached by climbing the mountain, but the most iconic photo spot in the area is not the castle ruins, but the Date Masamune Statue, which stands near the remaining castle ruins.
Date Masamune Statue
3. Admire the breathtaking views of Matsushima!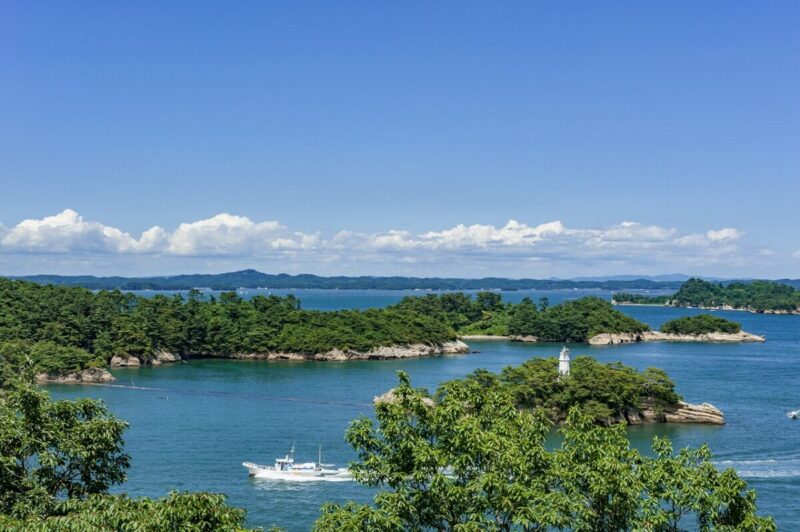 Matsushima is an archipelago of 260 small islands, which are in central Miyagi along the Pacific Coast. Matsushima is known as one of the top three most beautiful landscapes in Japan, and its beauty is indescribable by words.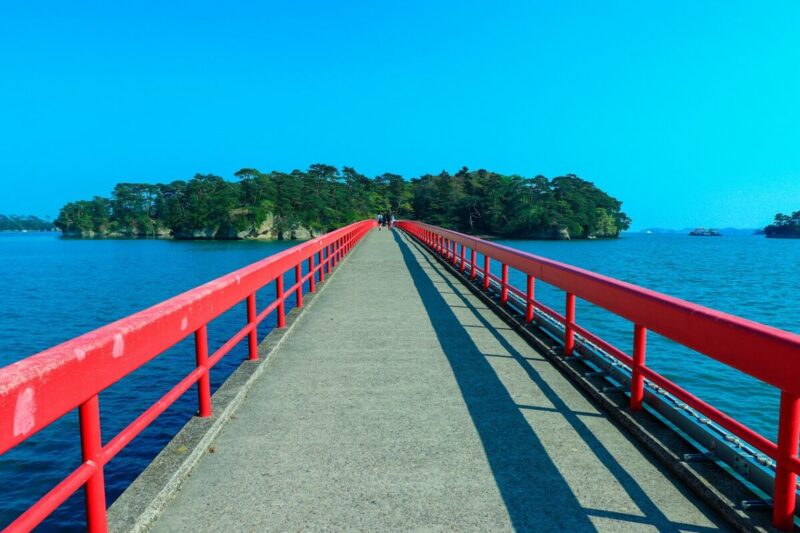 One of the most famous features in Matsushima is the Fuku-ura Bridge, which connects Fuku-ura-jima (Fukura Island) to the main island. Fuku-ura Bridge is also known as the Deai Bridge (the meeting bridge), and it is a famous tourist spot for couples.
Matsushima
4. Stop by the great Zuihoden in Sendai City!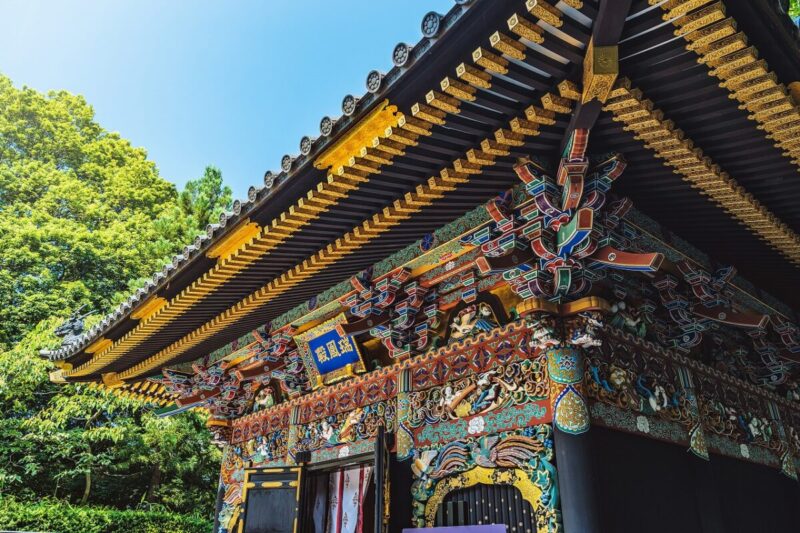 Zuihoden is the mausoleum of Date Masamune, the most powerful feudal lords of the Edo period, and he was the first lord to rule over Sendai from Aoba Castle. His family members, including his son and grandson, Date Tadamune and Date Tsunamune, are entombed in nearby mausoleums, while other family members are laid to rest in simpler graves and tombs.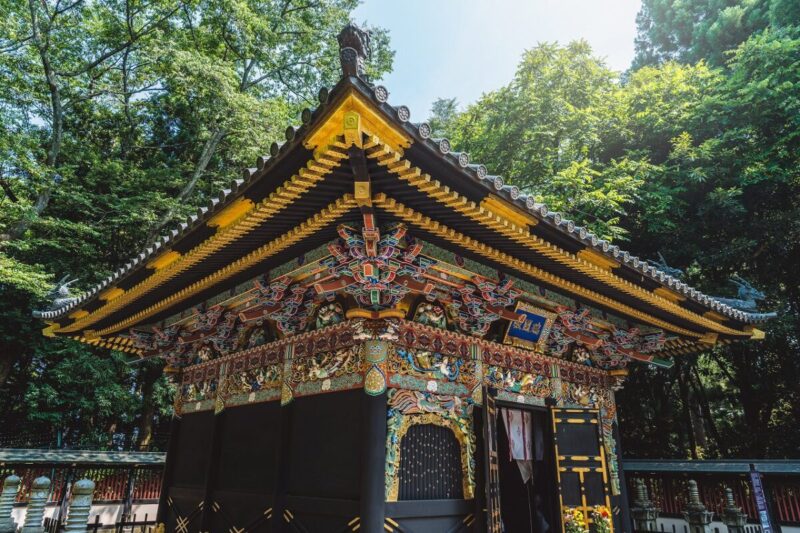 Zuihoden was designed with the ornate style of the Momoyama Period, and the building features complex woodwork, which are colored in a rich variety of vivid colors. There is a museum beside the main building of Zuhoden, where personal artifacts of the Date family are displayed.
Zuihoden
5. See the great crater lake of Mt. Zao!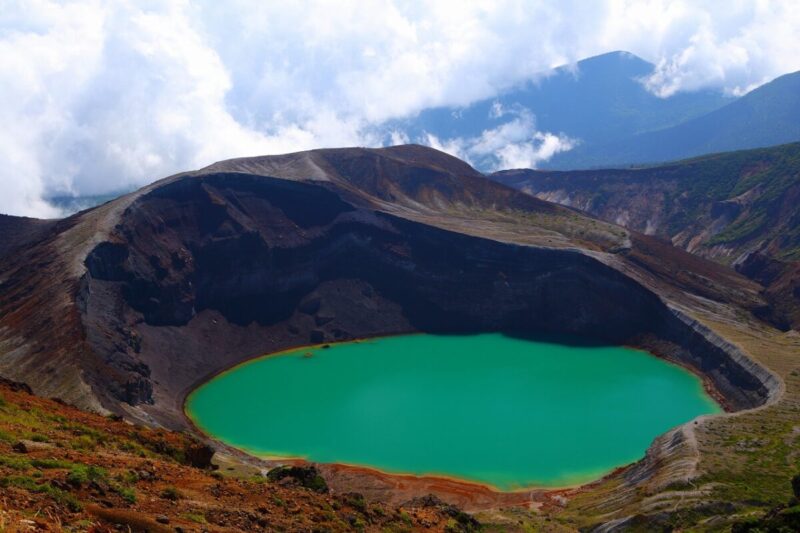 Mt. Zao is a mountain located on the border of Miyagi and Yamagata. The mountain is known as a popular winter sports destination in Miyagi, and it is best known for its huge crater lake called Okama Crater.
Okama Crater is a teal-hued crater lake, which can only be viewed from a distance. The crater is surrounded by beautiful mountains, and there are several restaurants and shops along the way to the crater, where you can try delicious local food and buy souvenirs for your family back home.
Mt. Zao
6. Meet the adorable foxes at Zao Fox Village!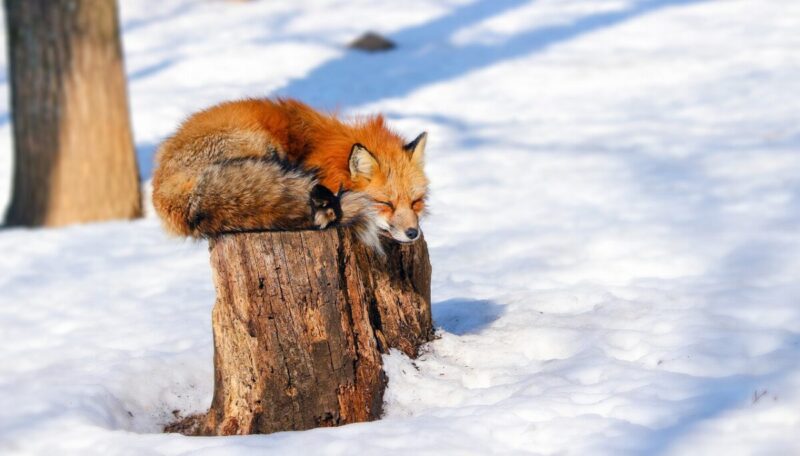 Zao Fox Village is perhaps the most unique, and the most tourist friendly destination in the Zao Mountains, bordering Miyagi and Yamagata. The village hosts six varieties of free-roaming foxes, and other 100 species of animals, including rabbits, goats, and miniature horses.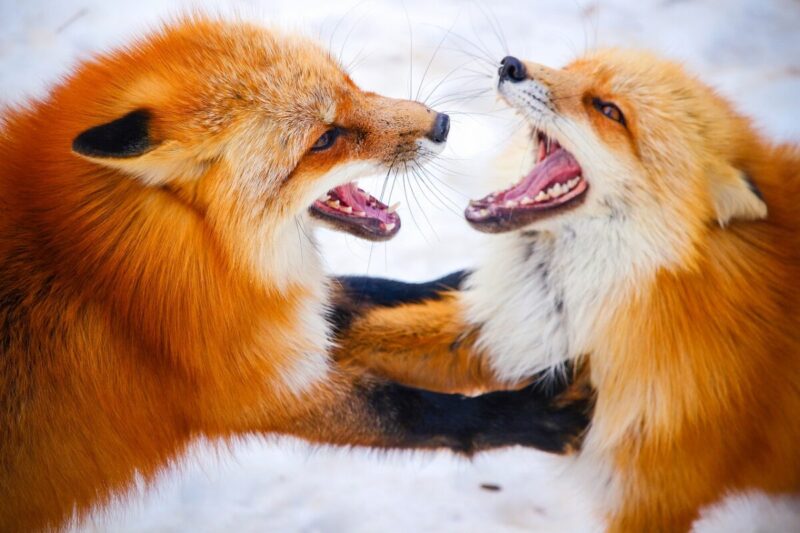 The village has feeding areas, petting zoos, and a large open area for the foxes with paths. The foxes are very active, so they will follow you around, but petting is not allowed as the foxes are semi-wild.
Zao Fox Village
7. Visit Naruko Gorge for its gorgeous fall foliage!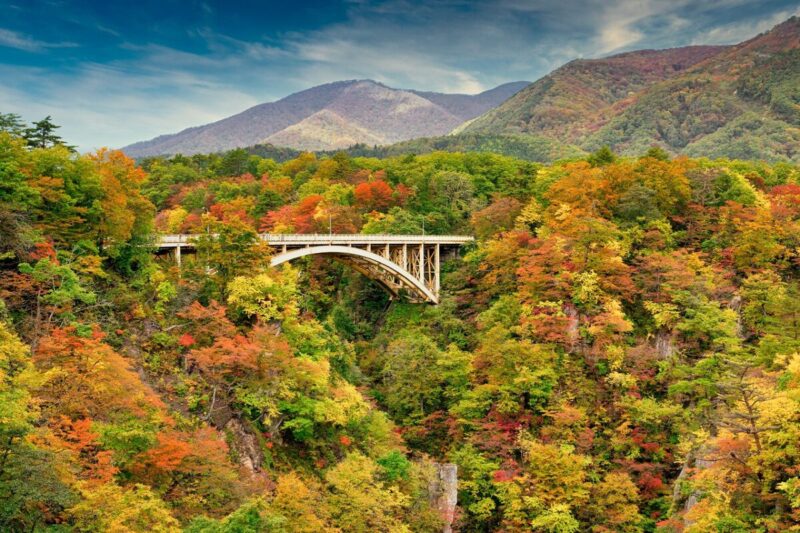 Naruko Gorge is a valley in Naruko, an area in northeastern Miyagi that is best known for its hot springs and traditional kokeshi dolls. Naruko Gorge is best known for its amazing views from above and below, and the best time to visit the gorge is from late October to mid-November.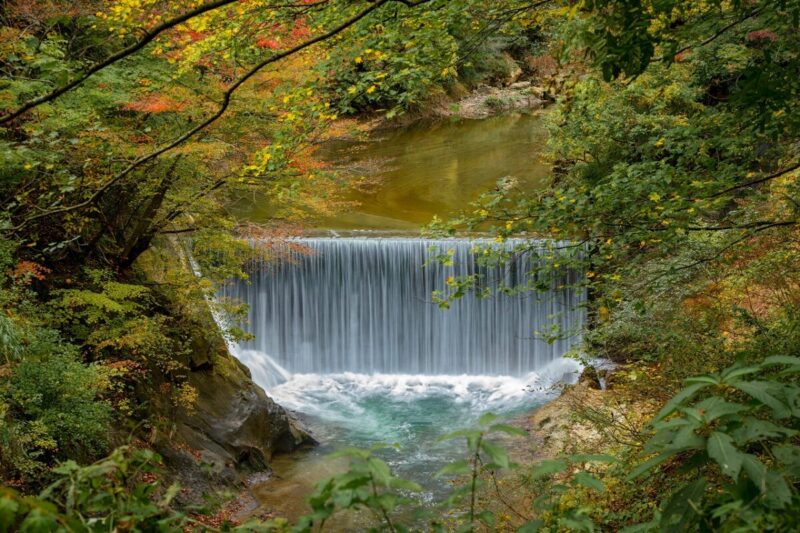 You can go down into the gorge using the paved path, which you can use to walk along the river. When visiting Naruko Gorge, don't forget to stop by the visitor center as it has souvenir shops and food stalls selling local treats.
Naruko Gorge
8. Find your "Zen" at Zuiganji Temple!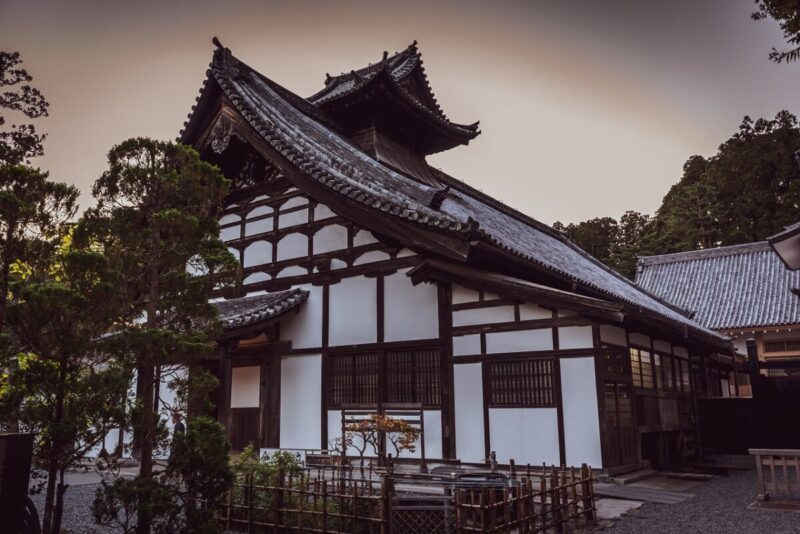 Zuiganji Temple was built in 828 in Matsushima, and the Hondo (main hall) has been designated as an official National Treasure of Japan. In addition to the Hondo, many of the structures on the premises are classified as National Cultural Properties of Japan, and its treasure museum displays various murals and exhibits around 30,000 articles, including some historical documents of Matsushima.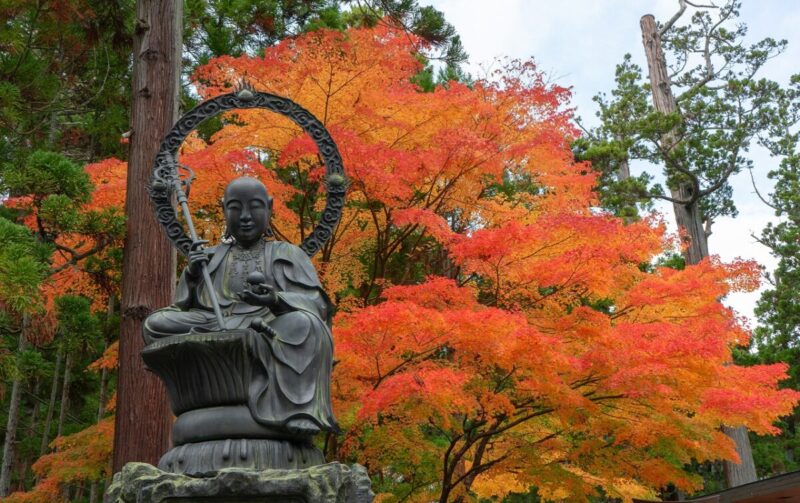 One of the most famous features of Zuiganji Temple is the bronze statue of Enmei Jizo, and around a 5-minute walk from the Hondo, there is Zujiganji Godaido, a designated important National Cultural Property built in 1604.
Zuiganji Temple is also one of the most famous spots for fall foliage in Miyagi, so make sure to stop by this temple if you're visiting the prefecture in fall.
Zuiganji Temple
9. Enjoy the seasonal view of Akiu Waterfall!
Akiu Waterfall is a huge waterfall located in Sendai City, and the waterfall is considered as one of Japan's most spectacular waterfalls. The waterfall is surrounded by mountains and it is best known for its colorful and fresh green scenery in summer, and bright red and gold scenery in fall.
The waterfall is at 55 m. in height and 6 m. in width, and it is extremely popular among nature lovers who are looking to take some dynamic pictures of the waterfall.
Akiu Waterfall
10. Pray for a good fortune at Osaki Hachimangu Shrine!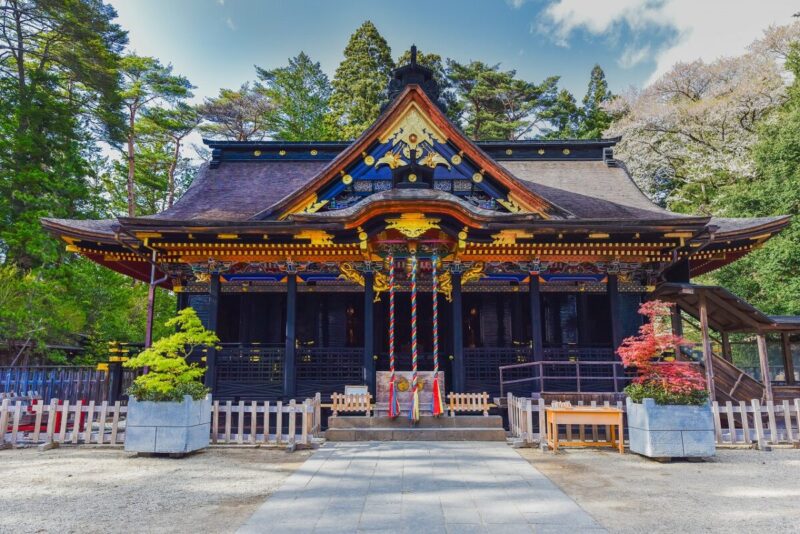 Osaki Hachimangu Shrine is a shrine built in 1607, and it is best known for its brightly colored interior and exterior. The shrine is decorated with sculptures and metal ornaments, and it was designated as a National Treasure of Japan in 1952.
The shrine is dedicated to a war god, and because of that, the shrine is often visited by many sport athletes to pray for victory and good luck.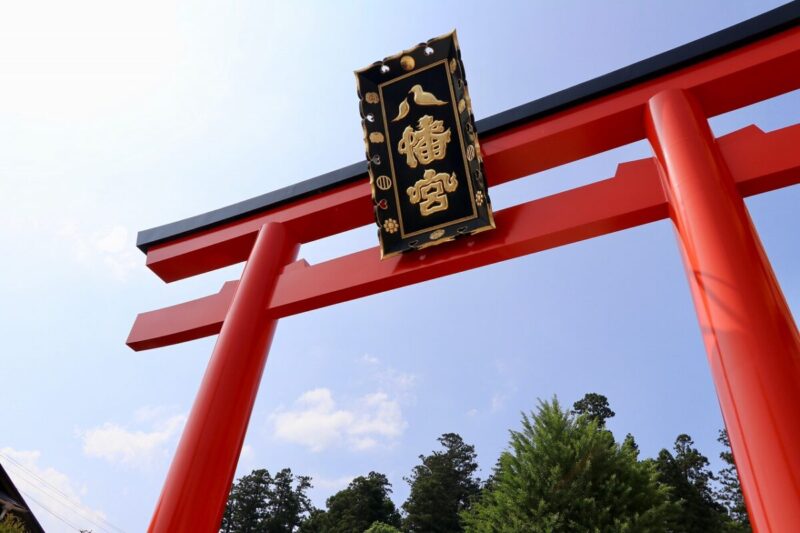 One of the best features of the shrine is the big red torii gate, and if you go further into the shrine, you'll see numerous ema (wooden plaques on which visitors write their hopes and wishes) written by athletes.
Osaki Hachimangu Shrine
Miyagi's best local treats
Miyagi Prefecture is bordered by the Pacific Ocean and by the mountain ranges of Zao, Funagata, and Kurikoma. Because of that, this prefecture is known for its excellent seafood and high-quality agricultural products. From the well-known Ox tongue to Zunda Mochi.
Here are our picks for the best foods to try when visiting Miyagi!
1. Ox tongue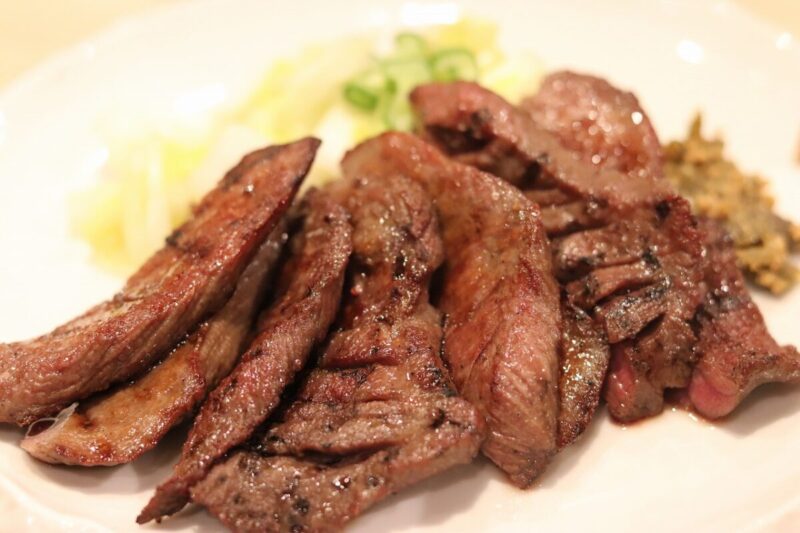 Ox tongue is a local food of Sendai, and it was invented by Yakitori establishments in Sendai's Ichiban-cho area after the end of World War 2. The ox tongue is usually grilled on charcoal or fried, and each restaurant serves its ox tongue with different seasoning, but usually the ox tongue is seasoned with salt, sauce, or miso.
2. Sasa Kamaboko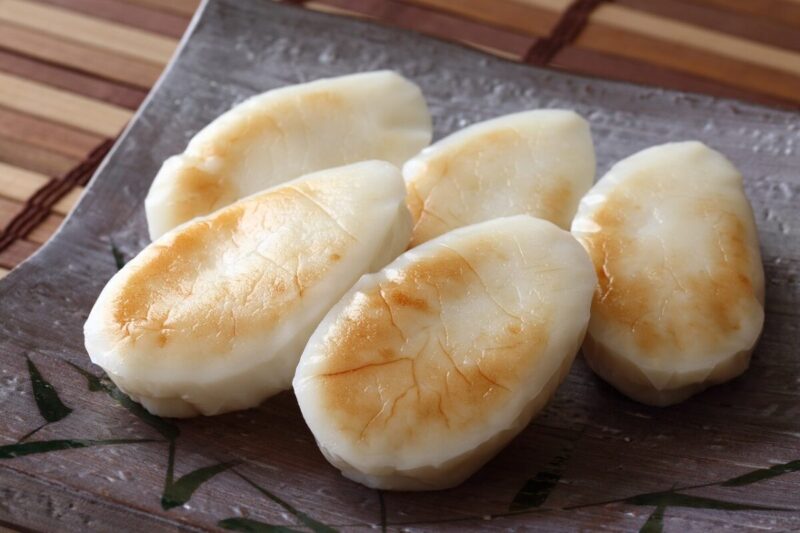 Bordered by the Pacific Ocean, Miyagi is known for its high-quality seafood products, and Sasa Kamaboko is one of them. Sasa Kamaboko are fish cakes made by blending, seasoning, and pressing the fish meat into the shape of bamboo leaves, and they are usually eaten as is, or grilled.
3. Harako Meshi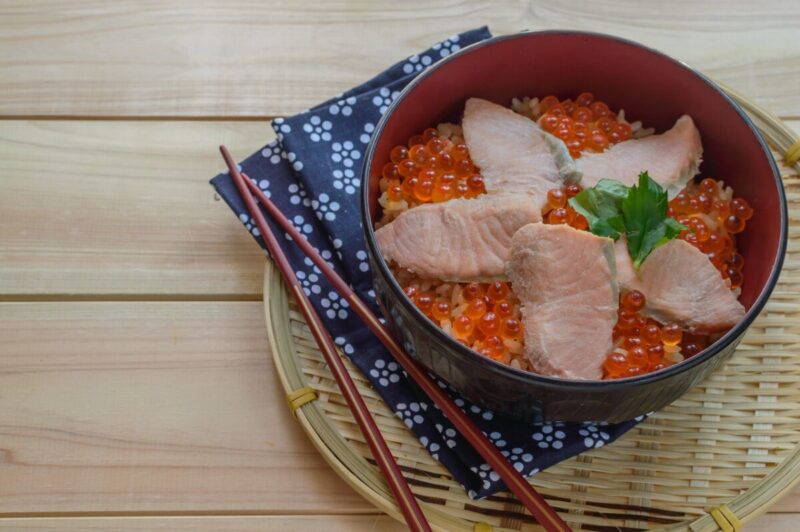 Harako Meshi is the local food of Watari town in south Sendai. Watari is a small town that is best known for its onsen resort, Onsen Tori no Umi. Harako Meshi is a salmon rice bowl sprinkled with salmon roe (ikura), and the best time to enjoy this dish is sometimes in between September and early December.
4. Zunda Mochi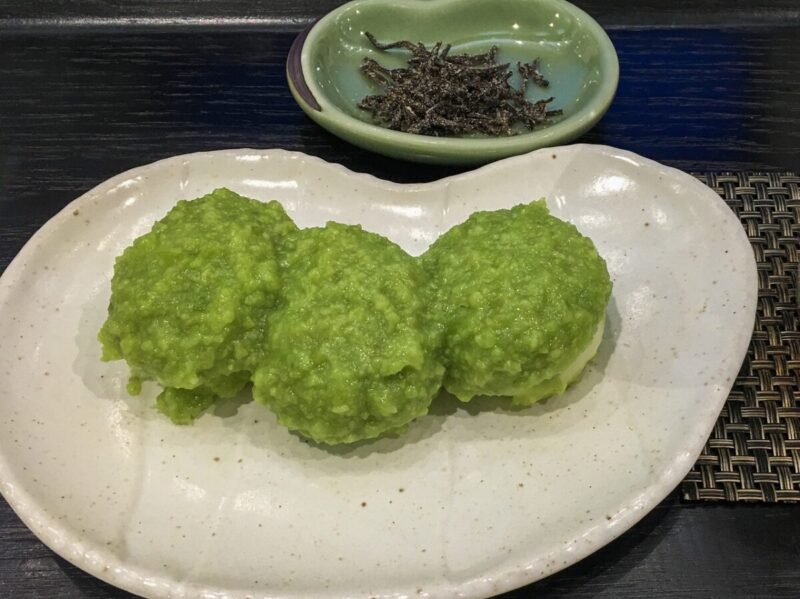 Bordered by several mountains, Miyagi is home to many high-quality agricultural products, and edamame is one of them. Zunda Mochi is a local sweets of Miyagi, which is made of mochi (sweet rice dumplings), and topped with sweetened edamame puree.
5. Oyster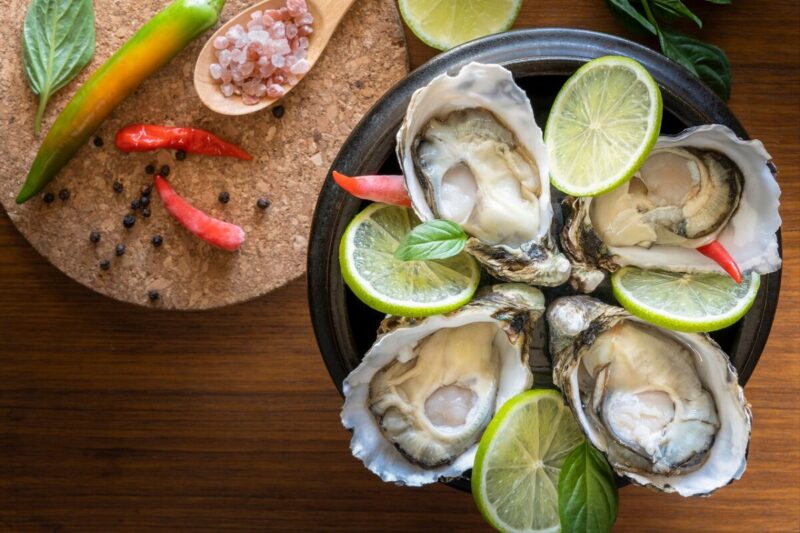 Miyagi is one of the largest producers of oysters in Japan, and the most delicious oysters in Miyagi come from Matsushima.
Matsushima is the home to over 200 small islands, and during the colder months, the town is known for its all-you-can-eat oysters restaurants.
An oyster festival is also held annually in Matsushima in February, so make sure to stop by the island in February if you want to try Matsushima oysters!
.
Now that you have an idea of how many fabulous spots are in Miyagi, all you must do is plan your itinerary to enjoy unforgettable experiences in Miyagi!