10 amazing things to do in Akita, Japan!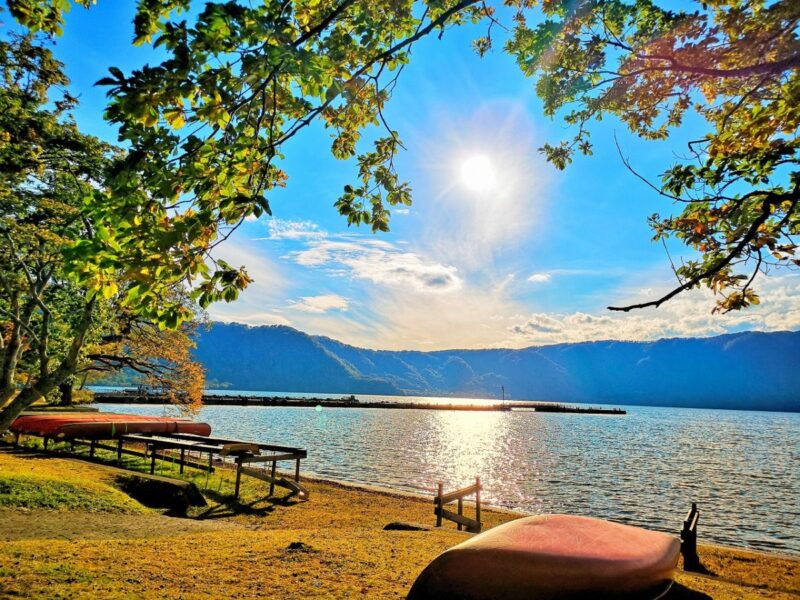 Located in northern Japan, Akita is more on the countryside, and is often overlooked for its more famous neighbors. While it may lack of fame, Akita actually has a lot more to offer to those looking for extra-ordinariness.
Akita is rich in nature, history, and culture; it's particularly famous for its beautiful summer festival, hypnotizing fireworks festival, mystical nature, and scrumptious local treats. There's always something to please everyone in this quiet and lovely prefecture.
Index
Recommended sightseeing spots in Akita:
Akita Museum of Art
Akita Kanto Festival
Yasunotaki Falls
Lake Tazawa
Nyuto Onsen Village
Kakunodate Bukeyashiki Street
Omagari Fireworks Festival
Oga Peninsula
Namahage Museum
Lake Towada
Kiritanpo nabe
Inaniwa udon
Hatahata
Yokote yakisoba
Babahera ice cream
How to get there
 Akita is accessible by airplanes from major airports in Japan, including Haneda (65 minutes), Sapporo (65 minutes), Itami (75 minutes), and Nagoya (80 minutes). JAL and ANA operate all flights, so we strongly suggest taking the bullet train if you have JR Pass to save more money.
Akita Station is a part of the Tohoku Shinkansen Line, and the Komachi shinkansen is the only shinkansen that goes to Akita Station.
Recommended sightseeing spots in Akita
Although Akita is relatively far from Tokyo, this one prefecture of Tohoku region is worth visiting for its breathtaking nature and its crystal-clear lake.
In addition to its mind-blowing nature, the prefecture is packed with many superb spots like Namahage Museum, Nyuto Onsen Village, and Bukeyashiki Samurai Village.
Here are our picks for the best things to do in Akita, Japan!
1. Visit Akita Museum of Art
The Akita Museum of Art is a government-owned museum of Akita, a building designed by renowned architect Ando Tadao. The museum has a large collection of works by Leonard Foujita (Fujita Tsuguharu / 1886 – 1968), Japan's most famous Western style painter.
On the second floor of the museum, there is a cafe with a huge glass panel window offering a view of Senshu Park (the former site of Akita Castle).
Akita Museum of Art
Business hours: 10:00 – 18:00
Open throughout the year
Admissions: adults 310 yen, college students 210 yen, free for age 17 and under
2. Celebrate the summer with Akita Kanto Festival
Also called Akita Kanto Matsuri (秋田竿灯祭り), this beautiful festival is best known as one of the Three Great Festivals of Tohoku Region.
This lantern festival is held annually in Akita City from August 3 to August 6, and it has been drawing a lot of attention from both local and foreign tourists. Although the festival is best known for its hypnotizing night street performances, Akita Kanto Festival lasts throughout the day and into the evening.
The main events are the night parades, which take place every night of the festival for about 90 minutes from around 7.p.m.
You'll see two different groups of people performing for this festival. The first group, who play taiko (Japanese percussion) and takebue (Japanese bamboo flute), is called Ohayashi. The second group, who balance the bamboo poles of varying lengths with several lanterns attached to the end, each of which is lit by a real flame, using their bodies only, is called Sashite.
The parade marches through the city every night, and at the end of the event, visitors can try playing the taiko or takebue, or balancing the bamboo poles using parts of their bodies.
Akita Kanto Festival
*2020 Akita Kanto Festival is cancelled due to COVID-19
3. Have a zen time at Yasunotaki Falls!
Yasunotaki Falls is located in Kita-Akita City, and it is named as one of Japan's Top 100 Waterfalls.
Can be found on the Yoneshiro River, Yasunotaki Falls is a two-story waterfall; with the main drop of 60 meters on the upper level, and a smaller drop of 30 meters on the lower level.
The waterfall is surrounded by numerous maple trees, making it a great spot for autumn leaves in Fall.
Yasunotaki Falls
4. Lake Tazawa, a beautiful and historical lake in Semboku, Akita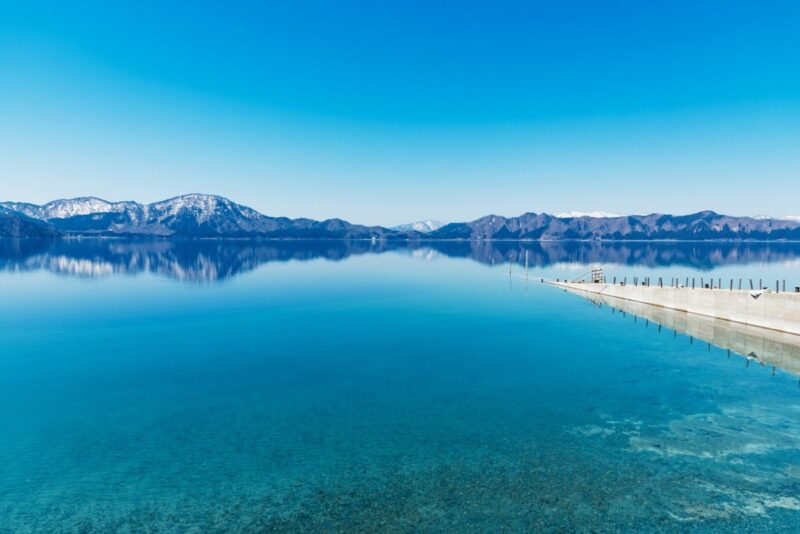 Located in Semboku City, Lake Tazawa is one of the best spots to visit outside of Akita city.
This whimsical lake doesn't freeze in the winter, and it also appeared in Iris – a best-selling action movie from South Korea.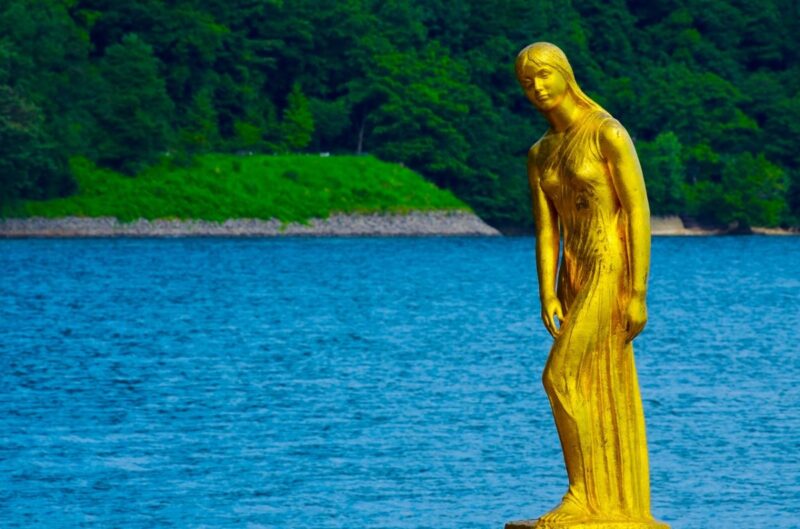 At the western end of the lake there's a golden statue named Tatsuko Statue, which is believed to be the guardian of the lake.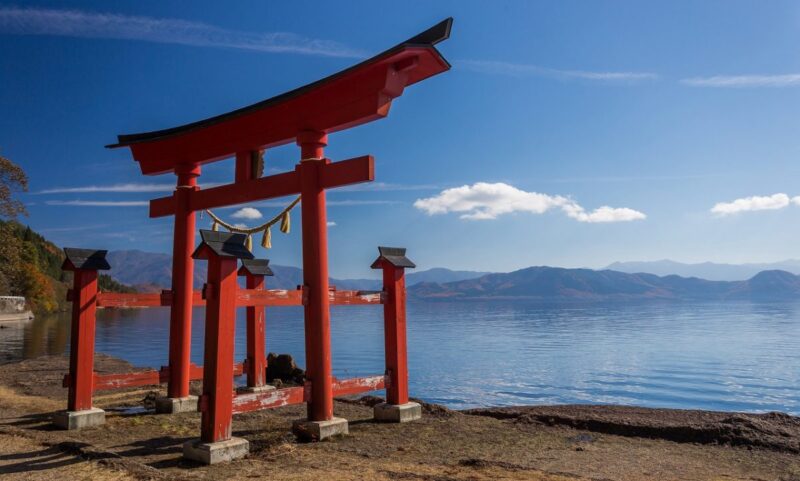 There's also a torii gates of Goza no Ishi Shrine, where you can pray for good luck and safety.
Lake Tazawa
Open throughout the year
Access: take the bus from Tazawako Station and get off at the Tazawa-kohan bus stop
5. Relax yourself at the Nyuto Onsen Village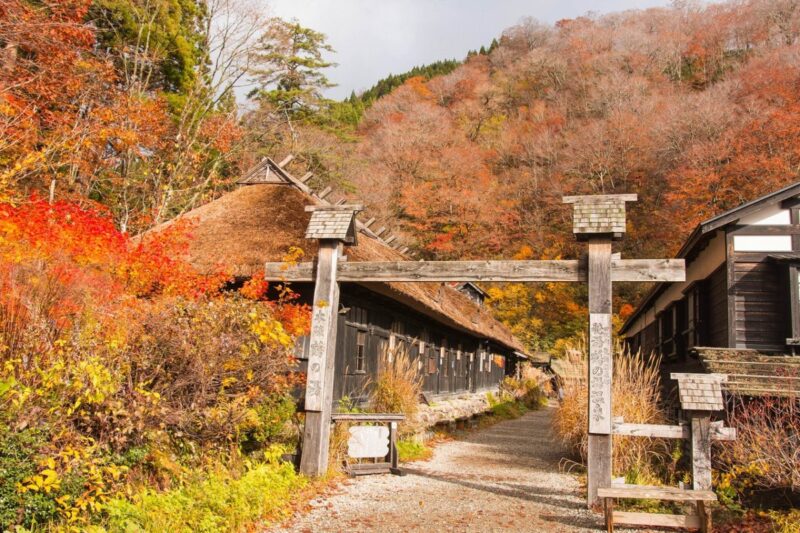 Akita is blessed with natural hot spring sources that are rich in minerals that provide numerous benefits for your health and beauty. One of the most famous hot spring villages in Akita is Nyuto Onsen Village, so how about visiting it before you call it a day?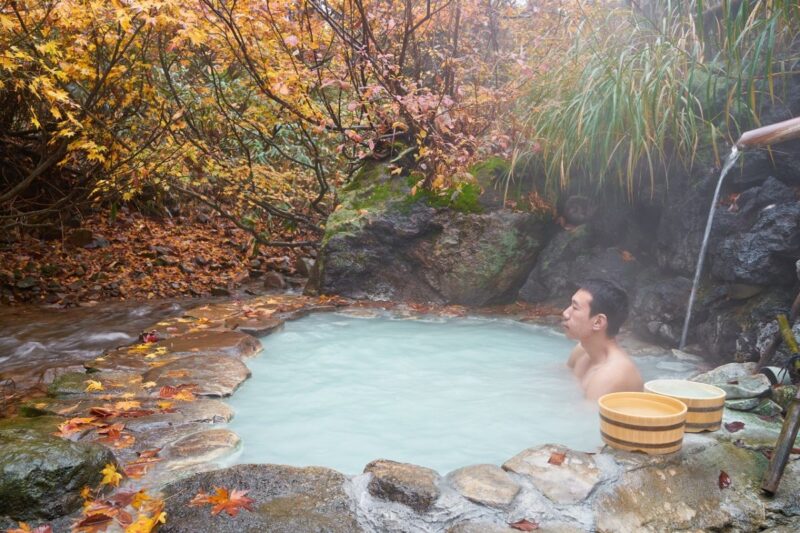 Unlike other hot springs, Nyuto Onsen is famous for its milky hot springs, which apparently can reduce fatigue and moisturizes your skin. All the hot spring baths in Nyuto Onsen belong to ryokan facilities, but they are not exclusive to in-house guests.
Nyuto Onsen Village
Access: take a bus from Tazawako Station and get off at Nyuto Onsen bus stop.
Click here for more info about the Nyuto Onsen Ryokan Facilities
6. Travel back to the samurai era at Kakunodate Bukeyashiki Street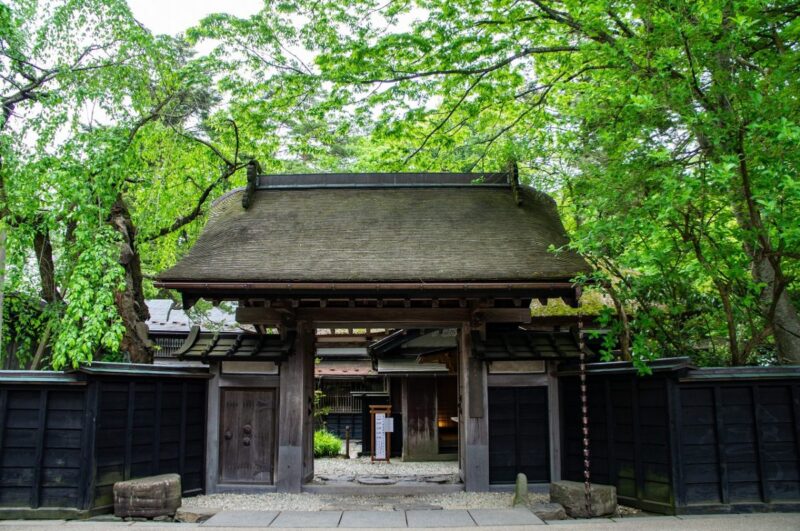 How about traveling back to the samurai era at Kakunodate Bukeyashiki Street?
The Ashina family started developing the Kakunodate Bukeyashiki Street in 1620, as it was responsible for implementing a large-scale urban development. Located in Uchimachi, The Bukeyashiki Street is known for occupying a number of samurai residences, which all have been preserved in excellent condition until today. Also called "Michinoku's Little Kyoto", Kakunodate Bukeyashiki Street is known for its gorgeous traditional Japanese atmosphere.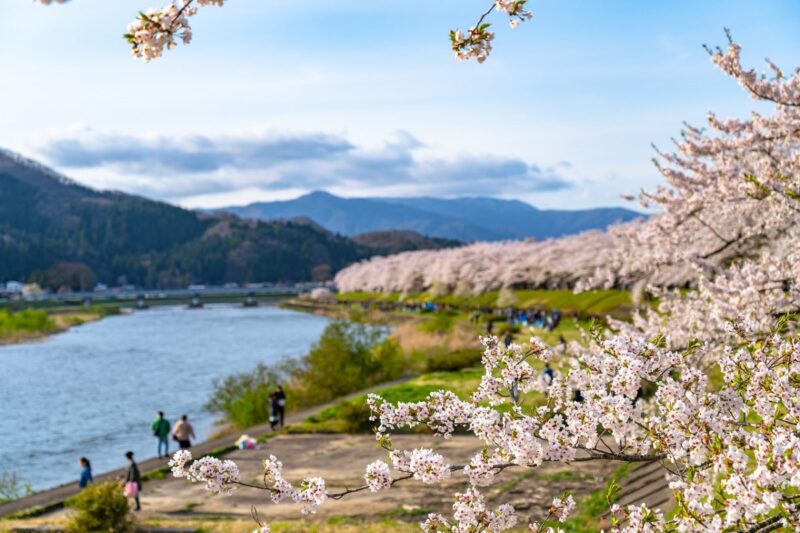 In addition to the samurai residences, the street is also lined up with weeping cherry trees, which all fully bloom from early April until late May.
Kakunodate Bukeyashiki Street
Business hours: varies depending on each shop
Open throughout the year
Admissions: free
Access: about a 15-minute walk from JR Kakunodate Station
7. Have a great night at Omagari Fireworks Festival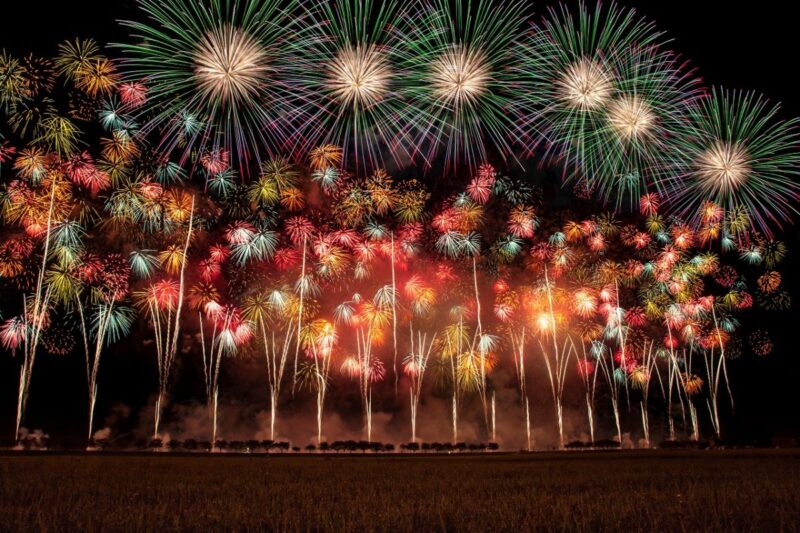 Known as one of Japan's three great fireworks, Omagari Fireworks Festival can be considered as the biggest fireworks competition in the country.
Held annually on the 4th Saturday of August, firework makers from all over Japan gather along the Omono River in Daisen City, Akita, to show off their craftsmanship and creativity through fireworks.
Drawing more than a million people every year, the fireworks competition started for the first time in 1910.
Omagari Fireworks Festival
The 2020 Omagari Fireworks Festival is postponed to next year due to COVID-19
8. Admire the beauty of the Sea of Japan from Oga Peninsula
Oga Peninsula is located on the western coast of Akita Prefecture, and the area is packed with numerous wonderful cultural destinations and breathtakingly beautiful sceneries.
If you have a chance to visit the Peninsula, make sure to climb to the hill to enjoy a hypnotizing view of the Sea of Japan.
Oga Peninsula
9. Namahage Museum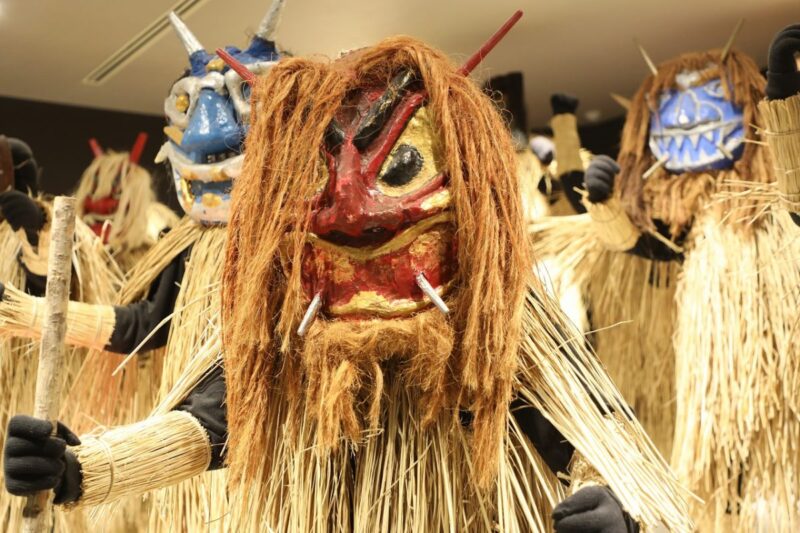 Namahage is a traditional performing art originated from Oga, where performers wear scary masks and dress in a straw costume, and go around the neighborhoods and to people's houses to drive out evil spirits. Considered sacred in Oga, namahage is also designated as a national cultural property by the government.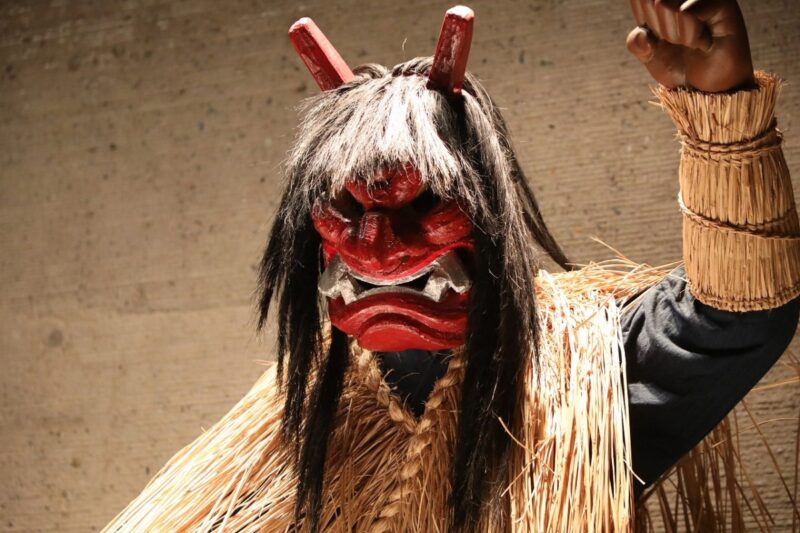 The Namahage Museum exhibits 100 namahage and 40 namahage masks, and it plays special documentaries about namahage as well. One of the most exciting things to do here is the "Namahage Transformation", where you can try on a real namahage costume and take a picture.
Namahage Museum
Business hours: 8:30 – 17:00
Open throughout the year
Admissions: adults 550 yen; age 6-18 275 yen
Access: about a 20-minute taxi ride from Oga Station
10. Lake Towada, the largest caldera lake of Honshu Island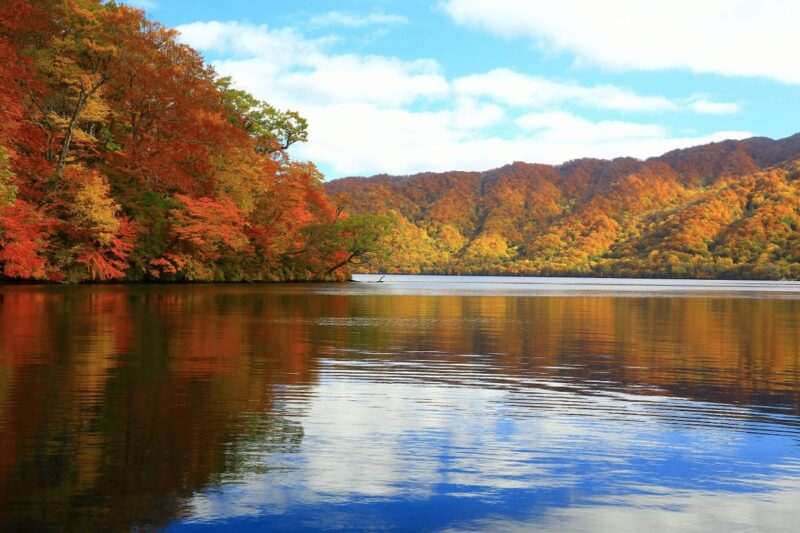 Lake Towada is a part of the Towada-Hachimantai National Park, and is located on the border between Akita and Aomori Prefectures. Known for its beautiful autumn leaves, Lake Towada is apparently the largest caldera lake of Honshu.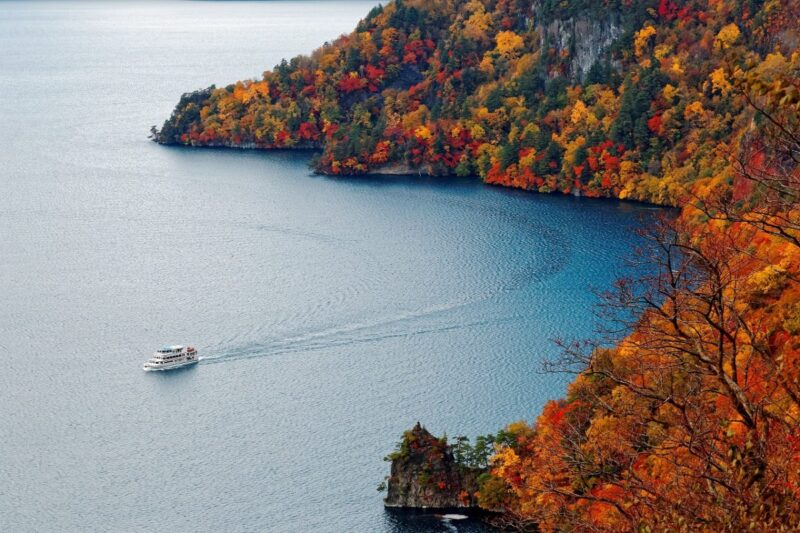 One of the most popular ways to explore Lake Towada is to take the excursion boat. The boat takes you to hidden spots that are difficult to access, and the best time to explore the lake is in autumn to enjoy it's incredibly wonderful fall foliage.
Lake Towada
Akita's best local treats
 Located in northern Japan, Akita is rich in local products harvested directly from the Sea of Japan, or its mountains and rivers. From kiritanpo to babahera ice cream, wherever you go, scrumptious local treats await in Akita. Here are our picks for the best foods to try when visiting Akita!
1. Kiritanpo nabe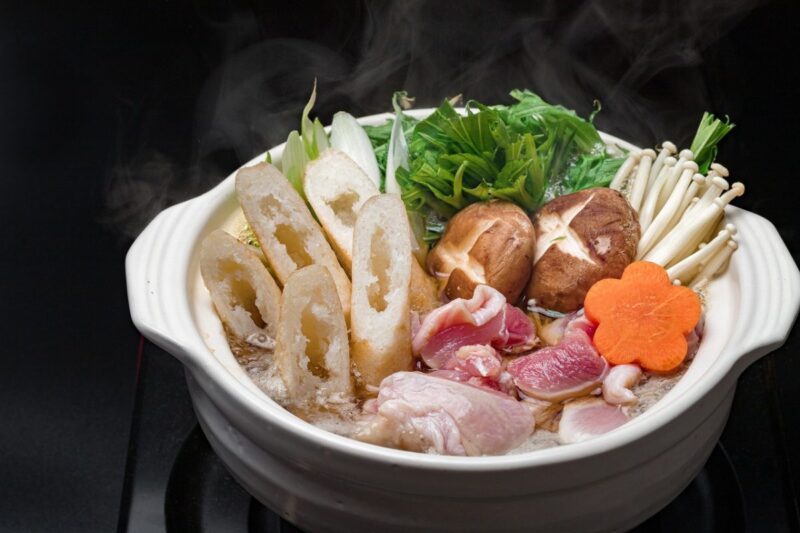 Kiritanpo is a traditional dish of Akita, which is made by grilling rice skewers, made by pounding cooked rice and wrapping it around a cedar skewer. Kiritanpo can be eaten alone as a snack, but some people eat it together with meat and vegetables as a hotpot.
2. Inaniwa udon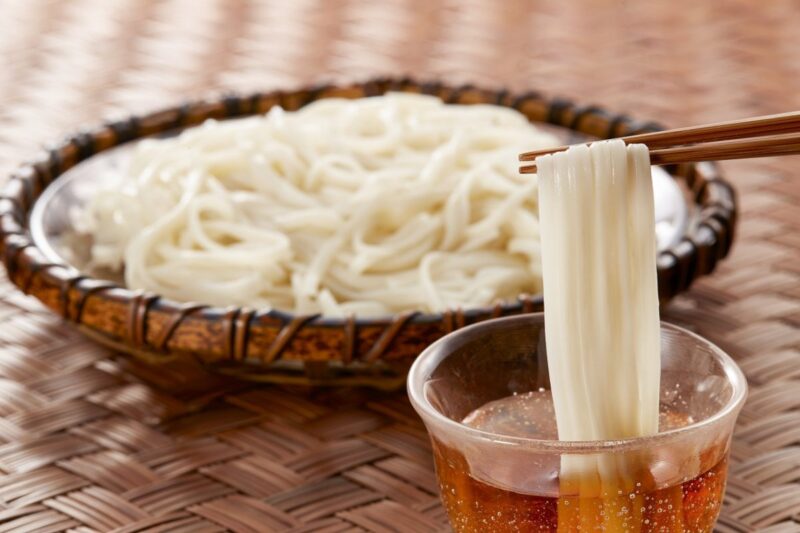 Inaniwa udon is known as one of the three greatest udon brands in Japan, and is made in Inaniwa area of Inakawa machi, Akita.
Usually served warm or cold, Inaniwa udon are slightly thinner than the regular type of udon, but a little bit thicker than somen or hiyamugi noodles.
Inaniwa udon are hand-kneaded and hand-stretched before they are dried, and you can get them from local souvenir stores or local supermarkets across the prefecture.
3. Hatahata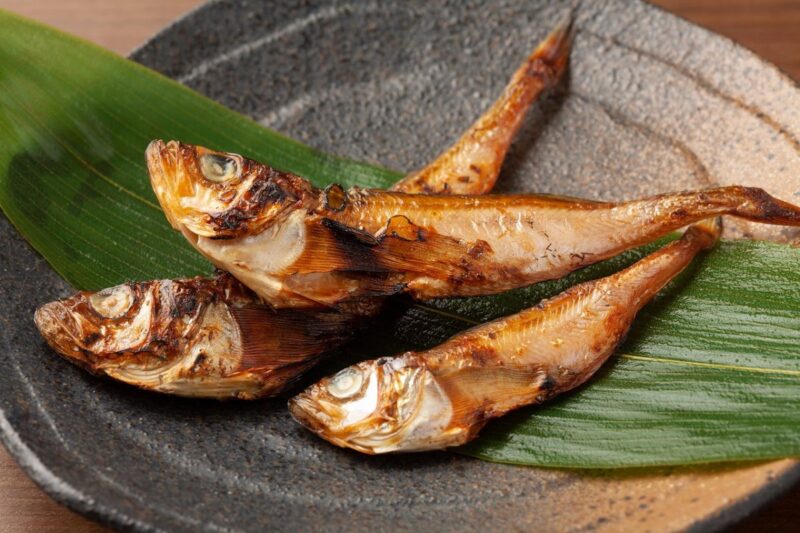 Also known as Japanese sandfish, hatahata is a seasonal food of Akita that is usually eaten during winter, due to its inability to survive in temperatures above 15℃.
Usually served grilled or fried, there are many ways to cook these fish; the can be dried, pickled, or fermented.
4. Yokote yakisoba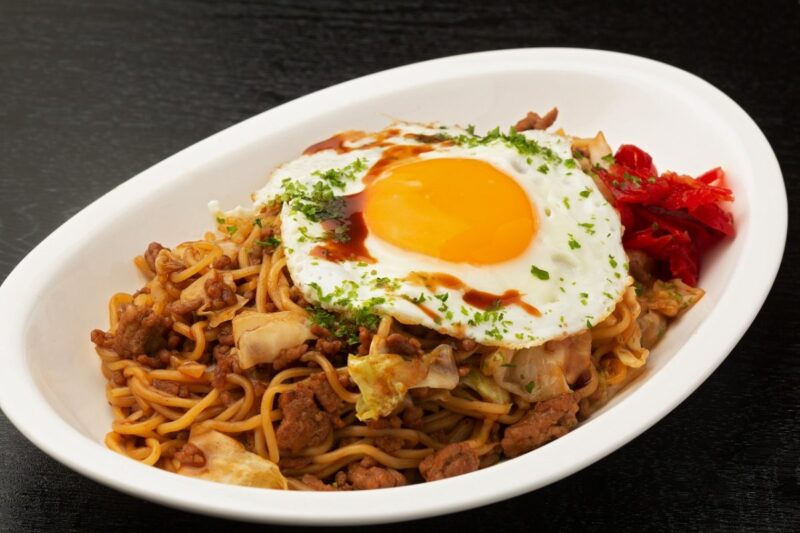 Yokote yakisoba is a specialty of Yokote City in Akita, and what makes this yakisoba different is its toppings. Unlike other yakisoba, Yokote yakisoba is topped with a sunny-side up egg with soy sauce.
5. Babahera ice cream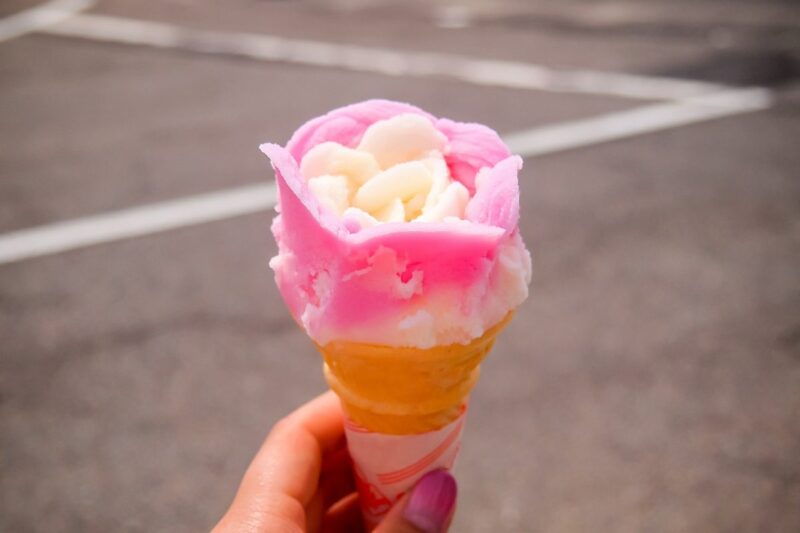 Looking for something Instagenic?
When you're in Akita, make sure to get the rose-shaped babahera ice cream, which is usually sold by the local old ladies in Akita.
Named after the ice cream seller baba, and a spatula hera, babahera is usually sold by old ladies during the summer.
The flavor of the pink ice cream is strawberry, and the flavor of the yellow ice cream is either banana or lemon.
Now that you have an idea of how many fabulous spots are in Akita, all you have to do is plan your itinerary to enjoy unforgettable experiences in Akita!