Best Spider Lily Spots in Japan
Best Spider Lily Spots in Japan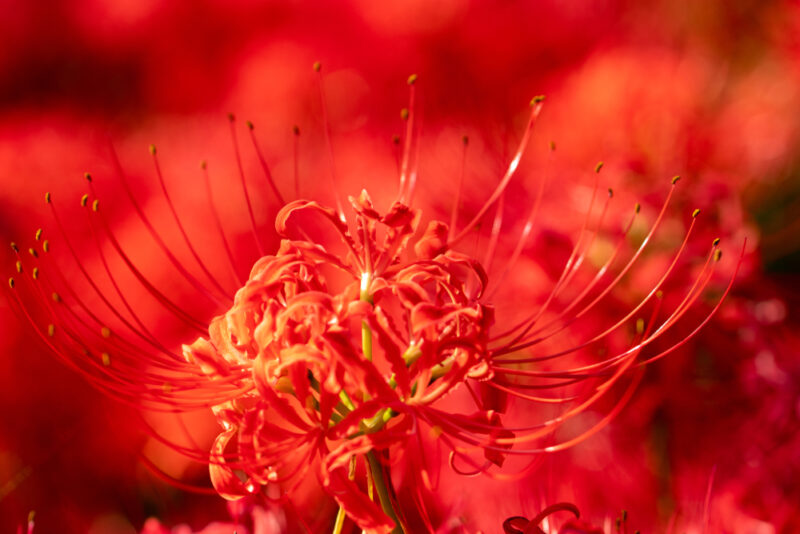 Autumn in Japan is identical to the beautiful red maple leaves and the stunning yellow ginkgo leaves, but when summer comes to an end and autumn arrives, there is actually another flower that is identical to early autumn in Japan : the red spider lily.
This fascinating fiery flower is named Higanbana (彼岸花) in Japanese, which literally means "the other side flower", since it blooms in late September around Ohigan, the day of the autumn equinox, which is also a day for Japanese families to visit their ancestor's graves and pray for the souls of the departed. Thus, Higanbana is also known as the "death flower" in China, Japan, and Korea.
Here are some of the best spots where you can admire their beauty!
Index : Best Spider Lily Spots in Japan
1. Kinchakuda Manjushage Park, Saitama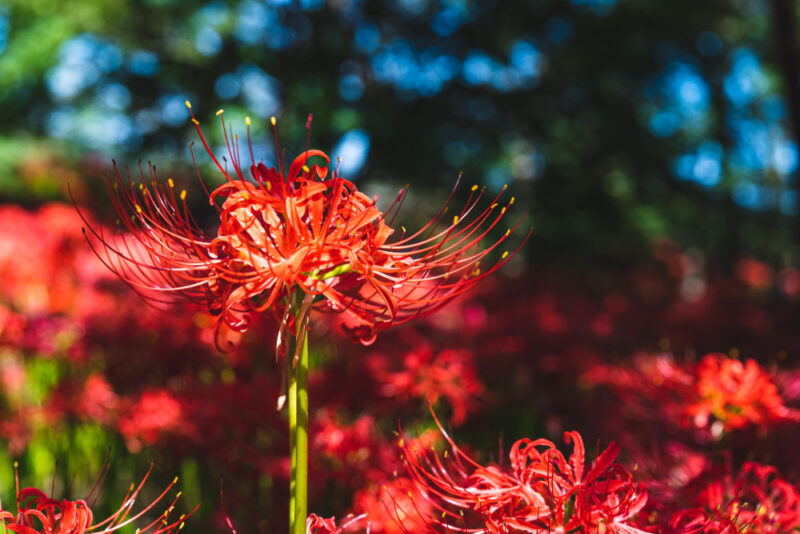 Kinchakuda Manjushage Park is the largest red spider lily field in Japan, with  a 500-meter diameter, and a 22-hectare area. The spider lilies are in bloom every year from mid-September to early October, creating a mysterious atmosphere with their fiery red petals.
There are over five million red spider lilies in the field,  and a festival called 'Manjushage Festival' is held annually every year to celebrate this moment, featuring food stalls, gift vendors, and stage performances to entertain visitors from all over the world.
2. Haguroyama Park, Miyagi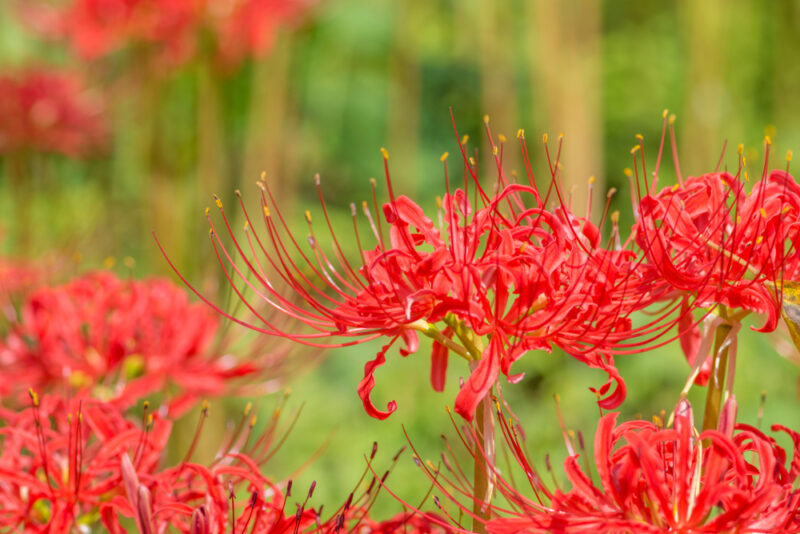 Haguroyama Park is one of the most popular sightseeing spots in Osaki, Miyagi. The park is called "No. 1 of Northern Miyagi" for its popularity, and it is also a famous spot for admiring the beauty of red spider lilies in autumn.
A festival called Haguroyama Park Red Spider Lily Festival is held annually to celebrate the autumn equinox, featuring food stalls selling local foods like udon noodles and yakitori, and also performances like symphonic band and taiko drum performances. A photography competition featuring red spider lilies is also held during this festival.
3. Yakachi River, Aichi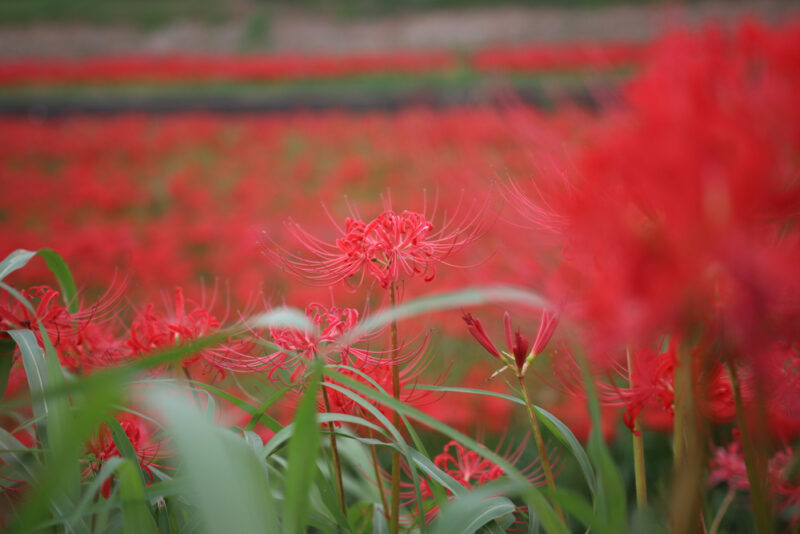 Yakachi River, or Yakachigawa, is a river in Handa City, Aichi that is known for its charming nature, featuring a river, mountains, and lavish greens. In the autumn, there are over 3 million red spider lilies blooming along the river, creating a stunning scenery of red spider lily ocean that is extremely compelling.
There are several seasonal events held during the spider lily seasons, including the Gon's Autumn Festival, the traditional bridal processions, and the paper doll puppet shows on the bank of the Yakachi River.
Handa City, Aichi is the birthplace of Nankichi Niimi, the writer of famous Japanese children's story "Gon, the Little Fox". Yakachi River, the real-life location where the story takes place, has a village surrounded by mountains and forests that is as charming as the fairytale world.
In the autumn, as many as 3 million red spider lilies bloom along the river, and the stunning scenery of the red spider lily sea is extremely captivating.
During the flowering season, aside from participating in the local "Gon's Autumn Festival," you can also enjoy different events such as traditional bridal processions and paper doll puppet shows on the bank of the Yakachi River and around the surroundings of the Nankichi Niimi Memorial Museum.
4. Tsuzura Rice Terrace, Fukuoka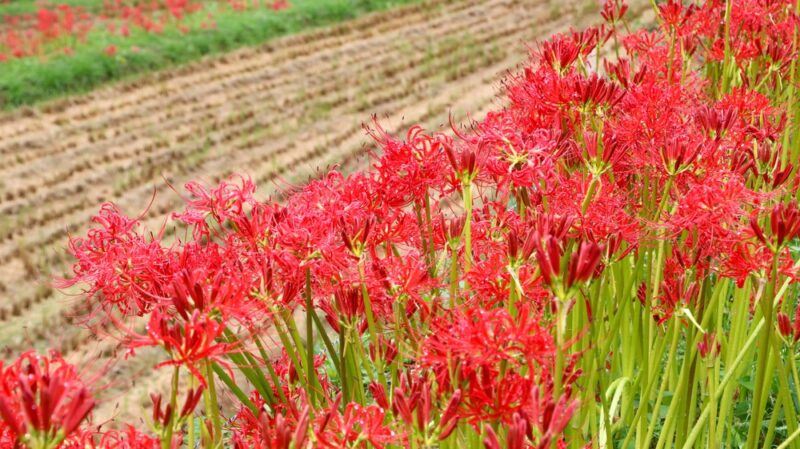 Recognized as one of the "Top 100 National Terrace Fields", Tsuzura Rice Terrace is an ancient rice terrace with 700 hectares of rice paddies reclining on 300 stone steps.
The rice terrace has become a popular spot for autumn's spider lilies, featuring breathtaking views of golden rice paddies and red spider lilies sitting on well-defined curved terraces with the clear blue sky and the surrounding greenery.
Many people visit the terrace field to see the Ukiha Higanbana Matsuri (Spider Lily Festival) and Basara Dance Festival in late September.
5. Kenei Gongendo Park, Saitama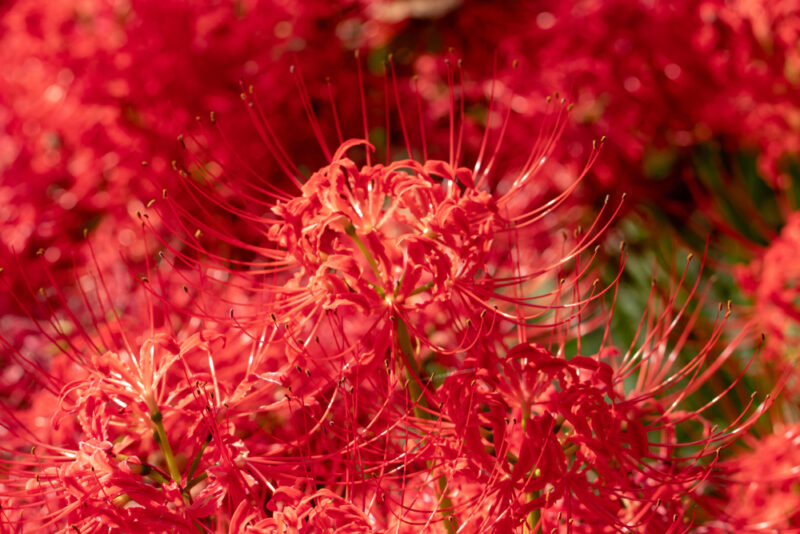 Along with the Kinchakuda Manjushage Park, Kenei Gongendo Park is a famous spot in Saitama for red spider lilies, and a popular cherry blossom viewing spot in spring as well. There are over 3.5 million red spider lilies that bloom here under the park's trees, dyeing the area with their fiery red petals.
Gongendo Park also hosts Manjushage Festival during spider lily season, and there is a tea house on the mountain top, where you can enjoy some homemade drinks and breads.
Read more articles