Best Lavender Fields to Visit in Japan
Best Lavender Fields to Visit in Japan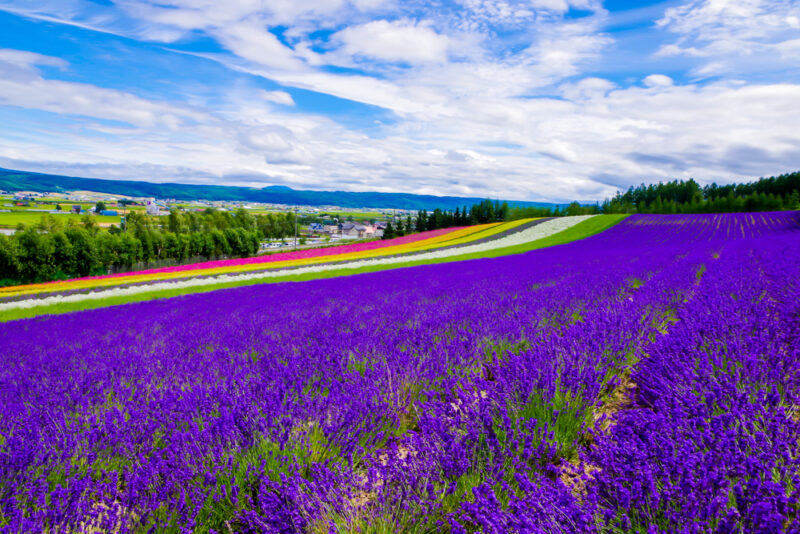 Lavender is one of the many flowers blooming in Japan seasonally, and many lavender fields celebrate this season by holding lavender festivals, which are usually held throughout the summer annually, particularly from late June to early August.
Hokkaido is known for having some of the most beautiful lavender fields in Japan, and many people visit the island in the summer to see these gorgeous purple flowers.
To give you more insights into it, here are some of the best lavender fields to visit in Japan!
Index : Best lavender fields to visit in Japan
1. Lake Kawaguchiko, Yamanashi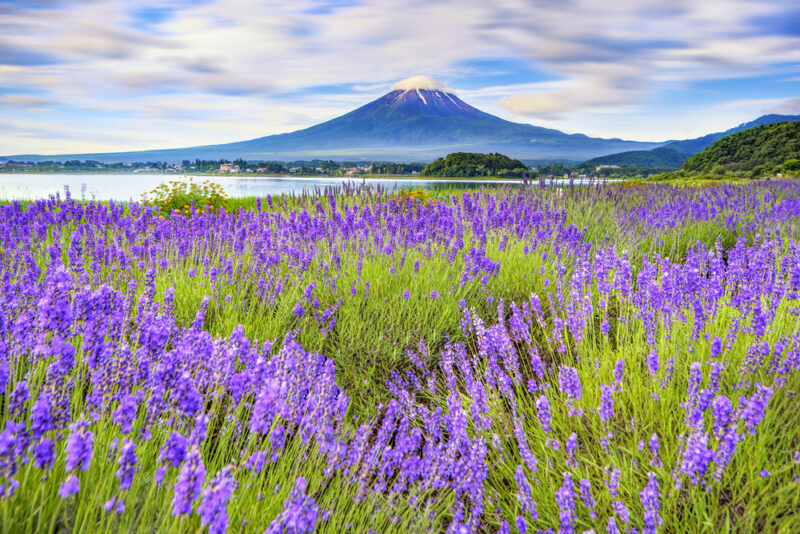 Lake Kawaguchiko is known for its beautiful flowers, and there is an annual flower event called "Fuji Kawaguchiko Herb Festival" held in the area, featuring beautiful flowers on the picturesque shores of the lake and Mt. Fuji in the distance.
The festival features many flowers throughout the seasons, and lavender is usually in bloom from mid-June to mid-July, offering a stunning view of thousands of purple lavender flowers.
At the festival, you can find many stalls selling food and souvenirs, including the lavender soft serve and lavender-themed souvenirs.
The event is free, and you can visit Lake Kawaguchiko by taking the bus from Shinjuku Station, or by taking the train to Kawaguchiko Station. The lavender park is a 30-minute bus ride from there.
Website
Google Map
2. Tambara Lavender Park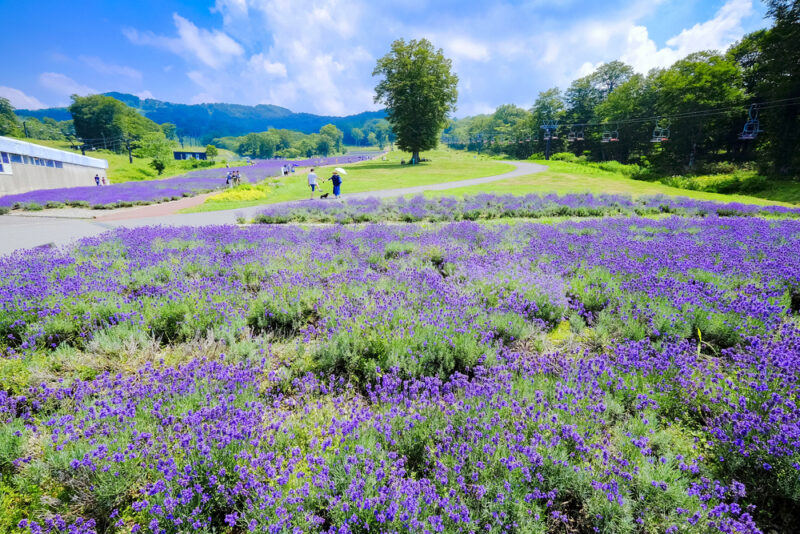 Tambara Lavender Park is the largest lavender park in the Kanto region, and it is only open when the lavender blooms in the summer, particularly from early July to the end of August.
The park features around 50,000 lavender flowers of different varieties, including early, mid, and late blooming lavenders. There are also daylilies and sunflowers blooming together with lavenders.
There are many cafés, restaurants, and shops in the park, selling many lavender treats and souvenirs. It also has a playground for kids, and also a field for dog runs. Take a train to JR Numata Station, and then take a bus to get to the park.
Website
Google Map
3. Lavender East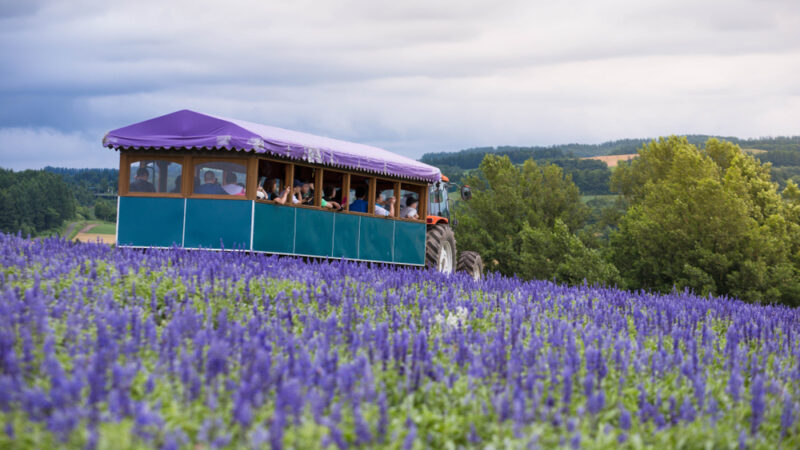 Lavender East are rice paddies fields turned to lavender fields, and it is known as one of the largest lavender fields in Japan.
The field offers a splendid view of lavenders from its observatory, and also a lavender bus service that allows you to explore the field and see lavenders from up-close. There is also a shop that sells lavender soft serve here.
The best time to visit this field is in mid-July. Take the special Furano-Biei Norokko-go train on the JR Furano Line, which only operates in the summer, and get off at Lavender-Batake Station.
Website
Google Map
4. Hinode Park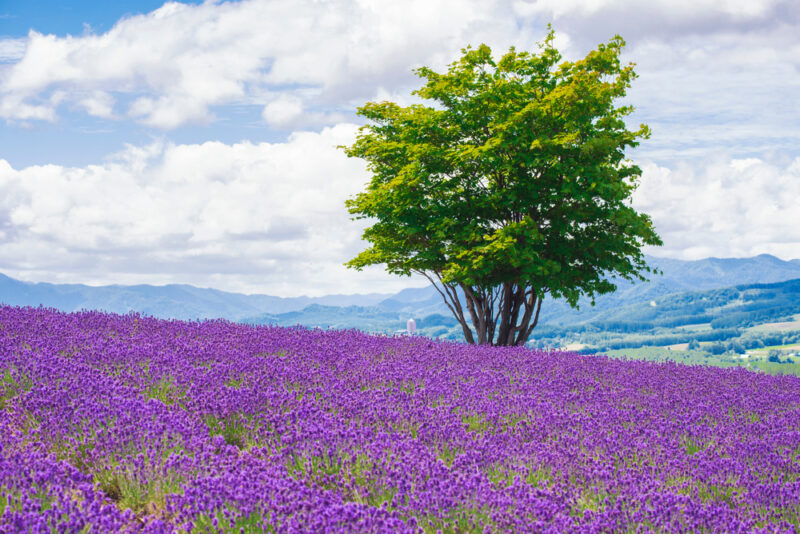 Hinode Park is said to be the birthplace of lavender in Japan, and it features a 360-degree view of lavender and other colorful flowers.
There is also an observatory at the top of the hill, offering you the best views of the purple lavender flowers and the Furano Basin from there. An auto-camp site is opened in the summer, so you can bring your friends and family to have fun in nature.
To reach Hinode Park, take a train to JR Kamifurano Station, and then take a taxi to the park.
Website
Google Map
5. Farm Tomita, Hokkaido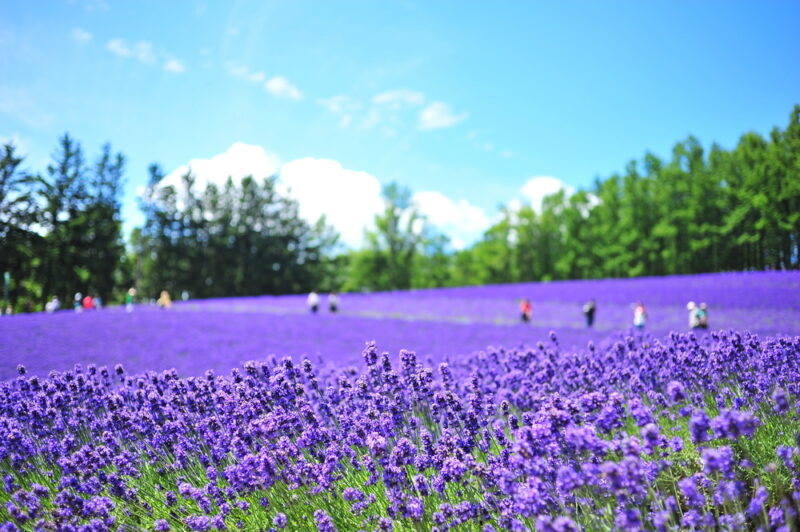 Farm Tomita is considered as one of the best lavender fields in Hokkaido, particularly for its 20-hectare area and 12 flower fields. Blooms from June to late August, there is nothing quite like the gigantic lavender fields you'll find at Farm Tomita.
At this farm you can take pictures of lavender with Mt. Tachidake as a backdrop, and there are other flowers blooming at the farm in the summer, creating a beautiful scenery of vibrant colorful flower fields.
In addition to the beautiful lavender fields, you can also enjoy various lavender infused treats, including the lavender soft serve, which is sold at the café and souvenir stores attached to the facility. There is also a perfume atelier called "Perfume House", where you can find lavender scented products.
Website
Google Map
Read more articles