Best sunflower fields to visit in Japan
Best sunflower fields to visit in Japan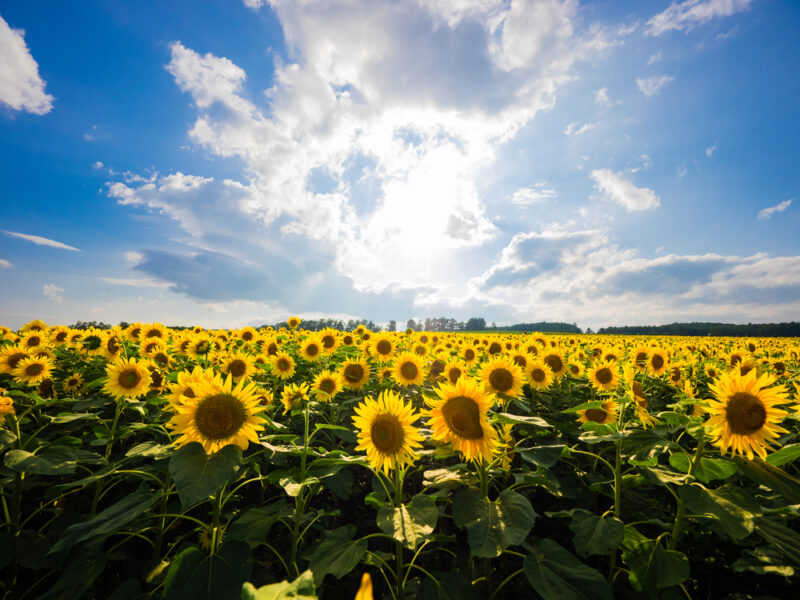 Spring and summer are the best seasons to enjoy colorful flowers in Japan, as various kinds of flowers are in full bloom, creating an eye for fascinating scenery with its colorful petals.
One of the most popular summer flowers in Japan is 'sunflower', and there are some great sunflower fields across the country, along with sunflower festivals held that are worth visiting during the seasons.
Sunflowers are usually in season from June to August, and here are some of the best sunflower fields in Japan worth visiting!
Index : Best sunflower fields to visit in Japan
1. 1st Nagisa Park, Shiga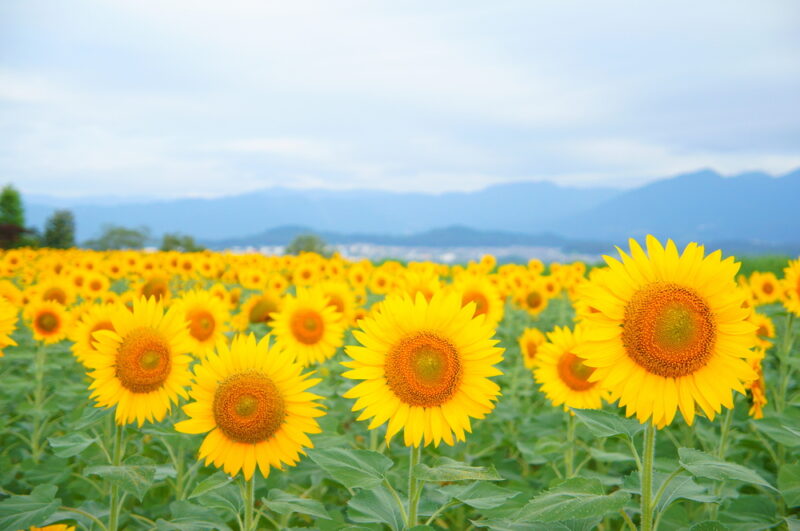 1st Nagisa Park is a sunflower park located on the shoreline of Moriyama on the eastern side of Lake Biwa. Can be reached after a 40-minute bus ride from Moriyama Station, 1st Nagisa Park is a 4,000 m² park with 12,000 sunflowers blooming in the summer, usually from mid to late July.
1st Nagisa Park is recognized as one of Japan's Top 100 Shorelines, particularly for its radiant yellow sunflowers that form a breathtaking contrast against Lake Biwa and the Hira Mountains.
2. Ono City Sunflower Hill Park, Hyogo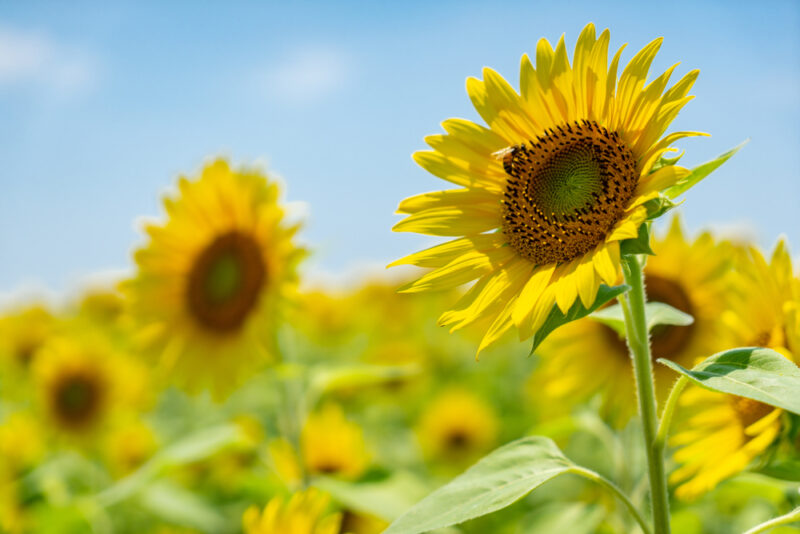 Ono City Sunflower Hill Park is in the West of Kobe City, and reachable after a 35-minute bus ride from Ono Station. The park is covered with a yellow blanket in the summer, with around 380,000 sunflowers in a full bloom.
The sunflower park has become a famous photo spot for Instagram, and if you visit the park within a week after its peak, you can take a sunflower home as a souvenir.
There is also a huge playground called "Wanpaku Square", and shops and restaurants offering local souvenirs and foods inside the park.
3. Yamanakako Hana no Miyako Park, Yamanashi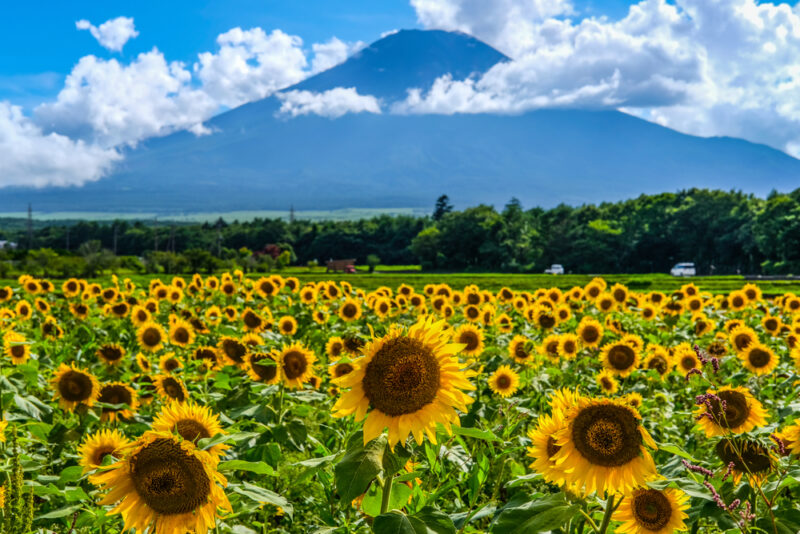 Yamanakako Hana no Miyako Park (花の都公園) is a flower park near Lake Yamanaka. Situated on the foot of Mt. Fuji, this park is very popular amongst tourists, particularly for its beautiful scenery of colorful flowers and Mt. Fuji.
The 300,000 m² park is home to various kinds of flowers that bloom throughout the year, including sunflowers, tulip, cosmos, and more. Many people come to this park to take pictures of beautiful flowers with Mt. Fuji on the back, and the best time to see sunflowers in Yamanakako is from mid to late August.
4. Kiyose Sunflower Festival, Tokyo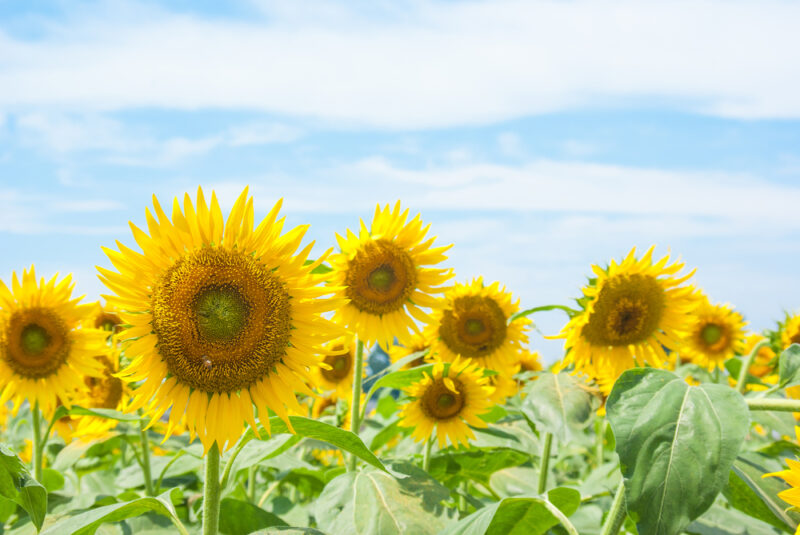 If you love flowers and are visiting Tokyo in August, the Kiyose Sunflower Festival is a must. The festival is held in Kiyose City, a suburb area near Saitama Prefecture, and it features more than 100,000 sunflowers in an area of about 24,000 m².
In addition to the long rows of blooming sunflowers, you can also find vendors selling local vegetables, food, and souvenirs at the festival. To reach the venue of this sunflower festival, take a bus from Kiyose Station and get off at the Greentown Kiyodo bus stop. The festival is just a short walk from that bus stop, and a free shuttle bus service is available on the weekends.
The festival is free, and it usually starts at 9:00 and ends at 16:00.
5. Hokuryu Sunflower Village, Hokkaido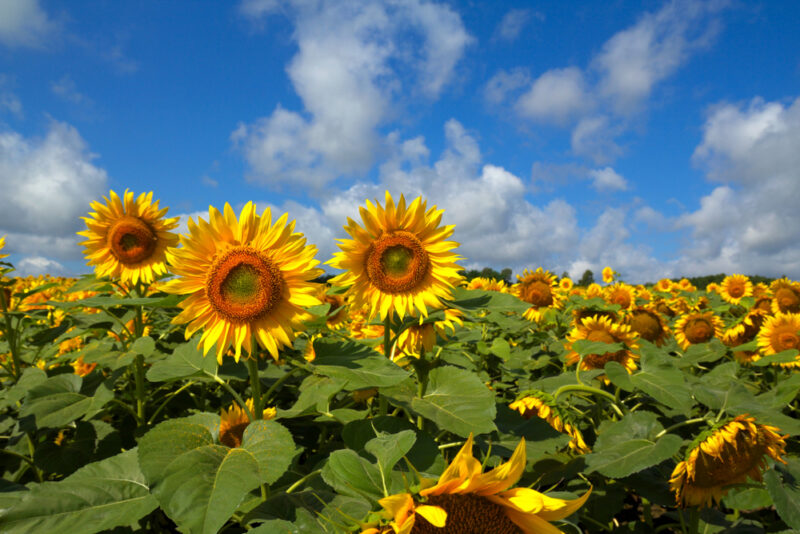 Hokkaido is perhaps the most popular destination in Japan for sunflowers, and Hokuryu Sunflower Village (北竜町ひまわりの里) is one of the most popular sunflower fields in Hokkaido, featuring over 1.5 million sunflowers blooming in the summer.
With a vast area of 23.1 ha, Hokuryu Sunflower Village is recognized as the biggest sunflower field in the country, and the best time to see the sunflowers is from mid-July to mid-August.
There is also a sunflower festival held annually in the village, featuring sunflowers, fireworks, and some impressive taiko drum performances. There are also vendors selling various kinds of summer treats, including sunflower ice cream and yellow watermelons. There is also a hot spring facility called Hokuryu Onsen, which is just about a kilometer away, where you can find special cosmetic products made using sunflowers.
Read more articles