10 amazing things to do in Okayama, Japan!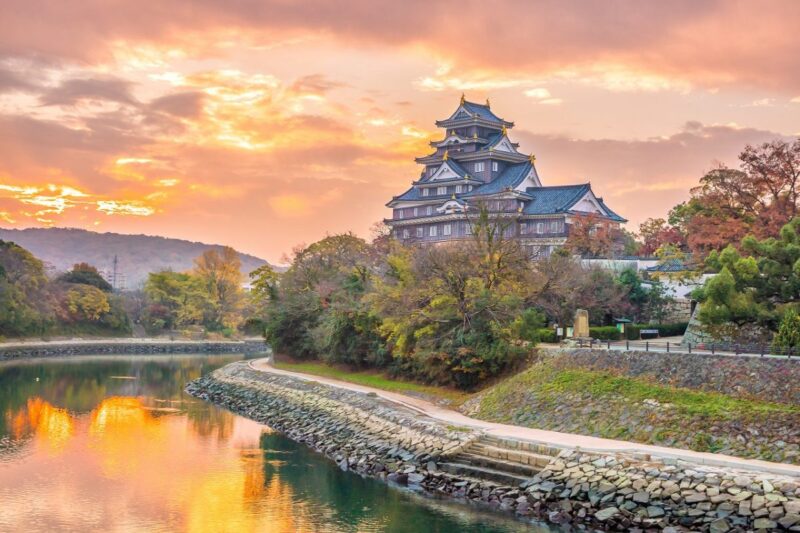 Located in between Hiroshima and Osaka, Okayama prefecture is known as the "land of sunshine", as it has the lowest recorded rainfall amongst all prefectures. Often overlooked by most visitors to Japan, Okayama is actually full of nature, history, culture, and art. Much more quiet and smaller than other cities, Okayama has a lot to offer those looking to get a little off the beaten path.
Index
Recommended sightseeing spots in Okayama:
Okayama Castle
Okayama Korakuen Garden
Momotaro statue and manhole cover
Bikan Historical Quarter
Kojima Jeans Street
Mt. Washu and The Great Seto Bridge
Kibitsu Shrine
Bitchu Matsuyama Castle
Ikurado Cave
Fukiya Furusato Village
Kibi dango
Ebimeshi
Fruit parfait
Tsuyama Horumon Udon
Mamakari-zushi
How to get there
 Okayama is located on the JR Shinkansen (bullet train) line, and it's easily accessible from major Japanese cities including Hiroshima (40 minutes), Osaka (50 minutes), Kyoto (1 – 1.5 hours), and Tokyo (3 – 4.5 hours).
You can also take the airplane from Tokyo, Osaka, and Kyoto. Direct international flights to Okayama Airport are also available from Seoul, Shanghai, Hong Kong, and Taipei.
Recommended sightseeing spots in Okayama
Okayama is home to one of the Three Great Gardens of Japan, and it has many less-crowded cherry blossom viewing spots to enjoy in spring. In addition to its fantastic cherry blossoms, the prefecture is famous for Kurashiki, a scenic canal-side historic quarter, and for the tremendous 'crow castle' Okayama Castle.
Here are our picks for the best things to do in Okayama, Japan!
①Visit the 'crow castle', Okayama Castle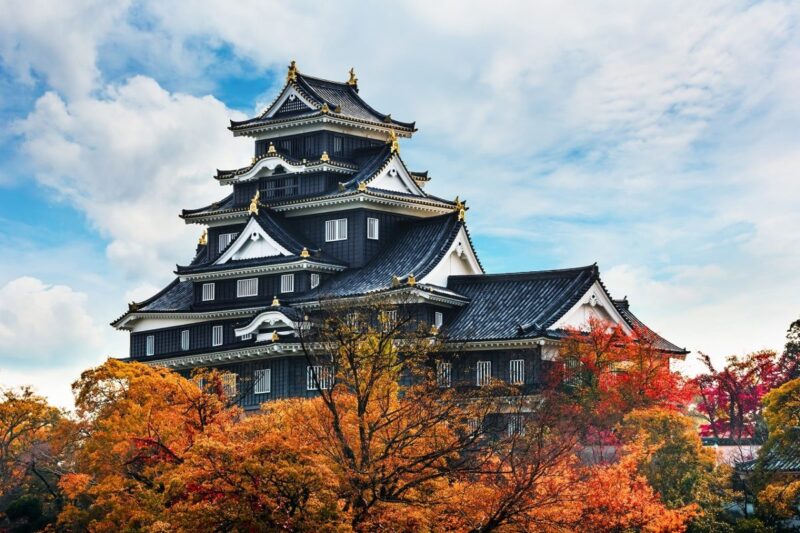 Okayama Castle was built following the architectural style of the Sengoku Era (1467 – 1603), and the construction was completed in 1597. The castle is also known as 'crow castle', named after its walls, which are painted with black lacquer.
The highlight of this castle is its Tenshukaku, a six-story watchtower-style building that is organized into three layers. The castle was designated as a national treasure, but it was burnt down during the war. It has been reconstructed, and the Shoin-zukuri style living quarters, which symbolized the lord's power, has been restored too.
Okayama Castle
Business hours: 9:00 – 17:30 (last entry is at 17:00)
Closed from December 29 to December 31
Admissions: 320 yen (adults), 160 yen (6-14 years old)
 ②Enjoy the beauty of Okayama Korakuen Garden, one of the Three Great Gardens of Japan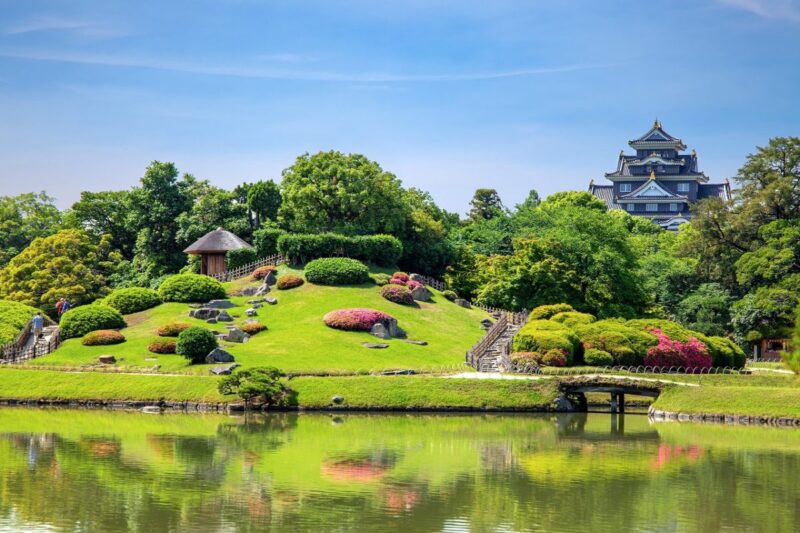 Awarded three stars in the Michelin Green Guide Japan, Okayama Korakuen Garden was built in 1687 by the feudal lord to entertain his family and guests. Featuring many classic elements like large pond with stone bridges and small shrines, this spacious garden offers amazing view that changes with the seasons.
If you're visiting this garden during cherry blossom season, make sure to take a walk along the nearby Asahi River Sakura Road. You'll see more than 200 cherry trees along the banks of the river, and at the peak of the season these trees are illuminated at night, offering you a breathtaking view of yozakura (night cherry blossoms).
Okayama Korakuen Garden
Business hours: March 20 – September 30 7:30 – 18:00 (last entry is at 17:45), October 1 – March 19 8:00 – 17:00 (last entry is at 16:45)
Open throughout the year
Admissions: 400 yen (15 – 64 years old), free for children under 15 years old
③Say hi to Momotaro the peach boy
Visiting Okayama without seeing Momotaro (Peach Boy) is like eating tacos without guacamole. Momotaro, who was born out of a giant peach, is one of the most famous heroes in Japanese folklores. You can see Momotaro everywhere in Okayama, as the prefecture is famous for its juicy and sweet white peaches.
There's a Momotaro statue outside Okayama Station, and make sure to look out for his image on colorful manhole covers across the city.
④Explore the gorgeous Kurashiki Bikan Historical Quarter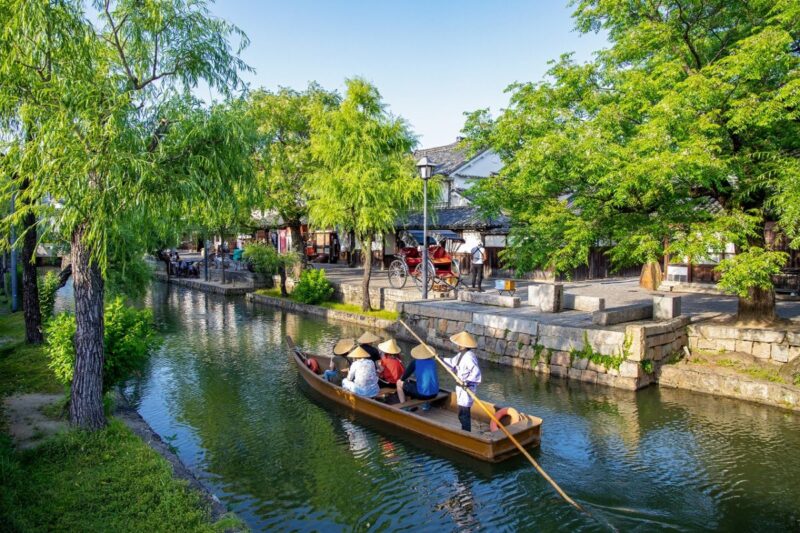 Kurashiki Bikan Historical Quarter is famous for its gorgeous townscape consisting of old buildings, a canal lined with weeping willow trees, and contrasting white-walled structures with black roof tiles.
This area was an important rice distribution center in Edo period (1603 – 1868), and this is why there are still many stone warehouses remaining today. Kurashiki River was once a major thoroughfare for trading boats, and now it offers boat tours for tourists throughout the year (500 yen / adult, 250 yen / 5 – 12 years old).  
Kurashiki Bikan Historical Quarter
Access: a 15-minute walk from Kurashiki Station
⑤Explore Kojima Jeans Street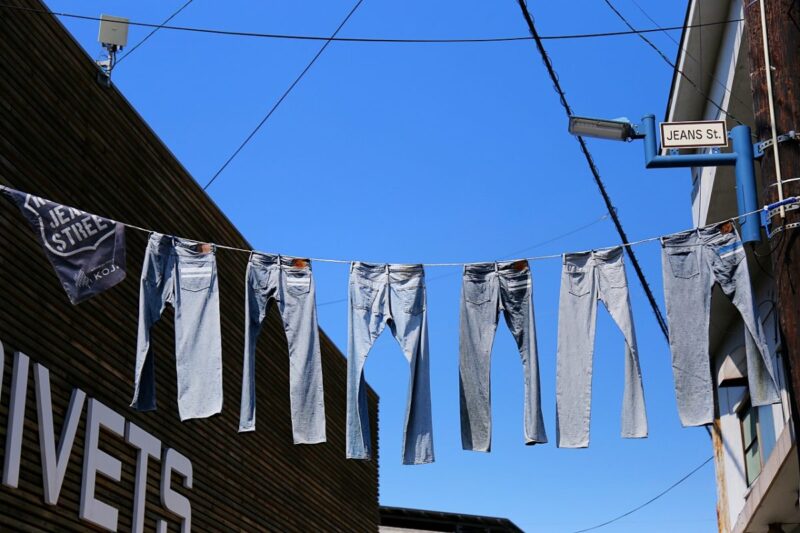 Okayama has a long history in the textile industry, and the jeans tailored by local artists in Okayama are called Okayama Denim. Kojima District in Kurashiki is the birth place of the jeans industry in Japan, and in Kojima Jeans Street you'll find many jeans and commercial denim boutique stores selling Okayama Denim.
Kojima Jeans Street
Business hours: each store has different business hours
⑥Enjoy the view of the Great Seto Bridge from Mt. Washu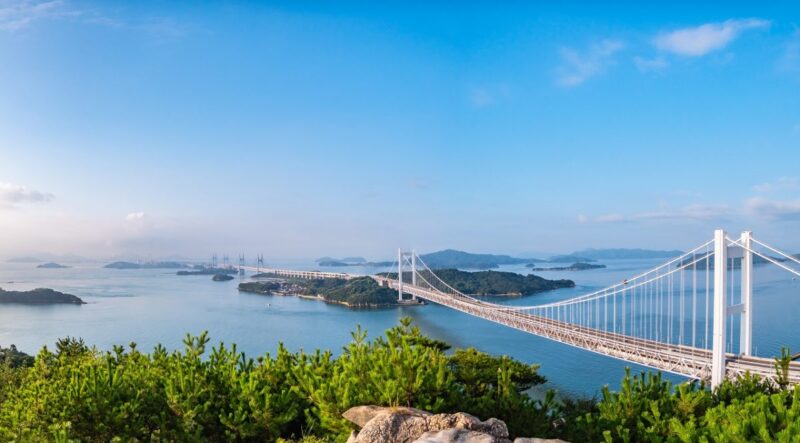 One of the best things to do when visiting Kurashiki is to visit the Mt. Washu, where you can enjoy the view of Great Seto Bridge that connects Honshu to Shikoku.
The view during the day is excellent, but if you're looking for something different, try to visit Mt. Washu right before the sunset, when the sky is tinged with beautiful colors as the sun sinks behind the islands.
Mt. Washu
⑦Visit Kibitsu Shrine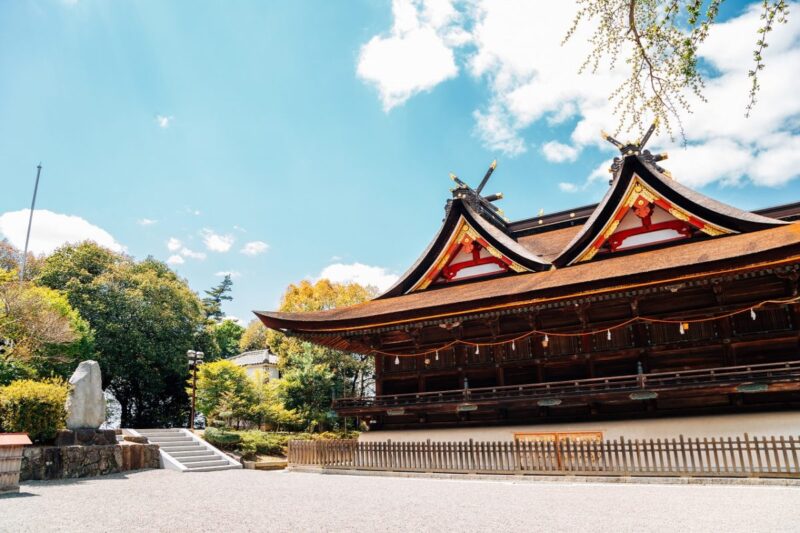 Kibitsu Shrine is dedicated to Kibitsuhiko-no-mikoto, the legendary prince. The shrine is also designated as a national treasure, mainly for the main shrine's Hiyoku Irimoya-zukuri (also called 'Kibi-zukuri') construction style, which is characterized by a paired wing hip-and-gable roof.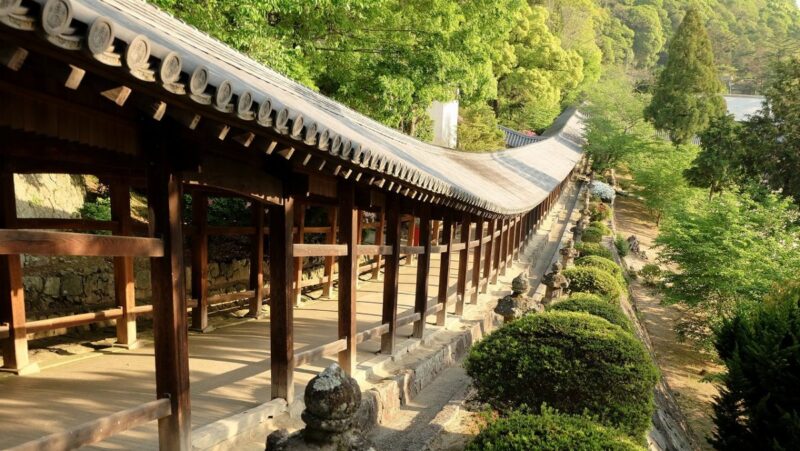 You'll need to follow the beautiful wooden corridor extending 400m from the main shrine, which is designated as an Important Cultural Property of Okayama prefecture.
Kibitsu Shrine
Business hours: 5:00 – 18:00
Open throughout the year
⑧Visit the castle in the sky, Bitchu Matsuyama Castle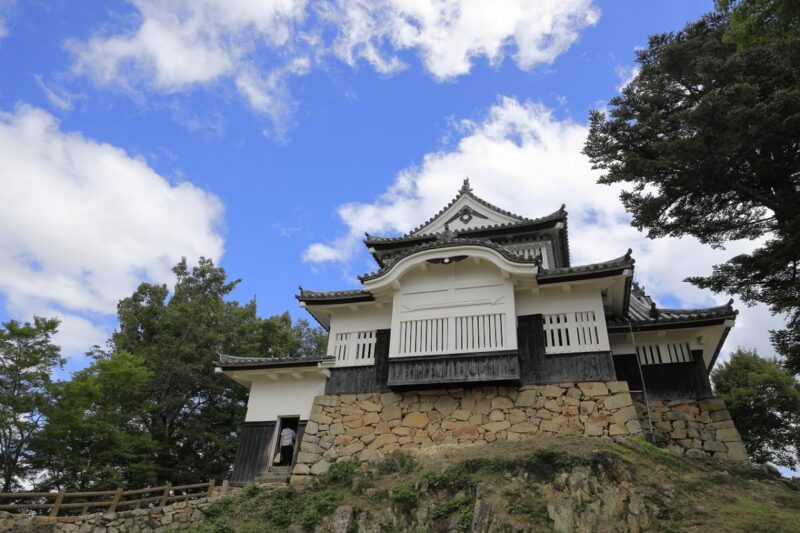 Located in Takahashi, Okayama, Bitchu Matsuyama Castle was built in 1240 and is famous for being one of the 12 castles in Japan that still have their original tenshu (castle tower). Being the only mountain castle in Japan that still has its original tenshu, which was restored in 1683, the castle is surrounded with thick fog from late September to early April.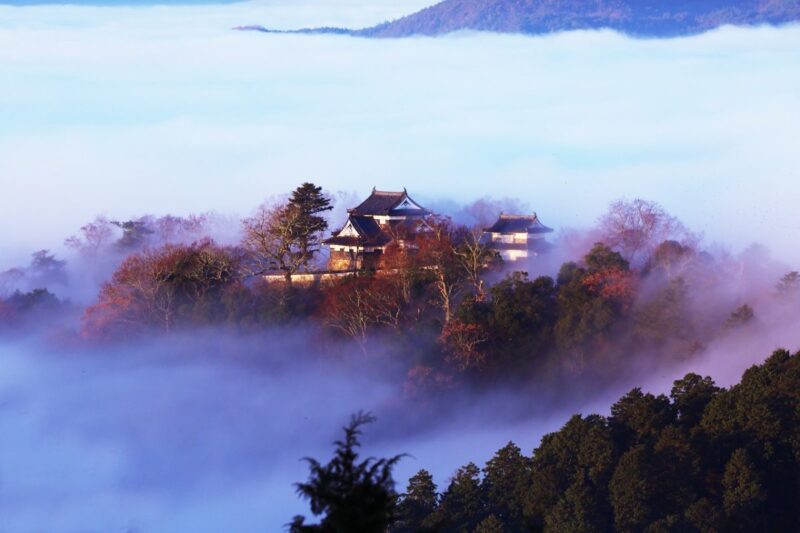 Located 430m above sea level; it takes a little effort to climb to the top. You need to do a 700m hike to enjoy the breathtaking view from this castle.
Bitchu Matsuyama Castle
Business hours: April to September 9:00 – 17:30 (last entry is at 17:00), October to March 9:00 – 16:30 (last entry is at 16:00)
Closed from December 29 to January 3
Admissions: 500 yen (adults), 200 yen (6 – 14 years old)
⑨Explore the stunning Ikurado Cave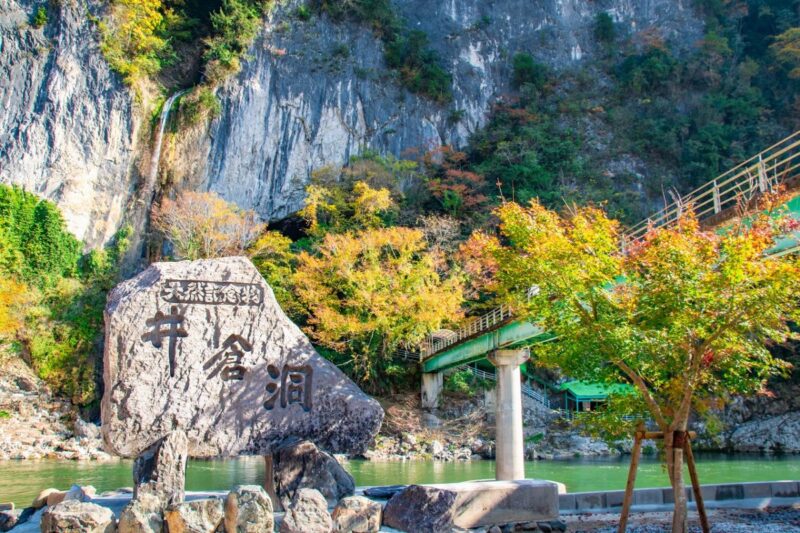 Ikurado is a cave located along the Takahashi River, and it was formed through erosion by rain and other elements, resulting in a limestone cave with 1.2km in length and 90m in depth.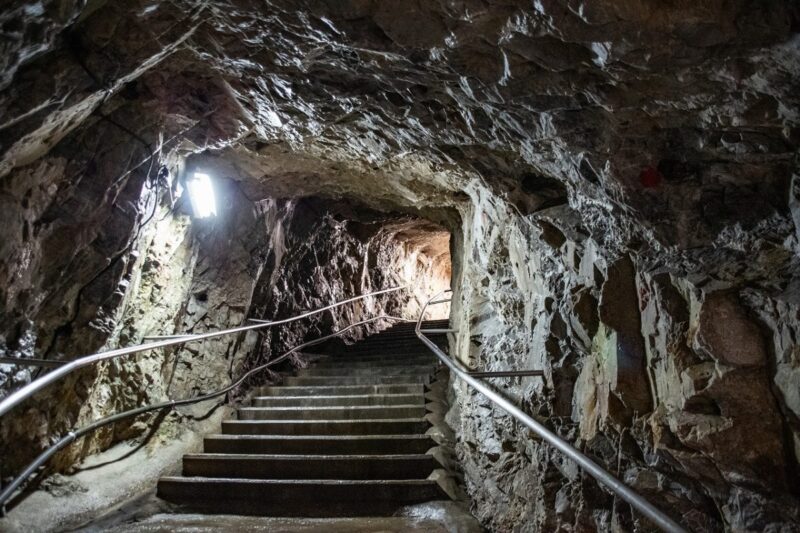 Explore the cave to see a dynamic, magical world created by stalactites that hang like icicles, strangely formed rocks like stalagmite, and three waterfalls.
Ikurado Cave
Business hours: 8:30 – 17:00 (last entry is at 16:30)
Admissions: 1000 yen (adults), 800 yen (12 – 14 years old), 500 yen (6-12 years old)
⑩Travel back in time at Fukiya Furusato Village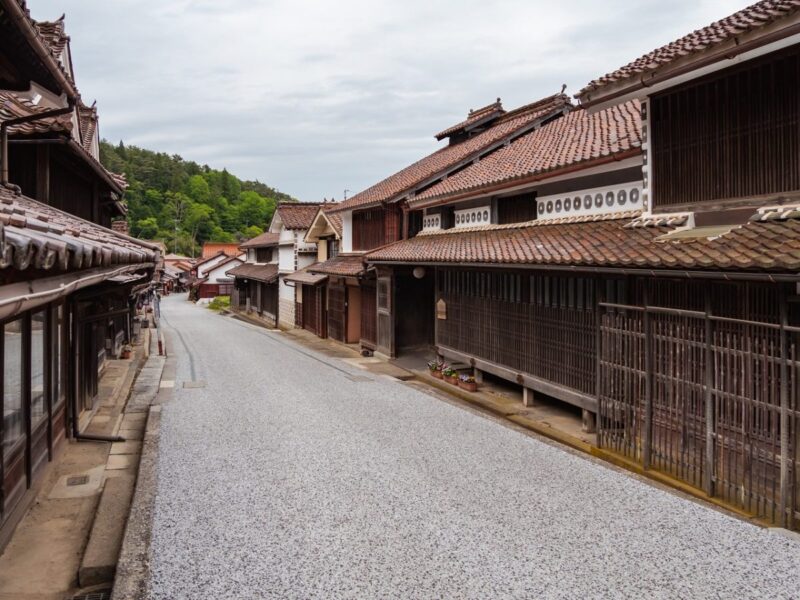 How about enjoying a walk in the streets of another magnificent townscape? Famous for its unique red ocher buildings, Fukiya Furusato Village is a one-of-a-kind townscape that is definitely worth capturing and exploring. When you visit the village, don't forget to stop by the Bengara Ceramic Museum to experience making pottery using 'bengara', a pigment made from oxidized iron, which is used to pain the buildings in the village.
Fukiya Furusato Village
Okayama's best local treats
Packed with seafood from the Seto Inland Sea and fruits from plateaus in the Northern area, wherever you go, delicious local food awaits in Okayama. Here are our picks for the best foods to try when visiting Okayama!
①Kibi dango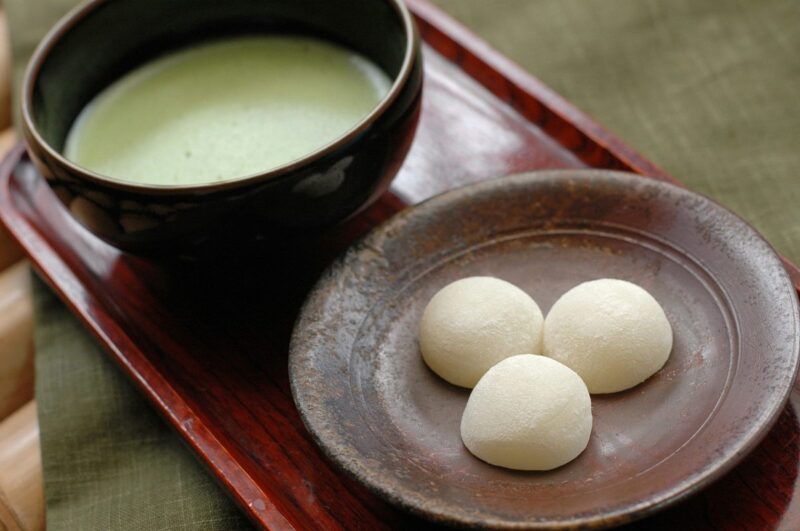 Kibi dango is a famous wagashi from Okayama, which is made by forming gyuhi, a sort of soft mochi, into flat round cakes. Often served together with a cup of matcha, how about purchasing kibi dango for your friends and family back home?
②Ebimeshi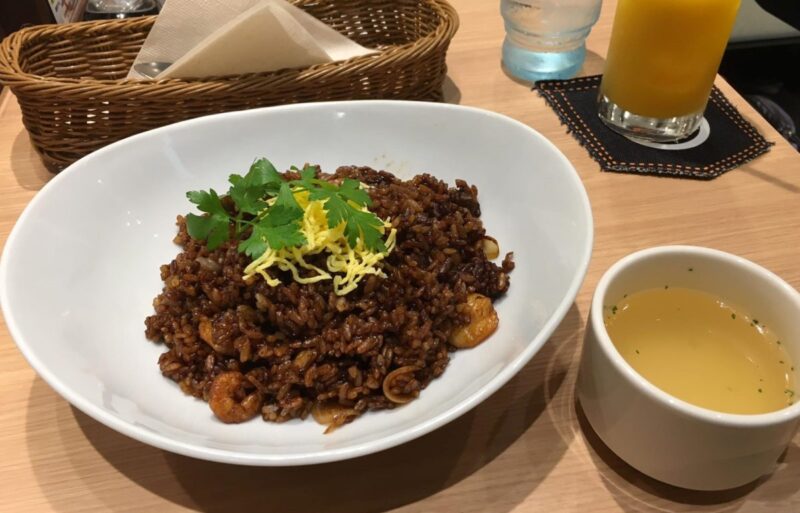 Ebimeshi (えびめし) is a dark colored shrimp fried rice and it's also the soul food of Okayama. The fried rice has dark color because it's seasoned with caramel sauce, ketchup, and other spices. Ebimeshi has mild spicy and sweet flavors, and is usually priced around 700 – 900 yen per portion.
③Fruit parfait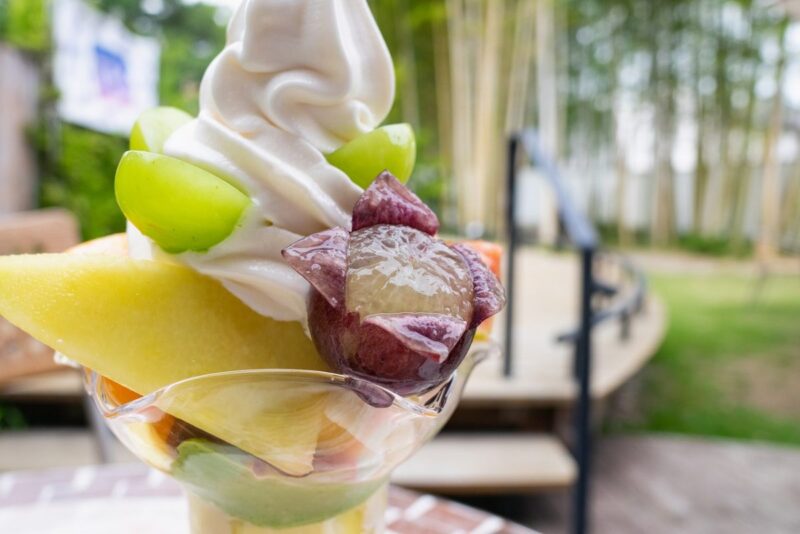 Known as the 'land of sunshine', Okayama is also known as a fruit kingdom, and the fruit parfait sold at restaurants across the city is a must-try item if you love fruits. One of our favorites is the peach and grape parfait, which is made using locally produced white peaches, piones, and muscats.
④Tsuyama Horumon Udon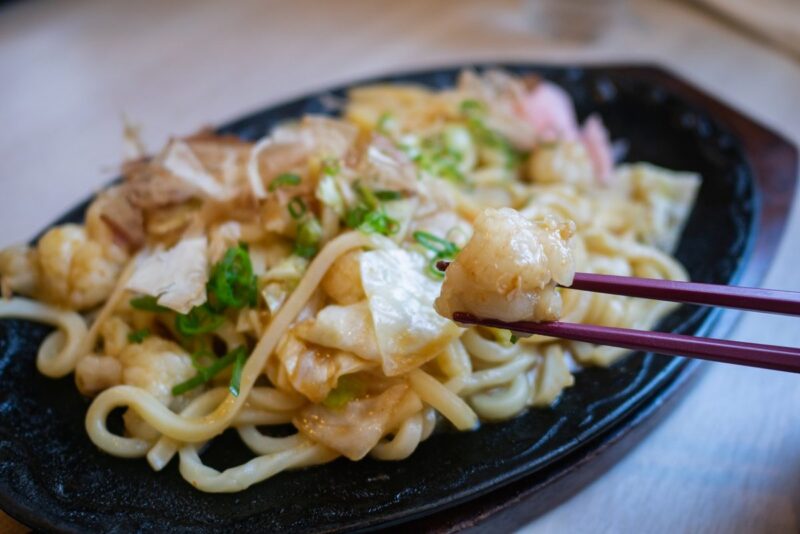 Tsuyama Horumon Udon (津山ホルモンうどん) is a local specialty of Tsuyama city, which located in the northern part of Okayama. Tsuyama Horumon Udon is a stir-fried udon noodles with grilled cow's innards (ホルモン, horumon). The noodles are seasoned with soy sauce and miso paste, and there are over 20 restaurants offering this local treat in Tsuyama. The noodles are usually priced around 900 – 1000 yen per portion.
⑤Mamakari-zushi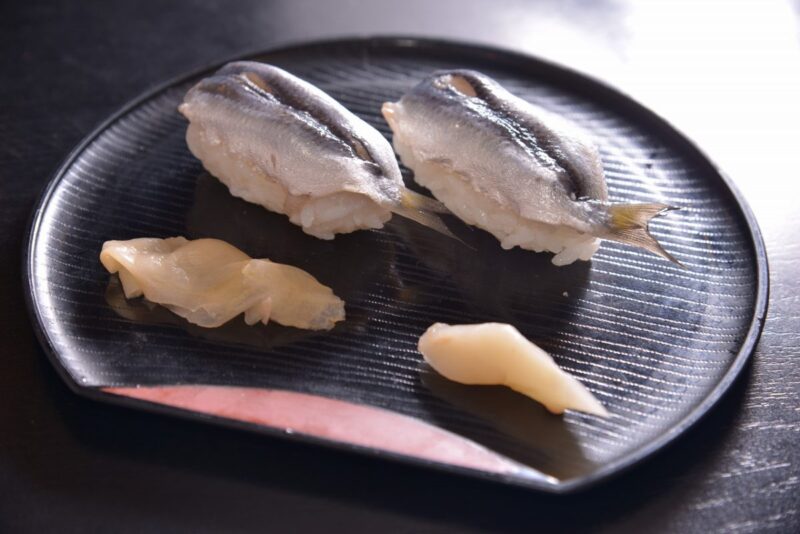 Mamakari-zushi is a nigiri sushi topped with vinegared Sappa (mamakari), a small herring found in the Seto Inland Sea. The fish is salted for an hour, rinsed in vinegar, then marinated overnight in vinegar mixed with sugar and salt. The next day, the mamakari are laid on top of a small hand-formed ball of sushi rice to create mamakari-zushi.
Now that you have an idea of how many wonderful spots are in Okayama, all you have to do is plan your itinerary to enjoy unforgettable experiences in Okayama!