10 amazing things to do in Yamaguchi, Japan!
10 amazing things to do in Yamaguchi, Japan!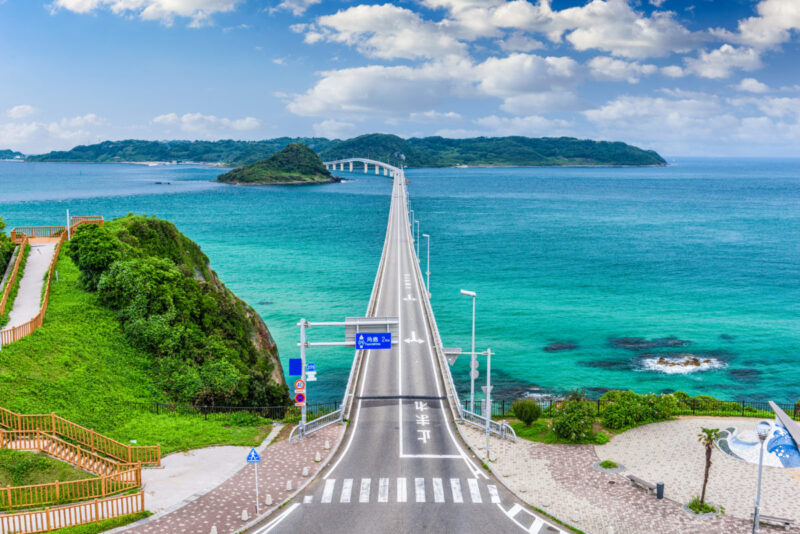 Yamaguchi is the prefecture in Chugoku region, and is nestled on the westernmost of Honshu, the mainland of Japan. The prefecture is home to many hidden tourist spots, including a historical castle, a temple with beautiful torii gates, and great local delicacies.
The prefecture is often overlooked for its more famous neighbors like Hiroshima and Ehime, but it is packed with several notable sights to see, including the scenic Tsunoshima Ohashi Bridge and its mystical Akiyoshido Cave.
Brimming with beautiful nature and interesting tourist destinations, how about visiting Yamaguchi to have both, an extraordinary, yet a novel adventure?
Index
How to get there
Yamaguchi is accessible by both trains and planes, and the main transportation hubs in Yamaguchi are the Shin-Yamaguchi Station and Yamaguchi Ube Airport, which connect the prefecture to Tokyo, Osaka, Fukuoka, and other major cities in Japan.
The prefecture is connected to Tokyo, Osaka, and Fukuoka through the JR Sanyo Shinkansen. It takes 2 hours to reach Yamaguchi from Osaka, around 40 minutes from Fukuoka, and around 4.5 hours from Tokyo. All trips are fully covered by the JR pass.
ANA and JAL operate several flights between Yamaguchi Ube Airport and Tokyo's Haneda Airport, and the flight duration is around 100 minutes.
Recommended sightseeing spots in Yamaguchi
Yamaguchi is a perfect destination to visit if you're looking for something off the beaten path to make your trip special. The prefecture is packed with numerous hidden gems that are hard to find in big cities like Tokyo and Osaka, including the great Motonosumi Inari Shrine that is famous for its red torii gates, and the historical Iwakuni Castle.
A perfect destination for a weekend getaway, you can escape from the hustle and bustle of the big cities by having a relaxing trip in Yamaguchi, exploring its excellent sightseeing spots while enjoying the tranquil atmosphere of its great nature.
Here are our picks for the best things to do in Yamaguchi, Japan!
1. Explore Iwakuni Castle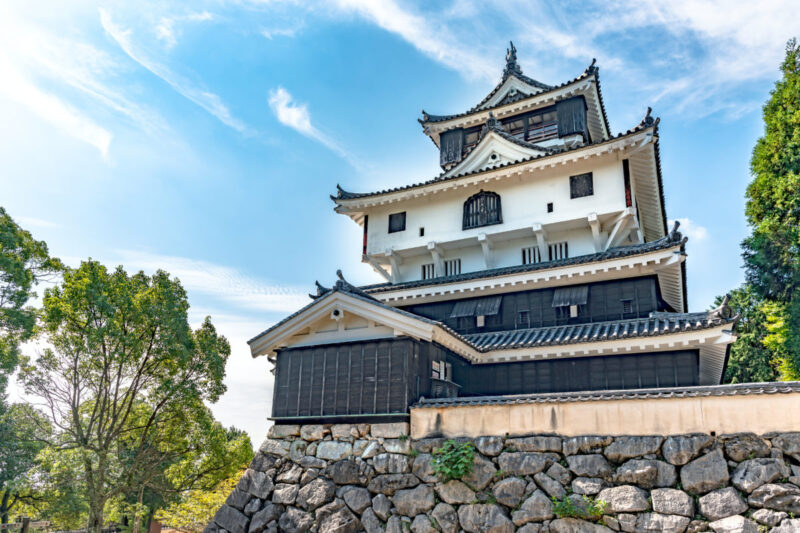 Iwakuni Castle is located on the summit of Mt. Yokoyama nearby the Kintaikyo Bridge, and the castle can be reached through hiking or cable-cars from Sanroku Ropeway Station. The castle is a six-story castle built in 1608 and functioned as a castle for the first feudal lord in Iwakuni, Kikkawa Hiroie. The castle was destroyed seven years later under the orders of the Bakufu, and it was restored later in 1962.
Iwakuni Castle
2. Walk on the Kintaikyo Bridge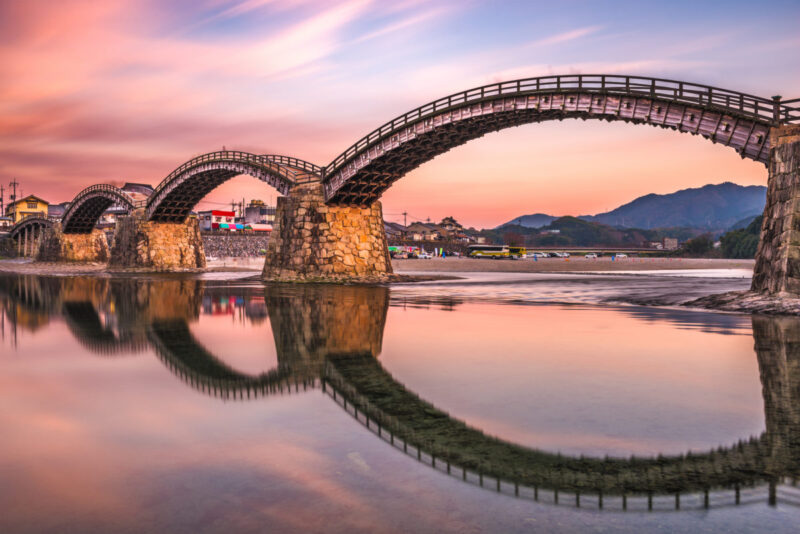 Kintaikyo Bridge is a famous bridge in Yamaguchi, and it is best known for its beautiful scenery during the dusk, amazing cherry blossoms in spring, and its heart-warming autumn leaves in fall.
Kintaikyo Bridge is a five arched bridge, and it was originally made to stop invading armies from crossing the Nishigawa river, and its history is said to date back to 1673.
Kintaikyo Bridge
3. Have a night cruise to enjoy the night view of Shunan Plant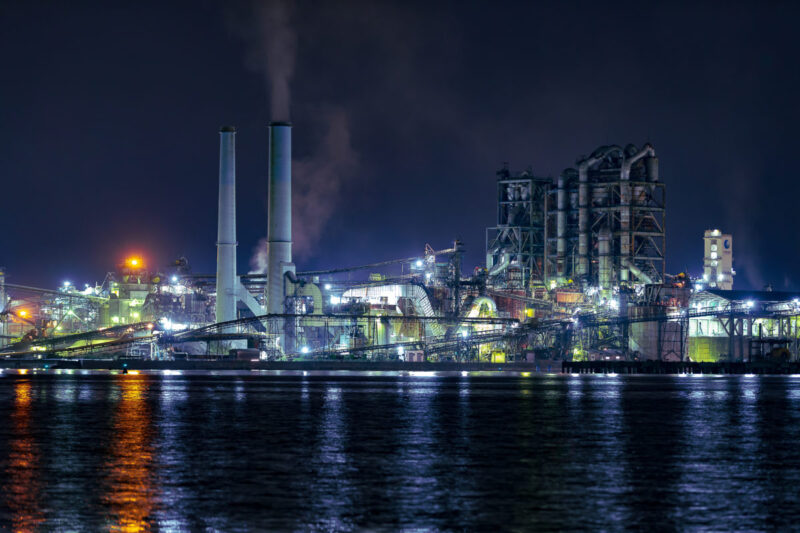 Shunan Plant is located on the east of Yamaguchi, and it is a famous industrial area that sustains local business. The plant turns into a dazzling night view spot after the dusk, and you can enjoy the amazing, and priceless night views of Shunan Plant by participating in the night cruising program, which you can book through local tour agents.
Shunan Plant Night Cruising Program
4. Admire the great nature of Akiyoshidai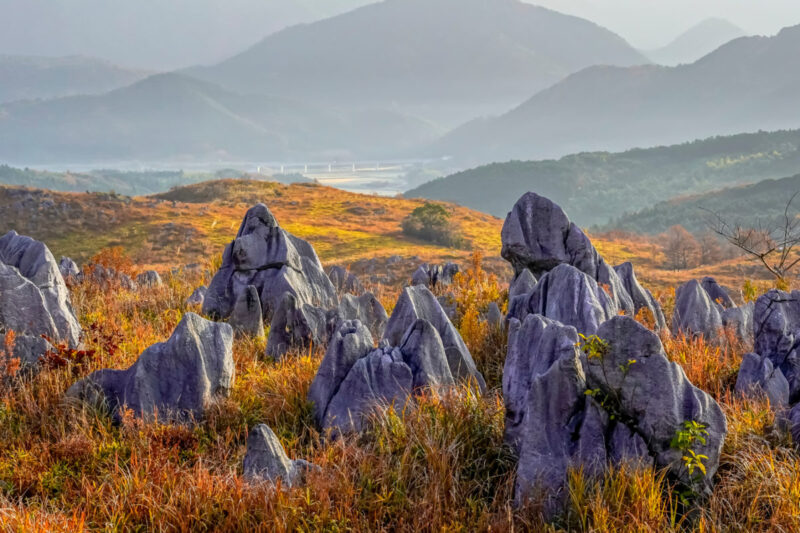 If you love to enjoy nature, how about cycling around Akiyoshidai when you're in Yamaguchi?
Akiyoshidai is located just 40 minutes by car from JR Yamaguchi Station, and it is known as the largest karst plateau, a limestone-formed land, in Japan.
One of the best ways to explore the karst is by exploring its hiking trails with a bicycle.
Akiyoshidai
5. Explore the legendary Akiyoshido Cave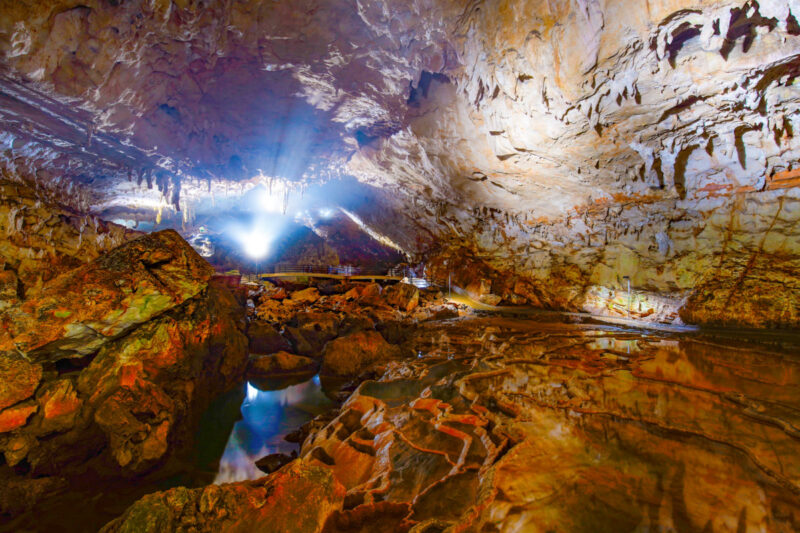 Akiyoshido cave is located right next to the Akiyoshidai plateau, and it is best known as the largest limestone cave in Japan. Said to have a depth of 10.7 kilometers, only around a kilometer of the length is open to public for sightseeing and exploring.
Inside the cave, there are around 100 plates that look like scores of platters lined up in rows, which can be accessed through an adventure trail.
Akiyoshido Cave
6. Find your peace at Ruriko-ji Temple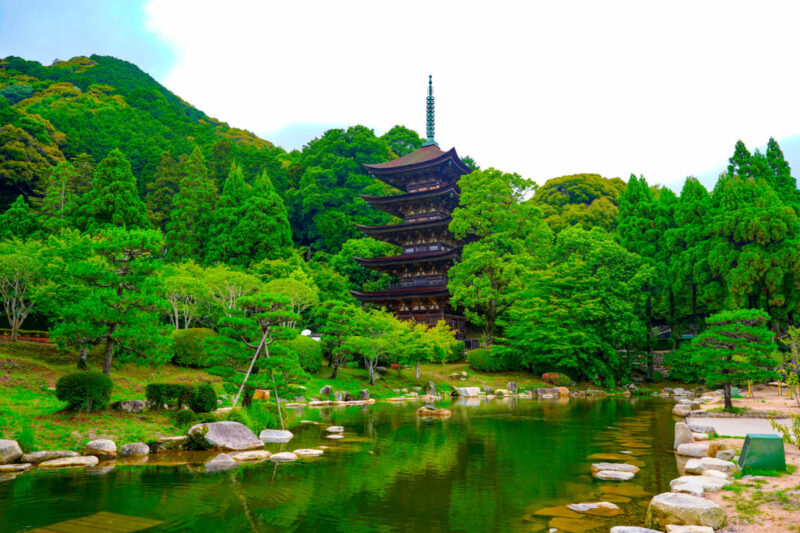 Ruriko-ji Temple is perhaps the most famous Buddhist temple in Yamaguchi Prefecture, and it is best known for its five-story pagoda, which was built around 600 years ago.
The temple is considered as the 10th oldest temple, and the third most beautiful temple in Japan along with Horyu-ji Temple in Nara, and the Daigo-ji Temple in Kyoto.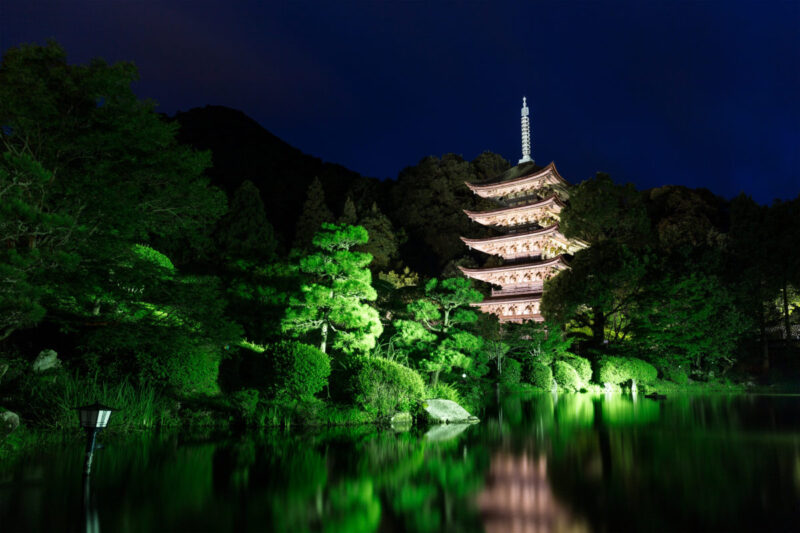 The surrounding park is called Kozan Park, where a bell tower, a prayer hall, and a museum that records the development of the area and the history of the temple are located. The temple is also famous for its beautiful pond, which looks even more amazing when lit up at night.
Ruriko-ji Temple
7. Visit Beppu Benten Pond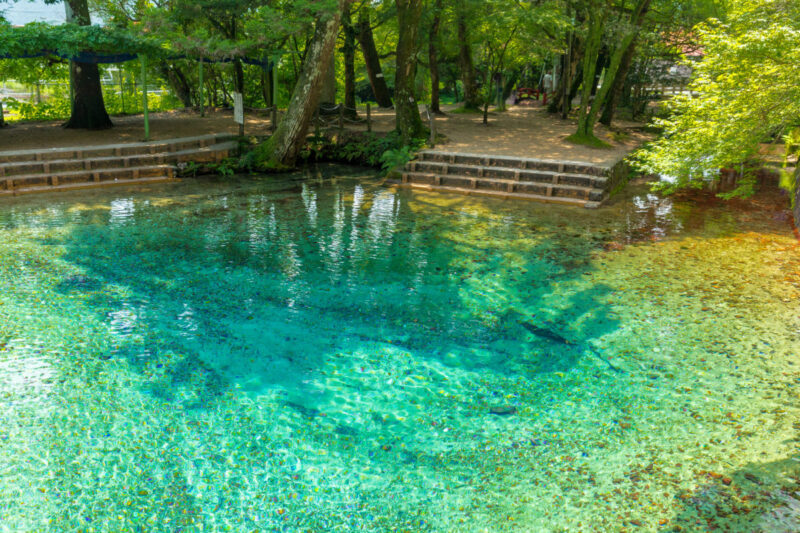 Beppu Benten Pond is a part of the Beppu Itsukushima Shrine, which is located 40 minutes by car from Hagi City in Yamaguchi. It is a famous photo spot among the tourists, who mostly are enchanted by the uneven color of the pond.
The uneven cobalt blue hue, with a slightly deeper color on its center, makes this pond looks even more mysterious, and drinking its water will bless you with longevity and wealth.
Beppu Benten Pond
8. Drive along the Tsunoshima Ohashi Bridge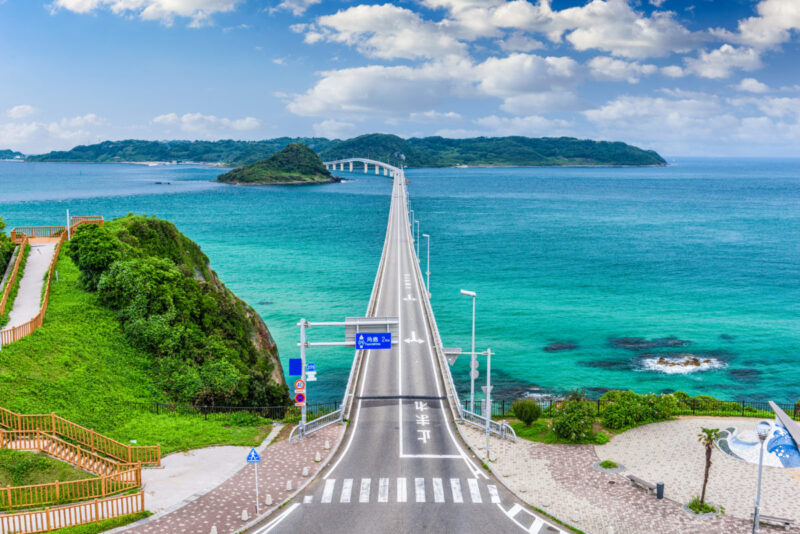 Tsunoshima Ohashi Bridge is a bridge that connects Yamaguchi Prefecture with a small island called Tsunoshima. It is a route you'll want to take when driving in Yamaguchi, as you can capture a superb view of an emerald green sea with a camera while crossing this bridge.
The bridge stretches over 1,780 meters, and it stands above the Sea of Japan. It is known as the second-longest bridge in Japan, and it attracts a lot of tourists every year.
Tsunoshima Ohashi Bridge
9. Visit the great Motonosumi Inari Shrine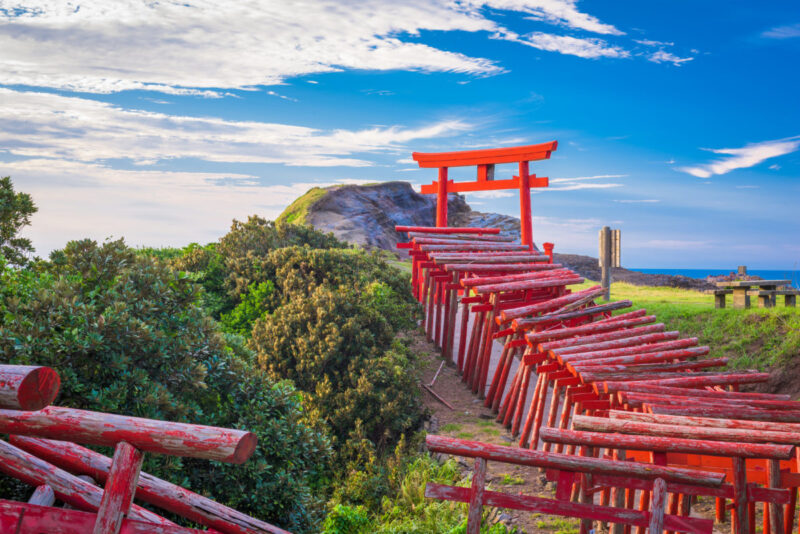 Visiting a shrine during your trip in Japan is a must, so you should never miss the great Motonosumi Inari Shrine, which is famous for its red torii gates when you're in Yamaguchi.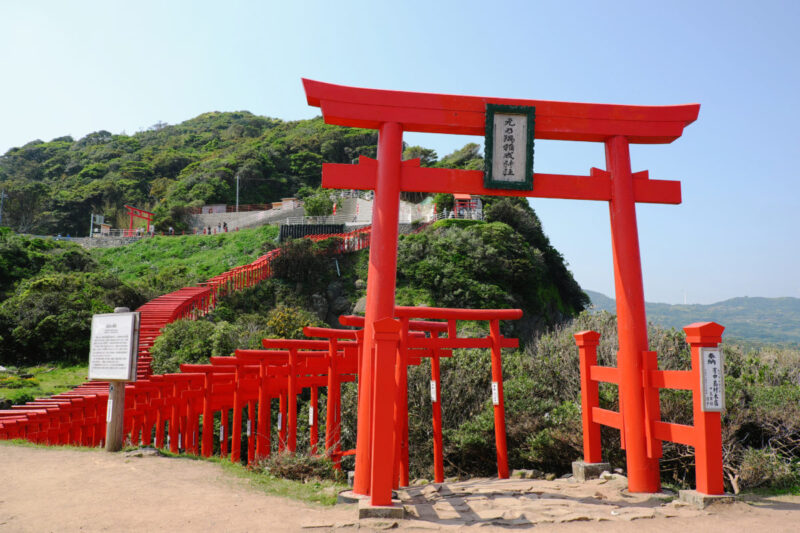 The shrine is famous for its 123 red torii gates, that are located on the seaside cliff in Nagato City. The red torii gates, which lead you to the main building of the shrine, offer one of the most bizarre and unique sights in Japan.
Motonosumi Inari Shrine
10. Enjoy the breathtaking scenery of Senjojiki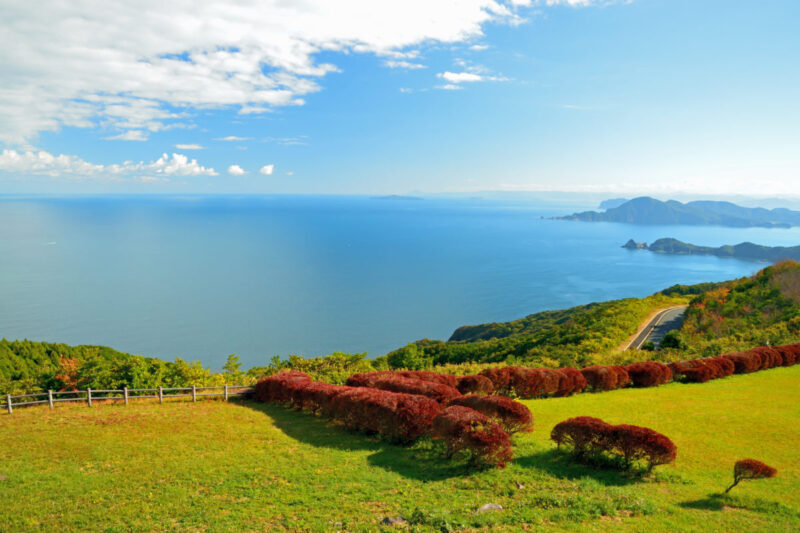 Senjojiki is located within a 10-minute drive from Motonosumi Inari Shrine, and its name literally means 'one thousand tatami mats'. Senjojiki is grassland that sits 333 meters above the ground, and it offers you tremendous, yet scenic views of the blue skies and the ocean.
Senjojiki is a famous night camping spot in Yamaguchi, so how about spending a night in this amazing nature spot?
Senjojiki
Yamaguchi's best local treats
Yamaguchi is best known for its distinctive, yet amazing local cuisines, and the prefecture is home to the intriguing, yet dangerous, puffer fish, and Dassai, a famous nihonshu (Japanese sake) brand exclusive to Yamaguchi Prefecture.
From fugu sashimi to Iwakuni Sushi, wherever you go, scrumptious local treats await in Yamaguchi. Here are our picks for the best foods to try when visiting Yamaguchi!
1. Kawara soba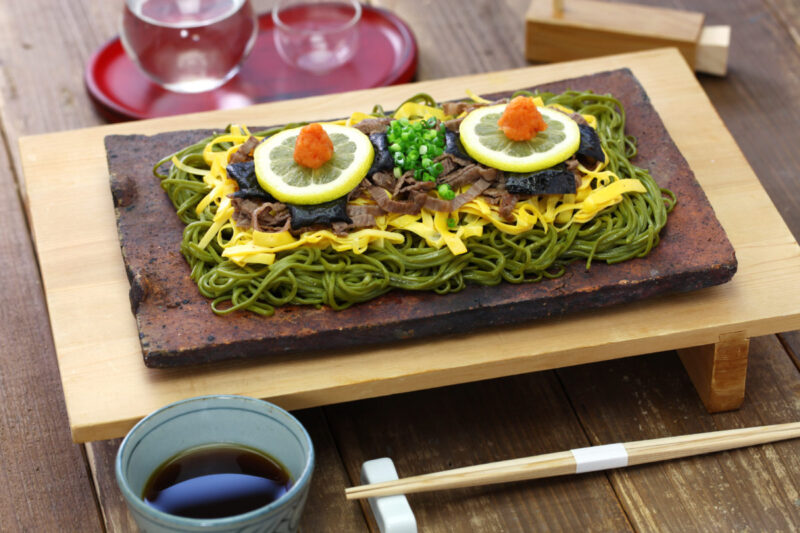 Kawara soba is a green tea buckwheat noodles served with eggs, thinly sliced beef, and vegetables with a sweet sauce. There are many restaurants across the prefecture serving these amazing noodles, which are exclusive to Yamaguchi Prefecture only.
2. Fugu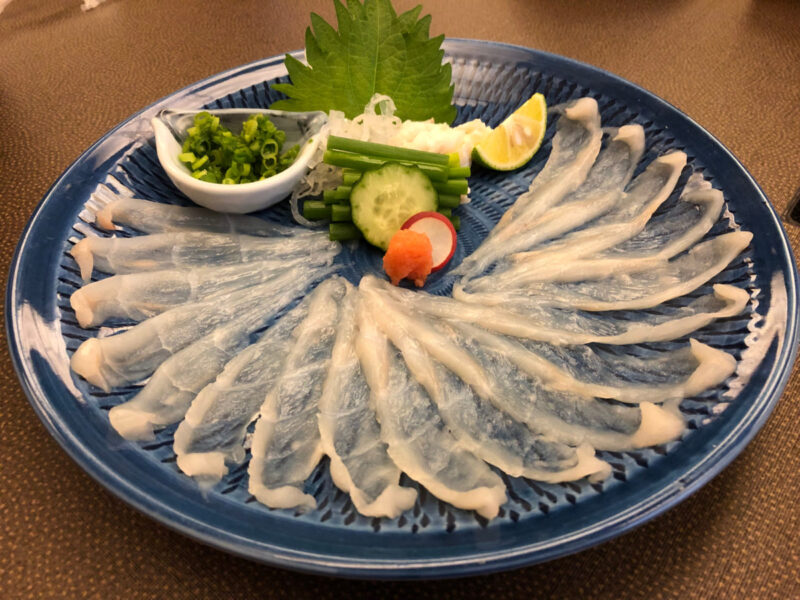 Fugu is a puffer fish, and it is undoubtedly the most famous food of Yamaguchi. Trying puffer fish is intriguing, as there is a misconception that puffer fish can kill you if prepared incorrectly, which is true, but in Japan only restaurants with certified chefs can serve puffer fish, so basically you shouldn't worry about dying after eating the puffer fish.
Fugu is usually eaten raw as sashimi or cooked in a hot pot, and sometimes they are deep-fried like karaage.
3. Sanzoku chicken

Sanzoku chicken is a staple of Iwakuni, and it is named after Sanzoku-yaki, a Japanese traditional way to grill chicken. Sanzoku chicken is originated in Kuga, but there are some restaurants in Nishiki and Shuto serving this unique cuisine.
4. Bari soba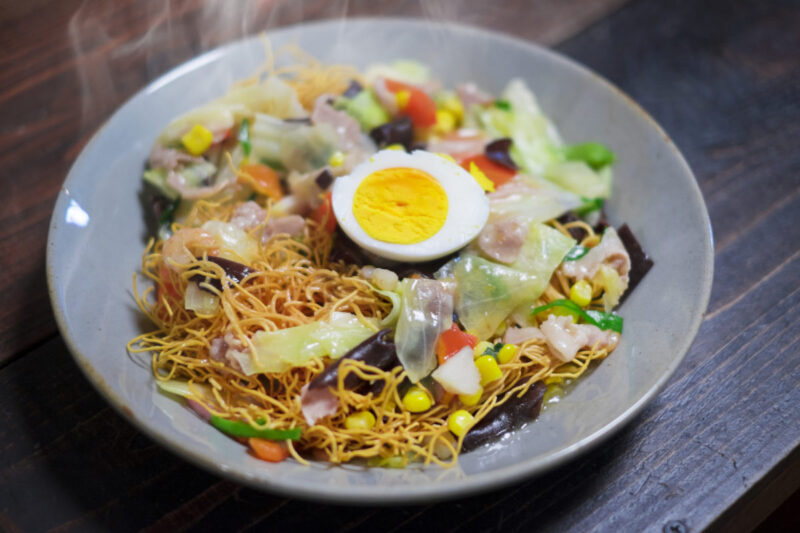 Bari soba is a deep-fried Chinese noodle topped with various vegetables, including cabbage, bamboo shoots, and shiitake mushrooms, which all are covered in a thick, chicken-based soup. Bari soba originated from a restaurant called 'Shuraiken' in Yamaguchi City.
5. Iwakuni Sushi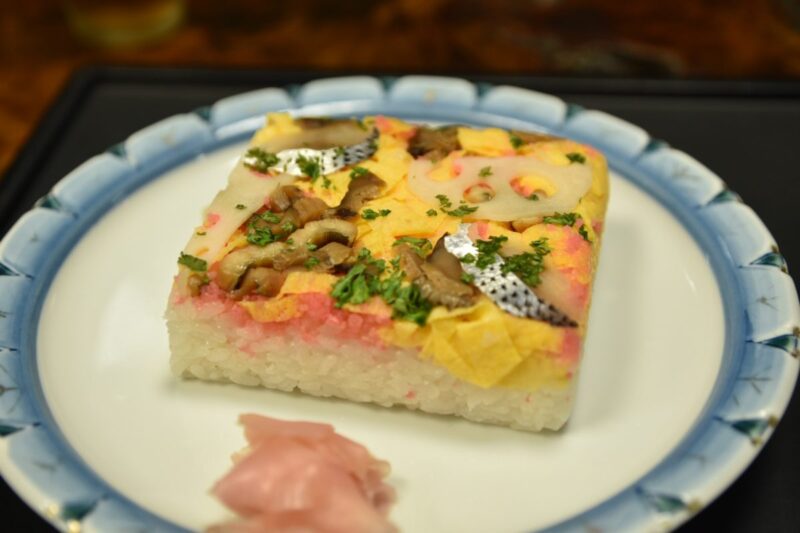 Unlike other sushi, Iwakuni Sushi doesn't have a slice of fish on top of it. It consists of four to five layers of sweet vinegar rice, which all are prepared and served all at once. The sushi is usually topped with flaked raw fish and thinly sliced eggs.
Now that you have an idea of how many fabulous spots are in Yamaguchi, all you have to do is plan your itinerary to enjoy unforgettable experiences in Yamaguchi!