10 amazing things to do in Shimane, Japan!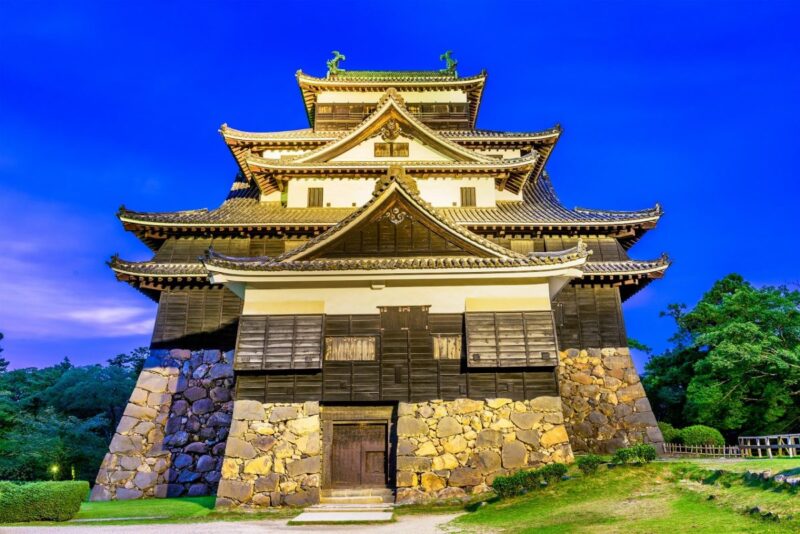 Shimane Prefecture is located on the beautiful island of Honshu in the Southwest of Japan. The prefecture is home to many wonderful sightseeing spots, and it's the prefecture to go if you're looking for off the beaten path travel experience.
Often overlooked by visitors in favor of its more famous neighbors, Shimane is home to Matsue Castle, a historical castle of Japan, and Izumo Taisha, one of the most significant shrines in Japan.
Brimming with culture, nature, and history, how about visiting Shimane to have both, an extraordinary, yet a relaxing adventure?
Index
How to get there
Shimane is accessible by rails, air, and highway buses. The prefecture is connected to Tokyo, Osaka, Hiroshima, and Fukuoka through the JR lines, airplanes, and night buses.
Getting to Shimane from Osaka is easy; hop onto one of the Okayama bound Shinkansen from JR Shin-Osaka Station, and transfer to the Super Yakumo Train at Okayama Station. It takes around 3.5 hours from Osaka to Shimane by train. If you're visiting from Tokyo, we suggest taking the airplane to save your time; a one-way trip takes around 2 hours.
Recommended sightseeing spots in Shimane
Shimane is perhaps best known for hosting Matsue Castle and Izumo Taisha, but the prefecture is actually home to far more than just these divine spots. The prefecture is packed with many beautiful historical spots and also several artistic Japanese gardens.
Blessed with many beautiful sightseeing spots, Shimane is a perfect weekend destination, especially if you want to escape from the hustle and bustle of big cities like Tokyo. The prefecture is also famous for its mouthwatering local treats such as warigo soba and akaten.
Here are our picks for the best things to do in Shimane, Japan!
1. Stare the beauty of a Japanese Garden at the Adachi Museum of Art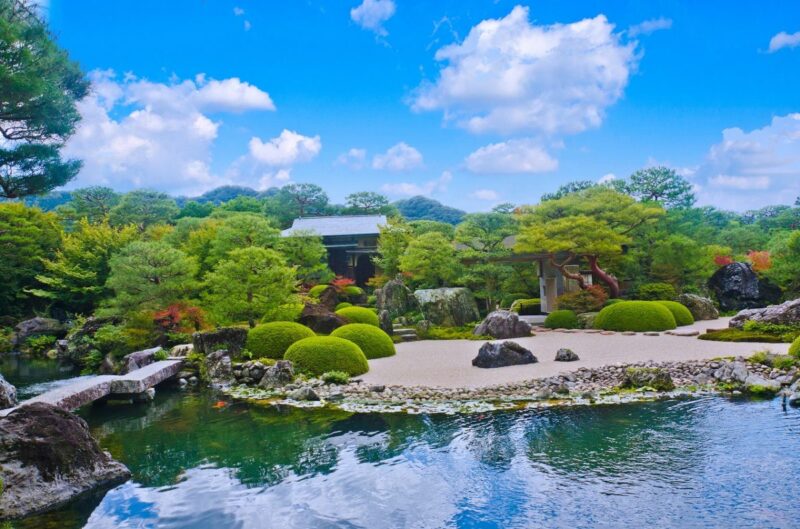 If you're a fan of Japanese architecture, you definitely need to stop by the Adachi Museum of Art to visit its garden, a marvelous Japanese garden with a huge pond. The garden was once told to be the best garden across Japan, and it is famous for its beautiful bonsai plants. There are two charming teahouses inside the garden, where you can enjoy authentic Japanese green tea and sweets.
Adachi Museum of Art
2. Explore Iwami Ginzan Silver Mine, a UNESCO World Heritage Site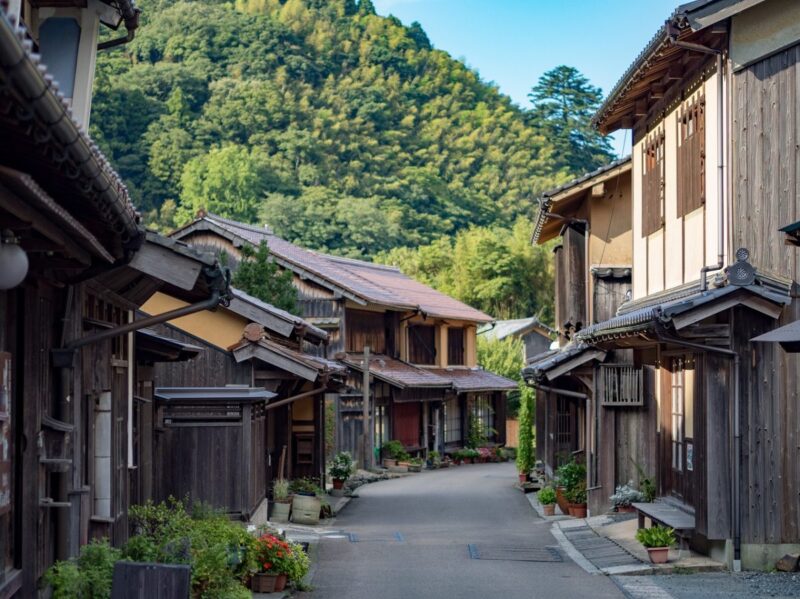 Iwami Ginzan Silver Mine was one of the most important silver mines in Asia, and it helped to initiate the development of other silver mines in the region and has been registered as a UNESCO World Heritage Site since then. On the way to the silver mines, you will find an old town called Omori Town, which was formerly used as the management hub for the mines, is now dotted with cafes and restaurants.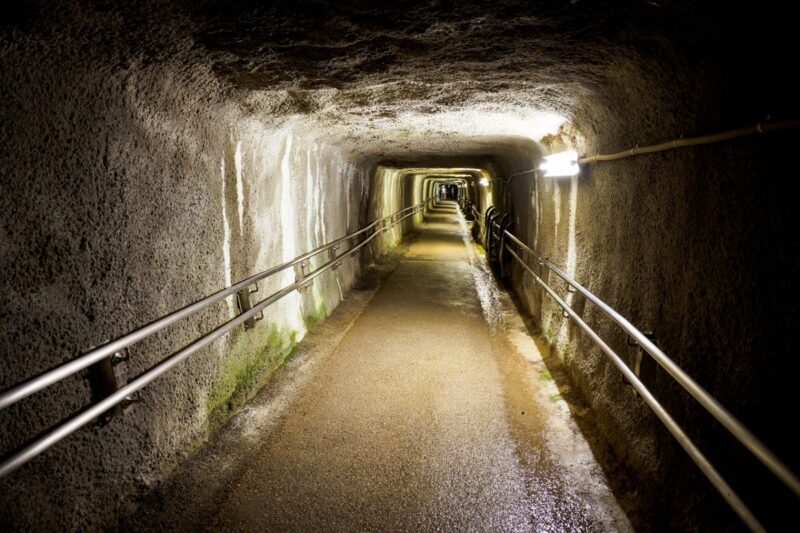 There are two mining tunnels that are open to the public, and museums displaying excavated mine items and tools that were used for mining.
Iwami Ginzan Silver Mine
3. Visit the tremendous Matsue Castle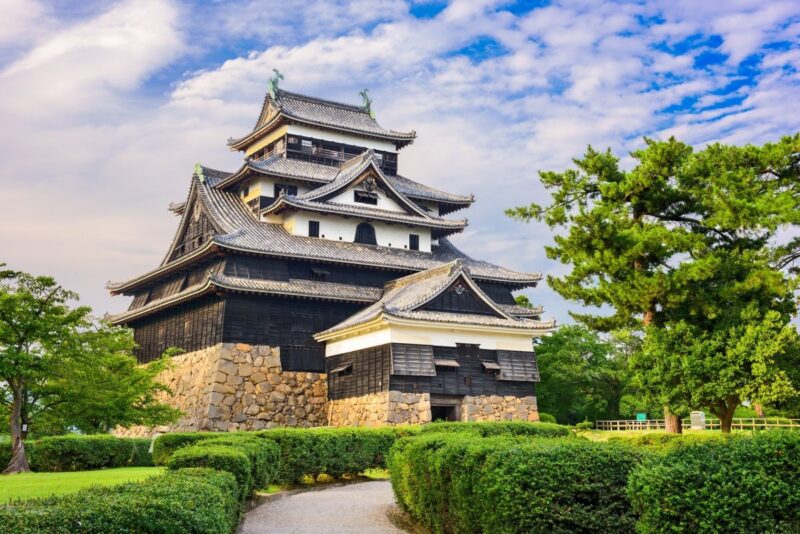 Matsue Castle is perhaps the most famous sightseeing spot in Shimane, and it is one of the original castles that still remain in Japan. Its history dates back to the early 1600s, and you can climb up to the highest level of the castle to see the fantastic view of the city for a small admission fee.
Matsue Castle
4. View the city from a Castle Moat using a sightseeing boat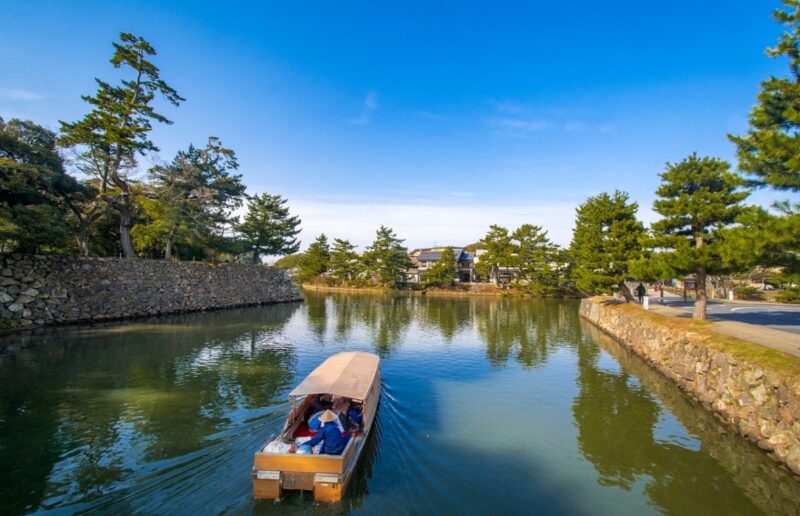 Matsue Castle is famous for its beautiful castle moat, and there are sightseeing boats that will take you around the moat and canals of the city. The tour is guided in Japanese, but it has English audio narration, which gives you explanations about the sights as you pass them by.
Horikawa Sightseeing Boat
5. Visit the historical Matsue Samurai Residence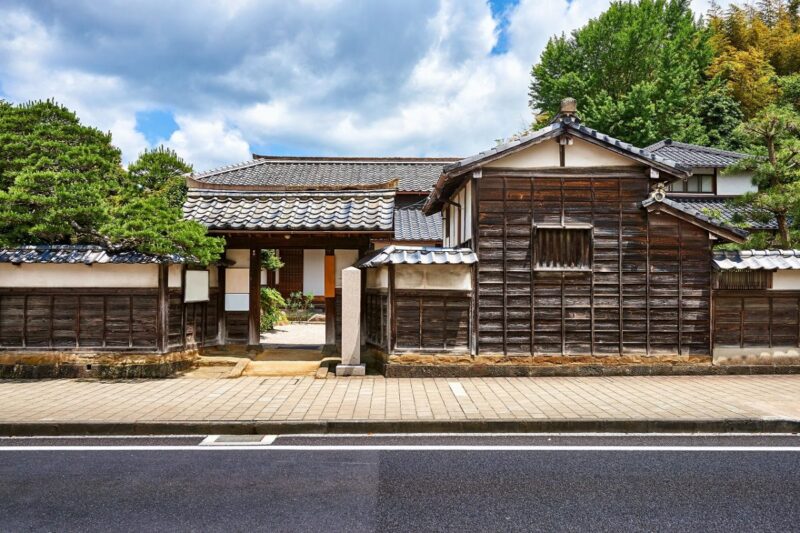 If you're a history nerd, visiting the Samurai Residence of Matsue must be added to your Shimane itinerary. The samurai residence is located not so far from Matsue Castle, and the area has been preserved to give you the idea of how some highly ranked samurai families would have lived in the past.
Matsue Samurai Residence
6. Pray at Izumo Taisha, one of the most significant shrines of Japan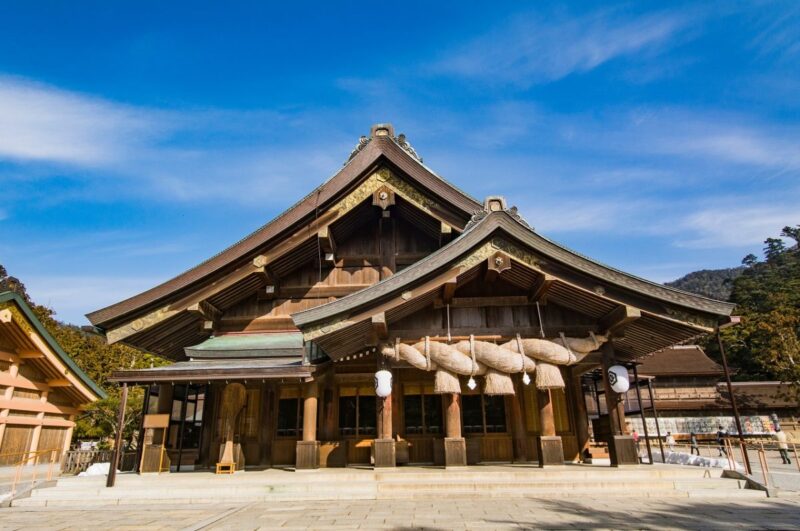 Izumo Taisha is known as one of the oldest and the most important shrines in Japan, and many people visit the shrines to pray for love and good fortune. You'll hear people clapping four times instead of the usual two when praying here – they're clapping once for themselves, and once for their current or prospective partners. Izumo Taisha shouldn't be overlooked if you're after a significant shrine to visit.
Izumo Taisha
7. Enjoy the views from Hinomisaki Lighthouse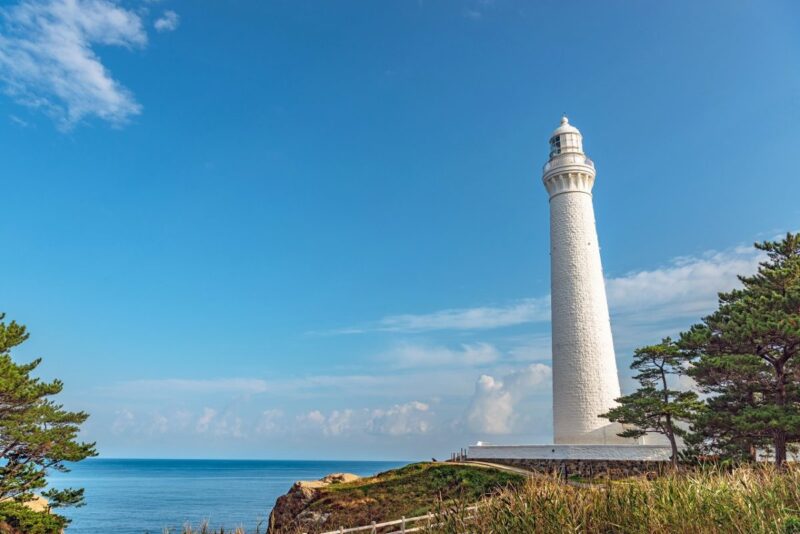 Hinomisaki Lighthouse sits on the Izumo Coastline and wast built in the early 1900s. The lighthouse is known as one of the tallest lighthouses in Japan, and you can climb up to the top of the lighthouse for a small admission fee, where you can stare at the beautiful ocean view of Izumo Coast. Near the lighthouse, there is a beautiful shrine called Hinomisaki Shrine.
Hinomisaki Lighthouse
8. Stop by Bentenjima, a unique shrine at Inasanohama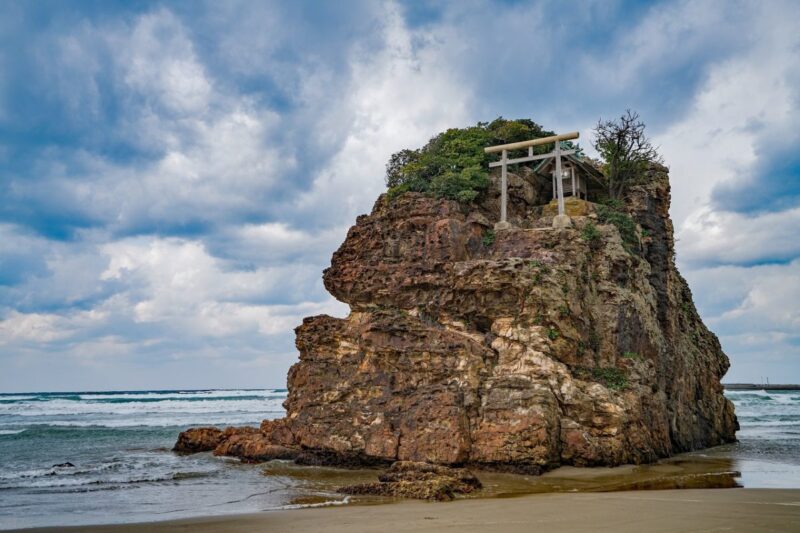 If you're looking for a beach with one of the most beautiful shrines in Japan, visiting Inasonahama is a must. Located not so far from Izumo Taisha, Inasonahama is a famous beach in Shimane that is best known for its one-of-a-kind shrine, Bentenjima. Bentenjima is a shrine that is located on top of a large rock pillar sitting in the water, and the shrine is known as home to a female sea deity, who watches over sailors and ensures their safety.
Bentenjima at Inasanohama
9. Enjoy Japan's four seasons at Yuushien Garden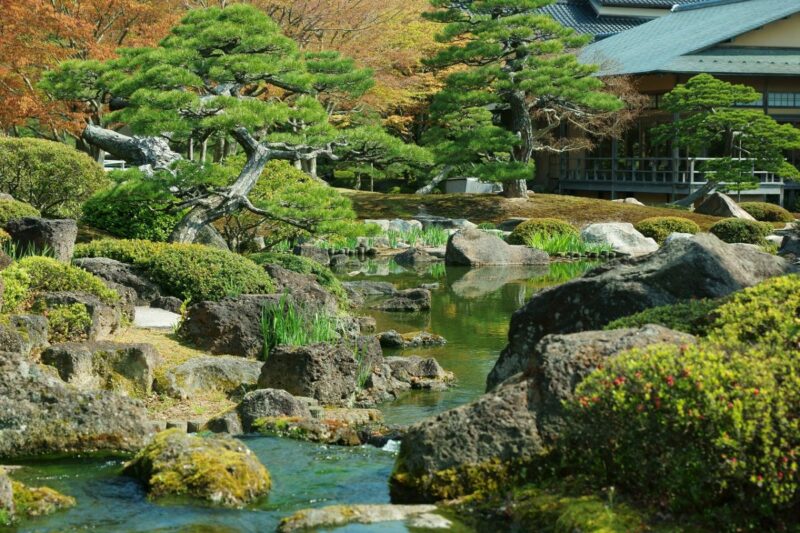 Yuushien Garden is one of the best Japanese gardens in Japan, and you can enjoy Japan's four seasons here, as it always has something to enjoy no matter which season you plan to visit. The garden is best known for its beautiful peonies in spring, and also for its breathtaking fall foliage.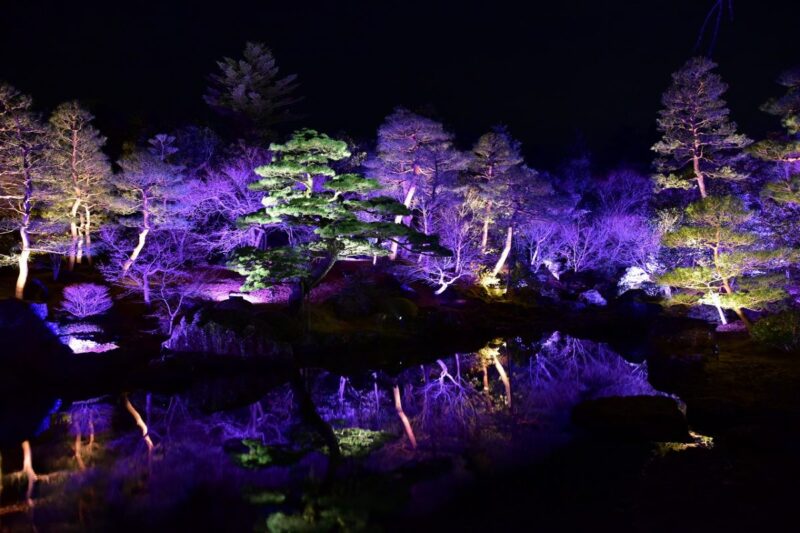 Yuushien Garden is also known for its year-end illumination, which will light up the whole garden with numerous projectors and LED lights, creating a mystical world.
Yuushien Garden
10. Relax at Tamatsukuri Onsen before calling it a day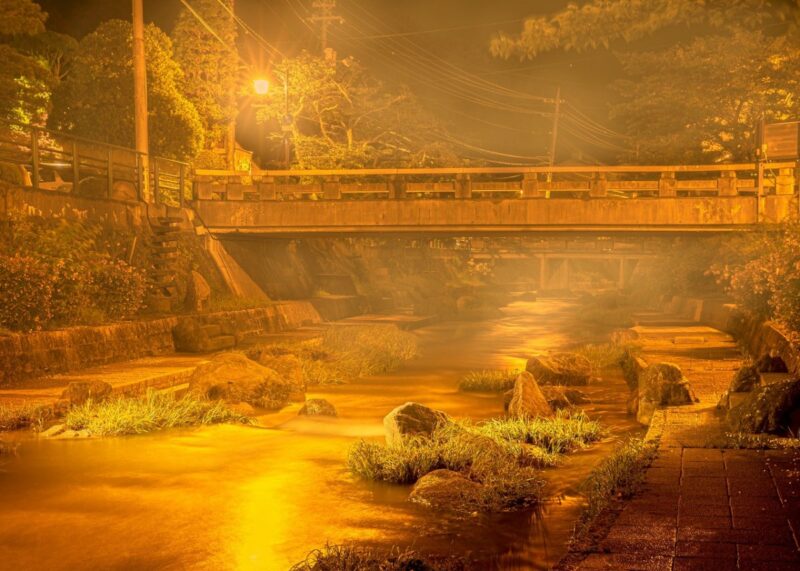 How about having some TLC at Tamatsukuri Onsen?
Tamatsukuri Onsen is a place to relax and pamper yourself, and the water of this hot spring is known for its great benefits for the skin – it is particularly known for its great moisturizing effect. There are numerous ryokan to stay there, but you can visit one of the bathing facilities if you don't have enough budget to spend the night there.
Tamatsukuri Onsen
Shimane's best local treats
Many tourists visit Shimane for its unique cuisine, which tastes delicious and has many varieties. There are plenty of stalls and small shops where you can get delicious treats to snack on around the prefecture. Shimane is best known for its warigo soba, but there are many more scrumptious local treats await in the prefecture. Here are our picks for the best foods to try when visiting Shimane!
1. Warigo soba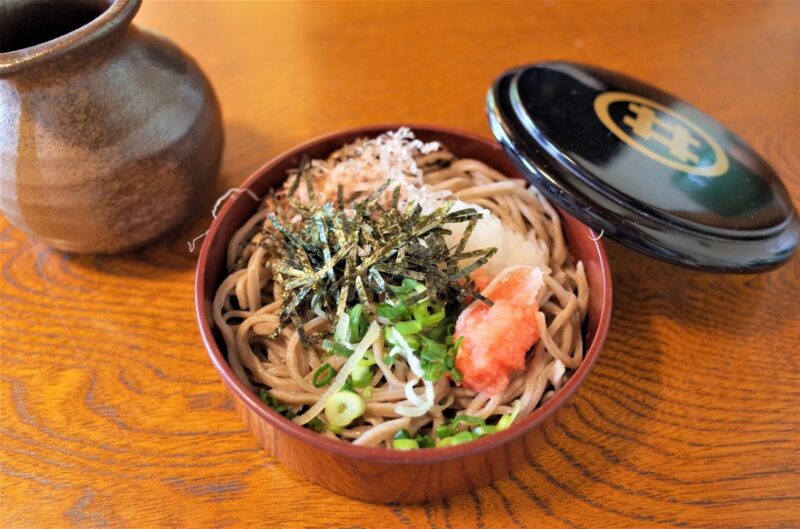 Warigo soba is a staple food in Izumo, and what makes this soba unique is its presentation. Warigo soba is served in three lacquer boxes with the sauce poured on top. The toppings are usually served separatey, and you can adjust the amount of the topping as you wish.
2. Akaten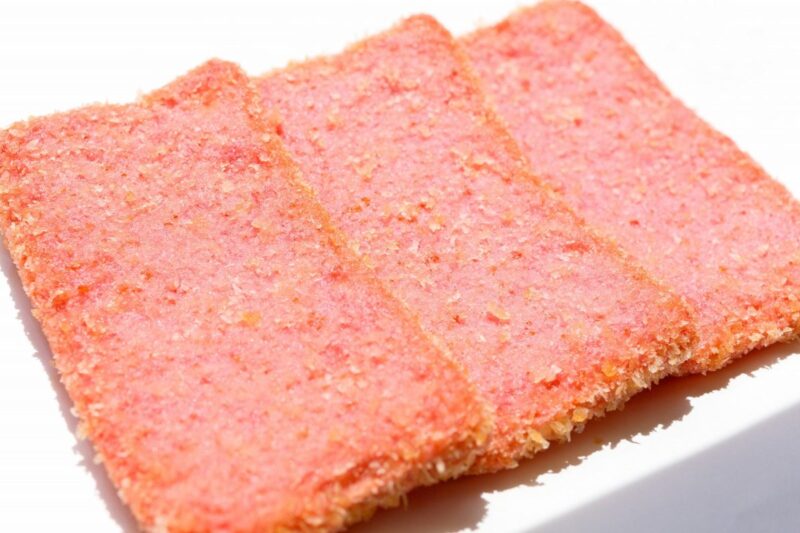 Akaten is a spicy deep-fried kamaboko (fish cake) originated from Hamada, Shimane. Akaten is made with pureed deboned whitefish and chili powder, and you can purchase them from the stalls and the small shops across Hamada City.
3. Shijimi miso soup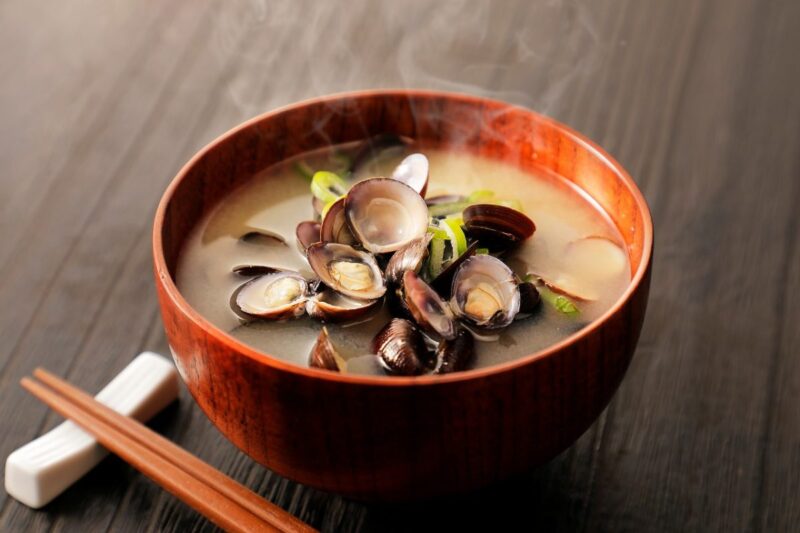 Shimane is famous for its high-quality shijimi (freshwater clams), and shijimi miso soup is made of shijimi broth, soy sauce, and miso paste. The dish originated in Shimane, and it is perhaps one of the most loved local dishes in Shimane as it's not only affordable but simple at the same time.
4. Nodoguro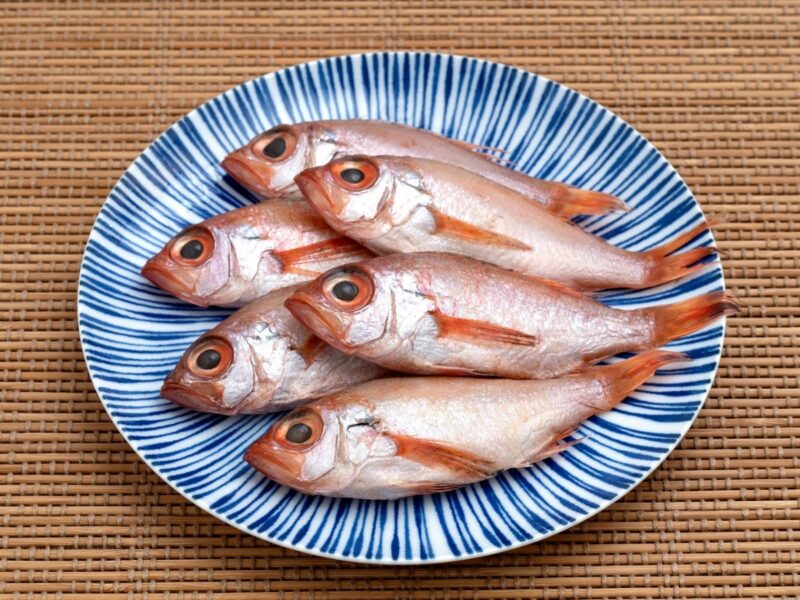 Nodoguro indeed is not so popular in Japan, but the fish is best known for its fatty and sweetmeat. Nodoguro can be caught off the coast of Shimane and Yamaguchi, and it has delicious white meat that can be served in various ways, but it tastes best when grilled or steamed.
5. Persimmon
Shimane is famous for its juicy and sweet persimmons produced in Saijo. The variety of this persimmon is called Kozuchi, and it is known for its excellent flavor and amazing texture. Rarely found in other prefectures, make sure you try Kozuchi if they're in season!
Now that you have an idea of how many fabulous spots are in Shimane, all you have to do is plan your itinerary to enjoy unforgettable experiences in Shimane!