10 amazing things to do in Osaka, Japan!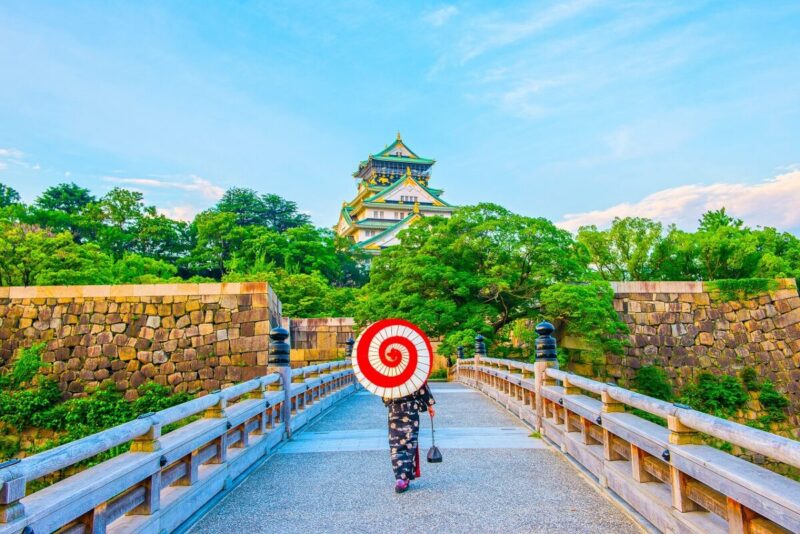 Osaka is known as the capital city of Western Japan, and the second largest city in Japan after Tokyo. This prefecture attracts visitors from all around the world with its amazing tourist destinations, and together with Tokyo and Kyoto, Osaka is one of the three must-visit destinations in Japan.
There are tons of tourist attractions in Osaka, including its trendy shopping streets, amazing fish market, modern skyscrapers, and sea aquarium. This prefecture is also famous for having many great spots for savory treats like Takoyaki, Okonomiyaki, and Kushikatsu.
Brimming with interesting tourist destinations and mouthwatering local treats, how about visiting Osaka to have both, an extraordinary, yet a novel adventure?
Index
How to get there
Osaka Prefecture is easily accessible by trains, bus, and airplanes, and the main transportation hubs in Osaka is the JR Shin-Osaka Station and Umeda Station.
It takes around 2 to 4 hours to travel from Tokyo to Osaka with the JR Tokaido Shinkansen trains, and it costs around 15,000 yen one-way, and the fare is covered by the JR Pass.
The main airports in Osaka are Itami Airport and Kansai Airport, and the regular fare for one-way trip using conventional airlines is around 26,000 yen, but some LCC aircrafts offer cheaper fare ranging from 4,500 yen to 15,000 yen one-way.
Recommended sightseeing spots in Osaka
Osaka is in the island of Honshu and is particularly known as the capital of West Japan. Unlike its neighboring prefecture, Kyoto, Osaka is not so traditional and as not as picturesque, but this prefecture is packed with many interesting tourist destinations like Kuromon Market, Osaka Aquarium, and Momofuku Ando Instant Ramen Museum.
The prefecture is also known as one of the best gourmet spots in Japan, and some of the local treats you can try when visiting Osaka are Okonomiyaki, Takoyaki, Tecchiri, and Kushikatsu.
Ready to take yourself to journey? Here are our picks for the best things to do in Osaka, Japan!
1. Explore Shinsekai for its local treats and entertainment!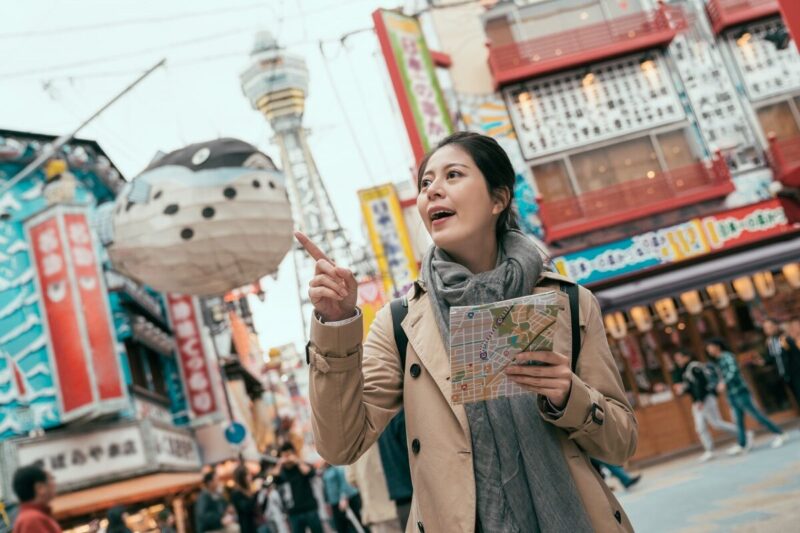 Shinsekai is one of the most crowded shopping districts in Osaka, and it is best known as an old downtown area of Osaka, with strong nostalgic, post-war atmosphere. Packed with colorful and retro establishments, this area has become one of the most popular photo spots in Osaka.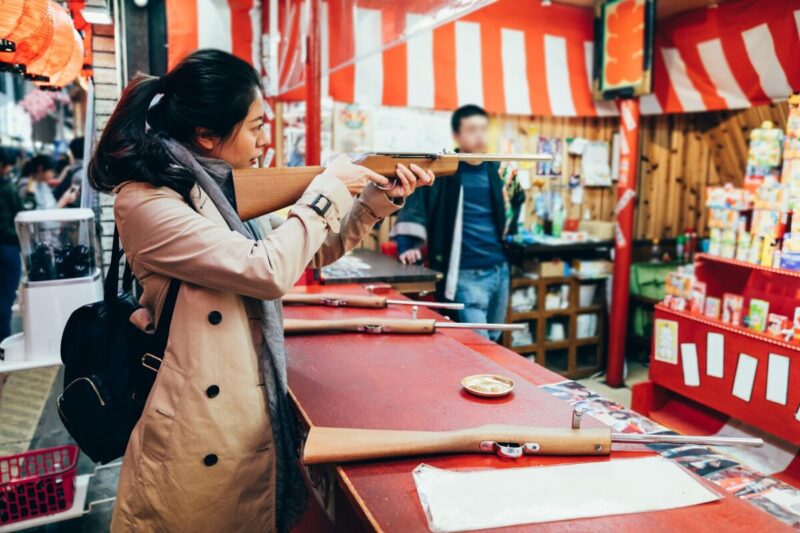 In Summer, you will be able to find stalls offering Osaka's festival foods and festival games, like "shatekiya", a shooting game with interesting prizes.
Shinsekai
Google Map
2. Enjoy fresh seafoods at Kuromon Market!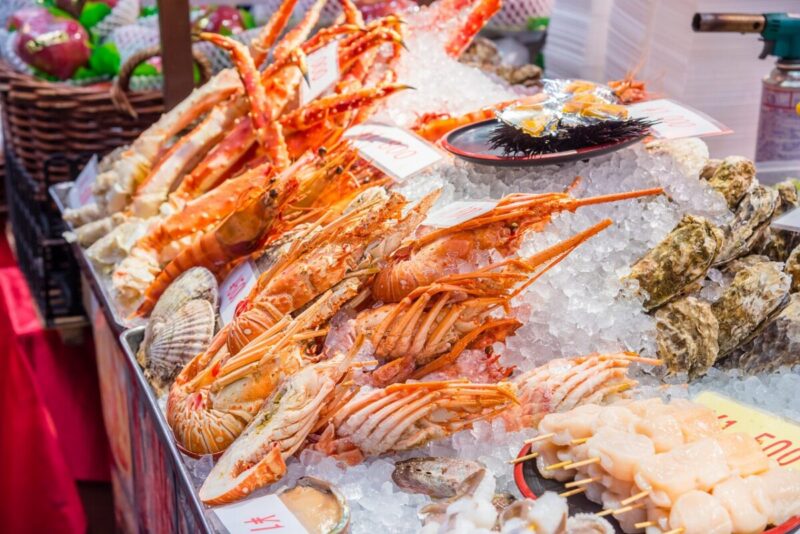 Kuromon Market or Kuromon Ichiba, is one of the largest markets in Japan that has approximately 180 stores in it. The market has been serving the community for over 190 years, and it is particularly known as "Osaka's Kitchen", as a wide variety of food products can be purchased from this market, starting from fresh seafoods to dried groceries.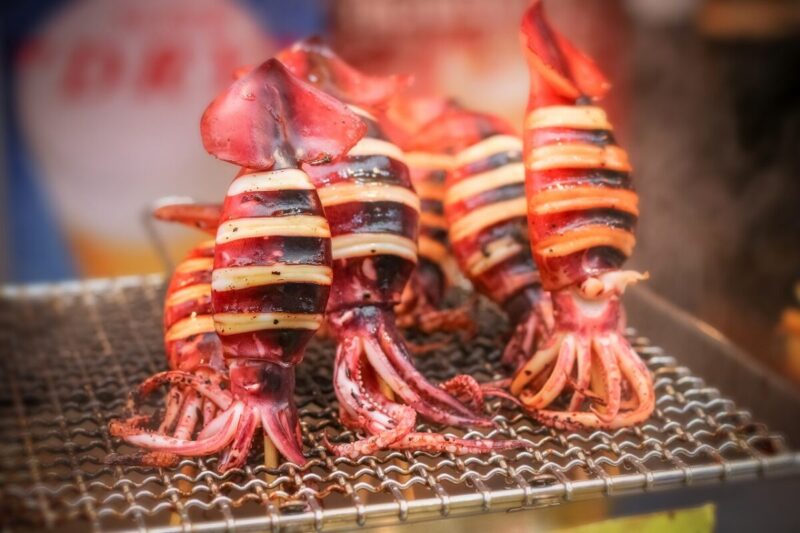 Kuromon Market is where to head if you want to enjoy authentic street foods of Osaka, like takoyaki, okonomiyaki, kushikatsu, and of course grilled squid!
Kuromon Market
Business hours
Google Map
3. Take a ride on Tempozan Ferris Wheel and enjoy its scenic view!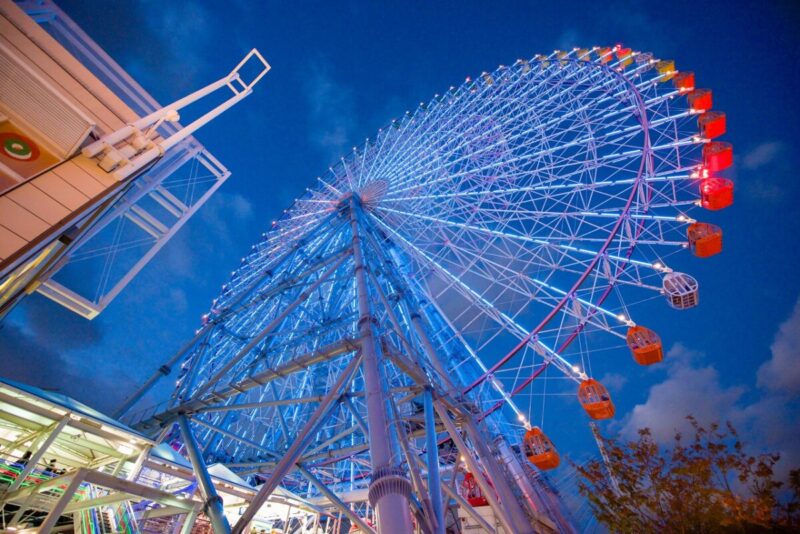 Tempozan Ferris Wheel is known as one of the largest Ferris Wheels in Japan, with a height of 112.5 m and a diameter of 100 m. The Ferris Wheel is in the Tempo Harbor Village, next to the famous Osaka Aquarium (Kaiyukan), and you can stare at the view of Osaka City, including Mt. Ikoma, Akashi Kaikyo Bridge, the floating Kansai International Airport, and also Rokko Mountain.
Tempozan Ferris Wheel
Business hours
Admissions
Google Map
4. See the adorable sea creatures at Osaka Aquarium (Kaiyukan)!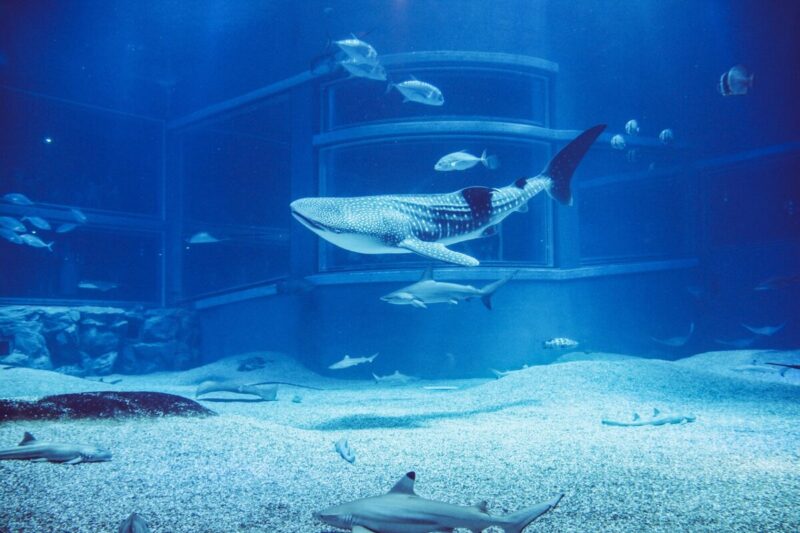 Osaka Aquarium, or known as Kaiyukan, is considered as one of the biggest aquariums in both, Japan and the world. The aquarium features over 500 marine species such as whale shark, penguins, dolphins, sea lions, and more. This aquarium is in the Tempozan Harbor Village of Osaka's bay area, and it is best known for its great whale shark.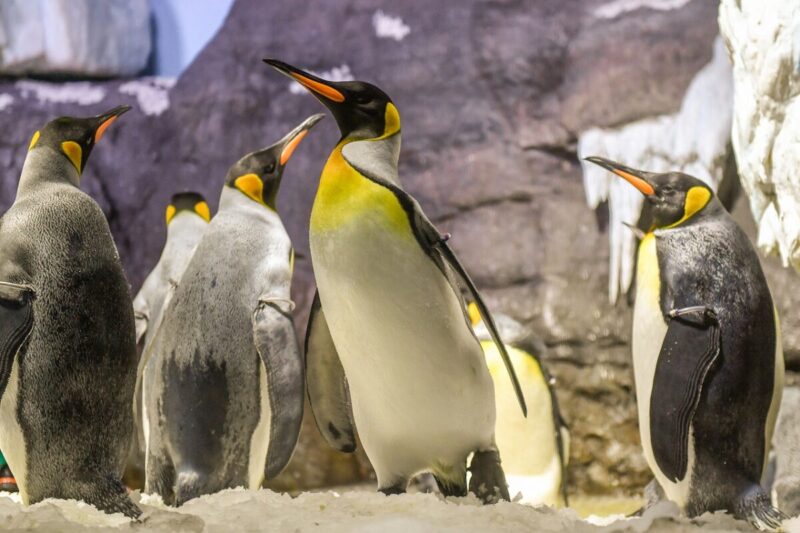 There are 15 fish tanks in the aquarium, including the one with 34m x 9m size that holds a wide variety of fish, including manta rays and two whale sharks. You can also see the sea creatures from up-close, and touch some of them at the interactive exhibition.
Osaka Aquarium (Kaiyukan)
Business hours
weekdays : 10:00 – 19:00

weekends and holidays : 9:30 – 19:00
Admissions
age 16 & above : 2,400 yen

elementary and junior high school students : 1,200 yen

age 3 & above : 600 yen

age 65 & above : 2,200 yen
Google Map
5. Stop by one of the tallest buildings in Osaka, Umeda Sky Building!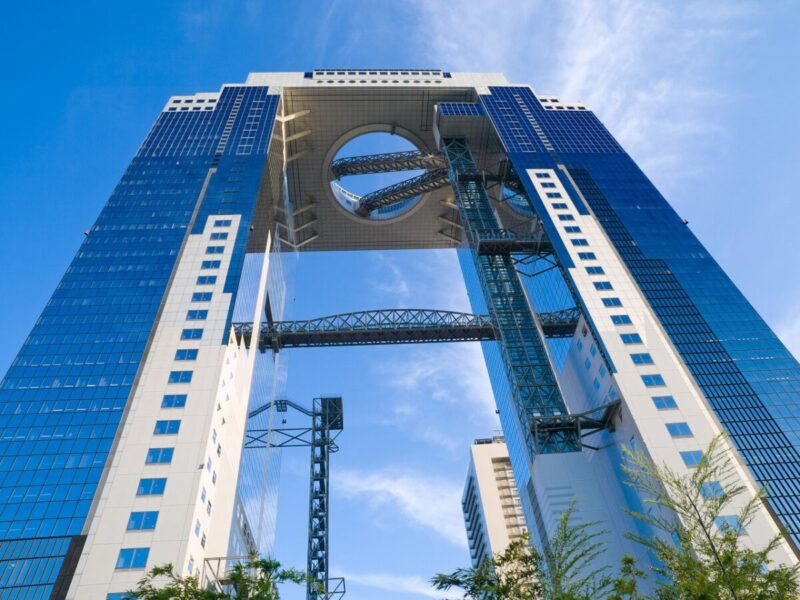 Umeda Sky Building is a skyscraper office building in Kita district of Osaka, particularly near Osaka and Umeda Stations. The building is best known for its spectacular observatory, and for its unique architecture.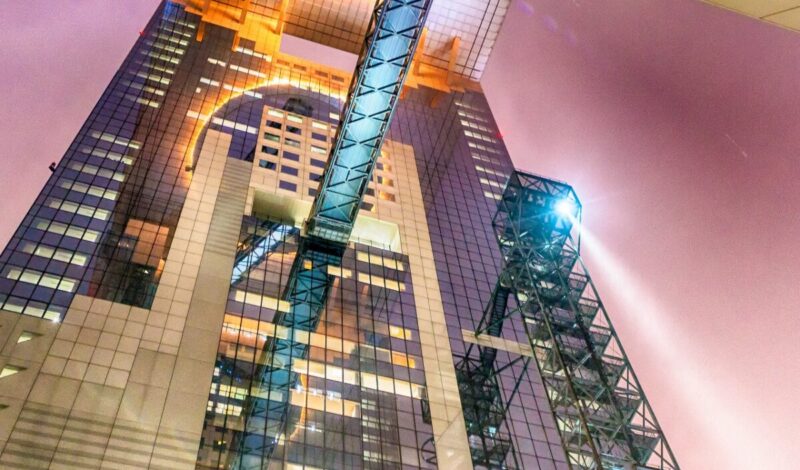 Umeda Sky Building has unique shape and structure, and it has an observatory called "Kuchu Teien", which literally means the floating garden, that is at 173 metres high. You can enjoy a 360 degree panoramic view of the city, and the best time to visit the building is during the night time, when all buildings in Osaka are lit up with colorful lights.
Umeda Sky Building 
Business hours
Admissions
age 12 & above : 1,500 yen

age 4-11 : 700 yen
Google Map
6. Pray for a good fortune at Sumiyoshi Shrine!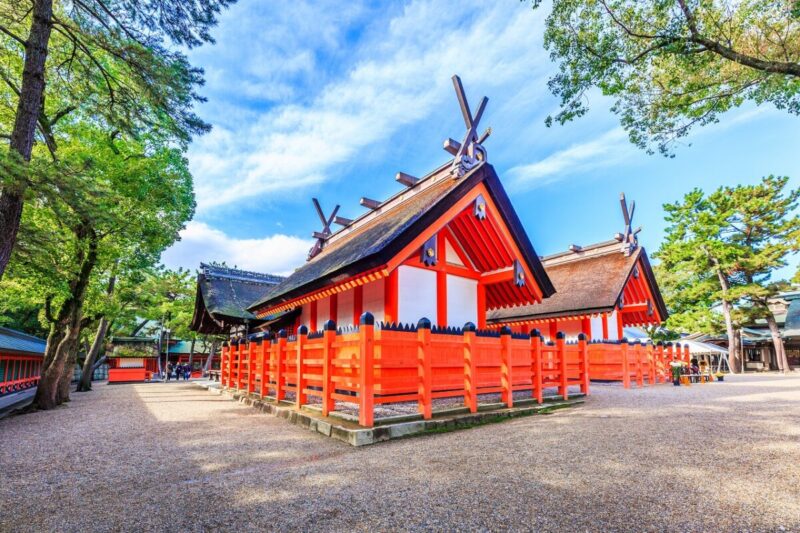 Sumiyoshi Grand Shrine is known as one of the oldest Shinto shrines in Osaka, and in wider Japan. The shrine was built over 1,900 years ago and it is said to be one of the most beautiful Shinto shrines.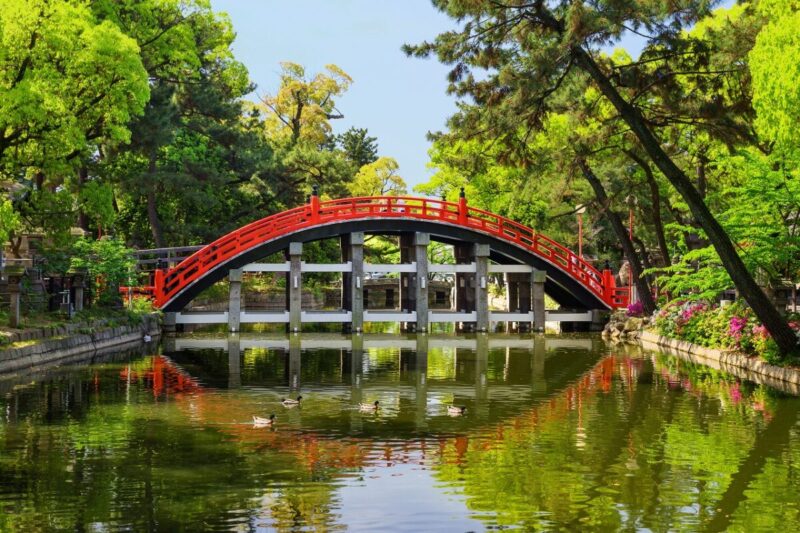 In addition to the gorgeous shrine, there is also a beautiful Japanese garden with a red bridge that stretches over a glassy pond.
Sumiyoshi Grand Shrine
Google Map
7. Enjoy the view of city from Abeno Harukas!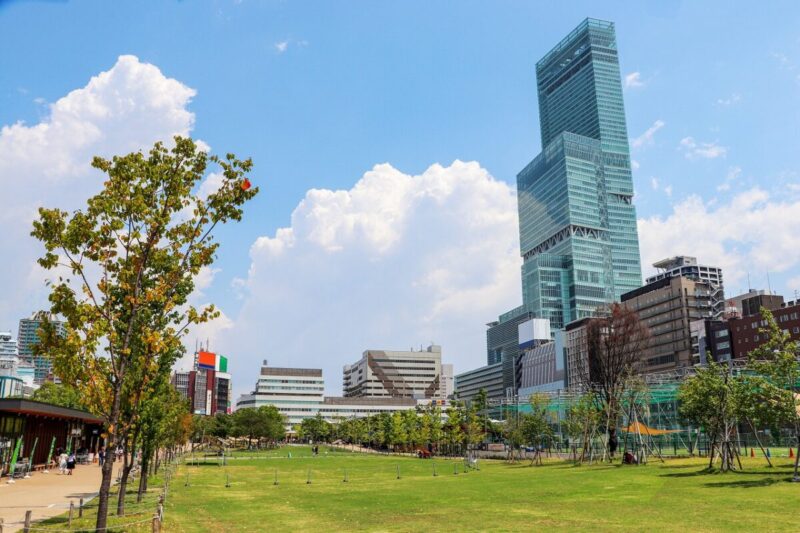 Abeno Harukas is a multi-functional commercial building in Osaka that opened in 2014, and it accommodates shops, restaurants, museum, and offices in it. This building also functions as a hotel, and now it is known as one of the most popular landmarks in Osaka, being the tallest building in the city.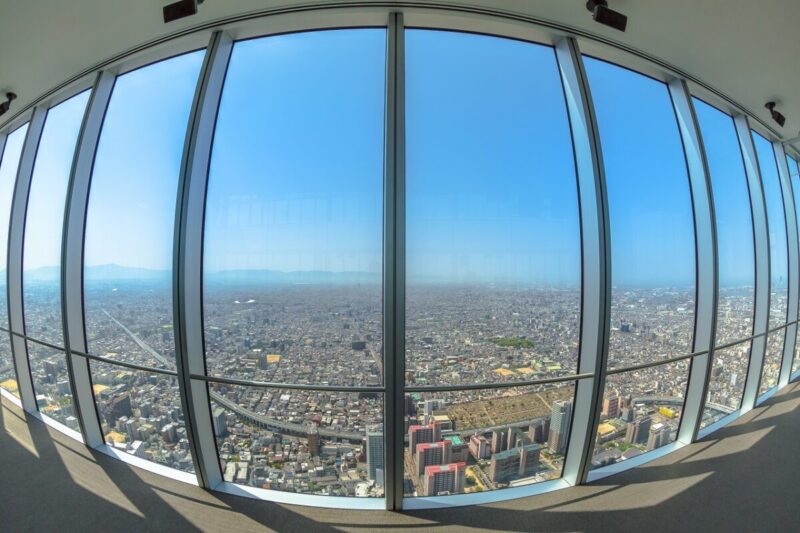 Abeno Harukas has an observatory called "Harukas 300", which is located on the 58th – 60th floors. From the observatory you can capture the whole view of Osaka City from its tall windows.
Abeno Harukas
Business hours
Google Map
8. Find your "Zen" at Shitennoji Temple!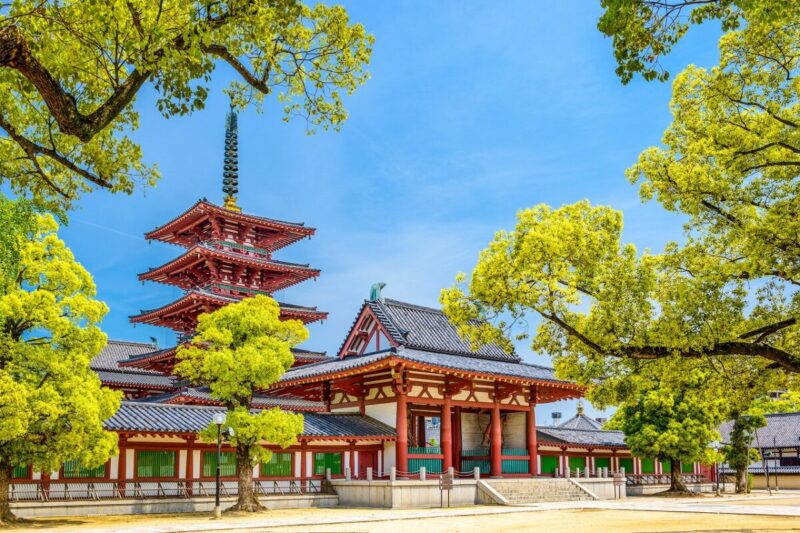 Shitennoji Temple is one of the oldest temples in Japan, as it was founded by Prince Shotoku in 593, and was said to be the first Buddhist temple in Japan. This temple was destroyed in World War II, but later it was rebuilt to the current structures.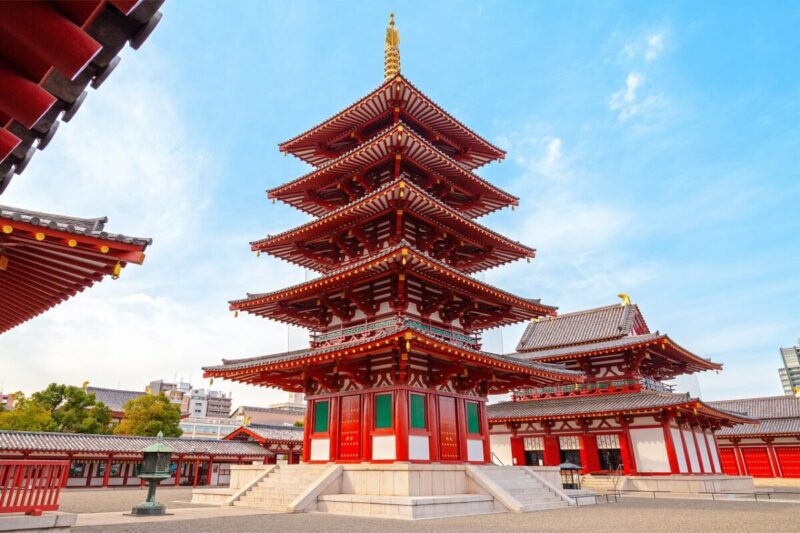 Shitennoji Temple is best known for its vibrant five-story pagoda, and also for its beautiful Japanese garden called "Gokuraku-jodo Garden".
Shitennoji
Business hours
Google Map
9. Stop by Osaka Castle, one of the most iconic spots in Osaka!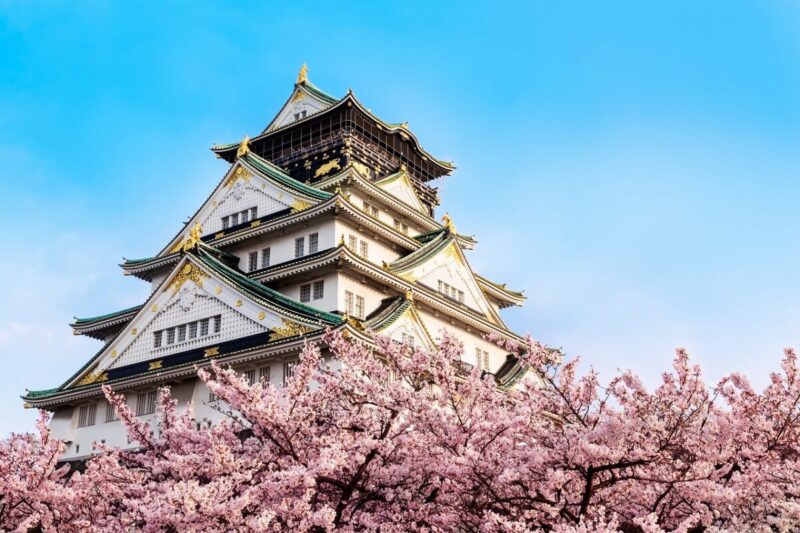 Osaka Castle a symbol of the Prefecture, and it is considered as one of the greatest castles in Japan. The castle was built in 1583 by Hideyoshi Toyotomi, one of the most famous warlords in Japanese history. This castle is within the Osaka Castle Park, and the castle is famous for its breathtaking seasonal views.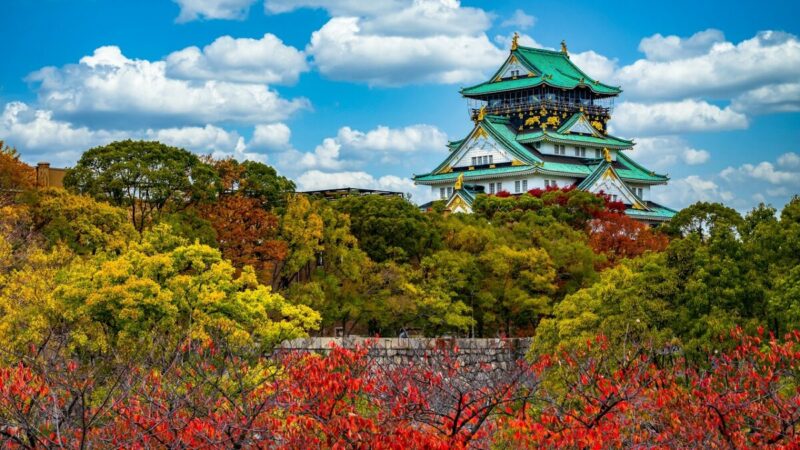 The best time to visit Osaka Castle is in Spring, when the cherry blossoms are in full bloom, or in fall, when the leaves surrounding it turn to red and gold. If you get into the castle, you'll be able to see a collection of weapons and artwork.
Osaka Castle
Business hours
Admissions
Google Map
10. Have some fun at Momofuku Ando Instant Ramen Museum!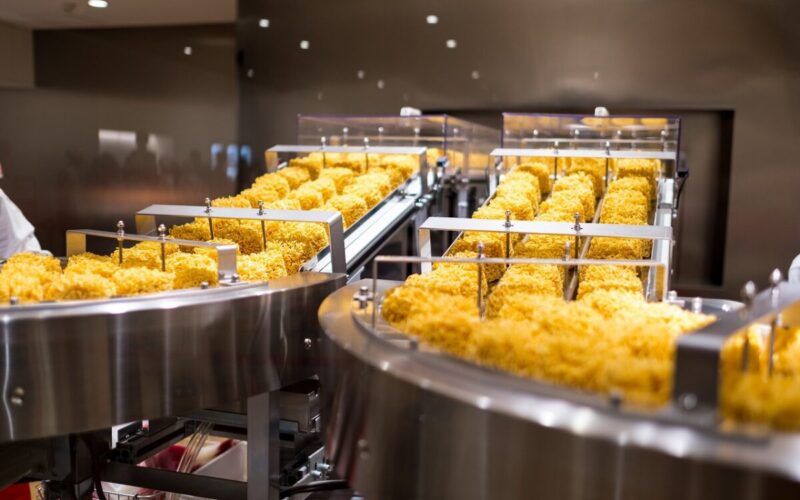 One of the most interesting attractions in the city is the Momofuku Ando Instant Ramen Museum, which was built and dedicated to the instant noodles.
Inside the museum, you'll find many interesting things like a statue of Momofuku Ando, the inventor of instant noodles, and also a mini factory that produces instant noodles.
Momofuku Ando Instant Ramen Museum
Business hours
Closed on Tuesdays, year-end, and New Year holidays
Admissions
Google Map
Osaka's best local treats
Osaka is known as one of the best destinations for food, and basically if you visit Osaka, you're expected to do "kuidaore", or "eat til you drop". There is famous for its local treats, especially for Takoyaki and Okonomiyaki, which can be considered as two of the most famous local treats of Osaka.
Looking to fill your tummy with Osaka's amazing local treats? Here are our picks for the best foods to eat when visiting Osaka!
1. Okonomiyaki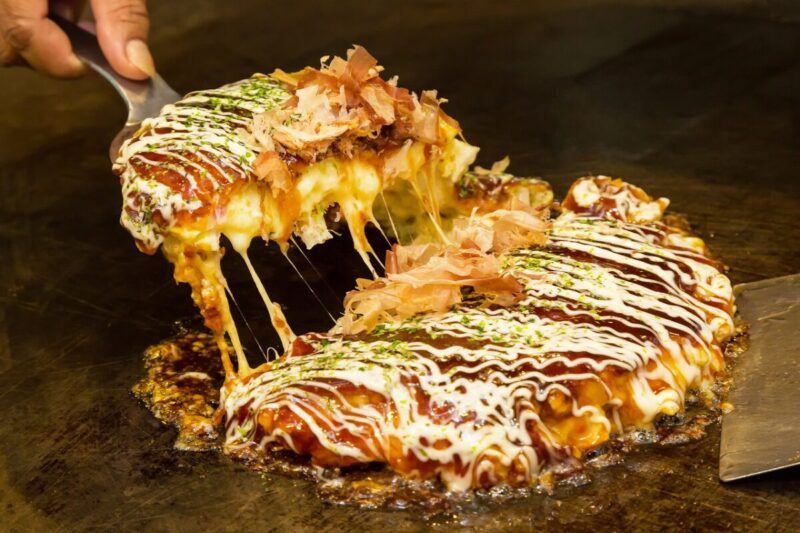 Okonomiyaki is a thick savory pancake made with various ingredients like cabbage, shrimp, and pork belly, which are cooked in a batter and topped with okonomiyaki sauce, mayonnaise, katsuobushi (dried bonito shavings), and seaweed powder. Okonomiyaki is originated in Osaka, and you can find okonomiyaki made of different fillings there, including dried shrimp, kimchi, chese, potato, and mochi.
2. Kushikatsu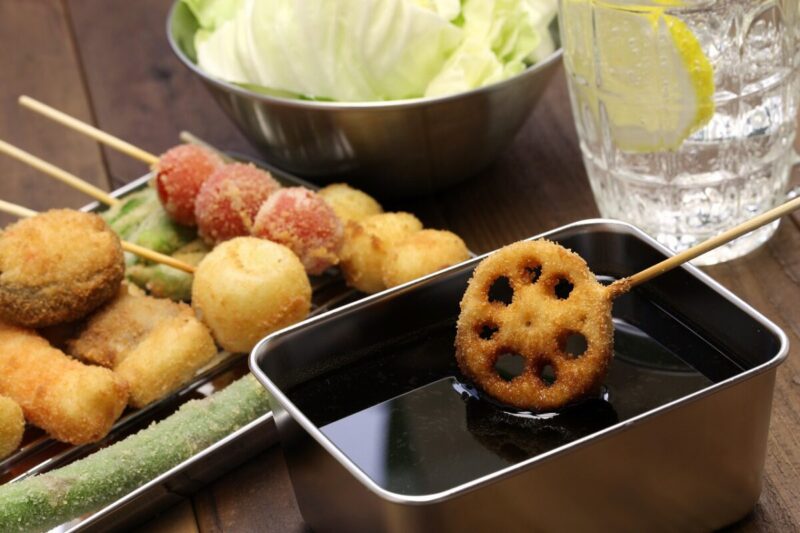 Kushikatsu are made of various meats and vegetables that are breaded, skewered, and deep fried. In addition to meat and vegetables, other ingredients like fish, seashells, and even fruits like strawberries are used. Kushikatsu are eaten hot in a thick dipping sauce, and double-dipping is strictly prohibited!
3. Takoyaki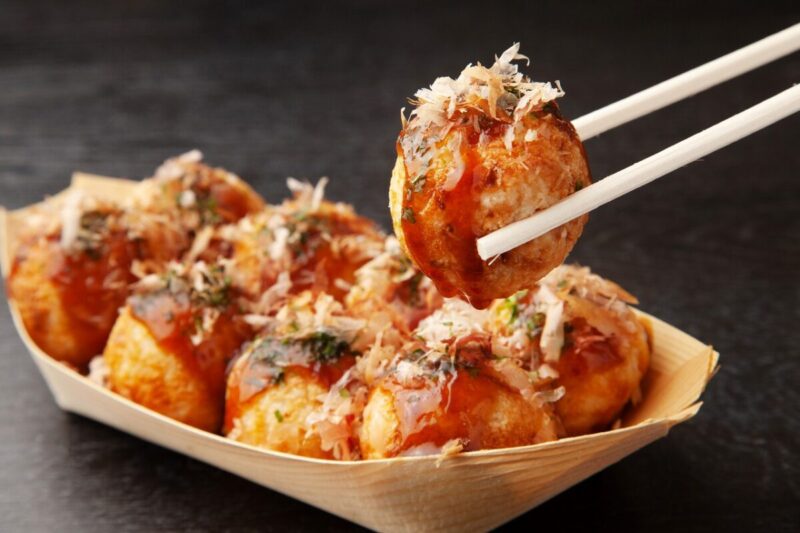 Takoyaki is one of the most popular local treats of Osaka, and they are basically octopus cooked into balls or fried batter and topped with sweet takoyaki sauce, mayonnaise, bonito flakes, and pickled ginger. They can be found at the food stalls in the festivals, and sometimes cheese is used as fillings too.
4. Tecchiri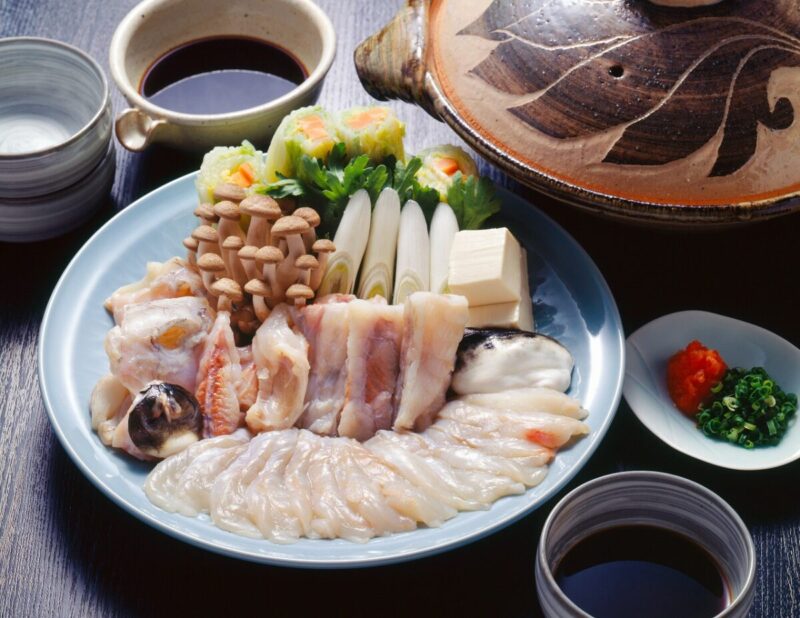 Tecchiri is a hotpot dish made with fugu, the Japanese pufferfish, which can be poisonous if prepared improperly. A specially trained, and licensed chef prepares tecchiri by boiling fugu and vegetables in mild broth.
5. Horumonyaki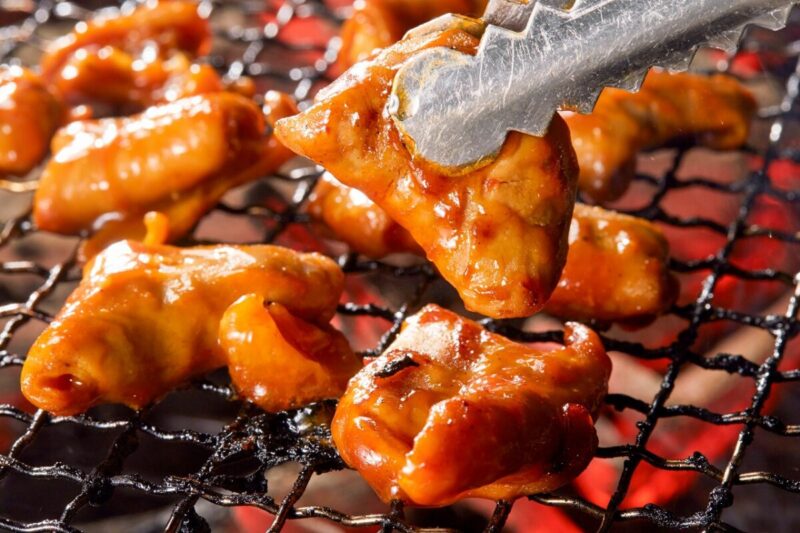 Osaka is a home to Horumonyaki, which is a barbecue dish involving beef or pork offal. Horumonyaki has distinct texture and strong flavors, and Japanese people, especially Osaka citizens, love enjoying horumonyaki with a glass of cold beer.
.
Now that you have an idea of how many fabulous spots are in Osaka, all you must do is plan your itinerary to enjoy unforgettable experiences in Osaka!