Best fall foliage spots in Kanagawa
Best fall foliage spots in Kanagawa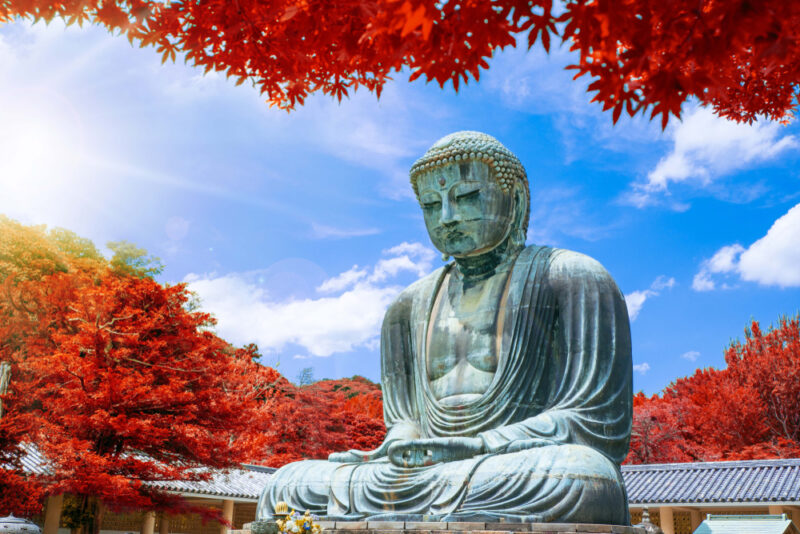 In addition to its beautiful cherry blossoms in spring, fall foliage is another reason for tourists to visit Japan, particularly for enjoying Kōyō (紅葉) and Momiji (紅葉) every year.
Although both are written in the same Chinese characters, Kōyō refers to foliage with red and yellow colors, while Momiji specifically refers to the spectacular view of red maple leaves in fall.
Kanagawa is a prefecture located near Tokyo and has many interesting tourist attractions, so in the Fall season, this place gives us various beautiful sceneries that attract travelers around the world.
The fall foliage in Kanagawa usually is at its peak from late November, and this feature will introduce some of the best spots in Kanagawa where you can enjoy fall foliage.
Index : Best fall foliage spots in Kanagawa
1. Sankeien Garden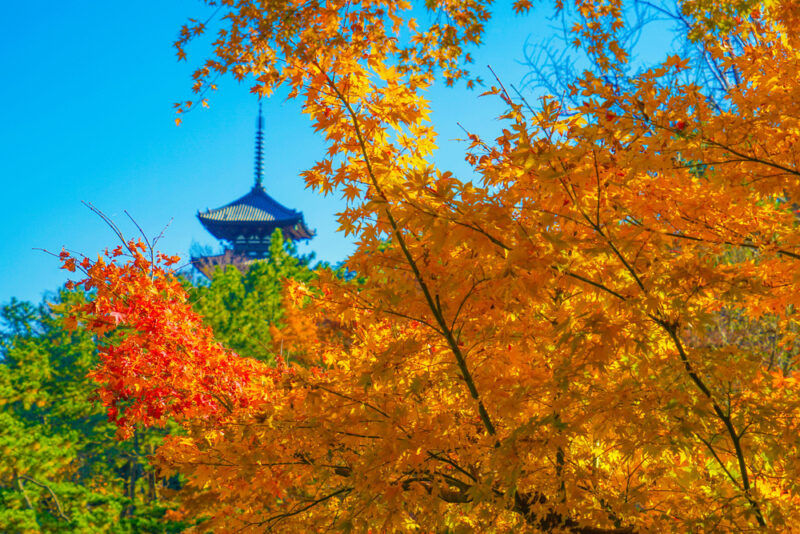 Sankeien Garden (三渓園) is a traditional Japanese garden in Naka-ku, Yokohama, and it is best known for its gorgeous seasonal views, particularly for dainty pink cherry blossoms in spring and deep red maple leaves in autumn.
The tremendous garden covers over 175,000 square meters in total, and features beautiful ponds, small rivers, seasonal flowers, plants, walking trails, tea houses, and historical buildings.
The garden is a popular location for photoshoots including wedding photos, and there is also a rest house in the middle of the garden, where you can try seasonal limited wagashi (Japanese traditional sweets) and authentic Japanese green tea.
2. Hasedera Temple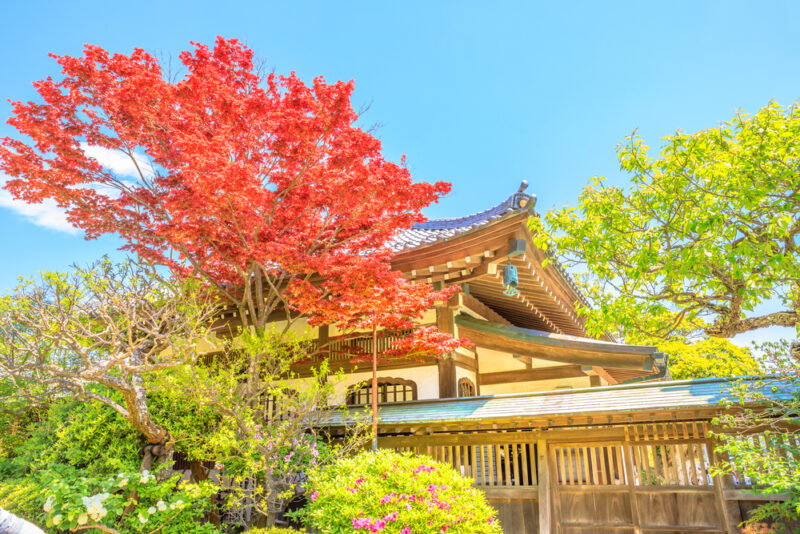 Hase Temple, or Hasedera (長谷寺) is a temple in Kamakura, Kanagawa. The temple was founded in the 8th century, and it is one of the most popular tourist spots in this area.
Hasedera Temple is located on the top of a hill, and it features a gorgeous Japanese garden with maple trees and is surrounded by beautiful nature. In the fall season, you can enjoy the view of this historical temple and colorful autumn leaves, including the special light attractions at night.
The best time to visit this temple is from late November to early December.
3. Tanzawa Lake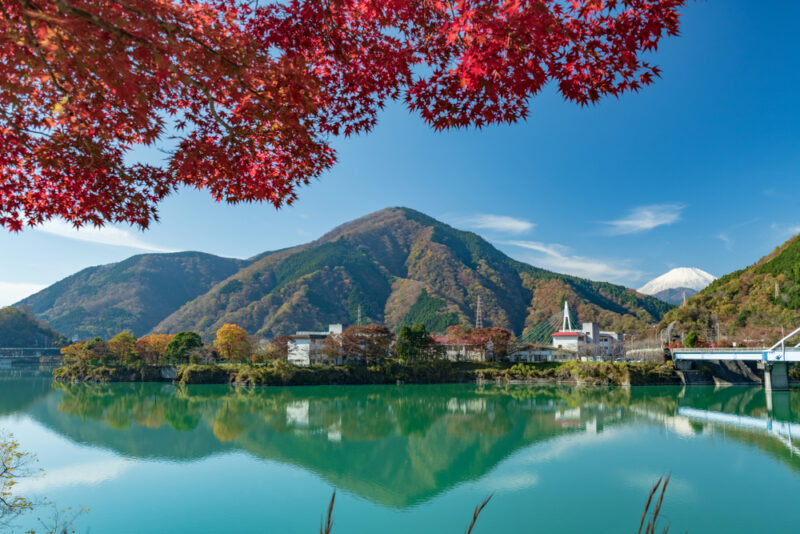 Tanzawa Lake, or Tanzawa-ko (丹沢湖), is a lake in Yamakita town, stretching to the east of Mt. Fuji. This lake is a part of the Tanzawa-Ōyama Quasi-National Park, and it was created during the construction of Miho Dam.
Tanzawa Lake is included as one of the 50 scenic spots in Kanagawa. The red maple leaves and the blue lake contrast with each other, offering you an authentic view of Japanese autumn.
4. Meigetsuin Temple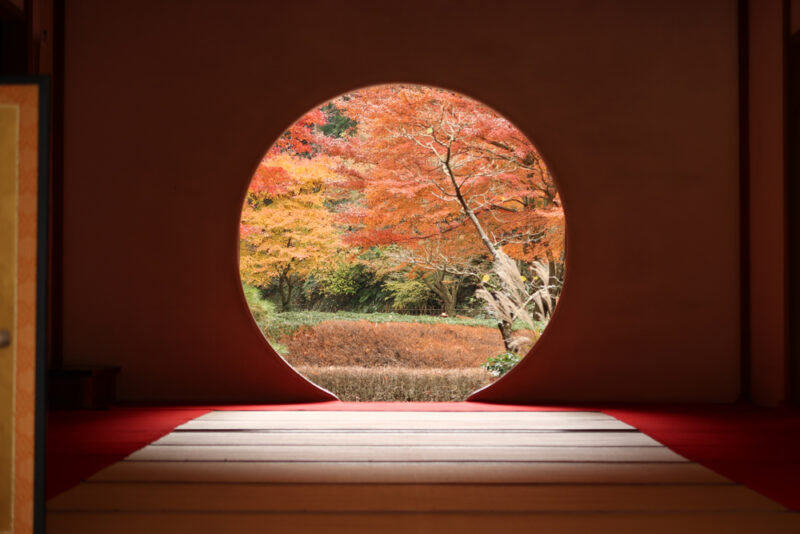 Meigetsuin Temple is a temple in Kamakura that is famous for its hydrangeas in the summer, but there are many trees and flowers growing in the precincts, including plum trees, cherry trees, and maple trees.
There are two beautiful gardens in this area; Karesansui (dry landscape) garden and a garden behind the main hall of the temple.
One of the best ways to enjoy the fall foliage at this temple is by seeing the garden behind the main hall from a round window in the temple.
5. Kotoku-in Temple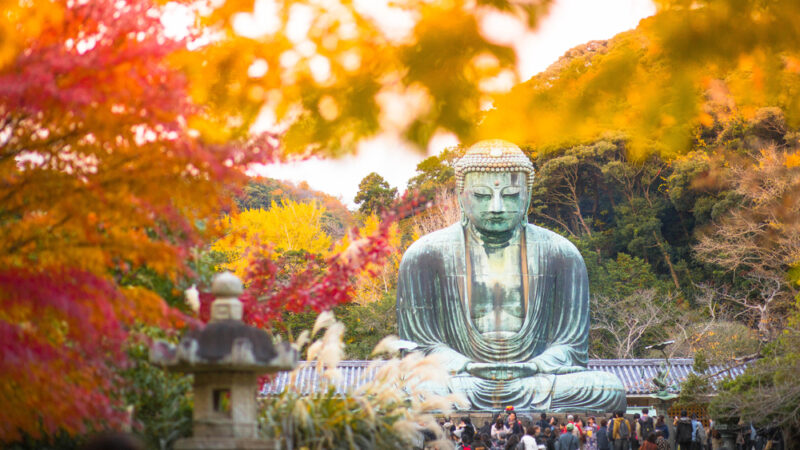 Located just a 10-minute walk from Hase Station on the Enoshima Electric Railway, Kotoku-in Temple is a Buddhist temple that is mainly known for its massive Buddha statue.
Kotoku-in is widely known as 'the Great  Buddha of Kamakura', and it offers beautiful seasonal views, making it an incredibly popular tourist destination throughout the year, especially in spring and fall.
This temple has numerous beautiful cherry and maple trees to see, but the most popular trees are those near the Great Buddha. Just like the cherry blossoms in spring, the contrast between the red autumn leaves and the statue are very striking and stunning.
Read more articles