Best fall foliage spots in Fukuoka  
Best fall foliage spots in Fukuoka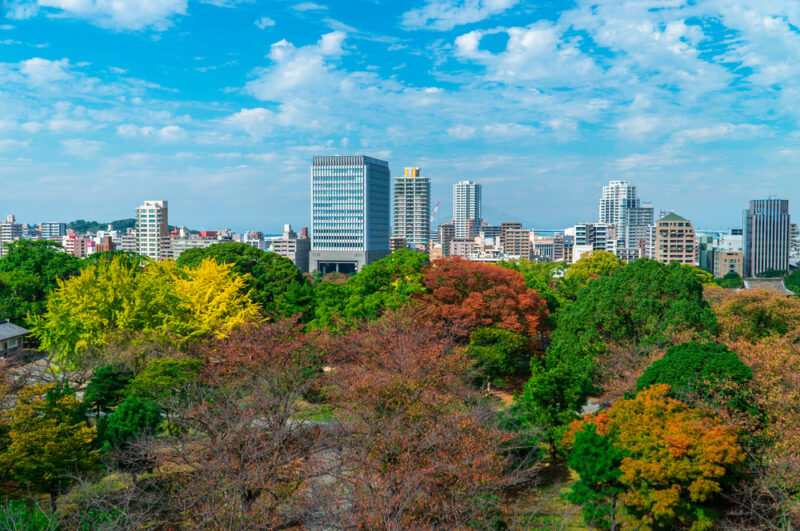 In addition to its beautiful cherry blossoms in spring, fall foliage is another reason for tourists to visit Japan, particularly for enjoying Kōyō (紅葉) and Momiji (紅葉) every year.
Although both are written in the same Chinese characters, Kōyō refers to foliage with red and yellow colors, while Momiji specifically refers to the spectacular view of red maple leaves in fall.
"Fukuoka" is usually the chosen destination for travelers who visit Kyushu region, but not many people know that this prefecture also has beautiful fall foliage viewing spots.
The fall foliage in Fukuoka usually is at its peak from late November or early December, and this feature will introduce some of the best spots in Fukuoka where you can enjoy fall foliage.
Index : Best fall foliage spots in Fukuoka
1. Kokura Castle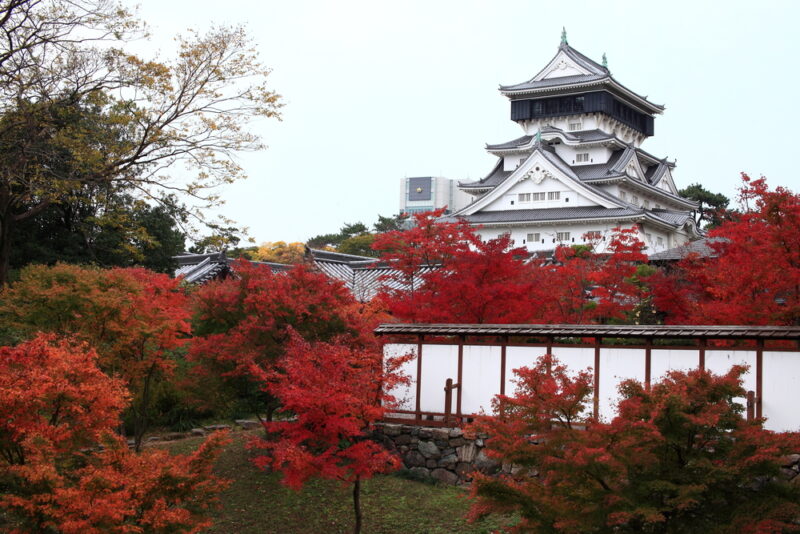 Kokura Castle is a castle in Kitakyushu, Fukuoka, Japan, which is known as one of the oldest castles in Japan. It was built in 1602 by Tadaoki Hosokawa, and the construction was completed in 1608.
The castle was burned down several times and it was fully restored in 1990. There is a museum called Matsumoto Seicho Memorial Museum, and a castle garden called Katsuyama Park, which were opened later in 1998.
The castle is also dotted with many trees, which change color in fall, offering a stunning and beautiful view of red autumn leaves.
2. Ohori Park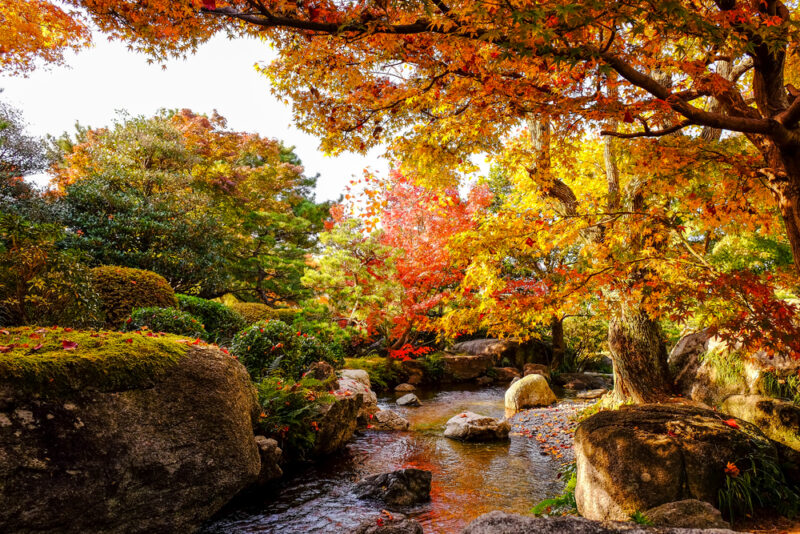 Ohori Park is a beautiful city park with a large pond at its center. The park is located in central Fukuoka, next to Maizuru Park. The park was built in 1926 and completed in 1929, and its layout was inspired by the classical garden style of the West Lake in China.
The pond of Ohori Park used to function as a part of the moat system of the neighboring Fukuoka Castle, and there are three islands in the middle of the pond that are connected to the mainland and each other with elegant stone bridges.
In fall, the trees in the garden change their colors to red, subtle orange, and yellow, providing you a breathtaking fall foliage view.
3. Dazaifu Tenmangu Shrine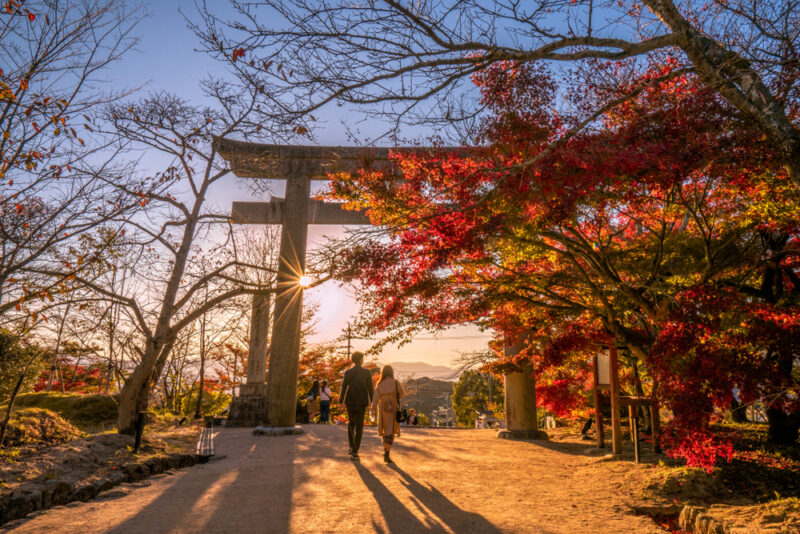 Dazaifu Tenmangu Shrine is the most important Tenmangu Shrine throughout Japan, alongside Kitano Tenmangu in Kyoto. Tenmangu Shrines are dedicated to the spirit of Sugawara Michizane, a scholar and politician of the Heian Period, particularly for his great learning and achievements. Thus, Michizane has always been associated with Tenjin, a Shinto deity of education.
This shrine is dotted with many maple trees, and in fall, the trees turn to red, orange, and yellow, creating a spectacular fall foliage landscape.
4. Akizuki Castle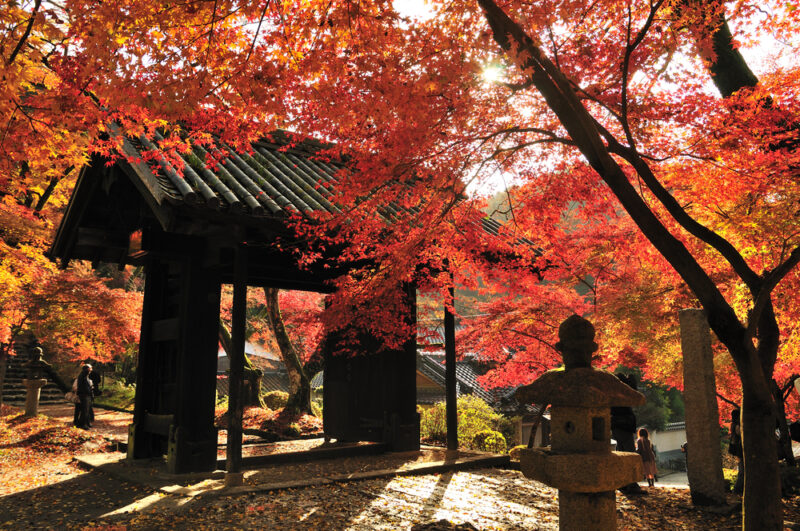 Akizuki Castle, or known as Chikuzen, is a famous historic castle town in Fukuoka, and due to its rustic and vintage layout, the city is also referred to as Little Kyoto. Located at an elevation of 860 meters, Akizuki Castle is situated in a basin surrounded by mountains on three sides.
Destroyed a long time ago, the castle itself no longer exists, but the stone walls, gates, and other features remain in the area. Among the gates the castle has, the black gate is famous for its fall foliage, and many photographers come to this gate to capture the breathtaking contrast between the red leaves and black gate.
5. Maizuru Park
Maizuru Park is a 15-minute walk from Tenjin, the center of Fukuoka City. The park was built around the Fukuoka Castle Ruins, and it is home to numerous trees, including cherry trees and maple trees.
At Maizuru Park, you can enjoy the view of the remains of the fortress, and its stone walls, contrasting with the fall colors. The castle is open to the public as a park area, and in fall, the ginkgo trees change color beautifully.
Read more articles