10 amazing things to do in Kyoto, Japan!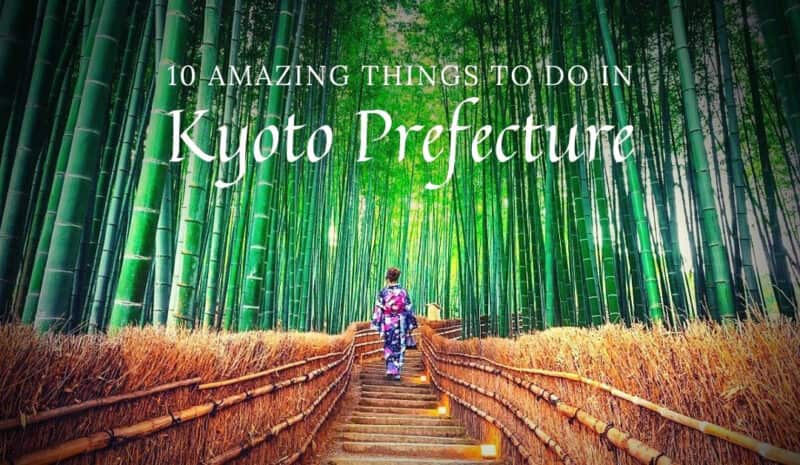 Kyoto has become a favorite tourist destination of Japan, and this prefecture attracts millions of visitors from within Japan across the world every year. Kyoto is in the heart of Kansai Region, and bordered by Osaka, Hyogo, Nara, and Shiga.
The biggest city in the prefecture is Kyoto City, and it served as the capital city of Japan for over a thousand years from 794 to 1868, so there are over 4,000 historical monuments and old towns preserved until today, including Gion, one of the most exclusive entertainment districts of Japan, and Arashiyama, an area in Kyoto that is packed with a bamboo grove, beautiful temples, and mesmerizing river.
Brimming with beautiful nature and interesting tourist destinations, how about visiting Kyoto to have both, an extraordinary, yet a novel adventure?
Index
How to get there
Kyoto Prefecture is accessible by trains, and the main transportation hub in Kyoto is JR Kyoto Station.
The most convenient way to get to Kyoto from Tokyo is by taking the JR Tokaido Shinkansen, which takes around 140 – 160 minutes one-way, and costs around 15,000 yen. The fare for JR Tokaido Shinkansen is fully covered by the JR Pass.
The closest airport to Kyoto is the Itami Airport in Osaka, which is about an hour bus ride from central Kyoto.
Recommended sightseeing spots in Kyoto
Located in the Kansai region, Kyoto is the heart of traditional Japanese culture, especially since it functioned as the imperial capital of Japan for over a thousand years. The prefecture is packed with numerous historic sites and beautiful nature spots, including the Kinkakuji (Golden Pavilion), Gion, and Arashiyama.
The prefecture is also home to many savory and authentic local foods, like Kaiseki, Yuba, and Yatsuhashi, which all have been consumed by the Japanese since ancient times.
Ready to take yourself to this wonderful prefecture? Here are our picks for the best things to do in Kyoto, Japan!
1. Visit Yasaka Pagoda, one of the most Instagenic spots in Kyoto!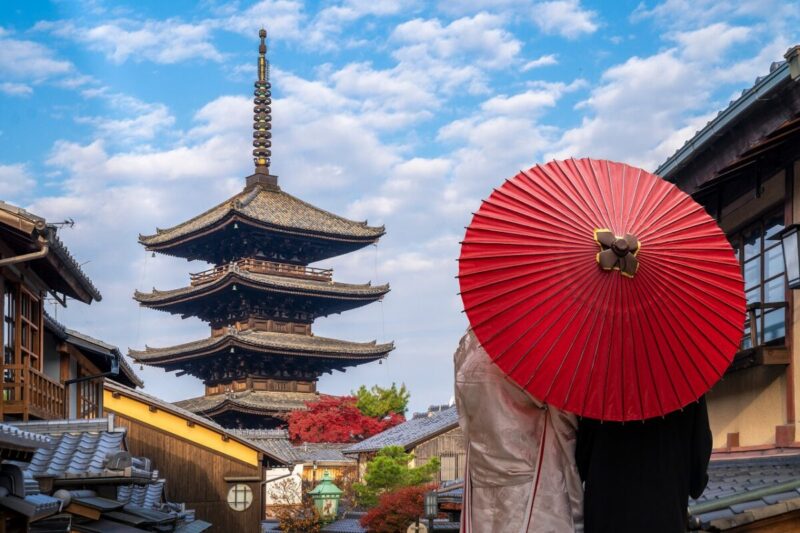 Yasaka Pagoda is in Higashiyama District, particularly in the precinct of Hokanji Temple in eastern Kyoto. The pagoda is considered as one of the most photogenic landmarks in Kyoto, and many people visit the area to capture the view of the pagoda and its well-preserved, charming streetscape.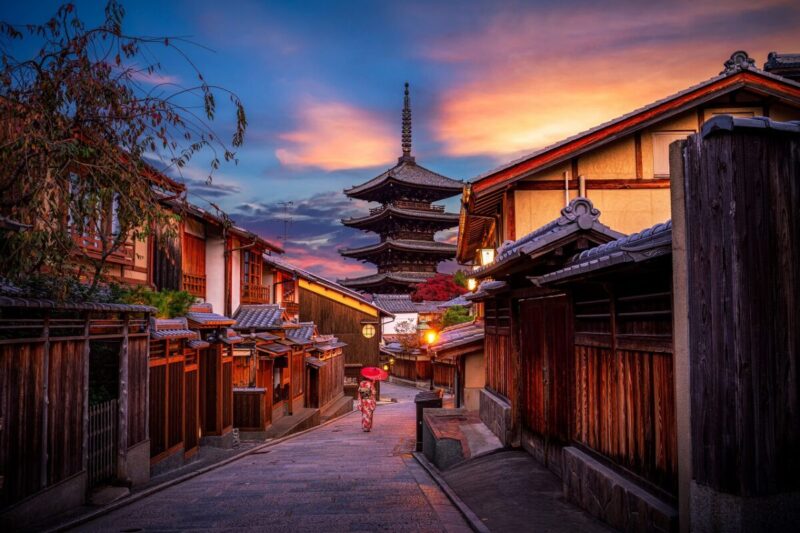 Yasaka Street is an iconic historical street that takes you to the pagoda, and many people visit this street to capture the beautiful night view of the pagoda.
Yasaka Pagoda
Address
388 Yasaka Kami-machi, Kiyomizu Higashiyama-ku, Kyoto City
Tel.
Business hours
Entrance fees
Google Map
2. Explore Gion, one of the oldest entertainment districts in Japan!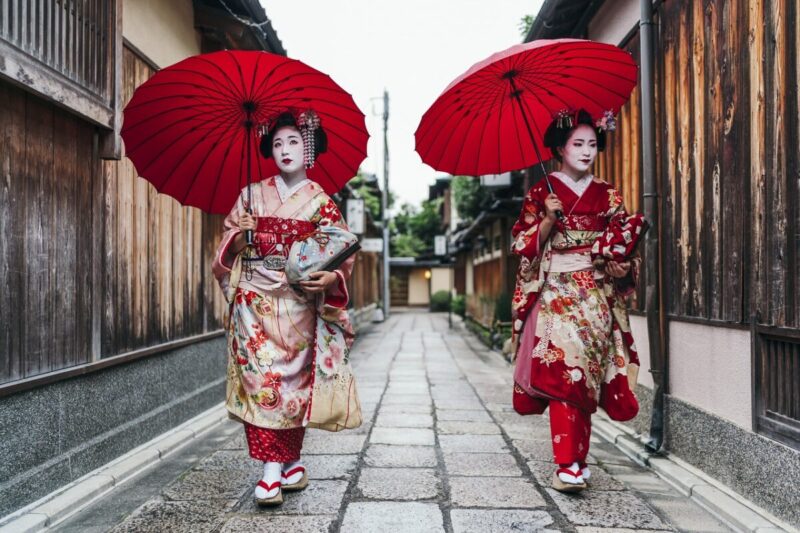 Geisha is a district in Kyoto that is home to many geishas, and it has developed as one of the most exclusive geisha districts in Japan. Gion was declared as a national historical preservation district, and it attracts tourists with its retro streetscape.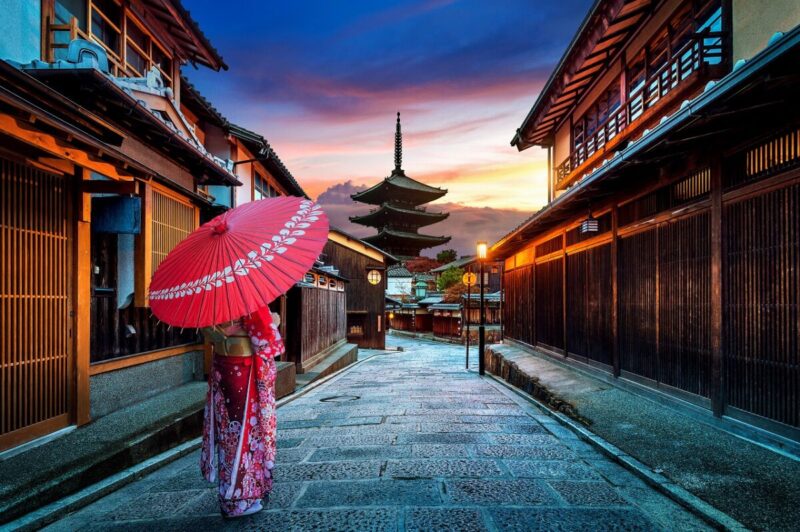 Gion is lined with traditional wooden merchant houses, and vintage buildings operating as shops, restaurant, and ochaya (teahouses), where geisha and maiko (geisha apprentices) perform shows to entertain guests.
Gion
Google Map
3. Witness the beauty of Kinkakuji Temple, the Golden Pavilion!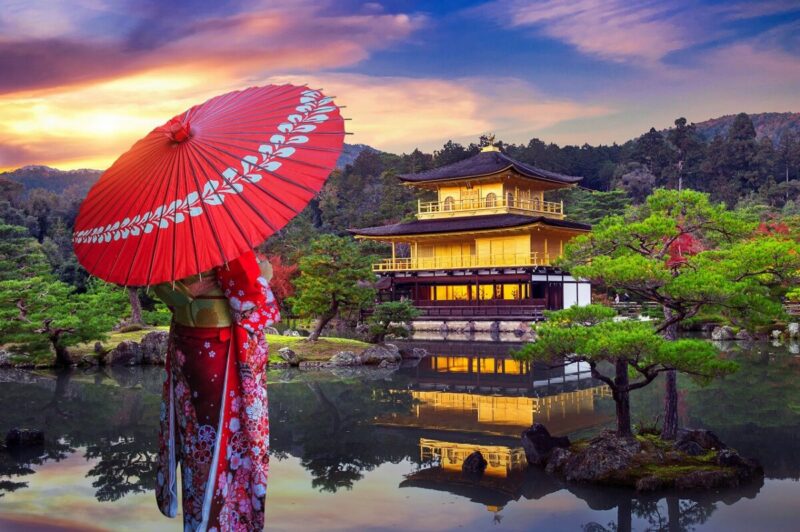 Kinkakuji is a Zen Buddhist Temple, and it is one of the most iconic landmarks of Kyoto. The temple was built in 1397, originally as the retirement villa of Ashikaga Yoshimitsu, but later the villa was converted to the Zen temple as it is now.
The temple is also known as the Golden Pavilion, and it attracts many visitors from all over the world.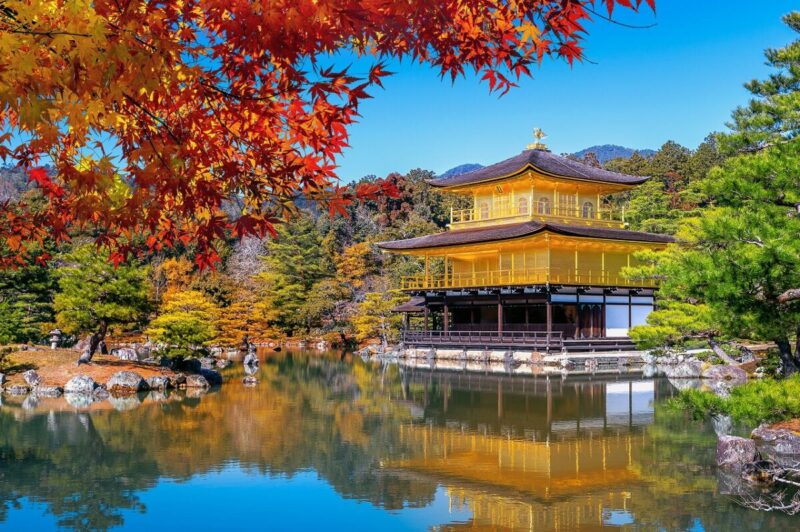 This temple is bes tknown for its traditional Japanese garden, big pond, and surrounding nature, which looks extremely in fall, when the leaves turn red and golden. Kinkakuji is also registered as UNESCO World Heritage Sites.
Kinkakuji
Address
1 Kinkakujicho, Kita Ward, Kyoto, 603-8361, Japan
Tel.
Business hours
Admissions
Age 15 & above : 400 yen

Age 6-14 : 300 yen
Google Map
4. Stop by Ginkakuji Temple, the Silver Pavilion!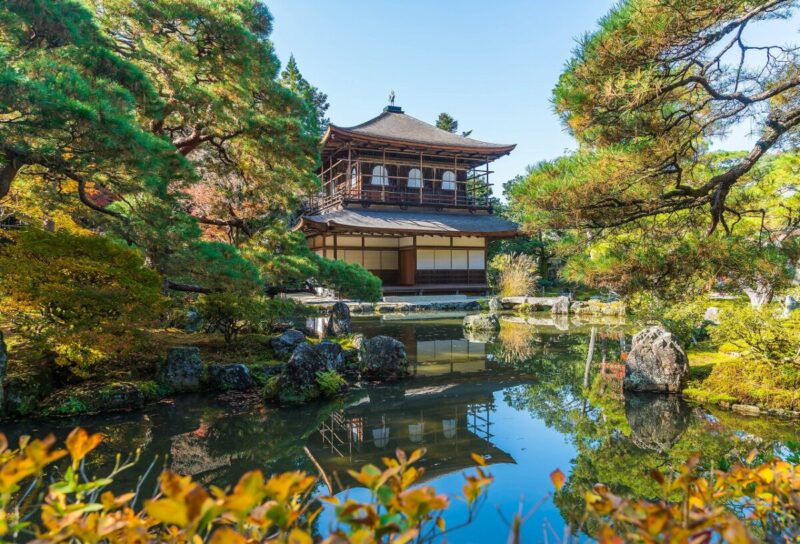 Ginkakuji, which is also called as the Silver Pavilion, is a Zen Buddhist Temple located in northwest of Kyoto. The official name of Ginkakuji is Jishoji Temple, and it was built in 1490 by Ashikaga Yoshimasa in Muromachi period. The temple functioned as his retirement villa, and it was modeled after the Kinkakuji Temple (Golden Pavilion).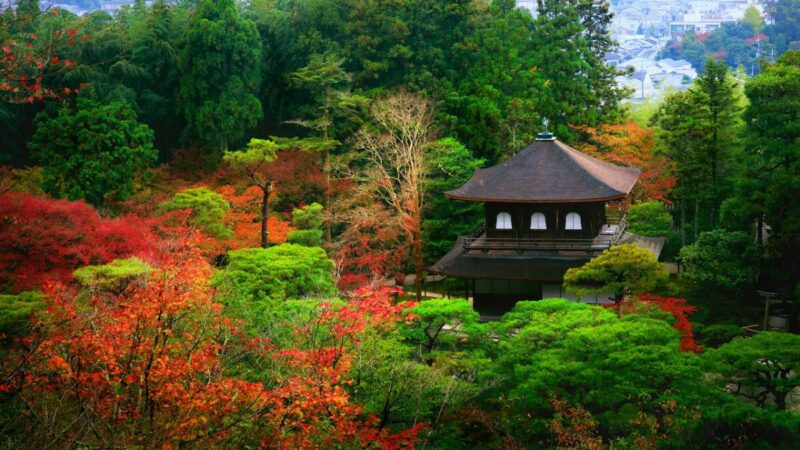 Although the temple is not covered in silver, it has become one of the most iconic sites in Kyoto, along with Kinkakuji, and registered as UNIESCO World Heritage Site as a part of Historic Monuments of Ancient Kyoto. The temple is known for its beautiful Japanese garden and pond, which look especially beautiful in fall.
Ginkakuji
Address
2 Ginkakujicho, Sakyo Ward, Kyoto, 606-8402, Japan
Tel.
Business hours
March to November : 8:30 – 17:00

December to February : 9:00 – 16:30
Admissions
Age 15 & above : 500 yen

Age 6 to 14 : 300 yen
Google Map
5. Visit Arashiyama for its breathtaking nature!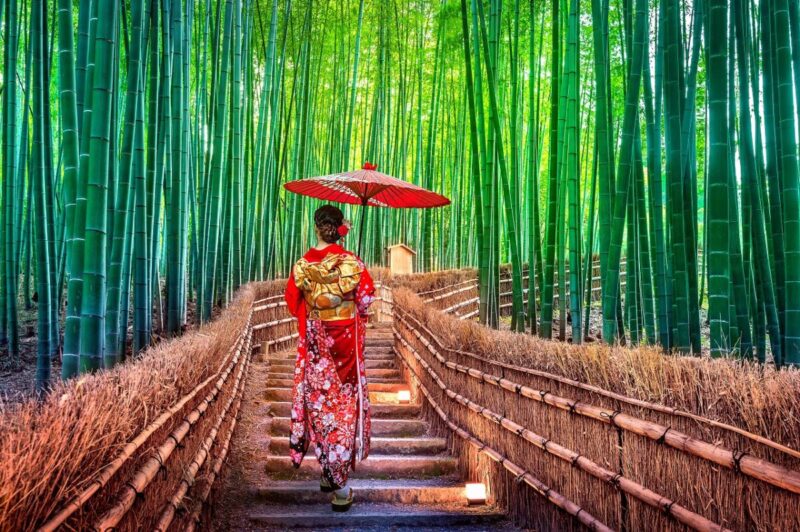 Arashiyama is one of the most popular destination of Kyoto, which is around 20-30 minutes by train or bus from Kyoto Station. The area is home to many beautiful destinations, including an iconic bamboo grove that runs between Tenryuji Temple and Okouchi Sanso Garden.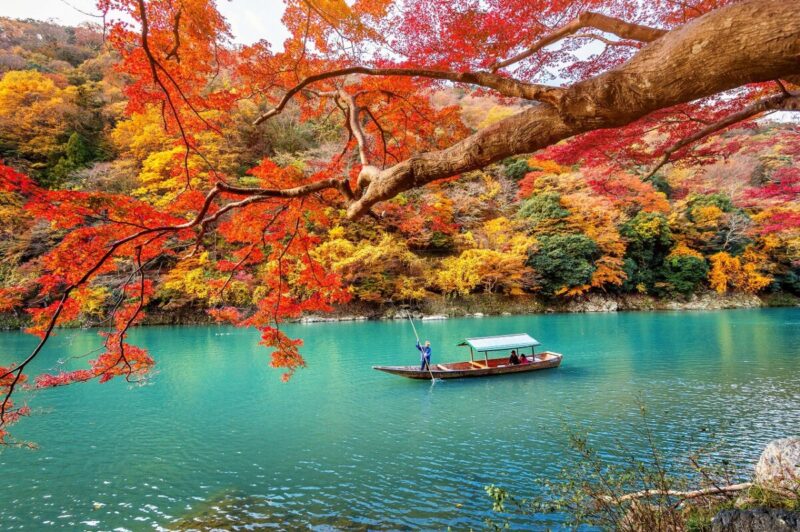 In addition to Bamboo Grove, Arashiyama is also home to Hozu River, a beautiful river that is famous for its seasonal views in spring and fall.
Arashiyama
Address
Ukyo Ward, Kyoto, 616-0007, Japan
Google Map
6. Enjoy the seasonal views of Kiyomizu-dera Temple, one of the most important temples in Kyoto!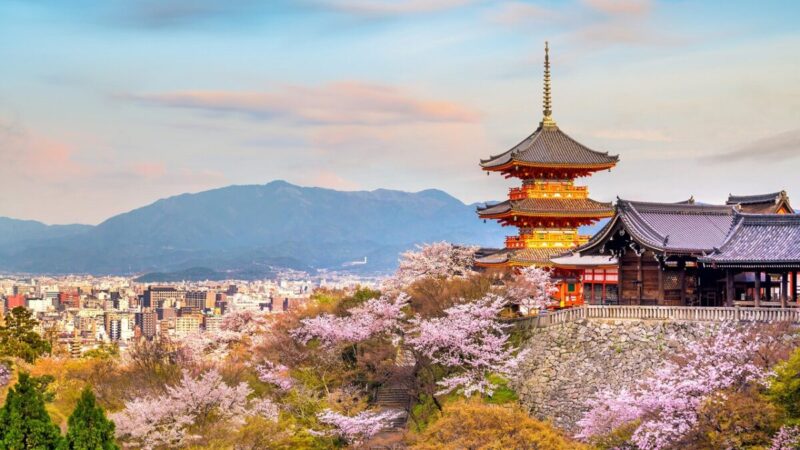 Kiyomizu-dera Temple was built in 780, and it is known as one of the most important temples and monuments in Japan, which is located on a dramatic hillside in Southern Higashiyama. The temple has a massive wooden terrace that offers a pleasant view of cherry blossoms in spring, and autumn leaves in fall.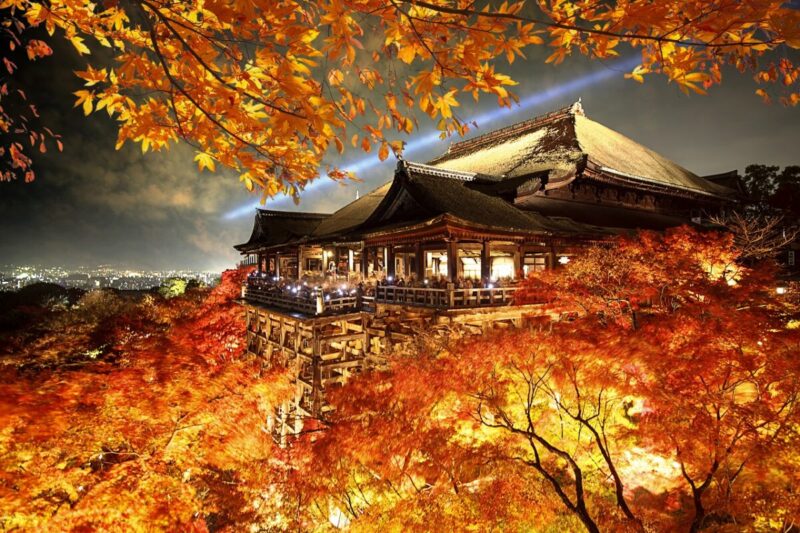 The wooden main hall was built without nails and accommodates a statue of the eleven-faced, thousand-armed Kannon. The red three-story pagoda is also one of the main highlights of this amazing temple. Opens from 6 in the morning, we recommend visiting this temple early to avoid the crowd.
Kiyomizudera
Address
294 Kiyomizu, Higashiyama Ward, Kyoto, 605-0862, Japan
Tel.
Business hours
Admissions
Google Map
7. Kawadoko : spend your summer in Kyoto like the locals!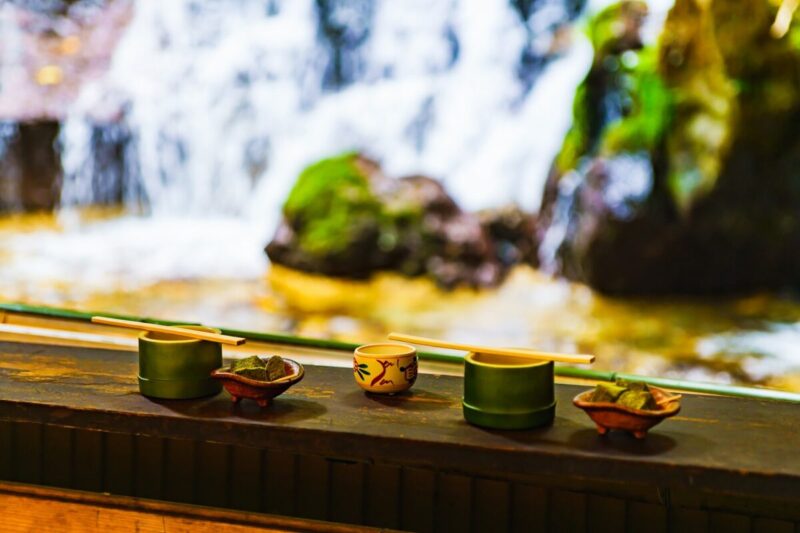 How about spending your summer in Kyoto like the locals do?
Kawadoko is one of the most famous summer traditions of Kyoto, where restaurants extend their outside terrace towards the river, creating a larger seating space by the river.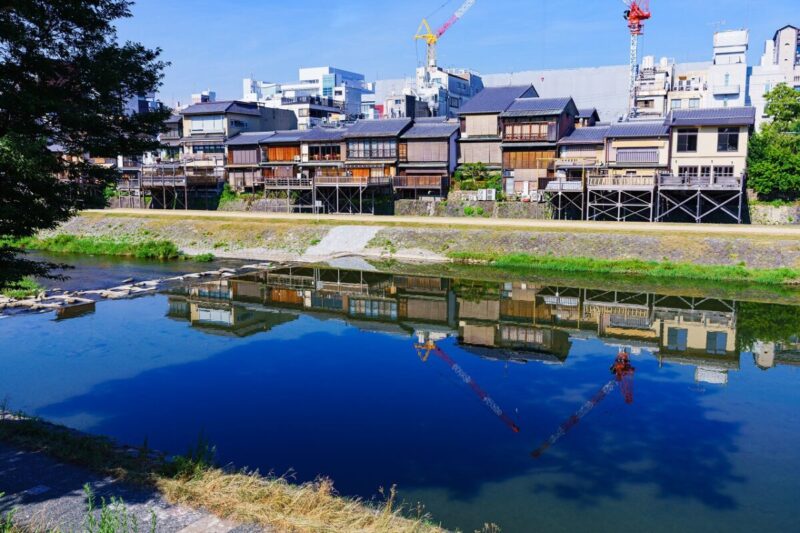 You can enjoy Kawadoko at one of the restaurants located at the riverbank of Kamogawa River (鴨川), an iconic river that runs through the city of Kyoto. Some of the most popular dishes served for Kawadoko are Nagashi Somen (flowing cold noodles) and Kyo-Kaiseki (Kyoto's style Kaiseki cuisine).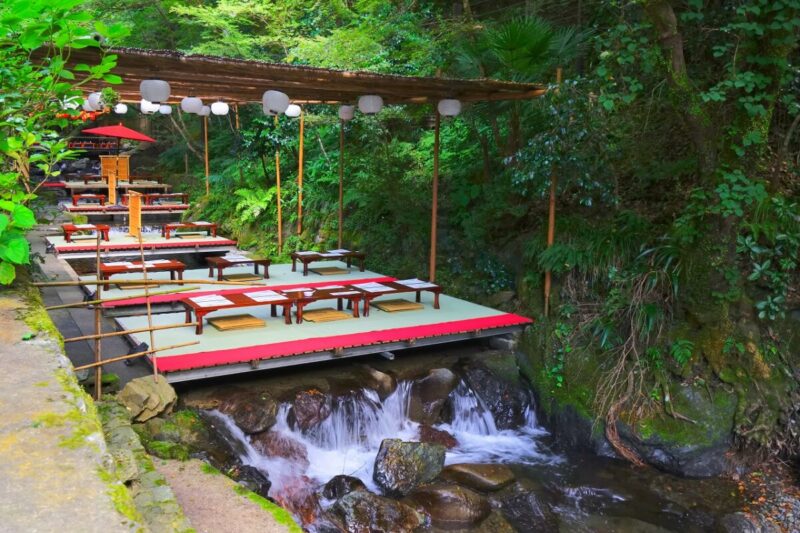 Since you'll be very close to the river, you can enjoy the beautiful greeneries, and of course, the breeze in hot weather!
8. Stop by Rurikoin Temple for its gorgeous fall foliage!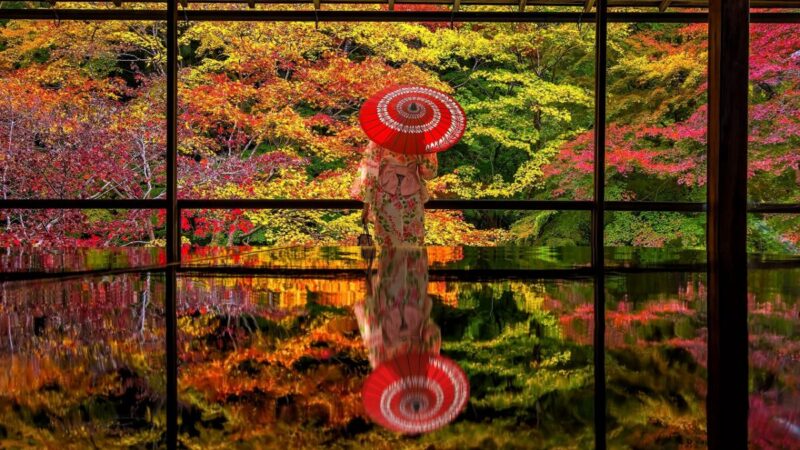 Rurikoin Temple is a temple located in northern Kyoto near Mr. Hiei, and it only opens twice a year, in spring and fall. This temple can be considered as one of the most picturesque places to visit in Kyoto, and it is best known for its beautiful nature.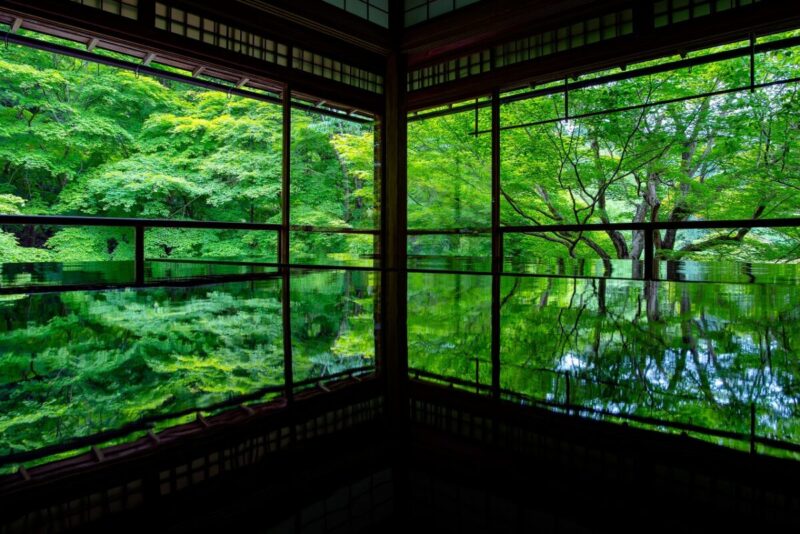 Many visitors visit Rurikoin Temple to capture spectacular fall foliage view every year, and the most visited spots in Ruriko Temple is the second floor of Shoin building, where you can see beautiful and colorful autumn leaves from the broad windows.
Rurikoin
Address
55, Kamitakanohigashiyama, Sakyo-ku, Kyoto-shi, Kyoto
Tel.
Business hours
Open in spring and fall, please send inquiry to the temple for more information
Admissions
Google Map
9. Find your "Zen" at Tenryuji Temple!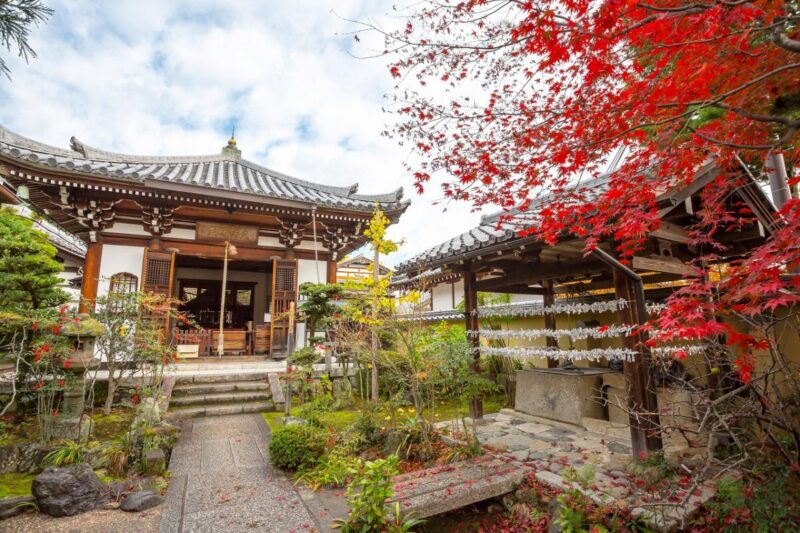 Tenryuji Temple is a Zen temple in Arashiyama, and it is perhaps the most popular attraction in the area, particularly known for its beautiful Japanese gardens and mouthwatering shojin ryori (vegetarian meal).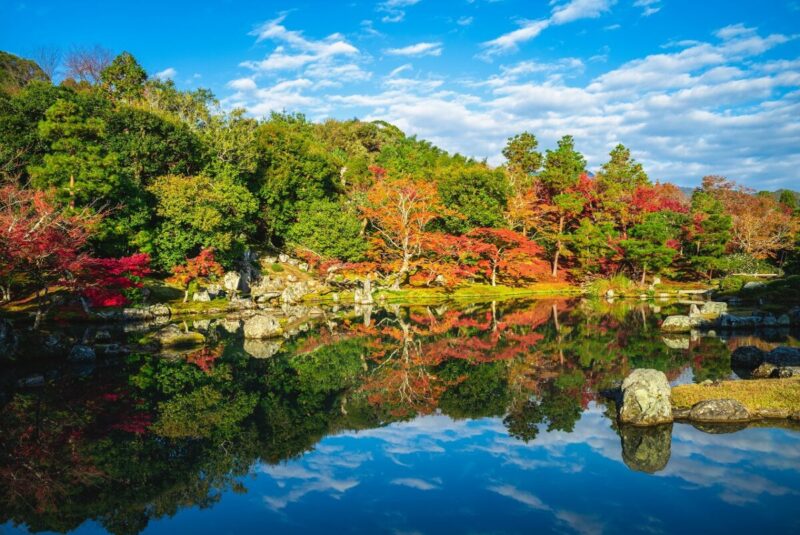 Tenryuji Temple is the head temple of the Tenryu branch of the Rinzai Zen Buddhism, and it was ranked first among Arashiyama's five great Zen Temples. The temple was built in 1339 by Ashikaga Takauji, who dedicated the temple to Emperor Go-Daigo, who had just passed away at the time. The temple is now registered as a World Heritage Site.
Tenryuji
Address
68 Susukinobaba-cho, Saga-Tenryuji, Ukyo-ku, Kyoto-shi, 616-8385 Japan
Tel.
Business hours
Admissions
Google Map
10. Hike through the torii gates of Fushimi Inari Shrine!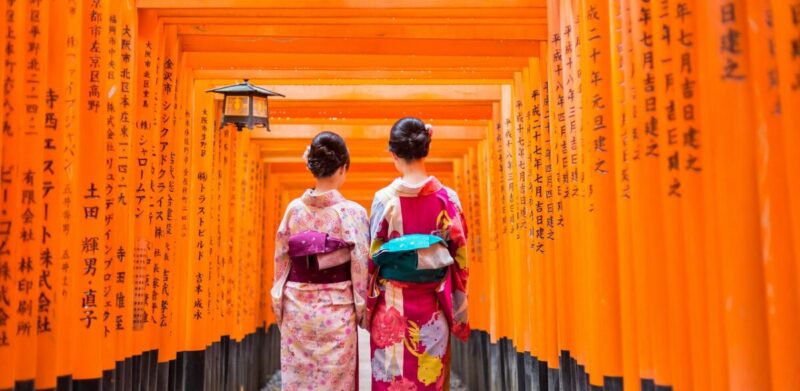 Fushimi Inari Shrine, or Fushimi Inari Taisha (伏見稲荷大社), is known as the most visited shrine in Kyoto, and also as one of the most iconic tourist destinations in Japan. This shrine is best known for its vibrant vermilion torii gates that snake up through the forest into the mountains.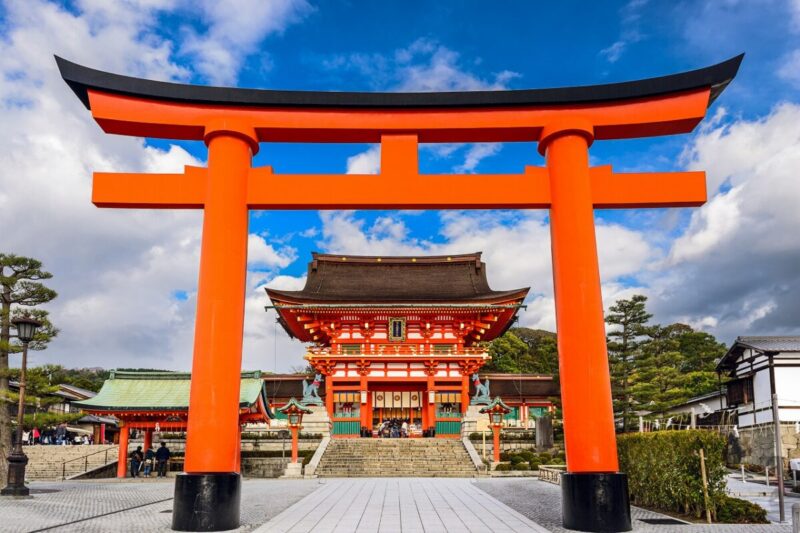 The shrine made an appearance on "Memoirs of a Geisha", a popular movie in 2005, and ever since then, the shrine has been attracting millions of visitors from all over the world.
Fushimi Inari Shrine
Address
68 Fukakusa Yabunouchicho, Fushimi Ward, Kyoto, 612-0882, Japan
Tel.
Business hours
Google Map
Kyoto's best local treats
Kyoto is one of the most popular tourist destinations in Japan, and this prefecture is known for its rich culinary tradition. The local food of Kyoto ranges from the sophisticated Kaiseki Ryori, to Yatsuhashi, an authentic Japanese sweet made of rice flour and Japanese almond. Kyoto is also known for its amazing tofu dishes, which are healthy and good for your skin.
Looking to fill your tummy with Kyoto's amazing local treats? Here are our picks for the best foods to eat when visiting Kyoto!
1. Yudofu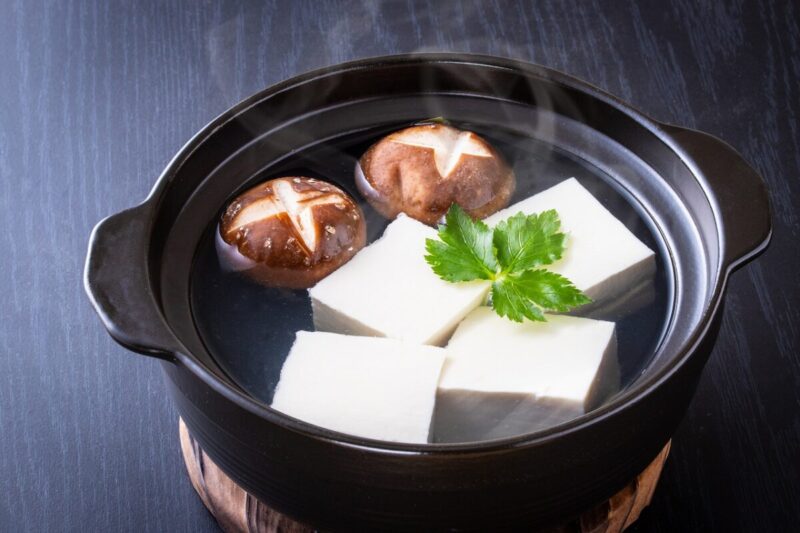 Yudofu was born in Kyoto as a part of shojin ryori, a vegetarian cuisine originally derived from the dietary restrictions of Buddhist monks. It is made just with tofu, water, and kombu kelp. Yudofu is eaten together with a dipping sauce, which is usually is the ponzu soy sauce-based vinaigrette.
2. Kaiseki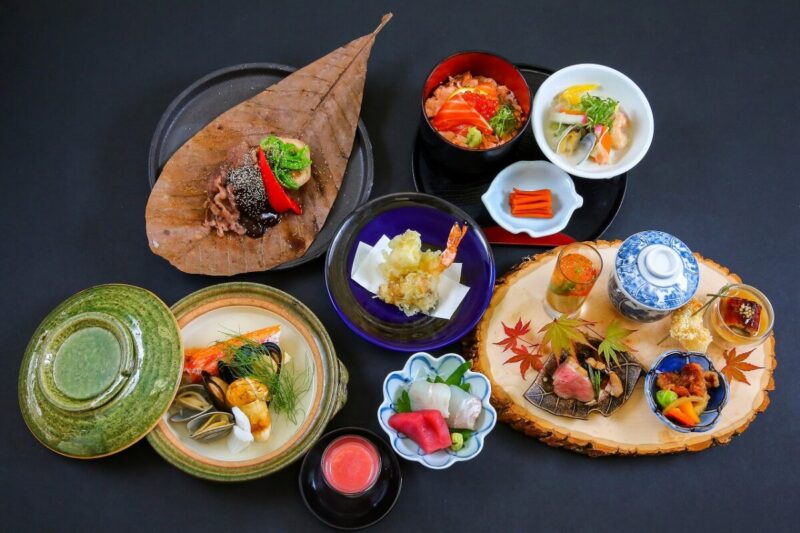 Kaiseki is a traditional multi-course Japanese dinner, and Kyoto is known for its amazing kaiseki cuisine. Unlike the kaiseki cuisines served in other prefecture, Kyoto's kaiseki uses the simple flavors of traditional Kyoto cooking, mainly uses dashi and salt. Seasonal ingredients are used in kaiseki cuisines, and you can enjoy kaiseki when staying in a ryokan in Kyoto.
3. Tsukemono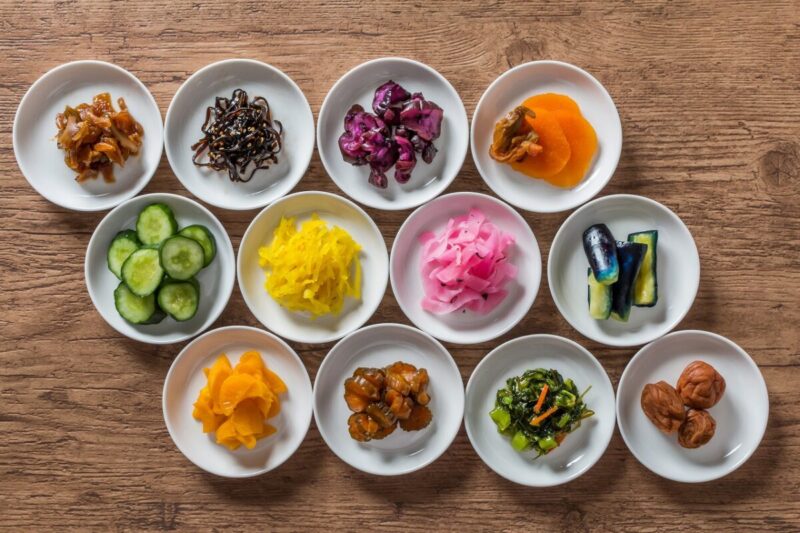 Japan preserves its vegetables by pickling them in salt, and Kyoto is famous for its amazing quality of Tsukemono (pickles). Some of the most famous tsukemono from Kyoto are shibazuke, a tangy and crunchy mix of chopped cucumber and eggplant which is pickled with red shiso (perilla), senmaizuke, round Shogoin turnips cut into slices and pickled with kombu kelp, and sugukizuke, a tsukemono made with sugukina (a kind of turnip).
4. Yuba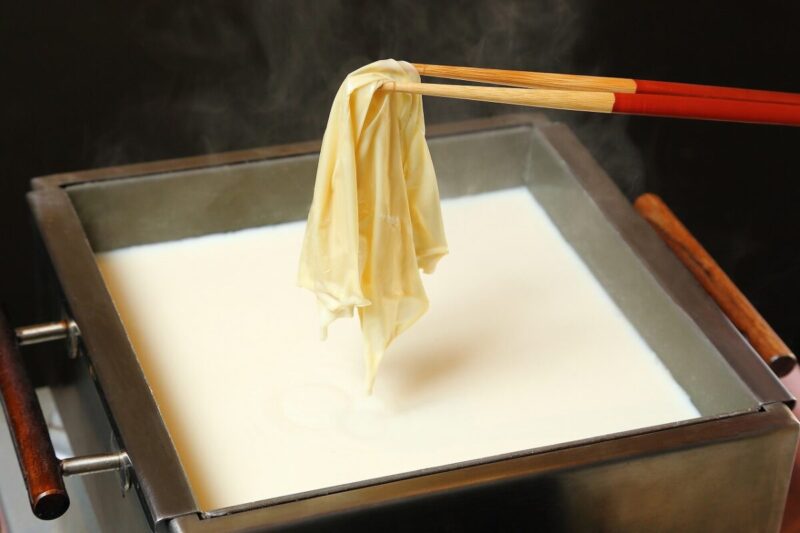 Yuba is a local specialty of Kyoto, and it is made by heating soy milk slowly until a film forms on the surface. The film is called yuba, and it is usually eaten plain, or with soy sauce and wasabi.
5. Yatsuhashi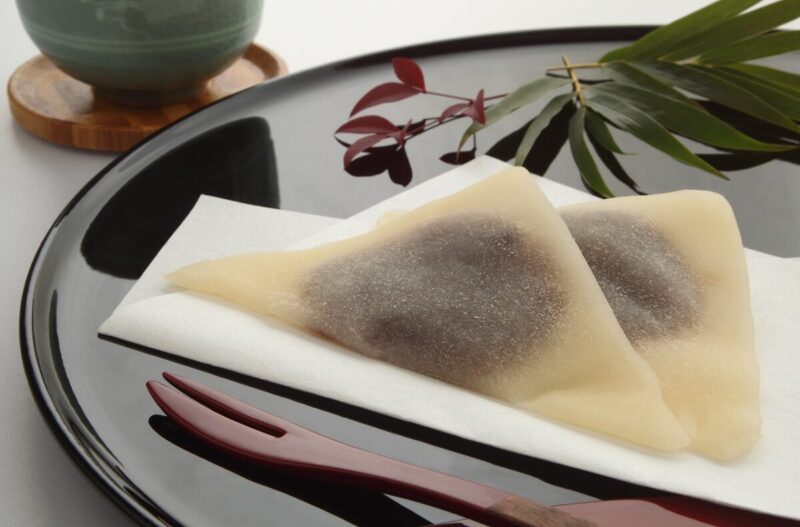 Yatsuhashi is perhaps one of the most popular souvenir sweets of Kyoto, and it is made from rice flour, sugar, and the Japanese cinnamon called nikki. The dough is steamed, spread into thin, cut into square, and filled with sweet bean paste before folded triangularly. Yatsuhashi is sold in several different flavors, including matcha, sesame, chocolate, banana, and sometimes strawberry.
.
Now that you have an idea of how many fabulous spots are in Kyoto, all you must do is plan your itinerary to enjoy unforgettable experiences in Kyoto!
Read more articles about Kyoto Prefecture