Ura Namba : areas of interest and experience the real Osaka
Ura Namba
Ura Namba areas of interest and experience the real Osaka
Umeda, Shinsaibashi, and Dotonbori are famous shopping districts in Osaka, but the hottest area right now is "Ura Namba" (Hidden Namba). The area has many shops run by young shopkeepers and many unique shops, so the area is more casual and bustling. Check out these places in "Ura Namba" that locals particularly love and see the true face of Osaka.
Index
Tokisushi Honten
Popular sushi restaurant known for "sushi-yaki" (lightly broiled seafood)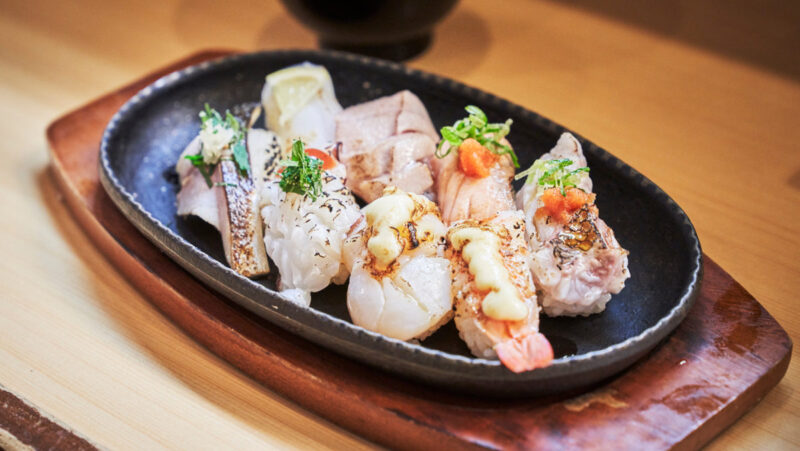 When you ask people what they want to eat in Japan, the number one answer is usually sushi. Compared to many sushi restaurants, Tokisushi Honten is known for its good value. For example, you can eat one hand-rolled sushi from ¥220.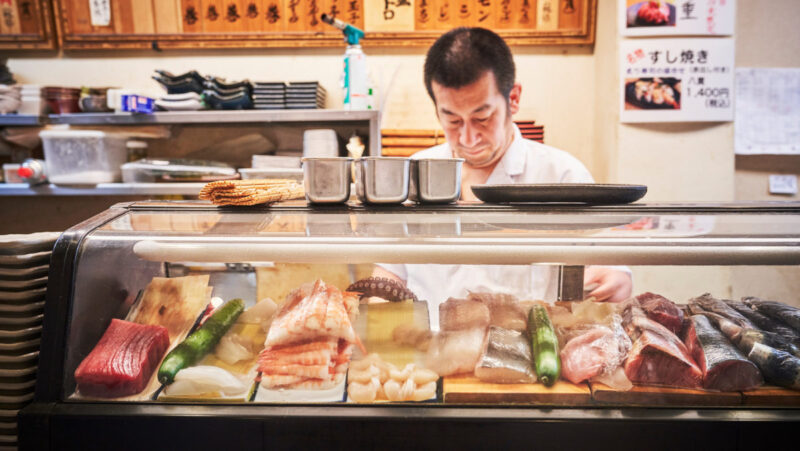 If you consider semi-self-service "conveyor belt" sushi restaurants, there are many places where you can eat cheaply. Still, the prices here are surprisingly low for a genuine sushi restaurant in which you make your order, and then a chef prepares it in front of you. Very fresh seafood ingredients are purchased every morning at the market, and rice cooked with kombu soup stock is used for the sushi rice (seasoned with vinegar). Sushi prepared gently by the hand of a chef definitely gives you a feeling of satisfaction that exceeds the price because of the way it seems to melts in your mouth.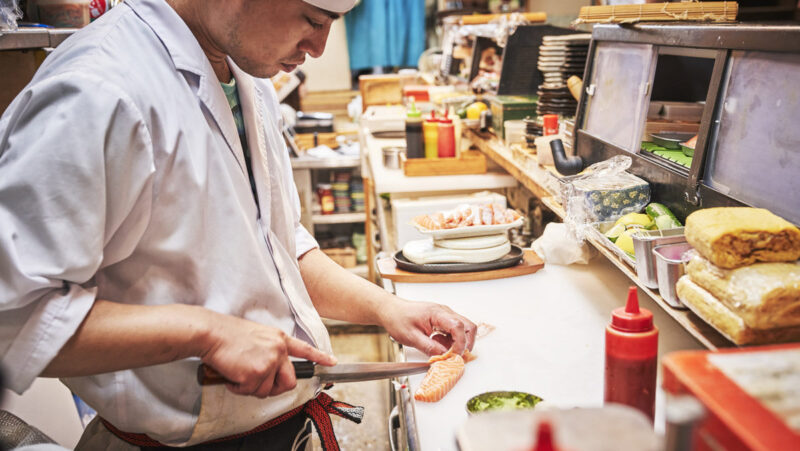 The famous "sushi-yaki" is definitely recommended. The savory taste of broiled squid, shrimp, salmon, and other seafood is much easier to eat for people who are hesitant to try raw fish. Also, you can try unique seasonings such as cheese, butter, basil sauce, and other condiments not often used with sushi. You can order individual "sushi-yaki" items, but a combination platter of popular items is a great deal.
Note that Tokisushi Honten does not accept reservations. Lines can form in front of the restaurant on Saturday and Sunday, but the turnover is relatively fast, so why don't you line up for a bit, and then try some delicious sushi.
Details
Address
4-21, Nambasennichimae, Chuo-ku, Osaka-shi, Osaka 542-0075
TEL
06-6632-0366 (Japanese language only)
Business hours
11 AM to 11 PM (Closes when fresh fish runs out)
Closed
No scheduled holidays
Website (Japanese language only)
http://www.tokisushi.jp/honten/
Foreign language menus
English, Chinese, and Korean
*Prices as of late January 2020. Consumption tax included.
Osaka Yakiton Center
A standing bar to enjoy pork giblet snacks with Japanese rice wine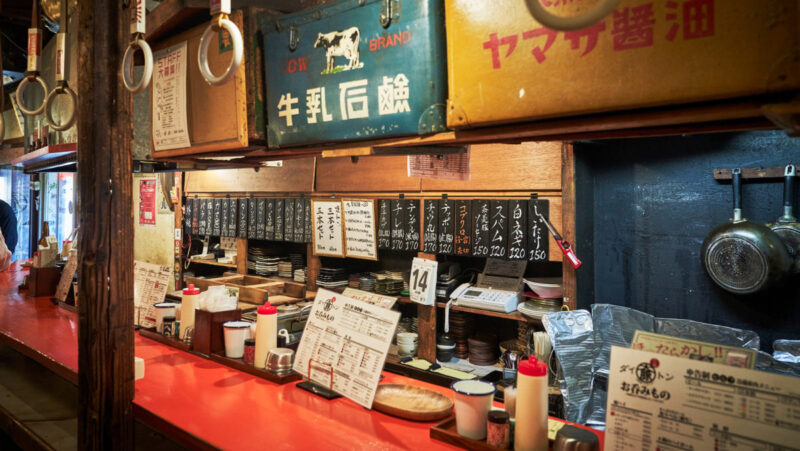 In Japan, cow and pig internal organs are known as "hormone" and are enjoyed as grilled skewers and grilled meat. Osaka Yakiton Center, affectionately known as "Daiton", is a restaurant that focuses on grilled pork giblets ["yakiton" (grilled pork)], which are rare in Osaka. You can enjoy tongue, stomach, fatty neck meat, ribs, diaphragm meat, and other sections as grilled skewers. Carefully pretreated hormone does not have a bad smell and is particularly delicious when grilled carefully using high-grade Kishu charcoal produced from ubame oak. It definitely goes well with alcohol.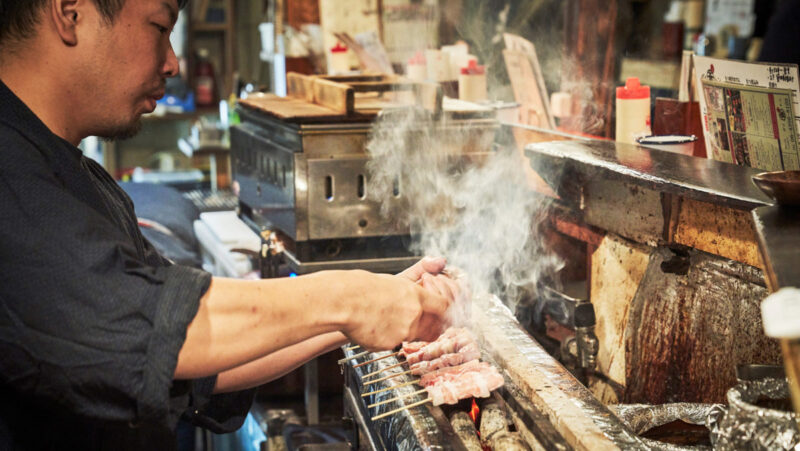 One of the charms of Daiton is its full lineup of local sake handpicked from all over Japan. The sake is self-serve, so you take a sake you like from the refrigerator, and then pour it into a glass. The reasonable prices start from ¥380 per glass. It's OK if you don't know sake that well. Either ask the staff for a recommendation or make a choice inspired by the label design, and then drink and compare various brands. However, be careful, because there is a ¥1,000 fine for breaking a bottle. About two people a year actually break a bottle.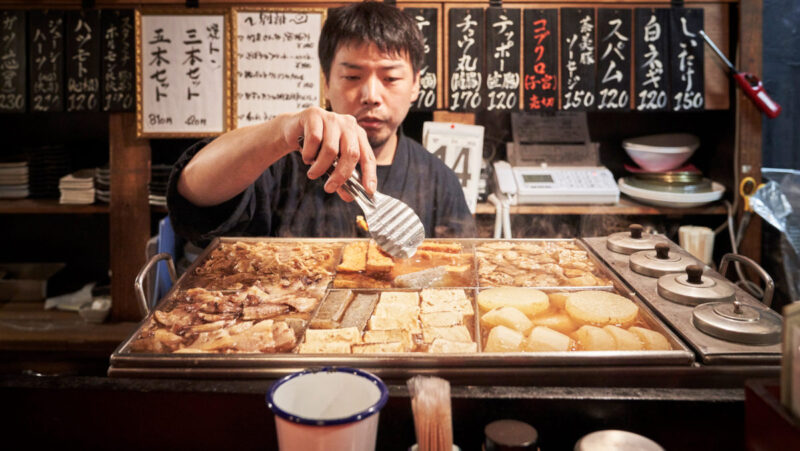 The first floor of Daiton is a standing bar, so there are no chairs, but uniquely there are straps to hang onto. They might be somewhat useful for supporting you if you drink too much. The restaurant opens at 3 PM, so please stop by when you want an afternoon drink.
Incidentally, the restaurant has a "Yakiton Day" on the 10th of each month. There might be something fun."
Details
Address
3-19, Nambasennichimae, Chuo-ku, Osaka-shi, Osaka 542-0075
TEL
06-4396-8109 (Japanese language only)
Business hours
3 PM to 11:30 PM (last order)
Closed
No scheduled holidays
Website (Japanese language only)
http://www.tayu2.com/daiton.html
*Prices as of late January 2020. Consumption tax not included."
Bar FUu2
Enjoy a night in "Ura Namba" with unique cocktails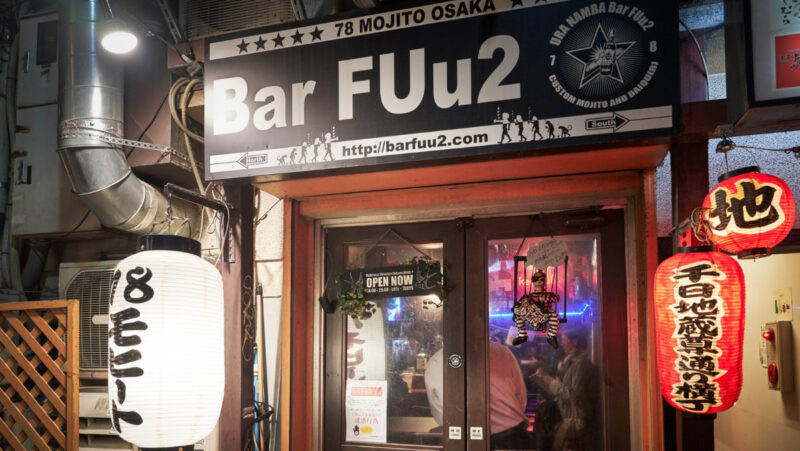 If you want to have a fun night in busy "Ura Namba", stop by Bar FUu2 (pronounced "Bar Fuutsuu"). The bar has become popular with overseas tourists due to the videos and pictures often posted on YouTube and Instagram, and many customers say they want to try a cocktail they saw on social media.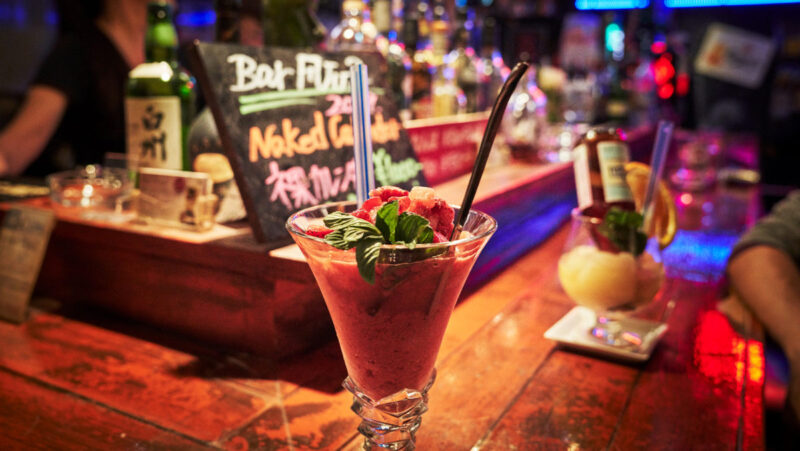 Bar FUu2 is known for its delicious original cocktails, and the "78 (Namba) Mojito" is worthy of special mention. Although a mojito is a basic cocktail using rum, mint, and lime, "78 Mojito" has an outstanding visual impact. There is a large amount of ice stuck to the outside of the glass, and a shocking number of mint leaves are stuffed in the glass. Several types of rum used, so the alcohol forms layers, which gives the drink a profound taste. In addition, the "Corogarita", which combines Corona beer and frozen margarita (*the picture shows a version that uses Hoegaarden from Belgium instead of Corona beer) and the fresh tasting "Strawberry Daiquiri Smoothie" are also popular.
The bar is full of regular customers, but first-time customers are always welcome. The staff is very friendly, and customers are seated close together, and everyone has a fun night communicating through energy and gestures, even when they can't communicate through words.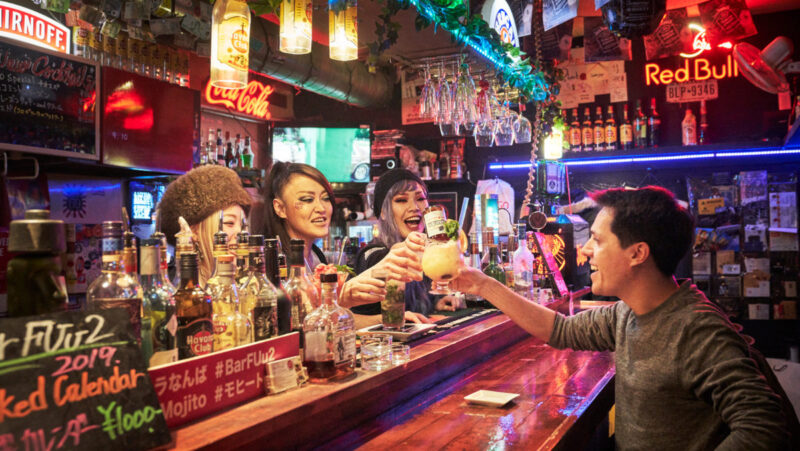 FUu2's name (pronounced "fuutsuu") is a pun on the Japanese word for "normal" (futsuu). At first glance, it may seem like an unusual bar, but it's a normal bar, so the name expresses "Everyone's welcome". In reality, the bar is by no means "normal" and has one-of-a-kind staff and cocktails."
Details
Address
Sennichimae Jizoson-Dori Yokocho, 14-18, Nambasennichimae, Chuo-ku, Osaka-shi, Osaka 542-0075
TEL
06-6710-9704 (Japanese language only)
Business hours
Monday to Friday: 6 PM to 1 AM
Saturday and Sunday: 6 PM to 1 AM (or the next morning?)
Closed
No scheduled holidays
Website (Japanese language only)
Teppanyaro Ura Namba
A lively "teppanyaki" Japanese-style bar full of the flavors of Osaka

Most Osakans are picky about food. They think it's natural that high prices mean delicious food, and they appreciate cheap but delicious food. It's even better if it is interesting, too. Teppanyaro Ura Namba is a popular restaurant in "Ura Namba" that is delicious, cheap, and interesting.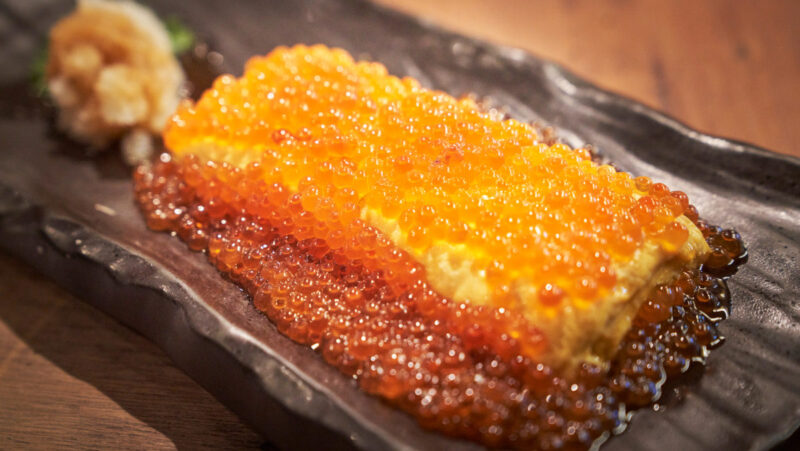 At Teppanyaro Osaka, you can enjoy not only basic iron griddle dishes like Japanese pancakes, fried noodles, and Wagyu beef steak, but also creative iron griddle dishes. Examples include the grilled "Paine" (¥550) that wraps potato salad and cheese in batter, and the luxurious "Rolled Japanese omelet with Alaska pollock eggs and salmon eggs" (¥1200) that uses three types of eggs: Alaska pollock eggs, chicken eggs, and salted salmon eggs. Try some unique dishes you won't find at other restaurants.
At Teppanyaro Ura Namba, the kitchen is considered a stage, and staff are considered performers. The chefs displaying their talents behind the counter and the hall staff liven up the atmosphere with their energy.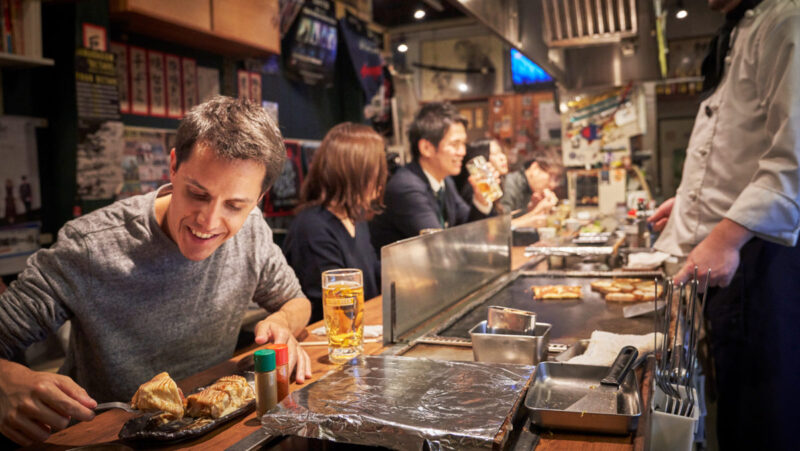 Such excitement typical of Osaka is a feature of Teppanyaro Ura Namba. Sometimes the owner may even call for a toast throughout the restaurant. The owner says, ""a restaurant rule is for people that don't know each other to share a toast after sharing a toasting with me"", and you may see customers throughout the restaurant standing up and clinking glasses with strangers. You'll definitely have a good time here, even if you come alone."
Details
Address
2F, 2-5-20, Nambasennichimae, Nippombashi, Chuo-ku, Osaka-shi, Osaka 542-0073
TEL
06-6643-9755 (Japanese language only)
Business hours
5 PM to 12 AM (last order)
Closed
Tuesday
Foreign language menu
English
*Prices as of late January 2020. Consumption tax not included.
Cafe & Beer Arca Archa
A lineup of over 100 Osaka craft beers and other beers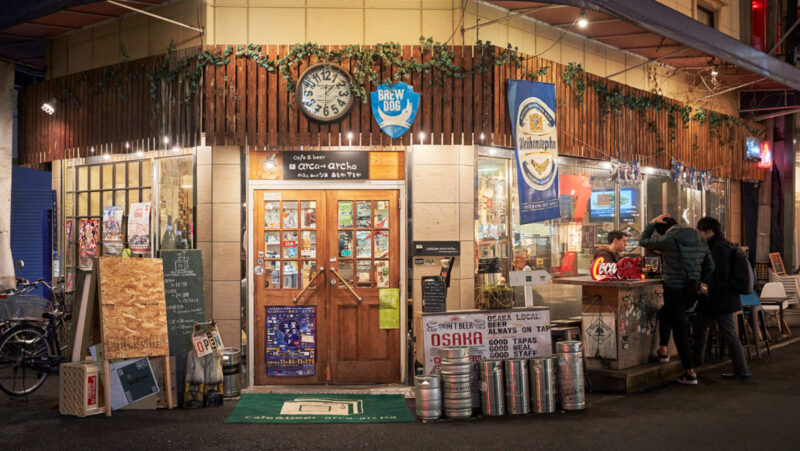 "The owner of Cafe & Beer Arca Archa loves the deliciousness of craft beer and has collected various beers from around the world. The bar has nine taps for draft beer, and at least one is always a local Osaka draft beer. There are more than 80 types of bottled beer collected from around Japan in the world. In addition, there are also about 100 limited-edition beers that change weekly and rare beers available.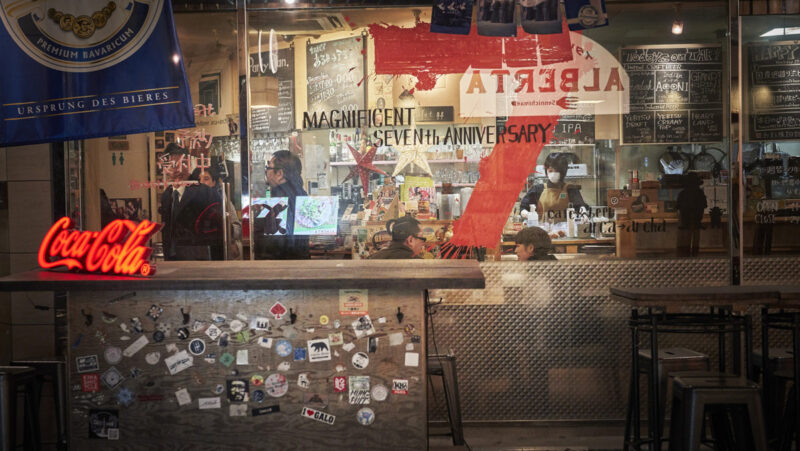 This cafe and bar also has a full food menu ranging from homemade smoked food to roast beef, pasta, and pizza. The food menu is recommended not just for when you want a light snack with alcohol, but also for when you want a full meal. There are also some somewhat unusual items on the menu, including cabbage and pickled Japanese horseradish, fish and chips with beer batter, and deep-fried Osaka-style giblets. This cafe and bar also has a full lineup of soft drinks that includes homemade ginger ale, and there are desserts as well, so you can have a good time even if you don't drink alcohol.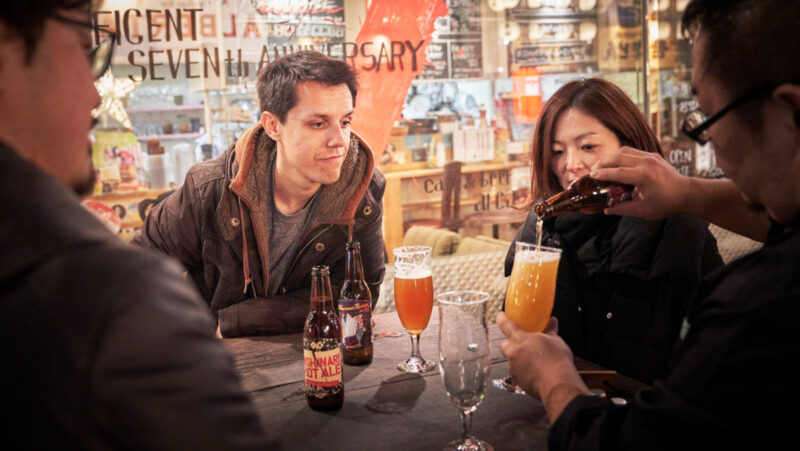 Because many overseas tourists visit the cafe and bar, the menu has English translations, plus some staff can speak English, so feel free to ask them questions. They'll likely tell you about the special beer of the day.
"arca" in the cafe and bar's name is Latin for "box". This represents the excited feeling of not knowing what will jump out of a box, such as a toy chest. Come to cafe&beer arca→archa and encounter new flavors."
Details
Address
4-37, Nambasennichimae, Chuo-ku, Osaka-shi, Osaka 542-0075
TEL
06-7659-6360 (English-speaking staff may be available)
Business hours
Lunch: 11:30 AM to 5 PM (Weekends and national holidays only); Bar: 5 PM to 11:30 PM (last order)
Closed
Monday (if a public holiday, closed the following Tuesday)
Website (Japanese language only)
Foreign language menu
English
If you want to know about how to access Namba from Kansai Airport, you can read up more in this article.
The best and easiest way to reach Namba from Kansai International Airport!
Reference Source