Make your trip to Osaka more exciting by making Japanese food
Make your trip to Osaka more exciting by making Japanese food
Sushi, tempura (deep-fried fish and vegetables in a light batter), kushikatsu (deep-fried skewers), okonomiyaki (Japanese pancake), and more. There are many delicious Japanese dishes, but simply eating is not satisfying enough. Next time, why don't you try to make Japanese food? Check out the following restaurants in Namba, Osaka with convenient access. These fun activities will make your Japan trip even more memorable.
Index
3.Kagura Shokudo Kushiya Monogatari
Tachibana Sushi Experience
Feel like a sushi chef at a well-established sushi restaurant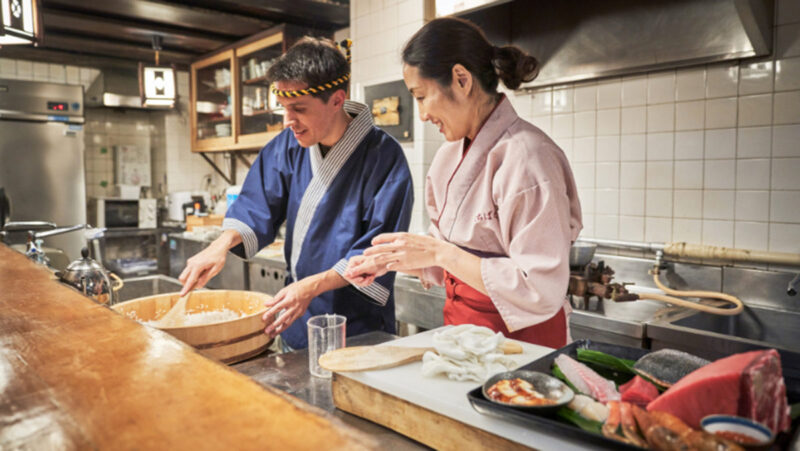 Many people like sushi, but very few people have made sushi themselves. Instead of just eating, how about trying to work as a sushi chef?
Located in a quiet narrow alleyway, Tachibana lets you try your hand at making sushi. Although the restaurant is now exclusively for workshops, it was loved as a genuine sushi restaurant for about 60 years, so the ambience of a well-established sushi restaurant still remains.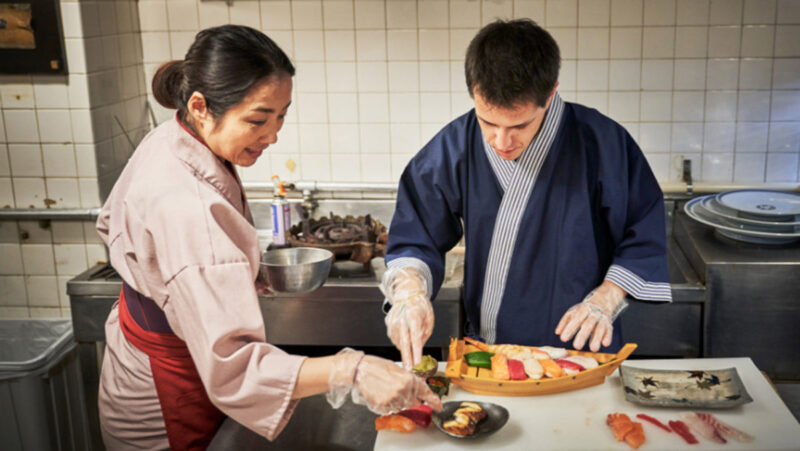 At the start of the workshop, first wash your hands, and then put on a sushi chef uniform. Get an explanation of the ingredients of the day, make sushi rice, and then prepare the ingredients. Because the taste of fish changes by the way it is cut, carefully use the kitchen knife under the instruction of a master. The secret to making delicious sushi rice is molding it rhythmically without grasping too hard.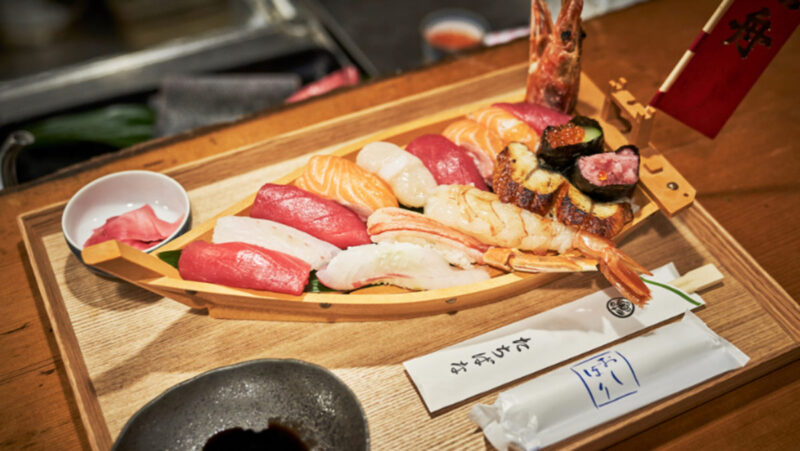 Sushi ingredients include Japanese tiger prawn, tuna, salmon, eel, and salmon roe. Kuromon Ichiba, also known as Osaka's kitchen, is located nearby, so fresh seafood is always in stock, which certainly helps with the taste. Once the sushi is ready, arrange it in a ship-shaped bowl, and then it's time to eat. Enjoy the sushi you made yourself to your heart's content.
The standard course is ¥5,000 per person (six years and older), and the sushi-making workshop and meal time require one and a half hours. You can eat 10 pieces of hand‐rolled sushi (quantity changes according to the way the fish is cut), and a shopping experience at the market is also available as an option. Tachibana, with its range of high quality ingredients and pleasant atmosphere, is a spot that is naturally popular with couples and families from around the world, and even Italian and French food chefs have visited to try sushi making."
Details
Address
1-16-16, Nippombashi, Chuo-ku, Osaka-shi, Osaka 542-0073
TEL
090-3976-1671
Business hours
10 AM to 7:30 PM
Closed
Monday
Website (Japanese and English)
https://www.tachibana0501.com/
Reservations can be made from the website.
*Prices as of late January 2020. Consumption tax included.
Fishing Restaurant Zauo
Eat sashimi and sushi made from fish that you caught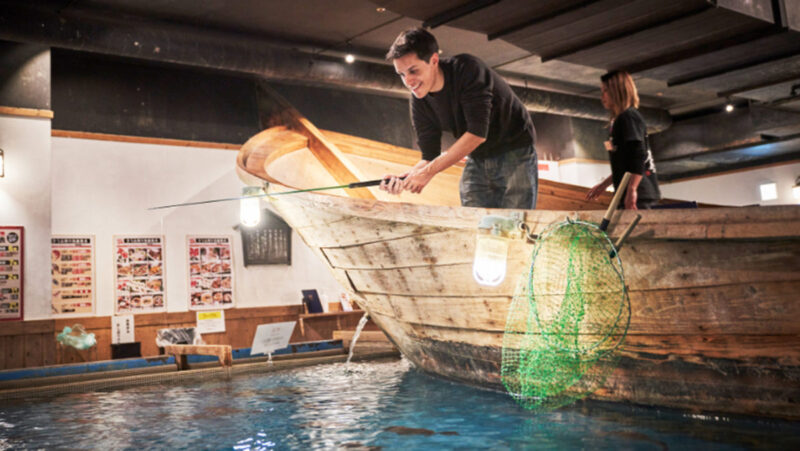 Would you be surprised if you heard that you could fish in a city building? Fishing Restaurant Zauo makes it possible. There are many casual Japanese-style bars, known as "izakaya", where you can enjoy alcohol and a meal, but there are very few izakaya where you can eat fish that you caught. This rare amusement Japanese-style bar is very popular with overseas tourists.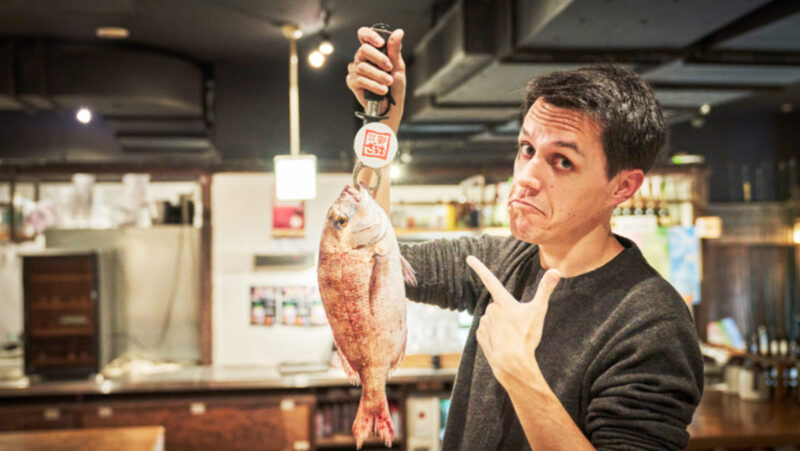 The izakaya has straw-mat rooms shaped like ships, table seats, and large and small private rooms, and you can enjoy fishing from any seat. Full course meals that come with tempura, sushi, or other dishes and fishing tickets are a convenient choice.
Get your fishing rod and bait, and then try your hand at sea bream fishing. If you managed to catch a sea bream, we will hang it on a hook for you so that you don't have to hold it with your bare hand if you don't want to, so don't forget to take a commemorative photo with the fish in your hand.
Don't worry if you don't catch anything. We will exchange tickets for fish. Tickets can be purchased additionally. The fish pond also contains spiny lobster, flounder, horse mackerel, and shellfish, so you can have us cook your favorite fish or shellfish in addition to sea bream.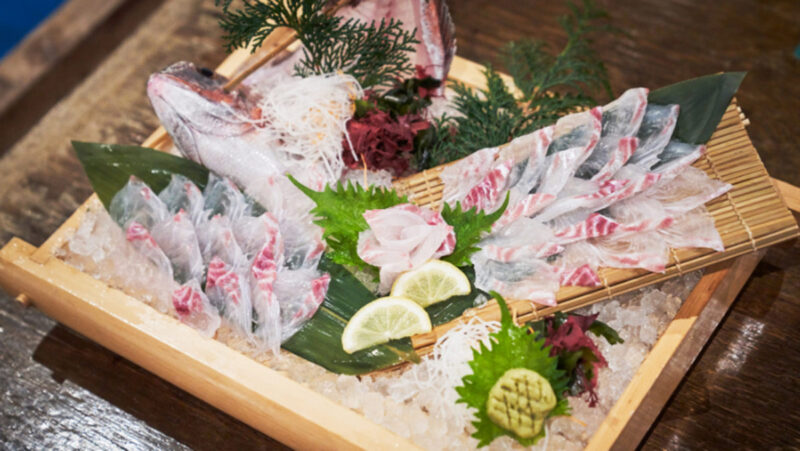 You can choose your favorite fish preparation style from sashimi, grilled fish, fish boiled in soy sauce, deep-fried fish, and sushi (processing fee required). Even choose a different preparation style for each half, and then taste and compare. A fish that you caught yourself probably tastes better."
Details
Address
B1F Hotel Sotetsu Grand Fresa Osaka Namba, 1-1-13, Nippombashi, Chuo-ku, Osaka-shi, Osaka 542-0073
TEL (Japanese language only)
06-6212-5882
Business hours
Weekdays: 5 PM to 11 PM (last order); Weekends and holidays: 11:30 AM to 11 PM (last order)
Closed
No scheduled holidays
Website (Japanese, English)
The reservation system lets you know whether tables are available in real time
https://www.tablecheck.com/en/shops/zauo-nanba/reserve
Foreign language menu
English
Kagura Shokudo Kushiya Monogatari
Deep-fry as many of your favorite skewers as you want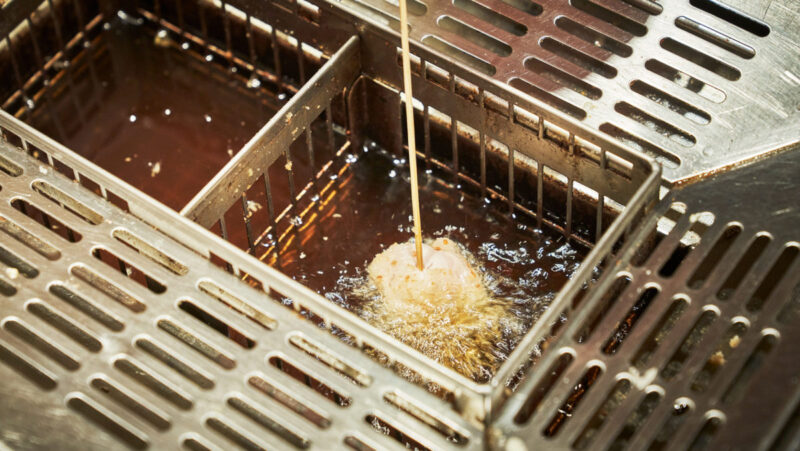 Deep-fried skewers are a must when eating Osaka food. They are made by skewering meat, seafood, vegetables, and other ingredients, applying batter, and then frying them in oil. While it's fine to leave the cooking to a professional cook at a specialty restaurant, but how about trying to fry skewers yourself in celebration of your trip to Osaka?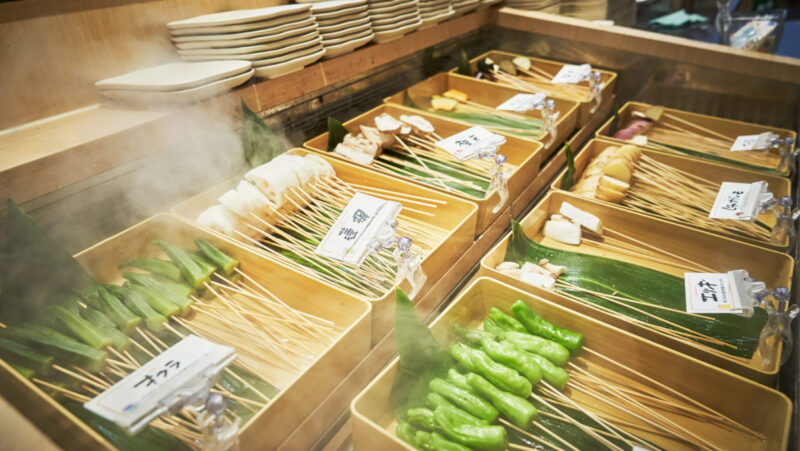 At Kagura Shokudo Kushiya Monogatari, you choose the skewer ingredients you like and then fry the skewers yourself. Around 30 ingredients are available, from beef, pork, shrimp, squid, and vegetables to more unusual ingredients like octopus dumplings and fish-shaped pancakes filled with bean jam. The skewers are very easy to make. Printed instructions with pictures are available, so you don't have to worry if you've never made them before. Simply cover the ingredients with batter and breadcrumbs, and then fry them in the tabletop fryer. When the skewers are ready, the outside is crispy and the inside is juicy. Next, add your favorite sauce, and then eat the skewers while they're hot. A variety of sauce flavors are available, including sweet sauce, dry sauce, Japanese apricot sauce, and cheese sauce.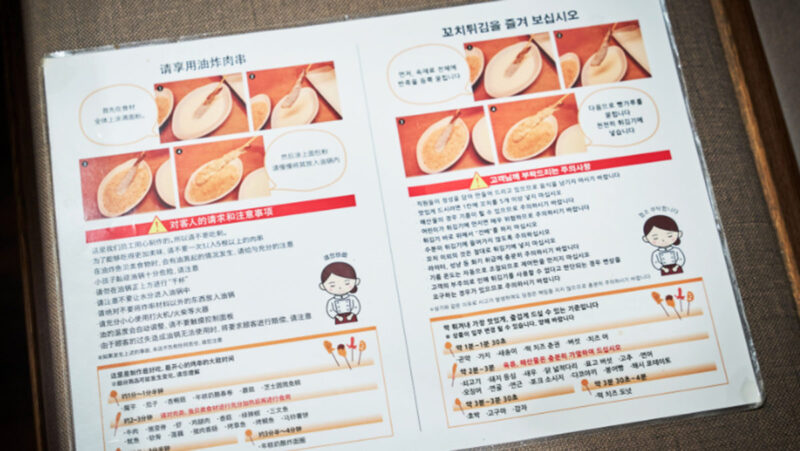 In addition, there is a full lineup of salads, rice with tea poured on it (ochazuke), pasta, and desserts such as chocolate fondue and Swiss rolls, all of which can be enjoyed freely in a buffet style. All-you-can-drink soft drinks and alcohol are also available as an option.
Prices and limit times differ for lunch and dinner, but dinner time is all-you-can-eat skewers of any type for 90 minutes. Apparently, there are people that have eaten over 100 skewers. How many do you think you can eat?"
Details
Address
Namba Parks 6th floor, 2-10-70 Nanbanaka, Naniwa-ku, Osaka-shi, Osaka 556-0011
TEL
06-6649-0126 (Japanese language only)
Business hours
11 AM to 10:30 PM (last order)
Closed
Please refer to the schedule of the Namba Parks shopping complex
Website (Japanese language only)
https://kushiyamonogatari-namba.owst.jpnamba.owst.jp/
Foreign language menus
English, Korean, and Chinese
Sennichimae Hatsuse
Enjoy grilling Osaka's famous Japanese pancakes (okonomiyaki) yourself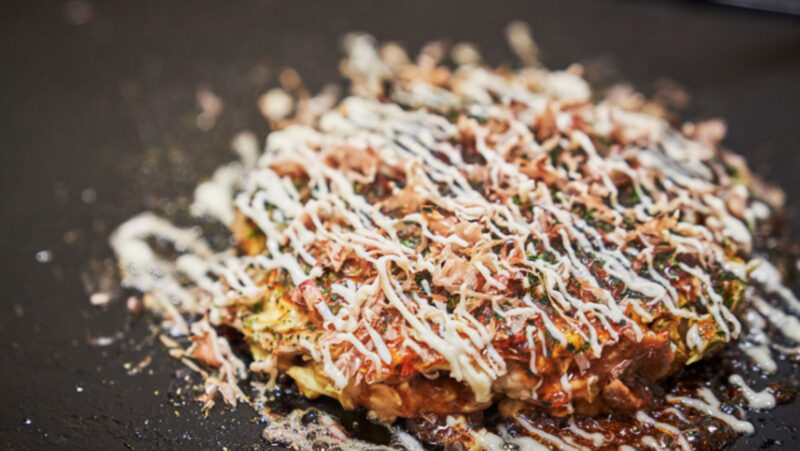 Osakans love Japanese pancakes. At most Japanese pancake restaurants today, the staff prepare the food, but in the past, the customers grilled it. On your long-awaited visit to Osaka, the holy ground of Japanese pancakes, why don't you try grilling one yourself?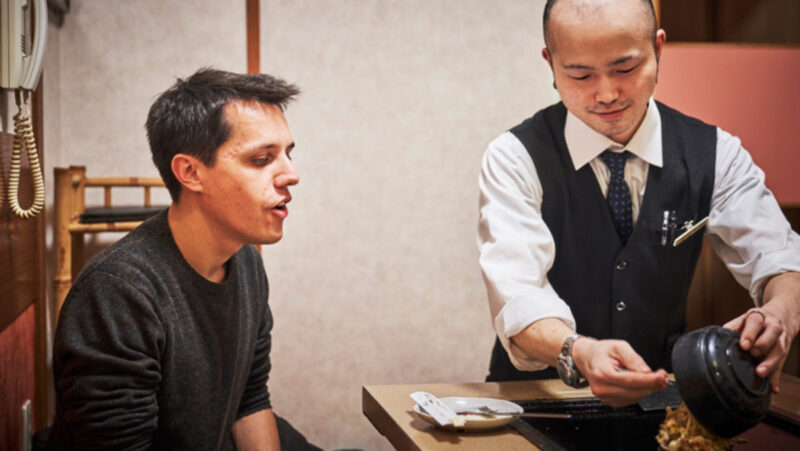 Sennichimae Hatsuse Is a well-established Japanese pancake restaurant that has been in business since 1945. A characteristic of the restaurant is its blend of four types of flour and the use of specially prepared batter that combines skipjack tuna and kombu soup stock. The main point to prepare delicious Japanese pancakes is to mix the batter as long as possible before grilling. Once the Japanese pancake is grilled, season with Worcester sauce, and then add plenty of thick sauce. The two types of sauce create a profound flavor. Next, top with small pieces of sliced dried bonito and green dried seaweed to complete the Japanese pancake. Eat it while it's hot.
If you're unsure about the grilling method, don't worry, because English grilling instructions are available. If you're still unsure, you can ask the staff to prepare the Japanese pancake.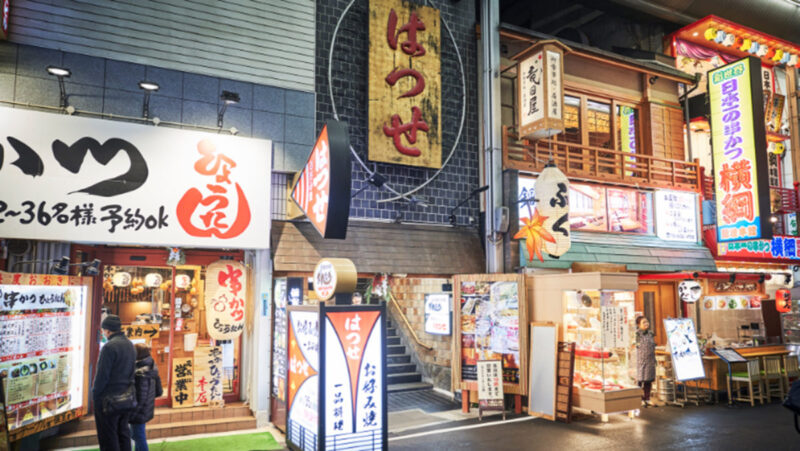 The restaurant also as a complete à la carte service, including beef, pork, and vegetables prepared on a hot griddle, in addition to Japanese pancakes and fried noodles. There are also value courses that come with appetizers and desserts, and an all-you-can-drink plan. All seating is in private rooms, and customers remove their shoes and sit on a tatami-mat floor. Enjoy the feeling of eating Japanese pancakes in a Japanese home."
Details
Address
2F Hatsuse building, 11-25, Nambasennichimae, Chuo-ku, Osaka-shi, Osaka 542-0075
TEL (Japanese language only)
06-6632-2267
Business hours
Weekdays: 11:30 AM to 11 PM (last order); Weekends and holidays: 11 AM to 11 PM (last order)
Closed
No scheduled holidays
Website (Japanese language only)
Foreign language menu
English instructions available
If you want to know about how to access Namba from Kansai Airport, you can read up more in this article.
The best and easiest way to reach Namba from Kansai International Airport!
Reference Source