10 amazing things to do in Kumamoto, Japan!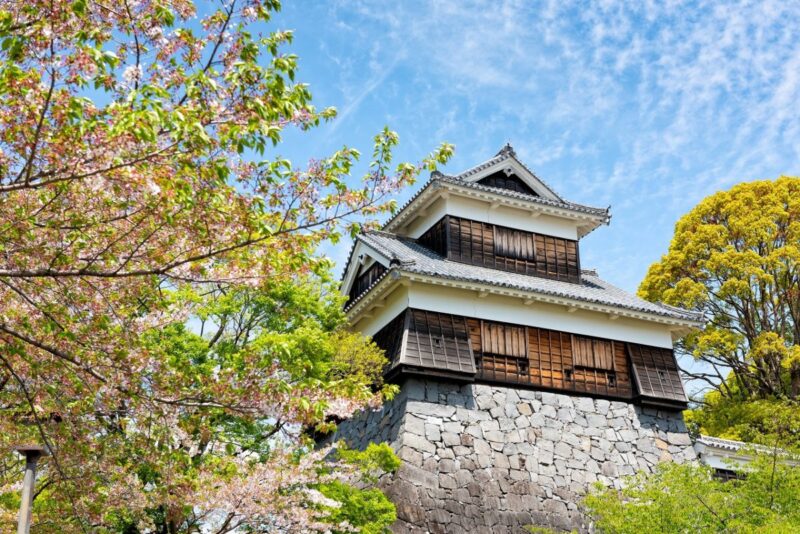 Located at the center of Kyushu, Kumamoto Prefecture is a perfect destination for nature lovers who need an escape from the hustle and bustle of big cities. The prefecture is best known for its cute mascot, Kumamon, and also for its incredibly beautiful castle and the enormous Mt. Aso.
Often overlooked for its more famous neighbors, there are a lot of things to do and see around Kumamoto Prefecture, including visiting the famous Aso Shrine, soaking and relaxing your body in the hot springs, and visiting Amakusa to enjoy the dolphin watching.
Brimming with beautiful nature, how about visiting Kumamoto to have both, an extraordinary, yet a relaxing adventure?
Index
How to get there
Kumamoto is located in the southwestern region of Japan, and the prefecture is connected to Tokyo and Osaka through the airplanes.
Getting to Kumamoto from Tokyo and Osaka is easy; you just have to take one of those flights provided by ANA, JAL, or other LCC airlines company. It only takes around 1 hour and 40 minutes from Tokyo and around 70 minutes from Osaka.
Recommended sightseeing spots in Kumamoto
Kumamoto is a spot to visit if you're looking for something off the beaten path. The prefecture is packed with numerous beautiful natural spots and also dozens of historical sightseeing spots, including Kumamoto Castle and Aso Shrine.
Blessed with beautiful nature, Kumamoto is a perfect destination for a weekend getaway. Here in Kumamoto, you can find many rare natural spots that are difficult to find in Tokyo and other big cities. So how about spending several nights in Kumamoto to enjoy its wonderful sightseeing spots and mouthwatering local treats?
Here are our picks for the best things to do in Kumamoto, Japan!
1. Explore the beautiful Suizenji Garden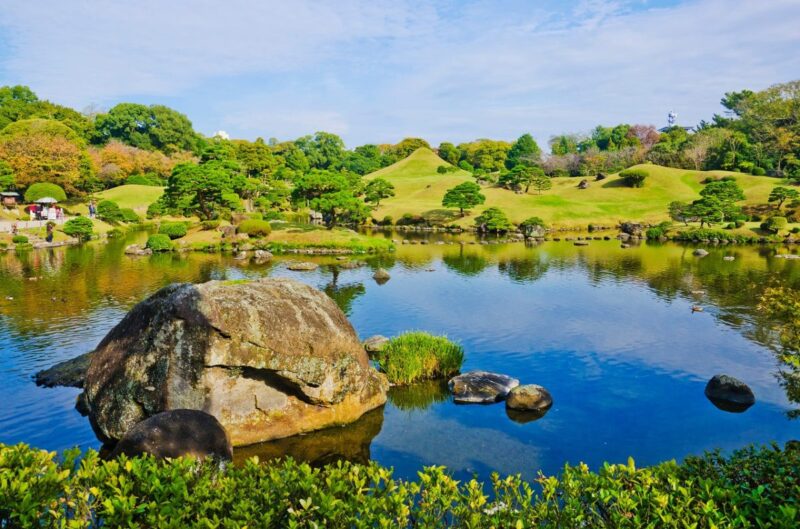 Suizenji Garden, also known as Suizenji Jojuen, is perhaps the most famous garden in Kumamoto, which has been designated as a national historic site and a place of scenic beauty by the government. Serving as a rest area for the first lord of Kumamoto, the garden offers beautiful seasonal views with its landscaped grass, small islands floating on the pond, and a man-made hill that looks like Mt. Fuji.

If you happen to visit Kumamoto in fall, don't forget to stop by this enormous garden for its beautiful autumn leaves.
Suizenji Garden
2. Walk around Josaien and enjoy Kumamoto's local treats!
Josaien is a special tourist establishment in Kumamoto that is packed with small stores and stalls selling local specialties and souvenirs. The area is famous for its retro landscape, and there you can try Kumamoto's local specialties such as Salad Chikuwa (deep-fried fish cake with salad inside) or the Ikinari Dango (sweet potato and red bean paste wrapped in a sticky dough).
Josaien
3. Stop by the marvelous Kumamoto Castle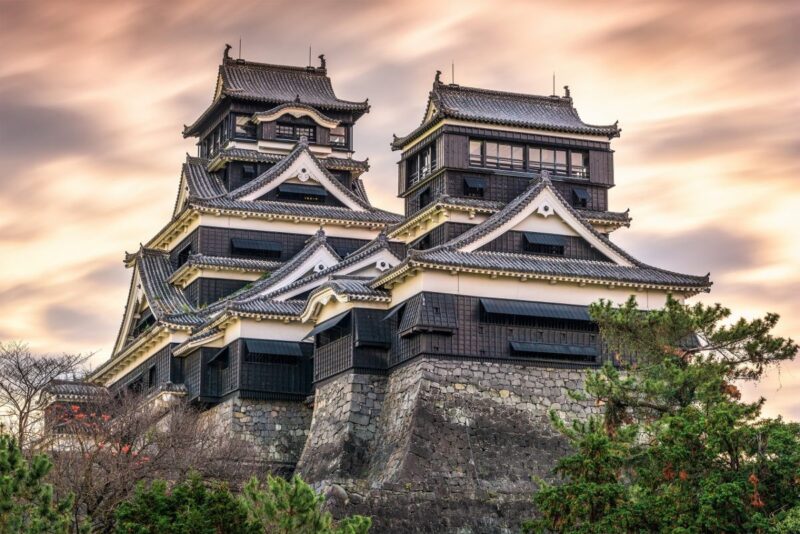 It's not an exaggeration to say Kumamoto Castle as the symbol of the prefecture, and the gorgeous and enormous castle actually has a deep connection with Kiyomasa Kato, the famous warrior, and Musashi Miyamoto, the legendary swordsman.
The castle was built in 1607 and ever since then it has served as a major stage in history for countless events in Kumamoto. The main feature of this castle is its beautiful and solid stone walls, which were built to prevent attacks from the local samurai and ninjas.
Some areas of the castle cannot be visited after the earthquake in 2016, but you can still visit the castle tower, yagura (turret), and other structures from Ninomaru Square.
Kumamoto Castle
4. Visit Hosokawa Gyobutei, a historical wooden house nearby Kumamoto Castle
How about visiting Hosokawa Gyobutei, a historical wooden house near Kumamoto Castle, to have a short flashback to the history?
Hosokawa Gyobutei is the former residence of Hosokawa Gyobu, a highly ranked samurai who used to live in the Sannomaru are of Kumamoto Castle. The wooden house was built more than 300 years ago and it occupies a land area of 1,000 sqm.
The house itself unfortunately is closed right now due to the earthquake that happened in 2016, but a portion of its garden is opened to the public around late November for fall foliage.
Hosokawa Gyobutei
5. Enjoy shopping at Shimotori Shopping Arcade
Looking for Kumamoto's delicious local treats and souvenirs to take home? How about visiting Shimotori Shopping Arcade to visit is numerous local stores?
Shimotori Shopping Arcade is known as the largest shopping arcade in Kumamoto Prefecture, and it draws around 50,000 people each day, and the area is lined with department stores, boutiques, and food and drinking establishments.
If you're looking for a hype izakaya to visit in Kumamoto, you just have to head to this area and if you're lucky, you'll see many great street musicians and groups performing in the district.
Shimotori Shopping District
6. Pray for good luck in matchmaking and marriage at Aso Shrine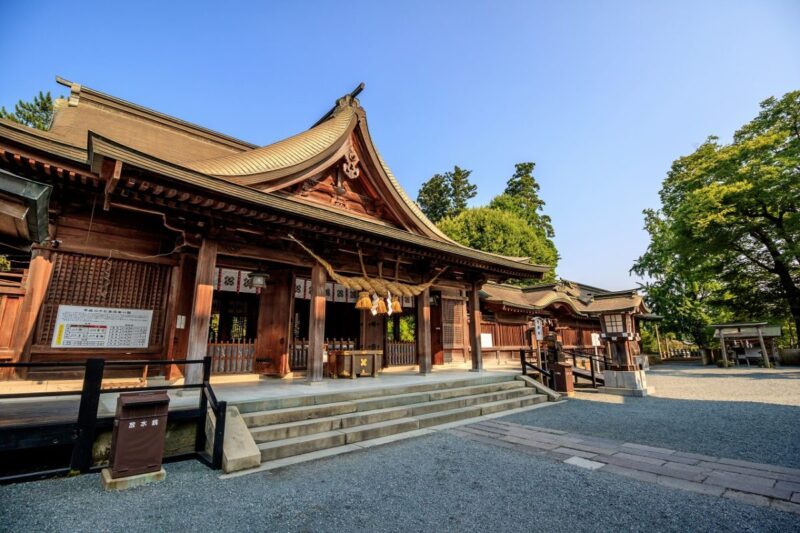 Located in the same region with Mt. Aso, Aso Shrine is an ancient shrine in Kumamoto with a history spanning more than 2000 years. Aso Shrine worships the crater of Mt. Aso, and it has been a deeply revered national place of prayers since ancient times.
The shrine regularly holds the Kako Chinsai in June, a ritual where you pray for the Mt. Aso to remain dormant. These days, many people visit to pray for good luck in matchmaking and marriage.
Aso Shrine
7. Relax yourself at Kurokawa Onsen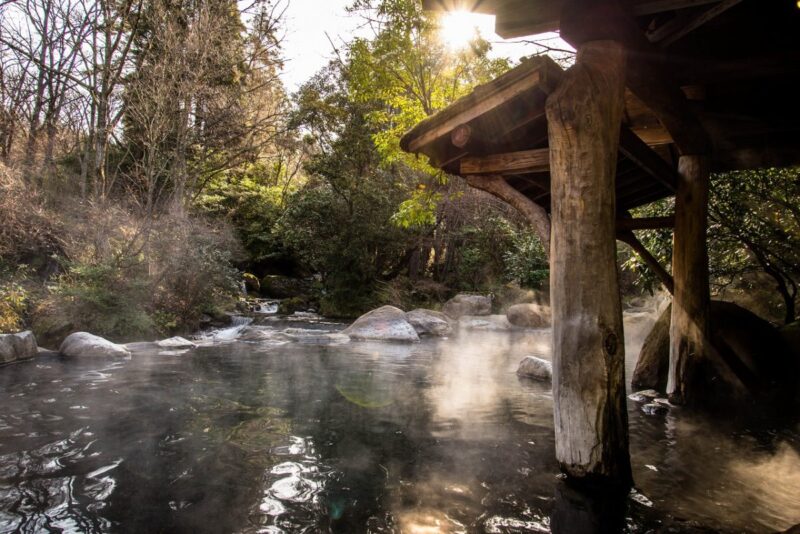 How about having some TLCs at Kurokawa Onsen?
Kurokawa Onsen is a hot spring district in Kumamoto that is known for its rows of charming Japanese inns (ryokan) in a tranquil area. Those Japanese inns also offer onsen facilities to the public, where you can enjoy Kurokawa Onsen's renowned sulfur water without having to stay in those inns.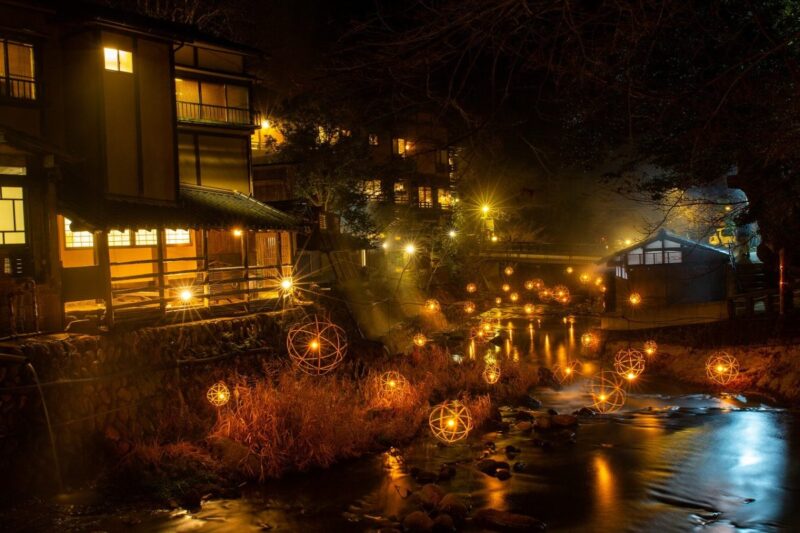 Kurokawa Onsen is famous for its gorgeous Yu-akari, an event that is held from late December to late March, where bamboo tubes and bamboo works set up around the Marusuzu Bridge are lit up, painting the night with beautiful colors.
Kurokawa Onsen
8. See the beautiful landscape of Kusasenri Ga Hama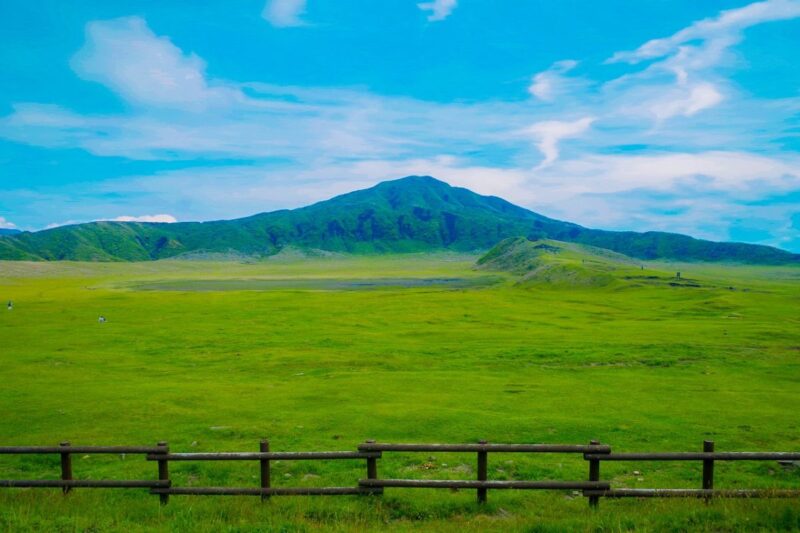 Looking for an expansive green in Kumamoto? How about visiting the Kusasenri Ga Hama for its beautiful natural landscape?
Located in the Aso region, Kusasenri Ga Hama is a vast 785,000 sqm prairie located on 1,140m above sea level, and the region is famous for its grazing cows and horses that live there. In Kusasenri Ga Hama, you can enjoy different sceneries that change every season, including the gorgeous greenery in the summer and fantastic white surroundings in the winter.
Kusasenri Ga Hama
9. Enjoy cruising along the Kuma River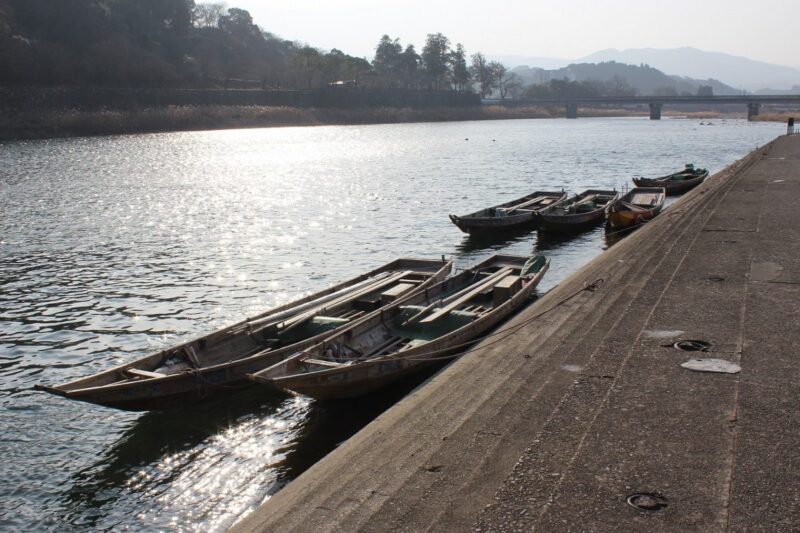 How about participating in Kumagawa Kudari (river rafting on Kuma River) to enjoy the thrill offered by its rapid stream?
Available through advance reservation only, the river rafting offers two different rafting courses- Gekiryu Course, which will let you travel through Kuma River's rapid streams, or Mild Course, which allows you to enjoy the beautiful townscape of Hitoyoshi while traveling across the river.
Kuma River
10. See the cute dolphins at Amakusa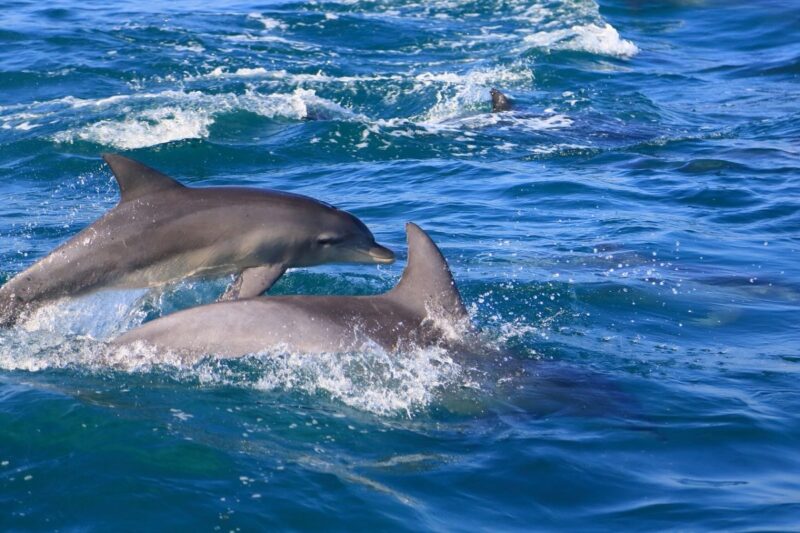 There are approximately 200 Indo-Pacific bottlenose dolphins live off the coast of Itsuwa in Amakusa, and you can enjoy dolphin watching by participating in the dolphin watching course offered by the local tour agencies in Amakusa.
Once you get on the boat, you'll be able to see the dolphins, and if you're lucky enough, you'll be able to not only watch them but to almost touch them as the boat can go very close to the dolphins.
The average cost for dolphin watching in Amakusa is around 2,500 yen for adults and 1,500 yen for children, and we've included the link to one of the dolphin watching local vendors in Amakusa.
Amakusa Dolphin Watching
Kumamoto's best local treats
Despite being underrated compared to Fukuoka, Kumamoto is packed with many gorgeous nature spots and interesting historical sightseeing spots like Aso Shrine and Kumamoto Castle. Basashi, the horse sashimi is perhaps Kumamoto's most famous local produce, but Kumamoto is more than that. Kumamoto is also known for its juicy local pork and gigantic local pears, and wherever you go, scrumptious local treats await in Kumamoto. Here are our picks for the best foods to try when visiting Kumamoto!
1. Kumamoto ramen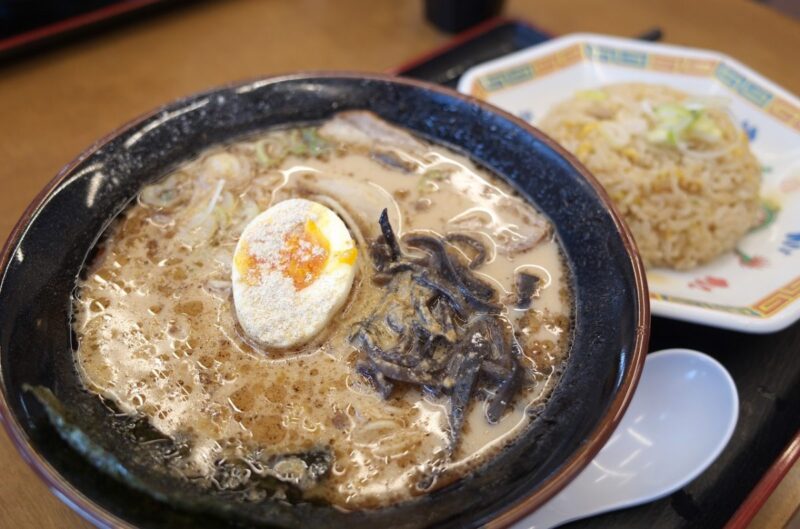 Known for its mouthwatering smell of roasted garlic, Kumamoto Ramen is a tonkotsu ramen made from the blend of pork bone and chicken stock. The ramen uses medium-sized straight noodles and is served together with roaster garlic chips, garlic oil, pork chashu, and soft-boiled eggs.
2. Basashi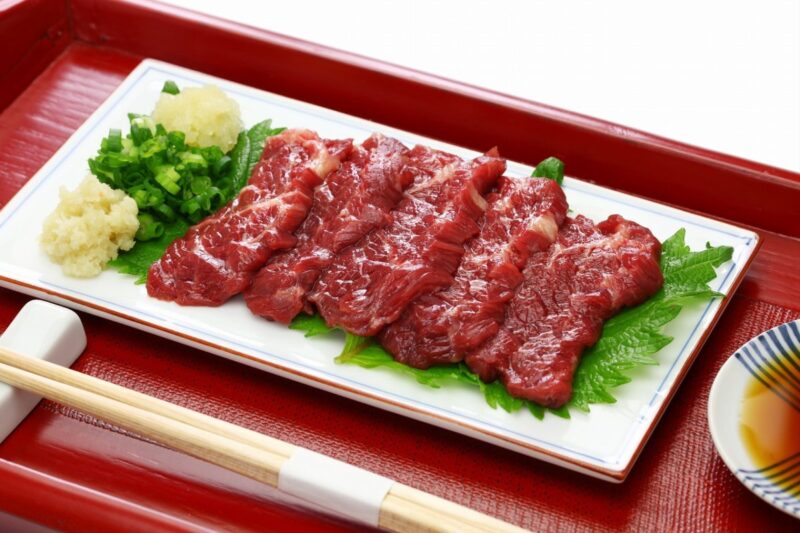 It's not an exaggeration to say that Basashi is perhaps the most iconic local treats of Kumamoto. Basashi is a horse meat sashimi, which is hard to find in other prefectures, and it has become a part of staples in Kumamoto for a long time ago. Horse meat is known for its high protein and less fat, and it is loved by the Japanese for its sweet flavor.
3. Karashi renkon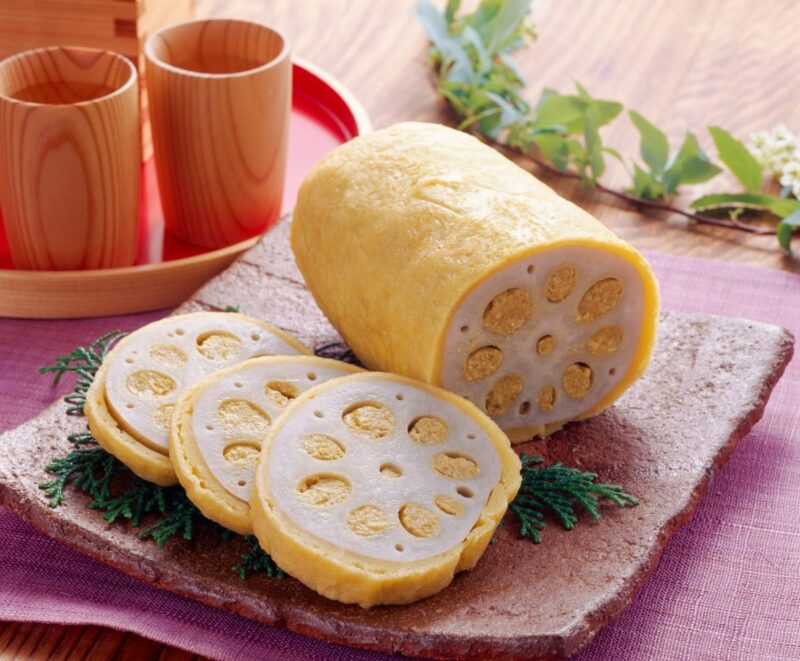 Have you ever heard of Karashi Renkon before? Karashi Renkon is a chewy gourmet snack of Kumamoto, that is made by stuffing lotus root (renkon) with spicy Japanese mustard (karashi) and miso paste. Karashi renkon was eaten for its high nutritional value, but many people now enjoy karashi renkon with shochu or Japanese sake.
4. Tonkatsu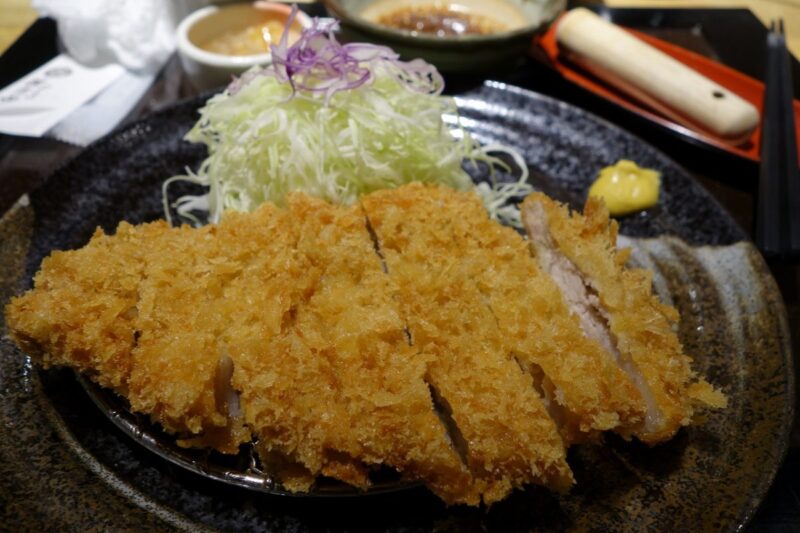 Kumamoto is famous for its high-grade local pork, which is known for its soft texture and juicy flavor. Tonkatsu, a Japanese fried pork cutlet, which is made using pork fillet or pork loin, is one of the most famous local treats of Kumamoto.
5. Pear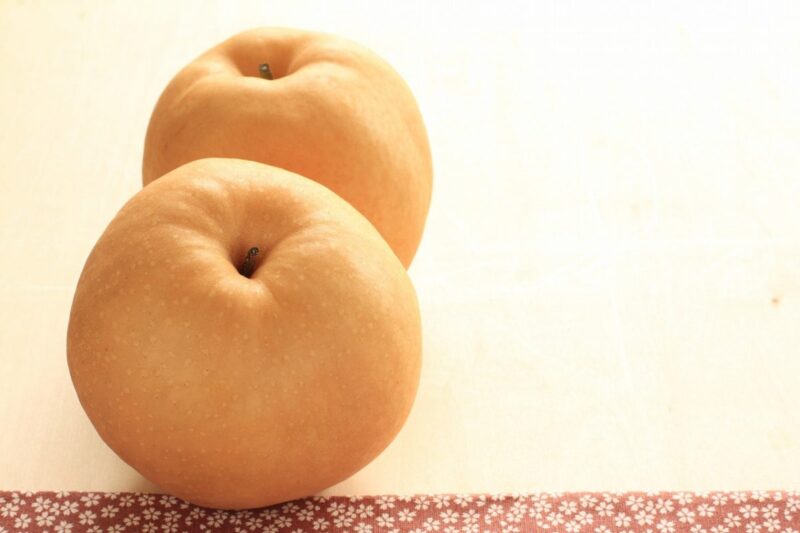 Blessed with incredible nature, Kumamoto is known for its delicious, large, and sweet pears: Kosui Pears. In seasons during the summer, how about visiting Kumamoto to try its one-of-a-kind Japanese pears?
Now that you have an idea of how many fabulous spots are in Kumamoto, all you have to do is plan your itinerary to enjoy unforgettable experiences in Kumamoto!