10 amazing things to do in Fukuoka, Japan!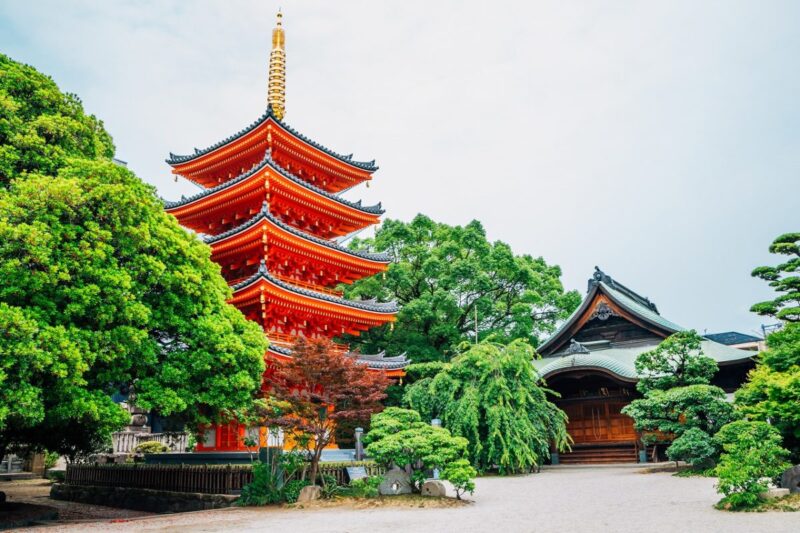 Bordered by Saga, Kumamoto, and Oita prefectures, Fukuoka Prefecture is located in the north of Kyushu Island. Fukuoka is the most famous travel destination of Kyushu, and it is highly popular for its great sightseeing spots, scrumptious food, and beautiful nature.
Fukuoka is a great destination for a weekend getaway, as it is well connected by both rail and air. From the world's largest bronze Buddha to the universally recognized shrine Dazaifu Tenmangu, Fukuoka is brimming in culture and exciting places to visit!
Index
How to get there
Fukuoka is accessible by both trains and airplanes. It is connected to Hiroshima, Osaka, Kyoto, and Tokyo through the JR Kyushu Shinkansen and the JR Sanyo Shinkansen. The airport is located near the city center, and it offers flights to major cities in Japan and some cities in Asia via international flights. The Hakata Port in Fukuoka City offers ferries to South Korea and to smaller islands in Kyushu.
The prefecture is accessible from Tokyo by air in two hours or bullet train in six hours, and from Hiroshima and Nagasaki by train for a little over an hour each.
Recommended sightseeing spots in Fukuoka
Fukuoka is a perfect destination for a weekend getaway, especially when you want to escape from the hustle and bustle of Tokyo. Located on a shoreline, the prefecture is famous for its extensive mountains, gorgeous temples and shrines, world-class seafood, and mouthwatering ramen.
Some of Fukuoka's most popular spots are Ohori Park, Kokura Castle, Ukiha Inari Shrine, and Nakasu.
Here are our picks for the best things to do in Fukuoka, Japan!
1. Take a morning walk at Ohori Park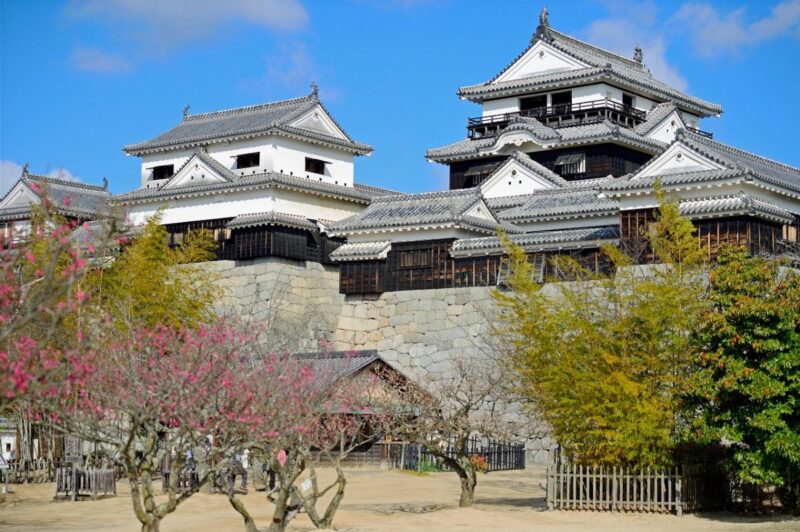 How about taking a morning walk at Ohori Park?
Ohori Park is an immense park with a pond with about 226,000 sqm in area. The park is famous for its Ukimido (floating temple island), which is located on Yanagi Island, a small island at the center of the pond.
The pond was a part of the moat system of Fukuoka Castle, and you can explore the pond using an Amenbo (water strider) boat, an elongated banana-shaped boat that you can pedal like a bicycle
Ohori Park
2. Stop by the oldest shrine in Fukuoka: Kushida Shrine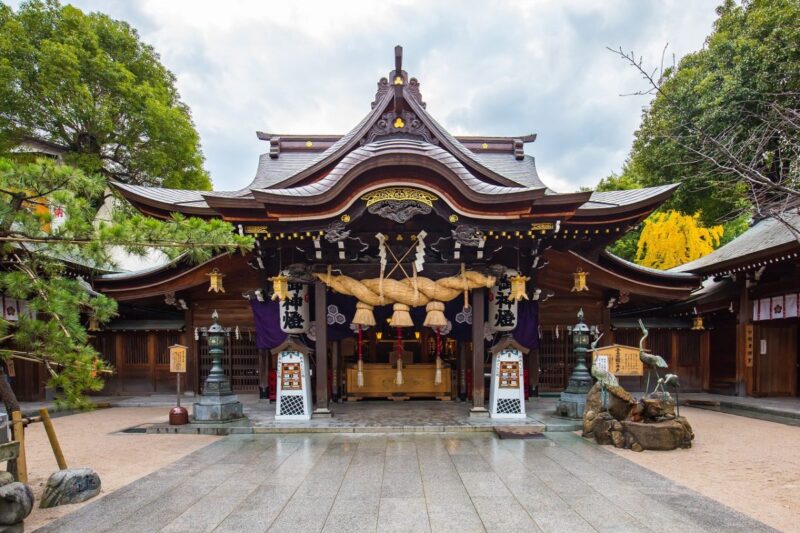 How about stopping by Kushida Shrine, the oldest shrine in Fukuoka?
Built in 757, the shrine is known for bringing business prosperity and youth, and it is also home to the Hakata Gion Yamakasa Festival, the biggest festival in Fukuoka famous for its giant float.
There is also the Reisen Tsuru well, which is known to bring youth and a long life for those who drink the water. It is suggested to drink three mouthfuls of water; the first drink brings youth and long life for the drinker, the second drink is for the family, and the third is for blood relatives.
Kushida Shrine
3. Enjoy flower viewing at Uminonakamichi Seaside Park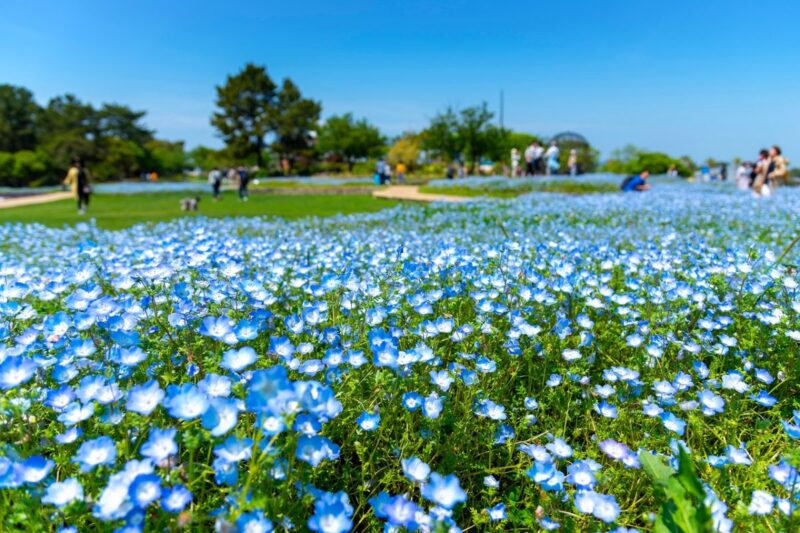 Have you ever heard of Uminonakamichi Seaside Park before?
Uminonakamichi Seaside Park is a large national park located on a narrow sandbank, surrounded by the Hakata Bay and the Genkai-nada Sea in Fukuoka.
Stretching about 6 kilometers from east to west, the total area of this park is about 300 hectares.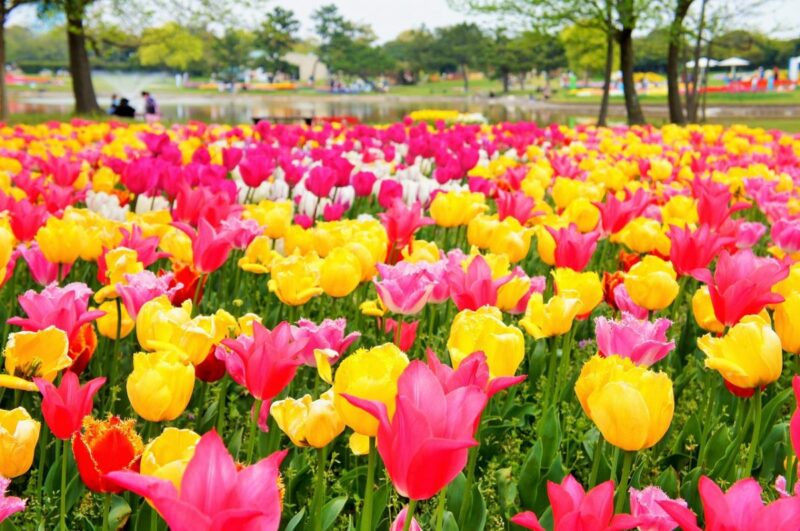 Best known for its calming baby blue eyes (nemophila) flowers in spring, Uminonakamichi Seaside Park is also famous for its vibrant tulip flowers, which bloom around the same time with nemophila.
Uminonakamichi Seaside Park
4. Admire the 5 story pagoda at Tochoji Temple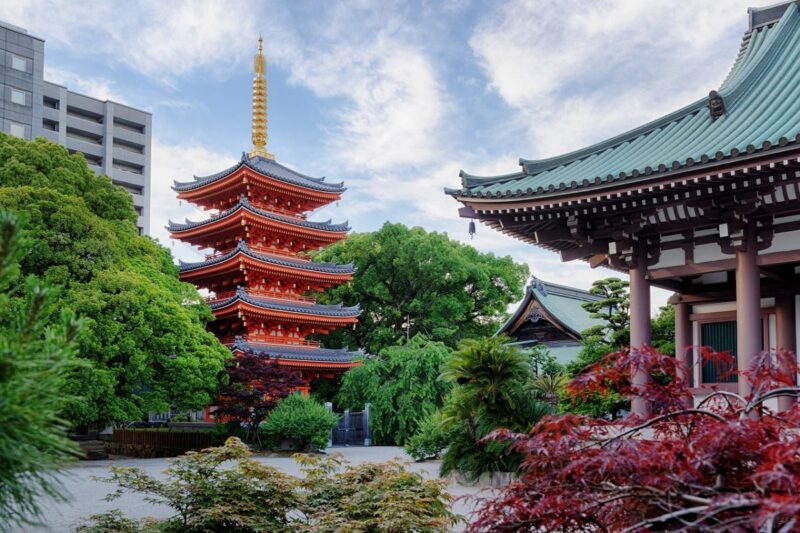 Located just a 10-minute walk from Hakata Station, Tochoji Temple was built in 806 by the monk Kukai as the head temple of the Shingon sect in Kyushu.
The temple was first located by the sea, but it was later moved to where it is now by the leader of the Fukuoka clan, Tadayuki Kuroda.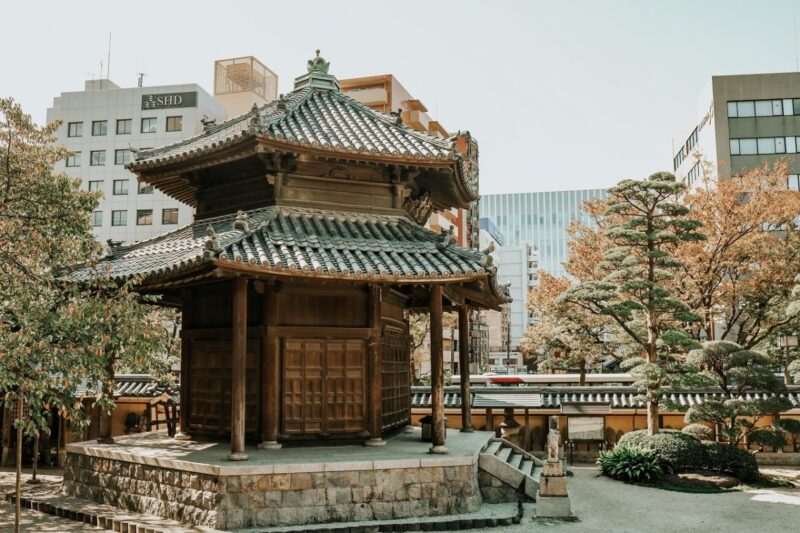 The temple is famous for the Rokkaku-do, a cultural property built-in 1842 where a hexagonal Buddha statue known as Zushi enshrined, which is only open to the public on the 28th of every month. The 5 story pagoda is relatively new as it was completed in 2011, and its colorful wooden construction is extremely beautiful.
Tochoji Temple
5. Visit Kyushu's largest entertainment district: Nakasu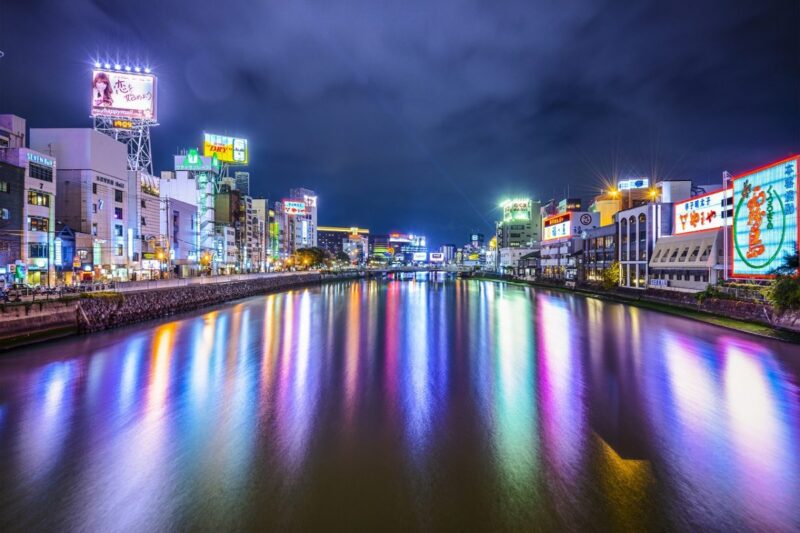 How about visiting Nakasu before you call it a day?
Known as the biggest entertainment district of Kyushu, Nakasu nestled between the Naka River and Hakata River, right by Tenjin.
The area offers a great nightlife scene with plenty of options for food and drinks.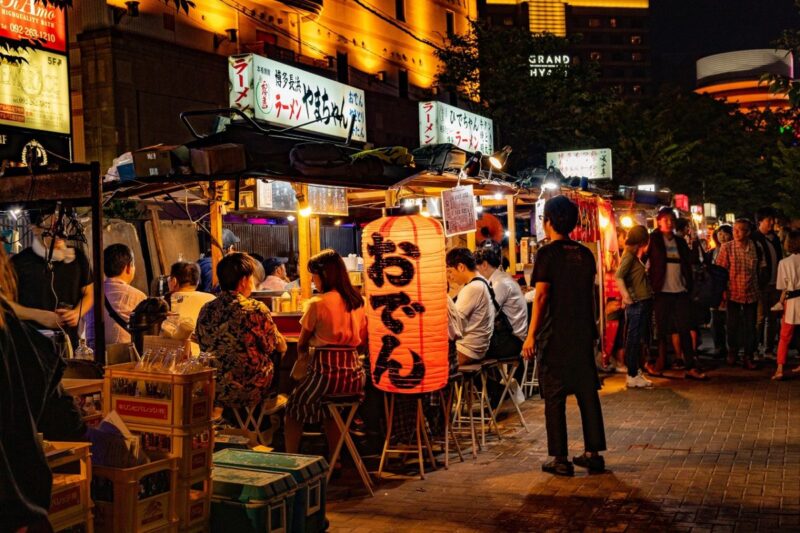 There is a street lined with numerous yatai food stalls in Nakasu, next by the Naka River. The food stalls sell various types of food like ramen, oden, yakitori, gyoza, or even motsu nabe!
Nakasu
6. Visit Komyozenji Temple for its mesmerizing Japanese garden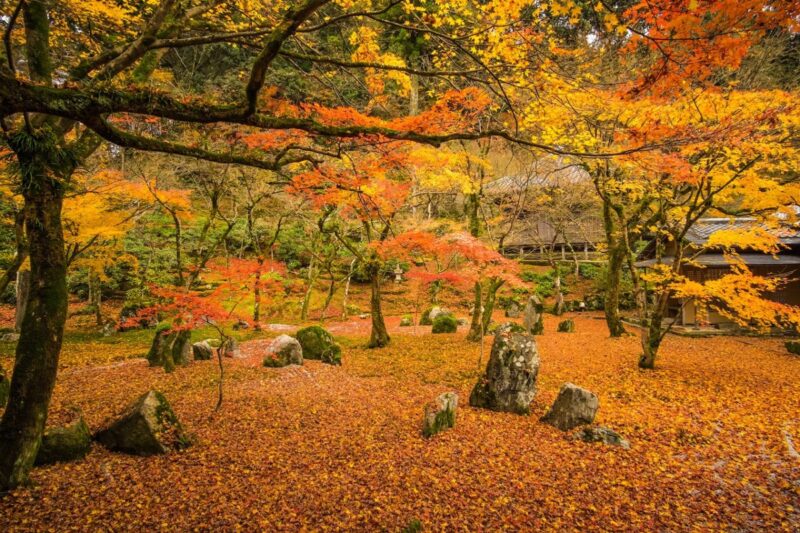 Komyozenji is a Zen Temple located in Dazaifu, an area in Fukuoka that is famous for its Tenmangu Shrine. Known for its gorgeous Japanese garden, it has two rock gardens located at the front and the back of the temple.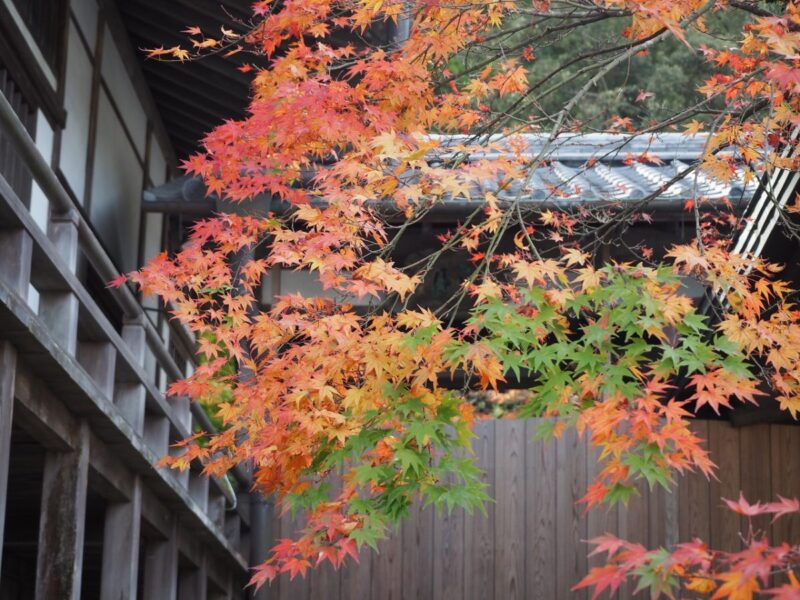 The gardens have moss patches, rocks, and pebbles. The maple trees in the garden change their colors in mid November, making it one of the best spots for fall foliage in Fukuoka.
Komyozenji Temple
7. Visit Dazaifu Tenmangu Shrine; one of the two most important Tenmangu Shrines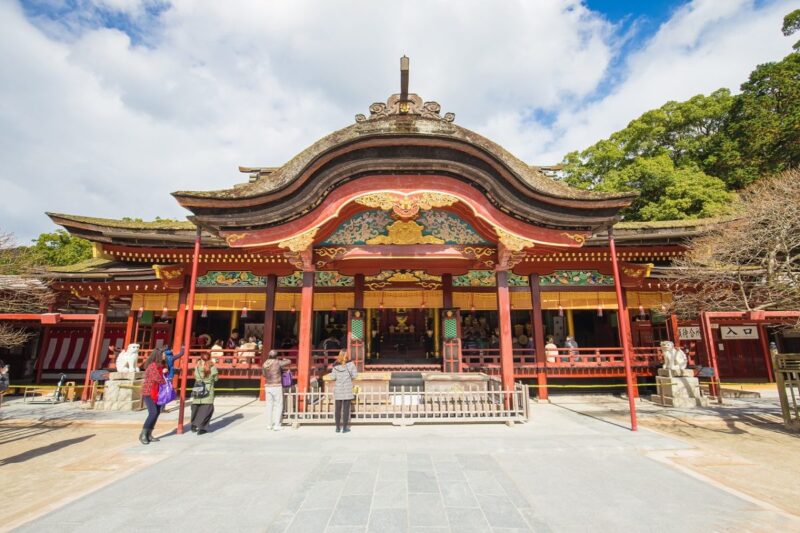 Located just a 5-minute walk from Dazaifu Station, Dazaifu Tenmangu Shrine is the most important one alongside Kitano Tenmangu in Kyoto. Tenmangu Shrines are dedicated to the spirit of Sugawara Michizane, a famous scholar and politician of the Heian Period, and he has been associated with Tenjin, a Shinto deity of education, for his intelligence. The tradition of Tenmangu Shrines began after Michizane passed away in Dazaifu in 903, and the Tenmangu Shrine in Dazaifu was built on Michizane's grave.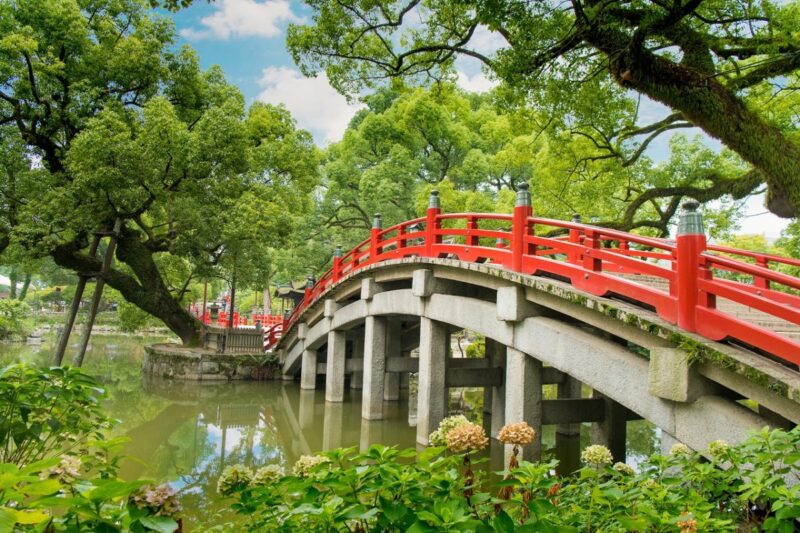 Inside the shrine, there is a pond built in the form of the Japanese character for 'heart'. There are also two red arched bridges and islands that represent the past, present, and future.
Dazaifu Tenmangu Shrine
8. Enjoy the ocean view at Itoshima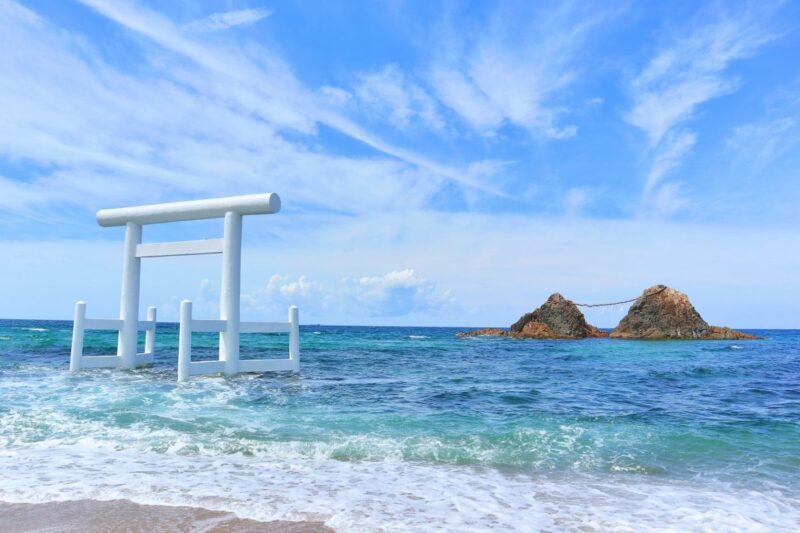 Itoshima is just less than an hour out of the center of Fukuoka City, and it is best known for its sandy beaches and beautiful floating white torii gate.
The white torii gate is located in Futamigaura Beach, a famous beach of Itoshima that is home to Meoto Iwa, a pair of 'husband and wife' tocks linked together by a rope. Futamigaura Beach is also home to many excellent beachside cafes and restaurants, making it a great spot to enjoy the sunset before you call it a day.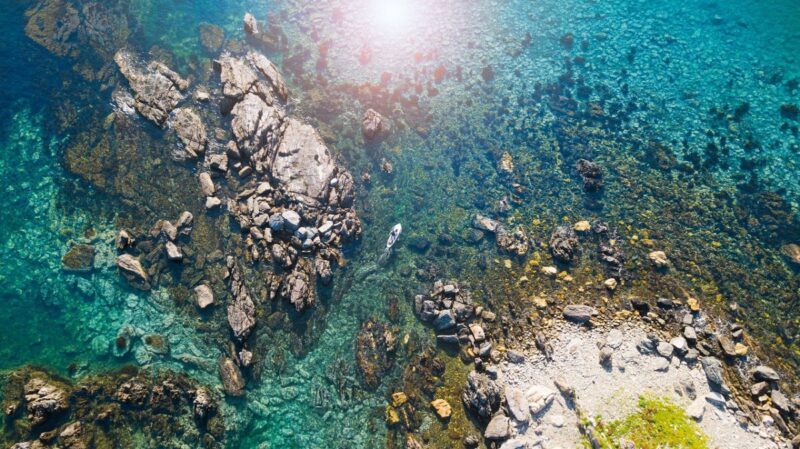 Itoshima is a famous spot for surfing, body surfing, and sup surfing; apparently it's one of the best spots for winter surfing in Japan!
Itoshima
9. Visit the beautiful white castle: Kokura Castle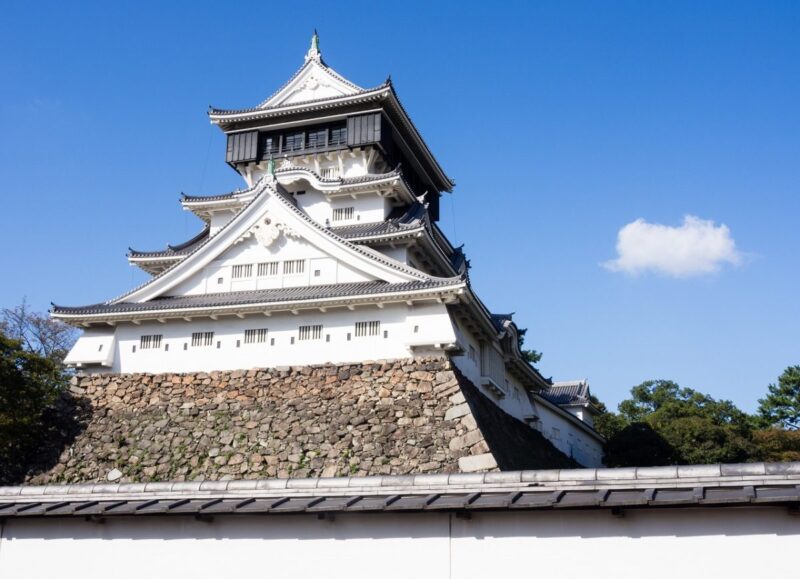 Kokura Castle was built in 1602, and it was destroyed by the fire in 1866, and it was reconstructed to the current castle in 1959. Located not so far from Kokura Station, the castle's traditional architecture gives an interesting visual contrast to the modern shopping and entertainment center surrounding it.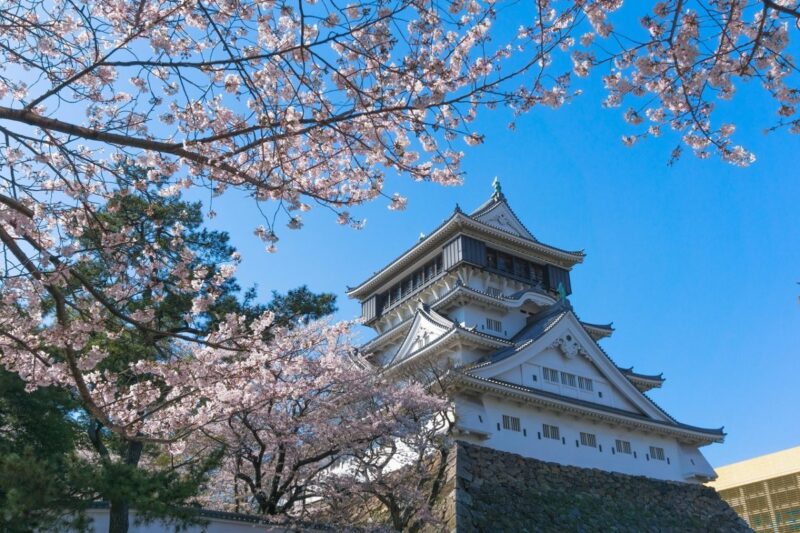 The castle is a five story castle and its grounds; Katsuyama Park, is a popular cherry blossom viewing spot. The cherry blossoms usually bloom around early April, and you can go to the castle's top floor to see the panoramic views of the city.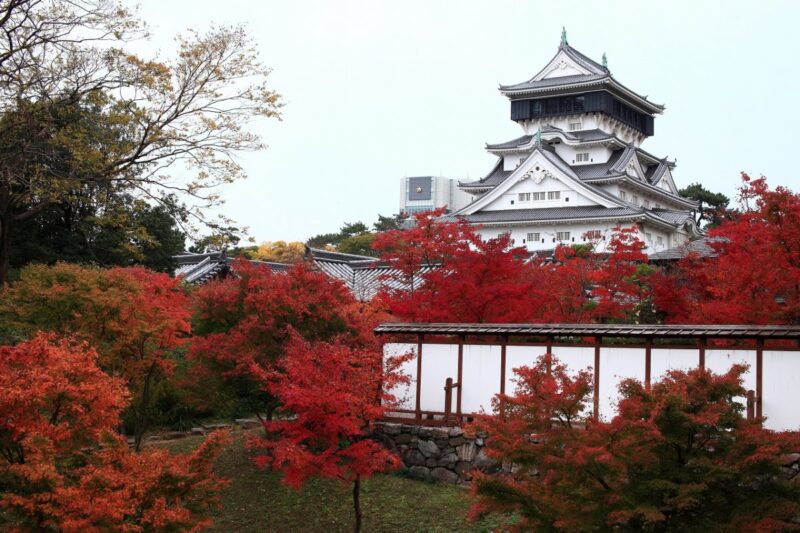 In fall, Kokura Castle turns to a gorgeous fall foliage spot, and many tourists visit the castle to enjoy the view of the red maple leaves in mid November.
Kokura Castle
10. Chill and relax with the world's largest bronze Buddha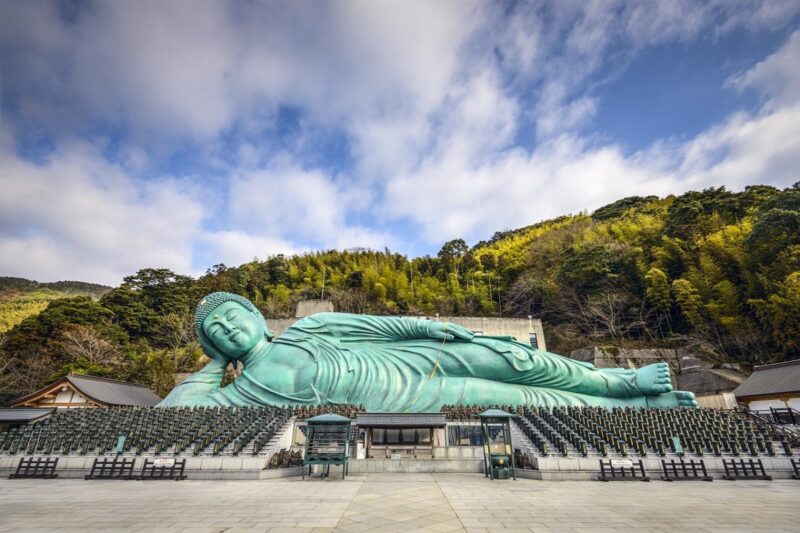 Nanzoin Temple is located in Sasaguri, which is just a 25-minute train ride from Fukuoka City.  The temple attracts more than 1 million visitors yearly, particularly those who travel to find the world's largest 'reclining' bronze Buddha.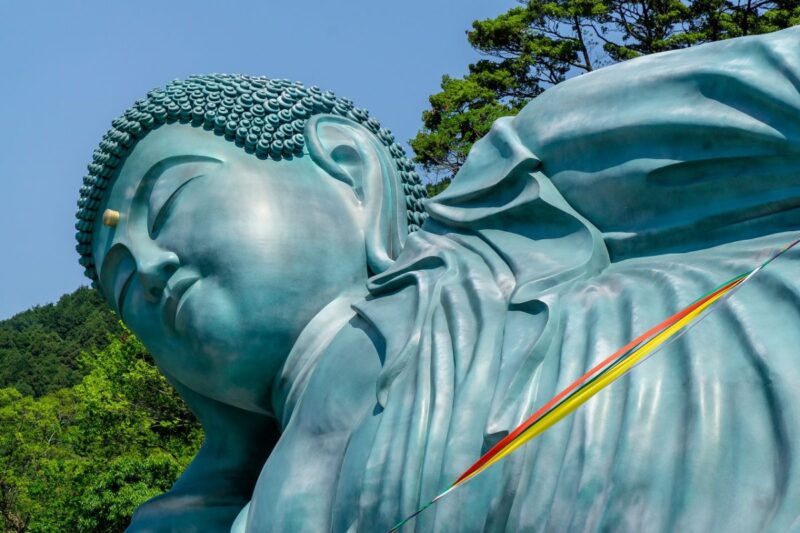 The Buddha, who is lying horizontally, is 41-meters long, 11-meters high, and weighs around 300 tons. The statue was a gift to Japan from Myanmar, as a gratitude for the financial and humanitarian aid received from Japan. Five different-colored strings are tied down from the Buddha's hand, and it is believed that you can connect with the Buddha while holding these strings.
Nanzoin Temple
Fukuoka's best local treats
Fukuoka is blessed with a warm climate and an excellent natural environment like its crystal clear sea. The prefecture has world-class seafood harvested directly from the Hakata bay, and fresh farm products harvested directly from the mountains. From the widely known Hakata ramen to the not-so-famous motsunabe, wherever you go, scrumptious local treats await in Fukuoka. Here are our picks for the best foods to try when visiting Fukuoka!
1. Hakata ramen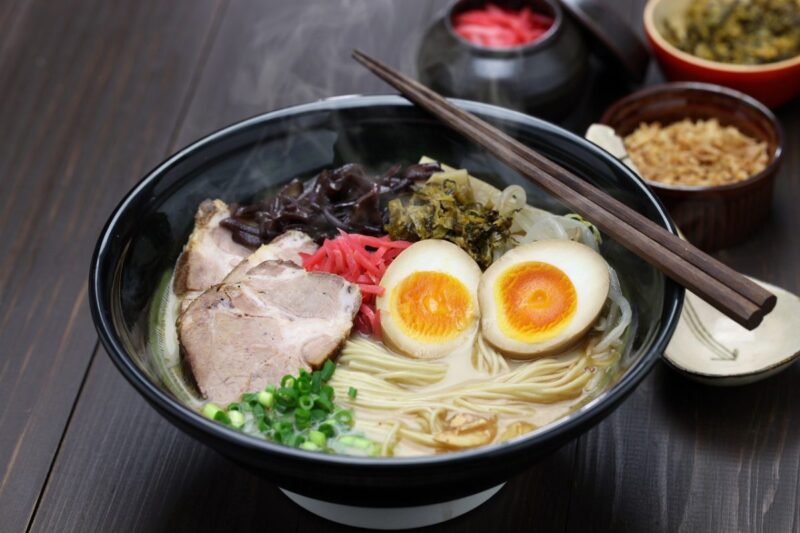 One of the most popular types of ramen is tonkotsu ramen, a ramen with milky-white soup made with pork bones and thin noodles. Fukuoka is the birthplace of tonkotsu ramen, and in Fukuoka people call it Hakata ramen instead. Ichiran or Ippudo may be some of the best places to begin your Hakata ramen journey in Fukuoka.
2. Mentaiko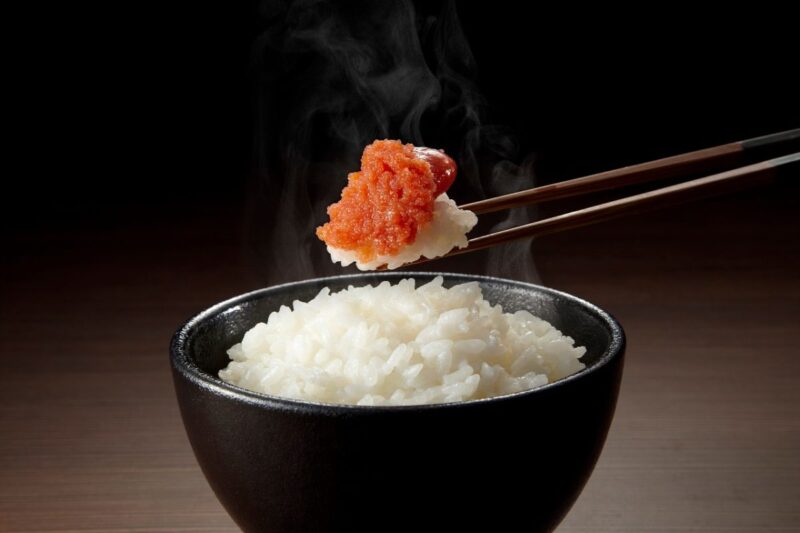 Fukuoka is the land of pollock roe, and karashi mentaiko, the spicy pollock roe, is the popular product of Fukuoka. Karashi mentaiko is a fresh pollock roe marinated in salt and red chili peppers. Mentaiko are usually served raw on top of freshly cooked rice, or served as a topping for pasta or a rolled omelette (tamagoyaki).
3. Motsunabe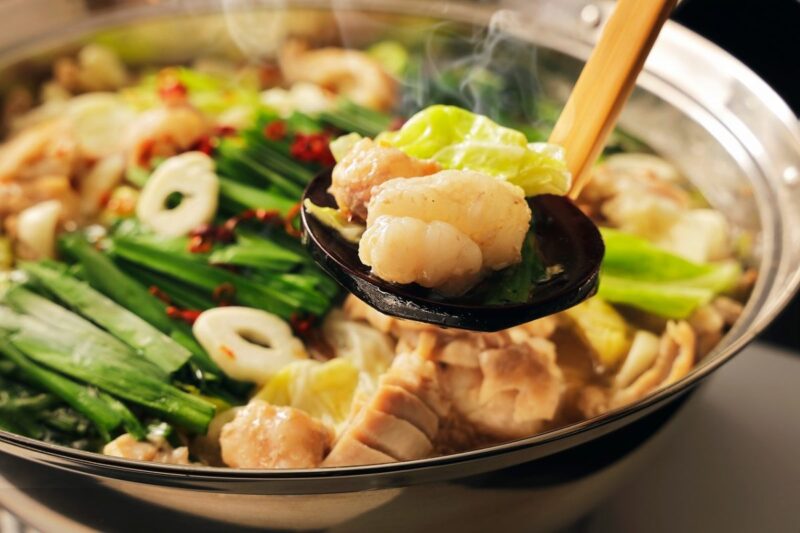 Motsunabe is a hotpot dish consisting of motsu (cow and pig offal) and vegetables simmered together with special soup made of soy sauce, garlic, miso, and chili peppers. Motsunabe is a popular winter food in Fukuoka, but you can find it at every restaurant in Fukuoka throughout the year.
4. Mizutaki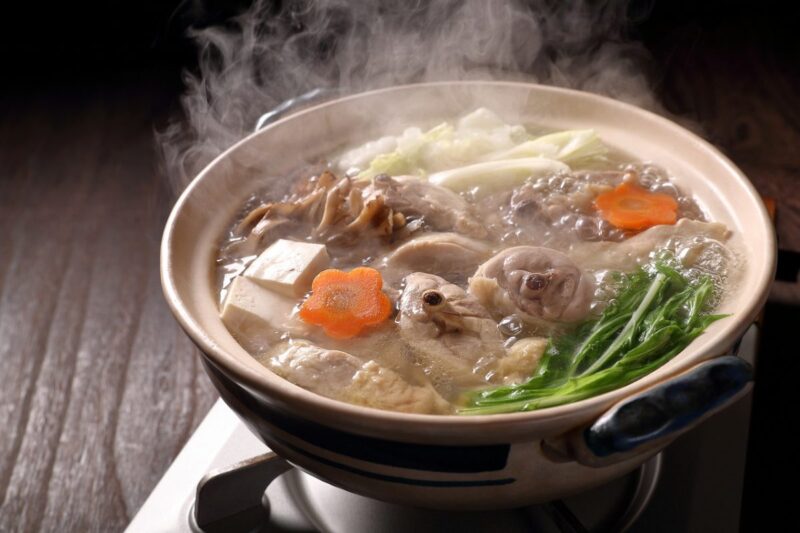 Mizutaki is a one-pot dish consisting of chicken and vegetables that are boiled in a soup made with chicken bones. Served together with ponzu (citrus soy sauce), mizutaki is usually made of Hakata Jidori (chickens exclusively produced in Hakata, Fukuoka). You can find mizutaki almost at every restaurant in Fukuoka, so make sure to try it when visiting the prefecture!
5. Amaou strawberry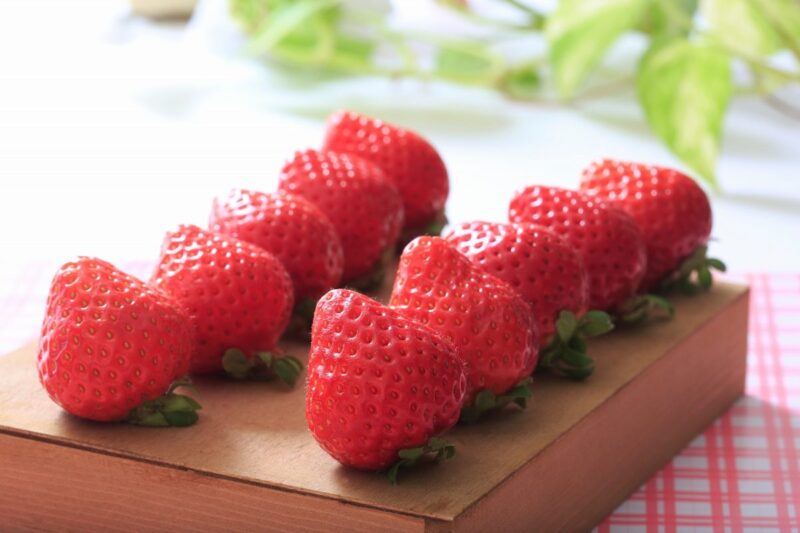 Japan is home to dozens of varieties of Japanese strawberries, but the Amaou strawberry, which is exclusively produced in Fukuoka, is perhaps the best strawberry available in Japan. Known for its well-rounded, large-sized fruit, and sweet smell, Amaou strawberry is rich in Vitamin C, potassium, and fiber!
Now that you have an idea of how many fabulous spots are in Fukuoka, all you have to do is plan your itinerary to enjoy unforgettable experiences in Fukuoka!