10 amazing things to do in Miyazaki, Japan!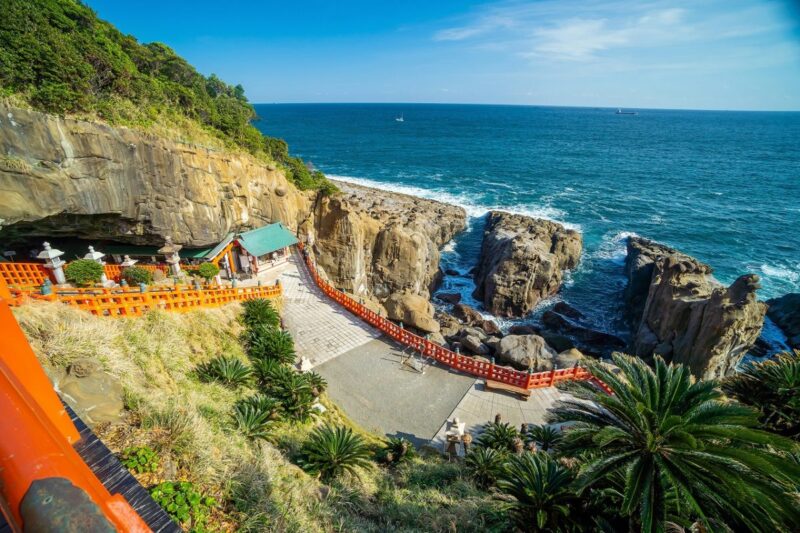 Miyazaki is a prefecture located in the Kyushu region, and it is best known for its southern country vibes. The prefecture is a popular destination of Kyushu, and it is packed with many interesting sightseeing spots, including places that are closely connected to Japanese mythology, and mouthwatering gourmet destinations.
Located in the southeast of Kyushu, Miyazaki is known for its beautiful nature, enormous shrines, and beautiful sea. The prefecture is a little bit underrated compared to its more famous neighbors, but it is a perfect scenic destination for a weekend getaway.
Brimming with beautiful nature, culture, and history, how about visiting Miyazaki for an extraordinary, yet a relaxing adventure?
Index
How to get there
Miyazaki is accessible by both rails and air, but the easiest way to get there from the outside of the prefecture is by planes.
Miyazaki Airport is the main air transportation hub in the prefecture, and it has direct flights to and from Tokyo, Osaka, and Fukuoka. The airport also serves international flights to and from Seoul, Taipei, and Hong Kong.
Miyazaki is only 90 minutes away by plane from Tokyo, 1 hour away by plane from Osaka, and 45 minutes away by plane from Fukuoka. The prefecture is also only 100 minutes away by plane from Seoul, 2 hours away by plane from Taipei, and 200 minutes away from Hong Kong.
Recommended sightseeing spots in Miyazaki
Miyazaki is a prefecture to visit if you are looking for something off the beaten path. The prefecture is packed with many beautiful natural spots, enormous shrines, and beautiful beaches.
Blessed with its natural scenic beauty, Miyazaki is a perfect Zen destination if you want to skip the hustle and bustle of the big cities for several days. The prefecture is also famous for its mouthwatering local treats such as Miyazaki beef and chicken namban.
Here are our picks for the best things to do in Miyazaki, Japan!
1. Enjoy the gorgeous nature of Takachiho Gorge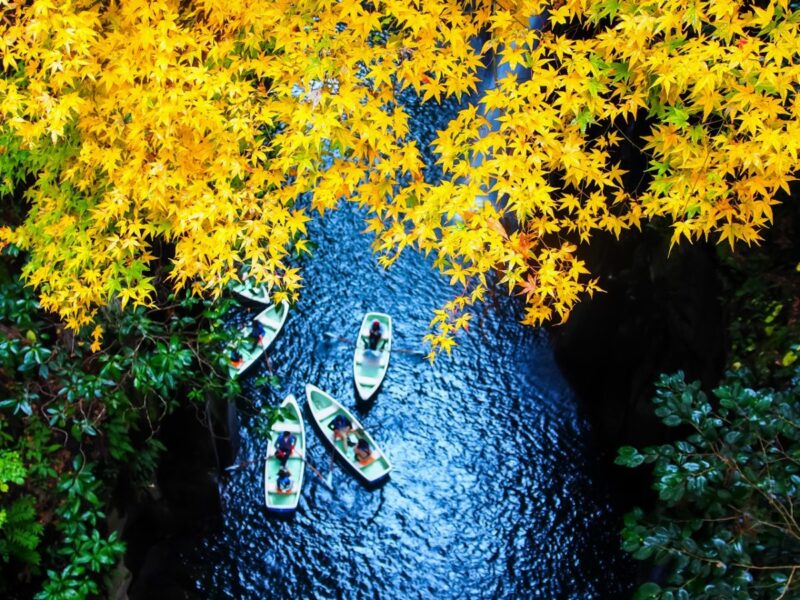 Takachiho Gorge lies to the north of Miyazaki City and is perhaps the most important natural site in the prefecture. Takachiho Gorge is a deep, V-shaped valley, and it is famous for its majestic cliffs and mystical scenery.
The valley is known for its beautiful waterfalls: The Manai Falls, which is said to have been created with the water brought down to earth at the time of Tenson Korin. You can rent a rowboat to explore the valley.
Takachiho Gorge
2. Visit Takachiho Shrine, a spiritual spot in Miyazaki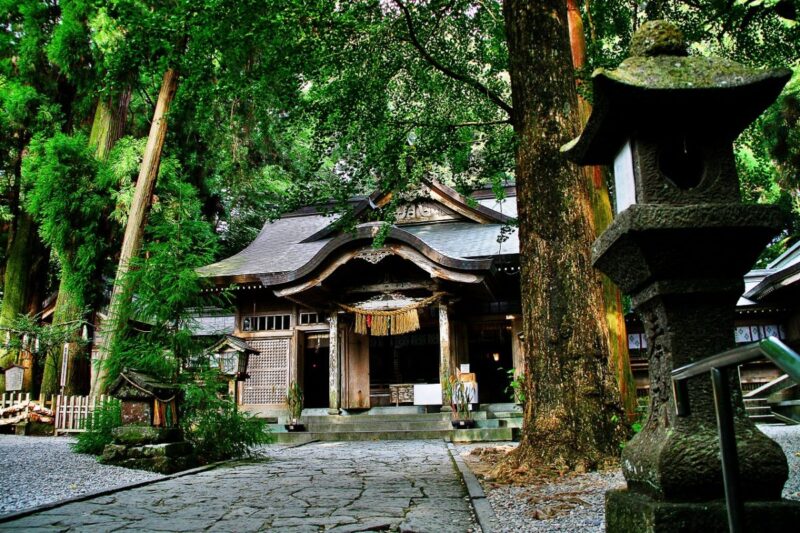 Looking for a spiritual spot in Miyazaki? How about visiting Takachiho Shrine for a special spiritual journey?
Takachiho is home to Tenson Korin, a legend of Shinto deity, Ninigi-no-Mikoto, who sent to the earth by Amaterasu Omikami. Takachiho Shrine enshrines Ninigi-no-Mikoto and other deities related to the Imperial Family.
Takachiho Shrine is believed to be built 1900 years ago and is a famous spiritual place for good fortune in romance and marriage lives. The Takachiho Kagura dance, performed every evening at 20:00, is a must-see.
Takachiho Shrine
3. Visit the shrine where Amaterasu hid: Amano Iwato Shrine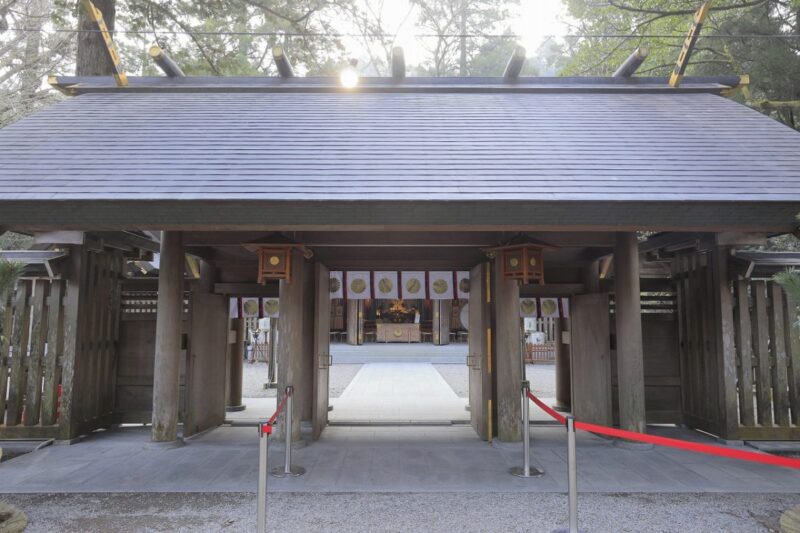 Amano Iwato Shrine is a simple shrine that features a refined building with a solemn ground. The shrine is located about 10 kilometers away from central Takachiho, and it was built near the cave where Amaterasu was hiding. The main buildings of the shrines are located on the opposite side of the Iwato River.
Amano Iwato Shrine
4. Stop by the shrine in a cave: Amano Yasukawara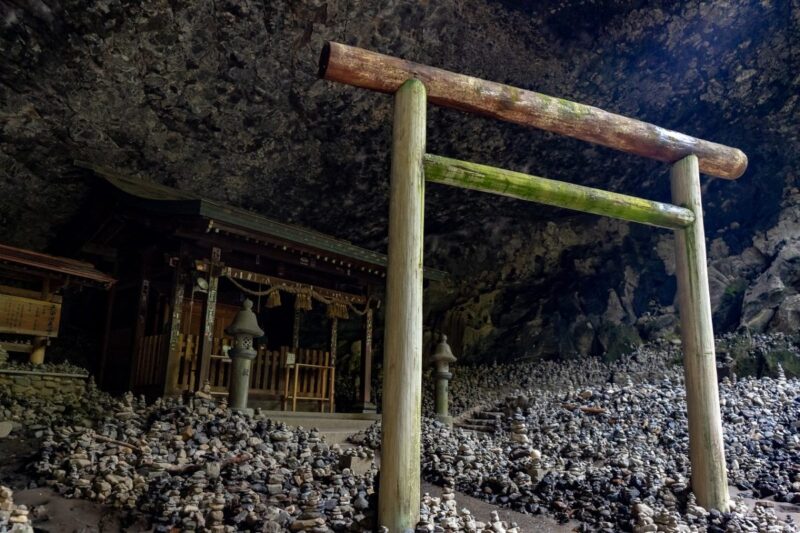 Situated in the same area with Amano Iwato Shrine, you can reach Amano Yasukawara, a simple shrine in a cave, which is believed to be the place where the Gods and Goddesses met to discuss their strategy to lure Amaterasu out of her hiding place.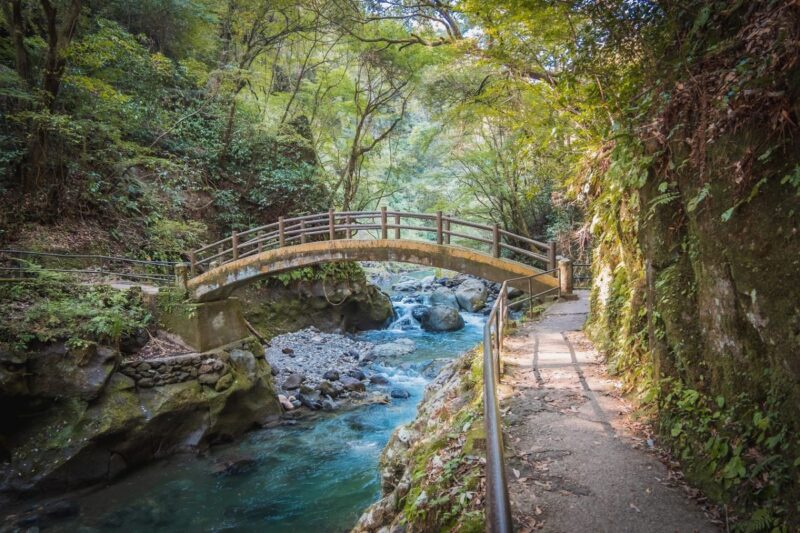 The stone bridge near Amano Yasukawara that connects both sides of the area looks beautiful on a sunny day.
Amano Yasukawara
 5. Stroll around Heiwadai Park for its seasonal beauty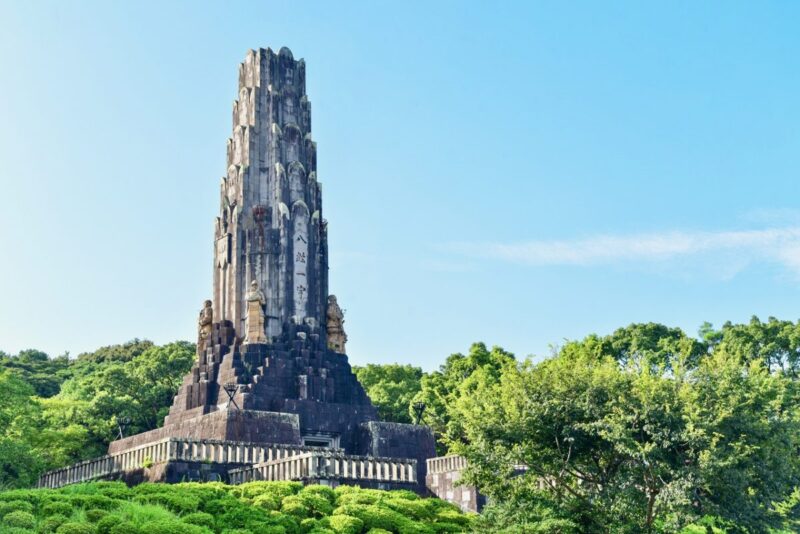 Heiwadai Park is a park in Miyazaki city that is known for its seasonal beauty. The park also has a variety of facilities, including an athletics field and an artificial turf ski slope. Heiwadai Park was built in 1940 to celebrate the 2600th anniversary of the ascension of Emperor Jimmu, the first mythical emperor of Japan. When you visit Heiwadai Park, make sure to see the Tower of Peace, the symbol of this amazing park.
Heiwadai Park
6. Go trekking in Ebino Plateau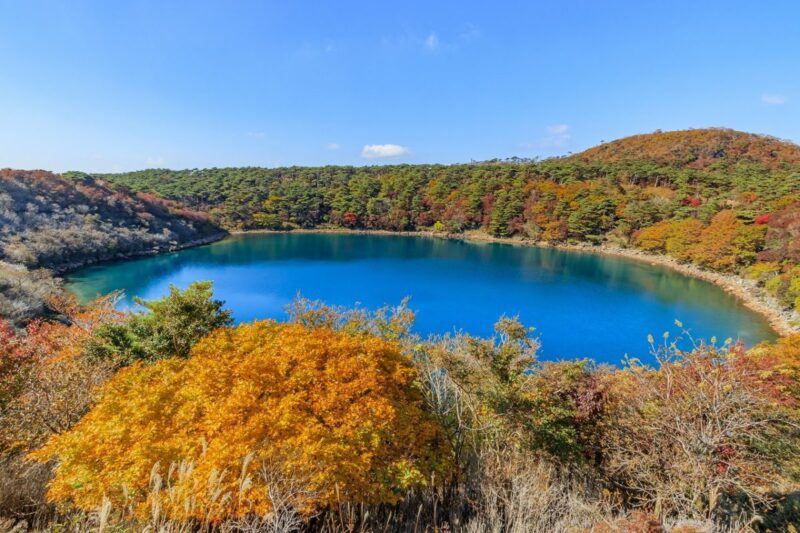 How about having an early morning, or afternoon trekking in Ebino Plateau?
Ebino Plateau is located at an altitude of 1,200 m and is surrounded by enormous mountains. The area is known for its stunning crater lake, Rokkanon Pond, which is famous for its acidic water with a shimmering, cobalt blue surface.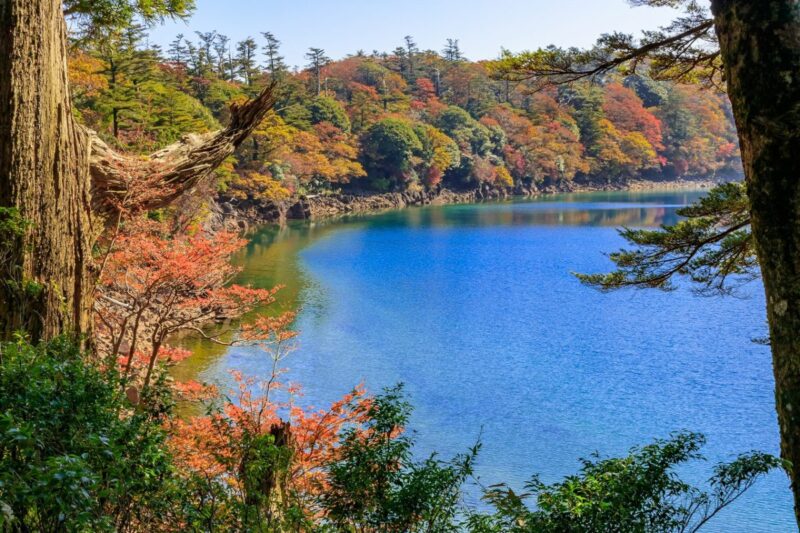 The best time to visit Ebino Plateau is between spring and early summer, and if you want to see a vast view of autumn leaves, you should visit this plateau in fall to enjoy its fall foliage.
Ebino Plateau
7. Stop by Udo Shrine, a shrine that is famous for its matchmaking powers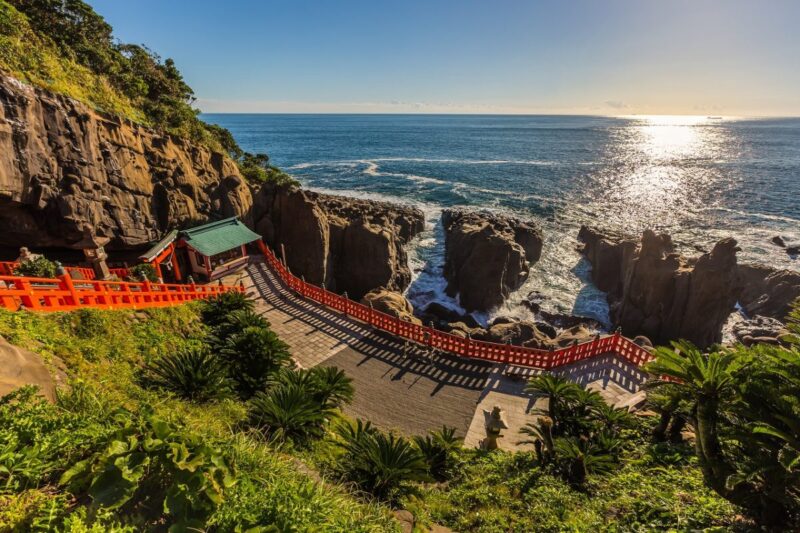 Udo Shrine is a Shino Shrine located at the tip of Cape Udozaki, and the path to the shrine lies along sharp cliffs with rough waves crashing into them. The shrine is famous for its crimson gate and fences that stand out against the blue ocean.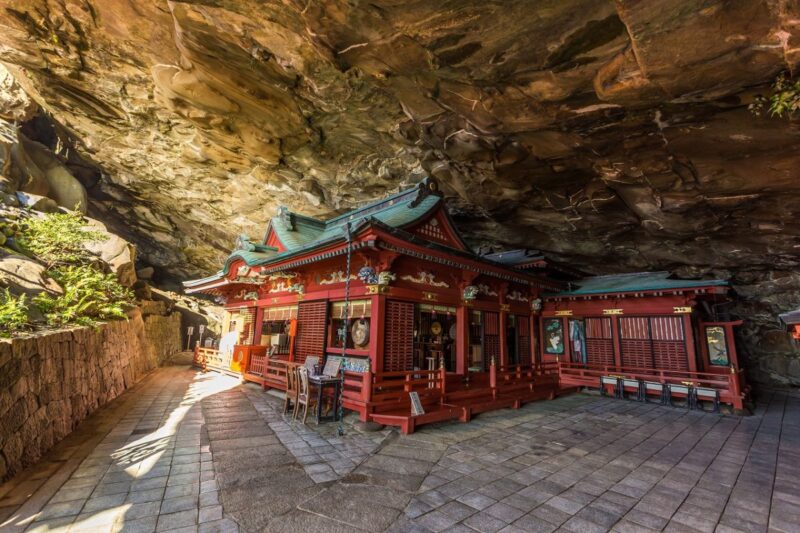 The main building of the shrine is a richly colored structure inside a cave facing the ocean. The shrine is believed to bring good fortune in matchmaking, safe childbirth, and safety at sea.
Udo Shrine
8. Visit Aoshima, a tropical shrine in Miyazaki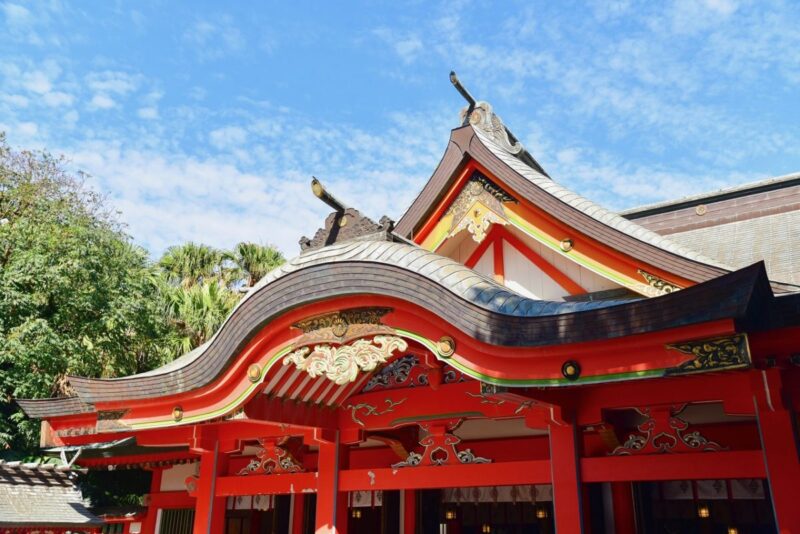 Aoshima Shrine is another shrine in Miyazaki that is famous for its matchmaking powers, and many people visit this shrine to pray for good fortune in love and marriage. The shrine is in Aoshima, a small island in Miyazaki that is best known for its tropical and subtropical vegetation. There is a bridge that connects Aoshima beach to Aoshima, which is crossable on foot, but we recommend taking the auto-rickshaw, Aoshima Tuk Tuk Trolly to avoid hassles!
Aoshima Shrine
9. It's all for the gram: visit Sun Messe Nichinan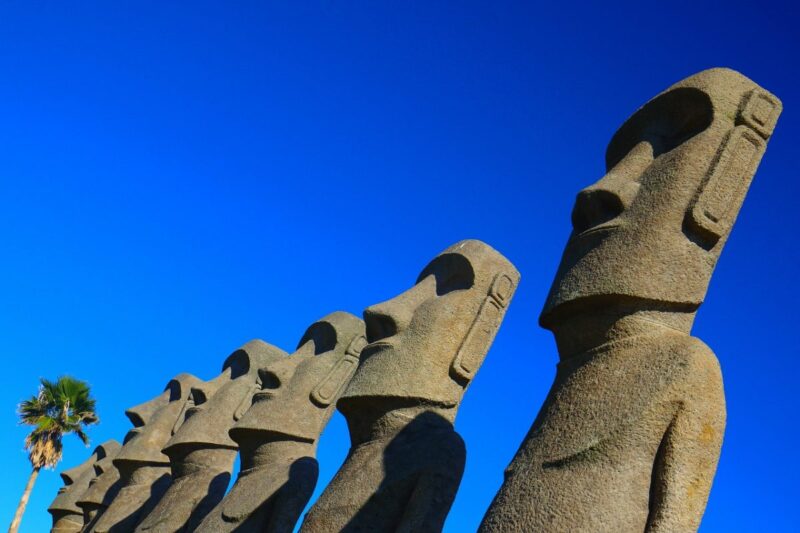 Looking something unique for your Instagram? How about visiting Sun Messe Nichinan to snap some Insta-worthy pictures? Sun Messe Nichinan is a theme park in Nichinan City, and it is best known for its Seven Moai Statues that stand with the azure ocean in the background. The statues are legit replicas, made with permission from the senior council of Easter Island. It is believed that if you touch the statues you will have a good fortune. In addition to the Moai statues, you should visit the Butterfly Paradise, where a variety of different butterflies flutter around.
Sun Messe Nichinan
10. Enjoy the ocean view at Nichinan Kaigan Quasi-National Park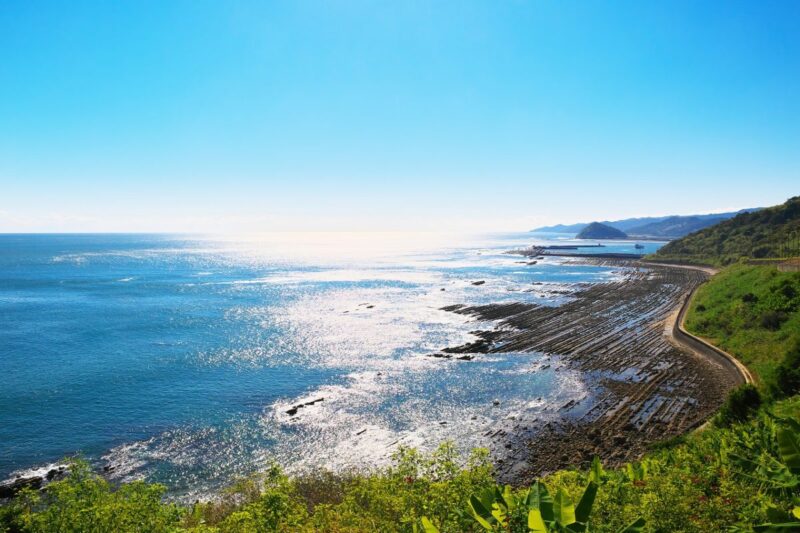 Nichinan Kaigan Quasi-National Park is a nature park located in the center Nichinan Kaigan, and it is best known for its unique topography that includes rocks and reefs covered with tropical vegetation. At this national park, you can fully enjoy the beautiful ocean landscape from the roadside station, Michi-no-Eki Phoenix.
Nichinan Kaigan Quasi-National Park
Miyazaki's best local treats
Situated in the Kyushu region, Miyazaki is best known for its warm climate and tropical fruits. In addition to its amazing tropical fruits, especially for its sweet and juicy mango. Miyazaki is known for its delicious and numerous street foods, so wherever you go, scrumptious local treats await in Miyazaki. Here are our picks for the best foods to try when visiting Miyazaki!
1. Chicken namban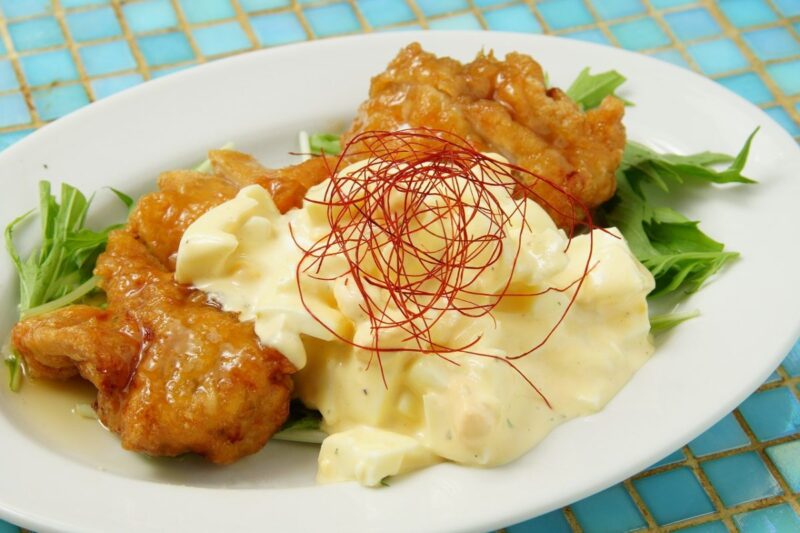 Chicken namban is battered chicken thighs that are fried and dipped in a sweet vinegar glaze, then topped with tartar sauce. Chicken namban is originated in Miyazaki, and it is usually eaten together with rice. It also pairs well with alcohol.
2. Miyazaki beef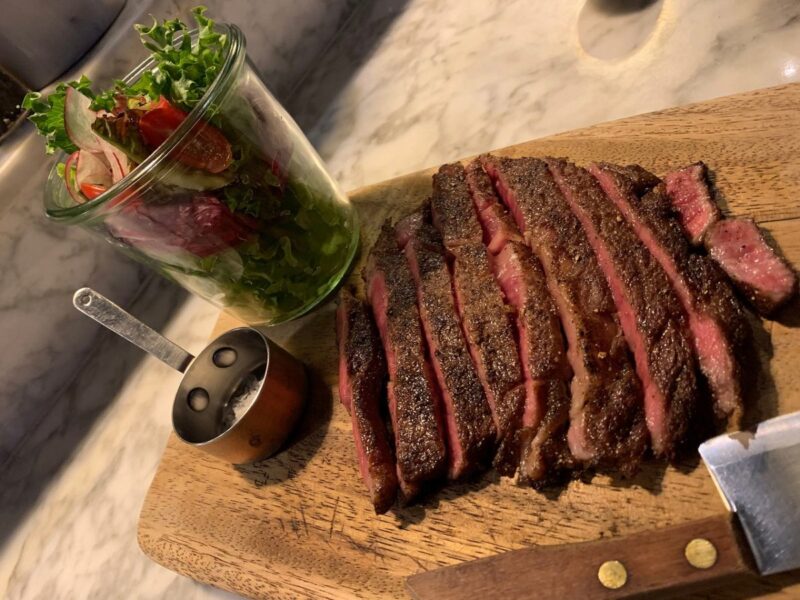 Miyazaki Prefecture is one of the most famous wagyu beef producers in Japan, and Miyazaki beef refers to the cattle raised in the prefecture that meet strict standards to be certified with that name. Best known for its exquisite taste and juicy texture, Miyazaki beef is best eaten as steak, sukiyaki, or shabu-shabu.
3. Charcoal grilled chicken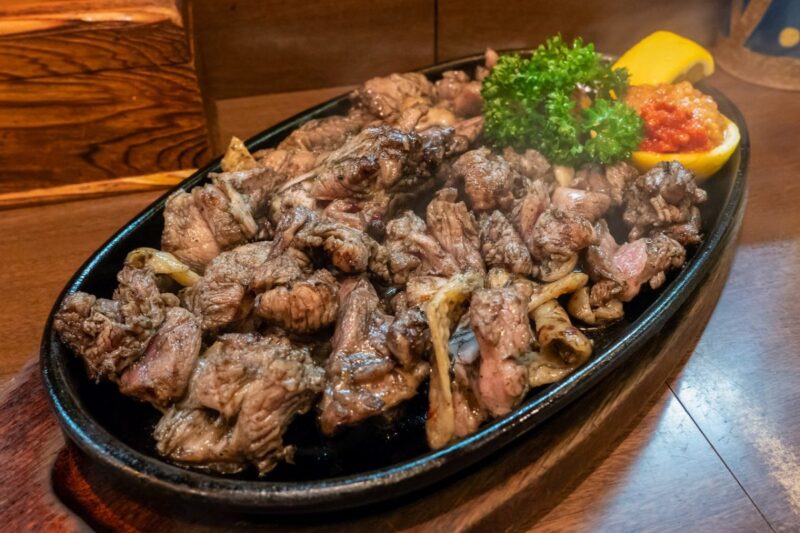 Miyazaki produces one of the best chickens in Japan, and the prefecture is known for its delicious regional dish, charcoal-grilled chicken. The charcoal-grilled chicken is made with Miyazaki chicken, a brand of locally raised chickens in the prefecture. The savory aroma and its juiciness will impress you.
4. Hiyajiru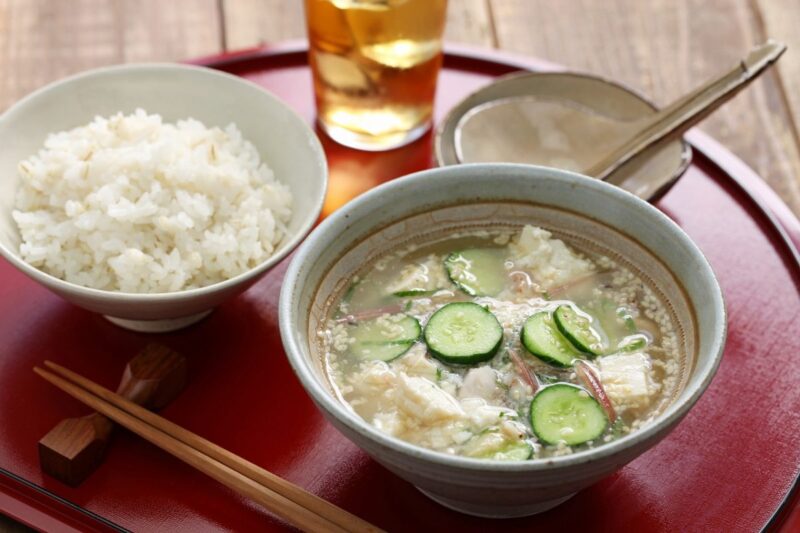 Looking for a refreshing item to eat during the summer? How about trying Miyazaki's local specialty, Hiyajiru? Hiyajiru is a cold soup made from fish and miso paste mix with broth and topped with various ingredients like tofu and cucumber before poured over hot steamed rice.
5. Mango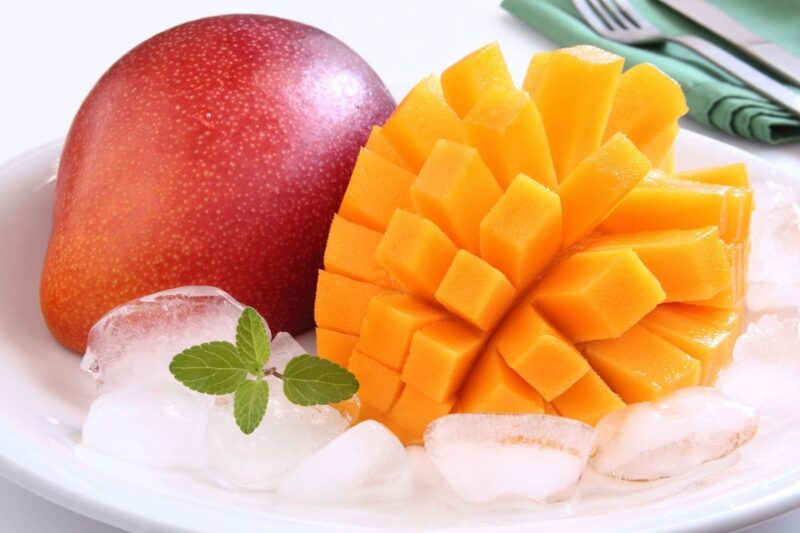 The tropical climate in Miyazaki makes tropical fruit like mangoes grow very well in the prefecture. There are various types of mango across the prefecture, and that includes a mango brand called "Egg of the Sun", which is usually sold over 100,000 yen.
Now that you have an idea of how many fabulous spots are in Miyazaki, all you have to do is plan your itinerary to enjoy unforgettable experiences in Miyazaki!