10 amazing things to do in Saitama, Japan!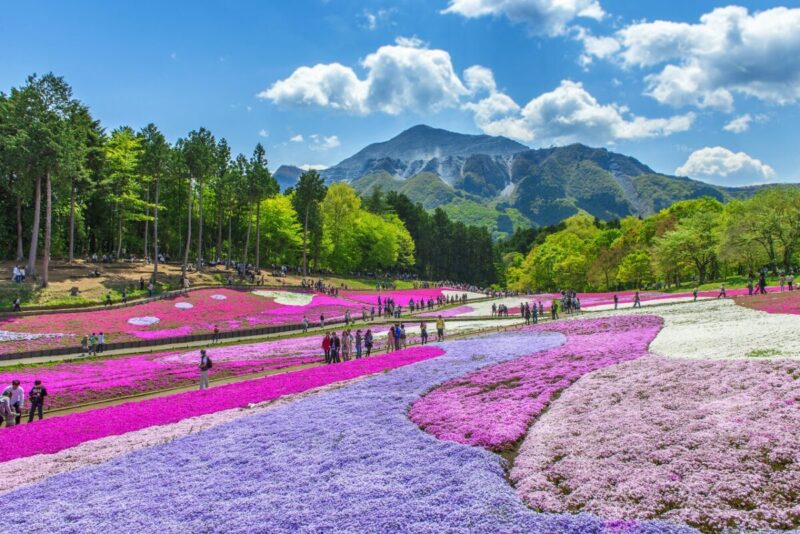 Saitama Prefecture is adjacent to Tokyo, and it has become one of the most popular destinations for day trips from Tokyo, especially for those looking for a quick escape from the hustle and bustle of the metropolitan. This prefecture is a home to Kawagoe, a historical city in Saitama that is known for its retro townscape, and also Chichibu, a city in Saitama that is best known for its beautiful flower park, Hitsujiyama Park.
Often referred to as "Greater Tokyo", Saitama has a lot of natural sights and outdoor activities like the great icicles of Ashigakubo and Misotsuchi, the beautiful bonsai village in Omiya, and Nagatoro river rafting. The prefecture is also home to Kawagoe Hikawa Shrine and Chichibu Shrine, some of the most important shrines in Japan.
Brimming with beautiful nature and interesting tourist destinations, how about visiting Saitama to have both, an extraordinary, yet a novel adventure?
Index
How to get there
Saitama Prefecture is accessible by trains, and the main transportation hub in Saitama is JR Omiya Station.
The most convenient way to get to Saitama from Tokyo is by taking the JR lines, including the Takasaki Line, Utsunomiya Line, Shonan Shinjuku Line, and Saikyo Line.
It takes 25 minutes to reach Omiya Station from Tokyo Station by shinkansen, and the one-way fare is around 2,000 yen for non-reserved seats or around 3,000 yen for reserved seats, but we don't recommend taking the shinkansen unless you're using the JR Pass.
Recommended sightseeing spots in Saitama
Located within 100 km from Tokyo, Saitama has become one of the most accessible destinations for day trips from Tokyo, and this prefecture has many different sightseeing spots and natural sights, including Kawagoe, which is famous for its historical townscape, and Nagatoro, which is famous for its beautiful surroundings.
Saitama is also a home to many delicious local foods like Waraji Katsudon, a local specialty of Chichibu, and unagi (freshwater eel), a local specialty of Kawagoe. In addition to them, you can get on the Paleo Express, a steam locomotive that runs across Saitama.
Ready to take yourself to Saitama? Here are our picks for the best things to do in Saitama, Japan!
1. Explore Saitama's Little Edo, Kawagoe!
Located less than an hour from Tokyo, Kawagoe is a former castle town, which is known for its picturesque alleys lined with traditional houses and long-established moms and pops shops offering Japanese sweets and street food to snack on while walking. Some of the iconic landmarks of Kawagoe that worth to visit are the bell tower "Toki no Kane", the traditional warehouse street "Kurazukuri Street", and the candy alley "Kashiya Yokocho".
At "Kashiya Yokocho", you can try Japanese sweets like yaki dango (grilled mochi skewers), and other sweets made from sweet potato, a local specialty of Kawagoe.
Kawagoe
2. Enjoy traditional river boating in Nagatoro!

Although Saitama is not so far from Tokyo, the capital of Japan, this prefecture has rich nature, and it offers various outdoor activities for tourists to enjoy throughout the year.
Nagatoro is a town in North Saitama that is famous for its rich nature and great camping sites. Amongst the outdoor activities offered in Nagatoro, the traditional river boating on the Arakawa River is perhaps the most popular activities in Nagatoro.

Only available from early March to early December, we recommend taking the Iwadatami Course for the river boating to see the Iwadatami Rocks, a line of rocks designated as a natural monument by the government.
Nagatoro River Boating
Business hours : 9:00 – 16:00 (early March to early December)

Oyahana course : 1,800 yen (age 12 & above), 900 yen (age 3-11)
Takasago course : 1,800 yen (age 12 & above), 900 yen (age 3-11)
Iwadatami course : 3,300 yen (age 12 & above), 1600 yen (age 3-11)
Google Map
3. Pray for a good fortune in love at Kawagoe Hikawa Shrine!

Kawagoe Hikawa Shrine was founded around 1,500 years ago, and it's located just around a 15-minute bus ride from Kawagoe Station, and many people visit the shrine to pray for good fortune in love and marriage tie.

The best time to visit this shrine is perhaps in summer, when the shrine is decorated with numerous colorful wind bells called furin (風鈴). In addition to the colorful wind bells, the shrine also releases limited edition lucky charms that are sold during that period only, so make sure to get it before they're sold out!

In addition to the wind bells festival, the shrine is also famous for its cute red snapper omikuji (fortune-telling paper). One omikuji costs around 300 yen, and you can scoop them directly with your hands, or fish them with a small rod just like fishing.
Kawagoe Hikawa Shrine
Address : Japan, 〒350-0052 Saitama, Kawagoe, Miyashitamachi, 2 Chome−11−3
Tel : 049-224-0589
Business hours : 9:00 – 17:00
Google Map
4. Stop by the Metropolitan Area Outer Underground Discharge Channel

The Metropolitan Area Outer Underground Discharge Channel is for those who are looking for something off the beaten path, the facility is perhaps one of the most unique and interesting spots in Japan.
Known as a hidden gem in Saitama, this facility prevents the rivers in Tokyo and its neighboring cities from overflowing during rain and typhoon seasons.
We recommend reaching around the underground and stroll around there, which will be such an unforgettable experience during your trip in Japan.
Metropolitan Area Outer Underground Discharge Channel
Address : 720 Kamikanasaki, Kasukabe, Saitama 344-0111, Japan
Tel : 048-746-7524
Business hours : 9:30 – 16:00
Google Map
5. See the great icicles of Ashigakubo in Chichibu

How about visiting Chichibu to have an icy winter wonderland experience in Saitama?
Located in Chichibu, the Icicles of Ashigakubo is a perfect winter getaway from Tokyo where you can see unique, and beautiful artificial ice formations from January to February. Ashigakubo is one of the three great icicles of Saitama, along with the icicles in Onouchi and Misotsuchi.

The Icicles of Ashigakubo has been serving the community every year since 2015, and the icicles are made by spraying water on a small hill until it becomes crystallized in the freezing water.
The icicles look extremely gorgeous during the night when they're illuminated with vibrant and colorful lights.
Icicles of Ashigakubo
Address : Yokoze, Chichibu District, Saitama 368-0071
Open hours : 9:00 – 16:00
Google Map
6. Admire the gorgeous bonsai trees at Omiya Bonsai Village!

If you love Japan and its culture, you might have heard of "Bonsai" before, haven't you?
Bonsai is an art of gardening, and Omiya, the biggest city of Saitama, is famous for bonsai. Omiya Bonsai Village is located just two train stations away from Omiya Station, and the neighborhood is packed with bonsai nurseries and an amazing bonsai art museum.

Omiya Bonsai Village was built in 1925, after the Great Kanto Earthquake of 1923, when bonsai nurseries had to look for a new place to plant their bonsai, and they chose to relocate to Omiya for its clean water, land availability, and good soil quality. Most of the nurseries in the village welcome walk-in visitors, but most of them don't allow photography in the area.
Omiya Bonsai Village
Address : 96 Bonsaicho, Kita Ward, Saitama, 331-0805, Japan
Tel : 048-829-1039
Google Map
7. Explore Saitama with the Paleo Express!

How about exploring Saitama with a steam locomotive?
Paleo Express is the closest running steam locomotive to Tokyo operated by Chichibu Railway, and it stops at eight train stations, including Kumagaya Station, Nagatoro Station, and Chichibu Station. The train makes one return each day, and it only runs on weekends and public holidays, but there are times in summer and fall when the train will run on weekdays. The passenger cars of Paleo Express are designed with 4-people box seats with wood interior, adding that retro vibes into your trip.
Paleo Express
8. Send your prayers at Chichibu Shrine!

Chichibu Shrine is a Shinto Shrine, and this shrine is a home to the Chichibu Night Festival, which is held annually in early December. Chichibu Shrine is in Central Chichibu, and it is said to be over 1,000 years old.
The current shrine buildings were built in 1592 with the help of Tokugawa Ieyasu, and the shrine has creatures like tigers, dragons, and monkeys carved to the building.
Chichibu Shrine
Address : 1-3 Banbamachi, Chichibu, Saitama 368-0041, Japan
Tel : 049-422-0262
Business hours : 5:00 – 20:00 (open at 6:00 during winter)
Admissions : free
Google Map
9. See the colors of spring at Hitsujiyama Park in Chichibu!

One of the best things to do when visiting Saitama in spring is to stop by the Hitsujiyama Park, a park that is known for its beautiful moss pink fields that come into bloom around late April to early May.
The hill of the moss fields is at the southern end of the park, and have various types of Moss Pink (Shibazakura) spread over the fields giving them hues of pink, purple, and white.
Hitsujiyama Park
Address : 6360 Omiya, Chichibu, Saitama 368-0023, Japan
Tel : 049-426-6867
Business hours : Open 24 hours
Shibazakura Festival : April 16 – May5, 2021
Admissions to the Shibazakura Festival : 300 yen (age 15 & above), free for age 14 & under
Google Map
10. Visit Misotsuchi for its beautiful icicles!

Unlike the Icicles of Ashigakubo, which are made artificially, the Icicles of Misotsuchi in Chichibu is naturally made with approximately 30 meters in width and 8 meters in height at maximum. Since it's naturally made, the shape of the icicles changes every year.

The icicles are created from the headstream of the Arakawa River, and they can only be seen from mid-January to mid-February, when the temperature is at its lowest. The icicles are illuminated with vibrant and colorful lights at night.
The Icicles of Misotsuchi
Address : 4066 Otaki, Chichibu, Saitama 369-1901, Japan
Tel : 0494-55-0707
Business hours : 9:00 – 19:00
Open Period : from mid-January to mid-February
Google Map
Saitama's best local treats
Saitama Prefecture is known for having a great number of interesting sightseeing spots and local delicacies, including the unagi (freshwater eel) from Kawagoe, Waraji Katsudon and soba noodles from Chichibu, and jelly fry, a unique local food of Gyoda.
Looking to fill your tummy with Saitama's amazing local treats? Here are our picks for the best foods to eat when visiting Saitama!
1. Unagi

Kawagoe is known for accommodating many unagi restaurants, and some of them have been serving the area for nearly 200 years since the Edo period. There is no sea near Kawagoe, so the eels sold in Kawagoe are taken from the surrounding river. The eels sold in Kawagoe are known for its excellent quality, so make sure to stop by one of the local unagi restaurants when you're in town.
2. Waraji Katsudon

Waraji Katsudon is a local specialty of Chichibu, and it is named after Waraji, traditional Japanese sandals woven from straw, because the pork cutlet used as the toppings look like a pair of waraji sandals; golden brown and big. Two slices of pork cutlet dipped in a salty-sweet secret sauce are served on a bed of rice. The pork cutlets used in Waraji Katsudon are relatively thin compared to the other pork cutlets.
3. Sweet potato shaved ice

Sweet potato is a specialty of Kawagoe, Saitama, and the city is known for its amazing sweet potato treats, ranging from sweet potato kaiseki (Japanese traditional multi-course meal) to sweet potato wagashi (Japanese traditional sweet). We recommend to try the sweet potato shaved ice, which is known for its creamy and melting-in-the-mouth textures!
4. Chichibu Soba

Chichibu is known for producing one of the best buckwheat in Japan, and it's no exaggeration to say that Chichibu is synonymous with soba. Made from freshly ground flour, Chichibu Soba is made by order, and served with special dipping sauce to bring out the flavor of the soba. There are around 60 soba restaurants in Chichibu, where you can try Chichibu Soba for a reasonable price.
5. Jelly Fry

Jelly fry is a specialty of Gyoda, a city in Saitama, and it consists of a mixture of potato and okara (soy pulp), prepared into oval-shaped patties and deep fried. It looks like croquettes, but it is seasoned with special sauce and sold at 100 yen per piece.
.
Now that you have an idea of how many fabulous spots are in Saitama, all you must do is plan your itinerary to enjoy unforgettable experiences in Saitama!