10 amazing things to do in Tochigi, Japan!
10 amazing things to do in Tochigi, Japan!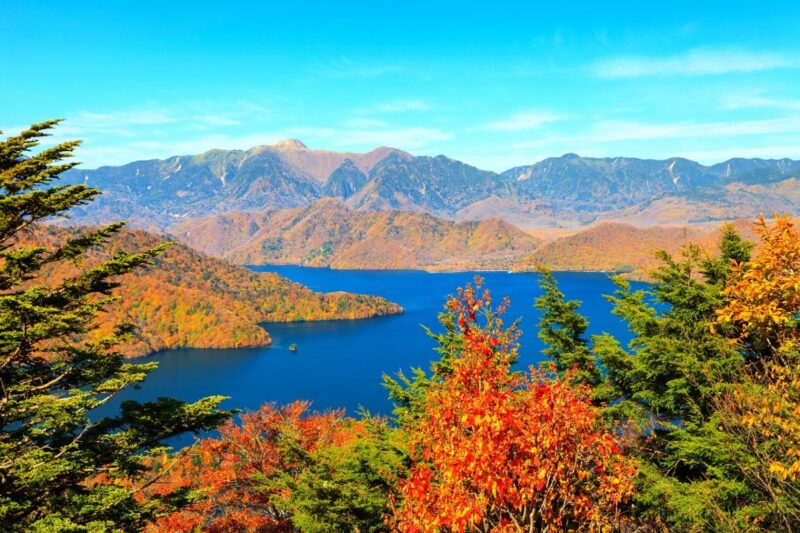 Tochigi Prefecture is a landlocked prefecture in the Kanto Region, and it's home to many great sightseeing spots like hot springs, shrines, temples, theme parks, and breathtaking natural landscapes.
The prefecture is located just two hours from Tokyo, so it's an easy day trip from the capital, but spending for more than a day in Tochigi will be amazing since there is so much to do in the area, like visiting Edo Wonderland to learn and experience the life of ancient Japan, and relaxing at Kinugawa Onsen, one of the best hot spring towns in Kanto Region to visit.
Brimming with beautiful nature and interesting tourist destinations, how about visiting Tochigi to have both, an extraordinary, yet a novel adventure?
Index
How to get there
Tochigi is only 2 hours away from Tokyo, and it is accessible by both, trains and highway buses.  The main transportation hubs in Tochigi are Utsunomiya Station and Nikko Station.
The fastest way to reach Tochigi from Tokyo is by taking the JR Tohoku Shinkansen to Utsunomiya Station, and afterward, you can transfer to JR Nikko Line if you want to go to Nikko. If you don't have a JR pass or have no budget for the shinkansen, you can always take the JR or Tobu Railway Limited Express 'Spacia' train from Shinjuku Station or Asakusa Station.
The closest airport to Tochigi is the Ibaraki Airport, which is only a 90-minute drive.
Recommended sightseeing spots in Tochigi
Tochigi is divided into several areas, and one of the most popular areas in Tochigi is the Nikko area, which you must include in your travel itinerary for Tochigi. Nikko area is home to the grand Toshogu Shrine, Edo Wonderland, Kegon Falls, and Lake Chuzenji.
The main capital, Utsunomiya, is best known for its gyoza dumplings, which are served either pan-fried, deep-fried or boiled. There are also several hot spring towns in Tochigi, and Kinugawa Onsen is one of the best to visit.
Here are our picks for the best things to do in Tochigi, Japan!
1. Gorgeous wisteria illumination at Ashikaga Flower Park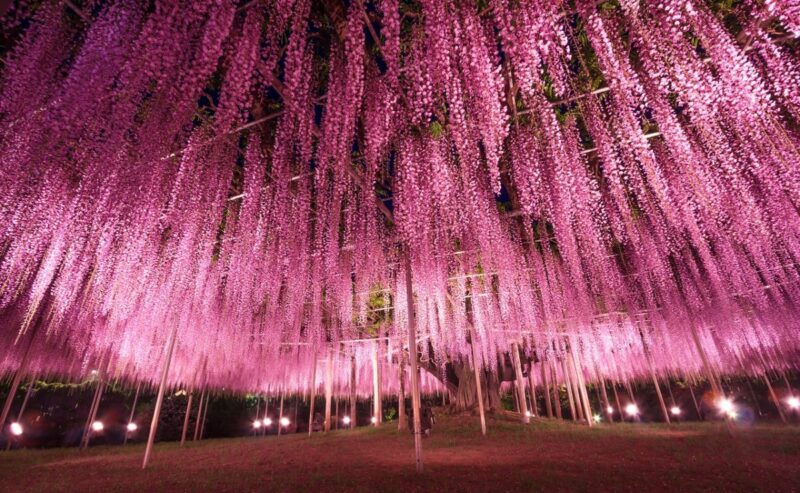 Ashikaga Flower Park is the biggest flower park in Tochigi, and it was originally opened in 1968, and later relocated and reopened in Ashikaga City in 1997.
The park is tremendous, with an area of over 94,000 square meters, and it is best known for its gigantic Wisteria flowers, that is said to be over 150 years old now.
The best timing to visit Ashikaga Flower Park is in May when the wisterias are in full bloom and illuminated at night.
In addition to its beautiful wisterias, Ashikaga Flower Park is also known for its beautiful winter peonies, hydrangeas, and irises.
Ashikaga Flower Park
2. Enjoy the beautiful nature of Shinkyo Bridge in Nikko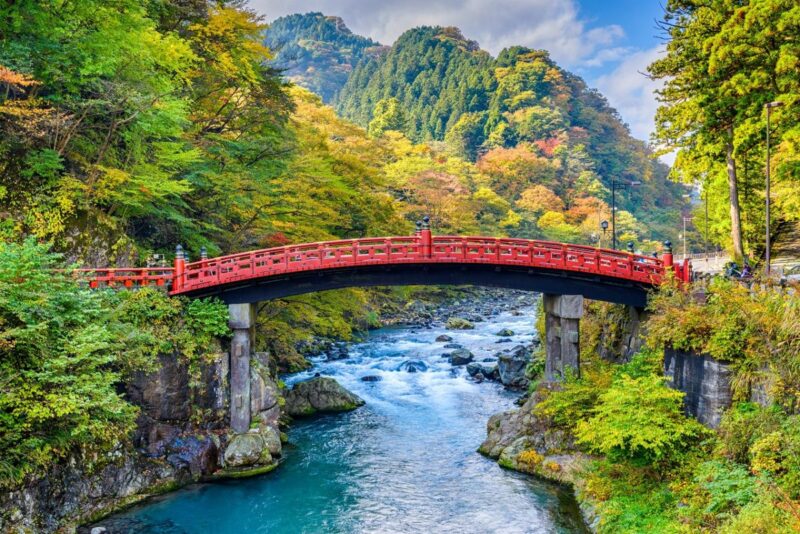 Located in Nikko, Shinkyo Bridge is known as one of the most sacred bridges in Japan, and it leads you to the world-famous Nikko Toshogu Shrine, a shrine dedicated to Tokugawa Ieyasu.
Shinkyo Bridge is considered as one of Japan's Three Major Strange Bridges, and it is listed as a World Cultural Heritage Site by the UNESCO. The bridge was built in the late Nara period, and the current bridge was built in 1904.
The Daiya River flowing under this bridge is best known for its crystal-clear water.
Shinkyo Bridge
3. Witness the great nature of Nasu Highlands
Nasu Highlands area in the northernmost part of Tochigi Prefecture, and it is best known for its breathtaking landscape. With an altitude of 1915 meters, Nasu Highlands is known for its beautiful autumn leaves and an amazing ropeway that takes you close to the peak of Mt. Chauzu.
On the highlands, there are plenty of places to have fun like the roller coasters of Nasu Highland Park, the animals of Nasu Safari Park, and last but not least, the tulips and other seasonal flowers of Nasu Flower World.
Nasu Highlands
4. Travel back to the Edo period at Edo Wonderland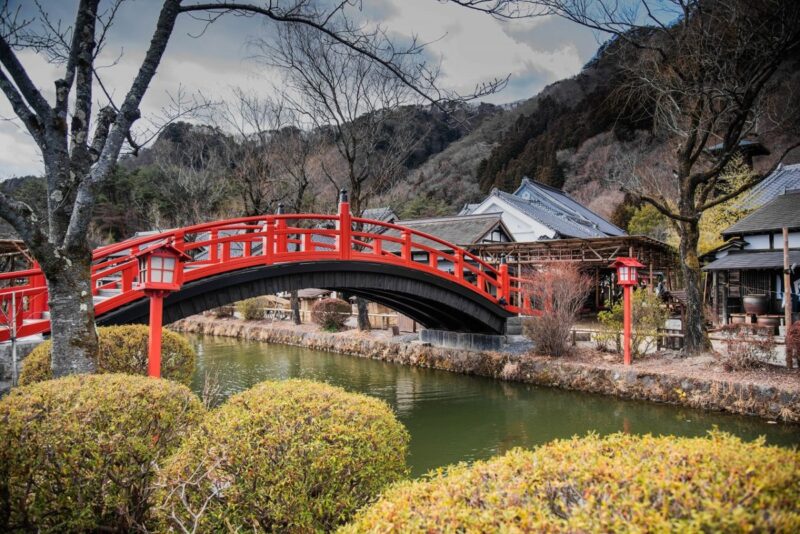 How about traveling back to the Edo period while you're in Tochigi?
Edo Wonderland Nikko Edomura is a cultural theme park that recreates the atmosphere of the Edo Period (1603-1868) with its unique buildings and entertainment contents.
The theme park offers many different types of arcades like wax museums, jailhouse, traditional residences, haunted temple, house of illusion, and ninja trick maze. You can also see Oiran Dochu, a traditional practice done by oiran in the past.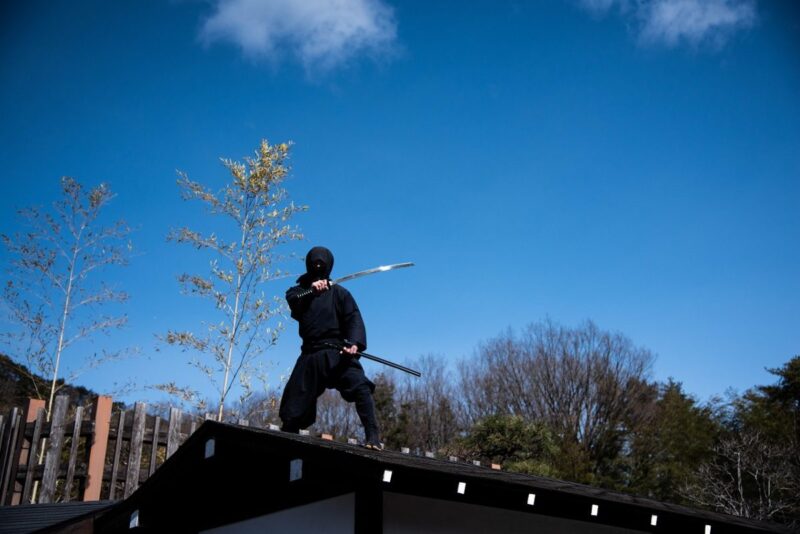 Other casts you may find around the park, or on the roofs, are samurai and ninja, and if you want to dress up like the era Edo period, you can always rent a costume and walk through the town with your favorite ones.
Edo Wonderland
5. Stop by the great Nikko Toshogu Shrine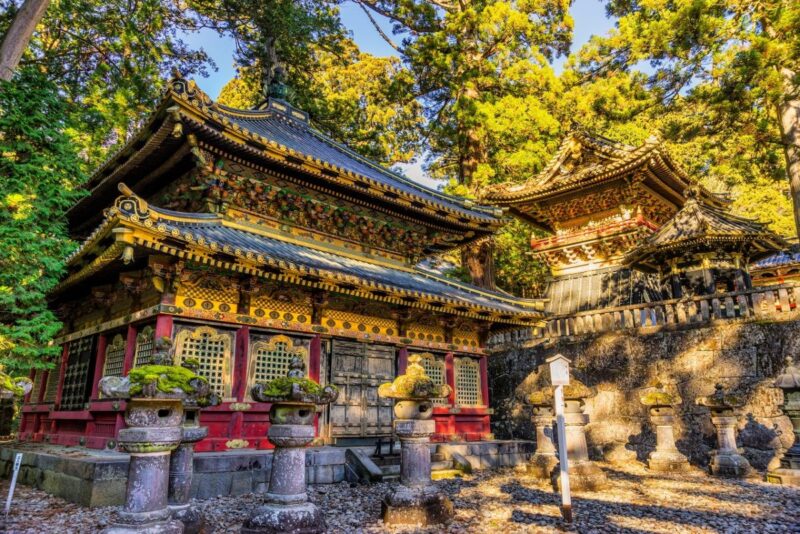 Nikko Toshogu Shrine was completed in 1636, and it became the final resting place of Tokugawa Ieyasu, the founder and the first shogun of the Tokugawa shogunate. Nikko Toshogu Shrine is an elaborate shrine complex with 55 buildings in a forest, and it was also designated as one of the World Heritage Sites by UNESCO.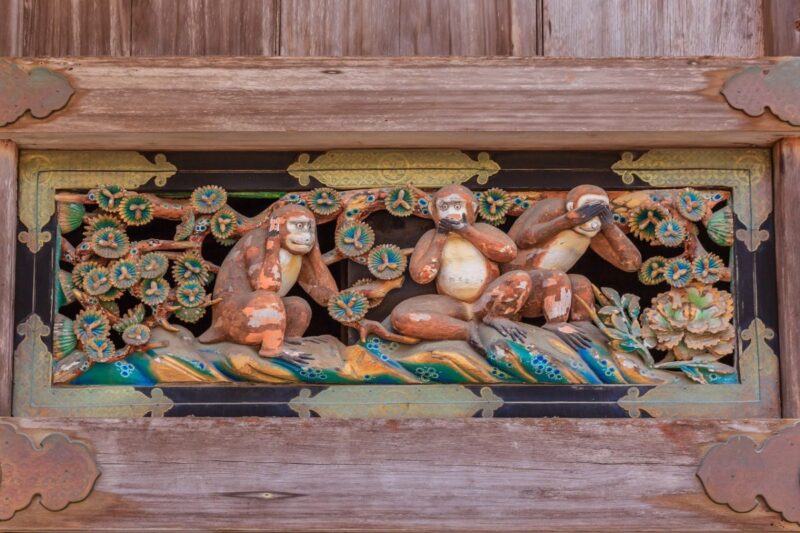 The shrine has ornate and colorful buildings, but perhaps the most stunning part of this shrine is the decorative trio monkeys, who see no evil, speak no evil, and hear no evil.
Nikko Toshogu Shrine
6. Visit Kegon Falls, one of the most important waterfalls in Japan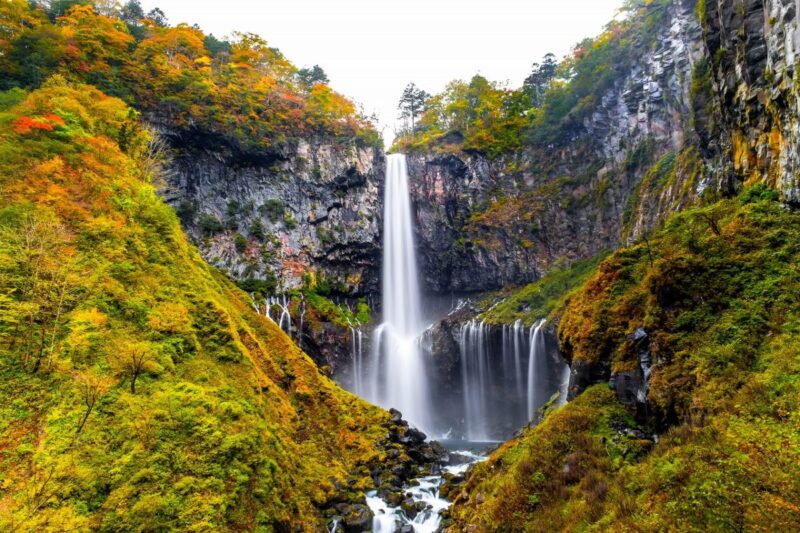 There are a lot of waterfalls in Nikko, but Kegon Falls, which are in the Nikko National Park, is perhaps the most famous, yet the most beautiful among of all. Ranked as one of the three most beautiful waterfalls in Japan, the main fall is about 97 meters in height, which you can observe from up close by taking a paid elevator.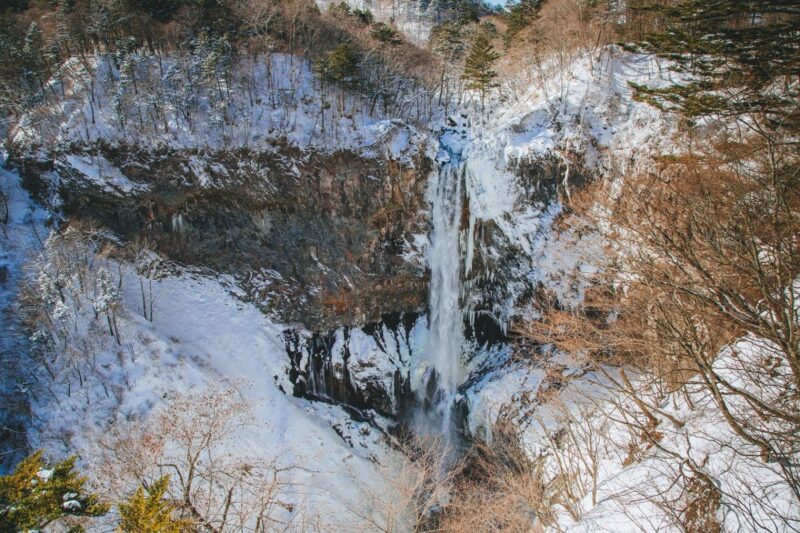 The best timing to visit Kegon Falls is in fall when its surroundings are covered with autumn leaves, but visiting it in the winter will give you a different sensation as its surroundings turned white covered by the snow.
Kegon Falls
7. Relax yourself and treat your body at Kinugawa Onsen!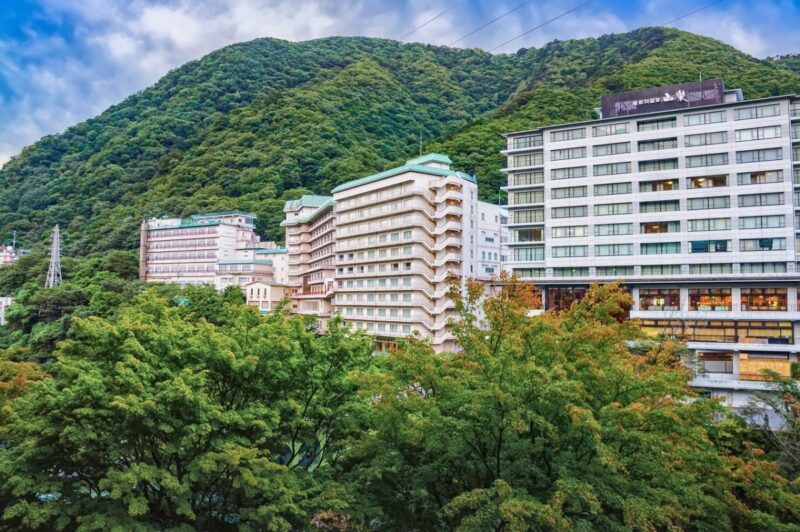 Kinugawa Onsen is a hot spring town in Nikko, Tochigi, that was discovered more than three centuries ago. Back then, only the daimyo samurai and monks visiting Nikko had access to this hot spring, and it gained its popularity instantly after it was publicized as a resort spa in the 19th century. The hot springs in Kinugawa area are believed to relieve nerve pains, treat fatigue, improve blood circulation, and moisturizes your skin.
One of the best hotels to stay in Kinugawa is the Kinugawa Onsen-Hotel.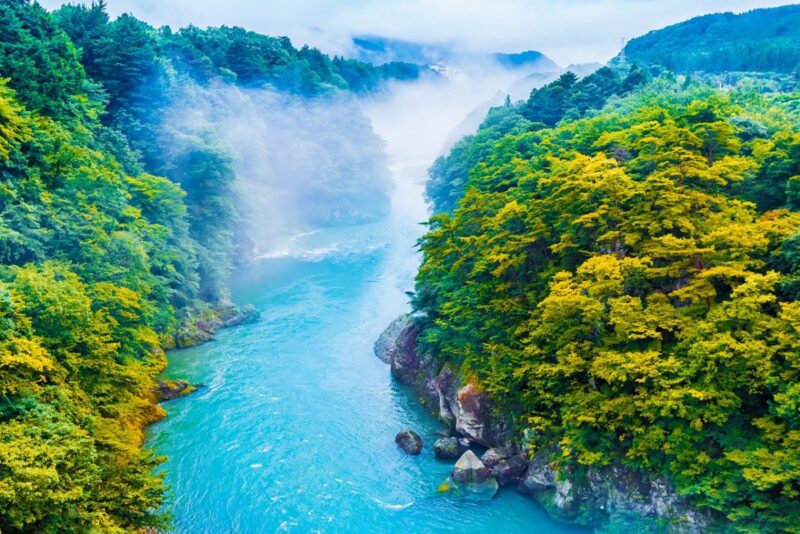 In addition to its wonderful hot springs, Kinugawa is also known for its gorgeous river. Kinugawa River is best known for its beautiful autumn leaves and cherry blossoms, and you can cruise along the river by participating in the cruise program, which is available from April to November.
Kinugawa Onsen
8. Stop by the impressive Lake Chuzenji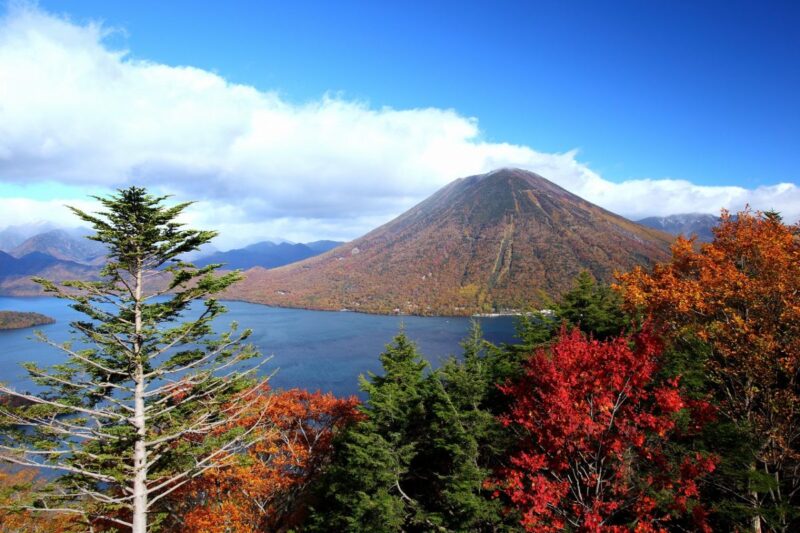 Formed during the eruption of Mt. Nantai, Lake Chuzenji is the biggest lake in Tochigi, and it is situated at an elevation of 1269 meters. The lake is in the Nikko National Park, and it is best known for its beautiful fall foliage.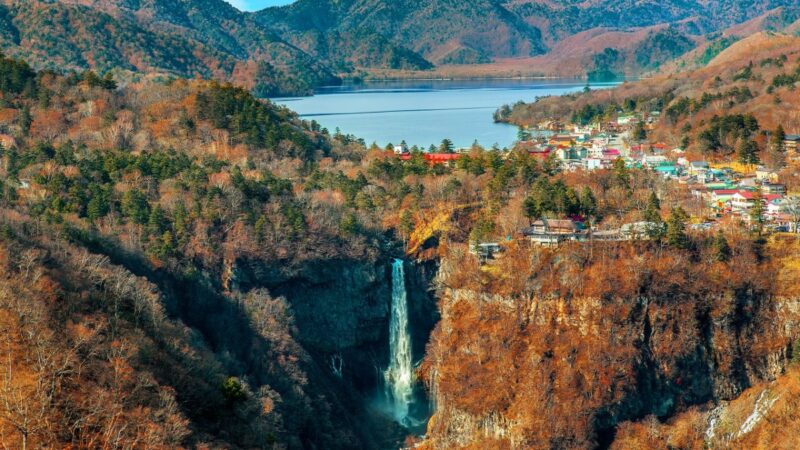 On the edge of Lake Chuzenji, there's Kegon Falls, the most popular waterfalls among the 48 waterfalls in Nikko. The waterfalls are also recognized as one of the three great falls in Japan, offering you a dynamic view.
Lake Chuzenji
9. Stroll around the Senjogahara Plateau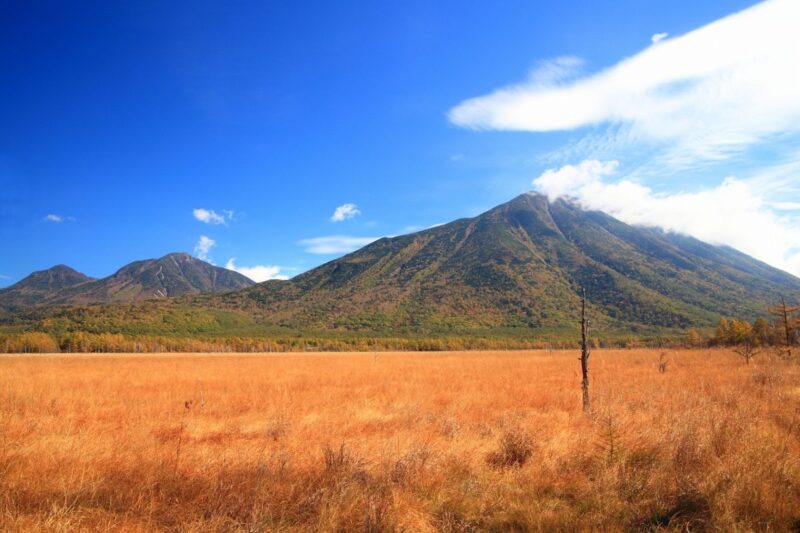 Senjogahara plateau is a nature spot in Nikko National Park, which is known for its beautiful falls, ponds, grasslands, and flower fields. Senjogahara literally means battlefield, and its name derived from mythology about the fights between the gods of Mt. Nantai and Mt. Akagi.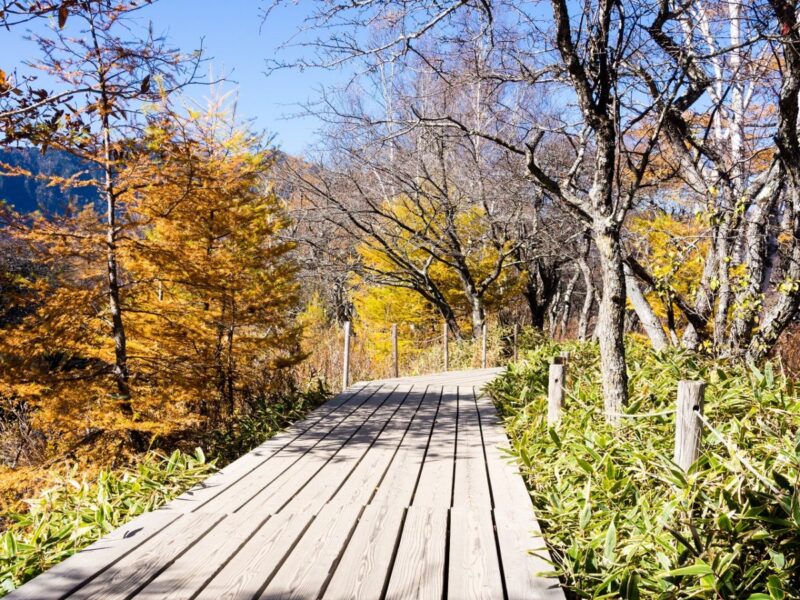 The best timing to visit Senjogahara is in fall when its surroundings are covered by autumn leaves. You can just stroll around the area, or explore the hiking trails for a better view.
Senjogahara Plateau
10. Find your peace at Rinnoji Temple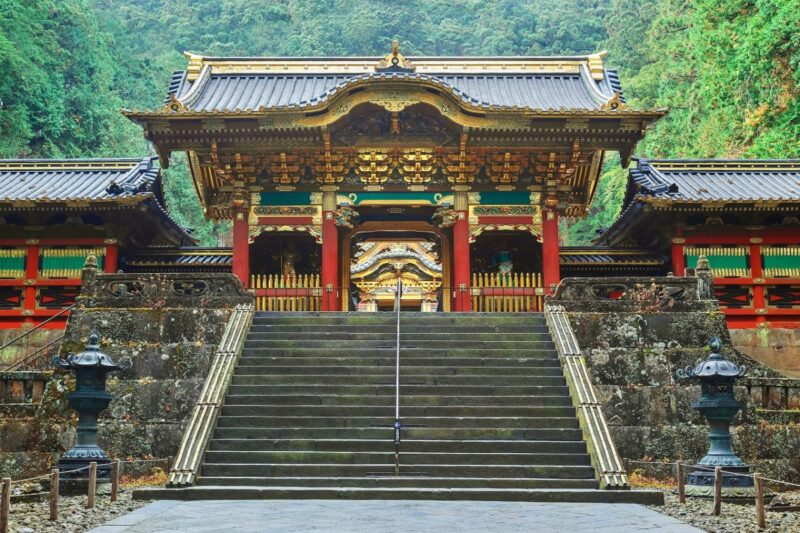 Rinnoji Temple was founded in 766 by the Buddhist monk Shodo Shonin, dedicated to the gods of the three mountains behind it: Mt. Nantai, Mt. Nyoho, and Mt. Taro. The temple is home to three 8-meter-tall gold lacquered Buddha statues, and it is surrounded by towering cedar trees and lush forests.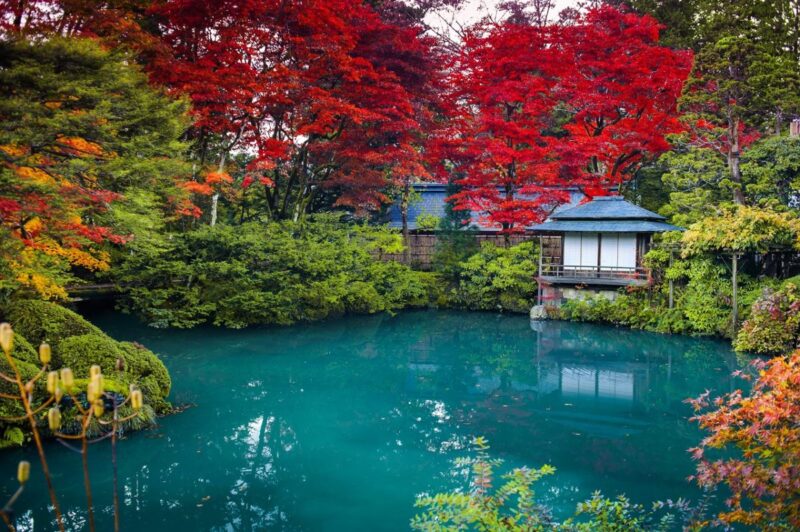 Near the temple, there is a Japanese garden called Nikko Shoyoen Garden, which is famous for its beautiful blue pond and its beautiful autumn leaves.
Rinnoji
Tochigi's best local treats
Tochigi is landlocked by the prefectures of the Kanto region, and it is home to a variety of local foods, like gyoza dumplings, ramen noodles, grilled ayu fish, yuba (tofu skin), and tochiotome strawberries. Here are our picks for the best foods to try when visiting Tochigi!
1. Utsunomiya Gyoza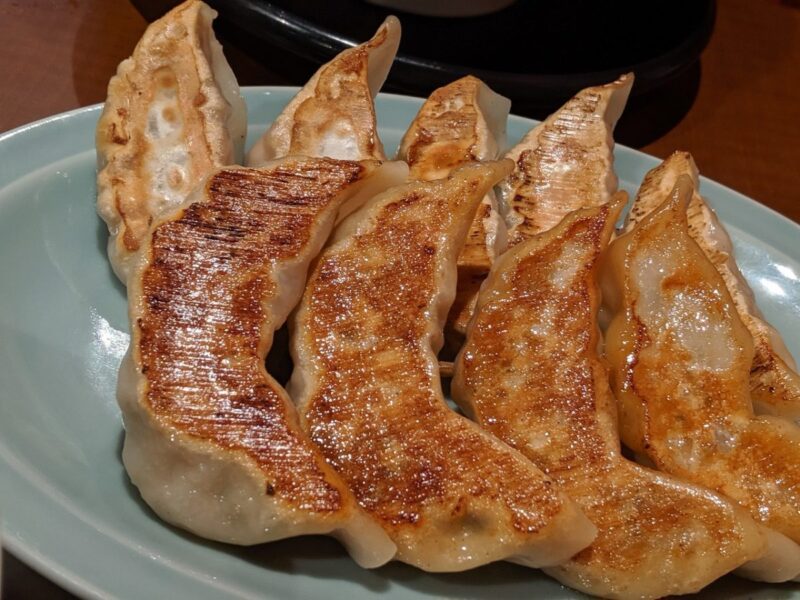 Utsunomiya is the main capital of Tochigi, and it is known as the home of Gyoza dumplings, which are served pan-fried, deep-fried, or boiled. Utsunomiya gyoza is filled with various fillings, including pork, prawn, leek, cheese, or kimchi. You can try these amazing dumplings at one of the restaurants in Utsunomiya City, Tochigi.
2. Sano ramen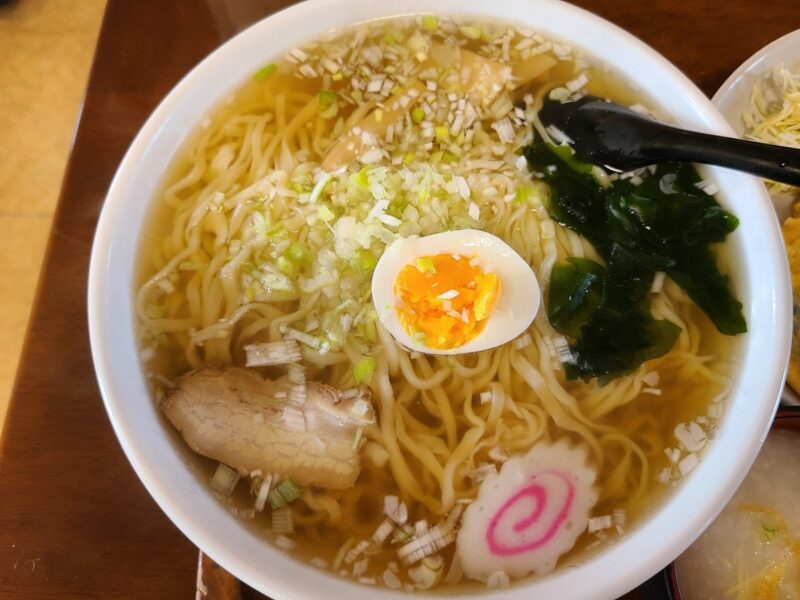 Sano ramen is a local specialty of Tochigi, which is known for its gentle and moist texture. The noodles are wavy and the soup is a clear soy sauce-based broth. What makes Sano ramen special is the water used for the preparation, which is taken directly from the Lake Benten.
3. Grilled Ayu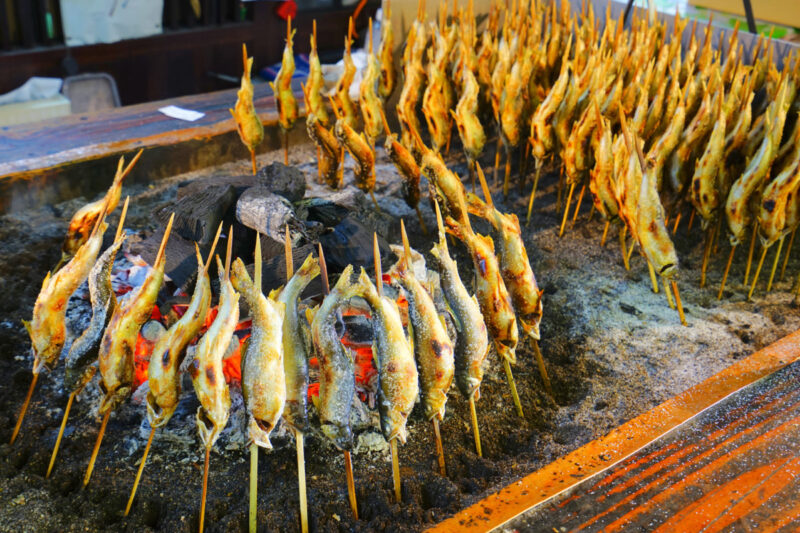 Grilled ayu is a local specialty of Nakagawa, an area in Tochigi with the largest number of ayu sweetfish swimming upstream in Japan. Tochigi's grilled ayu has a firm texture, and you can try them at one of the restaurants in Nakagawa or Utsunomiya.
4. Nikko yuba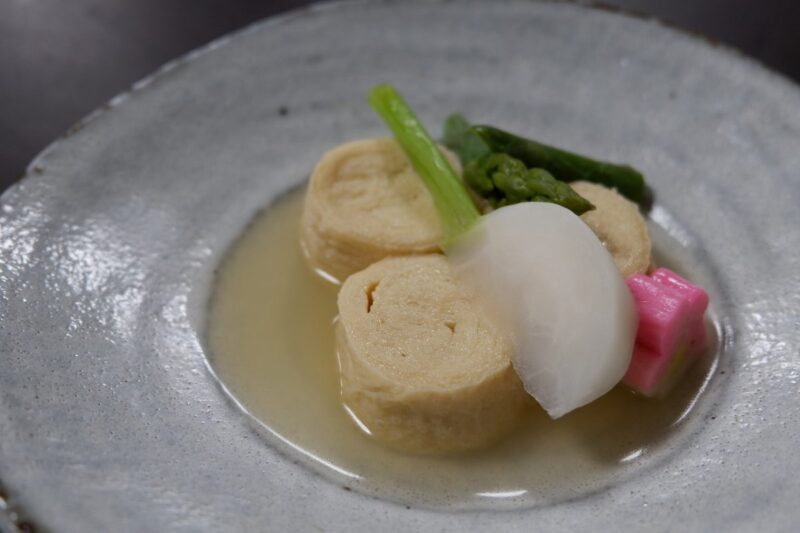 Yuba, or tofu skin, is a local specialty of Nikko, and it is made by picking up the thin layer of tofu membrane from the middle, creating a double layer that makes yuba in Nikko is thicker than other varieties of yuba in Japan.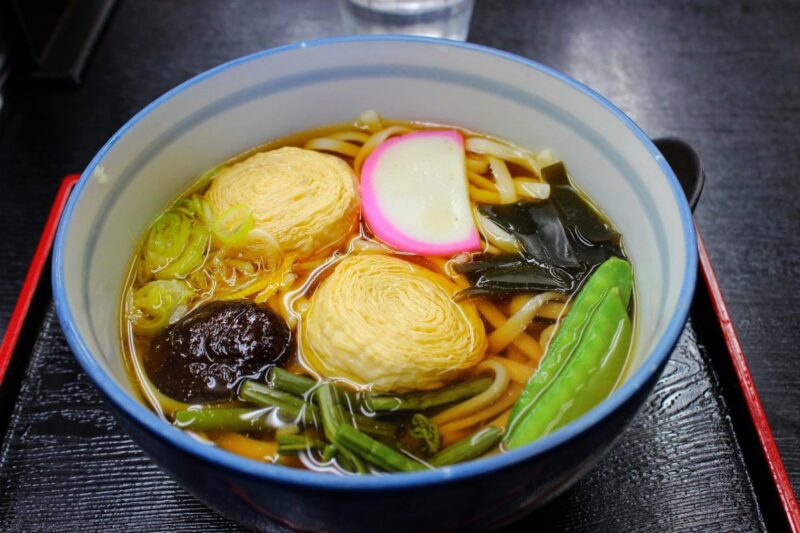 Nikko yuba is usually served raw as sashimi, with a light dashi broth, or served on top of a bowl of udon, as a garnish.
5. Tochiotome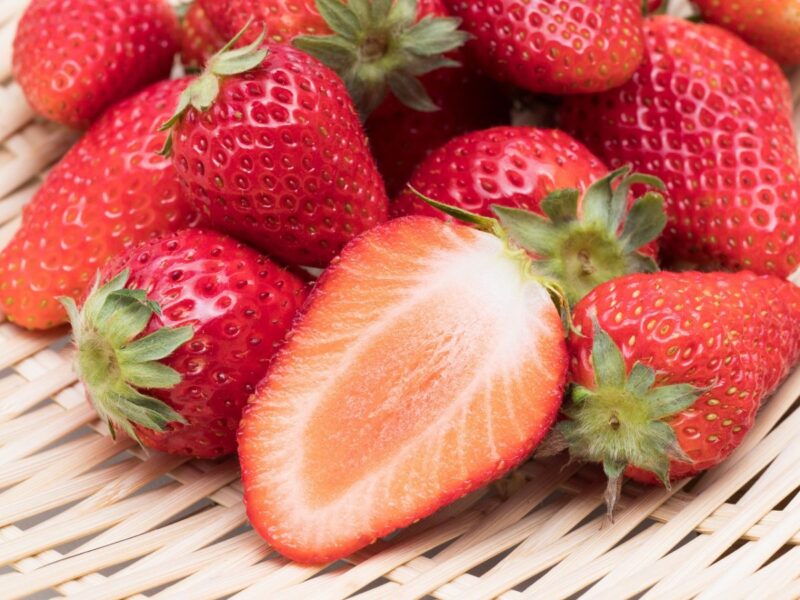 Tochigi Prefecture is home to one of the most popular strawberry varieties in Japan, Tochiotome, and it is also known as the largest strawberry producer in Japan. Tochiotome strawberries are sweet and juicy, and they have rich and balanced flavors. The best timing to eat strawberries is in the winter and early spring.
.
Now that you have an idea of how many fabulous spots are in Tochigi, all you must do is plan your itinerary to enjoy unforgettable experiences in Tochigi!