10 amazing things to do in Tokyo, Japan!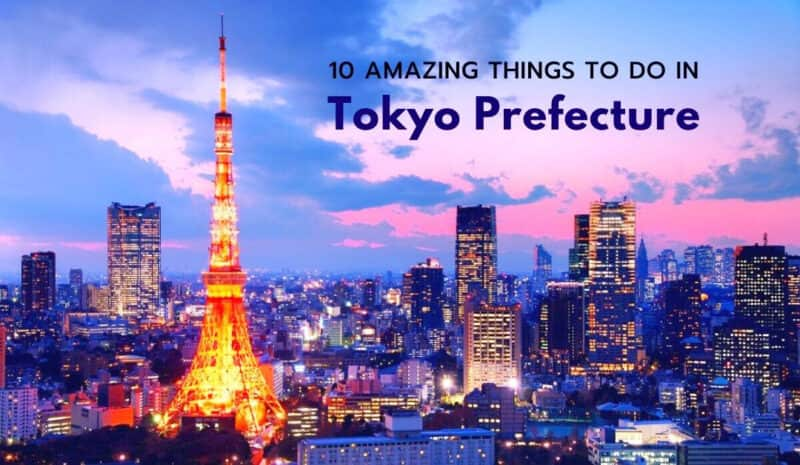 Tokyo is the capital city of Japan, it is considered as one of the most attractive cities in the world, offering abundant tourist attractions including monuments, museums, skyscrapers, and Japanese traditional gardens.
There are a lot of great sightseeing spots to visit when you're here, such as Asakusa, a traditional neighborhood that is home to Sensoji, the oldest temple of Tokyo, and Harajuku, the Mecca of Kawaii culture that is extremely popular among teenagers and foreigners.
Brimming with amazing tourist destinations, how about visiting Tokyo to have both, and extraordinary and unforgettable adventure?
Index
How to get there
Tokyo Prefecture is accessible by trains, subways, and airplanes, and the main transportation methods in Tokyo are the JR trains or the Tokyo Metro Subway.
The Shinkansen bullet trains stop by the JR Tokyo Station, Ueno Station and Shinagawa Station. We can travel to most areas in Japan by taking the Shinkansen from these stations. There are local trains connecting Tokyo to its neighboring prefectures, including the JR Saikyo Line that connects Tokyo with Saitama, and JR Shonan Shinjuku Line and Yokosuka Line, that connect Tokyo with Kanagawa.
Haneda International Airport is the main airport in Tokyo, and numerous domestic and international flights are in service every day.
Recommended sightseeing spots in Tokyo
Being the capital of Japan, Tokyo is best known for having modern skyscrapers and busy streetscapes, but this prefecture is a home to many great sightseeing spots, including Shinjuku Gyoen, an oasis located in the heart of Tokyo, and Omoide Yokocho, a small alley lined with amazing local eateries and small pubs.
In addition to its amazing sightseeing spots, this prefecture is also a home to Chanko Nabe, a well-balanced hotpot dish that is traditionally eaten by sumo wrestlers, and also Dojo Nabe, a freshwater fish dish that is famous for its grotesque look, which rivals freshwater eels as energy-boosting food.
Ready to take yourself to a journey? Here are our picks for the best things to do in Tokyo, Japan!
1. Explore Asakusa for its beautiful temple and amazing shopping street!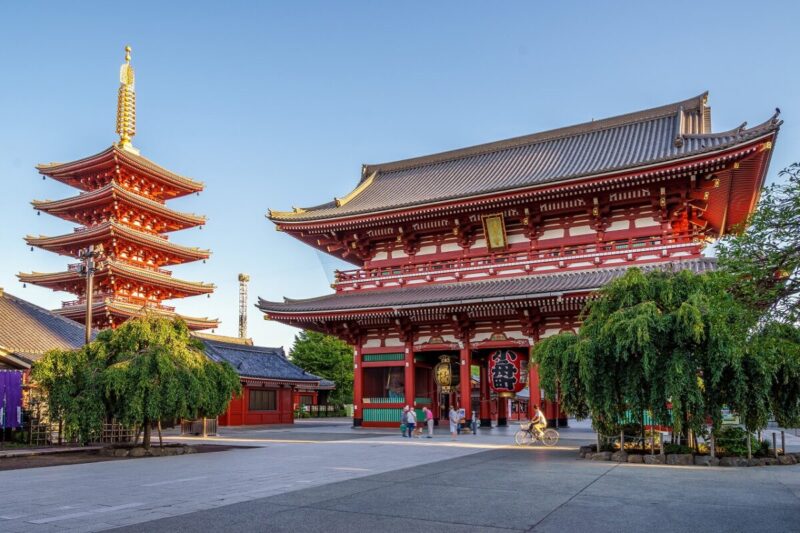 Visiting Tokyo without stopping by Asakusa is like eating sushi without fish, as this area is known as one of the most traditional neighborhoods in Tokyo, and it is perhaps the first spot foreigners would visit when they're here at this place.
In Asakusa, there is Sensoji Temple, the oldest temple in Tokyo that is particularly known for its iconic Kaminarimon gate, and also its vibrant red Pagoda.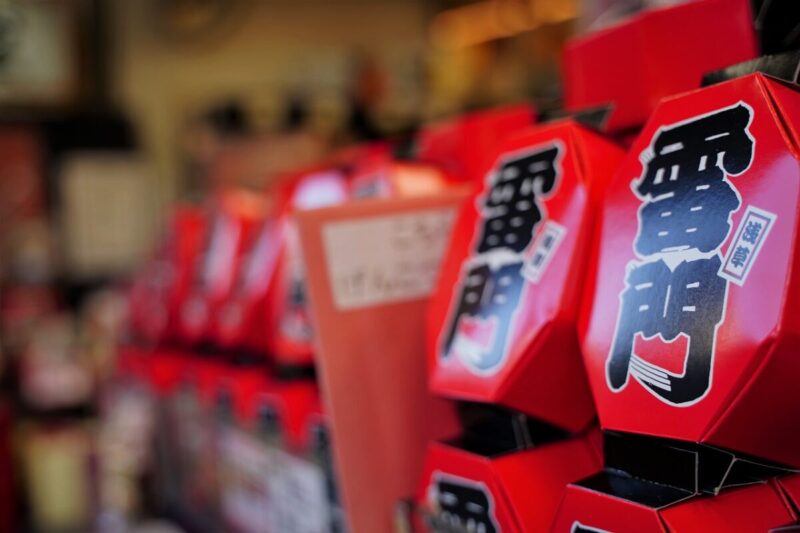 On your way to Sensoji Temple, there is Nakamise Street, a street that takes you to the main hall of the temple, which is lined with many souvenir shops and traditional food stalls.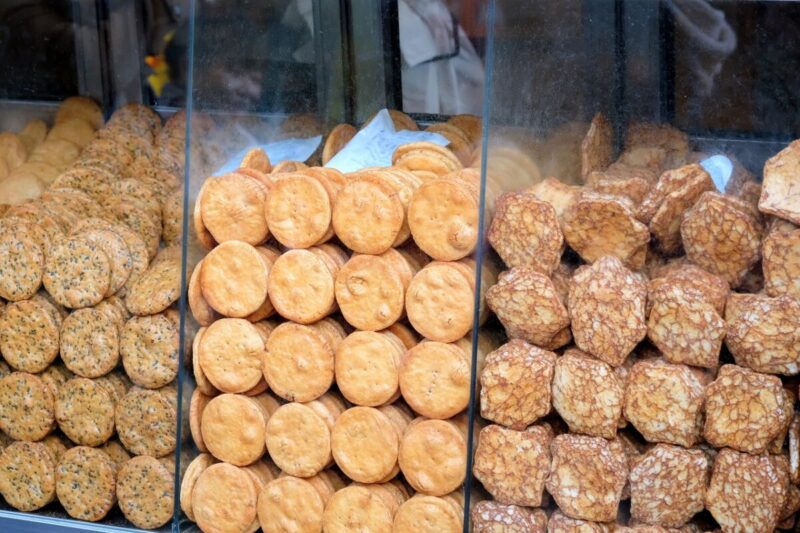 Amongst all the treats sold on Nakamise Streets, we recommend you to try the freshly baked senbei rice crackers, which are crispy and tasty!
Asakusa
Google Map
2. Senses Metropolitan vibe from Tokyo Skytree!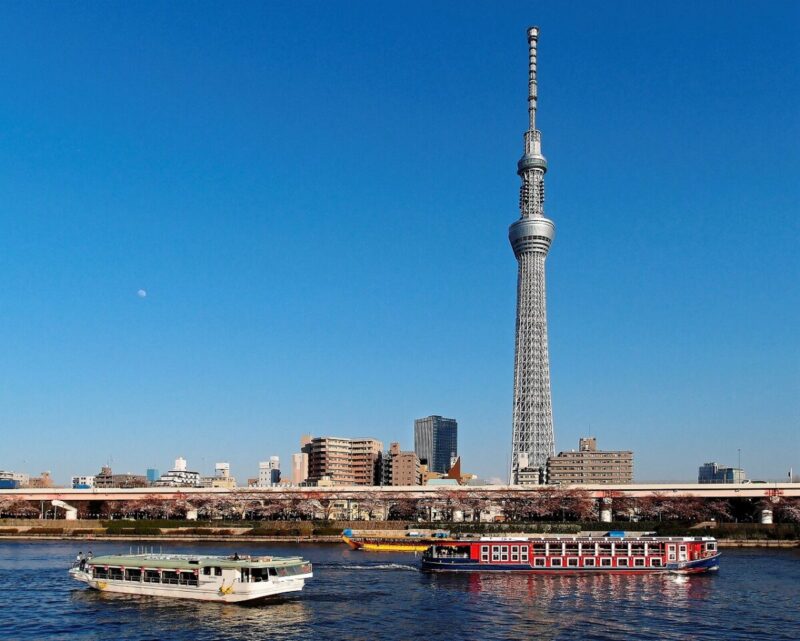 How about visiting Tokyo Skytree to overlook the view of Tokyo City?
Tokyo Skytree is one of the most popular landmarks of Tokyo, and the tower is also known as the world's tallest tower, and second-tallest freestanding structure at 634 meters. This tower functions as a TV broadcasting tower, and it is also the centerpiece of the Tokyo Skytree Town in Sumida City.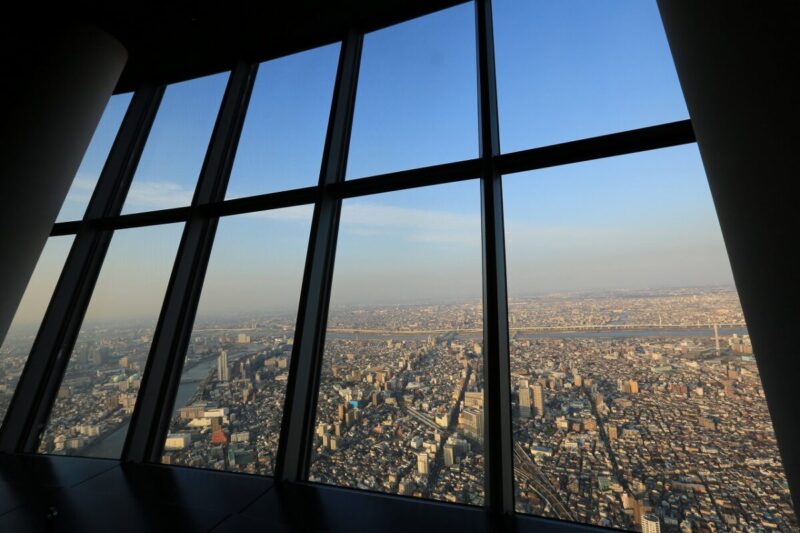 There are two observatories in the tower offering spectacular views out over Tokyo, which are located at heights of 350 and 450 meters. Tembo Deck is the lower of the two decks and spans three levels with great view from all floors. The top floor has tall, broad windows offering some of the best 360 degree panoramic views of Tokyo.
Tokyo Skytree
Tel.
Business hours
Google Map
3. Enjoy the breathtaking seasonal views of Shinjuku Gyoen National Garden!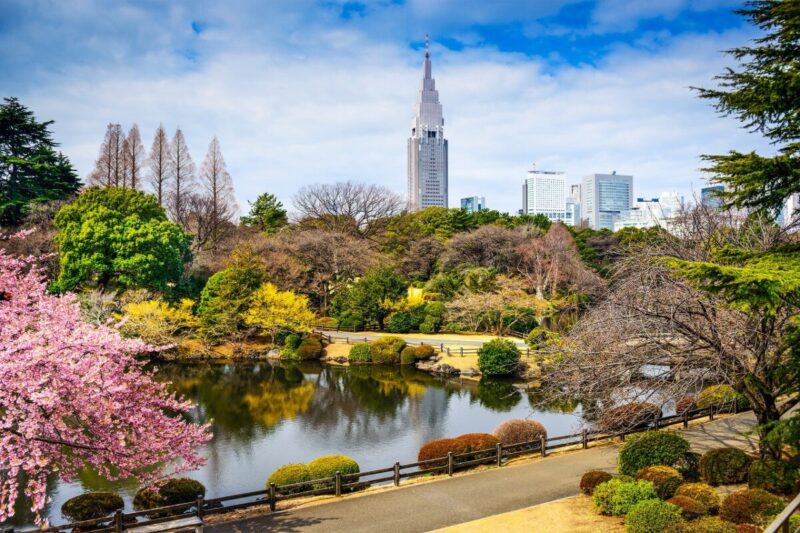 Tokyo is not only about modern skyscrapers and chaotic streetscape. There are also some oases in the city, and Shinjuku Gyoen National Garden, one of the most important Japanese gardens, is one of them. Located in the heart of Japan's capital city, Shinju Gyoen is a great hideaway where people can relax and take a break from the hustle and bustle of their routine.
The best time to visit Shinjuku Gyoen is in spring, when the cherry blossoms are in full bloom, or in fall, when the leaves turn gold and red. This garden is also known for its gorgeous ponds and pagodas, and it also has a teahouse where you can enjoy wagashi (Japanese sweets) and matcha.
Shinjuku Gyoen National Garden
Business hours
9:00-16:00 (October to March 14)

9:00-17:30 (March 15 to September)

9:00-18:30 (July 1 to August 20)
Closed on Mondays and from December 29 to January 3
Admissions
500 yen (age 15 and above)

250 yen (student admissions, a valid student ID is required)

250 yen (age 65 and above)

free for age 15 and under
Google Map
4. Capture the beautiful view of Shinjuku City from Tokyo Metropolitan Government Building!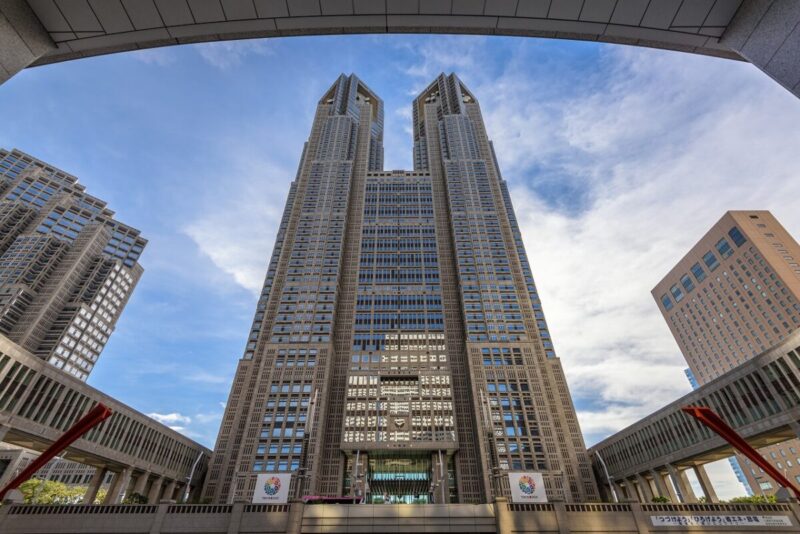 Looking for free attraction in Tokyo? How about visiting the Tokyo Metropolitan Government Building in Shinjuku for a free city view?
Unlike other observatories in this place that require an admission fee, Tokyo Metropolitan Government Building is best known for its observation decks located on the 45th floor, 202 metres above sea level, which are open to the public for free.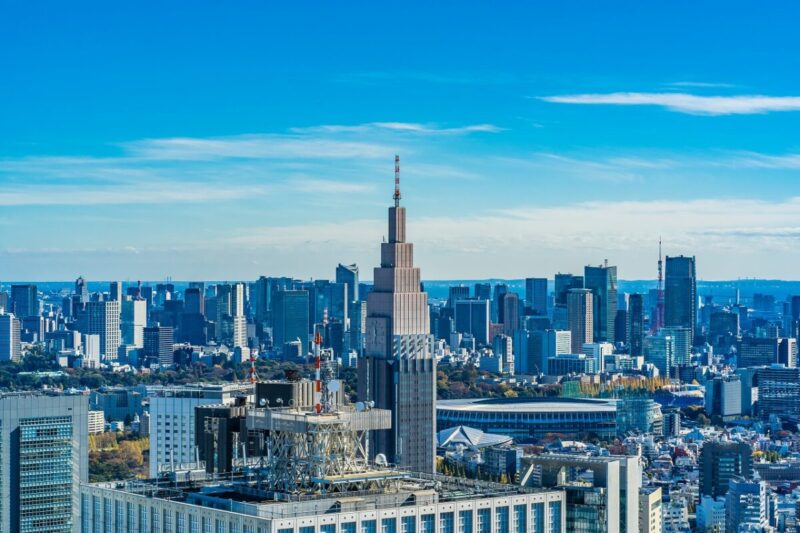 You can overlook view of the city for free from both observatories, and if you want to enjoy the night view of Tokyo, you can visit the North Tower that opens until late offering views of skyscrapers and highways lit up in the darkness. On a clear day, you might be able to see Mt. Fuji from the South Tower.
Tokyo Metropolitan Government Building
Address
2 Chome-8-1 Nishishinjuku, Shinjuku City, Tokyo 163-8001, Japan
Tel.
035-321-1111
Business hours
9:30 – 23:00 (South Tower opens until 17:30)
Google Map
5. Visit Omoide Yokocho, a lively alley filled with good eateries!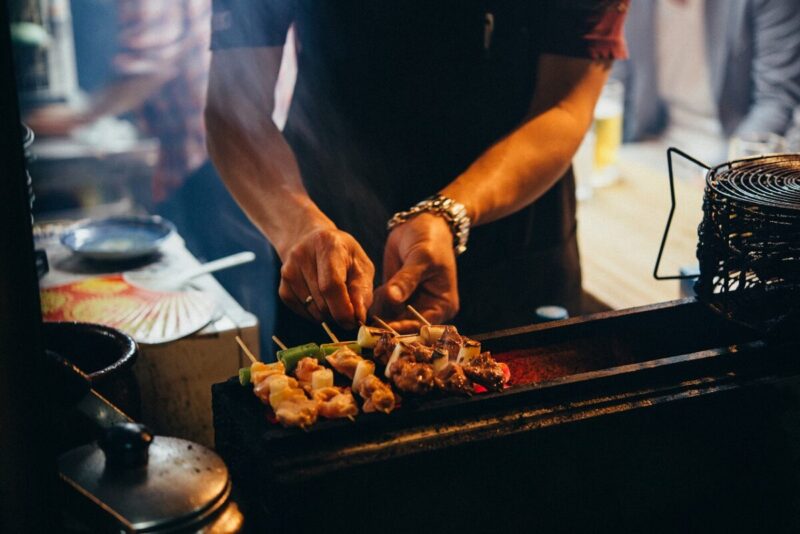 After exploring Shinjuku during the day, how about stopping by the Omoide Yokocho to try one of its amazing eateries?
Also known as the "piss alley", Omoide Yokocho is a popular alley in Shinjuku that is lined with local eateries mainly selling yakitori and boozes.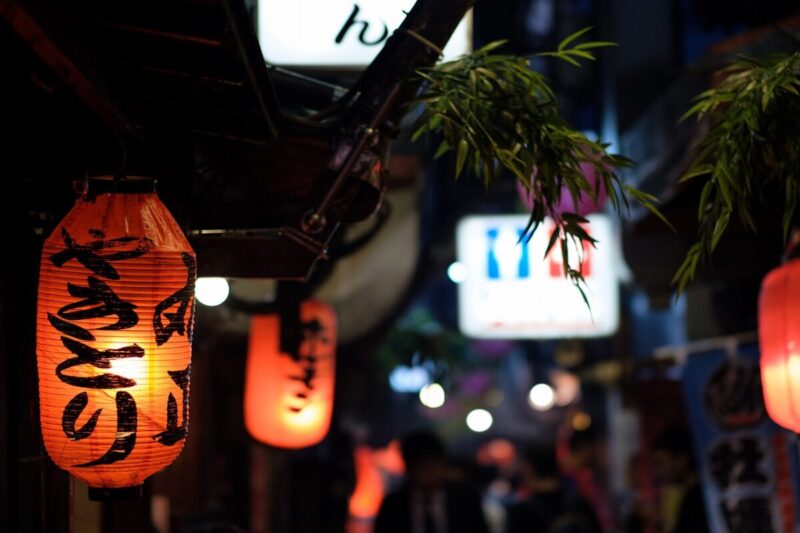 The red lanterns and smoke from the grills will take you back to the Edo period, providing you an atmospheric place to wander.
The alley was once called as piss alley because the toilets were such non-existent back then, but public toilets are now available in the alley, so you don't have to worry about it.
Omoide Yokocho
Address
1 Chome-2 Nishishinjuku, Shinjuku City, Tokyo 160-0023, Japan
Tel.
Google Map
6. Stop by Shibuya Crossing, the world's busiest crossing!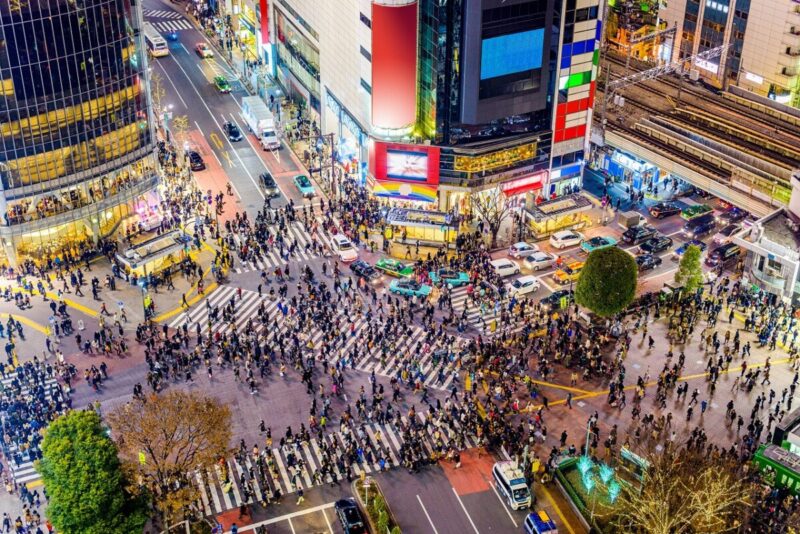 Where visiting is not complete, if you don't stop by Shibuya Crossing in Shibuya!
Known as the world's busiest crossing, Shibuya Crossing is always packed by people every now and then, especially on the weekends.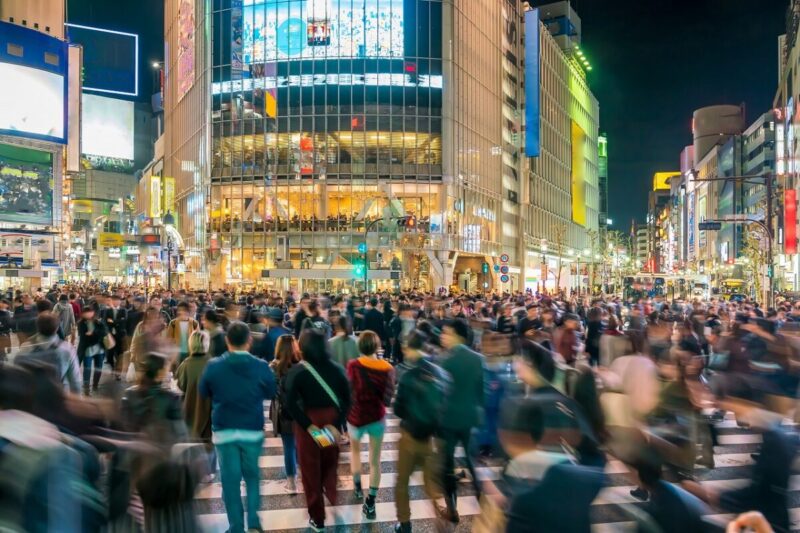 The crossing has become one of the most popular photo spots in Tokyo, especially when the passengers crossing from all directions at once when the traffic lights turn green.
Read more articles about Shibuya
Shibuya Crossing
Google Map
7. Explore Takeshita Street, the Mecca of Kawaii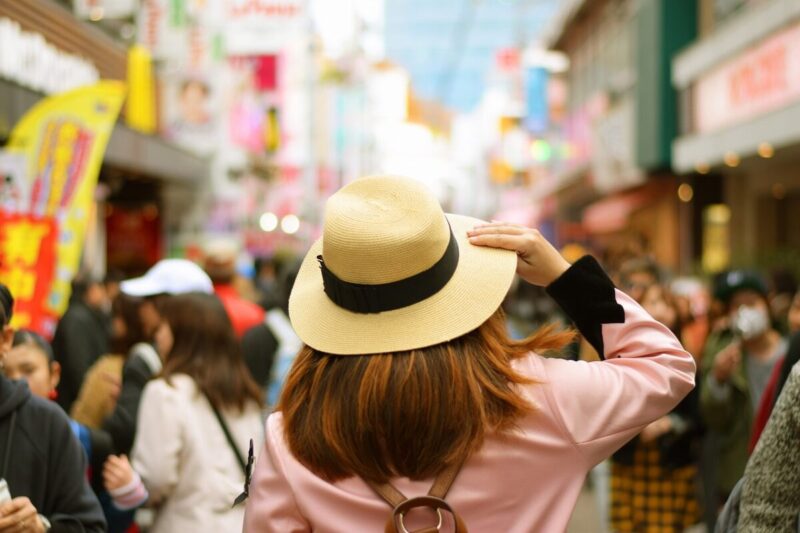 Takeshita Street in Harajuku is where to head if you're into Kawaii culture!
Known as the Mecca of Kawaii, Takeshita Street in Harajuku is where you can hunt for trendy and colorful fashion items, and unique variety goods at reasonable prices. The street is lined with hundreds of stylish boutiques and trendy shopping malls.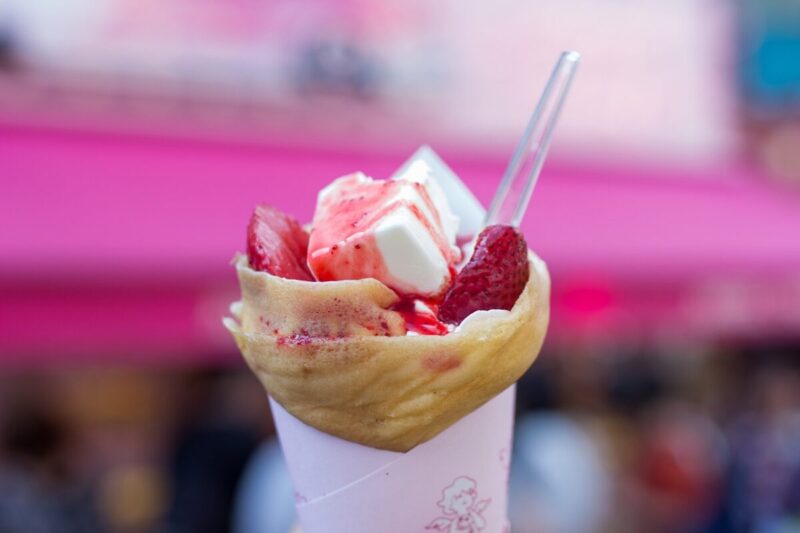 Takeshita Street is also famous for its street food stands, and some of the most famous local treats there are the soft and fluffy sweet crepes.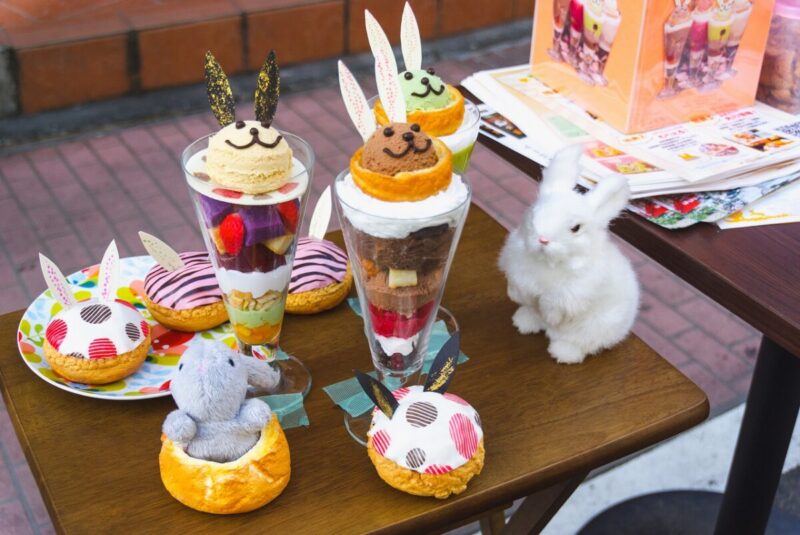 In Takeshita Street, there are also shops selling cute and adorable food samples like shown in the picture above, so make sure to stop by one of them when you're in the area!
Takeshita Street
Google Map
8. Stop by Tokyo Tower, the symbol of Tokyo city!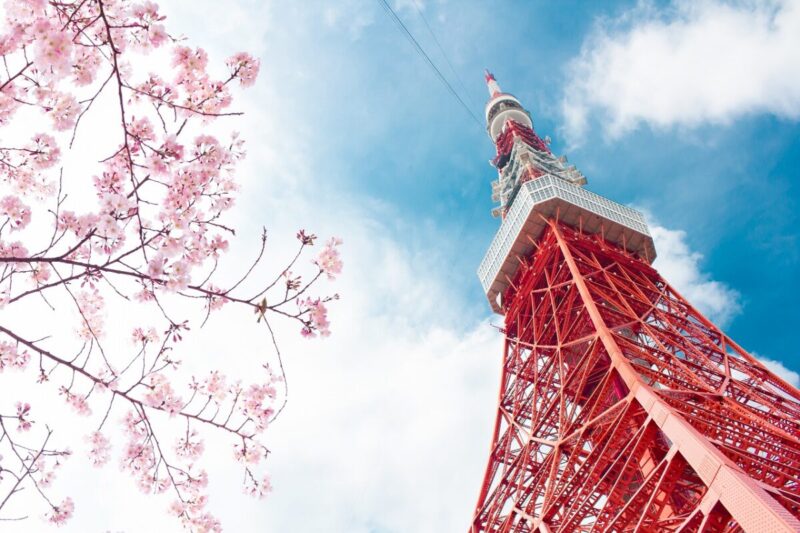 Tokyo Tower is still known as the symbol of Tokyo even though it draws less attention today after Tokyo Skytree opened. The beloved tower is still a popular landmark of Tokyo, especially during the cherry blossoms season in spring.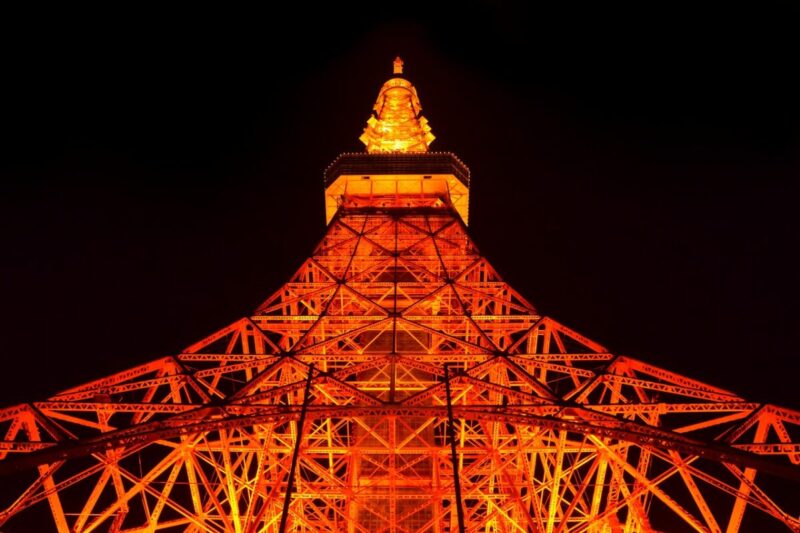 Tokyo Tower is enjoyable from distance or from up-close, and there are several great Tokyo Tower viewing spots in the city. If you want to see the tower from up-close, we recommend seeing it from the Zojoji Temple, which is located just right next to it. The best time to visit Tokyo Tower is either when the cherry blossoms are in full bloom, or at night, when the tower is lit up with the gorgeous lights.
Tokyo Tower
Address
4 Chome-2-8 Shibakoen, Minato City, Tokyo 105-0011, Japan
Tel.
Business hours
Main deck : 9:00 – 21:00

Other areas : 9:00 – 20:30
Admissions to main deck
age 18 & above : 1,200 yen

high school students : 1,000 yen

elementary & junior high school students : 700 yen

age 4 & above : 500 yen
Google Map
9. Visit Ueno Park for its beautiful cherry blossoms in spring!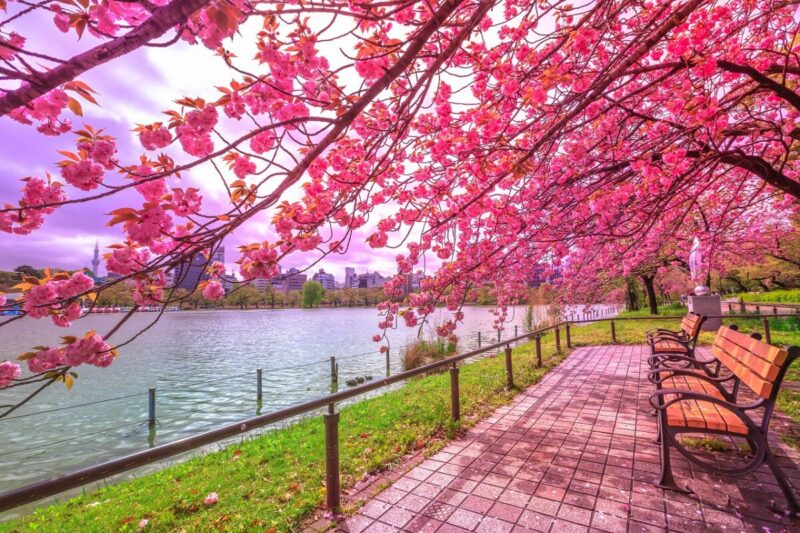 Ueno Park is known as one of the biggest public parks in Japan, and the park is in a short distance from Asakusa. The park is known for having various interesting attractions and facilities like museums, a zoo, and historical monuments. It's particularly popular to visit during the cherry blossom seasons as people gather to enjoy Hanami (cherry blossoms viewing party) there.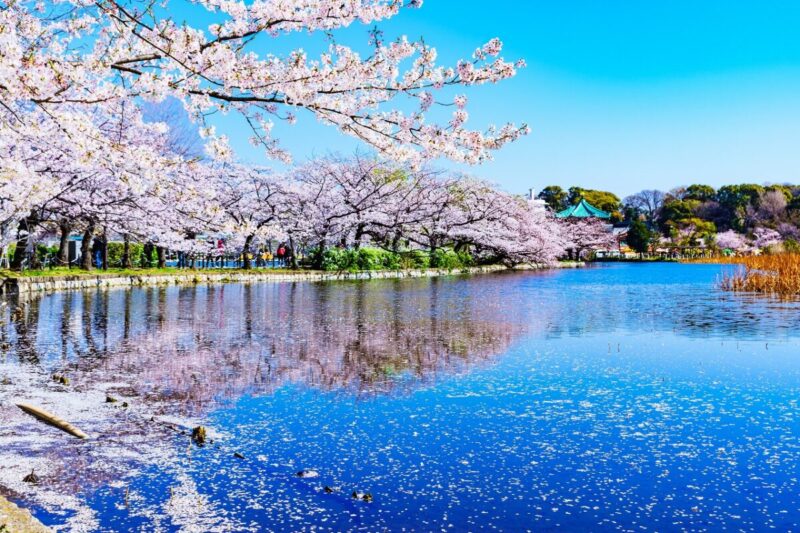 Ueno Park is massive, and it is lined with more than a thousand of cherry blossom trees. You can find cherry blossoms trees here and there, but the best spot to see the flowers is perhaps nearby the pond.
Ueno Park
Address
Ueno-koen, 3-chome Ikenohata, Taito-ku, Tokyo.
Tel.
Business hours
5:00 – 23:00 (no trespassing after hours)

Office services suspended during December 29 – January 3
Admissions
Google Map
10. Get some fresh seafood and fruits at Ameyoko Market
Along with Ueno Park, you should visit Ameyoko, a notable street in Ueno that is lined with discount stores, groceries, and street food stalls where you can get fresh seafood at affordable prices. You can choose the seafood you would like to buy, and the shopkeepers will prepare and serve it as requested.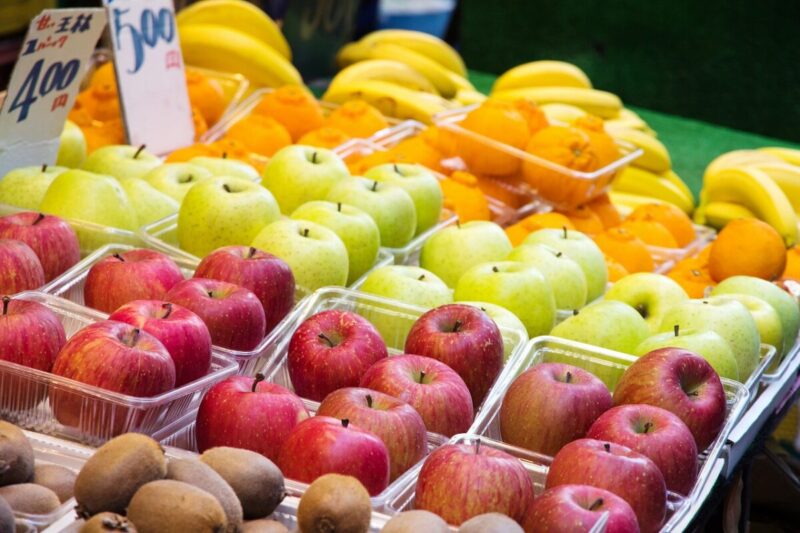 In addition to seafood, Ameyoko is also known for selling fresh and exotic fruits, which are rarely found at the local supermarkets. You'll see fruits like apples or kiwis, and if you're lucky, sometimes you can find jackfruits or durians at some of the fruit stalls there.
Ameyoko
Address
6 Chome-9-9 Ueno, Taito City, Tokyo 110-0005, Japan
Tel.
080-5299-6285
Business hours
Each establishment has different business hours
Google Map
Tokyo's best local treats
Tokyo Prefecture is the capital of Japan, and it is known for having numerous wonderful sightseeing spots like Tokyo Tower, Asakusa, Harajuku, Ueno, and Shibuya. There are a lot of amazing local treats you can try in Tokyo, including the Edomae Sushi, Chanko Nabe, and Dojo Nabe (only for those with brave hearts!).
Looking for something to eat in this city? Here are our picks for the best foods to eat when visiting Tokyo!
1. Edomae Sushi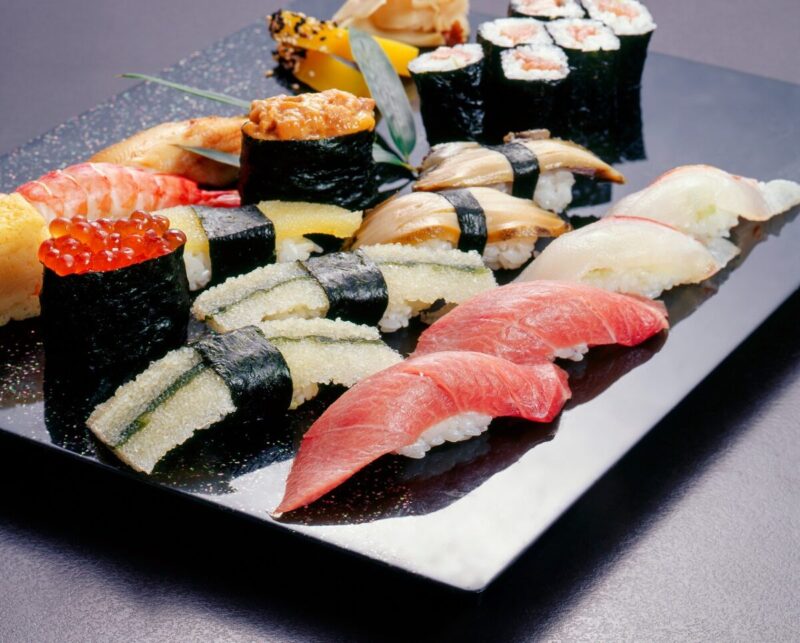 Edomae Sushi is the Edo-style sushi, which all main ingredients were local to the Tokyo Bay, like tuna, bonito, halibut, sea eel, and shellfish. Edomae Sushi was prepared and sold on the streets by the locals, so most ingredients were simmered in broth (sea eel, shrimp, and shellfish only) or in soy sauce (tuna, bonito, and halibut only) to prevent them from spoiling.
2. Monjayaki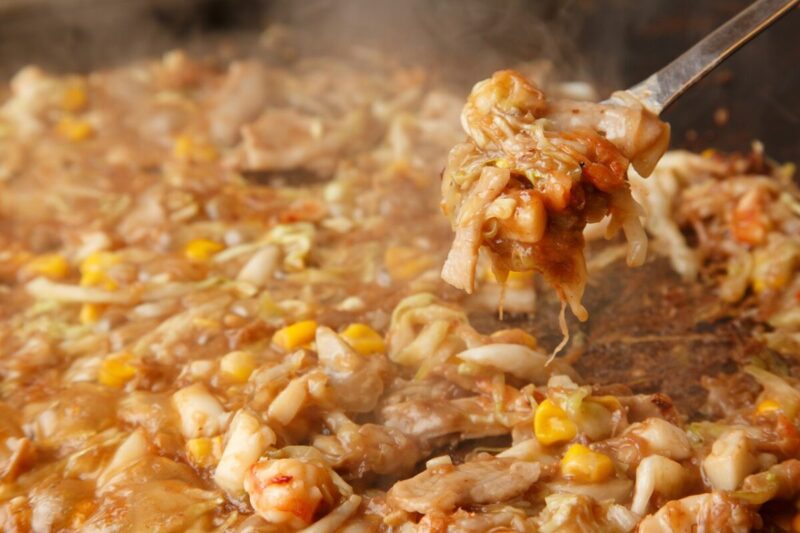 Monjayaki is a local specialty of Tsukishima, and it is made with a flour-based watery batter filled with shredded cabbage, corn, and other savory ingredients like seafood and meat. All ingredients are mixed before they are all cooked on a hot griddle, just like okonomiyaki, but more watery.
3. Chanko Nabe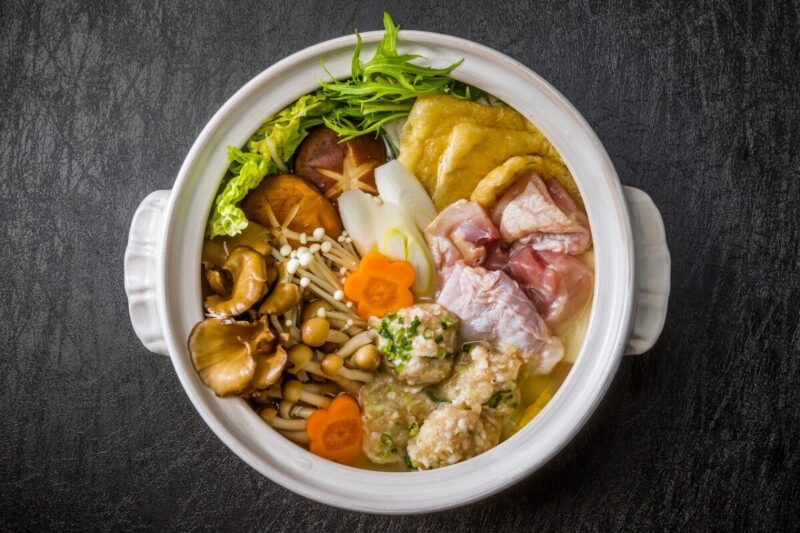 Chanko Nabe is a Japanese hotpot dish that is traditionally eaten by sumo wrestlers in Japan. The hotpot is usually served in big quantities, as a part of weight-gain routines for sumo wrestlers. Chanko Nabe is made of seafood, meat, and vegetables cooked in dashi and chicken broth. You can try this well-balanced meal at some Japanese izakayas or restaurants.
4. Fukagawa-meshi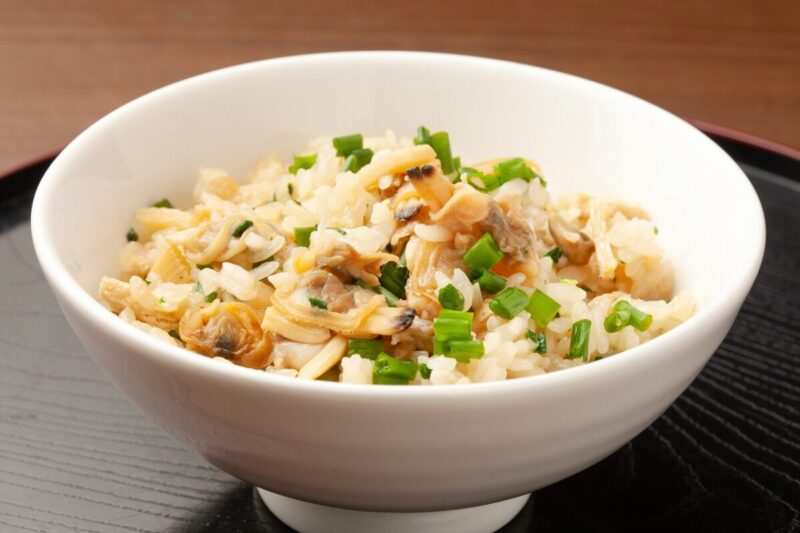 Fukagawa-meshi is a bowl of rice topped with clams, tofu, and chopped green onions. The dish was consumed by the fishermen working in the Fukagawa area near the mouth of Sumidagawa River, and these days you can try it at one of the local restaurants nearby the river.
5. Dojo Nabe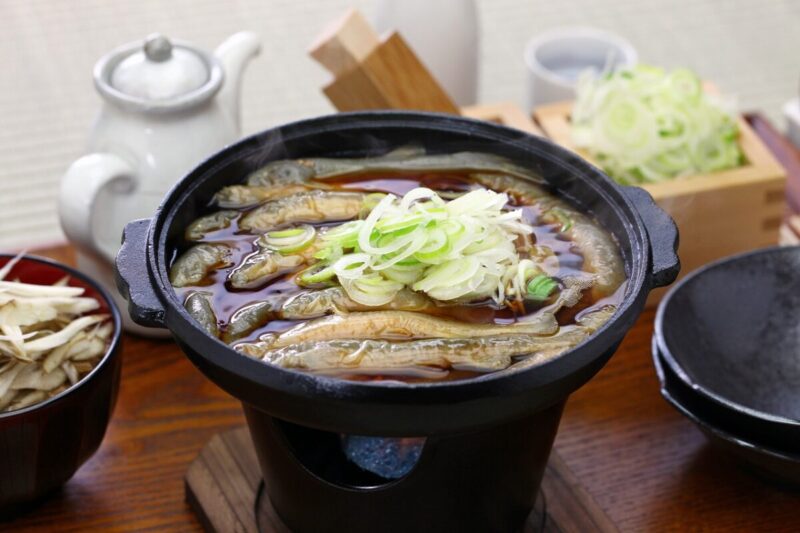 Dojo Nabe is a local dish of Tokyo that is made with loach or "dojo", a freshwater fish that rivals freshwater eel as a stamina-boosting food since the Edo period. Dojo nabe is cooked by pouring sake onto fresh dojo and slowly cooking them with miso soup. Known for its grotesque look, Dojo Nabe is definitely not for everyone!
.
Now that you have an idea of how many fabulous spots are in Tokyo, all you must do is plan your itinerary to enjoy unforgettable experiences in this lively city!
Read more articles about Tokyo