10 amazing things to do in Ibaraki, Japan!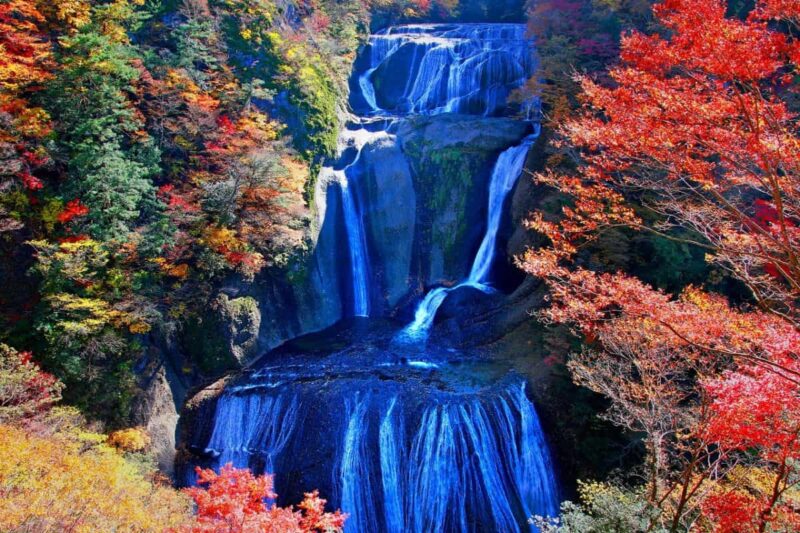 Ibaraki is only around 2 hours north-east of Tokyo, and it is home to many great sightseeing spots like parks, waterfalls, gardens, shrines, temples, and breathtaking natural landscapes.
It is only around two hours north-east of Tokyo, and it's perfect for a day trip from Tokyo. Ibaraki is known as Japan's no.1 producer and consumer of Natto, the sticky and stinky fermented beans. It's also the birthplace of Aikido, a Japanese martial art. The most famous flower park in Ibaraki is the Hitachi Seaside Park, which is best known for its beautiful and gorgeous Nemophila in spring and Kochi in fall.
Brimming with beautiful nature and interesting tourist destinations, how about visiting Ibaraki to have both, an extraordinary, yet a novel adventure?
Index
How to get there
Ibaraki is only 2 hours away from Tokyo, and it is accessible by trains, highway buses, and planes. The main transportation hubs in Ibaraki are Mito Station, Tsukuba Station, and Ibaraki Airport.
Some of the best ways to get to Ibaraki from Tokyo is by using the JR Joban Line from Ueno Station, or you can use the JR Narita Line to access major stations in Ibaraki with the JR Narita Line. You can also take the Tsukuba Express Line from Asakusa to Ibaraki.
The recently opened Ibaraki Airport offers domestic flights to Fukuoka, Sapporo, and Kobe, as well as international flights to Seoul and Shanghai.
Recommended sightseeing spots in Ibaraki
Although Ibaraki is often overlooked for its more famous neighbors, the prefecture is blessed with many beautiful natural features, and serves as a major historical and cultural center for Japan.
The prefecture is worth to visit if you're looking for something off the beaten path, especially if you want to escape from the hustle and bustle of Tokyo. Some of the best spots to visit are the gorgeous Hitachi Seaside Park, a giant Buddha statue, and the twin peaks of Mt. Tsukuba.
Ready to plan your trip? Here are our picks for the best things to do in Ibaraki, Japan!
1. Beautiful sea of flowers at Hitachi Seaside Park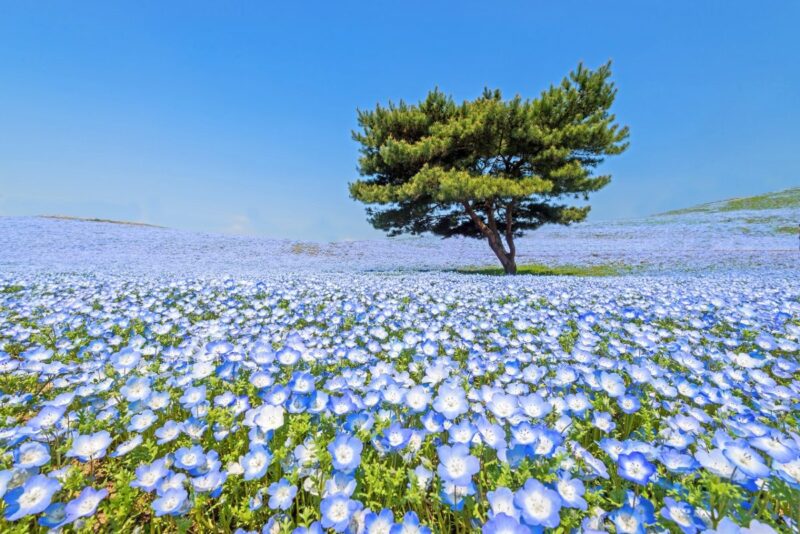 Hitachi Seaside Park is the biggest and the most popular flower park in Ibaraki, and it is best known for its beautiful nemophila in spring. The park has an area of 350 hectares, with 200 of which are open to the public.
The nemophila (baby blue eyes) flowers bloom in mid to late spring, and there are approximately 4.5 million flowers covering the park, creating a massive and spectacular baby blue carpet.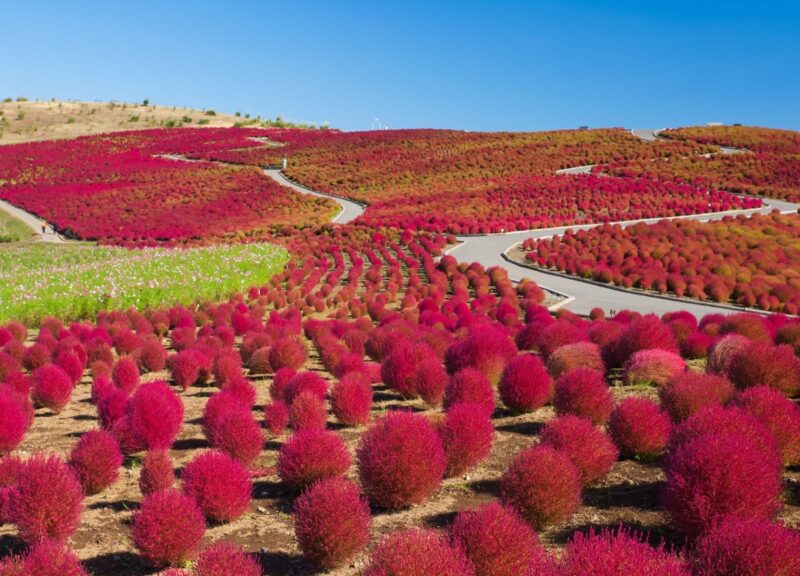 In addition to nemophila, Hitachi Seaside Park is also known for its beautiful kochia (summer cypress), which blooms in summer to early fall. The kochia trees are green in summer, and gradually turn a yellow-green and then gold, and become a vivid red in fall.
Hitachi Seaside Park
2. See the giant Buddha statue : Ushiku Daibutsu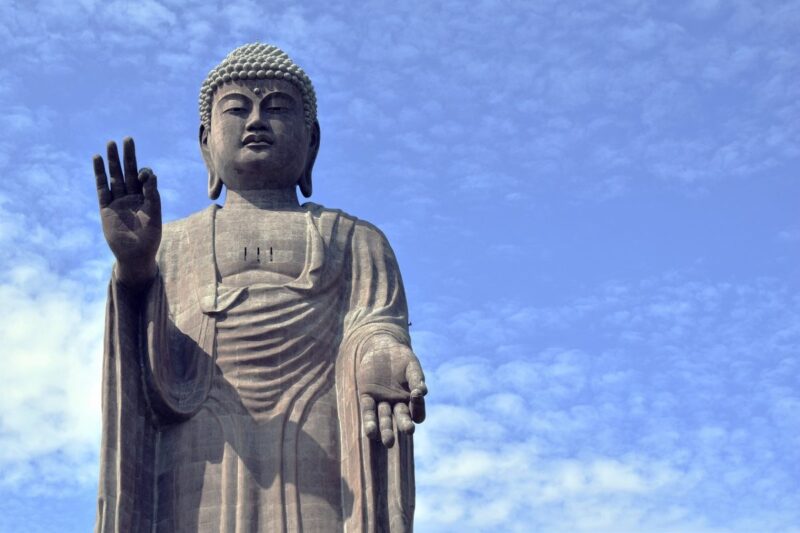 In addition to Hitachi Seaside Park, Ibaraki is also known for its massive Buddha statue called Ushiku Daibutsu. Ushiku Daibutsu is a 120 meter in height, and it holds the Guinness World Record for the tallest standing statue of Buddha.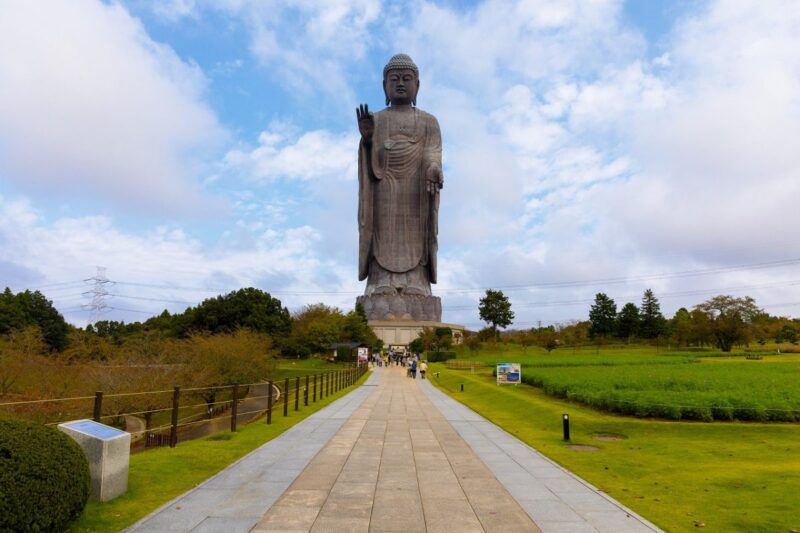 The view of the statue is impressive, and you can enter the inside of the statue if you also want. The entrance will take you to a series of floor levels with different displays and viewpoints, offering you more experiences than a simple observation deck.
The highest point you can go to is at 85 m (around chest level), which is accessible by elevator.
Ushiku Daibutsu
3. Stop by the tremendous and gorgeous Kairakuen Garden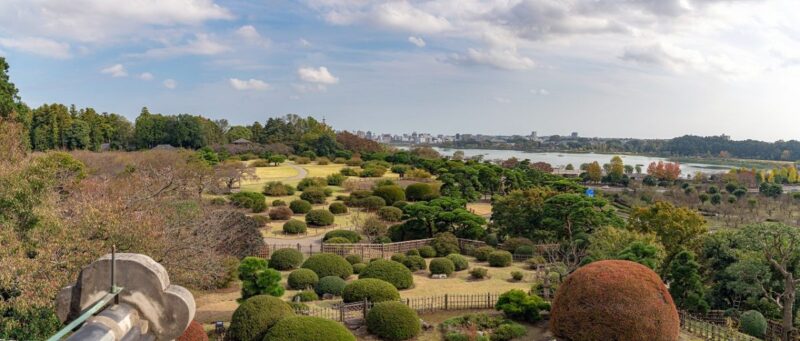 Kairakuen is perhaps the biggest and the most famous Japanese garden in Ibaraki, and it is also one of the "Three Great Gardens of Japan", along with the Kenrokuen in Kanazawa, and Korakuen in Okayama.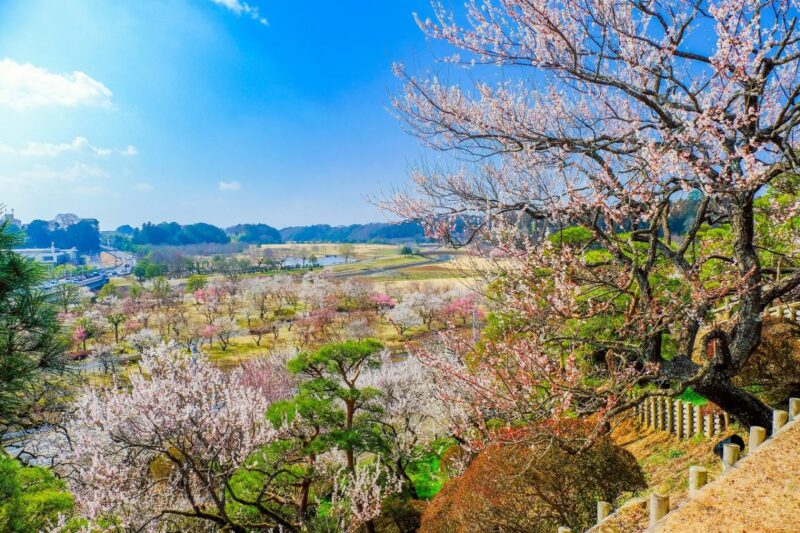 The garden has a 11-hectare of area, and was opened in 1842 by Tokugawa Nariaki, the 9th feudal lord of Mito. The garden has thousands of plum trees, which blooms in early spring, creating a dainty pink carpet with its blossoms.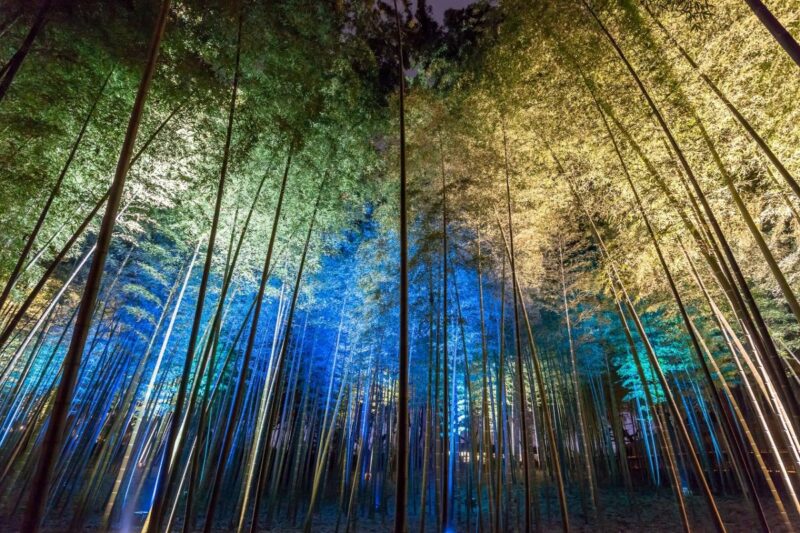 The garden is also known for its beautiful forest illumination, which is held every year in the fall.
Kairakuen Garden
4. Find your "Zen" at Oarai Isosaki Shrine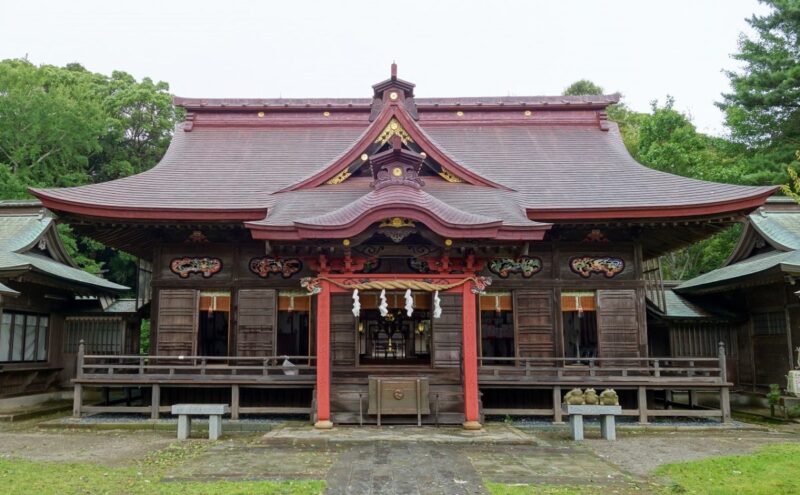 Oarai Isosaki Shrine enshrined Oonamuchi no Mikoto and Sukunahikona no Mikoto, two deities that created Japan.
Unlike other shrines, which are usually in a mountainous area, Oarai Isosaki Shrine is close to Oarai's shoreline, and it faces the great Pacific Ocean with three torii gates.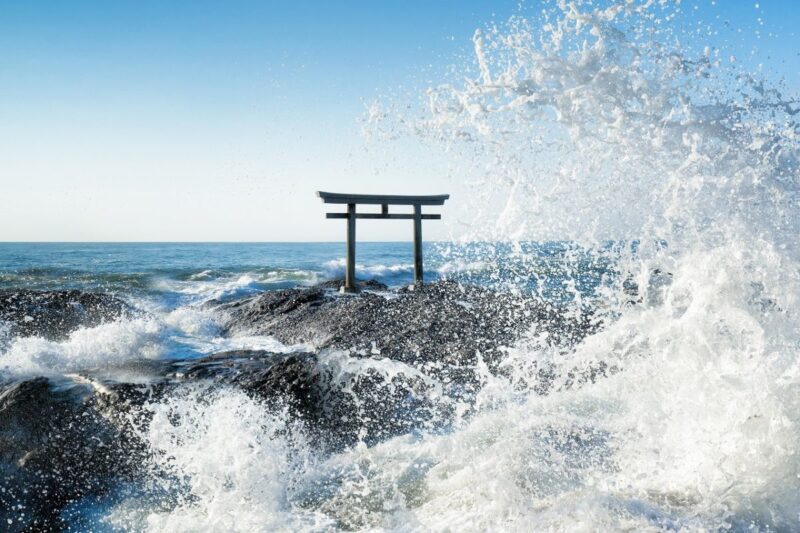 Among those three torii gates, the Kamiiso no Torii, was built in 1959 to commemorate the arrival of the deities. Situated on the reefs, the gate is facing the east and has become a popular sunrise spot in Ibaraki.
Ooarai Isosaki Shrine
5. Witness the greatness of Fukuroda Falls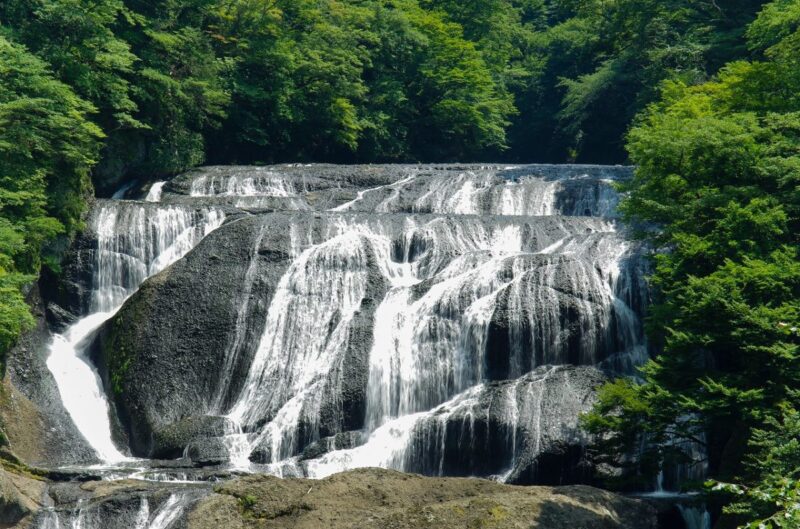 How about visiting Fukuroda Falls for its beautiful sights?
Considered as one of the three most beautiful waterfalls in Japan, Fukuroda Falls is one of the most iconic places in Ibaraki. The waterfalls is 120m high and 73m wide, and it cascades over four layers, looking dramatically different throughout the four seasons.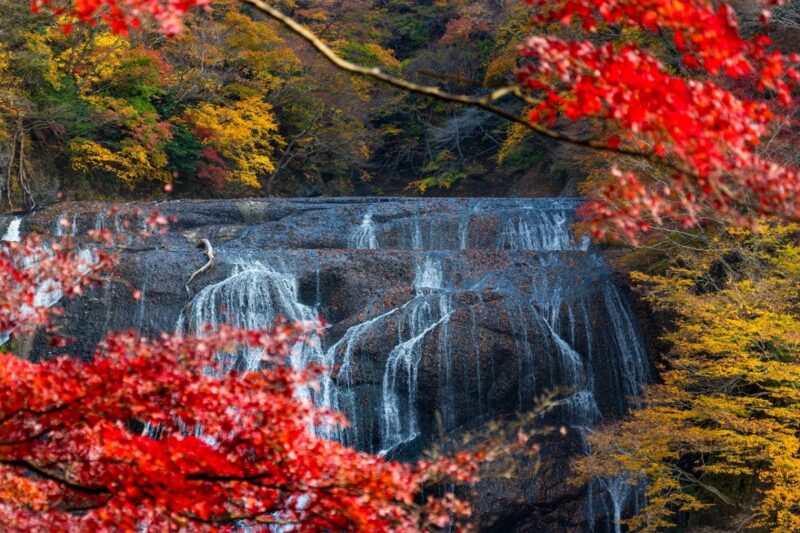 The best timing to visit Fukuroda Falls is in fall, where its surroundings are covered by the red autumn leaves but visiting it in the winter will give you a different sensation as the waterfall freezes. To see the waterfalls from up close, you need to go through a tunnel that takes you to the nearest viewing spot.
Fukuroda Falls
6. Stop by Ryujin Gorge for its scenic view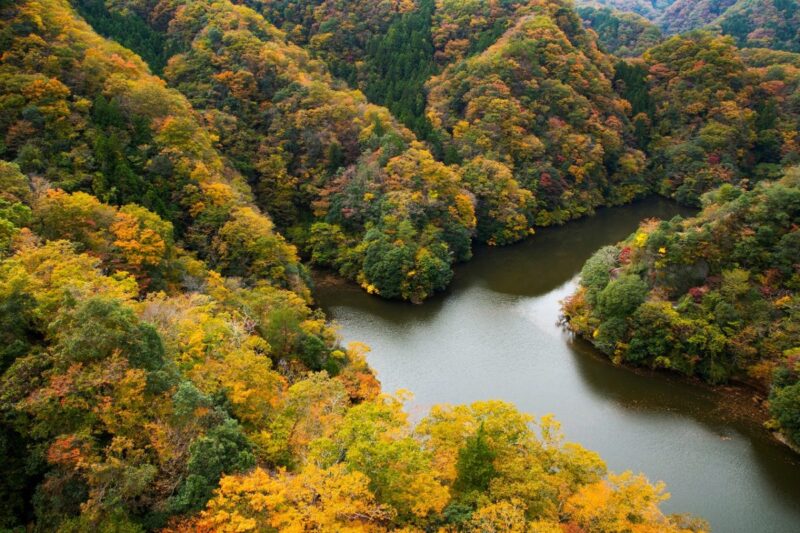 Ryujin Gorge is best known for its all-year-round spectacular view, but it is especially renowned for its incredibly beautiful autumn leaves. Ryujin Gorge has a lake called "Ryujin Lake", which shape is said to resemble the shape of a dragon, and that is why the gorge, the lake, and the bridge that we'll talk about, is named "Ryujin".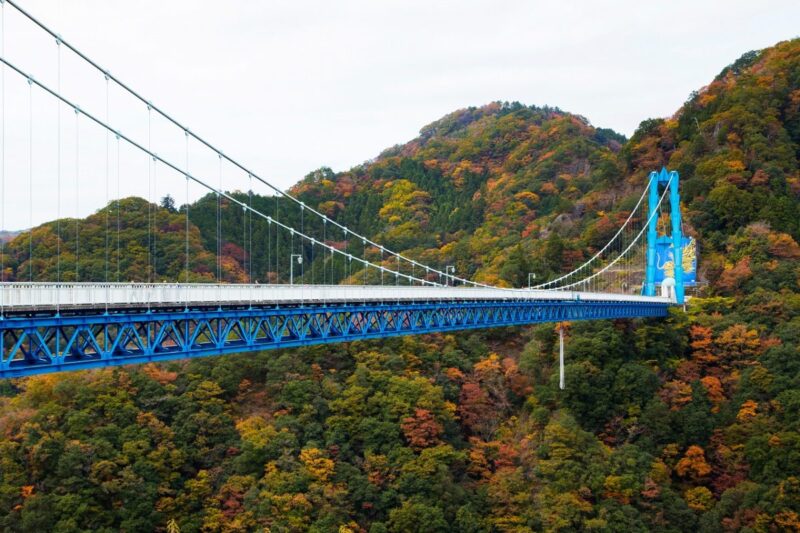 The Ryujin Suspension Bridge is a 375-meter-long bridge that connects two sides of the gorge, and it is known as the longest walkable suspension bridge on Japan's main island of Honshu. The long bridge is striking with its azure blue hue and dragon art, and the bridge is decorated with thousands of carp streamers on May 5 (children day), and lined with hundreds of lanterns in mid-August, during the Ryujin Gorge Lantern Festival.
Crossing the bridge costs 320 yen and gives you opportunities to take wonderful pictures from the bridge and from the other side. There is also a bungee jumping course that you can take from the middle of the bridge if you're brave enough.
Ryujin Gorge & suspension bridge
7. Find your peace at Kashima Shrine!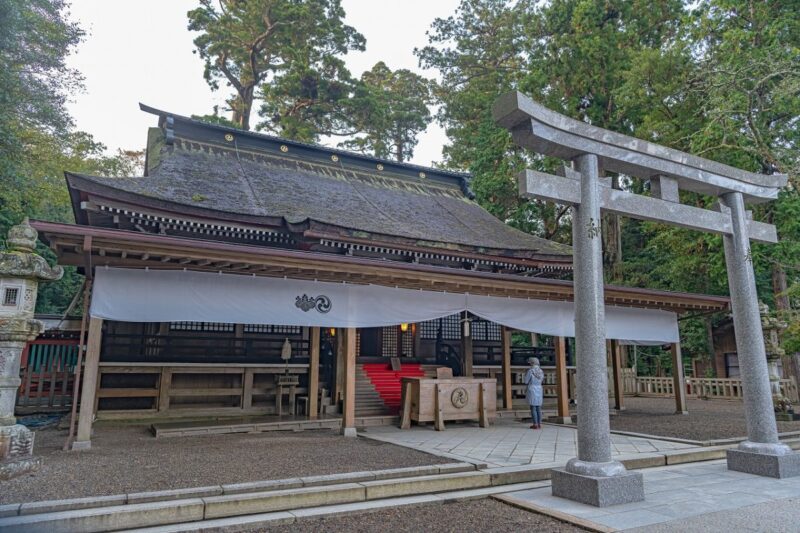 Kashima Shrine's history dates to the 600s BC, making it one of the oldest shrines, and one of the "three great shrines" in the Kanto region.  The shrine is dedicated to Takemikazuchi-no-Okami, the god of thunder and war in Shinto, who is also associated with martial arts. Kashima Shrine is also home to the oldest and the longest sword in Japan, which is considered as a national treasure by the government.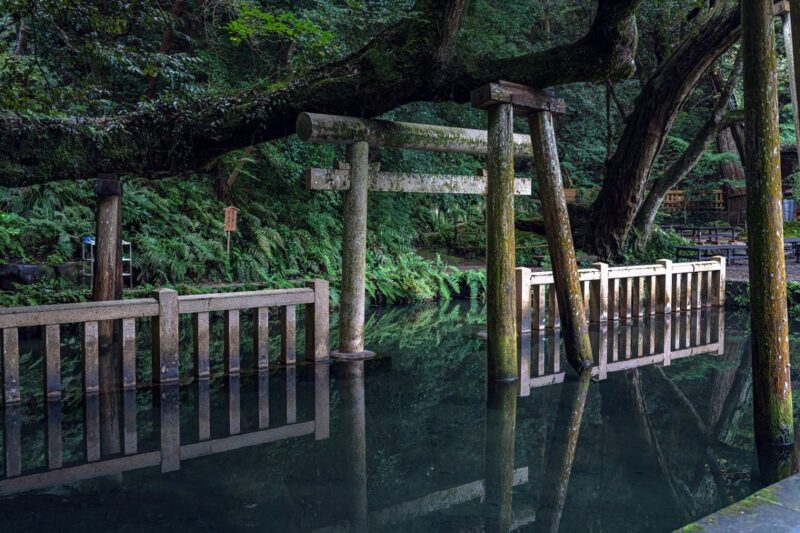 Kashima Shrine draws over 600 thousand visitors annually, and the shrine is famous for its hidden pond that is located behind the shrine buildings, Mitarashi Ike. Mitarashi Ike literally means "holy washing pond", and the pond is fed by an underground spring that bubbles up to the surface.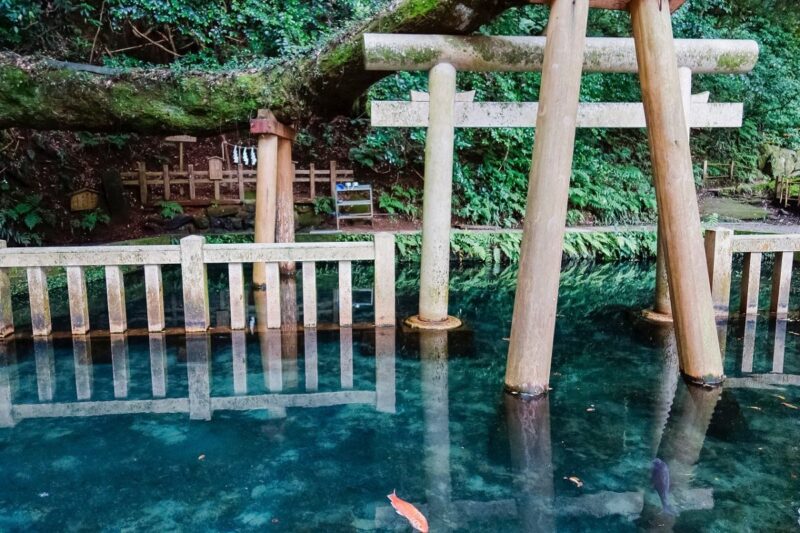 The pond was used by the worshipers to cleanse their bodies and souls before they entered the shrine, as it was originally located at the end of the main walkway to the shrine. However, the layout of Kashima Shrine has changed, and these days visitors visit this pond to see the beautiful koi.
Kashima Shrine
8. Climb the double peaks of Mt. Tsukuba!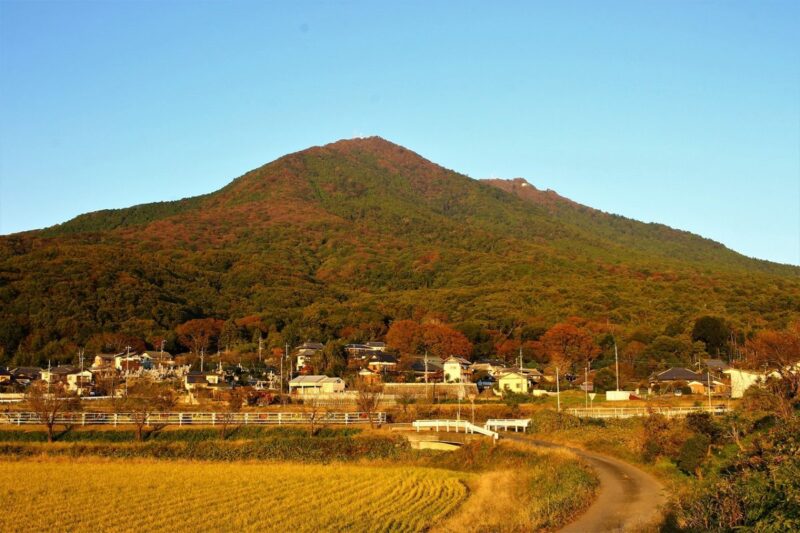 Mt. Tsukuba is a mountain near Tsukuba, Ibaraki, and it is one of the most famous mountains in Japan. Mostly known for its double peaks, named Nyotai and Nantai, those peaks are tribute to Izanami and Izanagi, two deities who are said to be involved in the creation of Japan.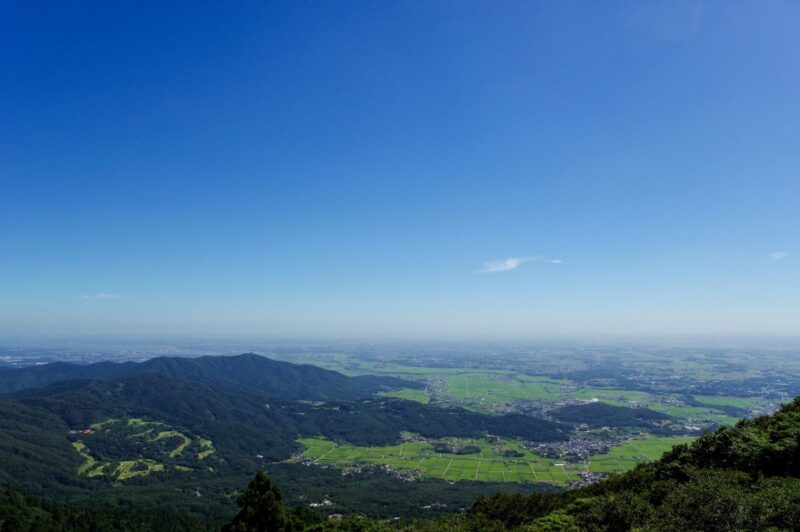 There are a lot of things to see in Mt. Tsukuba, including the large shrine at the foot of the mountain, and a smaller shrine at the top of each peak. There are several different routes you can climb, and you can also use the cable car to get to the top of the mountain. From the summit, you can see most of Kasumigaura, Tsukuba, and even Mt. Fuji in the distance.
Mt. Tsukuba
9. Stroll around the Hananuki Valley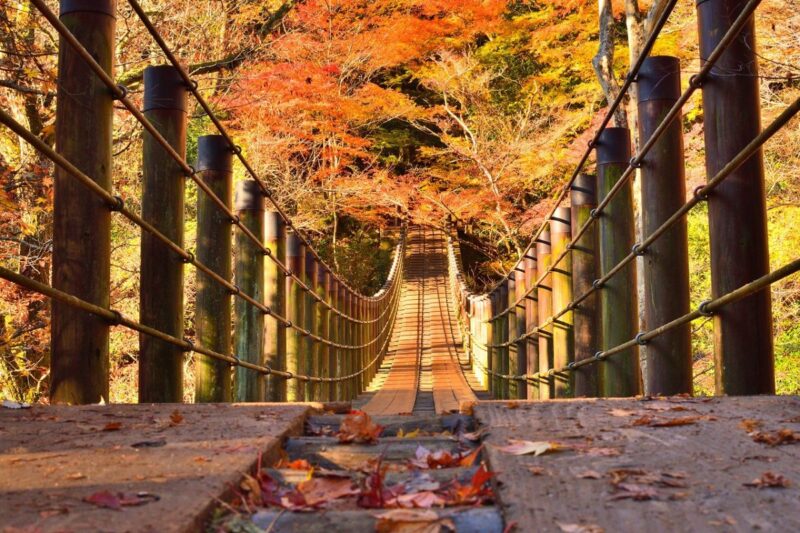 Visiting Ibaraki in fall? How about strolling around the Hananuki Valley for its breathtaking fall foliage?
Hananuki Valley is known as one of the best fall foliage spots in Japan, and it is best known for its breathtaking views that stretch from the Hananuki Dam to the Namerigafuchi and Kotakitazawa Camping Grounds.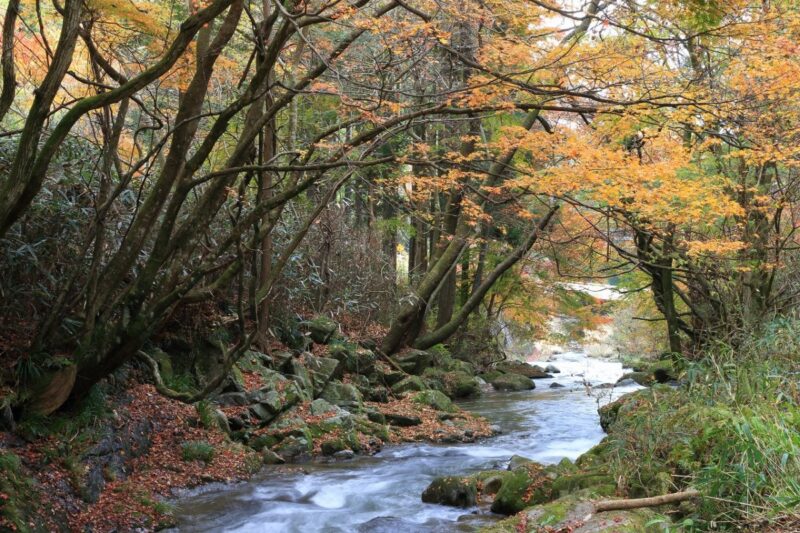 There are a lot of cliffs and waterfalls along the valley, and some of the best parts that you should never miss are the Shiomi Waterfall and the overhanging branches of trees along the clear Hananuki River.
Hananuki Valley
10. Cruise around Lake Kasumigaura with a sailboat!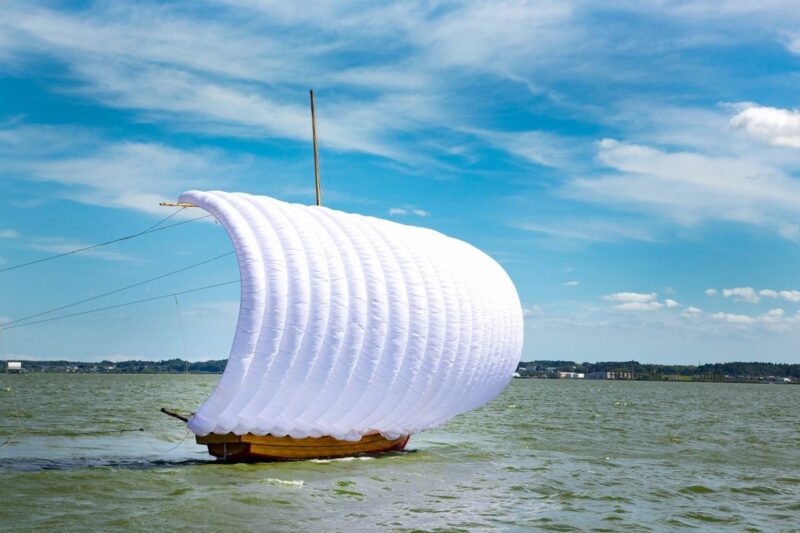 Lake Kasumigaura is known as the second largest lake in Japan, covering almost 170 sqm. and is a place thriving with tourism, fishing, irrigation, and recreation. You'll see many boats in this lake, sailing around for fish or for fun.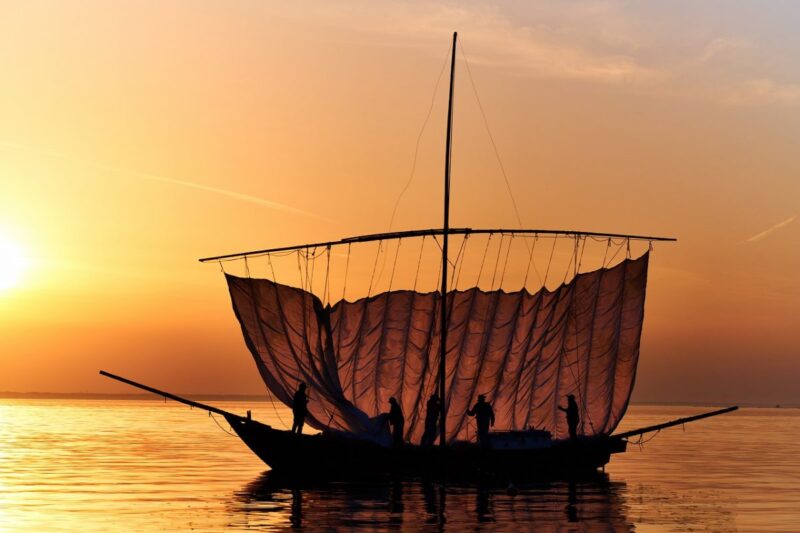 You can get on a sailboat and cruise around the lake from summer to fall, and the best timing for cruising around the lake is before the sunset.
Lake Kasumigaura
Ibaraki's best local treats
Ibaraki is blessed with its beautiful nature, and it produces an abundance of agricultural products and marine products. The prefecture is best known as the no.1 producer of natto, the stinky fermented beans, and also home to a variety of local foods, like Anko (angler fish) Nabe and Hoshi Imo (dried sweet potato).
Here are our picks for the best foods to try when visiting Ibaraki!
1. Anko Nabe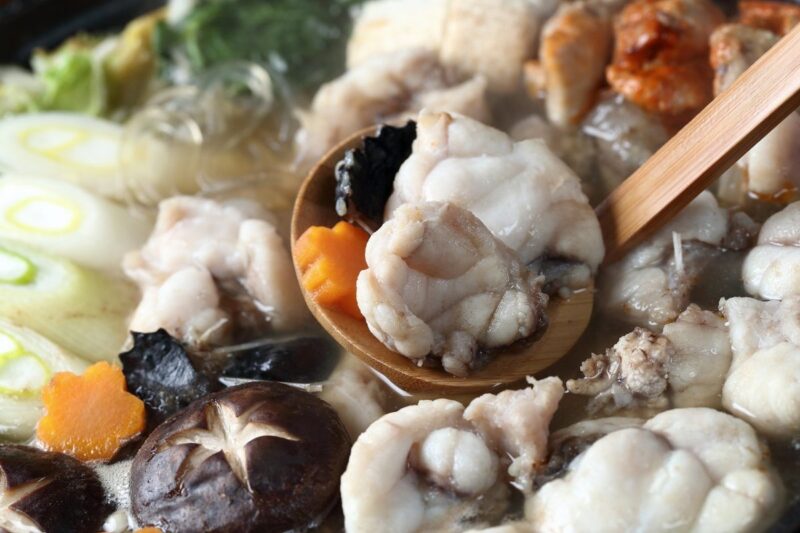 Anko, or anglerfish, is a deep-sea fish that is rich in collagen and originated in Ibaraki. Anko is often served in a nabe (hotpot), together with fresh vegetables like Chinese cabbage, green onions, carrots, and mushrooms. Anko nabe is a favorite winter fish of Ibaraki, so make sure to try this unique dish when visiting the prefecture!
2. Melon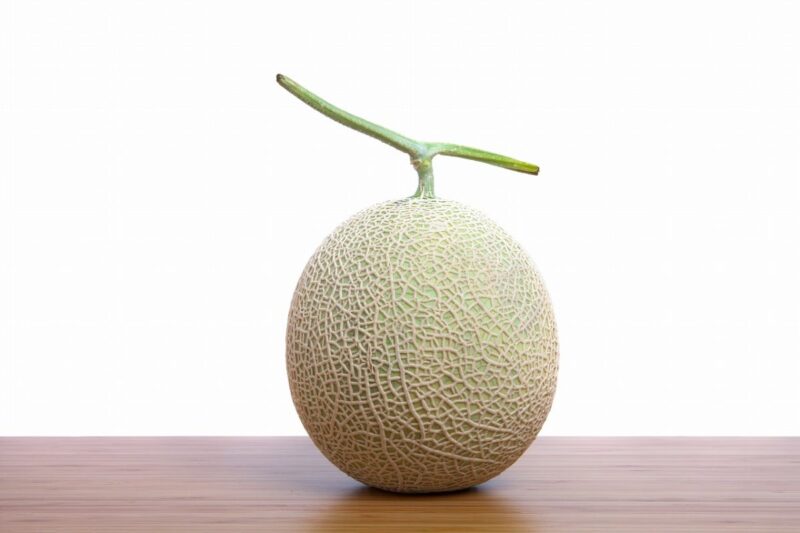 Ibaraki is known as the largest melon producer in Japan, producing about 25% of Japanese local melons. Ibaraki's melons have high sugar content and firm texture, and they are in season from April to November. Some farms allow you to hand-pick your own melons at their farms, which are usually held in between May and June.
3. Natto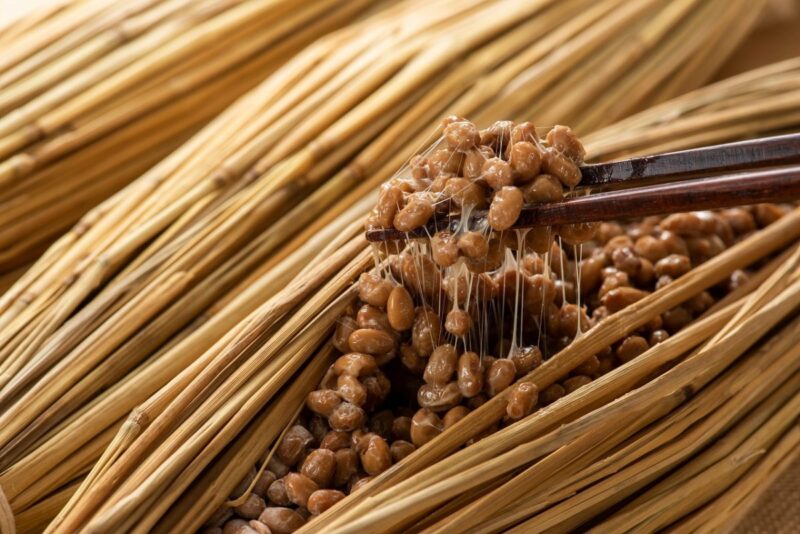 Called as the kingdom of Natto, Ibaraki is known as Japan's no.1 producer of Natto, the stinky fermented beans. Natto is usually eaten together with rice, and it has many good benefits for your health and beauty. When trying Natto, make sure to stir it up thoroughly with your chopsticks before placing it on top of a bowl of rice.
4. Hoshi Imo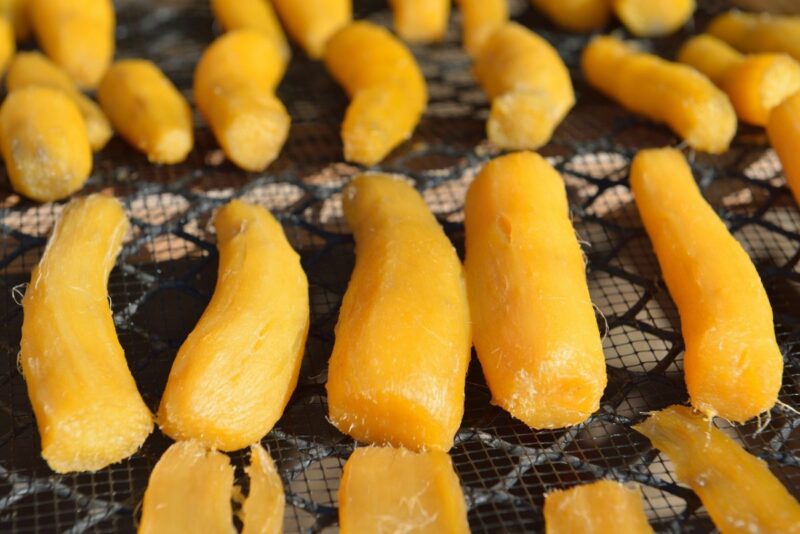 Ibaraki produces around 90% of Japan's Hoshi Imo; the dried sweet potato. Hoshi Imo is made by steaming and air drying the sweet potatoes, and it is known as a healthy traditional food. Hoshi Imo is rich in dietary fiber and potassium.
5. Grapes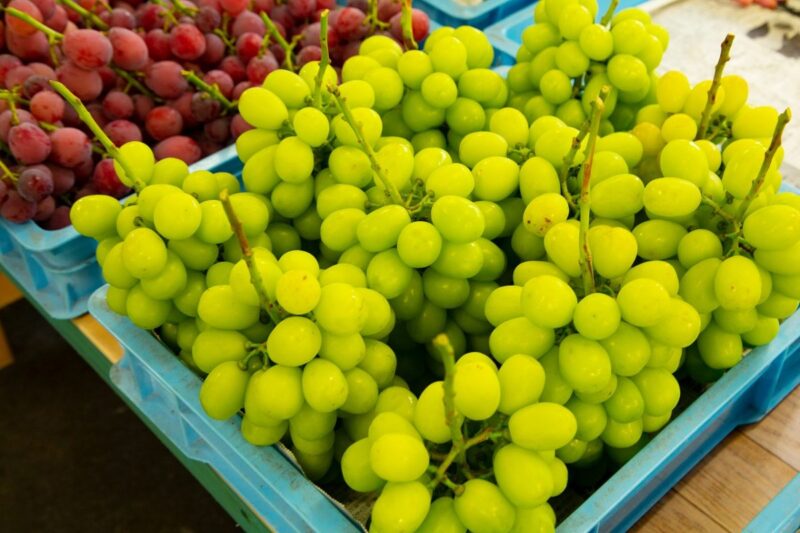 Ibaraki produces many kinds of fruit throughout the years, and one of the best fruits you can try in Ibaraki is their grapes. Farmers in Ibaraki mainly grow a large variety of grapes, but they also started growing European grapes like muscats and Rosario grapes. The variety of grapes you must try when visiting Ibaraki is the "Hitachi Seiryu", a variety of grapes from Hitachi City, Ibaraki.
Now that you have an idea of how many fabulous spots are in Ibaraki, all you must do is plan your itinerary to enjoy unforgettable experiences in Ibaraki!