Enjoy a 2-day trip in Hamamatsu, Shizuoka, which is located just 90 minutes away from Tokyo!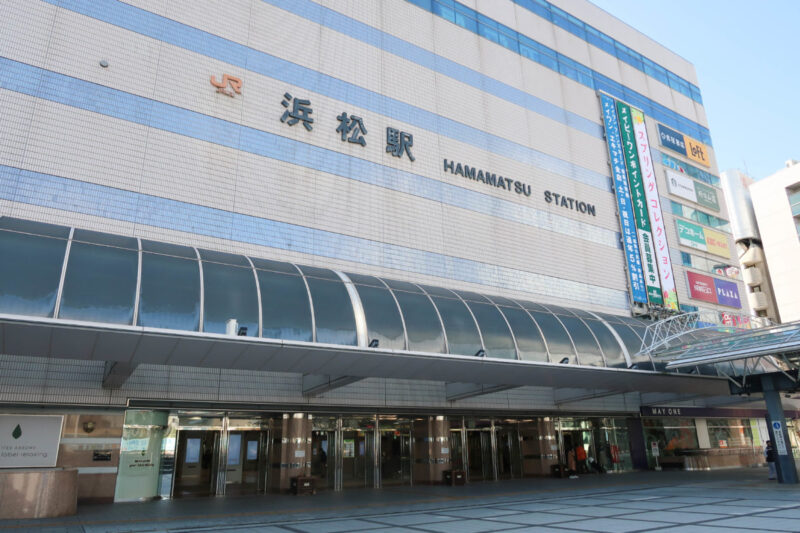 Looking for a short getaway when you're in Tokyo? How about visiting and exploring the town of unagi (freshwater eel), Hamamatsu?
Hamamatsu is the largest city in Shizuoka Prefecture and apparently, it is also the second largest city in Japan (by area).
Inside the city, there is Lake Hamana, the 10th largest lake in Japan (by area), covering an area of 64.91 km2.
Lake Hamana is a brackish lake, and the salinity of its water is higher than the freshwater, but not as much as the seawater.
The brackish lake ecosystem is perfect for eel cultivation, and this is the reason why Hamamatsu city has more unagi restaurants than soba restaurants.
Make sure to visit Hamamatsu city if you love unagi, or if you want to try its savory unagi treats!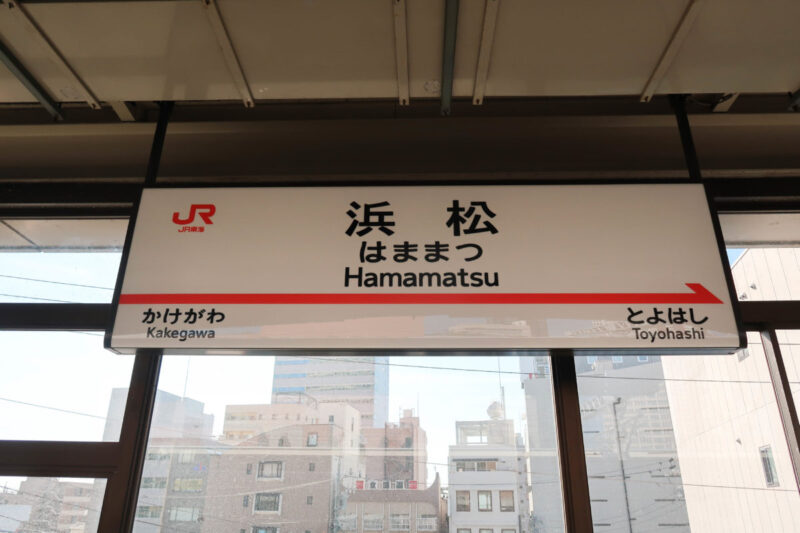 Access to JR Hamamatsu Station
90 minutes shinkansen (bullet train) ride from Tokyo or Osaka.
30 minutes train ride from Nagoya.
Easily accessible from Japan's major cities, Hamamatsu city is a perfect place to visit for a short getaway!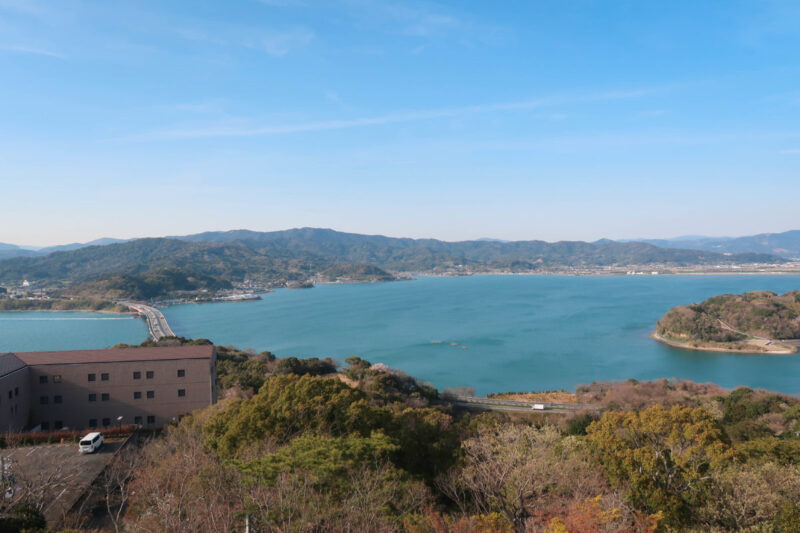 Hamamatsu is the largest city in Shizuoka, and you may wonder where you should go for sightseeing in such large city, right?
Today we introduce "Kanzanji Onsen", a hot spring city packed with various hot spring inns located near Lake Hamana.
It has convenient access; there are buses running from JR Hamamatsu Station to Kanzanji Onsen, so how about visiting this wonderful hot spring city to enjoy its gorgeous nature and delicious local treats?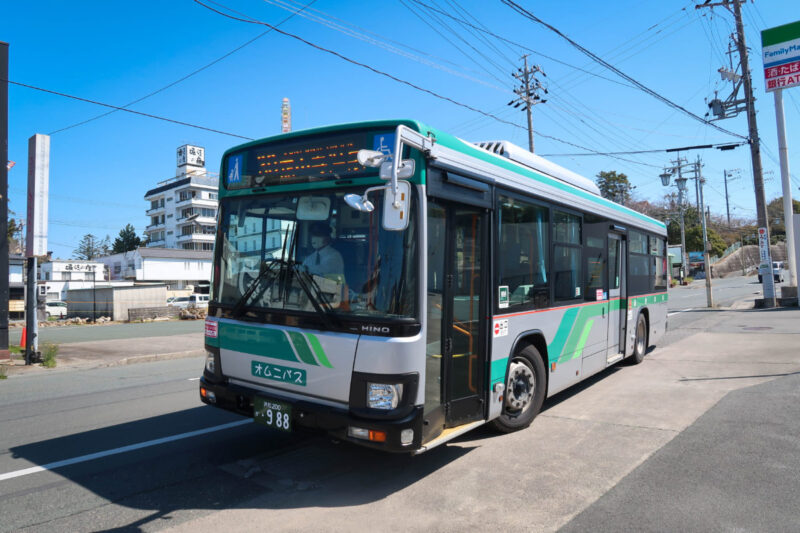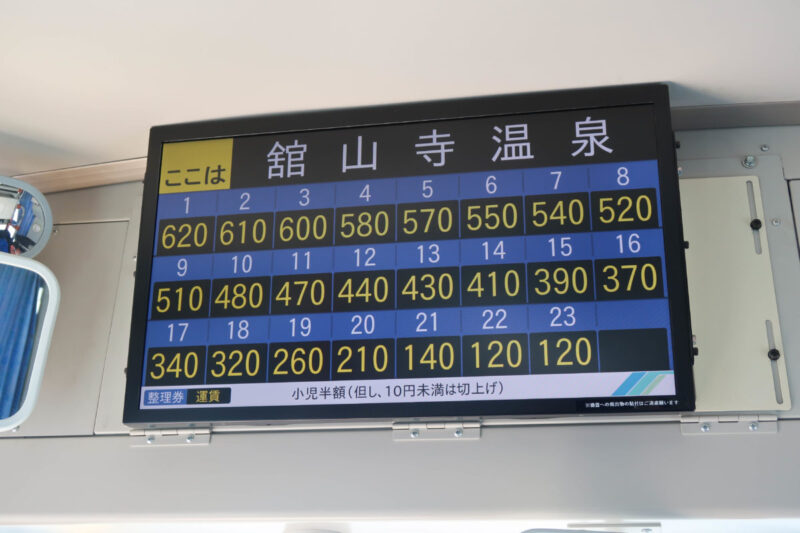 Access to Kanzanji Onsen
Take the bus bound to Kanzanji Onsen from JR Hamamatsu Station (no transfer needed). The fare is 620 yen (one way).
Walking and cycling around Kanzanji Onsen
Kanzanji Onsen is the city where Lake Hamana; the popular eel farm, is located. Packed with many amazing hot springs, the city is known for its attractive nature, and cycling around it on a sunny day is definitely relieving.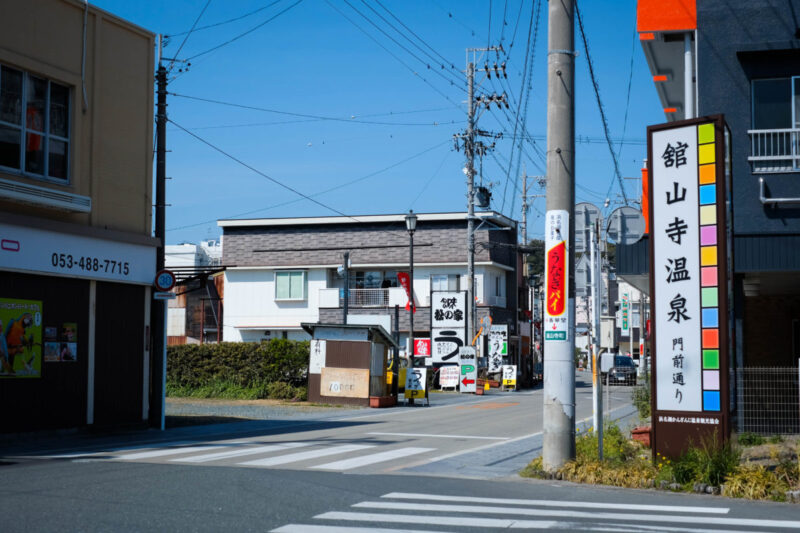 Let's start our journey in Kanzanji Onsen from the Monzendori area!
Monzendori is the main street of Kanzanji Onsen, and there are various shops standing on this street.
The most interesting part about this street is that you'll see unagi restaurants everywhere you go! It's truly a town of unagi!

Rent a bicycle at RENTAL CYCLE Re・rental
How about renting a bicycle to explore the nature around the city?
RENTAL CYCLE Re・rental offers bicycle rental service for both eBikes (electric assisted bicycles) and bicycles, and the price ranges from 30 minutes to one day.

Business hours: 11:00 – 17:00
Return until 19:00
Instagram: https://www.instagram.com/re.renta/
MAP: https://goo.gl/maps/DWWdEHYgNXdNcJLc7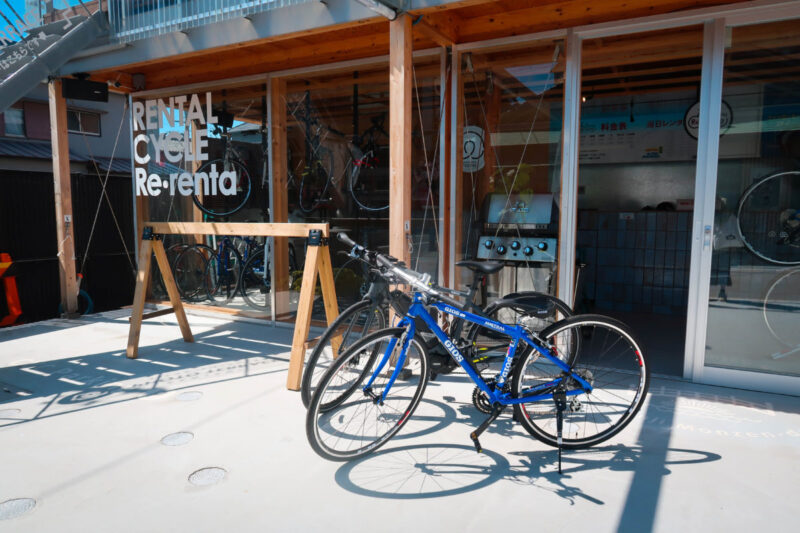 KUSHITANI CAFE
There are many unagi (grilled freshwater eel) restaurants and fashionable café on this street.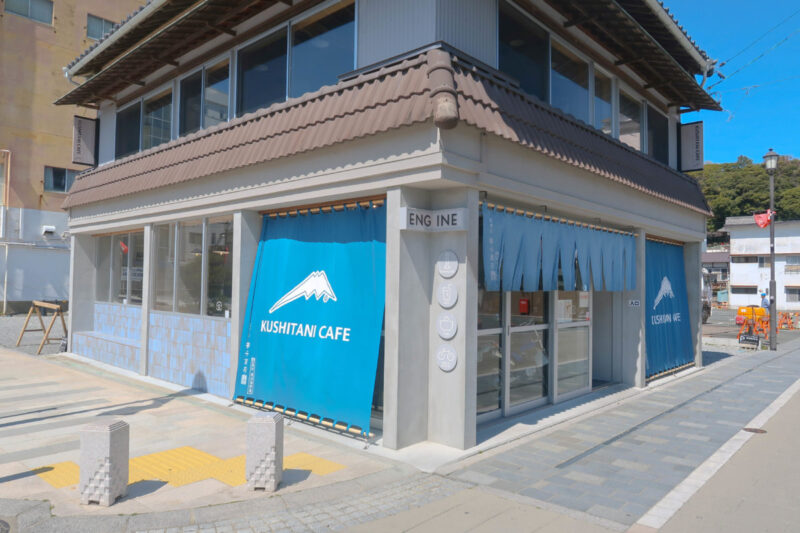 KUSHITANI CAFÉ Kanzanji is a modern café located in a renovated kominka (Japanese traditional house).
The exterior utilizes the elements of Japanese traditional house, while the interior is decorated with modern furniture.
The café is known for its best-selling French-mustard hot dogs, and also for its unique and delicious drinks.

Very cozy and comfortable, KUSHITANI CAFÉ is a perfect spot for chilling in the afternoon!

KUSHITANI CAFÉ
-Business hours: 10:00 – 17:00 (closed on Wednesdays and Thursdays)
-Tel: +81 – 53 – 523 – 9169
-MAP: https://g.page/KUSHITANI_CAFE_KANZANJi?share
-Website : https://www.kushitani.co.jp/cafe/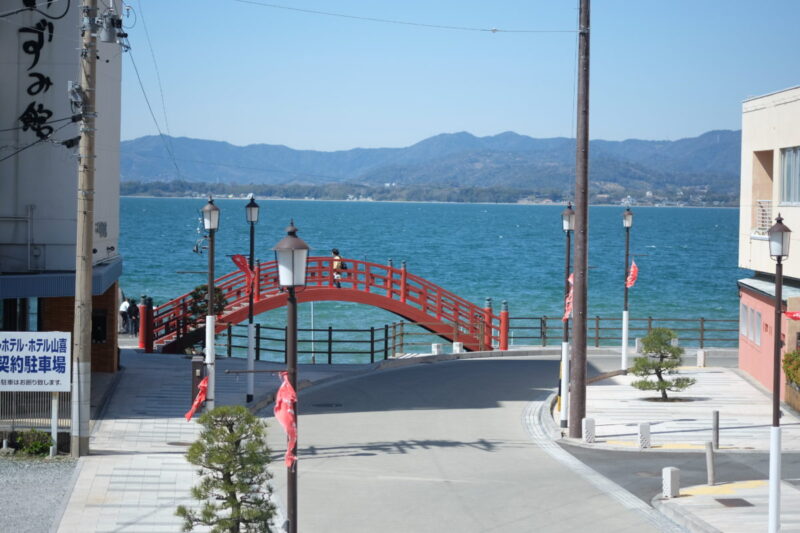 There's a spot nearby the shop where you can enjoy the gorgeous view of the blue lake.
Visit the matchmaking temple in Tateyama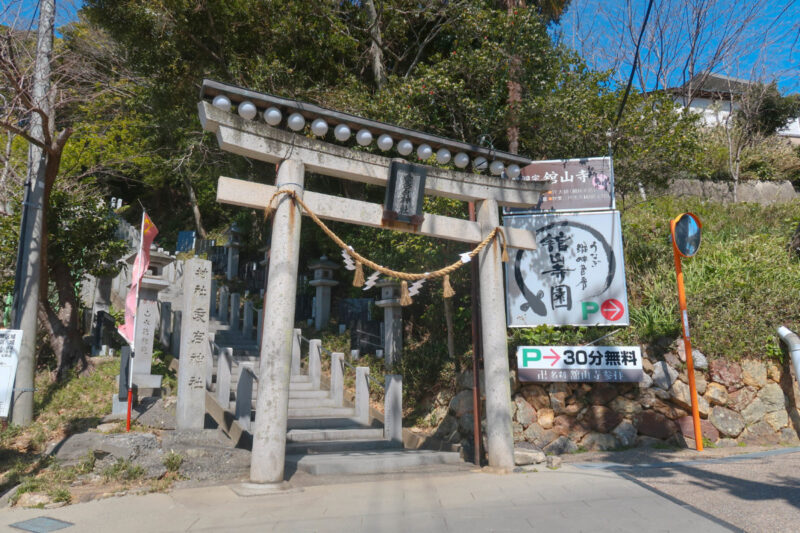 Next, let's visit the Kanzanji Temple in Tateyama.
Not only the temple, here you can experience the nature from up-close by taking the walking course that goes into a mountain.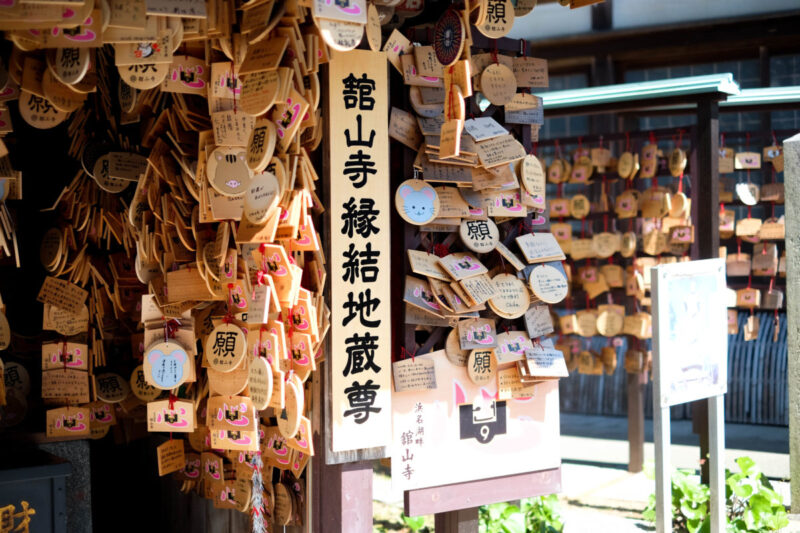 The temple is famous for matchmaking, so make sure to visit this temple if you're still single!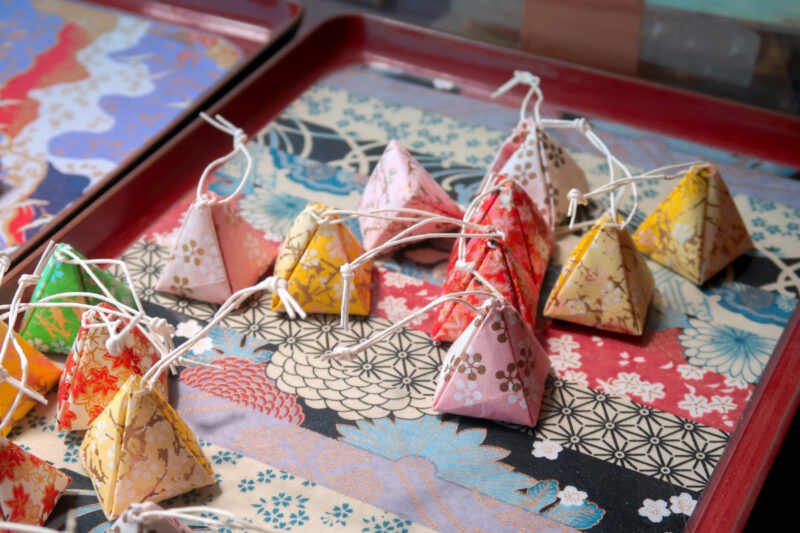 The temple also sells many adorable omamori (lucky charms)!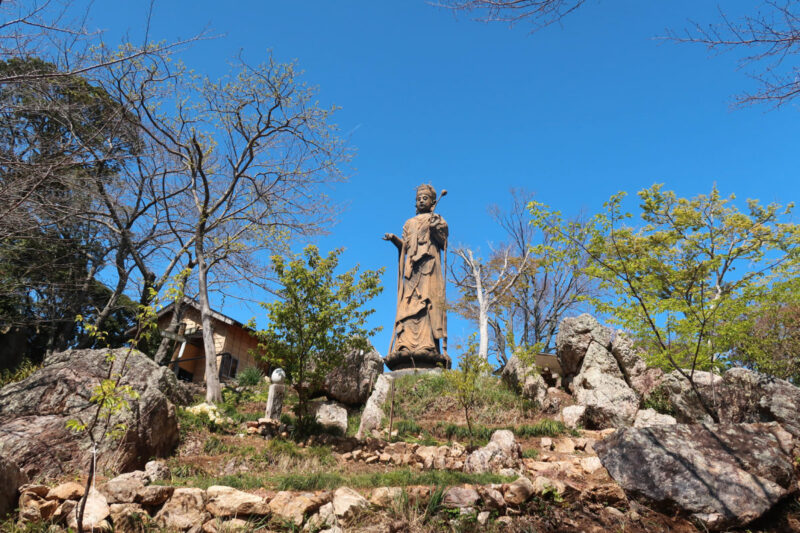 There is also a Kanzanji Daikannon statue here, which is said to be a resemblance to Prime Minister Abe. What do you think? Do they look similar?
Walking around Lake Hamana
After walking around the mountain, let's walk around Lake Hamana!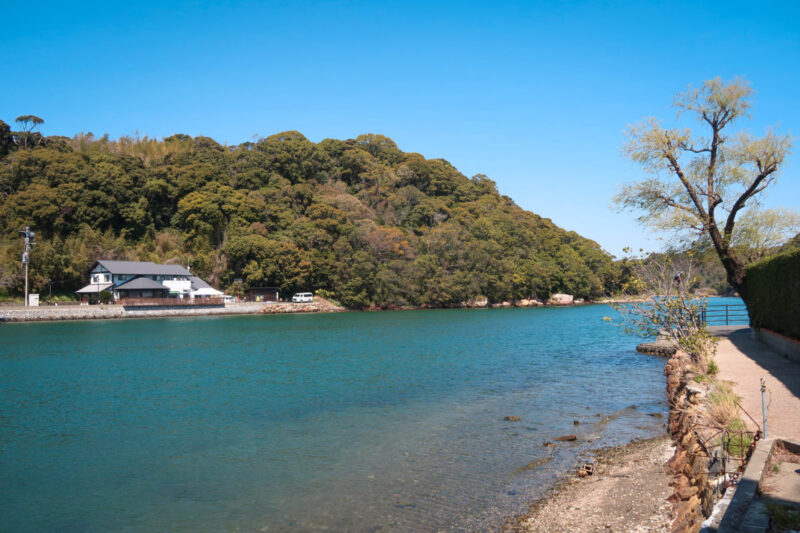 There is a free footbath facility near the lake, where you can soak and relax your feet while staring at the gorgeous view of Lake Hamana.

Let's try the eel of Lake Hamana at Hamanoki!
We felt hungry after walking around so much, and since we're in Hamamatsu, let's try eating its nutritious unagi!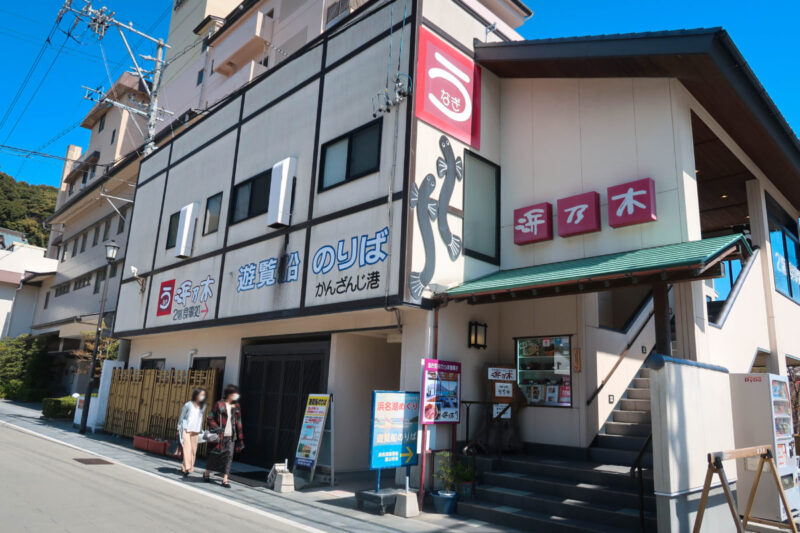 Let's try the juicy unagi while enjoying the view of Lake Hamana at HAMANOKI!

The unagi, which is marinated with a special secret sauce and charcoal-grilled, are served on a bed of rice.
It is best to enjoy it while it's still hot, so make sure to visit this restaurant if you want to try the unagi.

HAMANOKI
– Business hours: 11:00 – 16:00 (closed on Tuesdays)
-MAP : https://goo.gl/maps/NxevTvhUKQUdhB98A
-Website : https://hamanoki.com
Strawberry picking at Agris Hamanako
After enjoying the unagi, let's go to a strawberry farm to enjoy strawberry picking!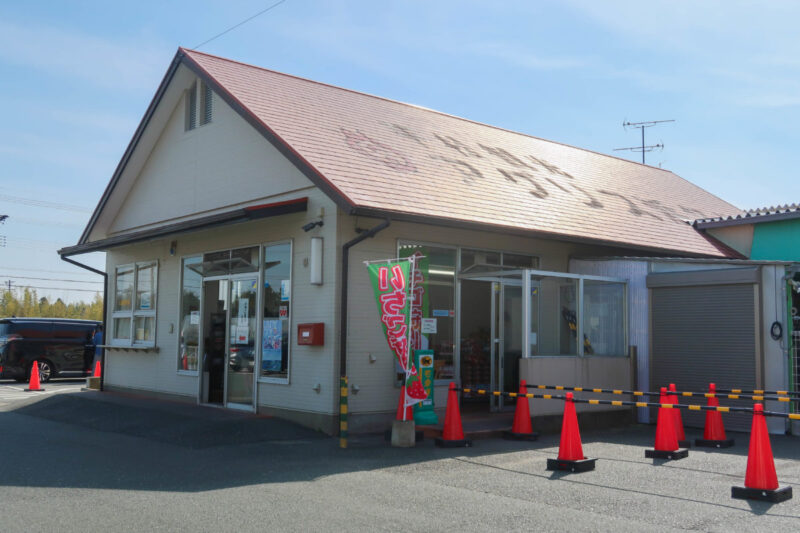 With more than 30 years of history, Agris Hamanako is an extremely popular farm in Hamamatsu.
The strawberry picking starts from mid December until early May.
*Might change depending on the weather

When you enter the strawberry farm, you'll get a plastic tray filled with a bunch of condensed milk for strawberry picking.
The strawberry picking lasts for 30 minutes, and you can eat as much as you want within that period, so make sure to eat all the strawberries you want!
The strawberries here are so sweet and juicy, and eating them with the condensed milk is even more delicious!

If you want more strawberries, you can purchase fresh strawberries and other products made from strawberries at the store.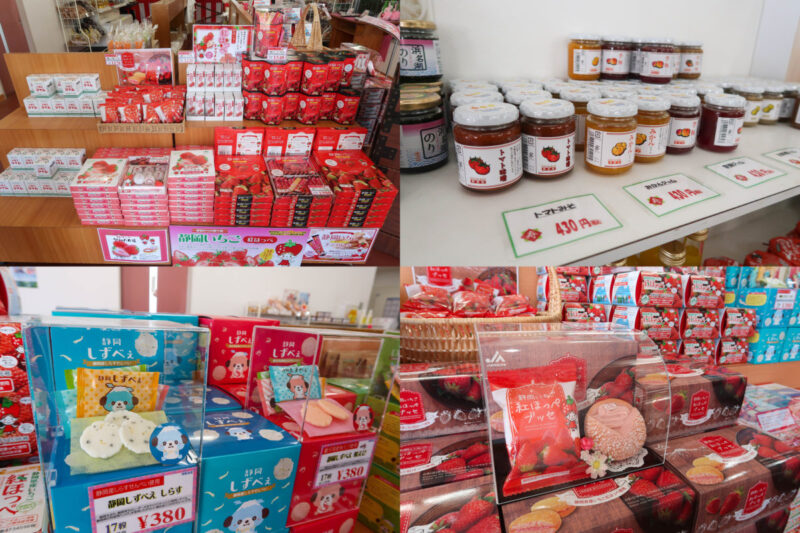 Agris Hamanako
Admissions:
December – January 1,800 yen (6 years old & above) / 1,600 yen (3 – 5 years old)
January – March 1,600 yen (6 years old & above) / 1400 yen (3 – 5 years old)
April – May 1,200 yen (6 years old & above) / 1,000 yen (3 – 5 years old)
– Business hours: 9:00 – 16:00
– Tel.: +81 – 53 – 487 – 0541
– MAP: https://goo.gl/maps/zCY8tS24FGHaN8xE6
– Website: https://agurisu-hamanako.com
Enjoy the view of gorgeous flowers at Hamamatsu Flower Park
Hamamatsu Flower Park is a large-scale flower park where flowers bloom throughout the year.
The best timing to visit this park is perhaps from late March to early April, when tulips and cherry blossoms bloom at the same time, turning the park into a sea of pink.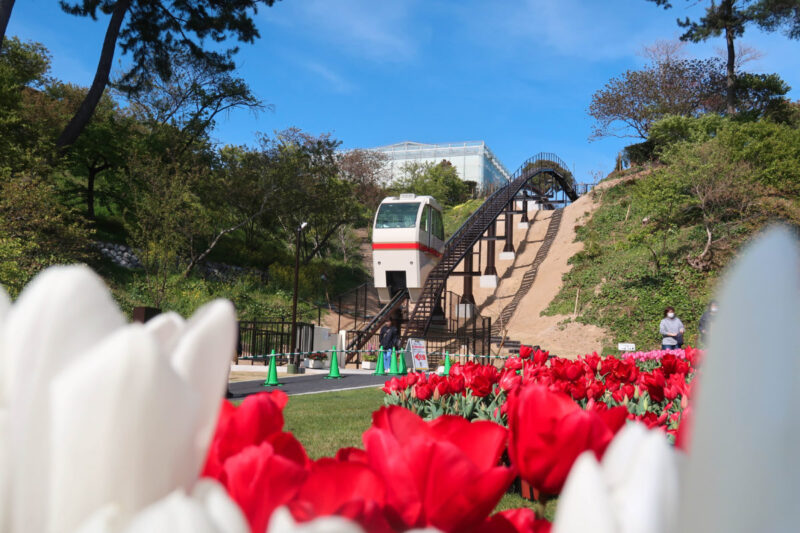 When the cherry blossoms and tulips bloom at the same time, you can take beautiful pictures like these.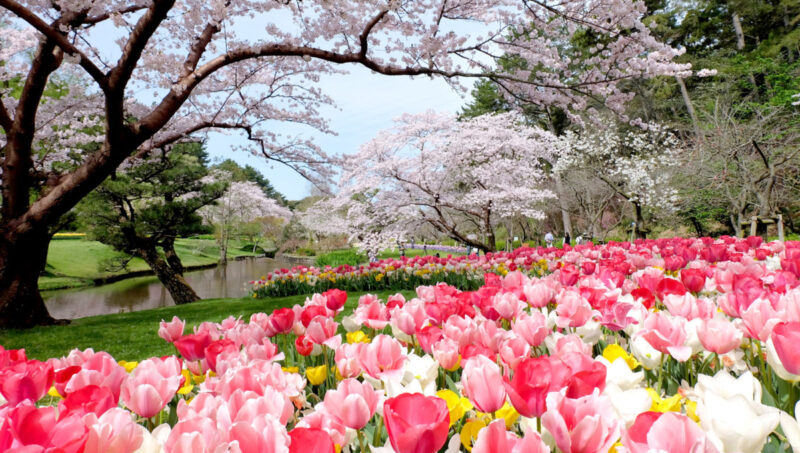 The wisterias bloom in late April.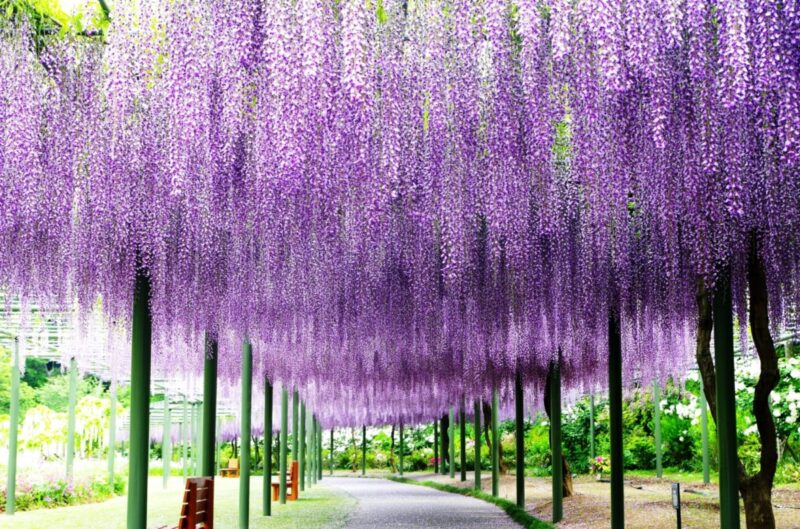 Roses bloom in May.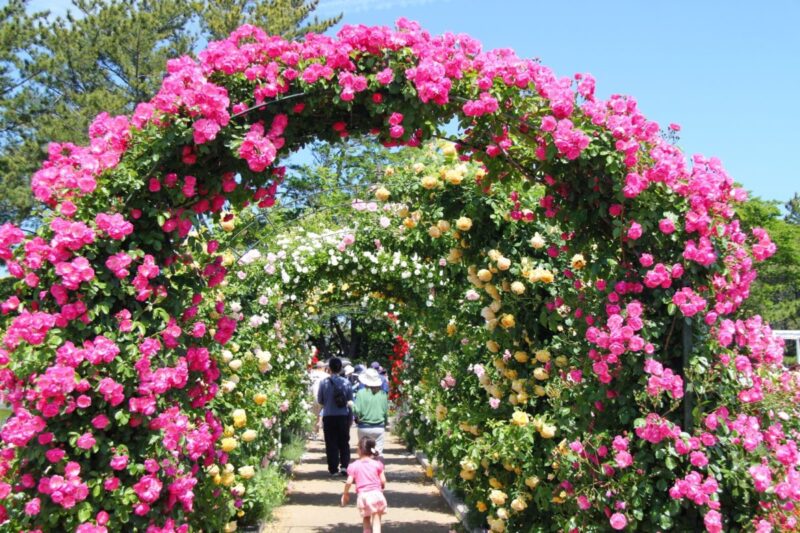 Hydrangeas bloom in June.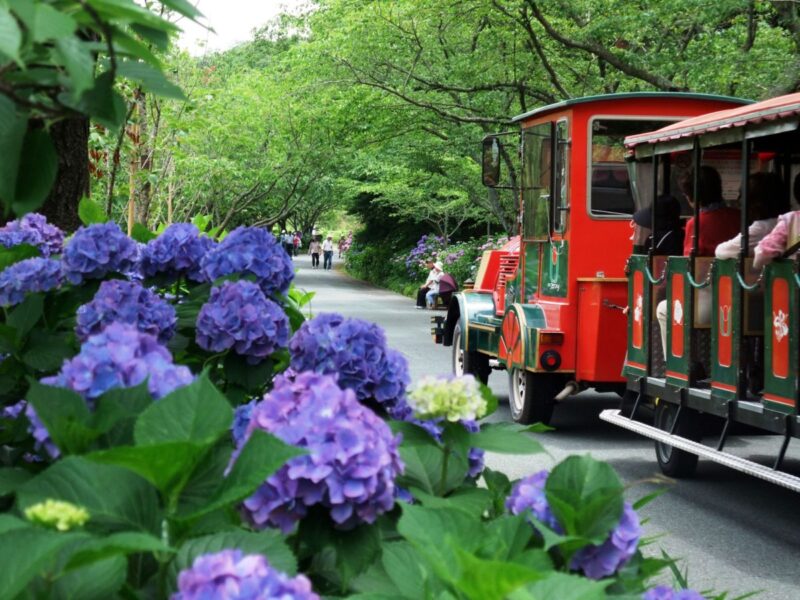 Hamamatsu Flower Park is a place where you can enjoy various beautiful flowers all year.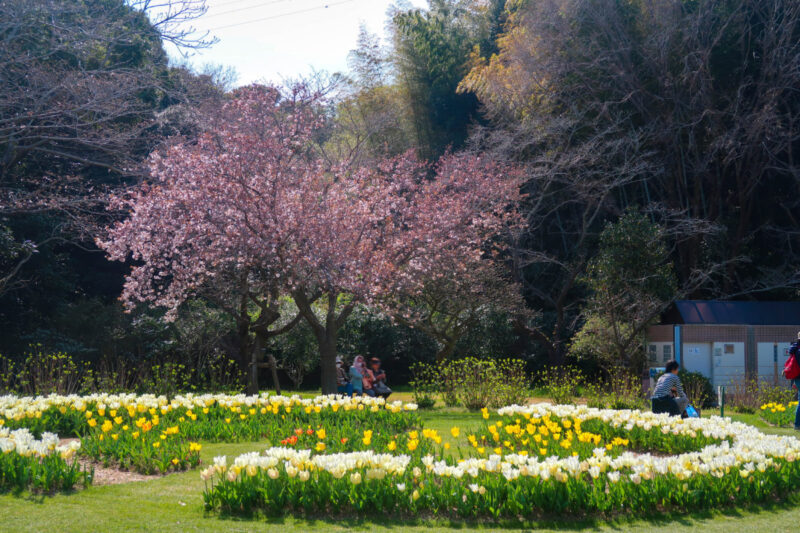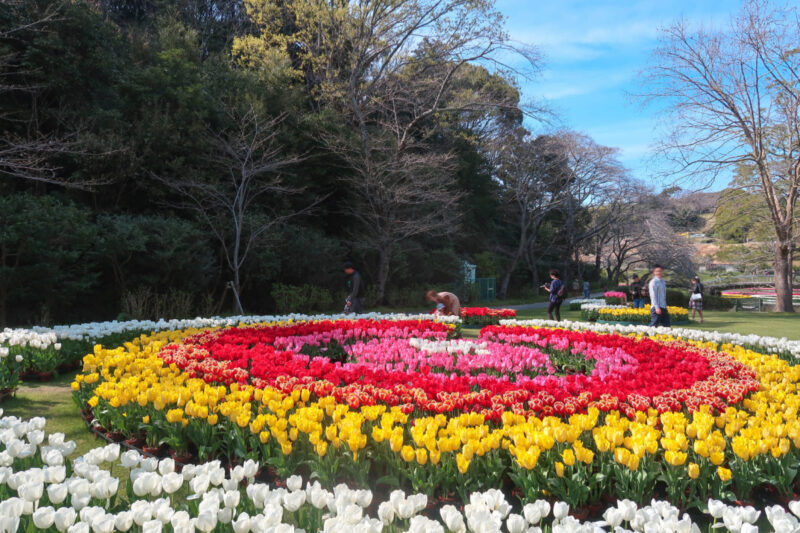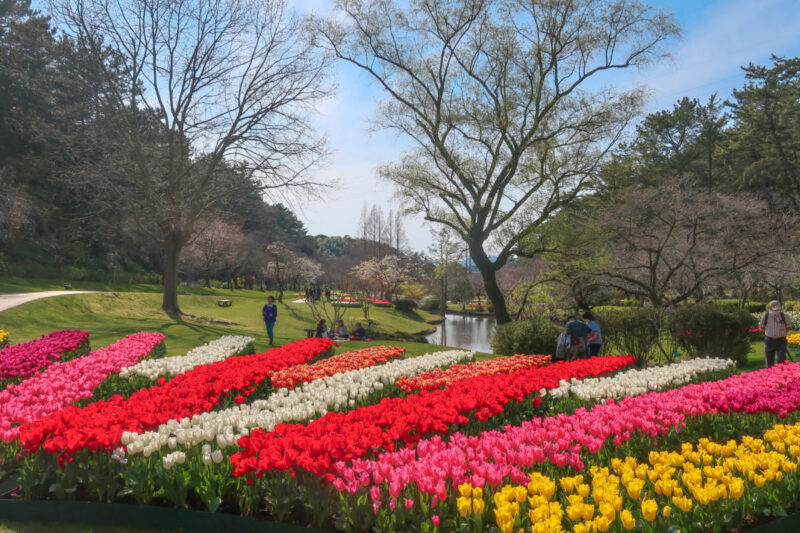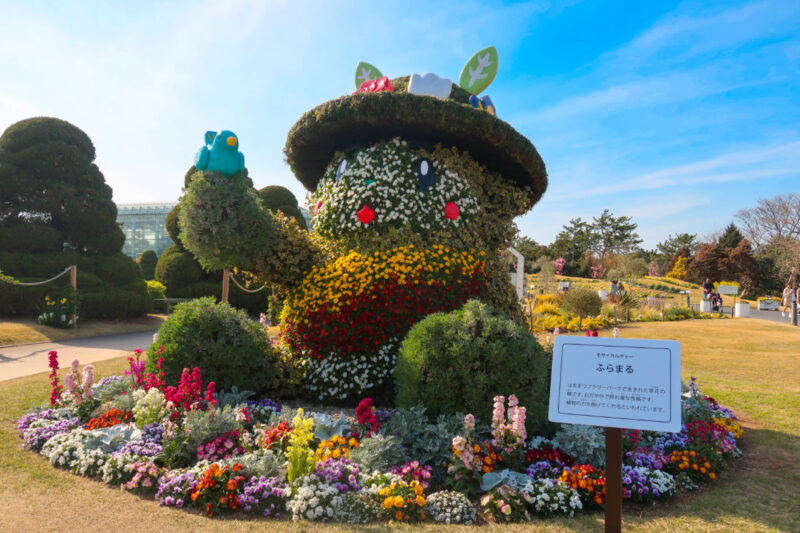 Use the flower train service if you're too tired to walk.
*Requires a fee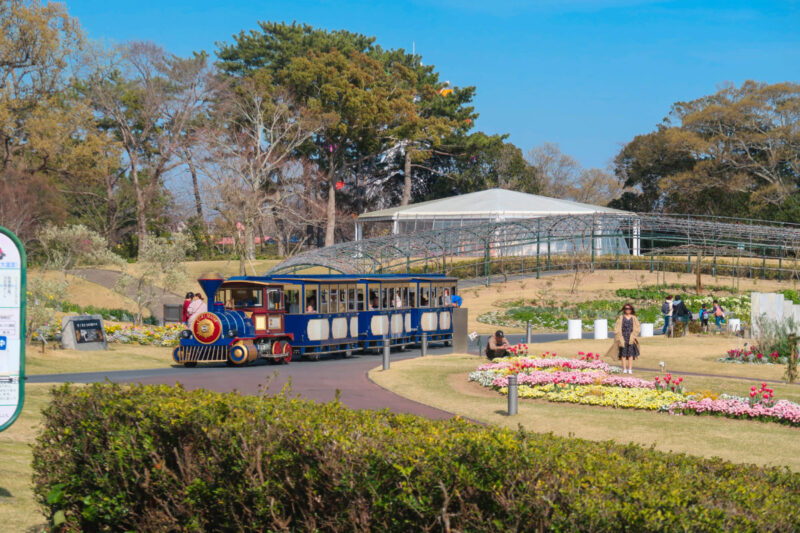 The fountain below was completed in March 2020, and the fountain shows are held every 30 minutes.

Hamamatsu Flower Park
– Business hours:
March – September 9:00 – 17:00
October – November 9:00 – 16:30
December – February 10:00 – 16:30
– Admissions
March – June; adults 600 – 1000 yen / primary and middle school students 300 – 500 yen
July – August: free of charge
September – February adults 500 yen (including 300 yen coupon to use inside the park) / primary and middle school students: free of charge
– Flower train: adults 100 yen / children (3 – 14 years old) 50 yen
– TEL : +81 – 53 – 487 – 0511
– MAP : https://goo.gl/maps/1GcpKJciqpQuPtreA
– Website : https://e-flowerpark.com
Spend the night at top-notch hotel: Hoshino Resorts KAI Enshu
This time we introduce Hoshino Resorts KAI Enshu, a top-notch onsen ryokan (a Japanese-style inn with hot spring facilities) in Hamamatsu.
Unlike other hotels, here you'll be able to join free tea tastings and delicious food made of selected local ingredients.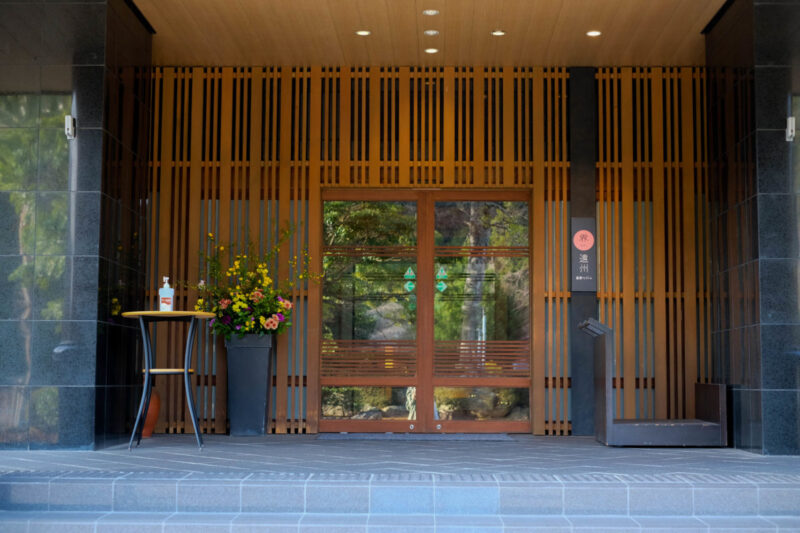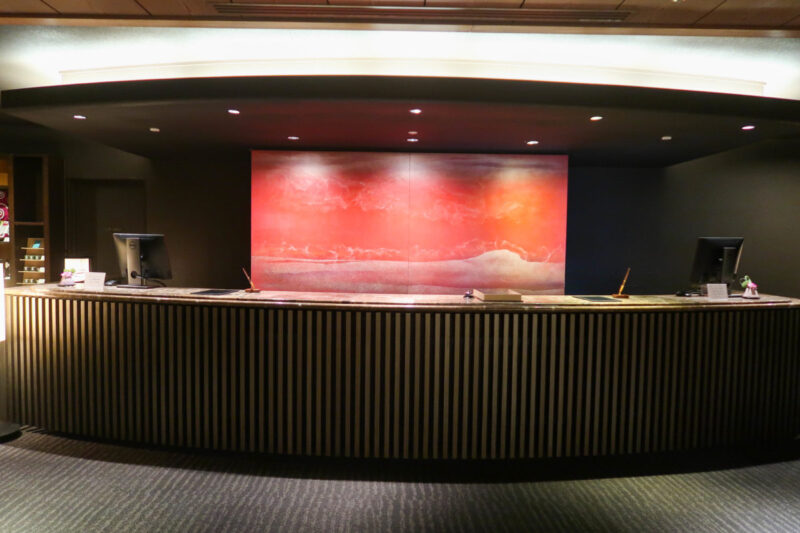 All guest rooms have a panoramic view of Lake Hamana
Enjoy the view of Lake Hamana while sipping on a cup of your favorite tea from this gorgeous modern Japanese-style room.

The best room type for enjoying the tea is the "Tsumugi no Ma" room.
"Tsumugi no Ma" is the only room that has a small pantry for tea brewing, and it also has seasonal teas that were specially prepared for this room.


There are various types of tea in the travel library room, which is located on the third floor. You can choose your favorite teas and enjoy them in your room. Shizuoka Prefecture is known as the prefecture of tea, and this room offers a lot of different teas taken directly from the local tea farms!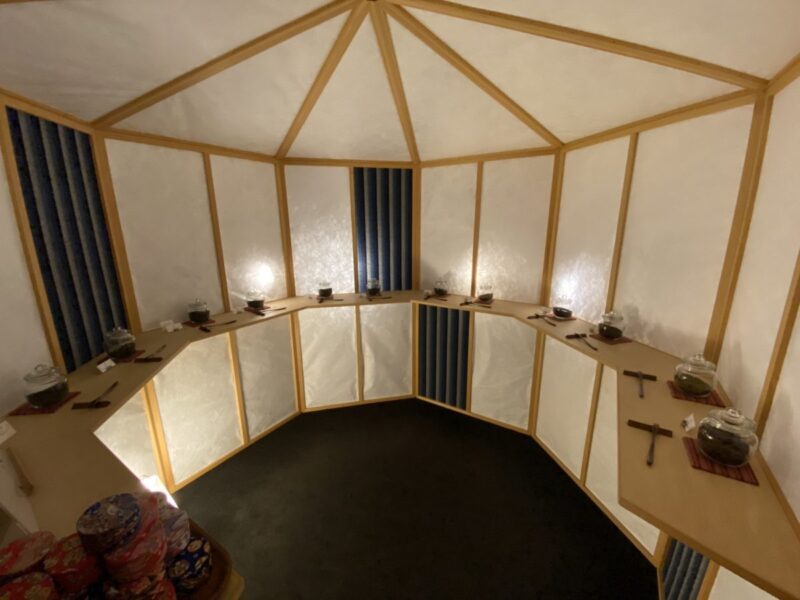 There is a graph showing the index for the strength, the flavor, and the aroma for each type of tea.
It is also easy to understand as the explanation is written in English.

Join the tea brewing experience at the hotel
Various types of tea are available at the hotel, but do you know how to brew those teas correctly?
To learn how to brew your tea correctly, make sure to join the tea brewing experience at the hotel!
*The experiences are available for free. Please register yourself at the front desk.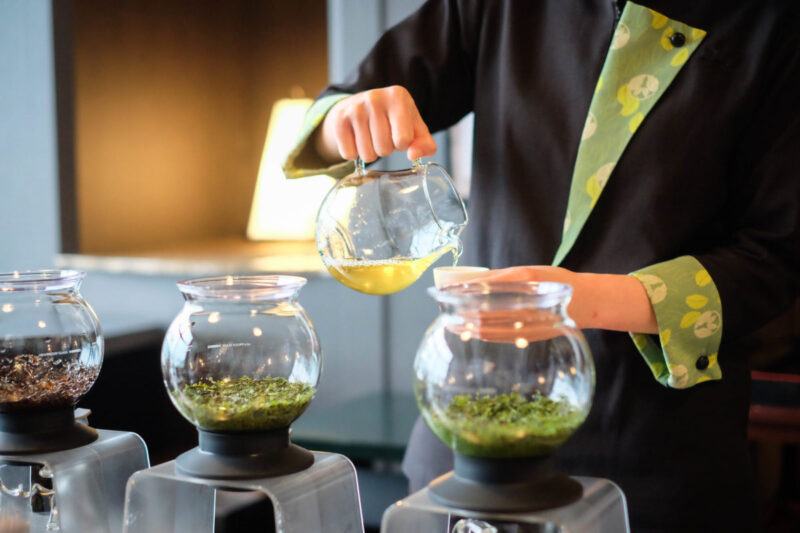 A three different kinds of tea will be served, and try all of them first.
Choose two kinds of tea you like the most, and then make your own tea by combining those two teas.

Measure the tea leaves before brewing them.

A seasonal tea will be served at the end of the experience and this time we had cherry blossom tea.
The tea was delicious and the floating cherry blossom petal represents the spring so well.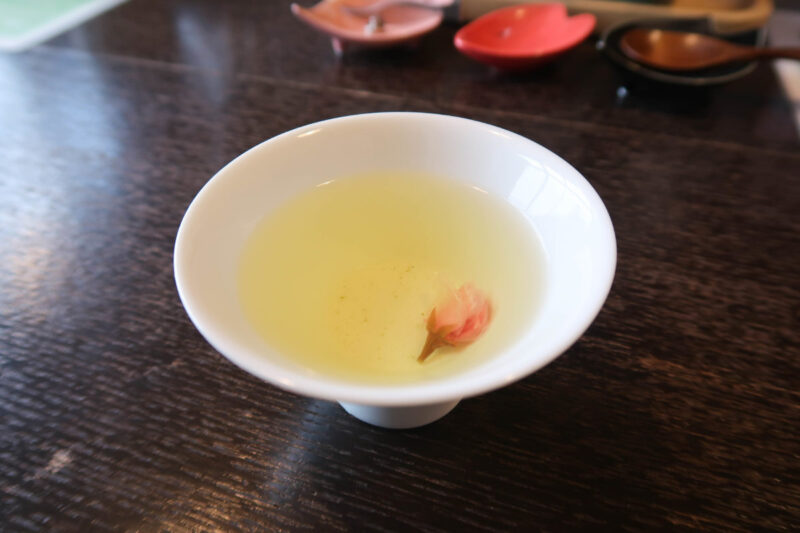 Kaiseki dinner made using Lake Hamana's seasonal ingredients
When we talk about Lake Hamana, an image of unagi (freshwater eel) pops up in our mind, right?
The kaiseki dinner we had this time was served using high quality ingredients like unagi and puffer fish.
Unagi is rich in vitamins and is good for your skin.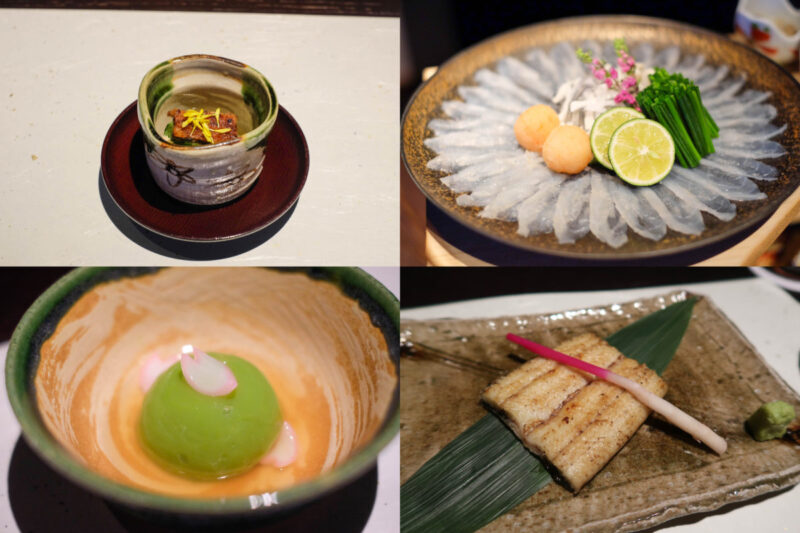 The kaiseki dinner we had this time was very luxury as it served both dishes made of unagi and puffer fish alternately.
A highly recommended dinner course for a real foodie!

Relax your body and soul at the open-air bath
Soaking and relaxing your body in a hot spring is a must-do when staying in an onsen ryokan, isn't it?
Unlike other hot spring facilities, the open-air bath here has tea leaves balls that extract good minerals and good scents that can relax your mind.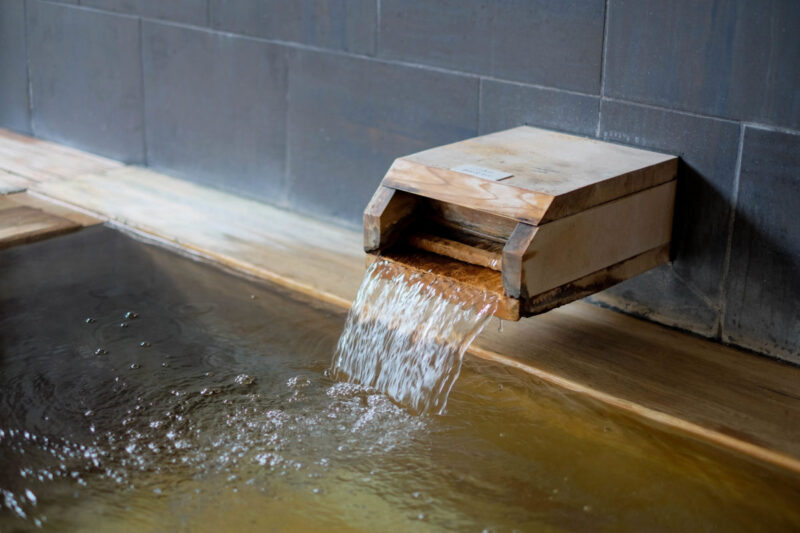 Different types of tea are served for different scenes; a tea to drink before getting into the hot spring is served near the entrance, and there are teas to drink while you're in the hot spring and after you get out of the hot spring.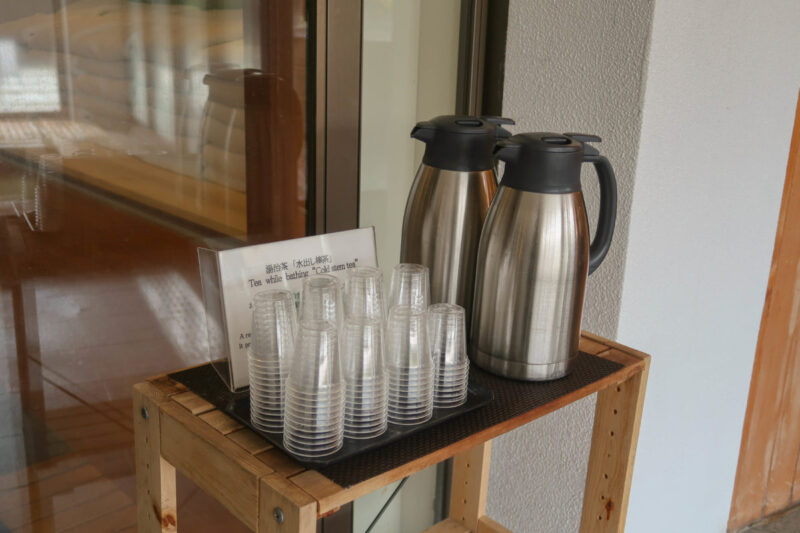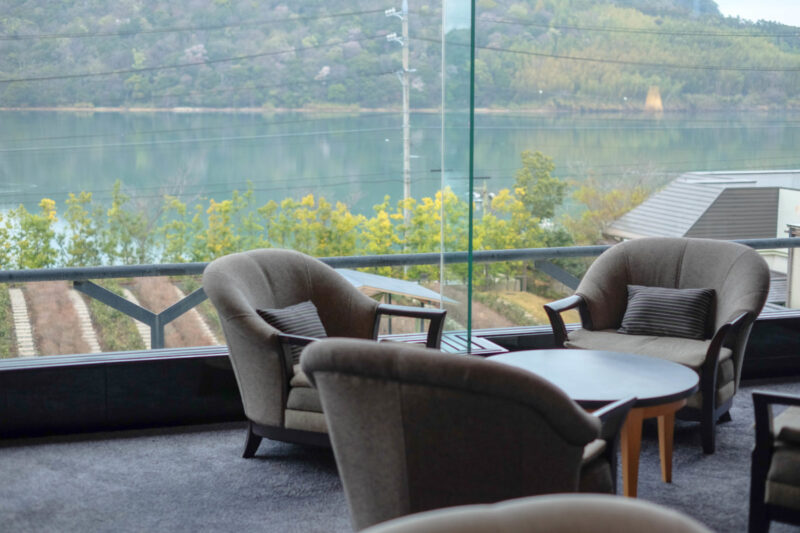 Hoshino Resorts KAI Enshu
– Check-in: 15:00 / Check-out: 12:00
– MAP: https://goo.gl/maps/tPqRvdcDNa3UeLTZA
– Website : https://kai-ryokan.jp/en/enshu/
Enjoy the view of Hamamatsu while crossing the Lake Hamana with a ropeway!
This ropeway is the only ropeway that crosses a lake in Japan.
Enjoy the 360°view of Hamamatsu city from the top!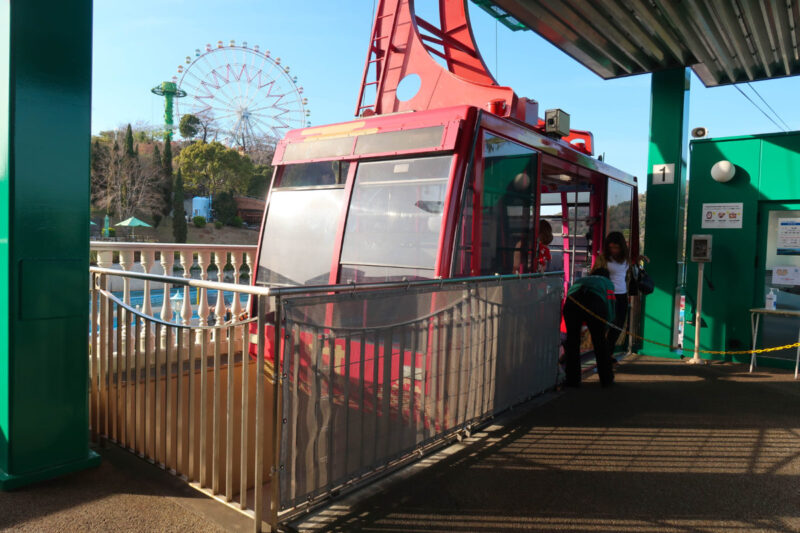 Stare at the breathtaking view of the blue color of Lake Hamanaka while enjoying the wind blows.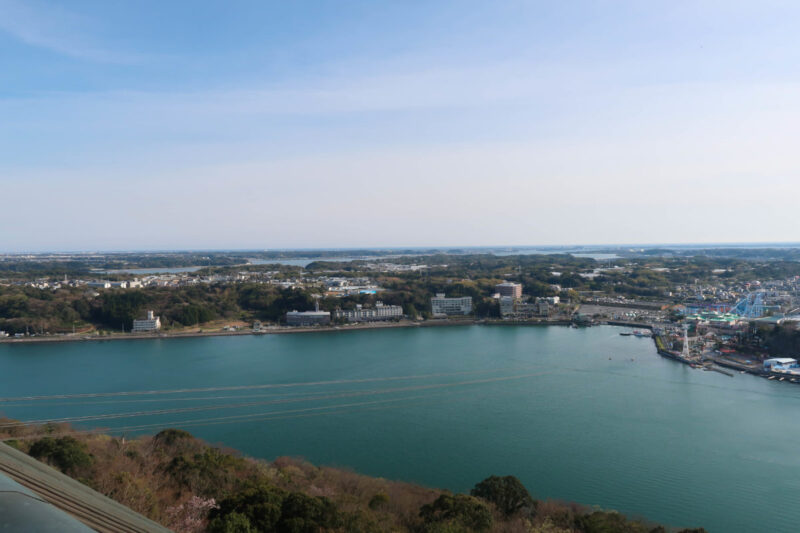 The bell rings every hour and different song is played every hour.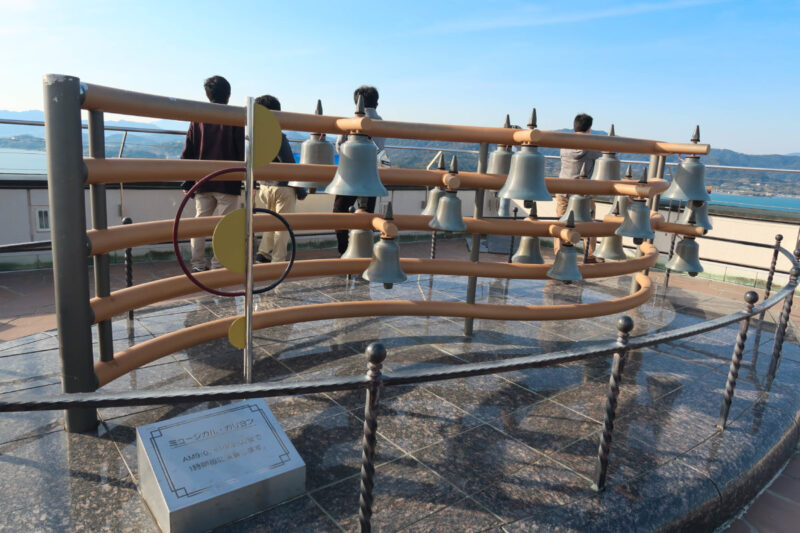 Kanzanji Ropeway
– Admission:
One-way: Adults (13 years old & above) 420 yen / 4 – 12 years old 210 yen
Round-trip: Adults (13 years old & above) 840 yen / 4 – 12 years old 420 yen
– Business hours: 9:00 – 17:30
*The business hours may change depending on the season. Please check the website for more information.
-MAP: https://goo.gl/maps/4KtYS1t3kdDwvQk26
-Website: https://www.kanzanji-ropeway.jp
Visiting the Unagi Pie Factory
Unagi Pie is an iconic souvenir of Hamamatsu city, and at the Unagi Pie Factory, you can see the manufacturing process of these crunchy pies.
In addition to it, you can enjoy sweets and desserts made using unagi pie only at this factory!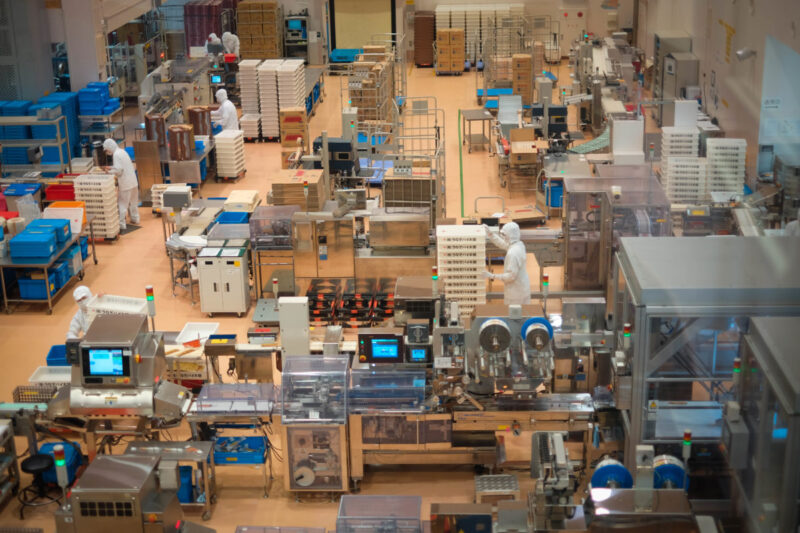 You can see the whole manufacturing process here; from the baking process to the packaging process.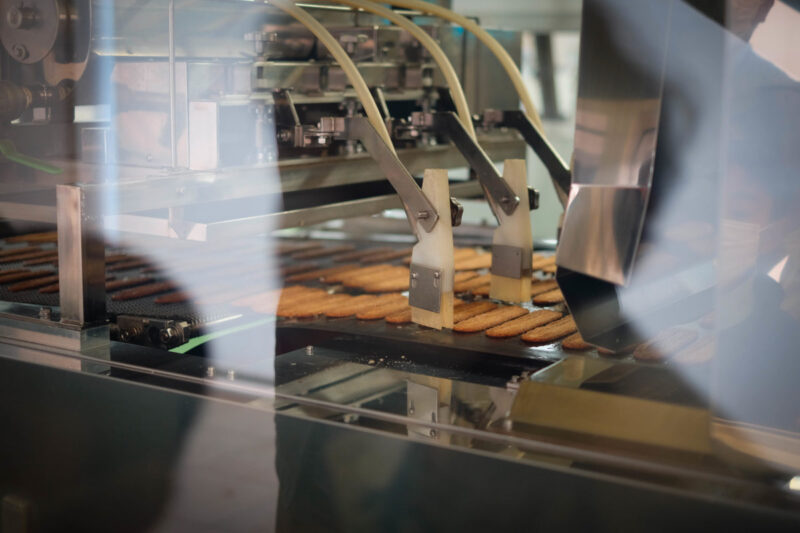 Let's eat the original desserts at UNAGI PIECAFÉ!
After touring around the factory, let's take a break at the café to eat some desserts!
The café serves meal and desserts, and all of them just look so delicious!
This time we ordered the best-selling item "Unagi Pie Jumbo Parfait".
The size of the parfait is extremely big; enough for 4 persons, and it has many unagi pies in it.
How about ordering this unique dessert when you visit the factory?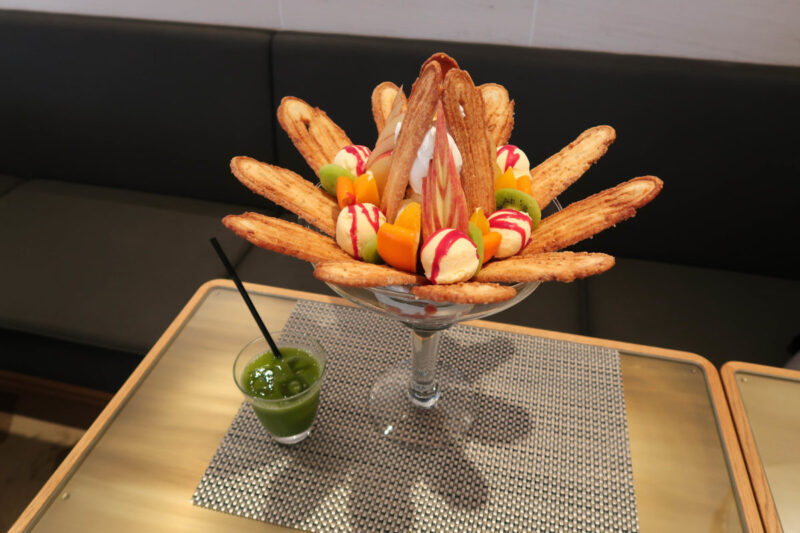 Before you leave the factory, don't forget to snap the gigantic unagi pie for the gram!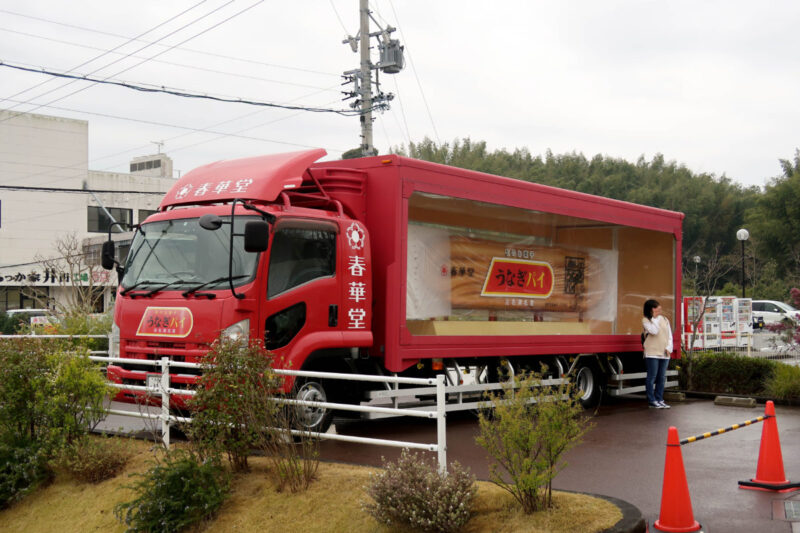 Unagi Pie Factory
– Business hours: 9:30 – 17:30
– Free admission with souvenir
*Advanced reservation is required for group of 20 or more
– Website : https://www.unagipai-factory.jp
Nukumori Forest: an Instagenic spot in Hamamatsu
Nukumori Forest is an Insta-worthy town in Hamamatsu that is packed with Western-style buildings.
Designed like a town that often appears in European novels, Nukumori Forest is everyone's favorite spot for photo shoots!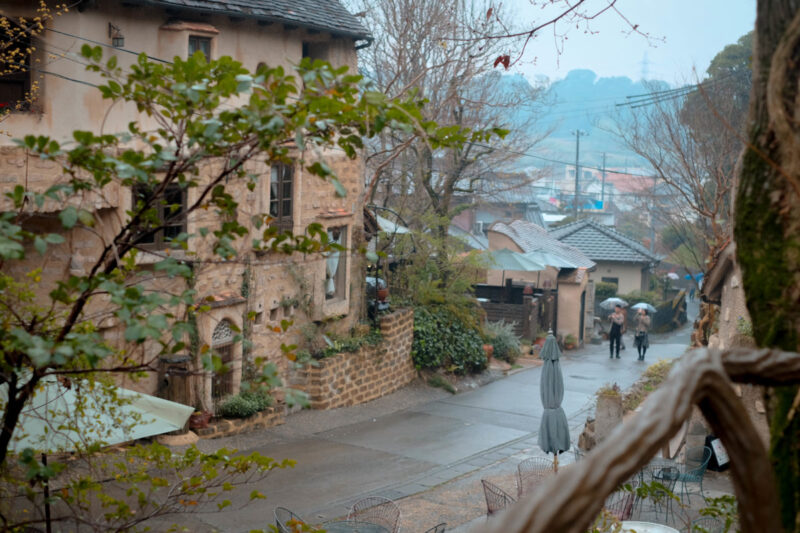 The area has some small shops with European atmospheres.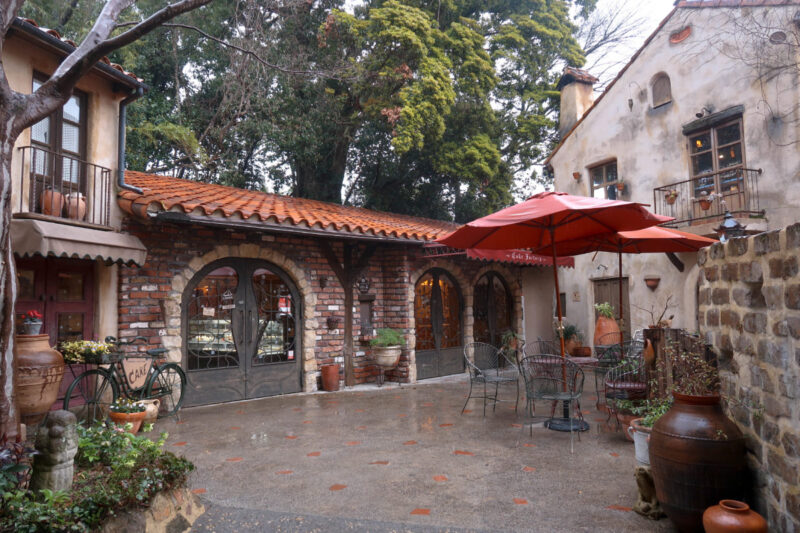 The shops also sell cute jewelries and accessories.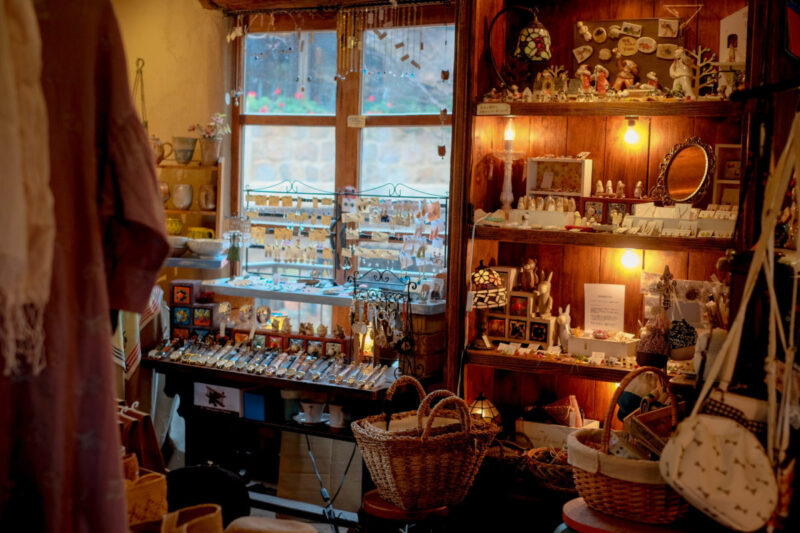 The area also has an owl café.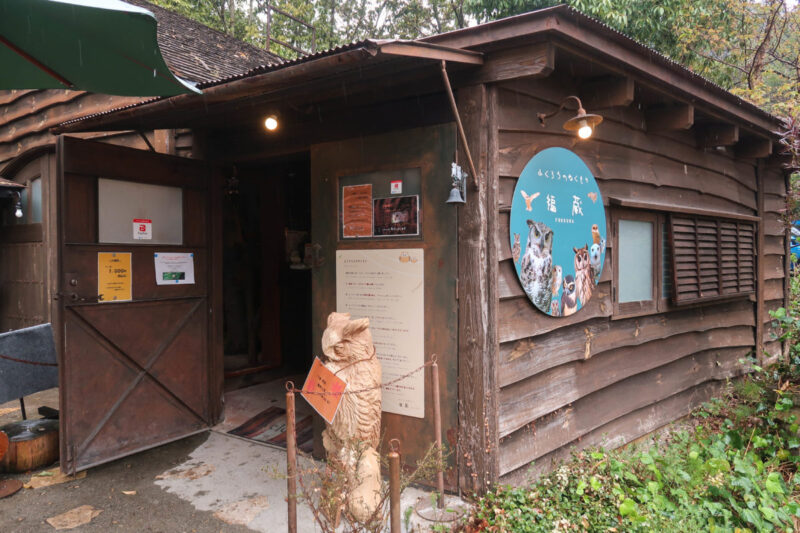 A place called "Nukumori Galleria" is located on the 2nd floor of the building.
Nukumori Galleria is an interesting space, where you can spend your time drinking teas with friends or enjoying yourself alone.

A heart-warming interior design.

Nukumori Forest
– Business hours: vary depending on the stores
– Closed on Thursdays
– Admission to Nukumori Galleria: 300 yen
-MAP: https://goo.gl/maps/sQDiuSyzG974Aezz6
-Website: http://www.nukumori.jp
Hamamatsu's signature local treats: gyoza
In addition to unagi, gyoza is the must-eat food when you're in Hamamatsu.
Unlike the gyoza from other prefectures, Hamamatsu gyoza is filled with a lot of cabbage and served as a circle with a stack of bean sprouts in the middle of it.
Our recommended shop is Ishimatsu Gyoza, a long-established gyoza shop in Hamamatsu with more than 60 years of history.
Crunchy on the outside and fluffy on the inside, the gyoza at Ishimatsu are filled with an abundant amount of cabbage and meat.
Available inside the Hamamatsu Station, you can enjoy the gyoza right after you arrive at the station, or right before you get on the train to leave!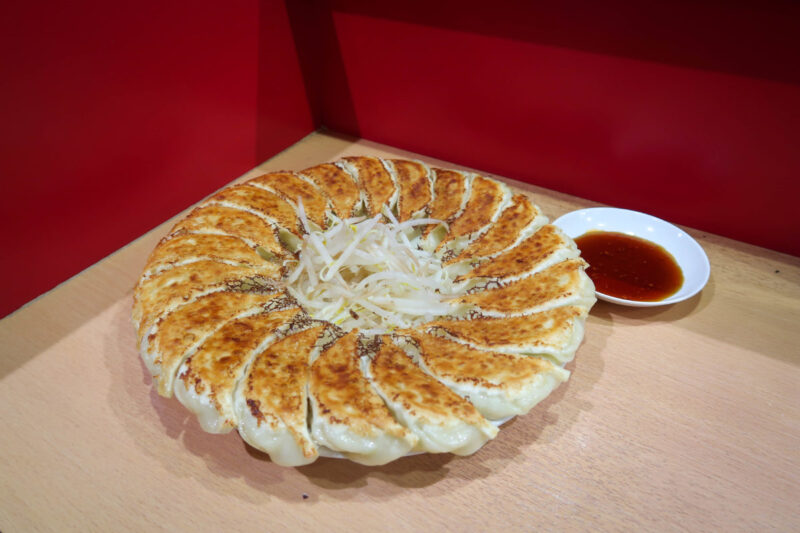 Ishimatsu Gyoza – JR Hamamatsu Station store
– Business hour: 11:00 – 22:00 (last order 21:30)
– Inside May One Ekimachi 1F, West Building, JR Hamamatsu Station
-MAP: https://goo.gl/maps/y5b5zjzja5odiJFe6
Don't forget to purchase some souvenirs before you go home!
The must-buy souvenir of Hamamatsu is the unagi pies! Available to purchase from the souvenir stores in JR Hamamatsu Station, make sure to purchase one of them before you go home!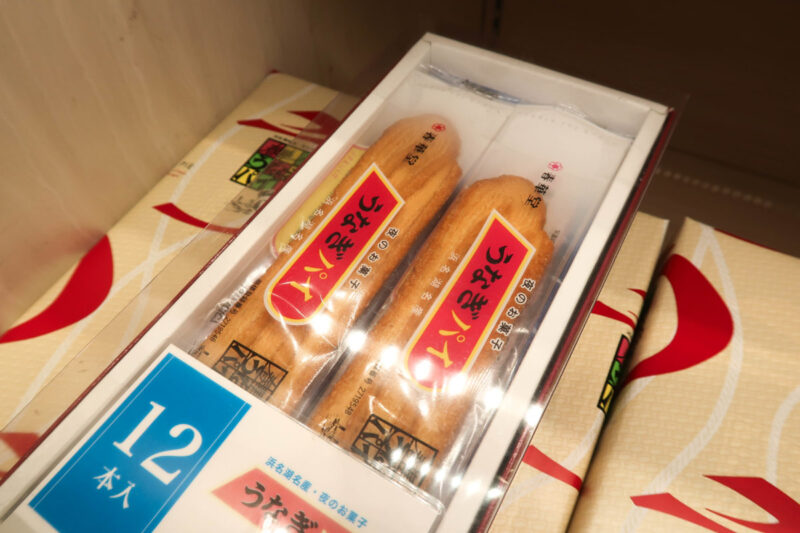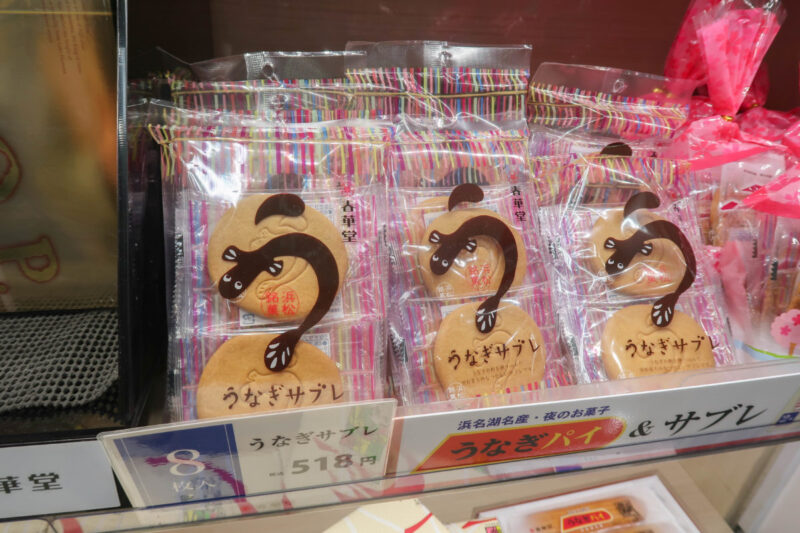 The store located inside the station premises.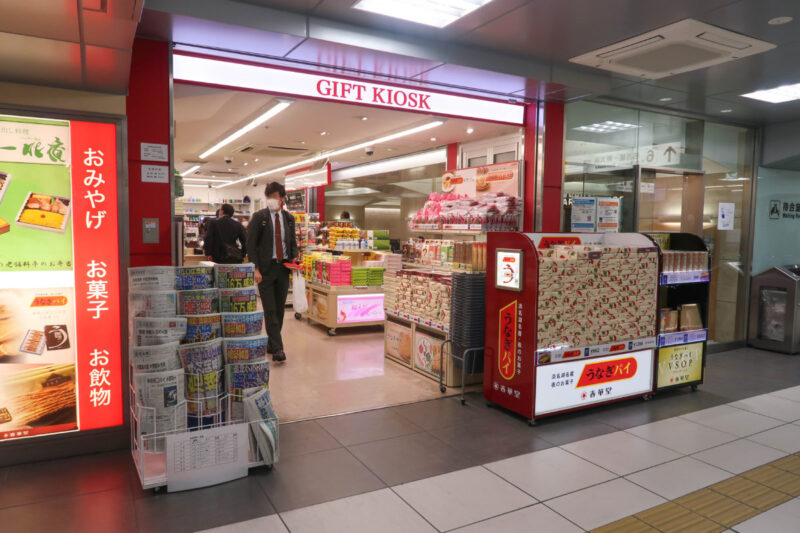 The store located outside the ticket gate.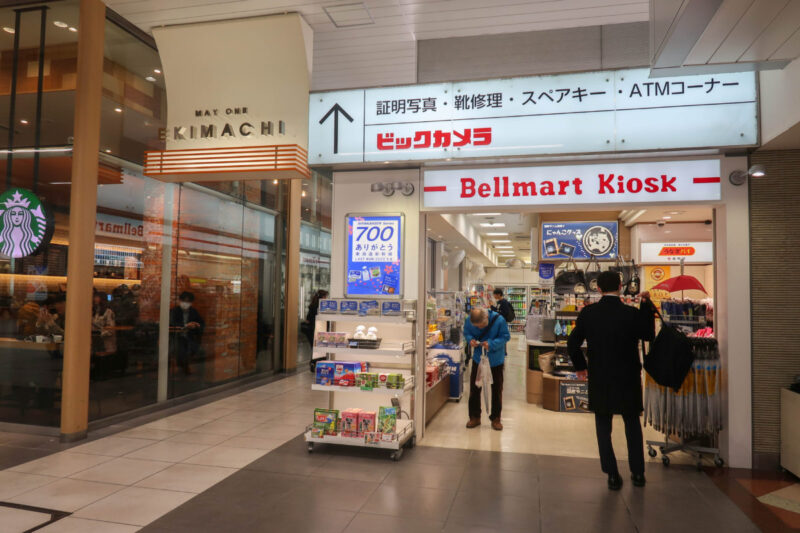 So, how did you find about Hamamatsu city?
We introduce a 2-day itinerary to Hamamatsu, a city in Shizuoka Prefecture that is famous for its attractive sightseeing spots.
Only 90 minutes away from Tokyo and Osaka, and just 30 minutes away from Nagoya, how about visiting Hamamatsu City on your next trip?