Exploring the Beauty of Gozaisho : Summer and Fall Adventures via Kintetsu Limited Express "HINOTORI"
Exploring the Beauty of Gozaisho : Summer and Fall Adventures via Kintetsu Limited Express "HINOTORI"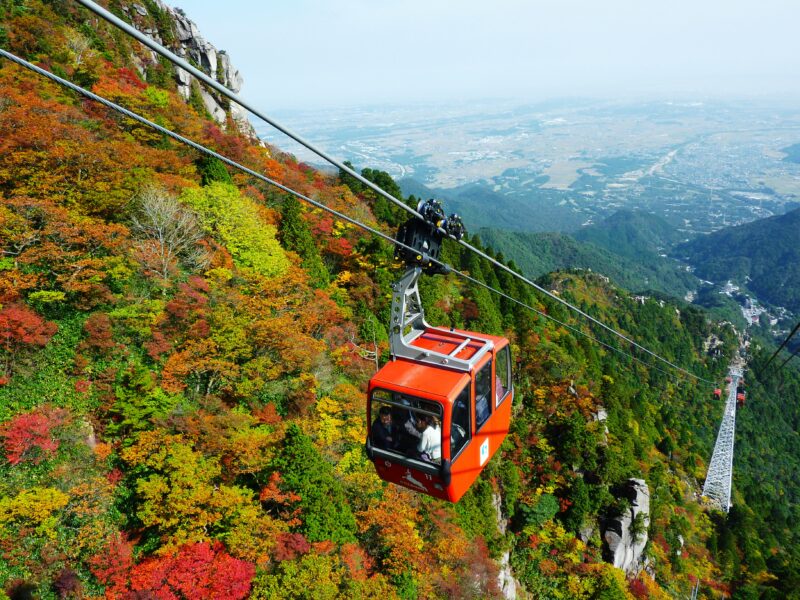 Nestled in the heart of Japan's picturesque landscape, Gozaisho stands as a testament to the country's natural beauty and cultural heritage. This stunning region offers a delightful blend of captivating scenery, outdoor adventures, and serene moments of reflection. Paired with the exceptional journey provided by the Kintetsu Limited Express HINOTORI, traveling to Gozaisho becomes an unforgettable experience. In this article, we'll dive into the allure of Gozaisho during the summer and fall seasons, while also uncovering the unique features that make the HINOTORI Limited Express a remarkable mode of travel.
Index
1. Introducing Gozaisho and HINOTORI Limited Express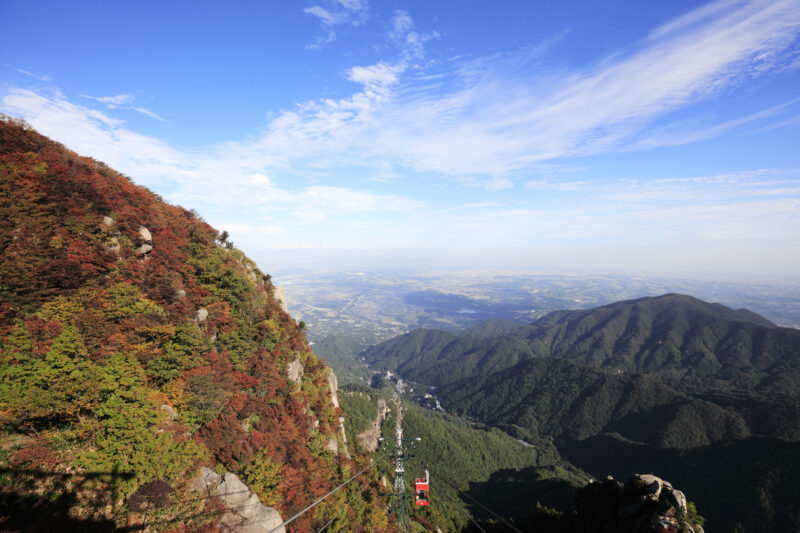 Nestled between the summer and fall seasons, Gozaisho emerges as a hidden gem, inviting travelers to immerse themselves in nature's splendor. As the leaves transition from vibrant greens to rich reds and oranges, the region transforms into a heaven for sightseers and adventurers alike.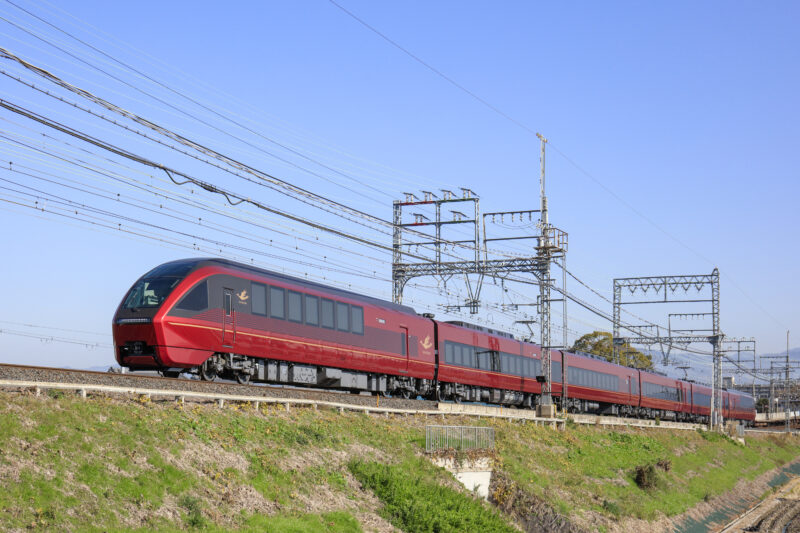 The Kintetsu Limited Express HINOTORI offers an ideal means of reaching Gozaisho, connecting Osaka-Namba and Kintetsu Nagoya Station with unmatched comfort and style.
2. Gozaisho's Scenic Grandeur in Summer and Fall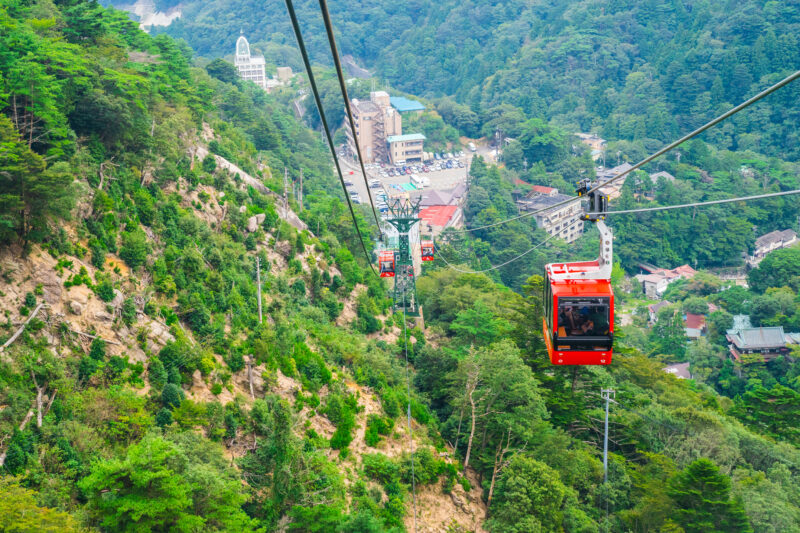 As the warm breeze rustles through the trees and the sunlight filters through the foliage, Gozaisho dons its summer attire. Lush greenery blankets the landscape, while the pristine waters of Lake Biwa glisten under the sun's embrace. Hiking trails beckon explorers to venture into the mountains, where panoramic vistas await at every turn. The iconic Gozaisho Ropeway offers a spectacular aerial view of the surroundings, allowing visitors to witness the transition from summer's verdant embrace to autumn's fiery hues.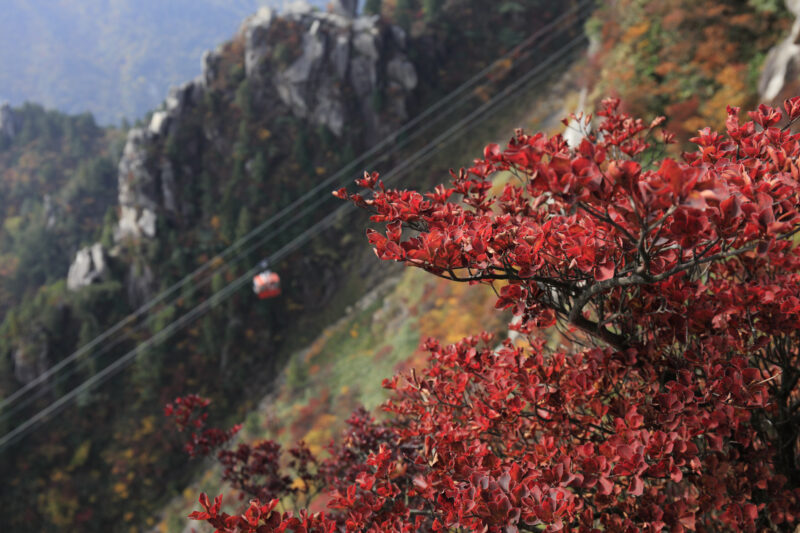 When autumn arrives, Gozaisho transforms into a symphony of colors. The mountainsides become a canvas painted with shades of red, orange, and gold. Nature enthusiasts can embark on leisurely strolls through the forest trails, capturing photographs of the breathtaking foliage. The air becomes crisp, enhancing the charm of the local hot springs—a perfect way to unwind after a day of exploration.
3. Embracing the Seasons : Summer and Fall Activities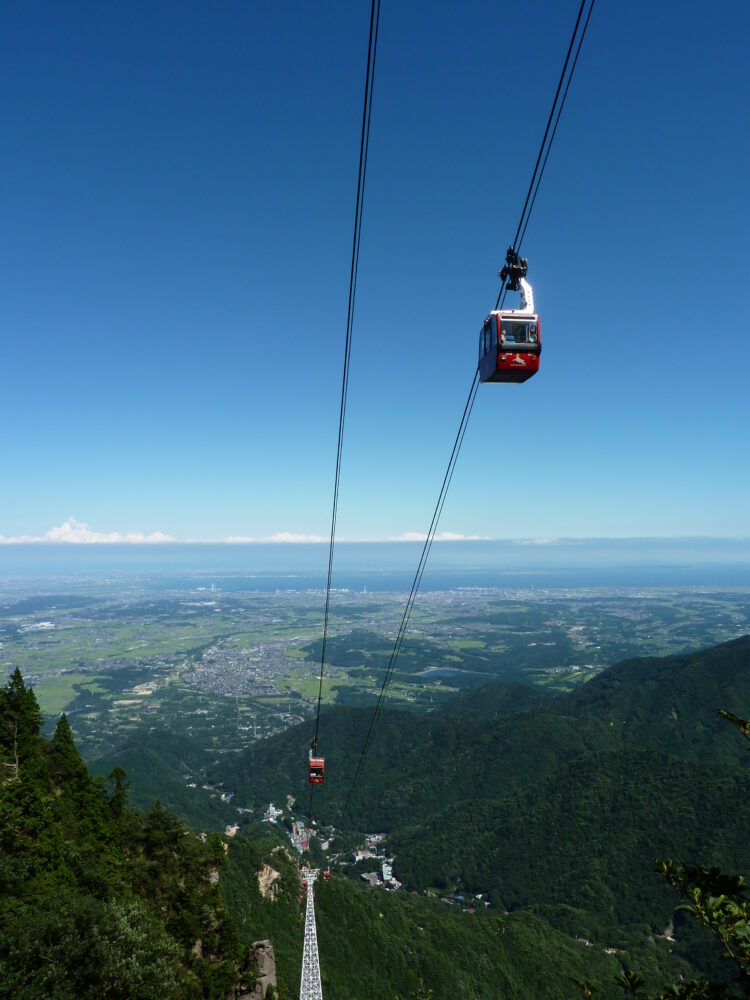 Some of the most famous summer activities in Gozaisho you can try are :
Hiking Adventures: Traverse the well-maintained hiking trails that wind through Gozaisho's terrain. The trails cater to various skill levels, making it accessible for families and seasoned hikers alike.
Lake Activities: Lake Biwa invites visitors to indulge in water sports like kayaking, paddleboarding, and fishing. The tranquil waters provide a refreshing escape from the summer heat.
Picnic Escapes: Find a cozy spot along the lake's shore or in the mountains and enjoy a leisurely picnic while surrounded by nature's beauty.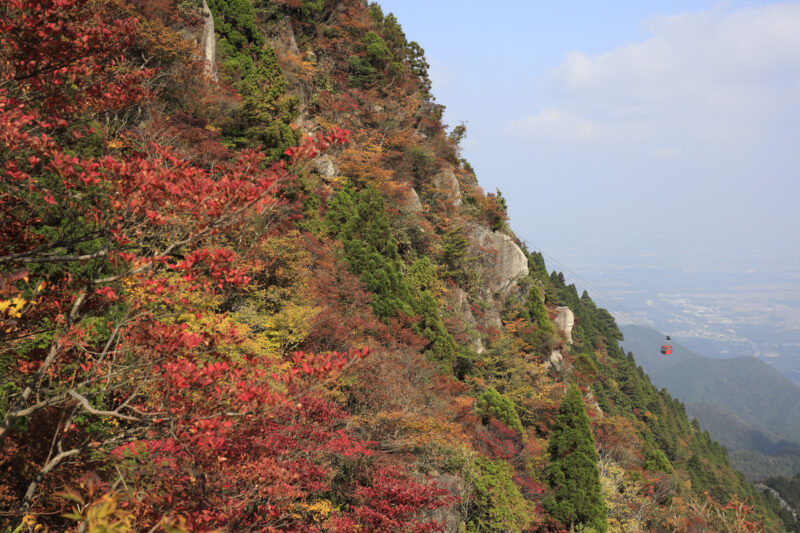 In addition to that, some popular autumn activities in Gozaisho you can try are :
Foliage Sightseeing: Embark on a foliage-centric journey along designated routes, capturing the mesmerizing transformation of leaves from summer greens to autumnal reds and yellows.
Festivals and Markets: Immerse yourself in local culture by participating in fall festivals and visiting markets that offer seasonal produce, crafts, and souvenirs.
Onsen Retreats: Relax and rejuvenate in one of the region's onsens (hot springs), where you can unwind while being surrounded by the stunning fall scenery.
4. Access to Gozaisho using HINOTORI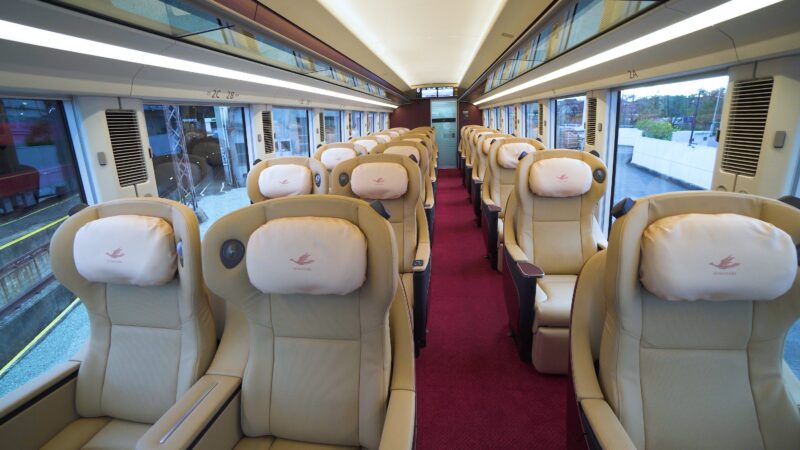 The Kintetsu Limited Express 'HINOTORI' offers a seamless journey from Osaka-Namba to Kintetsu Nagoya Station. With its comfortable seating, panoramic windows, and convenient amenities, the train ride itself is an experience to cherish.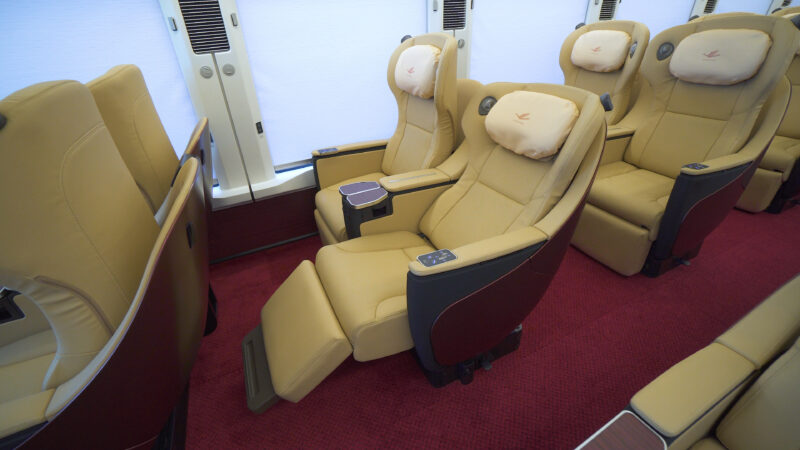 What Makes HINOTORI Limited Express So Special?
The HINOTORI Limited Express isn't just a means of transportation; it's a journey in itself. Its sleek design, spacious seating, and panoramic windows ensure that every passenger can relish the changing landscapes from the comfort of their seat. HINOTORI exemplifies Japanese hospitality, providing impeccable service that enhances the overall travel experience.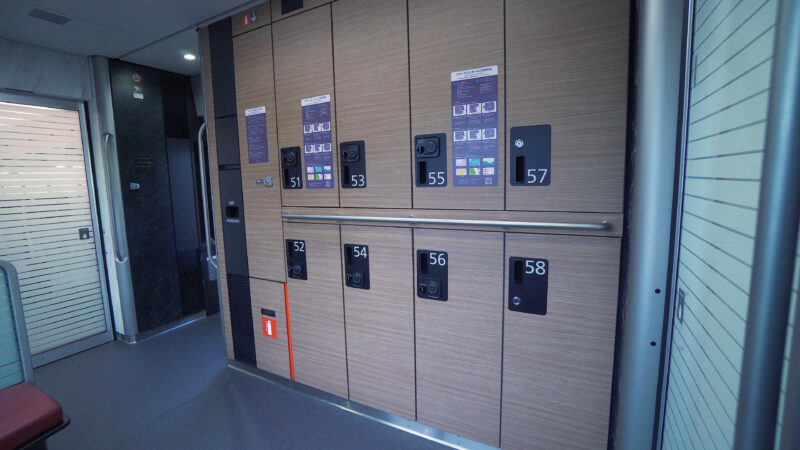 There are also lockers where you can store your luggage during the trip.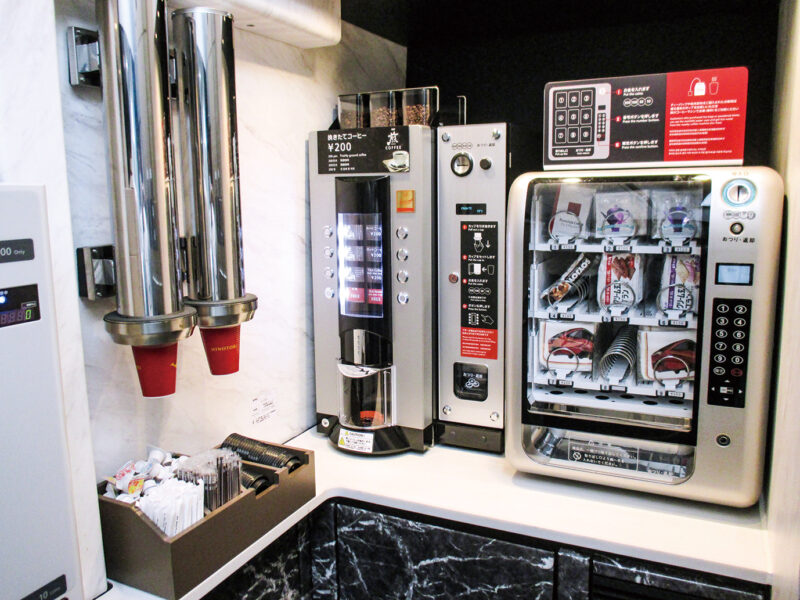 A vending machine corner where you can buy snacks and brew your coffee is also provided.
5. Fares and Reservations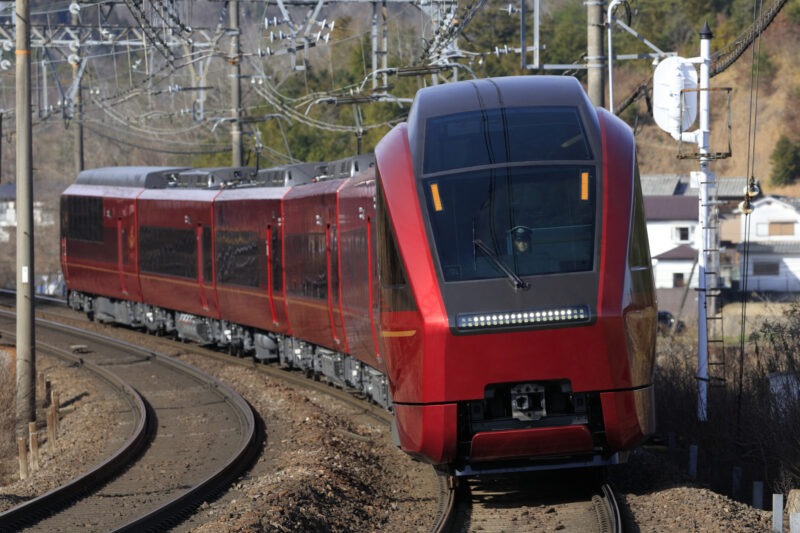 For those looking to embark on this remarkable journey, the one-way and round-trip fares offer excellent value for the experience. Prices vary depending on seating preferences and cabin classes. It's advisable to make reservations in advance to secure your preferred travel dates and seating arrangements.
One-Way Fare (Approximate)

Standard Seating : ¥2,800 – ¥3,500
Premium Seating : ¥3,800 – ¥4,500

Round Trip Fare (Approximate)

Standard Seating : ¥5,000 – ¥6,300
Premium Seating : ¥6,800 – ¥8,100
Reserving Your HINOTORI Limited Express Journey
Online Reservations : visit the official page for HINOTORI Limited Express on Kintetsu Railways website to make online reservations. Input your travel dates, seating preferences, and passenger information to secure your seats.
Ticket Counters : Reservations can also be made in person at Kintetsu Railways ticket counters located at major train stations.
Travel Agencies : Local travel agencies can assist in making reservations, ensuring a hassle-free booking process.
6. Tips When Traveling to Gozaisho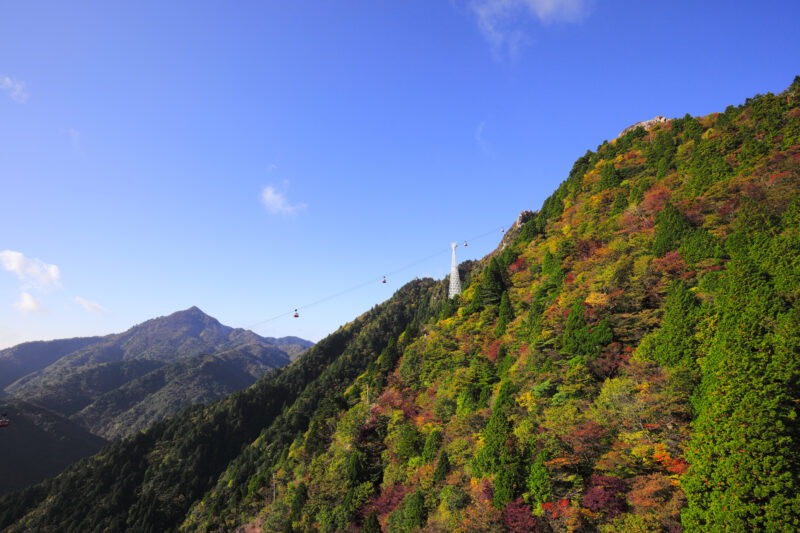 Book in Advance: Given the popularity of the HINOTORI Limited Express, it's wise to make your reservations well in advance, especially during peak travel seasons.
Pack Accordingly: Whether you're visiting in summer or fall, pack clothing suitable for the weather. Don't forget to include comfortable hiking shoes, sunscreen, and insect repellent.
Cash and Cards: While larger establishments might accept cards, it's advisable to carry some cash, especially when exploring local markets or smaller shops.
Respect Nature and Culture: Remember to adhere to Leave No Trace principles while hiking and exploring. Additionally, when visiting temples and shrines, follow local customs and etiquette.
*.。.*゚*.。.*゚*.。.*
In conclusion, embarking on a journey to Gozaisho via Kintetsu Limited Express 'HINOTORI' is more than just a vacation—it's an immersion into the wonders of nature and a break from the mundane. With its summer allure and fall spectacle, Gozaisho promises experiences that awaken the senses and rejuvenate the spirit.
As you traverse the scenic landscapes and savor the moments aboard HINOTORI, you'll understand that the journey itself is as significant as the destination.
Limited Express 'HINOTORI' Official Website
Read more articles