10 amazing things to do in Aichi, Japan!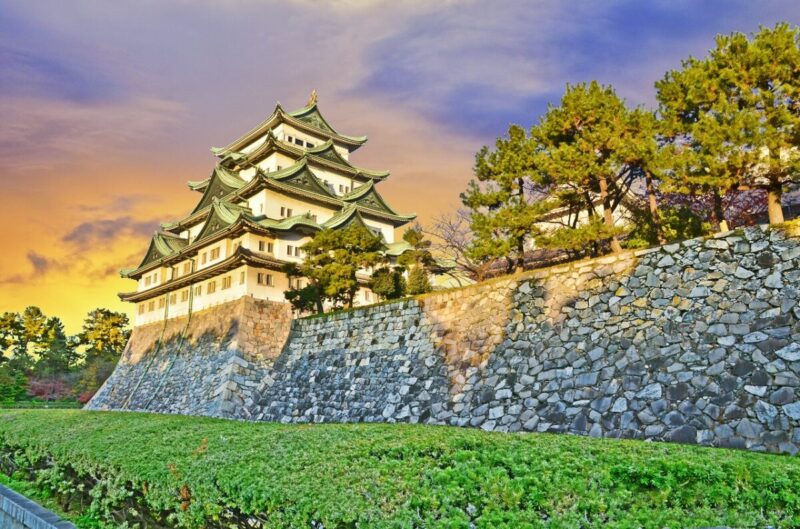 Aichi Prefecture is located in Chubu Region, central Japan. It is the home to Toyota Motor Corporation, the leading car manufacturer in Japan. The capital city of Aichi Prefecture is Nagoya City, which is known as the largest city in the region, and the fourth largest city in Japan.
This prefecture is a very attractive place to visit and is an ideal destination for a pitstop when traveling between Tokyo and Kyoto or Osaka. Since it's not so far from Gifu Prefecture, you can easily extend your trip to Shirakawago Village, a UNESCO World Heritage Site that is best known for its thatched roof houses.
Brimming with beautiful nature and interesting tourist destinations, how about visiting Aichi to have both, an extraordinary, yet a novel adventure?
Index
How to get there
Aichi Prefecture is accessible by several different transportation methods, including trains, highway buses, and airplanes. The main transportation hubs in Aichi are Nagoya Station and Chubu Centrair International Airport.
The most convenient way to get to Aichi from Tokyo is by taking the Shinkansen bullet train, which takes about 1 hour and 45 minutes for a one-way trip. The travel time between Kyoto and Aichi is only around 40 minutes by Shinkansen, and it is fully covered by the JR Pass.
The closest airport to Aichi is the Chubu Centrair International Airport, and it's only 29 minutes away from Nagoya Airport. Domestic flights from major airports in Japan are available on daily basis, and international flights from various countries are available too.
Recommended sightseeing spots in Aichi
Aichi Prefecture is in Chubu Region, and the capital city of the prefecture is Nagoya City, which is known as the region's largest and Japan's fourth largest city. This prefecture is the home to amazing sightseeing spots, including Nagoya Castle, Atsuta Jingu Shrine, the legendary Inuyama Castle, and the leading car manufacture Toyota Motor Corporation.
Ready to take yourself to Aichi? Here are our picks for the best things to do in Aichi, Japan!
1. Visit the legendary Toyota Automobile Museum!
Toyota, the leading car manufacturer of Japan, has its headquarters and many of its domestic production plans in Aichi. The company's headquarters is in Toyota, a city located in east of central Nagoya.
Toyota Automobile Museum is a museum that exhibits Japanese, European, and American automobiles from the late 1800s to the 1960s, and you can find many different types of cars in this amazing museum.
Toyota Automobile Museum
Business hours : 9:30 – 17:00
Closed on Mondays, and during the Year-end and New Year holidays
Admissions : 1,200 yen (age 18 and above), 700 yen (seniors), 600 yen (junior high and high school students), 400 yen (elementary school students)
2. Pray for a good fortune at Atsuta Jingu!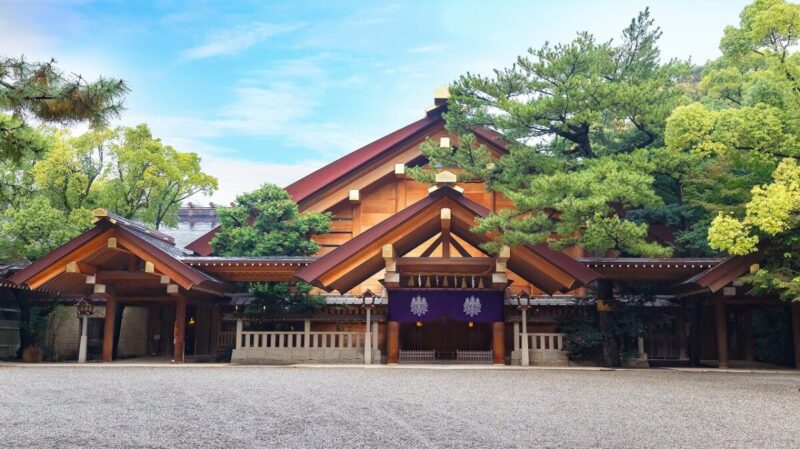 Atsuta Jingu is the second highest rank shrine of Japan, and it has been one of the most significant centers of worship in Japan since ancient times. The shrine was founded in the 8th Century, and it draws over 9 million on New Year's every year.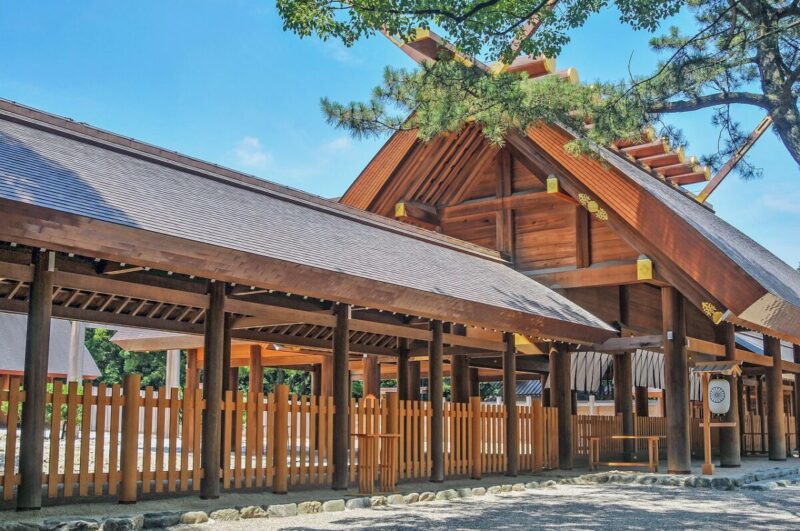 It enshrines the Sun Goddess Amaterasu, and stores the sacred sword Kusanagi, which is one of the three imperial regalia. The sword is considered sacred, and it is never shown or displayed to the public.
Atsuta Jingu
Open 24 hours
Access : a 3-minute walk from Jingu-Mae Station
3. Explore the legendary Meiji Village Museum!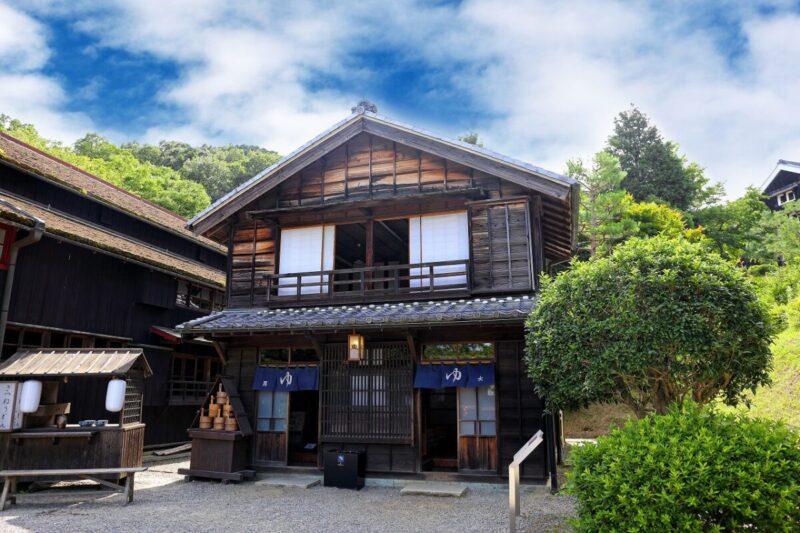 Meiji Village Museum is an open-air museum and theme park in Inuyama, Aichi. It is best known for its unique architectures, preserving the atmosphere of the Meiji (1867 – 1912), Taisho (1912 – 1926), and early Showa (1926 – 1989) periods.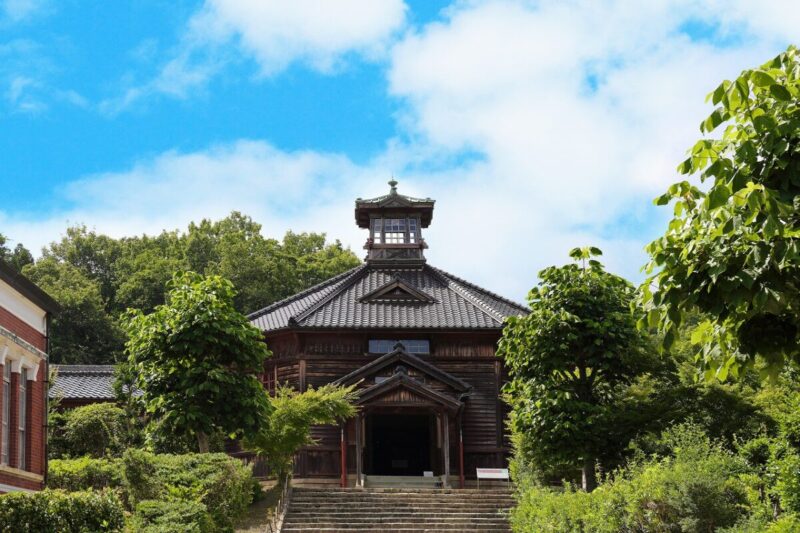 In Meiji Village Museum, you can see how Japanese combined the European and Japanese architecture back then, bringing a new impression and feeling to the Japan of old. Meiji Village Museum has a total of 67 Meiji-era reconstructed original buildings, which eleven of them are recognized as national treasures by the government.
Meiji Village Museum
Business hours : 9:30 – 17:00 (April – July, September, October), 10:00 – 17:00 (August), 9:30 – 16:00 (November), 10:00 – 16:00 (December – February), March (9:30 – 17:00)
Admissions : 2,000 yen (adults), 1,600 yen (college students and seniors), 1,200 yen (junior high school and high school students), 700 yen (elementary school students)
4. Enjoy the breathtaking nature of Korankei!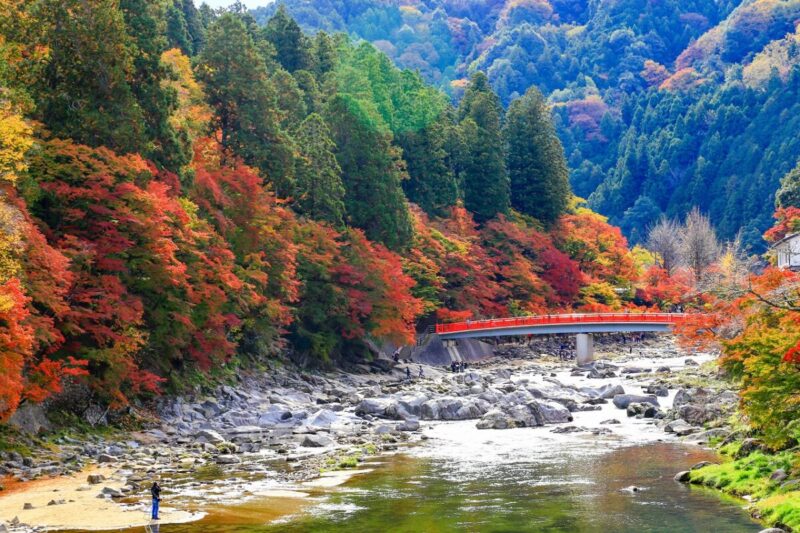 Korankei is a valley located at the back of the mountainous area of Toyota City. This valley is best known for its colorful tinted leaves in the fall, and indeed, it is reputed to be one of the best spots for fall foliage in the Chubu region.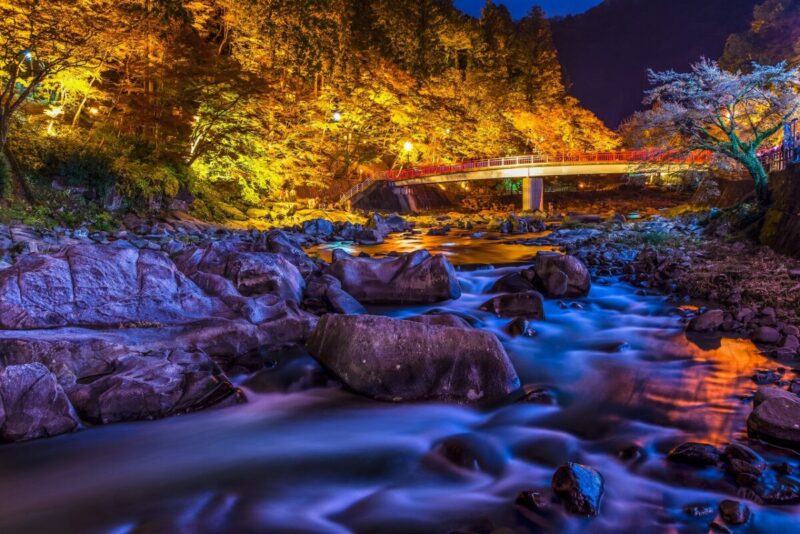 Korankei Valley features a vermilion bridge called Taigetsukyo Bridge, a popular photo spot in the area. The best time to visit the valley is in November, when the leaves of the three turn to gold and red. The night illuminations are held from sunset until 21:00 in fall.
Korankei
5. Stop by the historical Inuyama Castle!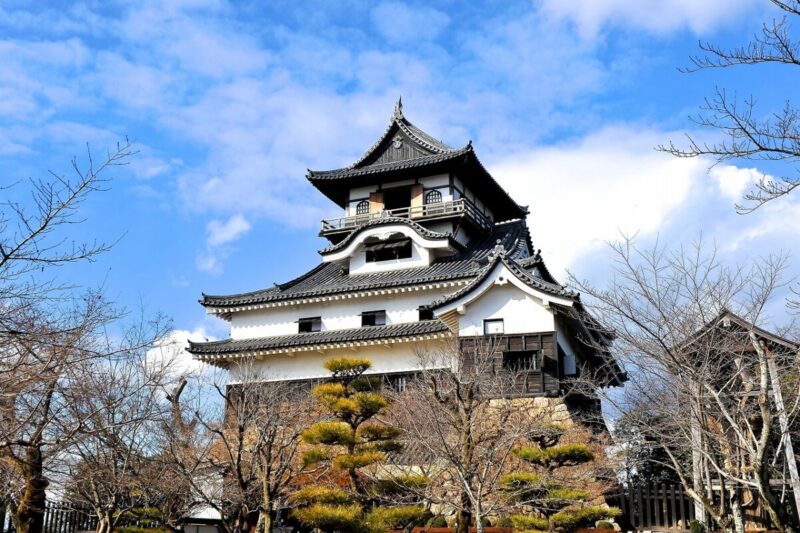 There are twelve originally preserved castles in Japan, and Inuyama Castle is the oldest among all of them. It is also designated as a national treasure, along with the other four castles in Himeji, Matsumoto, Hikone, and Matsue. This castle was built in 1537, and you can climb to the top floor to enjoy the panoramic view from above.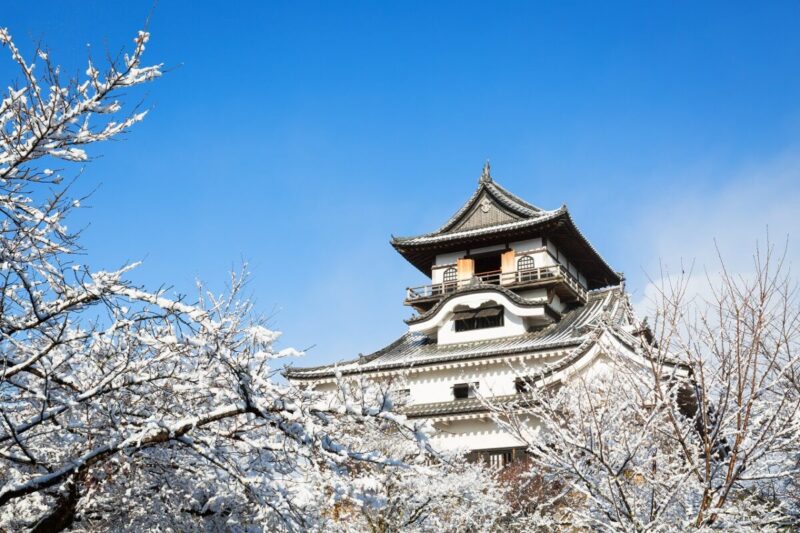 Inuyama Castle looks extremely beautiful in winter, when the snow covers its roof and the surrounding trees. Located next to the Kiso River, the inside of Inuyama Castle is very well preserved, and it gives an insight into life back then.
Inuyama Castle
Business hours : 9:00 – 17:00
Closed from December 29 to 31
Admissions : 550 yen (adults), 110 yen (age 14 and under)
Access : a 20-minute walk from Inuyama Station
6. Pray at Osu Kannon Temple in Nagoya!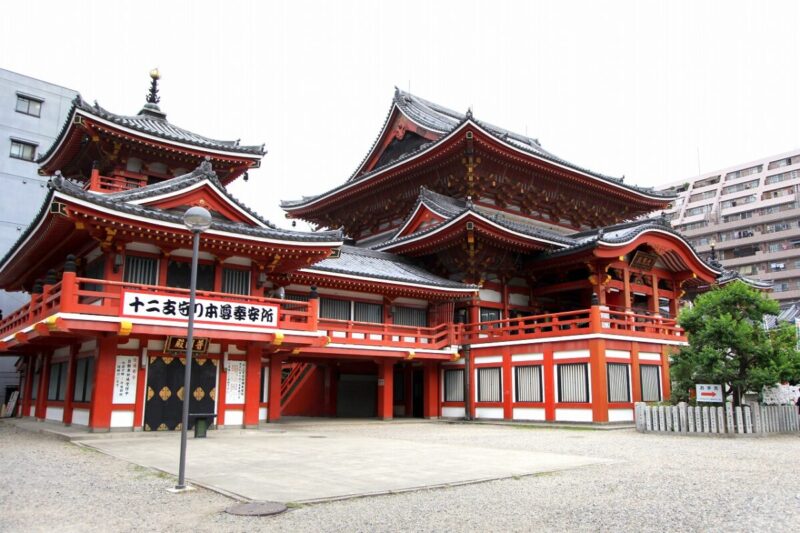 Osu Kannon Temple was originally built in 1333 in Gifu, but it was moved to its present location in 1612 by Tokugawa Ieyasu due to repeated flooding. The main hall features a large red paper lantern steadied with wires from its base.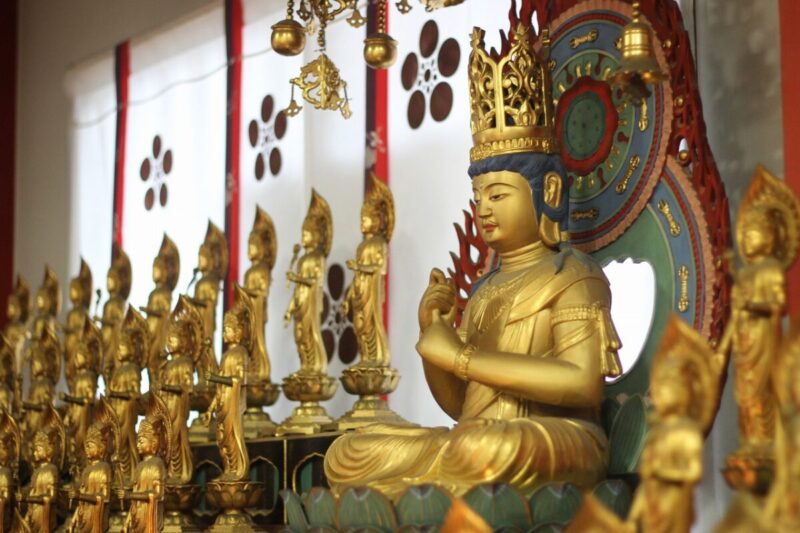 This temple is also famous for its Buddha statues, and for its on-ground library that has over 15,000 Japanese and Chinese Buddhists works. The best time to visit the temple is on the 18th and 28th of every month, when an antique fair is held on the temple grounds.
Osu Kannon Temple
Business hours : 6:00 – 19:00
Access : a few minutes' walk from Osu Kannon Station
7. Visit Oasis 21, a famous landmark of Nagoya!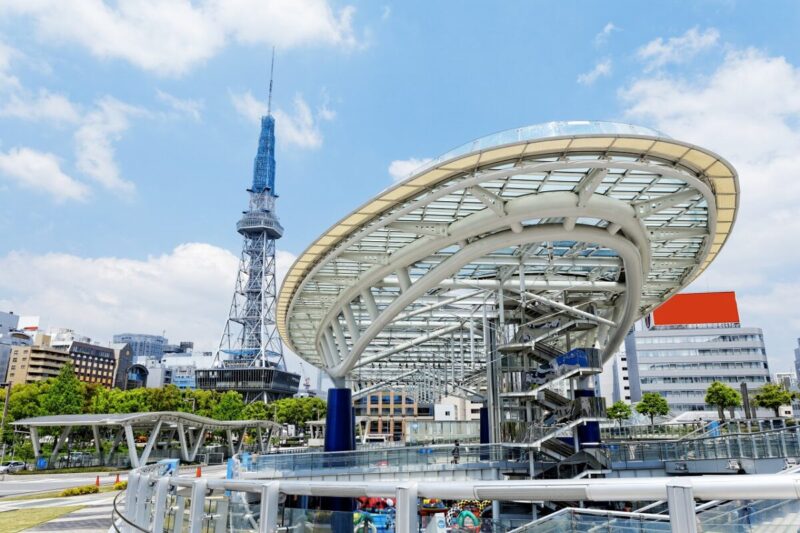 Oasis 21 is a famous landmark of Nagoya, which is located above Shin-Sakaemachi Station in Nagoya. Opened in 2002, Oasis 21 is a hype place for shopping and eating, and it is best known for its futuristic architecture, and its glass roof with is covered with water.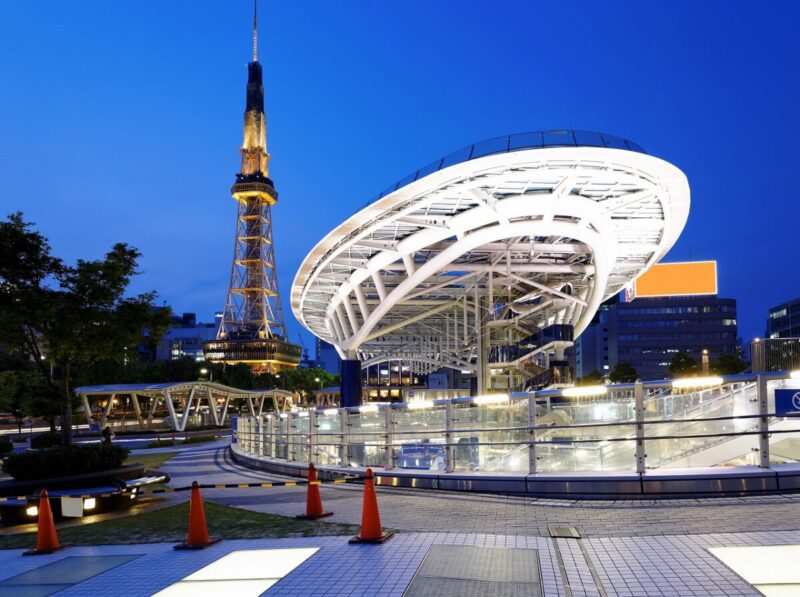 Visiting Oasis 21 at night time will give you an opportunity to capture a splendid view of Nagoya's famous landmark, the Nagoya TV Tower, which looks breathtakingly beautiful at night.
Oasis 21
Business hours : 10:00 – 21:00
8. Have a spiritual journey at Toyokawa Inari Shrine!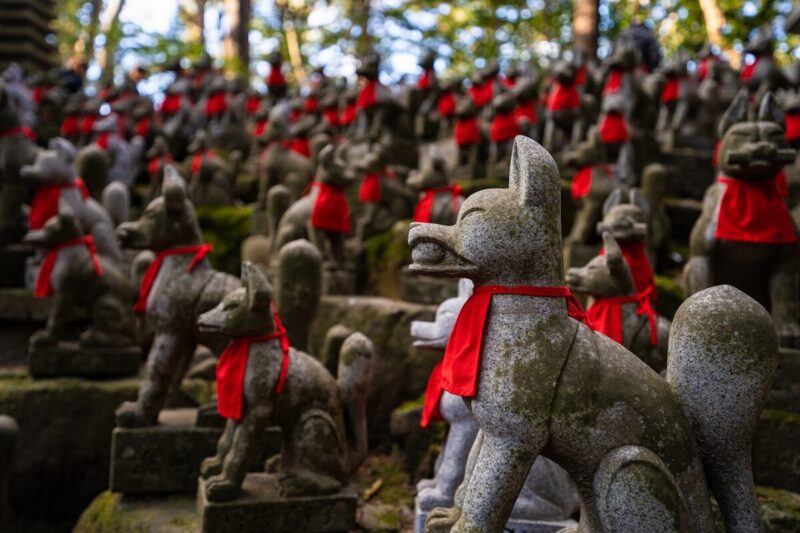 Toyokawa Inari Shrine, or also known as Myogonji Temple, is a Sodo sect Buddhist Temple in Toyokawa, east Aichi. This shrine is dedicated to the god of fertility, rice and agriculture, industry, and worldly success as well as the foxes. Toyokawa Inari Shrine is best known for its countless stone statues of foxes, which can be seen at the temple site.
Toyokawa Inari Shrine
Business hours : 5:00 – 18:00
Access : a 5-minute walk from JR Toyokawa Station
9. Learn about science at the futuristic Nagoya City Science Museum
Nagoya City Science Museum is known for its amazing planetarium, which is said to be the largest planetarium in the world. This museum is located in Sakae, Nagoya, and it has three main sections covering modern technology, life sciences, and general science with a variety of exhibitions being held annually.
This museum has a comprehensive array of permanent exhibits, including dinosaur-related exhibits. You can also learn science through interactive experiments like the Tornado Lab, the Electric Discharge Lab, and the Deep Freezing Lab, which simulate conditions at the earth's polar regions.
Nagoya City Science Museum
Business hours : 9:30 – 17:00
Closed on Mondays, third Fridays, and from December 29 to January 3
Admissions : 800 yen (adults, museum & planetarium), 500 yen (high school & university students, museum & planetarium), free for junior high school students and under
10. Admire the beauty of Nagoya Castle!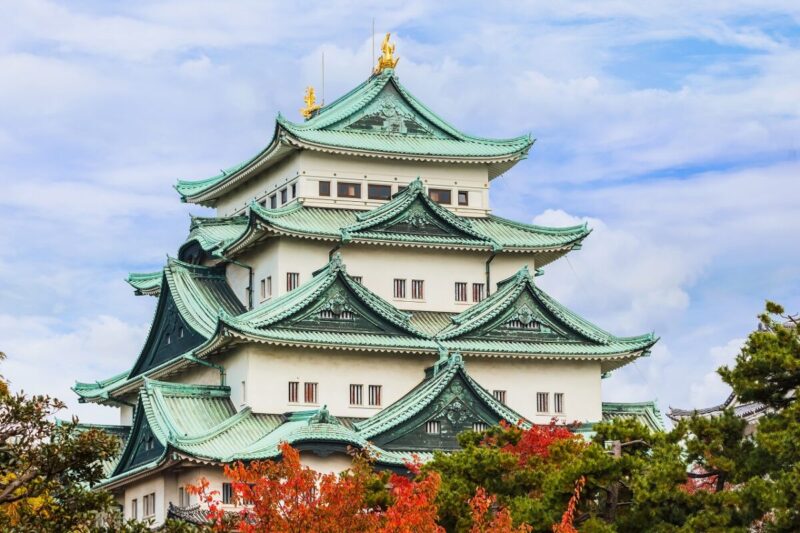 Nagoya Castle is in the heart of Nagoya, and it is best known for its golden Shachihoko figures on its roof. Shachihoko is a Japanese mythical creature that has a tiger head and a carp body. The castle was built in 1521 by Tokugawa Ieyasu, and the Hommaru Palace, which was completed in 1615, served as the official residence and administrative seat of the Owari-Tokugawa clan.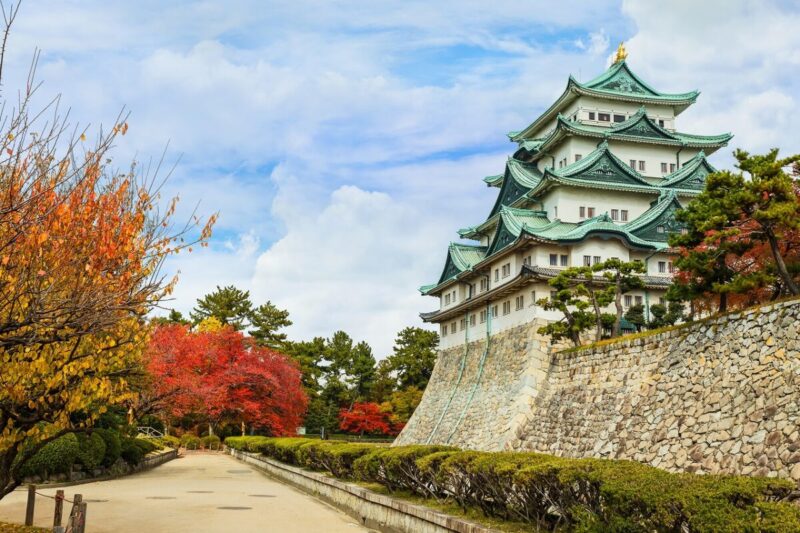 The Hommaru Palace was one of the first palace buildings to be listed as a national treasure in 1930, but the palace was later destroyed in 1945 by the air raids of the war. The palace was rebuilt in 2018, and the castle garden is known as one of the best cherry blossoms viewing spots, and also fall foliage spots in Aichi.
Nagoya Castle
Business hours : 9:00 – 16:30 (last entry is at 16:00)
Closed from December 29 to January 1
Admissions : 500 yen (age 15 & above), free for age 14 and below
Aichi's best local treats
Aichi is right in the middle of Japan's main island of Honshu, and it's the perfect pitstop on a journey from Tokyo to Osaka. Unlike the local foods of other regions in Japan, the food in Aichi is deep in flavor, as it is mainly seasoned by miso. Instead of trying the typical sushi or ramen, try to eat Aichi's stewed udon noodles, miso pork cutlet, or its famous grilled eel.
Ready to fill your empty belly with Aichi's local treats? Here are our picks for the best foods to try when visiting Aichi!
1. Miso Nikomi Udon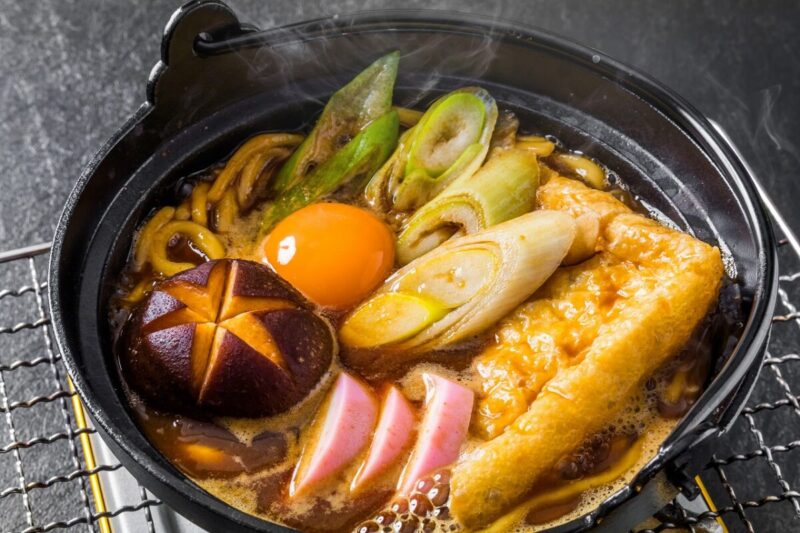 Aichi is famous for its traditional red miso paste, and Miso Nikomi Udon is one of the most famous local foods in Aichi that uses red miso paste. Miso Nikomi Udon is usually served in a ceramic pot, and topped with eggs, green onions, kamaboko (fish cakes), shiitake mushroom, and abura age (fried tofu skin). Available across the prefecture, make sure to try this savory dish when you're in Aichi!
2. Hitsumabushi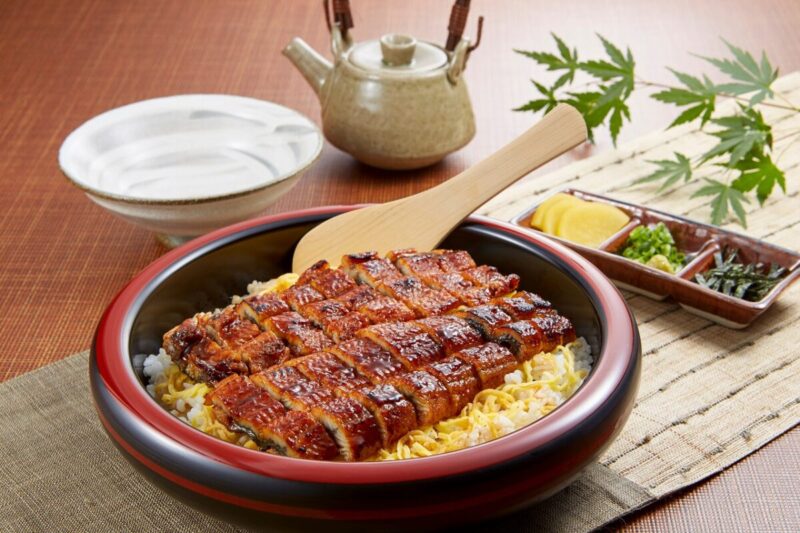 Hitsumabushi is made of grilled eel, which must be served in a special wooden bowl, on top of a bed of rice. There are three steps you must follow to fully enjoy Hitsumabushi. First, you must try the basic flavor of the eel with no condiments, which is good enough. After that, you can add any condiments you like, including wasabi, the special sauce, and seaweed to enhance the flavor. The last step is to pour the remaining sauce, turning it into a thick soup.
3. Miso Katsu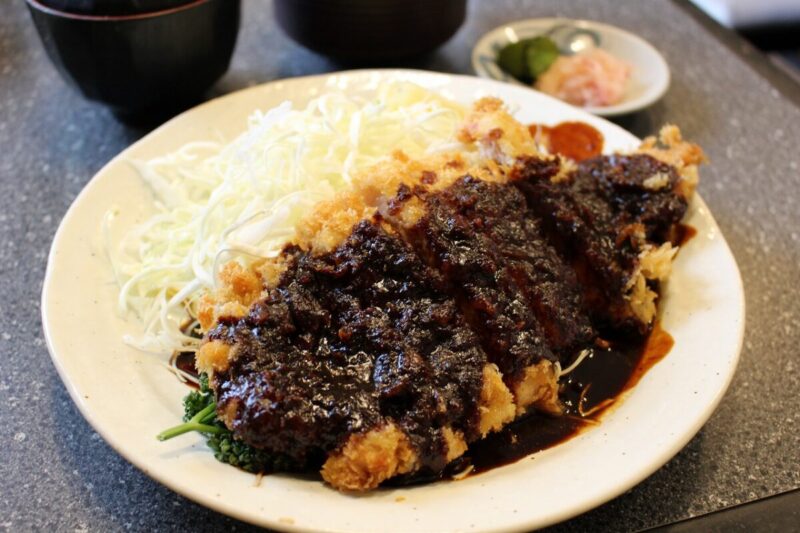 The other fish you need to try in Aichi is Miso Katsu. Miso Katsu consists a deep-fried pork cutlet, but instead of served with sweet vegetable-based sauce, it is served with a thick red miso sauce. Miso Katsu Yabaton is one of the most famous Miso Katsu restaurants with branches scattered across the country.
4. Tebasaki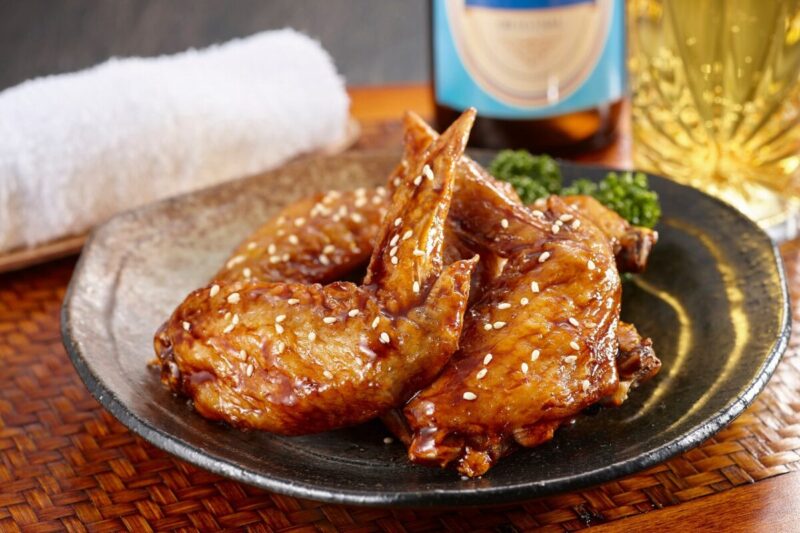 Tebasaki is a local specialty of Nagoya City, and unlike other fried chicken in Japan, Tebasaki is not deboned. Tebasaki is a crispy chicken wing with a savory-sweet marinade. You can try Nagoya's Tebasaki by purchasing it from the food stalls around Nagoya Castle when you're in Aichi.
5. Kishimen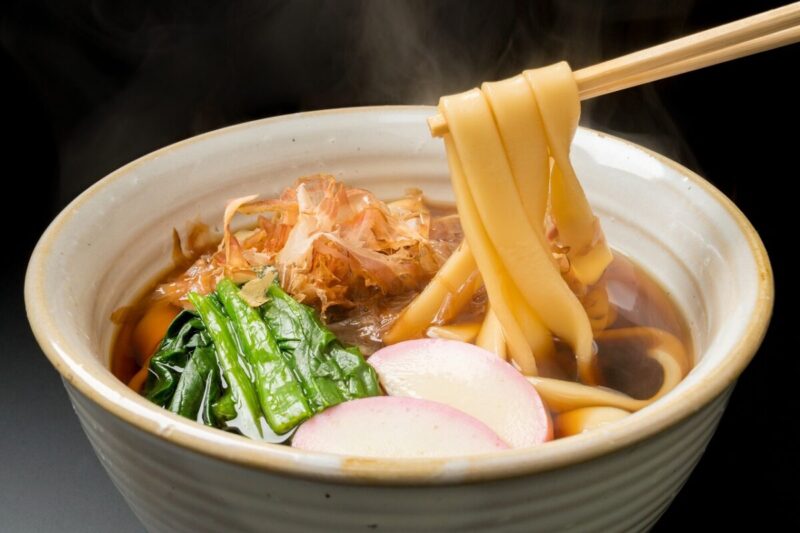 Kishimen are boiled, flat udon noodles in a soup topped with Kamaboko (fish cakes), green vegetables, and bonito flakes. You can eat fresh Kishimen at restaurants in Aichi, or you can buy the dried Kishimen and cook it back home.
.
Now that you have an idea of how many fabulous spots are in Aichi, all you must do is plan your itinerary to enjoy unforgettable experiences in Aichi!