10 amazing things to do in Hokkaido, Japan!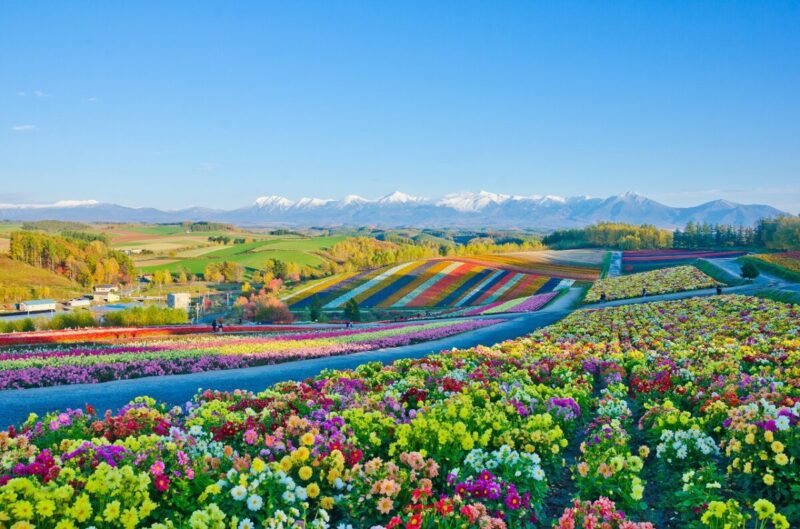 Hokkaido is the most northern island of Japan, and it has become one of the most popular tourist destinations in Japan for these last few years. Best known for its beautiful nature and landscape, Hokkaido is blessed with fascinating tourist attractions such as flower fields, beautiful cityscape, local fish market, snow festivals, ski resorts, and hot spring cities.
This island is best known for having a cold climate, making it a perfect destination for winter sports and winter activities like skiing, snowboarding, and snowshoeing. In addition to those, the island is also known for its amazing quality of seafood, which are much fresher than the seafood offered in other prefectures in Japan.
Brimming with beautiful nature and interesting tourist attractions, how about visiting Hokkaido to have both, an extraordinary, yet a novel adventure?
Index
How to get there
Hokkaido Prefecture is accessible by several different transportation methods, including airplanes, trains, and ferries. The main transportation hubs in Hokkaido are Sapporo's New Chitose Airport and Sapporo Station.
The most convenient way to get to Hokkaido from Tokyo is by taking the airplanes from Haneda Airport or Narita Airport, as both airports offer dozens of flights to Sapporo per day, which are mainly operated by JAL, ANA, Air Do, Skymark, and LCC companies like Peach Aviation and Jetstar Japan. The one-way flight from Tokyo to Sapporo takes about 90 minutes.
You can also take the shinkansen from Tokyo to Sapporo by taking the JR Tohoku / Hokkaido Shinkansen to Shin-Hakodate-Hokuto, which takes about 4 hours, and transfer to the Hokuto limited express to Sapporo, which takes about 3.5 hours. The entire one-way trip costs around 30,000 yen, and it is fully covered by the JR Pass and the JR East South Hokkaido Rail Pass.
There are long distance ferries departing from various ports in Honshu, including Niigata, Oarai (Ibaraki), Sendai, Nagoya, Maizuru (Kyoto), and Tsuruga (Fukui). Most ferries arrive either in Otaru or Tomakomai.
Recommended sightseeing spots in Hokkaido
Hokkaido is best known for its beautiful and rich nature, featuring the colorful flower fields in Furano, the mystical blue pond in Biei, and the snowy mountains and hills in Niseko.
The island is known for its distinctive seasonal views, including the dainty pink cherry blossoms in spring, colorful seasonal flowers in summer, red and gold maple leaves in fall, and white snow in the winter. The best time to visit Hokkaido is in the winter, when the island turns into a snow paradise.
Ready to take yourself to Hokkaido? Here are our picks for the best things to do in Hokkaido, Japan!
1. Visit Sapporo's most famous sightseeing spots!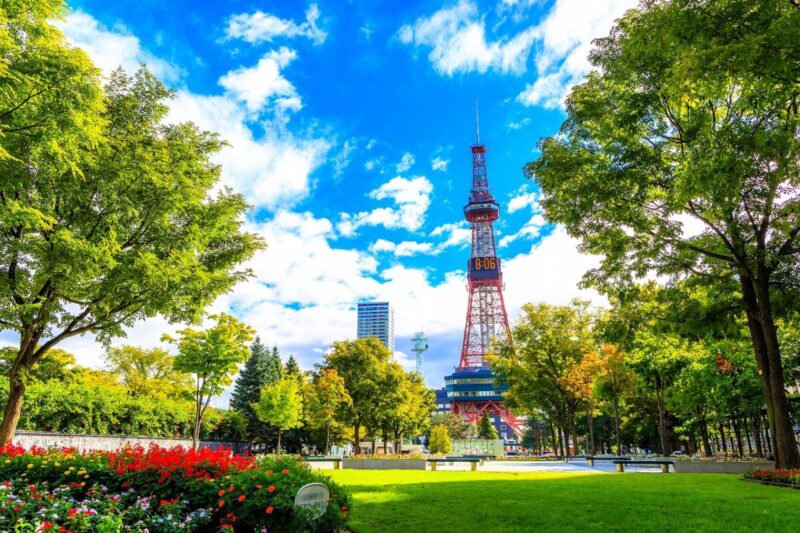 Sapporo is the capital of Hokkaido, and it is known for accommodating many different sightseeing spots and landmarks that are loved by both local and foreign tourists. One of the most famous landmarks of Sapporo is the Sapporo Tower Clock, which looks very beautiful at night during the light-up.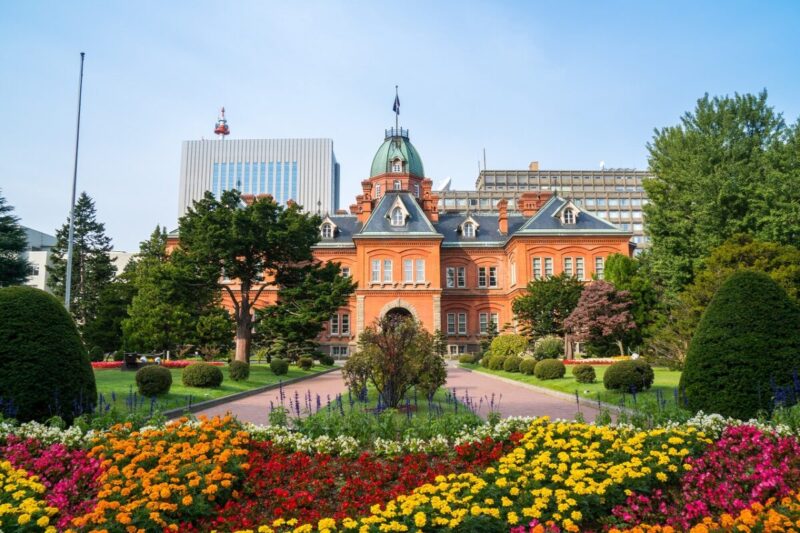 The other popular spot is the Former Hokkaido Government Office, which is also known as the Sapporo Red Brick Building. The former government office is surrounded by a garden filled with beautiful flowers, offering a vibrant and colorful view in spring and summer.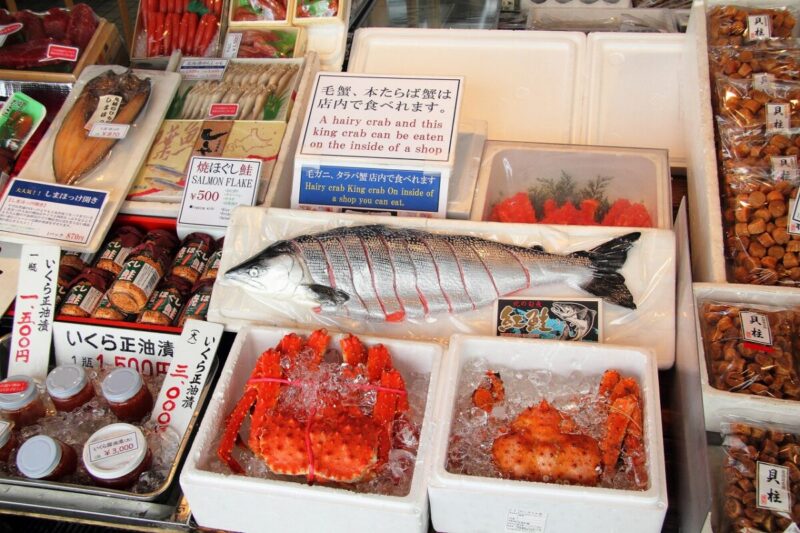 Another spot to visit is the Nijo Fish Market, a local fish market located in central Sapporo that is best known for its fresh seafood like crabs and salmon.
Sapporo
Google Map
2. Stop by Sapporo Snow Festival for its great snow statues and ice sculptures!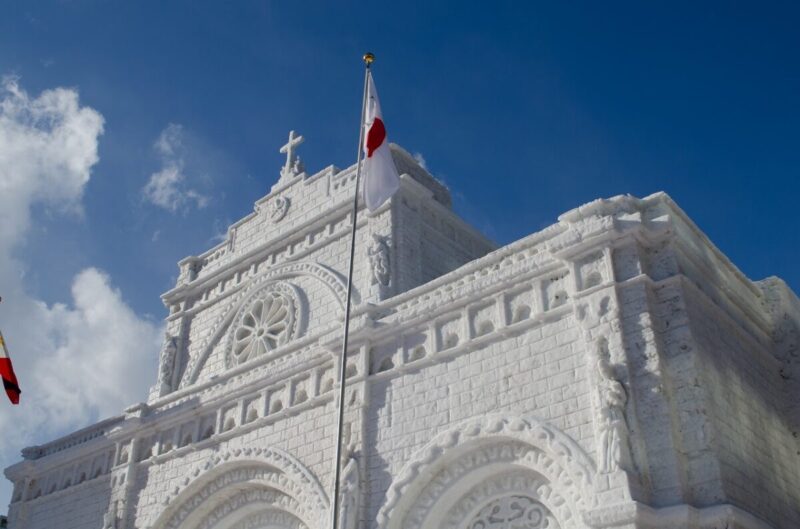 Hokkaido is best known for its beautiful winter scenery and for accommodating the Sapporo Snow Festival, the biggest winter festival in Japan. Held annually for a week in February, many tourists visit the island to stare at the mesmerizing snow statues and ice sculptures every now and then.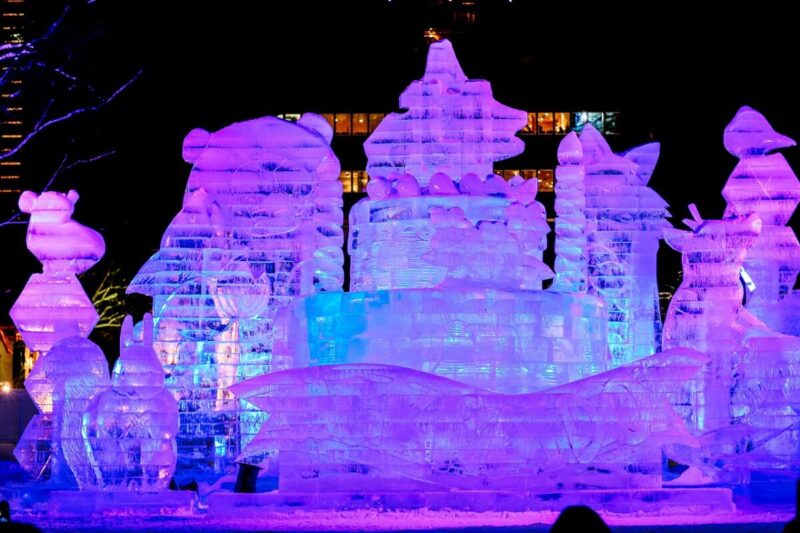 Every year, there are hundreds of snow statues and ice sculptures displayed at several venues, including ones in Odori Park and Susukino district. Looking to visit Hokkaido next winter? Make sure to not miss this amazing snow festival when you're in the island!
Sapporo Snow Festival
Google Map (Odori Park venue)
3. Enjoy a boat ride along the beautiful Otaru Canal!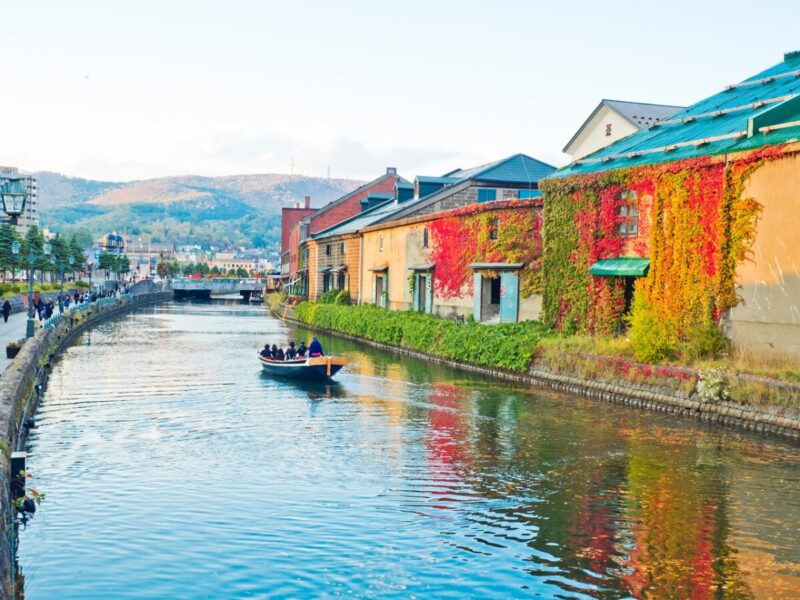 How about cruising along the legendary beautiful canal of Hokkaido, Otaru Canal?
Otaru Canal is a beautiful canal located in Otaru, a small harbor city along the Ishikari Bay, and it has become a popular side trip destination from Sapporo, as it can be accessed by train within an hour only.
The city is best known for its beautiful cityscape, including the preserved canal of Otaru that is lined with old warehouses built in the 19th century. You can cruise along the canal with a small boat if you want to.
Otaru Canal Cruise
4. Visit Hakodate for its gorgeous cityscape!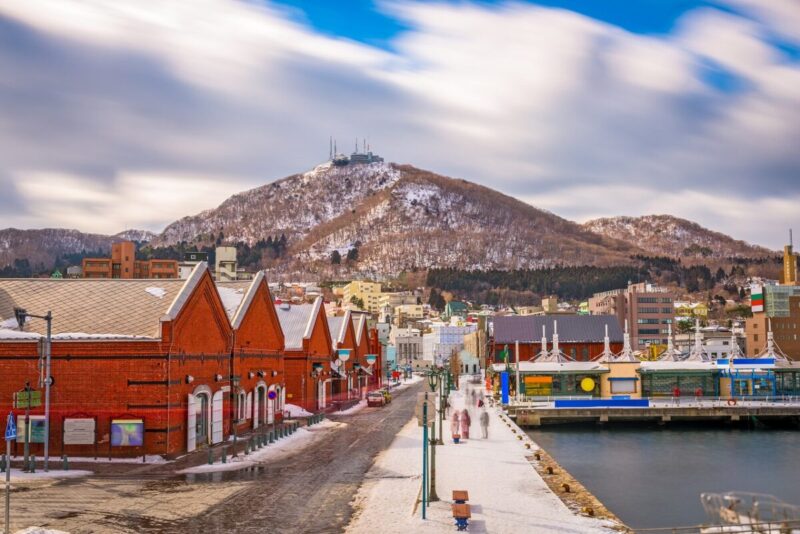 Hakodate is a city in the southernmost of Hokkaido, and it is best known for its beautiful cityscape lined with Western-style architectures. The city is also known as the most romantic city in Hokkaido, particularly popular for its historical red brick buildings.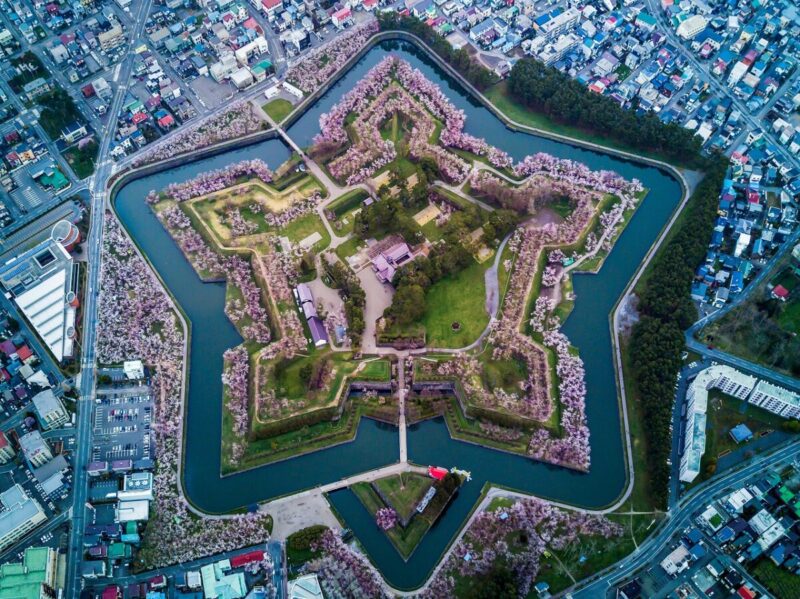 Apart from the beautiful cityscape, Hakodate is known for its beautiful cherry blossoms scenery in spring, including the famous Fort Goryokaku Cherry Blossoms, which looks like star when viewed from above.
Hakodate
5. Enjoy the mesmerizing view of Lake Toya!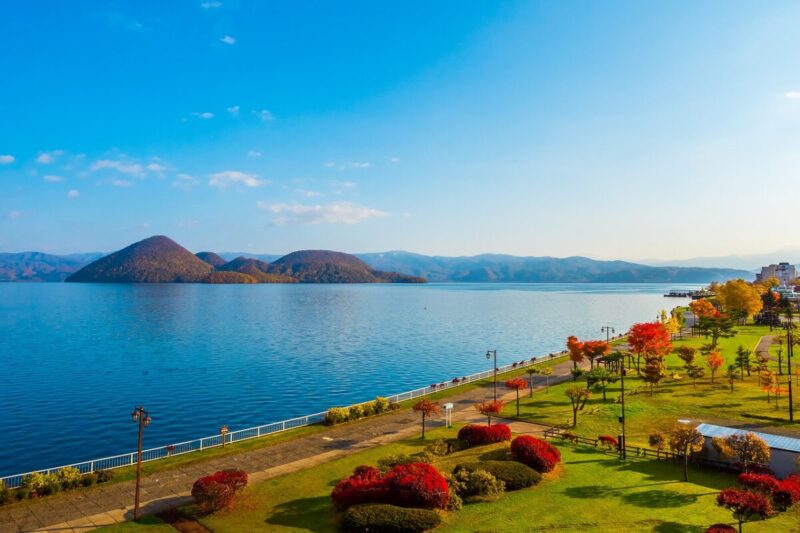 Lake Toya is a lake located in between Niseko and Noboribetsu Onsen, particularly within the Shikotsu-Toya National Park. The lake is best known for the scenery of the active volcano Mt. Usu and its beautiful park, making it a great spot for outdoor activities like canoeing, boating, hiking, and camping.
Lake Toya
6. See the adorable Penguin Parade at Asahiyama Zoo!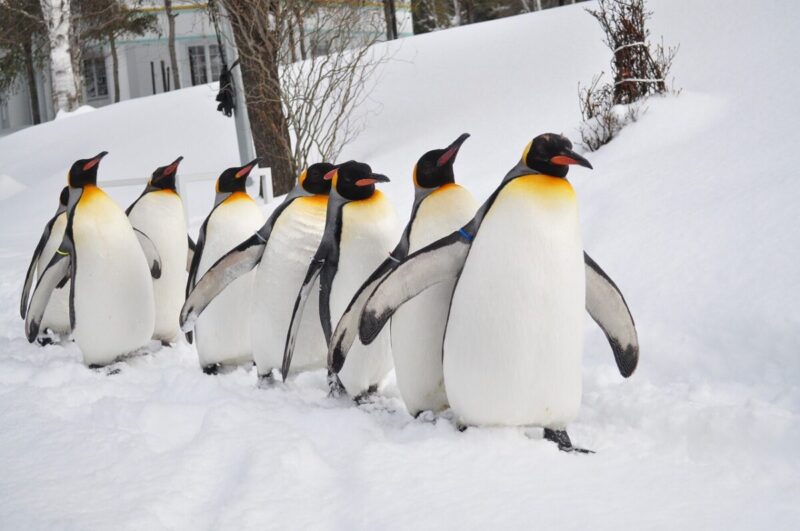 One of the best things to do in Hokkaido is to visit the Asahiyama Zoo to see its adorable Penguin Parade, which is only available during the winter. Asahiyama Zoo is a famous zoo of Hokkaido, located in the outside of Asahikawa City. The zoo offers various kinds of animals from Hokkaido and around the world.
Some of the most famous animals displayed in the zoo are the red panda lesser, deer, eagles, red foxes, penguins, polar bear, tiger, leopard, giraffes, and lion.
Asahiyama Zoo
7. Enjoy the beautiful nature of Furano and Biei!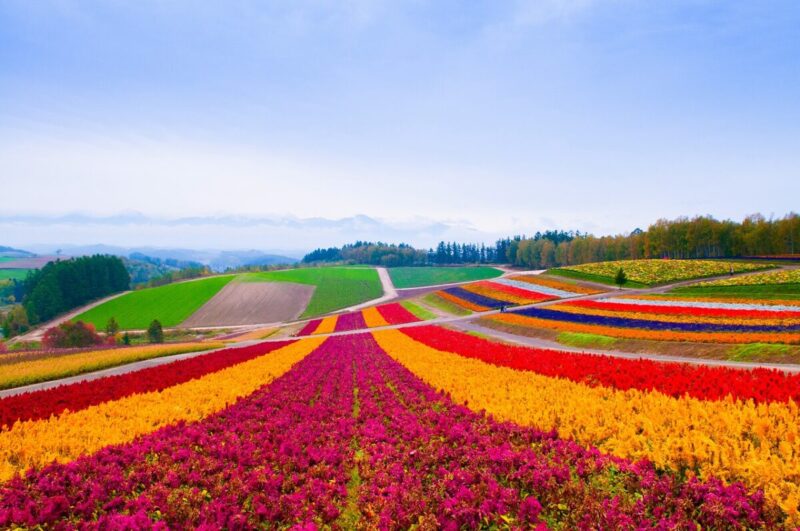 Furano and Biei are small towns of Hokkaido that are located next to each other, and they are best known for their scenic natural landscapes.
Furano is best known for its gigantic colorful flower fields that is field with thousands of lavender in July, and it is also a popular destination for snow activities like skiing and snowboarding in the winter.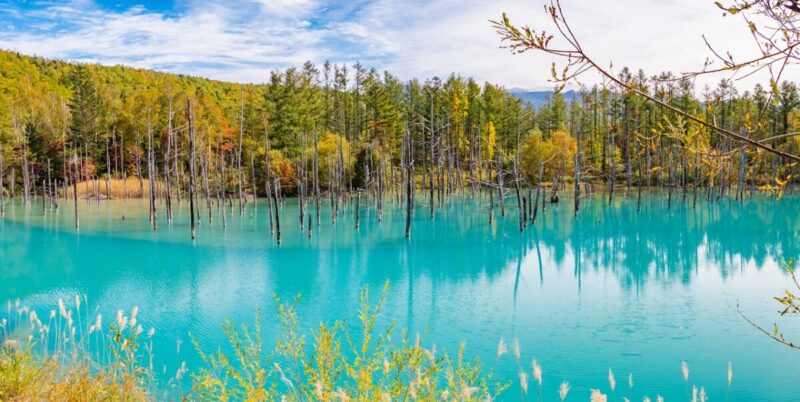 Biei is best known for its beautiful blue pond, which displays various hues of blue depending on the season and the weather. The pond is located nearby the Shirahige Falls, which looks best in the winter.
Furano / Biei
8. Take a break and chill at Noboribetsu Onsen!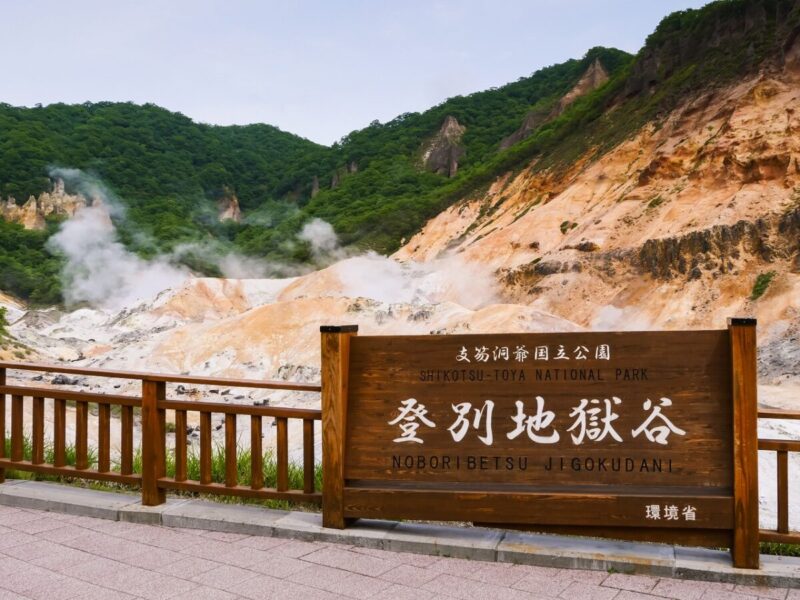 Hokkaido is known for its amazing hot spring cities, and one of the best hot spring cities to visit is the Noboribetsu Onsen, which is in south-western Hokkaido. Being a part of the Shikotsu-Toya National Park, Noboribetsu Onsen's hot springs is known as one of the most effective hot springs in Japan.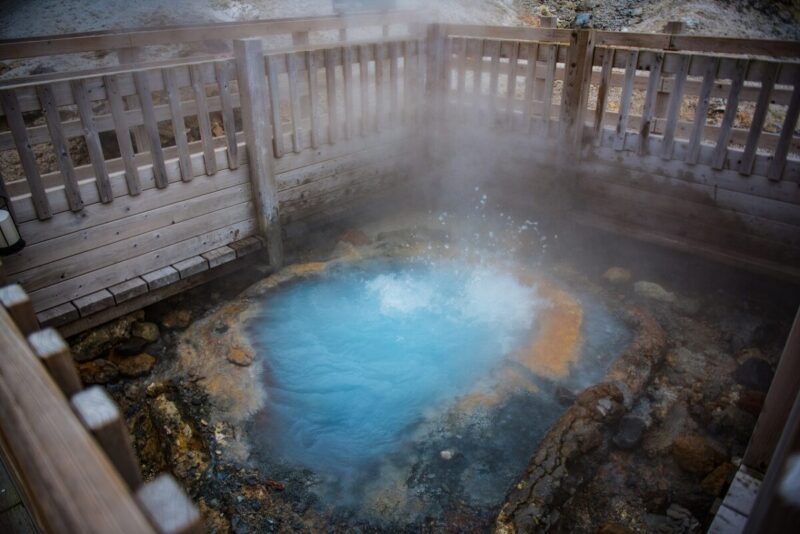 The most famous hot springs in Noboribetsu Onsen is the Noboribetsu Jigokudani, which literally means "The Hell Valley of Noboribetsu", which is also the main source of Noboribetsu's hot springs.
Noboribetsu Onsen
9. Enjoy the scenic seasonal views of Shiretoko!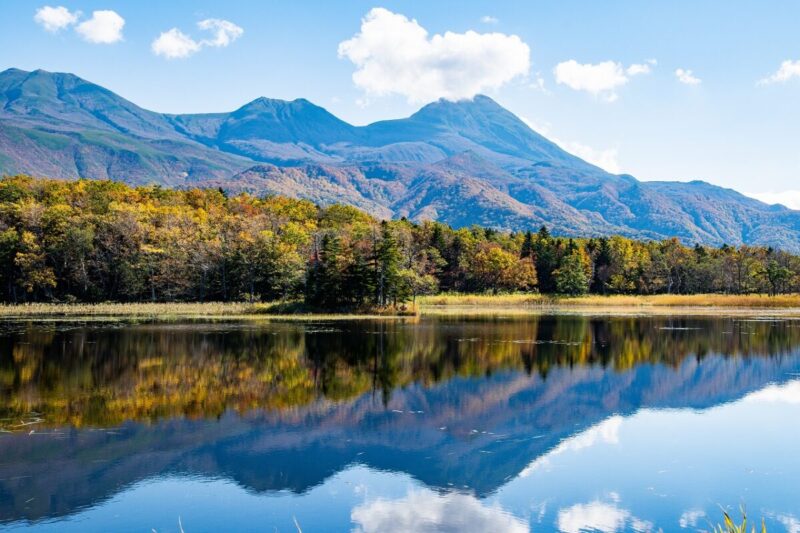 Shiretoko is in eastern Hokkaido, and it is best known for its unspoiled and beautiful national park, which includes five beautiful small lakes known as Shiretoko Goko Lakes that are bordered by the primeval forests and the Shiretoko Mountain Range.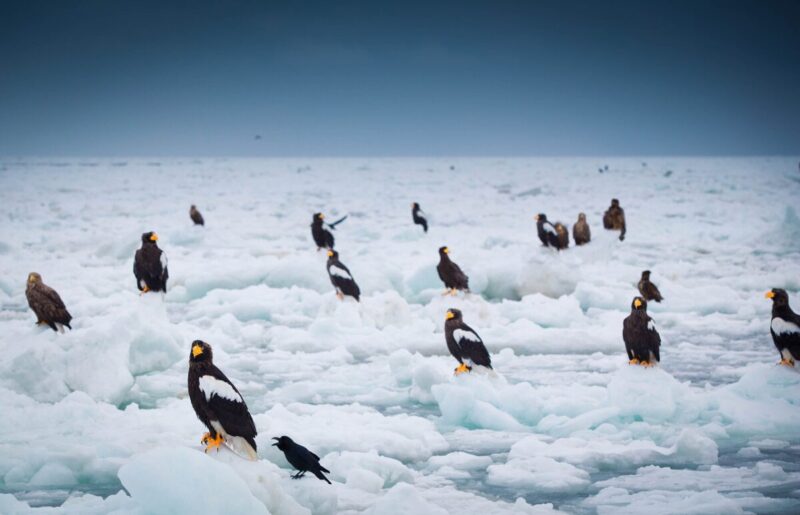 Shiretoko is the habitat of many wild animals of Hokkaido, including wild bears, black woodpecker, and Steller's sea eagles. The five lakes of Shiretoko are renowned as a symbolic scenic spot of the World Heritage Site, and many people visit the area in the winter to enjoy the scenic view of the drift ice.
Shiretoko
10. Enjoy skiing and snowboarding at Niseko!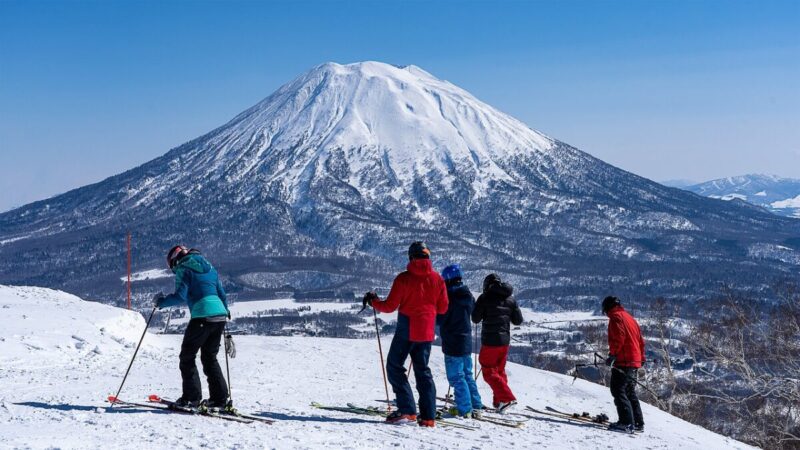 Niseko is perhaps the most popular ski resort in Hokkaido, and the area is known for its fine powder snow, attracting skiers and snowboarders from all over the world.
Niseko offers a wide variety of ski courses with spectacular landscape of the Niseko mountain range. Unlike other ski resorts in rural Japan, Niseko accommodates many foreigner-friendly hotels and restaurants with English-speaking staffs.
Niseko
Hokkaido's best local treats
Hokkaido is the most northern island of Japan, and the island is known as food paradise, as it has everything, including fresh seafood and seasonal fruit. This island is a perfect destination for a foodie, and today we introduce our picks for the best foods to eat when visiting Hokkaido!
1. Jingisukan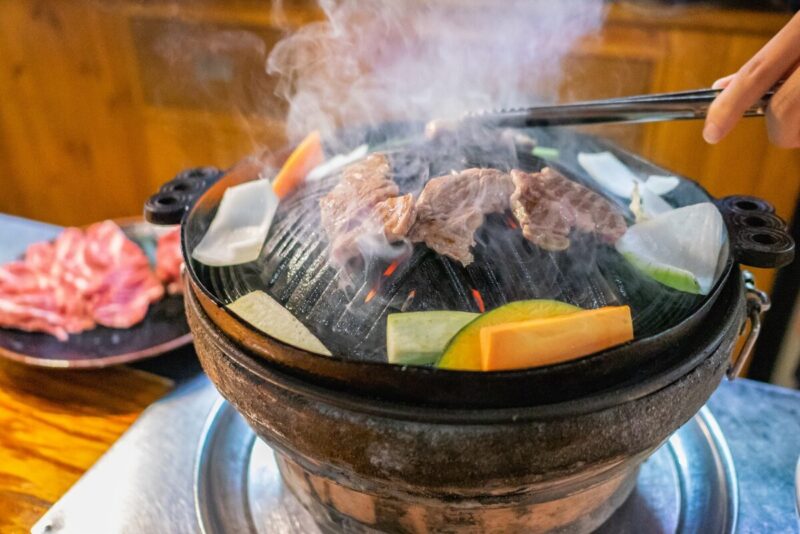 Jingisukan, which is named after the Japanese pronunciation of the Mongolian historical figure, Genghis Khan, is best known for its distinctive smell. This lamb meat dish is served much like the yakiniku (BBQ), but it has more meat, and it became popular for the first time in the early 1900s when sheep were first brought to Hokkaido.
One of the most popular joints for Jingisukan is the Sapporo Beer Garden, where you can eat the dish for a reasonable price while drinking the well-known Sapporo Beer.
2. Soup Curry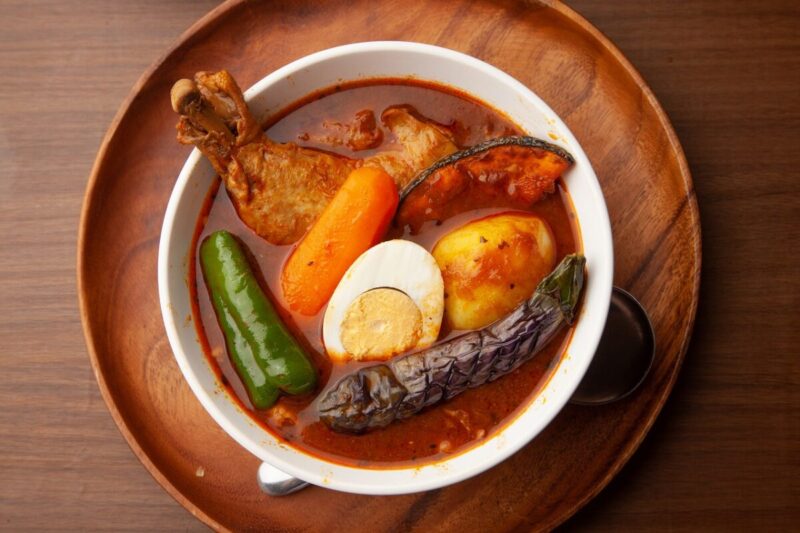 Unlike the normal curry, soup curry is a thin, curry-flavored broth, filled with chicken and vegetables like carrots, eggplant, potato, green peppers, and pumpkin. Soup curry is best known for its rich flavor that is not overwhelming, making it a perfect dish for slurping on cold winter nights.
3. Seafood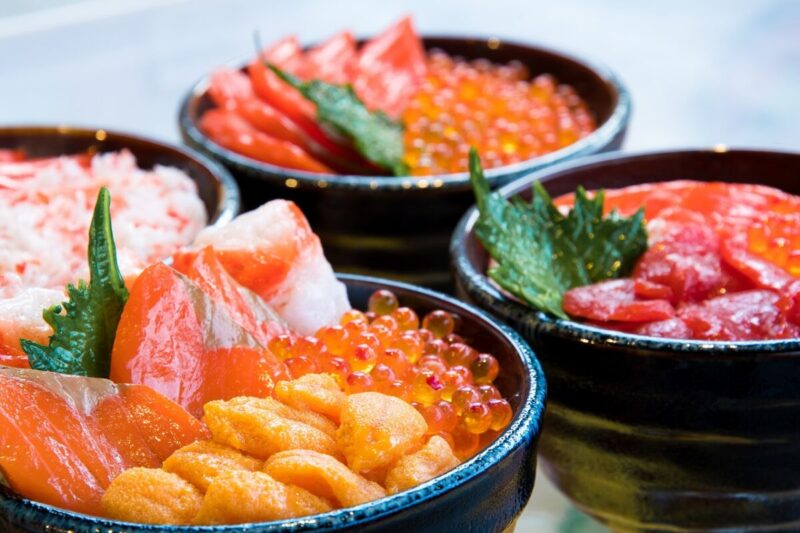 Hokkaido is best known for its cold weather, and local fisheries can preserve and prepare a much fresher product than other prefectures in Japan. The island is best known for its amazing kaisendon (海鮮丼), a rice bowl topped with fresh seafood, which are sold across the island throughout the year.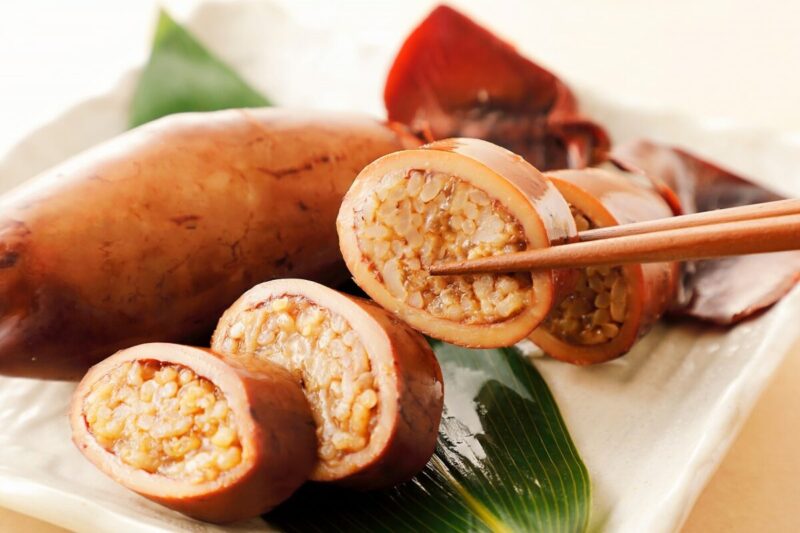 In addition to the fresh seafood rice bowl, you should try ikameshi, a special seafood dish from Hokkaido's Oshima Peninsula, which is a squid stuffed with rice and grilled.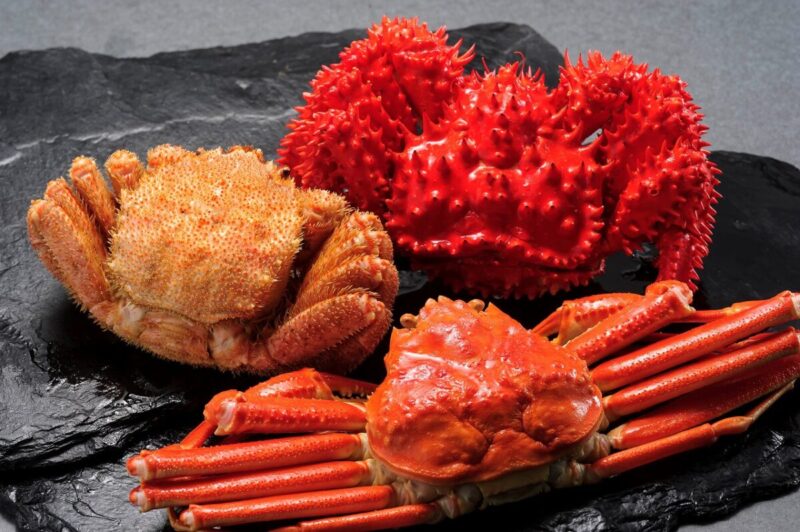 Everywhere you go, you'll see crabs in Hokkaido, and the best way to enjoy crabs when you're in Hokkaido is by visiting the local fish market like Nijo Fish Market in Sapporo, where you can try fresh crab sashimi or boiled crab for a reasonable price.
4. Sapporo Ramen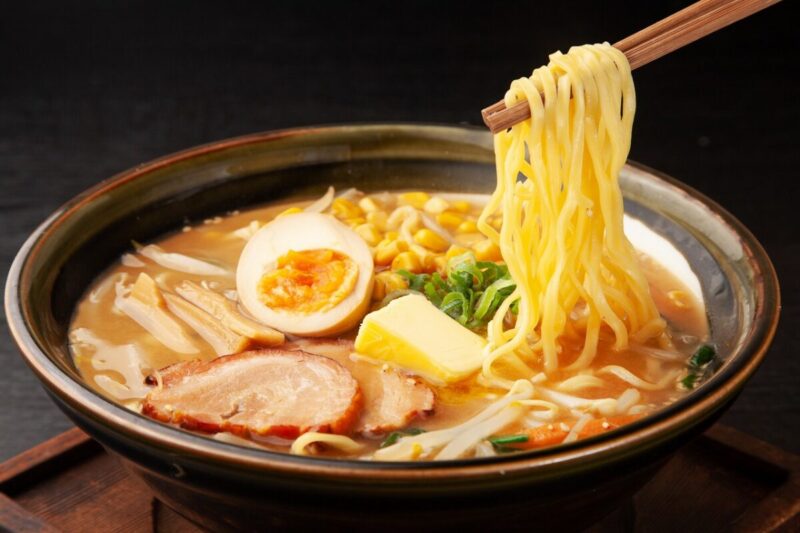 Hokkaido is also known for its amazing ramen noodles, and Sapporo Ramen is one of the most famous ramen noodles of Hokkaido. Known for its distinctive miso-flavored broth, Sapporo Ramen is topped with chashu (Japanese braised pork belly), corn, egg, and a thick cut of Hokkaido's butter. The ramen has a unique creamy taste, and it is available in almost ramen shops in the island.
5. Melon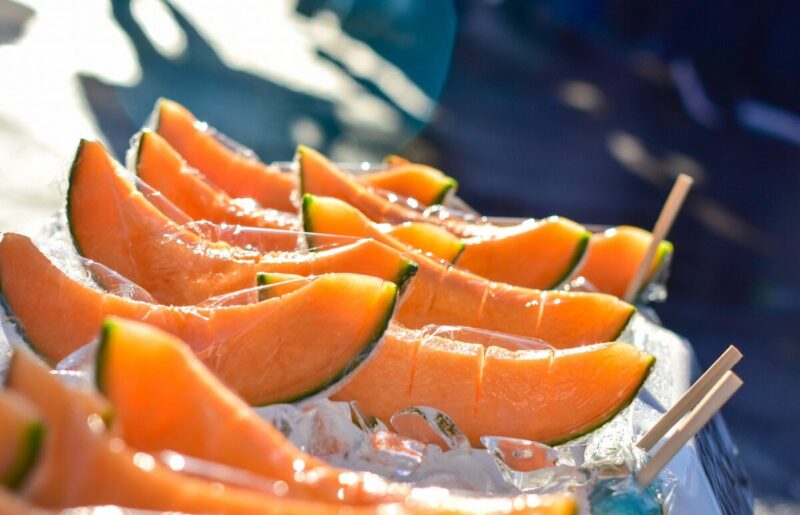 In addition to its savory local treats, Hokkaido is known for its amazing melon variety, Yubari King Melon, which is known for its perfectly round shape. Considered as the god-level of melon, these melons have sold for around 5 million yen, giving you a proof of how dedicated people are to these melons. Although the melons are known for being expensive, you can buy them for a reasonable price from the local supermarkets in Hokkaido.
.
Now that you have an idea of how many fabulous spots are in Hokkaido, all you must do is plan your itinerary to enjoy unforgettable experiences in Hokkaido!