Five spring flowers worth traveling Japan for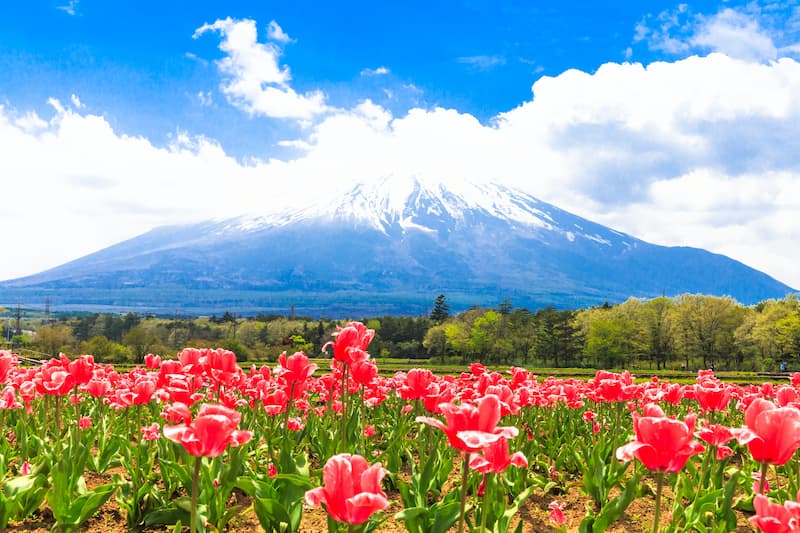 Japan has a strong culture of spending the entire day on flower-viewing, and the best season for flower-viewing in Japan is perhaps in spring. Mostly known for its dainty pink cherry blossoms, Japan has a lot more to offer in spring, and cherry blossom is just the tip of the iceberg.
The flowering seasons of spring flowers start in February and last until early May, and there are a lot of different flowers to enjoy in spring. From plum blossom to nemophila, here are five flowers to look out for when you're visiting Japan in spring!
Index
1. Plum Blossoms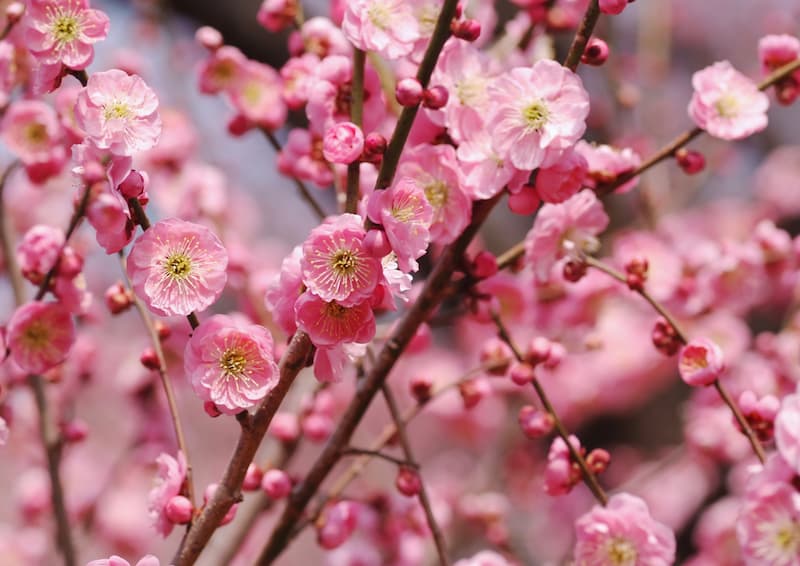 Often mistaken as cherry blossoms, plum blossom starts blooming from late February and lasts until mid-March. Plum blossom blooms to signal the start of spring, and the flower holds a special role in Japanese culture.
The flower symbolizes hope and vitality, and hanami, the custom of flower-viewing in Japan, which has been held annually before the Nara period (710 – 794), referred to plum blossoms, not cherry blossoms.
Look like cherry blossoms, the shape of the petals of plum blossoms is slightly different, and the color is slightly darker compared to the dainty pink cherry blossoms.
2. Cherry blossoms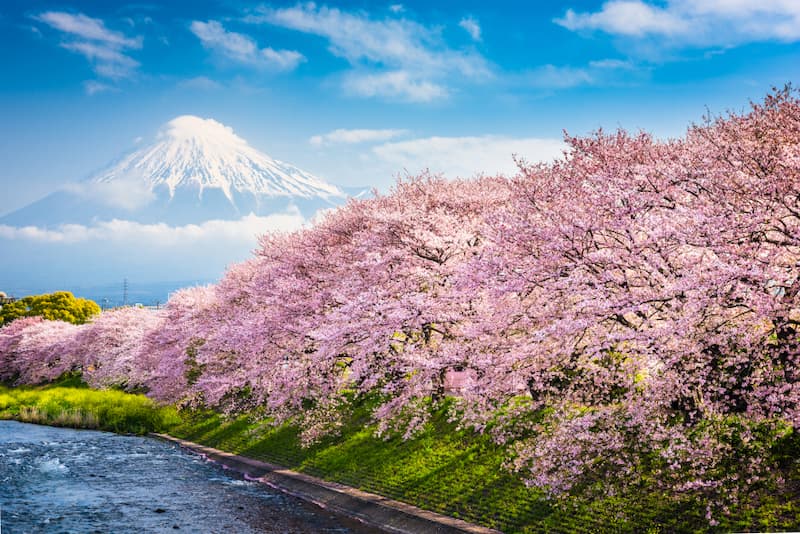 When we talk about spring in Japan, the first image that pops out in your mind must be cherry blossoms, right?
It's not an exaggeration to say that:
"cherry blossoms are a major attraction for visitors to Japan in spring"
as a lot of foreigners fly themselves to Japan to see these pink flowers.
Cherry blossom blooms early in the South, particularly in late February, and blooms later in the North, from late March to late April, so if you can't visit Tokyo in early April to enjoy its cherry blossoms, travel to the Tohoku region, or Hokkaido to enjoy cherry blossoms on the later dates!
Read more articles about cherry blossoms
3. Azalea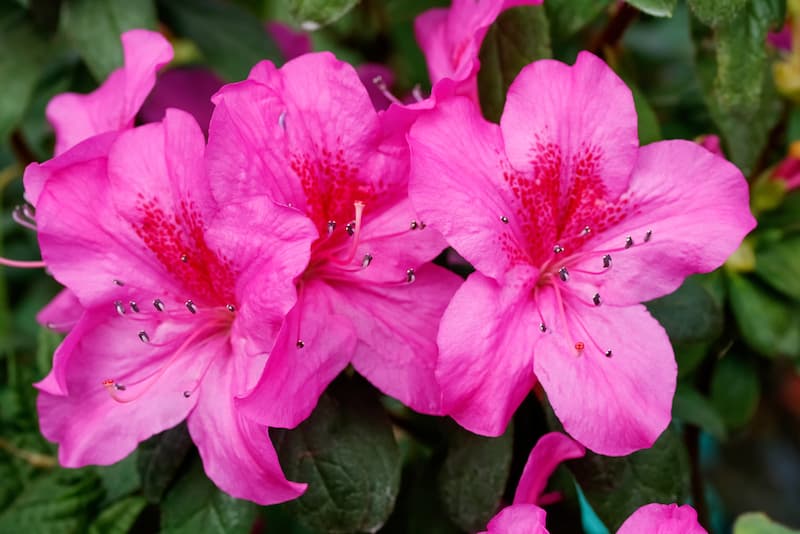 Since they're native to Japan, you can find azaleas across the country just like cherry blossoms. There are approximately 40 original varieties of azaleas in Japan, which all bloom from April to the end of May.
Some of the best places to see azaleas in Tokyo are Rikugien Gardens, Nezu Shrine, Jindai Botanical Gardens, and Kyu-Furukawa Gardens.
Read more article about Azalea
4. Tulips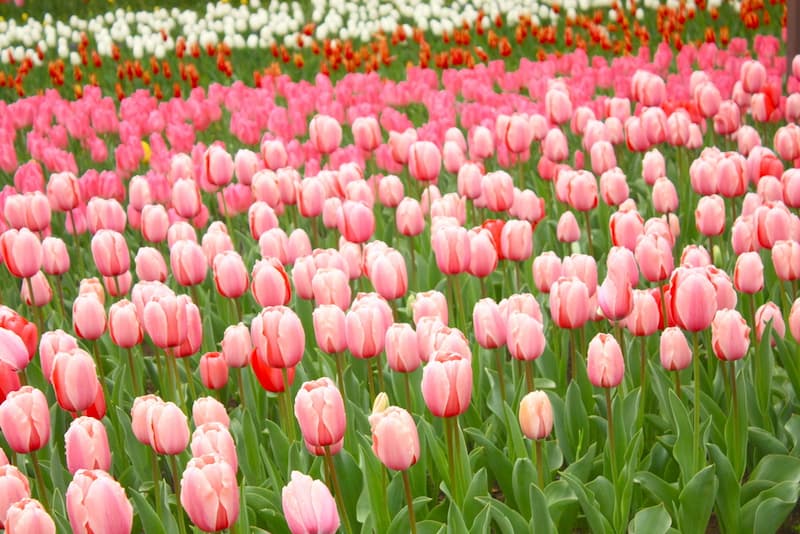 Tulips are often associated with the Netherlands, but you can also enjoy some fantastic tulips vistas in Japan, as there are a lot of parks in Japan offering various kinds of tulips in spring.
Parks that are famous for its beautiful tulips are the Yokohama Park (横浜公園) in Yokohama, Hitachi Seaside Park in Ibaraki, and Tonami Tulip Park in Toyama. Starts blooming from mid-April to early May, you wouldn't want to miss these beautiful flowers when you're in Japan!
Read more article about Tulips
5. Nemophila
The last one of Five Spring flowers which we recomend is Nemophila!
Known as the Baby Blue Eyes, nemophilas are low-growing plants that cover the entire meadows and hillsides like a carpet of petals.
The flowers are native to North America, and they grow up to 20 cm tall and produce flowers between 2-3 cm in size. Nemophilas bloom from April to May, and the best spot to see nemophilas is at the Hitachi Seaside Park, where over 4 million of nemophilas grow covering the whole fields with their baby blue petals, creating a breathtaking sight that is perfect to snap for the gram.
Read more article about Nemophila