Things to try at the food stalls in Japanese festivals!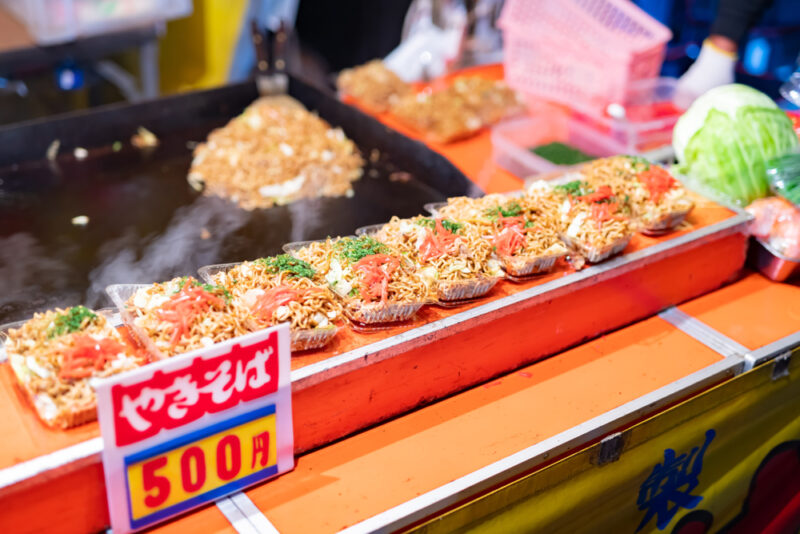 Japan is known for its amazing festivals (matsuri, 祭り), which are usually held from spring through fall, and as the days get warmer, you would come across them more often.
Most Japanese festivals are held somewhere close to temples or shrines, and when there is a festival, there is food, which are usually sold at the food stalls nearby.
Let's check out some of the yummiest treats to try at Japanese food stalls!
Index
1. Yakitori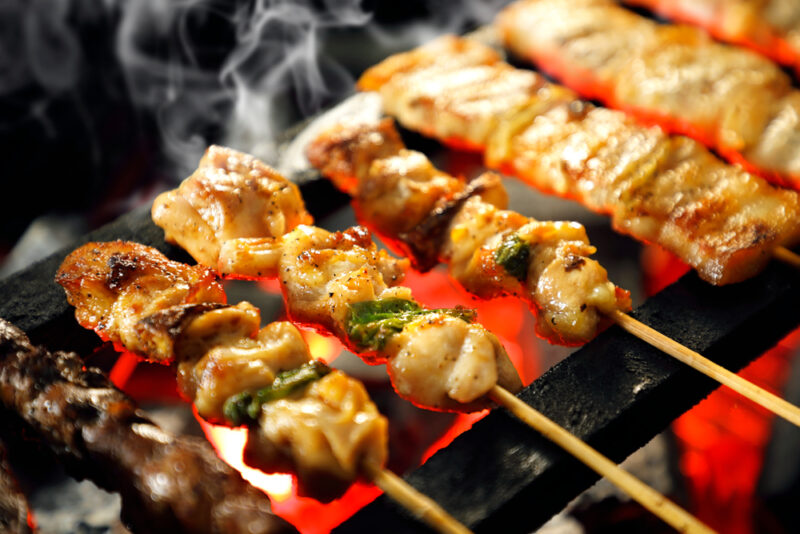 Yakitori, which is written as 焼き鳥 in Japanese, are grilled chicken skewers made of meat from various parts of chicken, like the breasts, thighs, skin, liver, and other organs.
They are usually made to order and grilled over charcoal, and it is a popular, inexpensive Japanese food, which is usually enjoyed together with a glass of beer or shochu.
2. Taiyaki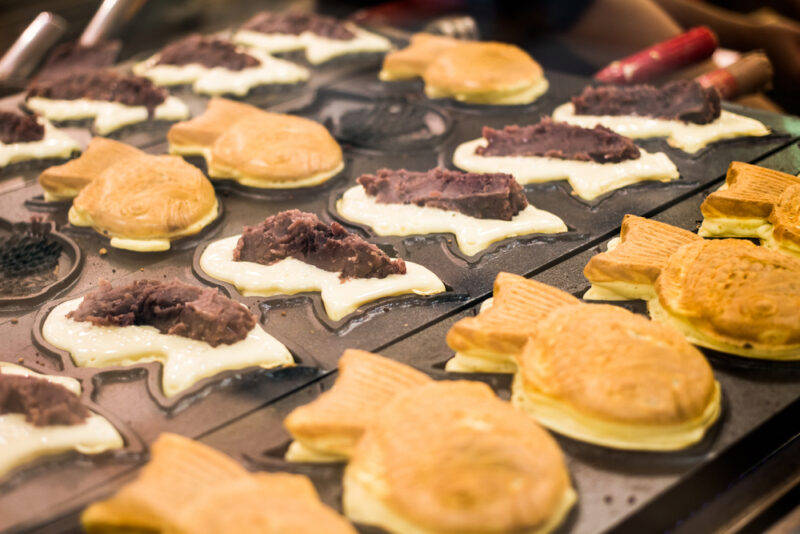 Taiyaki are fish-shaped pancakes that are stuffed with red bean paste or custard cream, and they are very popular amongst both the Japanese and foreigners.
Usually sold for less than 300 yen per piece, these days you can find chocolate, matcha, or even chili dog fillings!
3. Okonomiyaki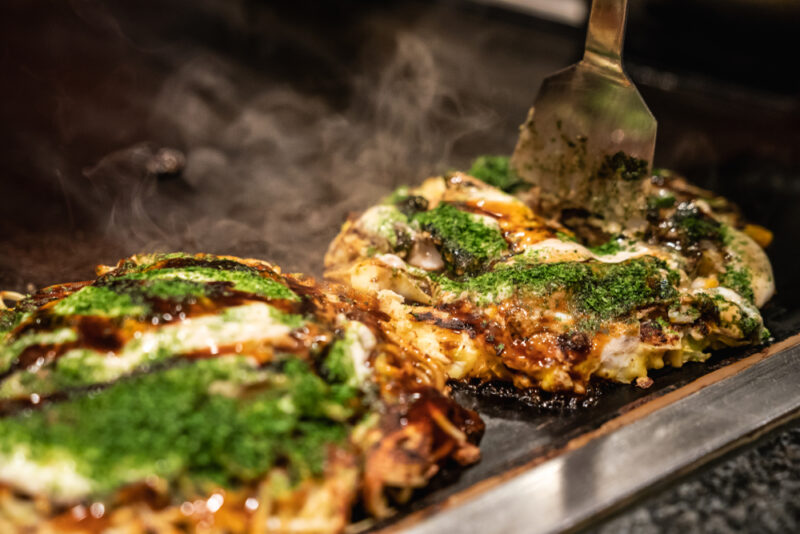 Okonomiyaki is a popular "soul food" of Osaka, which are thick savory pancakes with various fillings like cabbage, prawn, meat, seafood, etc. Okonomiyaki is also topped with okonomiyaki sauce (a sweet and sticky sauce), seaweed powder, and bonito flakes.
Okonomiyaki are usually sold together with Takoyaki, and sometimes you can also find food stalls selling Hiroshima-style okonomiyaki.
4. Choco Banana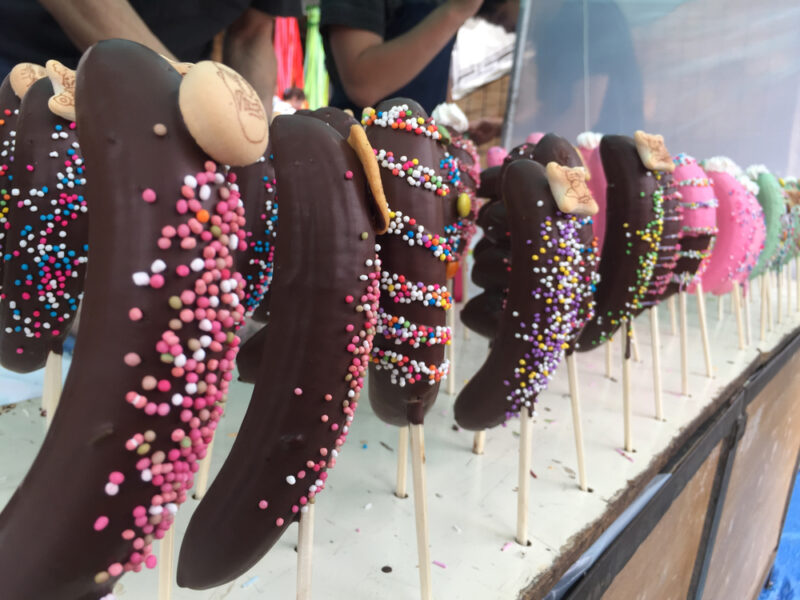 Just like the name, choco banana, or written as チョコバナナ in Japanese, is a chocolate covered banana skewer that is topped with colorful sprinkles.
Choco banana is very popular in Japan, particularly among kids. These days, choco bananas come in several different colors, like pink, green, yellow, or blue.
5. Takoyaki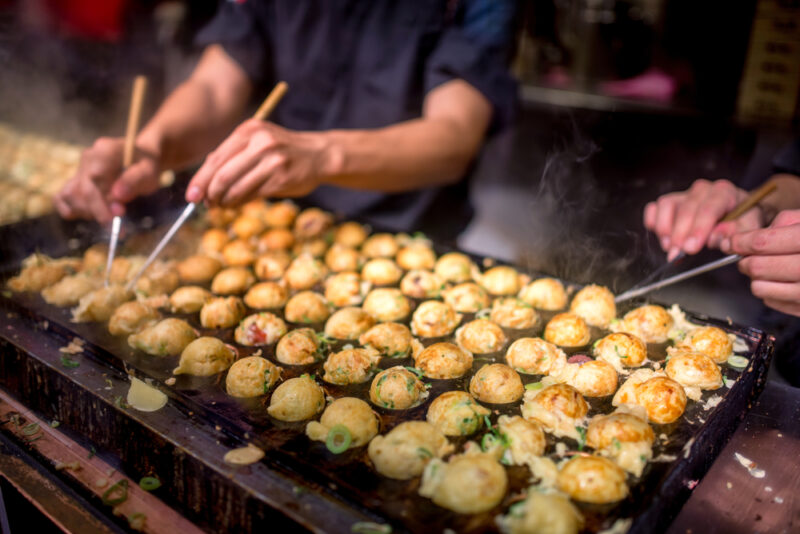 Takoyaki is another "soul food" of Osaka, and perhaps, it is the most famous street food you can find in Japan.
Sold by many food stalls in Japan, Takoyaki are soft dough balls filled with octopus and pickled ginger, which are baked in a special hotplate, and topped with Takoyaki sauce, Japanese mayonnaise, seaweed powder, and bonito flakes.
6. Ringo Ame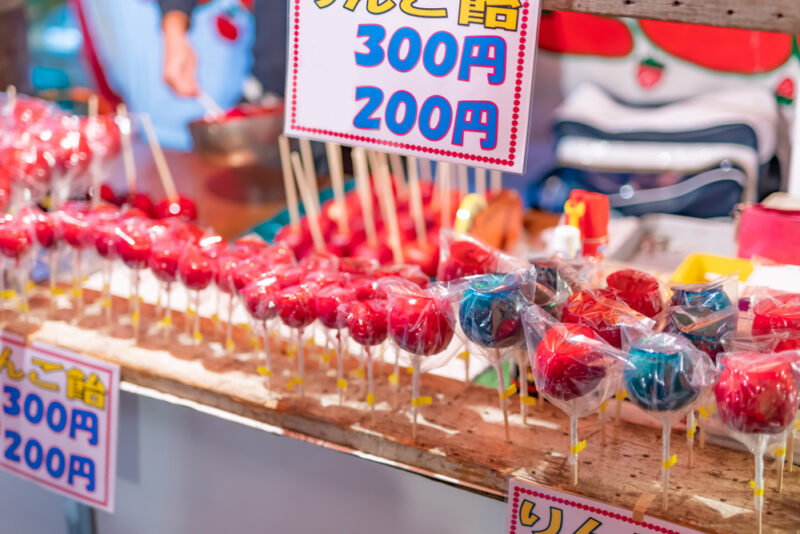 Ringo Ame, or りんご飴 in Japanese, are apples covered in sugar syrup and served on a stick. Ringo Ame is crispy on the outside, but juicy and soft on the inside.
In addition to Ringo Ame, you can find other candied fruits like strawberries (ichigo, イチゴ), oranges (mikan, みかん), or grapes (budou, ブドウ).
7. Yakisoba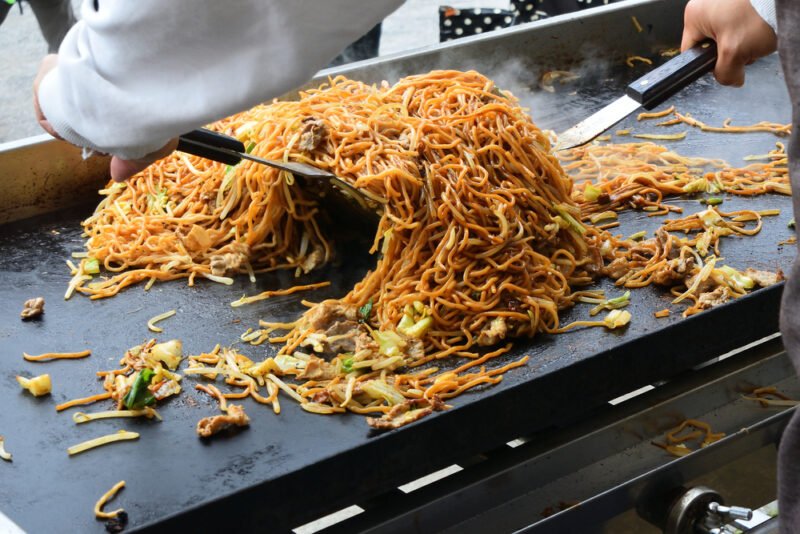 Despites having the word "soba", which literally means buckwheat, in its name, yakisoba is made using flour-based noodles and seasoned with a sauce that tastes like oyster sauce.
Yakisoba is made by stirring the noodles together with pork and vegetables like carrots, cabbage, or onions.
*.。.*゚*.。.*゚*.。.*゚*.。.*゚*.。.*゚*.。.*゚
Now that you know that Japanese food stalls offer some of the yummiest local treats, how about having some Takoyaki while experiencing the ambience of a local Japanese festival?
Read more articles